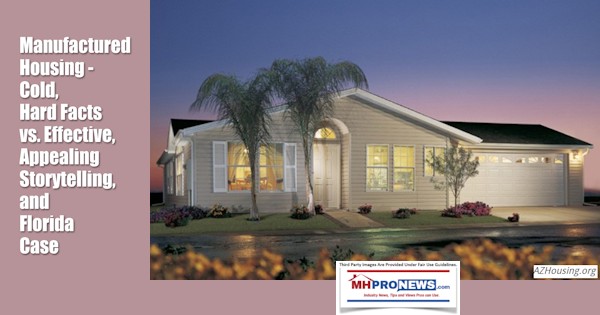 Darren Krolewski
If people were moved by facts alone, then HUD Code manufactured housing producers would be selling over a million new homes this year alone.
Manufactured Housing Institute (MHI) President and CEO Richard 'Dick' Jennison said on camera that the industry should be patient in waiting for a recovery.  When his purported puppet master pulled his strings, he stated a few months later that the industry could achieve 500,000 new manufactured home shipments. Wow, thanks for the consistency, Dick.
Both of Jennison's comments were revealing. 
Facts motivate a few, but not the many. Storytelling – positive or negative, good or bad – that's what is more likely to move people. 
Politicians learned that decades ago. That is why one sees a candidate for public office share the story of some real person that makes their point. Or why a politician has someone standing by them, as that person briefly tells their story, which makes the candidates point.  Storytelling done well is proven to move emotions, which in turn often moves people to act.
My Pillow and Manufactured Housing
Depending on the news network you watch and how often, you might have seen hundreds of commercials by Mike Lindell for My Pillow. Or you may have seen thousands of commercials over the years for Geico. Ponder the endless stream of automotive brand commercials you've watched. The stories for those products and legions of others are told, over and over. Why? Why isn't telling something once enough?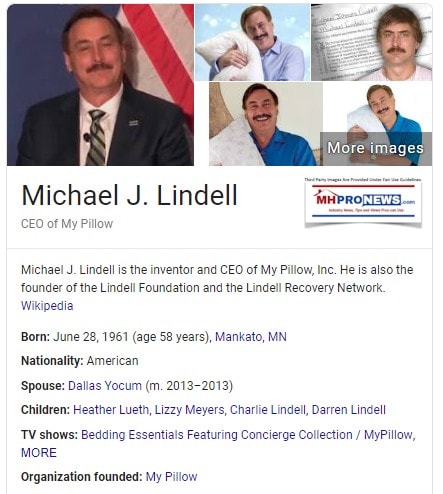 When campaign season hits in earnest, there are commercials for and against candidates. Comparing and contrasting pillows, products, and politicians is an effective method of communications. The entire notion of Hitler's propaganda minister, Joseph Goebbels principle of people believing the big lie is that it had to be repeated time and again. Repetition is needed in learning the ABCs. When the publisher of MHProNews was teaching our son to count, he created a song with a rhyme to get him to learn his numbers more swiftly. 
So the initial point here is not a slam on any product or politico, rather, it is to illustrate the principle that repetition is necessary, and it is useful if one wants to make a point. Repetition can be used for ill or for good.   
In a busy society where information is hitting each of us constantly, some realities must be routinely repeated.  Making learning and reading fun is how Dr. Seuss – whose real name was Theodor Geisel – became a hit with parents and children alike. Parents are known to have read one of many Dr. Seuss books to their children over and over again.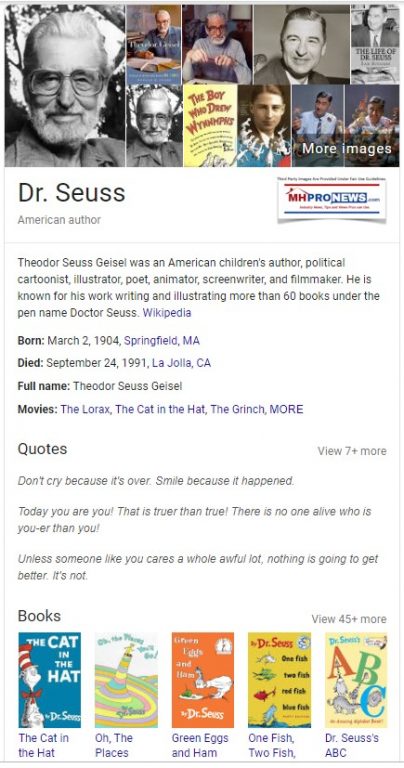 Good stories merit retelling. Even troubling stories need to be retold, lest their lessons be lost.  That's true in politics, faith, and business too – including the manufactured home industry.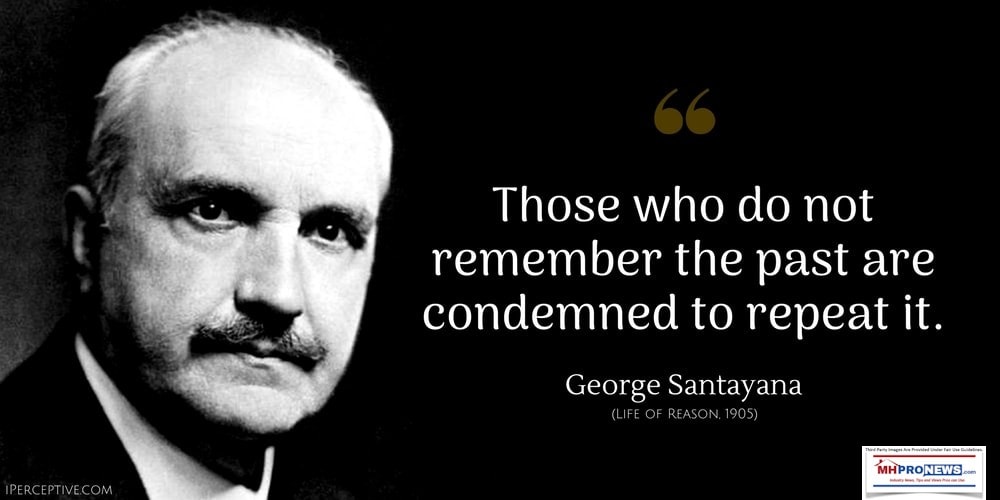 Manufactured Home Living News and MH Industry Storytelling
Our organization learned the art of squeezing a dime until it hollers "dollar." You are looking at the evidence on MHProNews, which is dwarfed by the budgets of others, yet routinely has more professional traffic.
Manufactured homes as an industry is fairly tiny. That's both useful and problematic. That noted, in a small industry, this site is by far number one in its niche. As good as the web-traffic is on MHProNews – with several new articles getting over 10,000 hits a month, and millions of pageviews total monthly – there are numerous articles on MHLivingNews that get several times the number of hits that MHProNews achieves. That's as it should be.
These are proven examples of our understanding the respective business to business (B2B) and business to consumer (B2C) audiences. We test. We learn. We refine. We repeat that pattern, in order to improve.
Does that matter? It has to clients who have tried our work and liked the results. Several who compete with us today first praised and used us for years. But they are not true imitations, as facts and research drives much of what we do, while others – however slick – may routinely spew a message of their masters, be that narrative true, untrue, or some mix of those two.
It was Casey Mack, at Legacy Housing that did a test with us vs. other publishers. The results were revealing. With their general counsel's expressed okay, they said this.

What our sources at Legacy told us is this, no one else produced any results. Some were slick publications, but yielded zero results.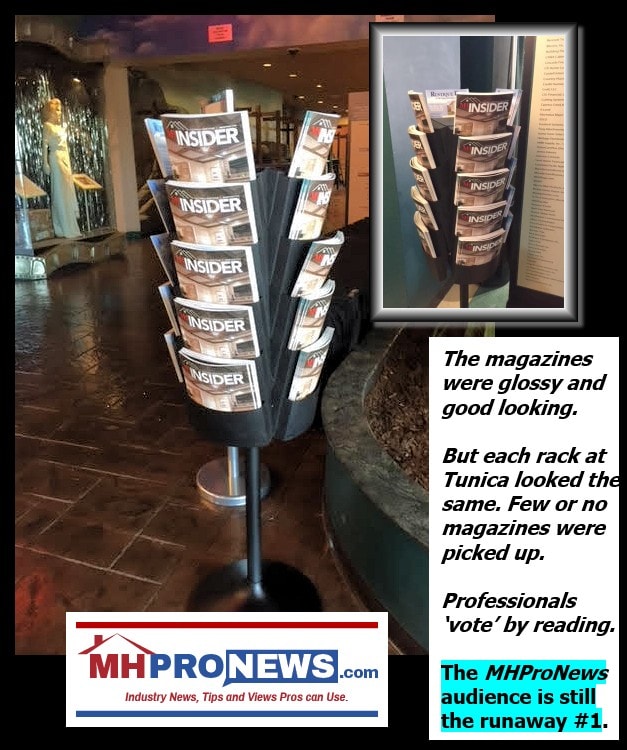 Why does this matter?  
Because the industry is underperforming. Kurt Kelley – a competitor now – was polite and perhaps completely sincere when he said this.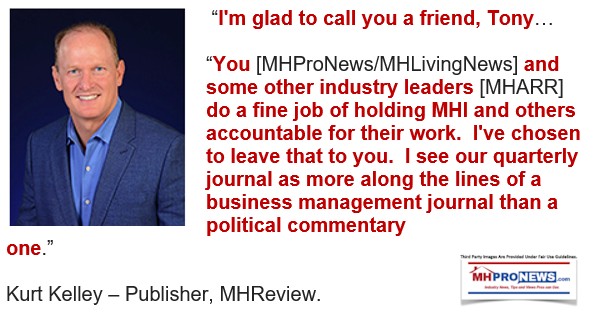 Being willing to do the research and reports that others in our industry don't do yields by far the biggest and most engaged audience.  Darren Krolewski, now Co-President of MHVillage, and publisher of MHInsider said this, which proves that point.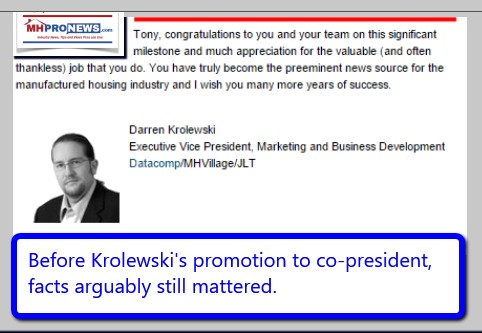 We will look another time at a research document and commentary by Krolewski and his father, B.J. Krol. Briefly, before Darren joining MHVillage, he and his father were hired by a third-party firm to review the marketing and sales process used by MHProNews publisher and chief consultant, L. A. 'Tony' Kovach.  They praised that work highly. 
Krol said what Kovach's leadership yielded in manufactured home communities that he studied was "light years ahead" of the competition. Was it any surprise, then, that those communities were way out performing the sales of others in that same market area?
Any or all of those cited who have praised our work previously might change their tune for whatever reasons.  But it doesn't change what they've already said, on the record, in writing for the factory-built home industry to consider.
What makes our marketing and sales arguably more effective in part is understanding the audience. But more, we understand the difference between authentic, sly, and phony story telling. If MHI's 'story-telling campaign' was so good, why has the industry declined for 10 months since it was rolled out?
Performance matters, and so do facts.
Let's look at an example that our firm is not associated with.
In Florida, unlike much of the nation, they are seeking a modest uptick in sales. That's okay, as far as it goes. They are trying, which merits a like level of praise, as some other states are too, in striving to attract and driving more HUD Code manufactured home sales.  The latest shipment data tells the bottom line story.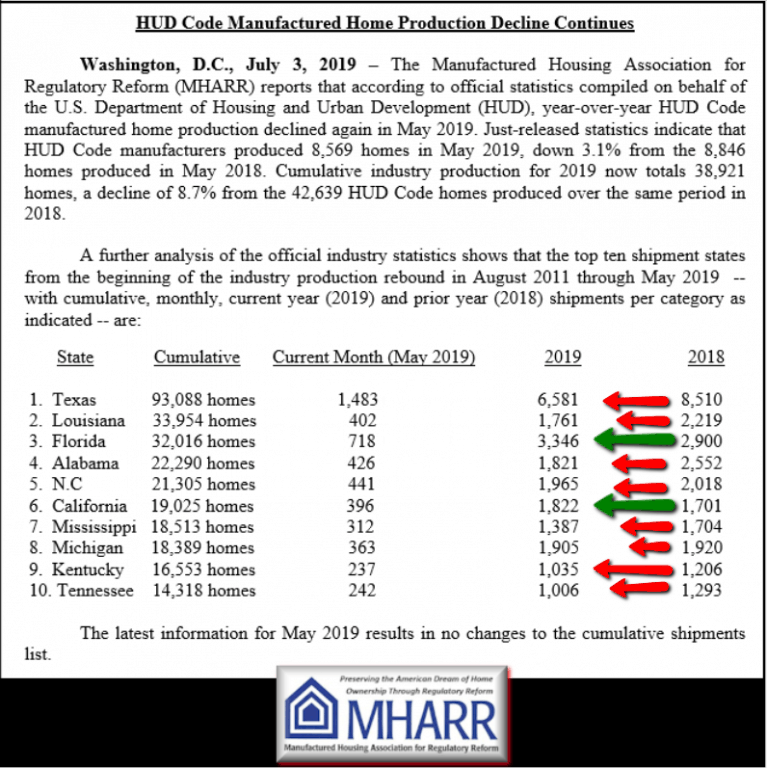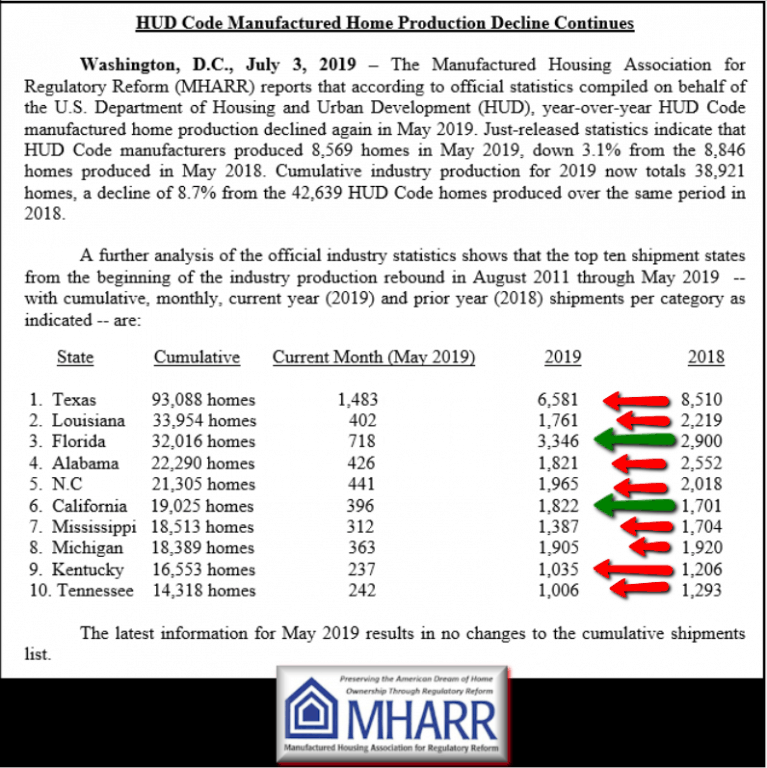 But if the Florida Manufactured Housing Association (FMHA) marketing firm was as good as their productions are slick, when aren't sales in Florida several times higher than they are? They do deserve some credit, but that applause must be tempered by the reality of the true potential of the industry there, and in all of the other 49 states of the Union.  Housing is a multiple trillion dollar industry.  For manufactured homes to have sold under an estimated $8 billion dollars in 2018 is therefore anemic.  But that begs the question, why are results so low when the potential is so great? Let's look at an example that sheds light on that question.
MHVillage inherited a trade show in Louisville on the rise that was recovered from its only cancellation in its history. It was the work of this platform and our team that were credited by many industry professionals with the come-back of the Louisville Show.  Our team and our educational sessions were the only thing different that the Midwest Manufactured Housing Federation (MMHF) provided prospective attendees. Yes, that effort and our impact on the Louisville Show was praised thousands of times. Two examples for publication are below.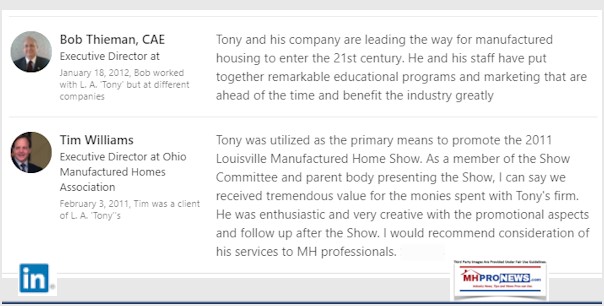 One may wonder, then, why the powers that be changed horses from our platforms and went with MHVillage? But perhaps as interesting, what has occurred since the went with MHVillage? Louisville has suffered a decline in size last year. That was drop in the size of the show after years of growing audience and growing size.
Fact Check, Darren Krolewski, MHInsider Claim on 2019 Louisville Show Attendance
When called out publicly on their misleading claiming the fact check and analysis linked above, what did Krolewski, MHVillage, and MHInsider do? They stayed mute. That's telling, as much so as their silence on other fact checks we've called those apparent MHI sycophants in the last few years. 
The Dark Favor from Clayton, MHI, Et Al?
Theologians talk about light and dark grace.  There is a similar principle in business for the pragmatic, goal and solution oriented professional.
MHVillage, as impressive as it appears in their data claims, is upon a closer look arguably a problem for the industry's 'white hat' professionals and investors.  If the story MHVillage tells was so compelling, why are so few buying it?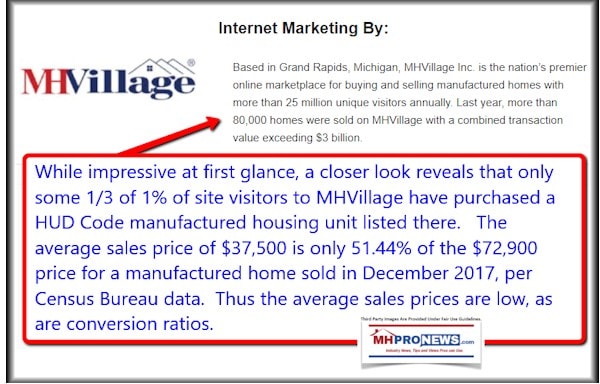 MHI, Clayton, and 21st, are a fit for a similar claim too.  For evidence, see a mildly related report about Clayton, linked here. Short version?  Like MHVillage, Clayton's data – which at first blush appears to be impressive – shares certain similarities with MHVillage. If they were as good as they claim, why aren't their sales several times higher than they currently are?
Our sources tell us that certain players in the Omaha-Knoxville-Arlington axis and their toadies have worked for several years to attempt to undermine and eliminate us. Had those claims not been heard, there are some questions we may not have thought to ask. Before going deeper, given their own performance and track record for uncorrected inaccuracies and misses, why would someone take their word for anything that is related to manufactured housing?
Next, why would they undermine an operation that often – but demonstrably not always – supported MHI for several years? 
While MHI Chairman, Tim Williams repeatedly praised MHProNews and MHLivingNews. Why would they undermine while they were praising?  This must be viewed not as being only about 'us' as an industry service provider and publisher, but also through this following lens.  If they did it to us, why would anyone not think they would do it to others too?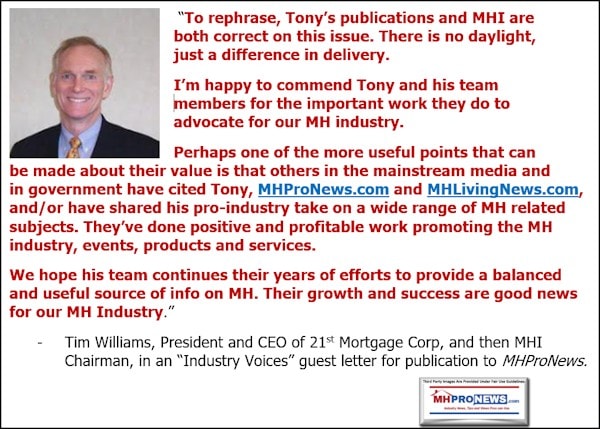 One answer is as simple as it is sad. If they want to retard the growth and recovery of manufactured housing for their own selfish reasons, then undermining a top promoter of the industry for honest, sustainable growth could become a priority for the axis, right? 
As odd as it seems, both the published praise and the underhanded assaults are revealing. They are a dark grace that inspires a deeper study of how manufactured housing actually operates.
MHProNews and White Hats
There are arguably white hats, gray hats, and black hats in our industry. Some posture a seemingly good story. But during an affordable housing crisis, the arguably poor overall results for Clayton, the Manufactured Housing Institute (MHI), MHVillage, and others speaks volumes. 
We see eye to eye with the Manufactured Housing Association for Regulatory Reform (MHARR) on numerous issues, but no two people agree on every topic. We agreed with MHARR publicly on issues while our publisher was an MHI elected board member. In fairness, there are some issues that MHARR's current configuration does not allow them to do, even if some there may want to do more. Given their overall fine work and accomplishments, based upon their size and mission, they merit respect. We gave them that respect years before they became a client.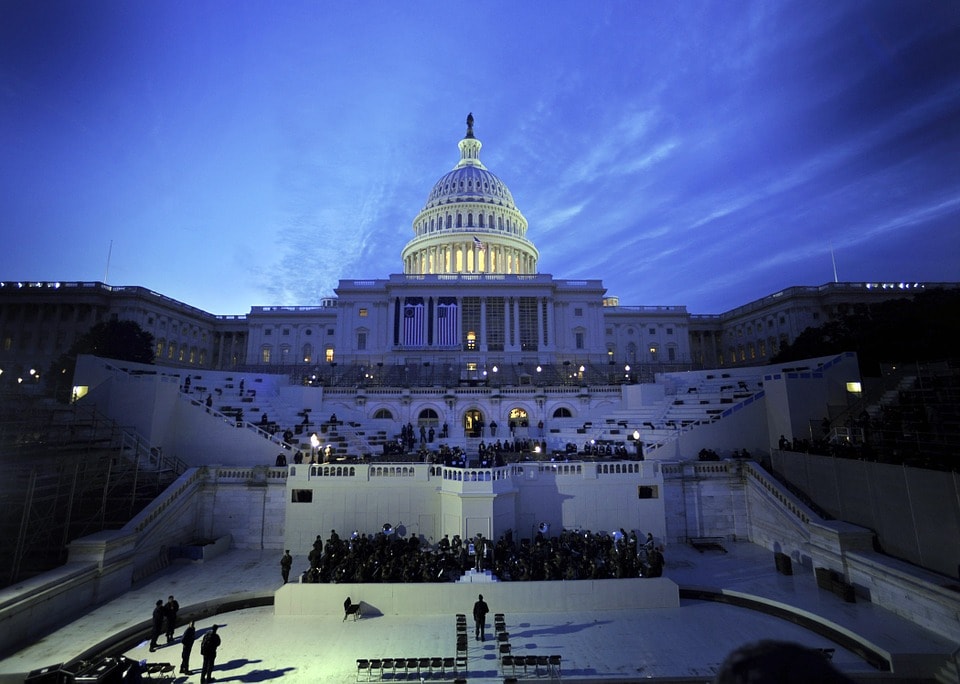 As an example, when MHARR members voted in November 2017 if they would expand their membership, they voted to stay as is, in order to stay focused on their core mission to independent producers of HUD Code manufactured homes. But they also said they would work with another post-production association if one should form. 
They reflected that support for a new post-production trade group at this link here.
Then, something odd occurred. After MHI's former chairman ripped NAMHCO publicly, the new trade group oddly pivoted to join hands with Prosperity Now and MHI to support a bill that this publication and MHARR both found to be problematic. 
Federal Bill that MHI, Prosperity Now, NAMHCO Tout – MHARR Opposes, Why?
An off-the-radar outreach to NAMHCO on that bill did not yield a useful outcome. At last check, they are sticking with their support of the bill that MHI and Prosperity Now back. Odd at best, problematic at worst?  
Publicly Traded Manufactured Housing Firms – Which Source Do You Trust More? Why? MHI, MHARR, Others
Even this brief review of some industry facts and recent history reflect some problematic and troubling issues.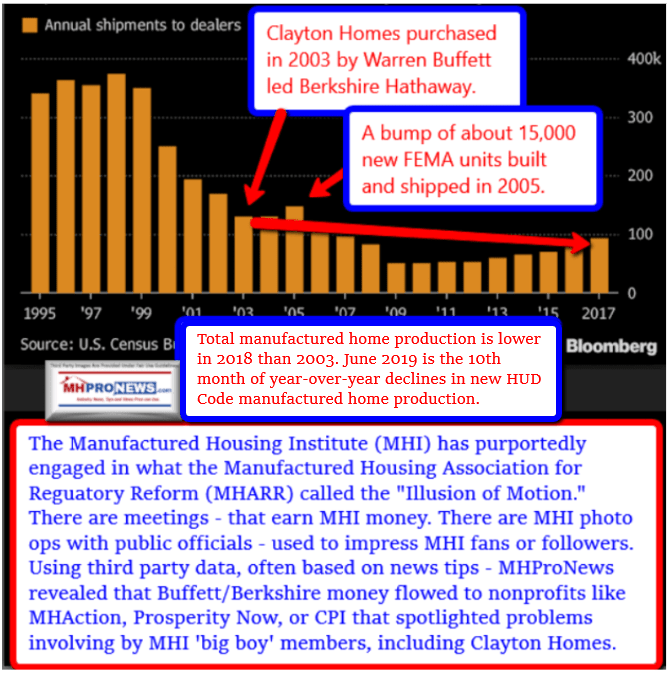 A pattern emerges that since much of the industry's history since 2003, manufactured housing has been stuck at historically low levels of performance.  But when there are clear examples of how good honest storytelling – along with other ethical and sound professional best practices – are put to work, cases of success can be found that buck the vexing trends. So, then why are larger companies often supporting an agenda that is keeping manufactured housing underperforming when the needs and opportunities are so great?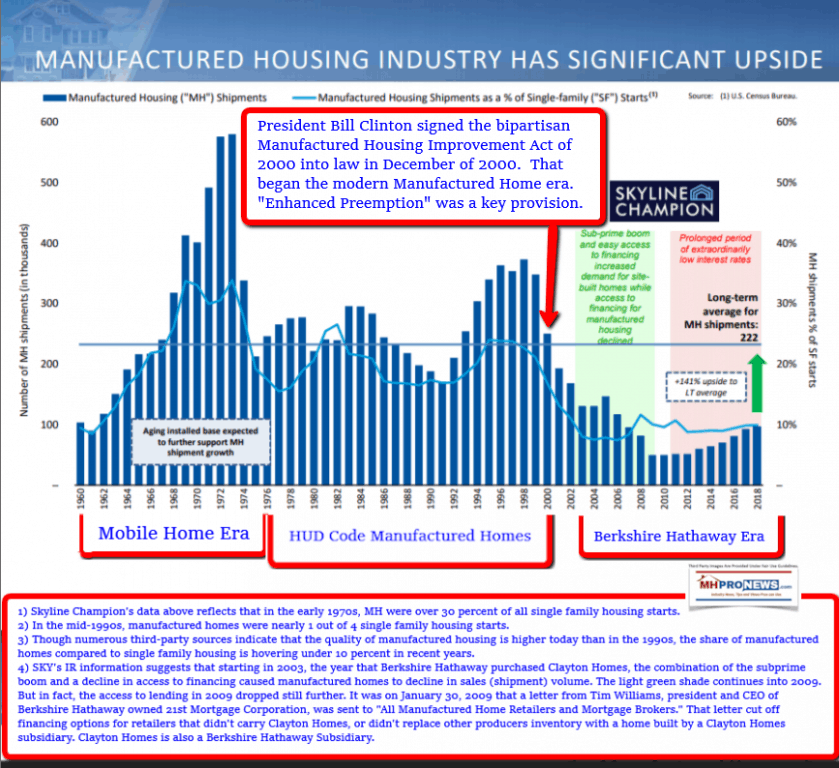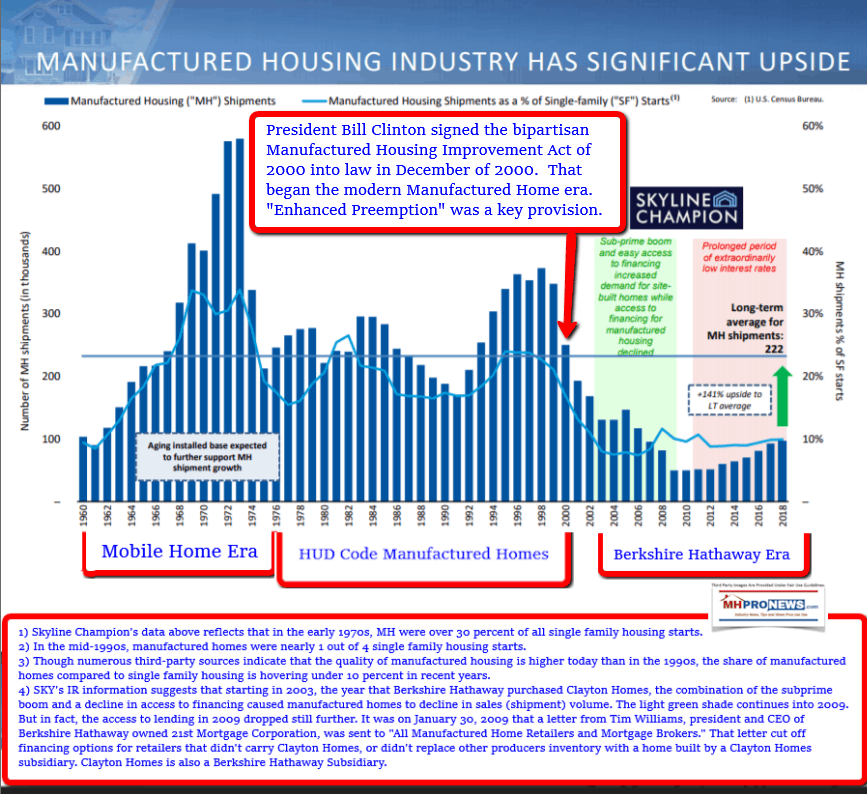 The Takeaways? 
First, for those interested in growth, they have a proven resource praised by scores of others in the marketing, sales, and business development services provided by MHProNews and our sister operations. 
Second, for whatever motivations one may wish to ascribe, there are those who seem to be more focused on building their moat and allowing the status quo to continue than on seeing the industry grow.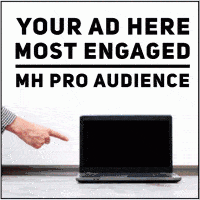 The industry's politics and behavior are often odd at best.  It is important to look beyond the razzle-dazzle at the facts, and then draw evidence based conclusions that for those interested in growth need to be repeated over and over.  That's our latest chapter of manufactured housing "Industry News, Tips, and Views Pros Can Use," © where "We Provide, You Decide." © ## (News, analysis, and commentary.)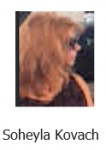 Submitted by Soheyla Kovach for MHProNews.com.
Soheyla is a managing member of LifeStyle Factory Homes, LLC, the parent company to MHProNews, and MHLivingNews.com. Connect with us on LinkedIn here and here.
Related Reports:
Click the image/text box below to access relevant, related information.
Some of these comments by video were captured live at one of several manufactured home industry professional events. None of those shown on this page were paid or given any direct incentive to make the statements that they did. But they do have an incentive to see the industry grow, and so many are happy …