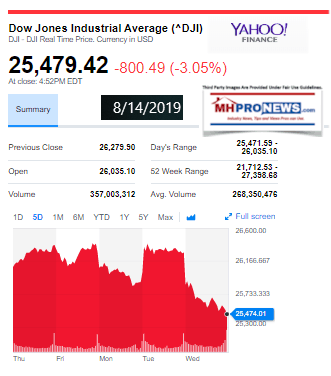 This is another day when manufactured home stocks arguably ought to be doing better than the broader market, if the industry was performing more like its historical norms.  Why?  Because affordable housing is needed in good times, and if times get tough, it is even more needed then.  So with or without a recession, there is a need for affordable housing, and manufactured homes are the most proven form of permanent affordable living. That said, our focus this evening are the voices like those in our headline that say the rout on stocks today was an overreaction to a reading of the yield curve.
Every evening our headlines snapshots from two major media outlets on each side of the left-right news spectrum reflects topics that influence, reflect, or move investor sentiment. In moments, you can get insights-at-a-glance. This sets the broader context for manufactured housing markets, in keeping with our mantra, "News through the lens of manufactured homes, and factory-built housing" ©. 
We begin with left-of-center CNN followed by right-of-center Fox Business. We share closing tickers and other related data courtesy of Yahoo Finance, and more. 5 to 10 minutes reading this MHProNews market report every business night could save you 30 minutes to an hour of similar reading or fact-gathering elsewhere.
Headlines from left-of-center CNN Business.
·        WALL STREET'S WORST DAY OF 2019
·        The Dow plunged 800 points as the bond market flashed a recession warning
·        These are the worst days in history for the Dow
·        President Trump just put on his Santa hat. Here's why
·        The Fed's lost control and has to cut rates
·        What is the yield curve — and why it matters
·        INTERACTIVE How stocks performed under each president
·        Macy's stock is tanking because it put too many clothes on sale during the spring
·        5 of the world's biggest economies are at risk of recession
·        German economy shrinks as 'golden decade' comes to an end
·        China is still hurting from the trade war and the pressure is mounting
·        OPINION America is facing a pension crisis. Retirees will pay the price if we don't act now
·        Mortgage rates are lower than they've been in years, causing a tsunami of refinancing
·        Sam's Club is opening a cashierless store
·        Windows 10: Microsoft urges people to update because of 'critical' vulnerabilities
·        Inside The New York Times as it debates its coverage of Trump and racism
·        Protests and trade war wipe $50 billion off Hong Kong real estate stocks
·        BlackRock postpones big event in Hong Kong as protests heat up
·        OPINION The electric car revolution will require us to build better batteries
·        A game changer is coming for electric car owners
·        BP wants to charge China's electric cars
·        Daimler is building electric trucks
·        Automakers cut emissions as Trump rolls back regulation
·        With Apple Card, Goldman Sachs gets deeper into subprime lending
·        Big Tech just dodged a tariff-sized bullet
·        I tried 5G. It will change your life — if you can find it
·        Apple stops letting contractors listen to Siri recordings
·        Apple manages to grow its business even as iPhone sales decline 12%
Headlines from right-of-center Fox Business.
·        DOW PLUMMETS 800 POINTS ON WORSENING GLOBAL RECESSION FEARS
·        Here's what to do with your 401(k) in the midst of the market drop, according to a financial planner
·        Recession indicator blares loudest warning since 2007: How will the Fed respond?
·        Fed is failing, says Trump, as global rates tumble
·        JANET YELLEN TO WALL STREET: A RECESSION ISN'T LIKELY
·        The former Fed chair expressed a contrarian view on the significance of tumbling interest rates.
·        American farms are billions in debt. The numbers are eye-popping.
·        Britney Spears earned big bucks last year, made 80 trips to this retail giant
·        FOX BUSINESS EXCLUSIVE: What Jeffrey Epstein said before he died
·        Varney, Navarro spar over China's '7 deadly sins'
·        'Great Recession' to hit US, killing Trump's reelection hopes: Peter Schiff
·        T-Mobile-Sprint open door to settlement talks with AGs
·        US companies getting 'the hell out of China': Eric Trump
·        No shrinkage if 'Seinfeld' can land new $500 million streaming deal
·        Bloodbath at Macy's: Stores see 'massive bleeding off of traffic and customers'
·        States with most, least expensive public colleges: Report
·        IRS says 400K Americans who underpaid taxes will have penalty automatically waived
·        Economist Art Laffer says US recession may not be imminent
·        Social Security turns 84: A look at the program by the numbers
·        Warren Buffett's Berkshire Hathaway increases Amazon stake: Here's what it's worth now
·        Nearly 70% of Americans skipped doing something fun in the past year because they couldn't afford it
·        Beyond Meat burger such a hit at Carl's Jr., the fast-food chain is doing this
·        Is new NFL, Jay Z partnership an illegal formation?
·        NFL teams that are winning the money game
·        Fed can cut rates and get rid of that yield curve inversion very quickly: Moody's Chief Economist
·        Moody's Capital Markets Chief Economist John Lonski on the U.S. trade tensions with China and concerns about the U.S. economic outlook.
·        Eric Trump on Chris Cuomo: Stop trying to play the victim card
·        Trump Organization Executive Vice President Eric Trump on journalist Chris Cuomo's reaction to someone calling him 'Fredo' and the need for civility in politics and society.
·        Neurologists: Binge watching can negatively affect your brain
10 Market Indicator Closing Summaries – Yahoo Finance Closing Tickers on MHProNews…

Tonight's Business/Market/Political Impact Spotlight –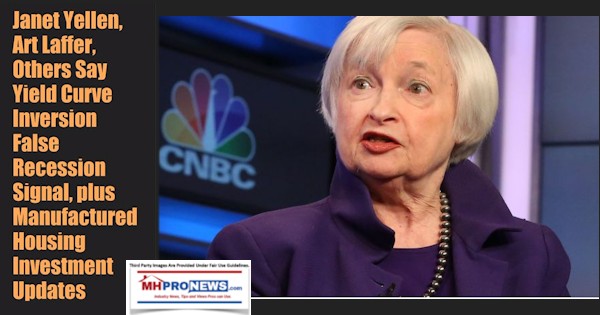 "Historically, it [the inverted yield curve] has been a pretty good signal of recession, and it think that's when markets pay attention to it, but I would really urge that on this occasion it may be a less good signal," former Federal Reserve Chair Janet Yellen said on Fox Business. "The reason for that is there are a number of factors other than market expectations about the future path of interest rates that are pushing down long-term yields."
Yellen said she thinks this yield curve inversion is not a recession signal. "I think the answer is most likely no. I think the U.S. economy has enough strength to avoid that, but the odds have clearly risen and they're higher than I'm frankly comfortable with."
President Donald J. Trump ripped the current Fed chair – Jerome Powell – he asked to be appointed for not handling rate hikes and nuts correctly, a theme he has routinely hit for months.
There are saying this is a false signal too.
Art Laffer, former Reagan economist, explains what should and should not cause recession fears.
CNBC's Jim Cramer is pointing to Warren Buffett's purchases on bank stocks as one reason why he thinks this rout on the market today is a misunderstanding of reality.
·        The strong consumer sector and Warren Buffett's faith in bank stocks means this inversion may not be that significant, CNBC's Jim Cramer says. 
·        "I look at the S&P top 50 companies, and it's very hard to find ones that are really hurt by this," Cramer said.
Related Reports:
U.S. Hits Pause on Several Chinese Tariffs, Stocks Rise, plus Manufactured Home Investing Updates
Manufactured Housing Industry Investments Connected Closing Equities Tickers
Some of these firms invest in manufactured housing, or are otherwise connected, but may do other forms of investing or business activities too.
NOTE: The chart below includes the Canadian stock, ECN, which purchased Triad Financial Services.

NOTE: Drew changed its name and trading symbol at the end of 2016 to Lippert (LCII).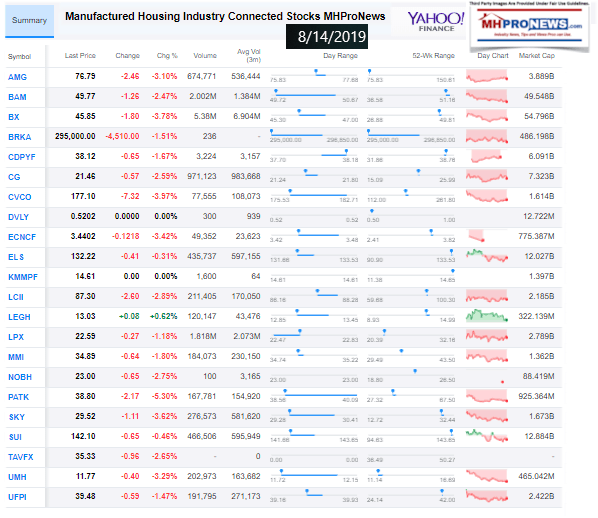 Updated…
Berkshire Hathaway is the parent company to Clayton Homes, 21st Mortgage, Vanderbilt Mortgage and other factory built housing industry suppliers.
· LCI Industries, Patrick, UFPI, and LP each are suppliers to the manufactured housing industry, among others.
· AMG, CG, and TAVFX have investments in manufactured housing related businesses.
Your link to an example of industry praise for our coverage, is found here and here. For the examples of our kudos linked above…plus well over 1,000 positive, public comments, we say – "Thank You for Your Vote of Confidence."
· For expert manufactured housing business development or other professional services, click here.
· To sign up in seconds for our industry leading emailed headline news updates, click here.
· Disclosure. MHProNews holds no positions in the stocks in this report.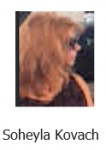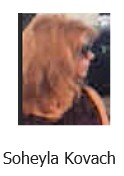 "We Provide, You Decide." © ## (News, analysis and commentary.)
(Image credits and information are as shown above, and when provided by third parties, are shared under fair use guidelines.)
Submitted by Soheyla Kovach, co-managing member of LifeStyle Factory Homes, LLC and co-founder for MHProNews.com, and MHLivingNews.com.

Connect with us on LinkedIn here and here.