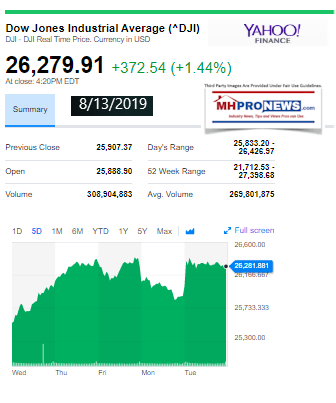 Stocks roared back today on signals from the Trump Administration that the tariff side of the trade war is being dialed back, just a bit with an eye on the U.S. Christmas and other holidays. A look at trade will be our focus tonight.
Every evening our headlines snapshots from two major media outlets on each side of the left-right news spectrum reflects topics that influence, reflect, or move investor sentiment. In moments, you can get insights-at-a-glance. This sets the broader context for manufactured housing markets, in keeping with our mantra, "News through the lens of manufactured homes, and factory-built housing" ©. 
We begin with left-of-center CNN followed by right-of-center Fox Business. We share closing tickers and other related data courtesy of Yahoo Finance, and more. 5 to 10 minutes reading this MHProNews market report every business night could save you 30 minutes to an hour of similar reading or fact-gathering elsewhere.
Headlines from left-of-center CNN Business.
·        CBS, VIACOM AGREE TO MERGE, FORMING $28B ENTERTAINMENT COMPANY
·        Stocks surge on delay of increase in China tariffs
·        Trump's China tariff delay: What it means for your wallet
·        Why is US household debt rising?
·        FOX BUSINESS EXCLUSIVE: JEFFREY EPSTEIN BEFORE HE DIED
·        Here's what the disgraced financier said to FOX Business Senior Correspondent Charles Gasparino in a series of interviews just months before he hanged himself.
·        These Sears and Kmart stores are closing, liquidation sales to start this week
·        Jimmy John's says it'll buy you a house if don't live close enough for sandwich delivery
·        2,600 Chipotle employees getting big bonus
·        These are the fastest growing jobs for women in the US, study finds
·        Health care giants pour money into ad blitz attacking 2020 Democrats' insurance plans
·        These retail chains are growing, offsetting others' closures: Report
·        Jeffrey Epstein death: Warden of federal jail reassigned by Justice Department, report says
·        L Brands CEO Les Wexner taps former SEC head for legal help over Jeffrey Epstein fallout
·        Domino's launches e-bike pizza delivery program to compete with rivals
·        University bans sale of all beef products on campus
·        Actor Kevin Sorbo: Universal Studios canceling 'The Hunt' is the ultimate PR campaign
·        Why Republicans say the Endangered Species Act hurts business
·        Amid Trump drama, University of Michigan bucks alumni call to remove Stephen Ross' name from campus
·        US homebuyers may still feel pain despite strong economy, low rates: Here's why
·        Antonio Brown seeks 'Schutt Air Advantage' helmet amid NFL flap: Why it's hard to find
·        Red Lobster CEO on minimum wage fight
·        Red Lobster CEO Kim Lopdrop discusses his company's approach to minimum wage.
·        Apps to protect you from robocalls actually sharing your data?
·        Fox News Headlines 24/7 anchor Brett Larson on reports some apps meant to protect you from robocalls may be sharing your data.
·        Pop-up marketplace promoting made in America
·        Northern Grade co-founder Mark McMillan on the company's pop-up marketplaces and promoting brands made in America.
·        Stocks rally as US delays tariffs on key Chinese imports
·        The yield on the 10-year Treasury rose to 1.69 percent, up from the previous session's yield which had settled near its three-year low.
·        Stories moving the markets and shaking up the world.
·        Apps to protect you from robocalls actually sharing your data?
·        Fox News Headlines 24/7 anchor Brett Larson on reports some apps meant to protect you from robocalls may be sharing your data.
·        Ex-Eagle Scout accused of running online prescription drug ring faces trial
·        Aaron Shamo faces 13 criminal counts, including importation and manufacturing of a controlled substance, drug trafficking and money laundering.
·        These are the trucking companies that closed this year: Report
·        Despite having a great year in 2018, the trucking industry has been struggling this year, leading at least eight trucking companies — many of them smaller companies — to fold in the last eight months.
·        SpaceX chief Elon Musk sends Andrew Yang some support
·        The tech titan tweeted his support for the 2020 Democrat presidential candidate. He reveals his support has a lot to do with Goth.
·        'Chrisley Knows Best' star Todd Chrisley and wife reportedly indicted on tax evasion and bank fraud charges
Headlines from right-of-center Fox Business.
·        Trump bump? Not so much
·        Stocks are up 27% under Trump — but other recent presidents had even stronger results
·        INTERACTIVE How stocks performed under each president
·        Dow rises nearly 500 points after US delays certain tariffs on tech
·        US will delay tariff hike on Chinese-made cell phones and toys
·        How 5G will change the future
·        Foreign investment in America is declining
·        'Messy politics' are a huge risk for the global markets and economy
·        Snapchat creators earn serious money from making photo filters
·        New York Times demotes editor who sparked fury
·        CBS and Viacom reunite in merger
·        Viacom and CBS reunion likely marks first step into new frontier
·        The 737 Max crisis could destroy Boeing's plans for the 797
·        New tariffs would have jacked up the price of iPhones. Delay buys time for Big Tech
·        Snapchat isn't giving up on its smart sunglasses
·        BEATING THE RETAIL SLUMP
·        Kohl's will feature niche brands with loyal Instagram followings
·        Nike launches a sneaker subscription service for kids
·        Instagram is changing the way people buy things
·        Malls are filling their empty spaces with doctor's offices
·        Malls are struggling. But stores in airports are thriving
·        Drug tests are becoming less important to employers. Here's why
·        Hiring refugee women could boost global GDP by $1.4 trillion
·        US hiring is chugging along at a 'slow but still solid' rate
·        Chipotle wants to give workers an extra month of pay
·        What's behind the US government's massive spending on temp workers
·        Is a currency war coming?
·        Why Ford isn't worried about competition from Tesla
·        Voting machines were turned inside out as hackers demonstrated how easy it could be to disrupt democracy.
·        Hackers turn voting machines inside out
·        How a new generation of architects 'might save the world'
10 Market Indicator Summaries – Yahoo Finance Closing Tickers on MHProNews…

Tonight's Business/Market/Political Impact Spotlight –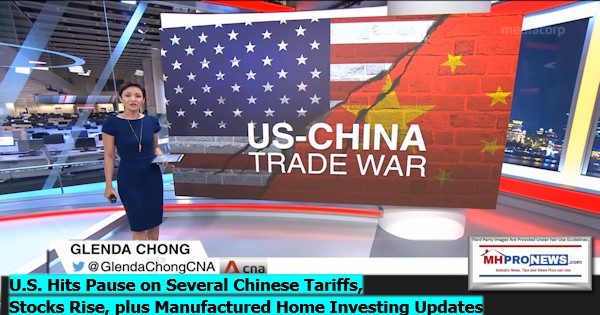 CNA News is funded by the Singaporean government, says Wikipedia. So, their content is 'state' news from China.
The United States announced that it will delay the imposition of new 10% tariffs on Chinese consumer electronics until Dec 15. According to US trade representative Robert Lighthizer, the delay will impact cell phones, laptops, computer monitors, some toys, footwear and clothing. However, Washington is still going ahead with new duties on $300 billion worth of Chinese goods, which will take effect in September.
Per CNBC.
·        Some influential voices on Wall Street are saying Trump blinked in the latest exchange with China and showed just how much pain the U.S. could tolerate. China may use that to its advantage.
·        "Tell me why Xi should not continue to wait out The World's Greatest Negotiator, who keeps 'dealing' with himself?" says Jim Chanos, founder and managing Partner of Kynikos Associates.
·        Markets rallied on the announcement by the U.S. Trade Representative office that certain items were being removed from the new China tariff list and others would be delayed until mid-December.
What the above doesn't take into account is the possibility that there is a face-saving move at play that allows China to appear to have a win by having the U.S. acting first to dial back the pressure. Time will tell.
Another possibility is that domestic heat, from farmers and others, may have reached a point that the Trump Administration felt that they had to do something.  If so, that too will be revealed in time.
Decades of failure to look ahead on the U.S.-China trade imbalance and other trade related issues have begun to be addressed by the Trump Administration.  Some jobs and capital are flowing back into the U.S. Will that trend continue? Or will opposition, foreign and domestic press 1600 into kicking the can down the road?
On a closing note, the conditions in Hong Kong may be deteriorating.  See yesterday's report, linked below, and the video above.
Related Reports:
Big Hong Kong, Moscow Protests Raise Spectre of More Serious Unrest, plus Manufactured Home Investment Updates
Pain Before Gain, Kevin O'Leary, Trade War "Starting to Work," plus Manufactured Home Stock Updates
Higher China Tariffs "Hits Home," Building Impacts Ahead, Per NAHB
Chinese Communists Strike Back, Stocks Worst Day 2019, plus Manufactured Home Stock Updates
Biggest Dow Losers? Companies Tied to Chinese Trade, plus Manufactured Housing Market Updates
Chinese PreFabs, Modulars Are Selling in the USA, Here's an Example
Not Just Trade, Steve Bannon Says China Threat to U.S., Western Industrial Democracies, plus, MH Market Updates
Chinese PreFab Housing In U.S., Reasons George Soros' Davos Remarks on China's Threat Important to MHVille
Manufactured Housing Industry Investments Connected Closing Equities Tickers
Some of these firms invest in manufactured housing, or are otherwise connected, but may do other forms of investing or business activities too.
NOTE: The chart below includes the Canadian stock, ECN, which purchased Triad Financial Services.
NOTE: Drew changed its name and trading symbol at the end of 2016 to Lippert (LCII).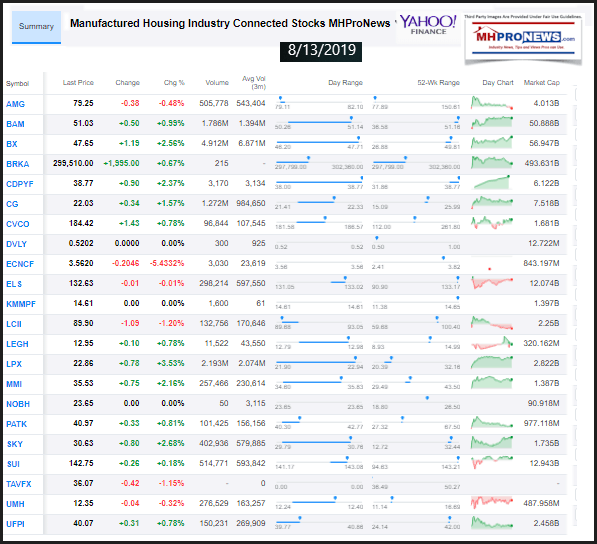 Updated…
Berkshire Hathaway is the parent company to Clayton Homes, 21st Mortgage, Vanderbilt Mortgage and other factory built housing industry suppliers.
· LCI Industries, Patrick, UFPI, and LP each are suppliers to the manufactured housing industry, among others.
· AMG, CG, and TAVFX have investments in manufactured housing related businesses.
Your link to an example of industry praise for our coverage, is found here and here. For the examples of our kudos linked above…plus well over 1,000 positive, public comments, we say – "Thank You for Your Vote of Confidence."
· For expert manufactured housing business development or other professional services, click here.
· To sign up in seconds for our industry leading emailed headline news updates, click here.
· Disclosure. MHProNews holds no positions in the stocks in this report.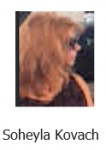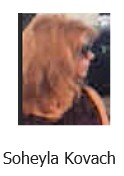 "We Provide, You Decide." © ## (News, analysis and commentary.)
(Image credits and information are as shown above, and when provided by third parties, are shared under fair use guidelines.)
Submitted by Soheyla Kovach, co-managing member of LifeStyle Factory Homes, LLC and co-founder for MHProNews.com, and MHLivingNews.com.

Connect with us on LinkedIn here and here.