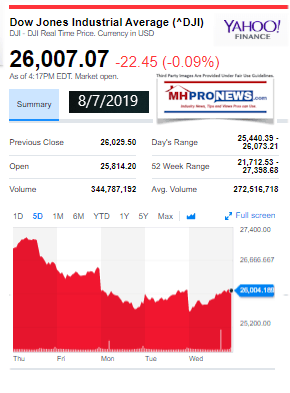 Michael Pillsbury with the Hudson Institute.  Larry Kudlow on President Donald J. Trump's economic advisory team.  Investor, business man, and Shark Tank star Kevin O'Leary, who has done business in China for years.  There are plenty of voices weighing in on the U.S. China trade war. The Fed has signaled it will do what it takes, and markets leveled off and rose near or beyond the open by the closing bell. Manufactured home stocks closed mixed.  Let's dive into insights from pros who are encouraged, not discouraged, by what they see evolving.
Every evening our headlines snapshots from two major media outlets on each side of the left-right news spectrum reflects topics that influence, reflect, or move investor sentiment. In moments, you can get insights-at-a-glance. This sets the broader context for manufactured housing markets, in keeping with our mantra, "News through the lens of manufactured homes, and factory-built housing." ©.
We begin with left-of-center CNN followed by right-of-center Fox Business. We share closing tickers and other related data courtesy of Yahoo Finance, and more. 5 to 10 minutes reading this MHProNews market report every business night could save you 30 minutes to an hour of similar reading or fact-gathering elsewhere.
Headlines from left-of-center CNN Business.
·        Tesla won't stop saying the Model 3 is the safest car
·        US Federal regulators demanded Tesla stop making the claim. But it won't back down
·        Barry Diller's IAC may spin off Match and Angie's List
·        Cash is no longer king as rates plunge around the world
·        Gold hits a six-year high and bond yields collapse as fears of a slowdown mount
·        LIVE UPDATES Nasdaq turns green as stocks pare losses
·        Tom Brady & Gisele Bundchen are selling this Massachusetts estate
·        ANALYSIS Calling out China over its currency is an empty threat
·        OPINION The current state of crypto regulation is hurting US companies
·        The $1 trillion trade war weapon China may never fire
·        Samsung's Note10 finally bids farewell to the headphone jack
·        OPINION Bolstering the Affordable Care Act is our best hope to insure all Americans
·        A Walmart worker sent a mass email urging thousands of associates to strike over gun sales
·        Walmart CEO pledges 'thoughtful and deliberate' response to El Paso mass shooting
·        Dow erases steep losses after bond market scare
·        Walgreens will close about 200 stores in United States
·        GUNS ARE BIG BUSINESS
·        Google and Amazon remove gun-related shopping results
·        What would happen if Walmart stopped selling guns
·        Gun stocks rise after a weekend of mass shootings
·        In the wake of latest massacres, Walmart is pressured to stop selling guns
·        A horrific school shooting was the last straw for the CEO of Dick's Sporting Goods
·        SMART HOMES, SMART NEIGHBORHOODS
·        Inside the 'living laboratory,' an Alabama neighborhood of smart homes
·        Alphabet's plans to track people in its 'smart city' ring alarm bells
·        Ikea wants to build homes in Britain that cost what the buyer can pay
·        Making an old home healthier for you and the environment
·        What it's like to live on a floating home
·        Why Ford isn't worried about competition from Tesla
·        There's no denying what 4chan & 8chan are
·        Fake meat is the future. Here's why
·        See the new Corvette Stingray
·        Her candle company empowers victims of human trafficking in Ohio by giving them a new life
·        Luxury homes in the Hamptons are selling at some pretty steep discounts
·        You're running your meetings wrong. Here's how to make them more effective
·        A 100-year-old company will be the first US business to export rice to China
·        SoftBank's big bet on tech is paying billions
·        SpaceX and Boeing team up for satellite launch. Here's what brought them together
·        A OnePlus 5G smartphone is headed to Sprint
·        Apple's credit card is here, but most people can't use one yet
Headlines from right-of-center Fox Business.
·        GUN STOCKS DROP AS TRUMP CONFIRMS CONGRESS WANTS TIGHTER BACKGROUND CHECKS
·        Dow, S&P & Nasdaq curb big losses in wild ride
·        Brent crude bear market: Is the sky falling? Don't count on it
·        Trump administration to ban US government business with Huawei
·        IS A US RECESSION COMING? YIELD CURVE FLASHES DIRE WARNING
·        Rates on 10-year notes sank on Tuesday to 1.73 percent and continued to fall Wednesday morning.
·        Walmart CEO responds to calls to end gun sales after mass shootings
·        World Bank president: What's next for China amid the trade war
·        FedEx to end ground-delivery contract with Amazon
·        American Airlines lands naming rights for Rams and Chargers stadium plaza
·        10 best features of Samsung's Galaxy Note 10
·        Coal mogul Richard Gilliam donates $1M to ex-Blackjewel miners whose paychecks bounced
·        Ford recalls thousands of 2020 SUVs for safety issue
·        How you can have unlimited access to luxury resorts worldwide
·        JetBlue to offer 'drastically' cheaper flights to Europe
·        Drug distributors offer multi-billion settlement in suits blaming them for opioid crisis
·        More workers now make OT. What that means for your business
·        NFL's Washington Redskins unveil gambling-focused preseason telecast, making history
·        Here's how Americans are saving for retirement
·        Ford's Mustang Shelby GT500 is a street legal monster
·        Bundle up: The Disney+, Hulu, ESPN+ price tag
10 Market Indicators – Yahoo Finance Closing Tickers on MHProNews…

Tonight's Business/Market/Political Impact Spotlight –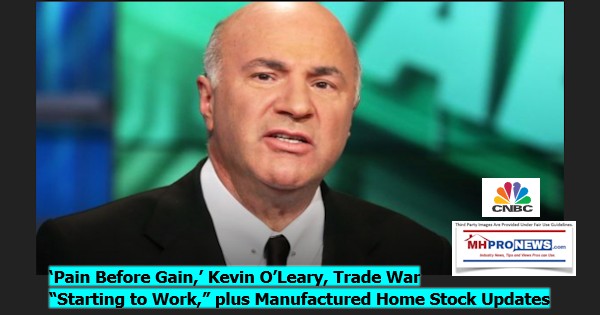 Stating the obvious, there are scores of voices that think that the trade war was a bad idea.  The 3rd bullet below from CNBC reflects one of the many concerns.
  

President Donald Trump's tactics in the trade war are clear, but the objectives are fuzzy.
·        Economic advisor Larry Kudlow said the White House wants a zero-tariff world, a goal that is likely to be elusive.
·        "If you want to be successful, you have to be strategic," economist Steven Blitz says. "Because the fact is … I can't even tell you what victory is."
In a CNBC interview Tuesday, White House economic advisor Larry Kudlow began to quantify what President Donald J. Trump is looking for as it cranks up the trade tensions with China in search of an agreement it deems favorable to U.S. interests.
But before diving into that, let's note that the president's men are talking as much – perhaps more – to China and others as they are to the American people and investors. Negotiations occur in a variety of forms.  No slur on Mr. Kudlow intended, but what is said may or may not mean what it seems to say.
"The president has said numerous times his ultimate goal with respect to the world trading system is zero tariffs, zero non-tariff trading barriers and zero subsidies," said Kudlow, director of the National Economic Council. "There are considerable benefits to truly free and lawful trading. There are consumer benefits and business benefits on both sides."
Citizen Trump, going back to the Reagan Administration, has criticized U.S. trade policy. He's not alone, as mavericks like Ross Perot made similar statements on trade policy in the 1990s as citizen Trump did. So those who take a historic view of the 45th president are not surprised by the roller coaster, noting that the ride has been mostly up as measured by the economy, jobs, incomes, and the markets.
"The president is a transformative president. He's rebuilding the American economy and we've had some considerable success. These things are not easy, and that includes trade imbalances," Kudlow stated. "So what we're trying to do is have fair, freer, reciprocal trading with China."
Advisor Kudlow tossed out a dollar figure of $600 billion; "if we were able to reclaim what we have lost" in intellectual property theft.
With that tee up, Michael Pillsbury with the Hudson Institute in the video below is insightful.
Entertaining and insightful is Shark Tank star, investor and business owner Kevin O'Leary. "I need the end game with this administration to end up with access to the Chinese market and protection of my IP," O'Leary said. "Those are two things I want, and until we get that I don't care how much soybeans they buy, it's irrelevant. What we need is a level playing field."
"The upside is immense for the S&P if we get this deal done," he said. "Keep squeezing their heads. Don't stop."
Certainly, there are those that think this strategy could backfire.  But those who claim knowledge of the president's vision say that as 45 himself has said, 'we are playing with the bank's money.'  Get the economy and the markets up, then take some pressure tactics that may push them down for a time, but with a rebound just beyond.
If so, it's a long game, not a fast game. That sounds just a tad like something a billionaire in Omaha might think too.  Take the time needed to get the deal right.
Related Reports:
Tariffs "…Will Effect Demand," says Kevin Clayton, Answers CNBC's Monopoly Question – Video – plus Manufactured Housing Market Updates
Kobayashi Maru, Crime, Kevin Clayton, Darren Krolewski, MHInsider – State of Manufactured Housing Industry
Manufactured Housing Industry Investments Connected Closing Equities Tickers
Some of these firms invest in manufactured housing, or are otherwise connected, but may do other forms of investing or business activities too.
NOTE: The chart below includes the Canadian stock, ECN, which purchased Triad Financial Services.

NOTE: Drew changed its name and trading symbol at the end of 2016 to Lippert (LCII).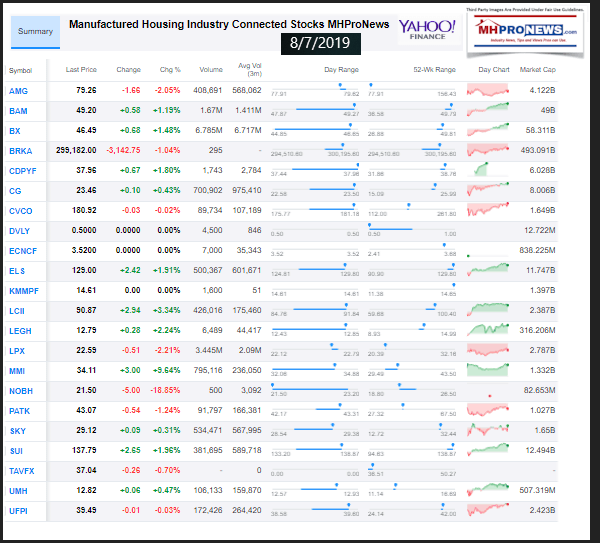 Your link to an example of industry praise for our coverage, is found here and here. For the examples of our kudos linked above…plus well over 1,000 positive, public comments, we say – "Thank You for Your Vote of Confidence."
· For expert manufactured housing business development or other professional services, click here.
· To sign up in seconds for our industry leading emailed headline news updates, click here.
· Disclosure. MHProNews holds no positions in the stocks in this report.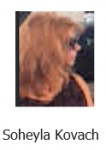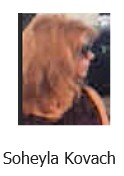 "We Provide, You Decide." © ## (News, analysis and commentary.)
(Image credits and information are as shown above, and when provided by third parties, are shared under fair use guidelines.)
Submitted by Soheyla Kovach, co-managing member of LifeStyle Factory Homes, LLC and co-founder for MHProNews.com, and MHLivingNews.com.

Connect with us on LinkedIn here and here.