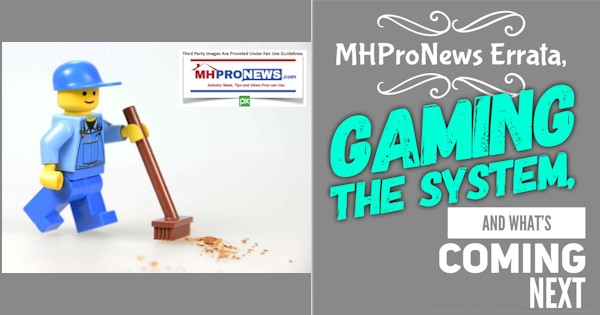 When someone pushes for accountability, they too should be accountable. That's only fair, right? There are three topics in the headline, each will be addressed in sequence in this article.
Yesterday, a glitch on our end caused articles still being drafted – and therefore, incomplete – to become published and this visible. As we were out at the time, it was a few hours before it could be addressed by unpublishing them for now. Once completed, and at the appropriate time, they will be republished. Our sincere apologies for the error.
That error and admission on our part are a possible blessing in disguise to thousands of manufactured home industry professionals and investors, as some mistakes can prove to be. How so? First, it's a reminder of how millions of modern websites work. More on that and how it relates to industry news and realities are below. But second, it raises the issue of what happens after mistake(s) are discovered? What does the mature, honest, ethical adult professional do? In our case, it was our goof. That makes it 'clean up on aisle six' time and then move on.
But what about the broader industry? What about the self-proclaimed leaders of manufactured housing? What do they do when an error is discovered?
In far too many cases:
·        Ignore the error. Act as if it never happened. That aim of that method is hoping that it will soon be forgotten.
·        Use misdirection. Distract from the error, as it may soon be forgotten.
·        Attack anyone or anything – directly and/or indirectly – that brings attention to the error. Intimidate anyone – or perhaps, worse – that might dare mention that an error occurred.  
One could go on, but the point is that there are honest and dishonest ways of dealing with errors.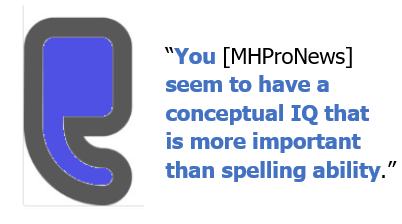 How a person or organization deals with a mistake often speaks volumes. A colleague – who is a prominent senior executive of a firm that is member of a trade group based in Arlington, VA – was commenting on our typos by saying the comment in blue at the left. An honest man or woman, ought to admit their own limitations, to paraphrase Clint Eastwood's movie character. That professional who shared that thoughtful comment may or may not use the phrase, 'separate wheat from chaff.' But he clearly grasps the concept. 
Thousands of professionals turn to MHProNews daily, not because we are perfect, but rather, because we are demonstrably the best and bring useful information to our readers. Our competitors, including one that publicly called for a boycott of this platform, are reportedly regular readers here.  Some pay us a high compliment by imitating as best they can something that they found first on our website, although they may do so for purposes of spin or whatever.  That too speaks volumes, when someone takes without proper attribution, or is giving cover for illicit purposes, but those are other topics for another time.
That said, let's turn to what this unintended mishap revealed beyond our MHProNews site.
HUD, MHI and Gaming the System
One of yesterday's properly published stories recounted a far more serious issue. Certain professionals at HUD along with some at and/or in association with the Manufactured Housing Institute (MHI) have been credibly accused of 'gaming the system,' not once, but over a period of years. Part one of that report is linked below.
Bombshells! Former HUD Manufactured Housing Program Administrator Bill Matchneer, Cavco's Manuel Santana Statements
In doing so, what would be the goal or potential impact?  Boiled to its essence, what is described in the report above would limit the sales of new HUD Code manufactured homes. The numbers of sales of homes thereby limited would be significant, perhaps transformative for the industry's businesses.
That begs the questions. Who benefits from limiting the sales of manufactured housing? How do they benefit?
Let's look at some bullets.
1)  According to sources as well as evidence, someone at HUD republished an article (page) on the HUD website that was reportedly removed years ago.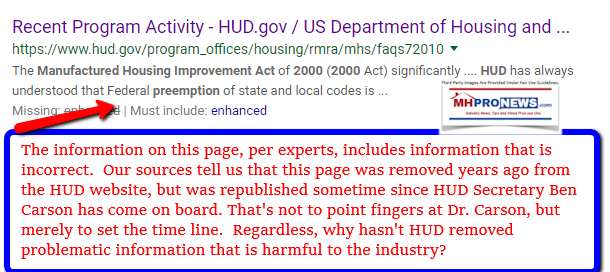 2)  The HUD article has incorrect information on it. That's why it was reportedly removed in the first place. As HUD has been notified of the error, and HUD staff are known to be regular readers of MHProNews, why has that problematic page not been removed? Why was it republished after it was reportedly unpublished?  The page in question is the one shown above and reads as the document download found here reflects.
3)  Why would one or more at MHI have unpublished positive content on their website that might provide visitors to their website positive insights about manufactured housing?
4)  MHI unpublished a page on their website that existed in June, 2019. That page had largely positive content, as it featured HUD Secretary Ben Carson in two mainstream news videos speaking positively about manufactured housing at the recent "Innovations in Housing Showcase" held on the National Mall in Washington, D.C.
During what is now the tenth month of a year-over-year downturn in new HUD Code manufactured housing sales, MHI seems unwilling to directly address that serious problem. A 'normal' trade organization would arguably be doing whatever they could to increase sales, isn't that right?  Thus, these are valid questions and issues of concern. Do they point to something serious occurring at HUD and MHI that indicates a desire to limit instead of grow the manufactured home industry?
See the linked reports from within this post to learn more.
Food, water, clothing, and shelter. These describe the 4 essentials for human life. Additionally, some mention living-related items such as – health, sanitation, transportation, education/information, faith, technology, and entertainment – not necessarily in that order of importance. Professional or investment opportunities exit by serving one or more of those needs properly.
Suffice it to say for now that there is evidence of a pattern of activity that is not favorable to MHI and their big boy backers. That evidence arguably points to staff at HUD working in conjunction with forces in league or at MHI.  How so?  Because MHI has easy access to HUD staff, and so logically if they wanted to see errors at HUD corrected, they would be able to readily do so.
Can 'Mistakes' Be Revealing?
When someone makes a mess in a grocery store, the store doesn't quibble over why the mess is there on aisle six.  Rather, the store cleans up the mess on aisle six first. The issue of responsibility can be addressed later, as needed.
Yes, properly considered and understood, even a mistake(s) can be revealing. As a wise person once noted, perfection is not achievable, but by striving for it, one can achieve excellence. 
Why has MHI unpublished good content? Why does MHI hide behind firewalls research that they claim would be good for the industry? Why has HUD Secretary Carson made so many efforts to promote manufactured housing, while some at HUD seem to be working to hide the truths about important issues like enhanced preemption from those who visit the HUD website? 
What's next?  Time will tell, but count on MHProNews to be looking out for what's good, bad, and ugly and then to provide you with the straight scoop and necessary analysis that the industry craves. That's manufactured home "Industry News, Tips, and Views Pros Can Use" © where "We Provide, You Decide." © ## (News, analysis, fact-checks, and commentary. See Related Reports, further below. Third-party images and content are provided under fair use guidelines.)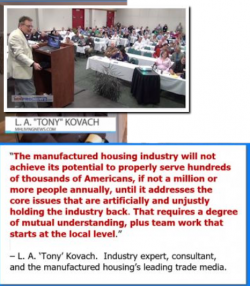 By L.A. "Tony" Kovach – for MHProNews.com.
Tony earned the Lottinville Award in history from the University of Oklahoma. He has earned multiple awards in manufactured housing and in history. He's a managing member of LifeStyle Factory Homes, LLC, the parent company to MHProNews, and MHLivingNews.com.
Office 863-213-4090 |Connect on LinkedIn:
http://www.linkedin.com/in/latonykovach
Sign Up Today!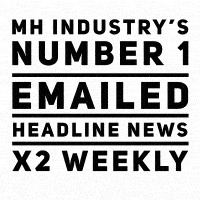 Click here to sign up in 5 seconds for the manufactured home industry's leading – and still growing – emailed headline news updates.
Related References:
The text/image boxes below are linked to other reports, which can be accessed by clicking on them.
Outrageous Manufactured Home Production Decline Persists – When Will Manufactured Housing Institute, 'Big Boy Brands,' Act? June 2019 Data
Manufactured Homes Aren't "Trailers" in "Trailer Parks" – HUD Secretary Ben Carson on Affordable Housing, Manufactured Homes, Zoning and Placement Barriers