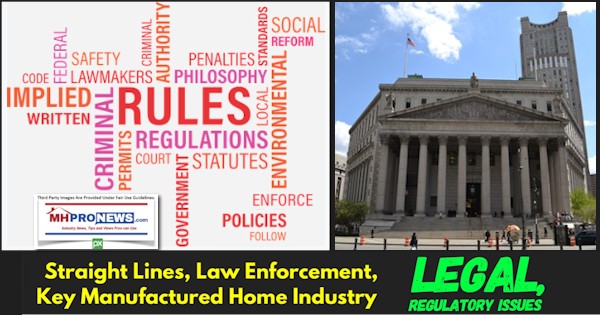 "A straight line may be the shortest distance between two points,
but it is by no means the most interesting."
― Robert Holmes.
"I see that the path of progress has never taken a straight line,
but has always been a zigzag course amid the conflicting forces of
right and wrong, truth and error, justice and injustice, cruelty and mercy."
– Kelly Miller.
"There are many crooked lines and one straight line. Which is the line of
truth? Why the straight line? Truth is always the shortest distance
between two points."
– Sun Myung Moon,
all three quotes according to Brainy Quotes.

Notice: quoting a person or entity does not imply, nor should it be
construed, as agreement with any problematic behavior by that same
person or source.
If the shortest distance between two points is a straight line, that begs what should be a simple question with respect to the manufactured housing industry. If a legitimate goal of an industry business or pro-growth trade association is to ethically increase the sales of more new HUD Code manufactured homes, then why not seek the enforcement of the good federal laws that are already on the books that would accomplish that result?
Here's another question. Because enacting legislation is always a long shot, why are certain bills being pursued by certain nonprofits involved in manufactured housing that may never pass?
Further, why seek a law that may undermine or not be as good as existing laws? 
"The vast majority of bills are essentially dead upon arrival. In any given two-year session of Congress, ten-thousand or more bills are introduced. But only about 4 percent of them become law," said the Huffington Post on September 25, 2009.  Notice that data-point was prior to the need, much less the pursuit, of the Preserving Access to Manufactured Housing Act that MHI reportedly spent millions of dollars and years of effort pursing.  MHI failed to get the enactment of the Preserving Access bill.
·        Given the introductory facts, aren't the enforcement of good existing laws more logical than trying to pass a law that only has about a four percent odds of enactment?
·        Furthermore, given the problematic experience with the Manufactured Housing Improvement Act (MHIA) of 2000, and the Housing and Economic Recovery Act (HERA) of 2008's provision for Government Sponsored Enterprises Duty to Serve (DTS) Manufactured Housing, shouldn't prudent people ponder in seeking enactment of some new legislation if that bill may or may not get enforced, even if it is eventually passed and signed into law? 
·        There are several examples of laws that are going under enforced or effectively unenforced. MHIA's enhanced preemption, HERA's DTS, or the proper use of antitrust laws are just three possible examples that impact manufactured housing daily.
So, any promises about what a bill might accomplish must be tempered based upon such concerns.
These issues are part of what businesses and their trade associations ought to keep in mind with respect to American law.
Per Your Dictionary Quotes:
"Fig leaf meaning:
1. the type of leaf sometimes used in paintings to cover a naked person's sex organs
2. something that hides something else, especially something that is dishonest or embarrassing," Cambridge.org dictionary.
Ponder that second meaning for 'fig leaf' for the next few moments.
Good Laws Already on the Books vs Posturing, Fig Leaves, and "Association Malpractice"
MHProNews has documented that Rick Robinson, JD, Senior Vice President and General Counsel for the Manufactured Housing Institute (MHI) is aware of the federal law that gives HUD Code manufactured housing federally enhanced preemption. Robinson cited it in the document here. 
Even if MHI's inside attorney had not known about enhanced preemption, they periodically hire outside counsels for various reasons. Are we to believe that Graydon Law, McGlinchey Stafford, and Bill Matchneer, JD, – who has cited the importance of HUD's federal enhanced preemption – have overlooked or forgotten that aspect of the Manufactured Housing Improvement Act (MHIA) of 2000?
Robinson has been praised as an exemplary, passionate attorney. See what others said about him on LinkedIn, below.  Are we to think that this exemplary attorney failed to do his homework on the MHIA and enhanced preemption?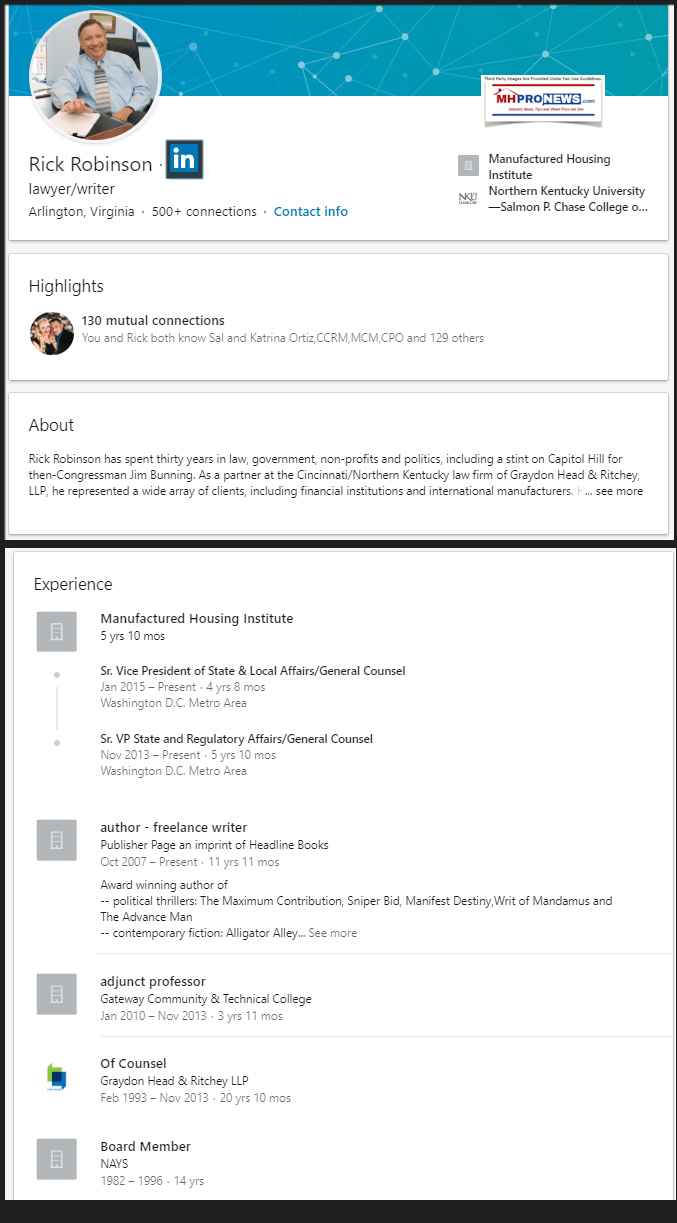 That begs these questions.  Prior to the July 18, 2019 MHI letter to HUD Secretary Ben Carson, has Robinson, attorneys at Graydon, McGlinchey Stafford, or Matchneer been instructed not to pursue the "enhanced preemption" aspect of federal law? If so, who gave those instructions? For what possible reasons?
A MHEC member told MHProNews during the dust-up following the Last Week Tonight with John Oliver viral "Mobile Homes" video that what was occurring was "association malpractice."  That comment did not come from Mark Weiss, JD, at MHARR.  A manufactured home industry professional in that MHEC loop was – and remains – 'appalled' about much that is avoidably going sideways in the industry, that just following common sense could remedy. So much so, that several tips to MHProNews flowed from MHEC regarding that concern.
Ross Kinzler Confirms Allegations, MHEC Peer Claims "Association Malpractice;" Member Backstab, MHI Failure Concerns
Graydon Law… 
Robinson was connected to Graydon law, as his LinkedIn profile reveals.  Graydon Law has an office in community owner-partner Nathan Smith's hometown of Fort Mitchell, KY.  Smith used to be MHI's chairman.
Graydon Law put in writing that they monitor MHProNews and/or MHLivingNews for MHI. If so, then even if they didn't know about federal enhanced preemption previously, surely, they must know now after months of reading on our two news sites?
Given that MHI members also include MHARR members, MHI is arguably aware of MHARR's take on various issues: they must be.
As a recent report reflected, the Modular Home Builders Association (MHBA) announced a successful outcome to a case that they weighed in on involving modular housing. 
"Historic!" High Court Ruling on Modular Home Case Touted by Modular Home Builders Association (MHBA) Tom Hardiman
That successful effort by MHBA begs the following questions. Why has MHI's inside or outside counsels not taken a similar tact and either:
·        Informed cities seeking to 'ban' manufactured homes – often in areas where they were previously permitted and as exemplified in reports linked here and here – about enhanced preemption of manufactured homes under the Manufactured Housing Improvement Act of 2000?
·        Why hasn't MHI used their 'clout' and 'access' to HUD officials to get them to act under the MHIA 2000's enhanced preemption provision?
·        If MHI had tried that, and HUD had failed to act, why hasn't MHI sought a 'writ of mandamus,' seeking a court order to compel HUD to do what the law states, and what lawmakers involved in the laws passage said was part of their federal mandate?  Note that Robinson is aware of the writ of mandamus, because he wrote a book that used that concept plotline, and that was the title to that legal intrigue novel.
·        Why hasn't MHI done what MHBA did, and file amicus briefs in cases to force compliance of 'enhanced preemption?'
·        Why has it only been recently that MHI directly addressed HUD Secretary Ben Carson about HUD's failure to promote the principle of enhanced preemption?
 Which brings us to MHI and Rick Robinson in a July 24, 2019  "News and Updates" to their members and manufactured housing industry readers. It read as follows, below the screen capture of their header.
MHI Meets with County Leaders
"Recently, the Manufactured Housing Institute (MHI) exhibited at the 2019 National Association of Counties (NACo) Annual Meeting. This year, the event was held in Las Vegas and was attended by several thousand elected and appointed county officials from across America. 
"Nevada Housing Alliance President and MHI Board member Leo Poggione joined MHI General Counsel/Senior VP Rick Robinson for three days in the industry's booth. The two spent their time answering questions and posing affordable housing solutions to counties officials.
"It was really a unique opportunity to speak directly with the wide variety of county officials that attended this event," Poggione said. "It is always nice to hear so much positive feedback and genuine interest in our product from county officials from so many different geographical areas of the United States."
This is the third straight year MHI has exhibited at the NACo annual meeting. MHI will also be exhibiting at the NLC Cities Summit in Texas later this year."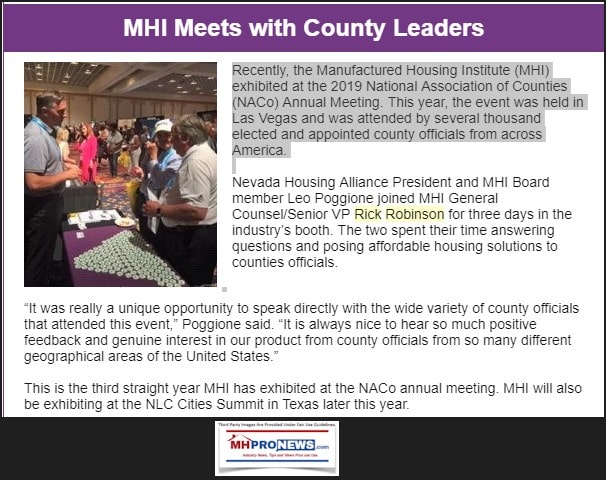 So, said MHI to their readers. Why bother with all that if they simply demanded that HUD enforce federal law?  After months of increased heat, MHI has now done just that, but perhaps after years of posturing, did they forget that if their call for enhanced preemption was sincere, then they don't have wonder about cities, counties, and states? Are head-fake habits hard to break?
Oddities 
There are several oddities in that July 24, 2019 email from MHI to their member/readers.
·        Just days before, they wrote HUD Secretary Ben Carson, asking him to enforce the law on enhanced preemption.  See that report, linked below.
Under Pressure, MHI Pivots "HUD Must Implement and Enforce its Enhanced Preemption Authority"
·        If MHI had been consistently pushing enhanced preemption with HUD for years, then what would be the need to attend the National Association of Counties meeting?
·        If MHI was serious about their letter to Secretary Carson on enhanced preemption, then why did Manuel 'Manny' Santana vote no on DRC #1?
Bombshells! Former HUD Manufactured Housing Program Administrator Bill Matchneer, Cavco's Manuel Santana Statements
"Daily life is a compromised blend of posturing for the sake of
role-playing and of varying degrees of self-revelation…" – E. O. Wilson.
That's today's 'almost midnight' installment of manufactured housing "Industry News, Tips, and Views Pros Can Use," © where "We Provide, You Decide." © ## (News, analysis, and commentary.)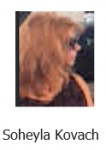 Submitted by Soheyla Kovach for MHProNews.com.
Soheyla is a managing member of LifeStyle Factory Homes, LLC, the parent company to MHProNews, and MHLivingNews.com. Connect with us on LinkedIn here and here.
Related Reports:
Click the image/text box below to access relevant, related information.
Lanham Act, Monopolistic Housing Institute, err, Manufactured Housing Institute, Legal Bullies, and You
Manufactured Housing Institute Supported Bill Buffeted by Headwinds, Plus Recap and Look-Ahead
Secretary Ben Carson's, Julian Castro's Manufactured Housing, "Trailer," "Mobile Home" Revelations, 2020 Battles Ahead
Frank Rolfe, Dave Reynolds, Both Finger Manufactured Housing Institute (MHI) Failures, in Writing, Again
"Monopoly" in Manufactured Housing Alleged by George Allen, MHI Defender's Turn by former Community-Investor, Self-Claimed EducateMHC Blogger
Nathan Smith, SSK Communities, Manufactured Housing Institute Leader, Profitably Correcting the Record
Manufactured Homes Aren't "Trailers" in "Trailer Parks" – HUD Secretary Ben Carson on Affordable Housing, Manufactured Homes, Zoning and Placement Barriers
HUD Secretary Ben Carson Emerging Strategies in Affordable Housing Expo 7.23.2019, Talks Manufactured Homes, Other Innovations, Solutions
Concern Addressed, HUD Staff "Waiting Out" Secretary Carson Tenure to "Return…Harsher…Costly…Unnecessary" Regulations