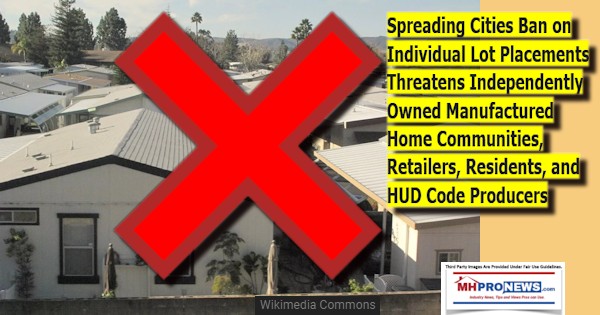 Former volume retailer, community owner and Manufactured Housing Institute (MHI) award winner Marty Lavin has referred to the HUD Code has a discrimination code.
State association executive J.D. Harper has called the bias against manufactured housing and their residents an example of "economic racism."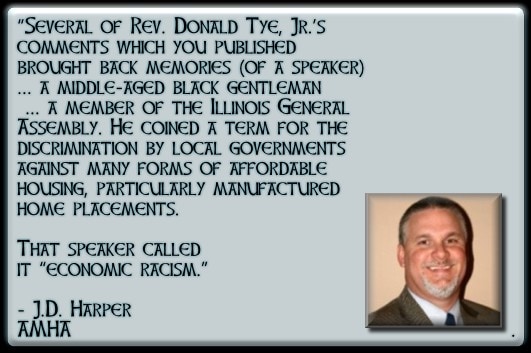 It will be recalled that Harper's association launched a nascent video campaign to boost manufactured housing acceptance. To the Arkansas Manufactured Housing Association's (AMHA) credit, that campaign is outperforming in YouTube views that MHI 'story telling campaign' has on achieved on that same online video platform.
Yet Arkansas is one of those states that is struggling against a growing trend to restrict or ban manufactured homes. The new HUD Code manufactured home shipment trend lines in that state have been problematic, as has Michigan, which has done varied promotional efforts of their own.  Despite MHI, or some state's efforts to 'promote' manufactured housing, that's arguably being drowned out by a longer and stronger drumbeat of often negative news.
Mainstream news stories like this next one –  going largely unanswered by MHI or the Berkshire Hathaway owned brands that reportedly dominate the Arlington, VA based trade group – add to a volume of anti-manufactured home background noise.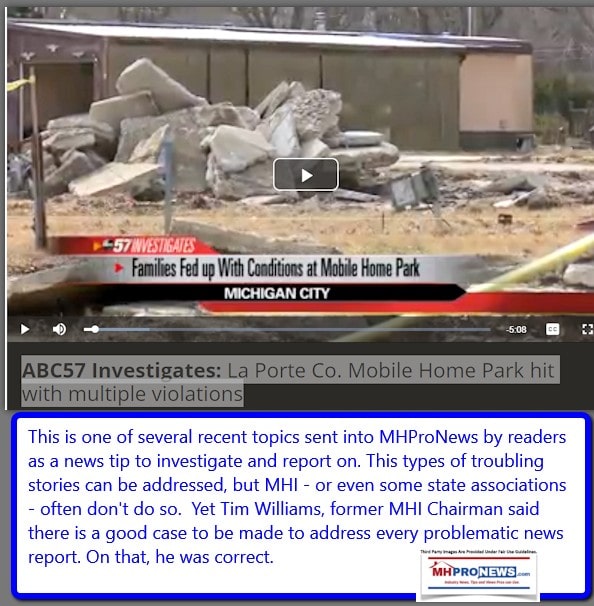 The New Durham Estates, Tom Fath Experience 
In contrast to that phenomenon, is Tom Fath and his family's business. The Fath's New Durham Estates Community is undergoing a transformation. Once treading water at best, or losing occupancy, they are now reportedly attracting more new residents who are buying new, newer, nicer and more expensive HUD Code homes. They are selling more, in a move away from the refurbished and/or rental housing trends found in so many other land-lease communities.
Yet Fath sounded a warning to the industry when he said the following.  When there business is dramatically improving, why is he sounding an alarm?

 That was said by Fath in response to the MHI's arguably problematic advertorial campaign. MHProNews led the charge in calling that faux news effort out as ineffective at best, or a risk at worst.
But back to Fath's comments. They're impressive improvements at New Durham Estates are driving their occupancy, income, and values higher. Furthermore it's obvious that their residents love the Fath family, some of whom live on property along side their MH owning residents.
Want proof? 
Beyond video interviews with actual residents – some of which like the one linked here and here are posted on MHLivingNews, there's the fact that Tom Fath was voted onto his town's council. Unhappy residents obviously don't vote for their owners!  As one of those links reveals, a retired police chief and his wife settled at New Durham Estates, and she too was voted onto the town council.  That's a stark contrast to what's happening in Bryan TX or other places where manufactured home bans are being discussed.  How does Fath describe their experiences in turning around their property and making it into a desirable destination? 
>
The troubling trend to attack manufactured homes – or 'mobile homes' and 'trailer houses' as the cities and residents often wrongly describe our housing products – can be countered.  Fath and his family, just miles from that other community prove it.  Proper engagement with the media, with residents, with public officials are all part of the solutions mix.
Crawl, Walk, Run
Dennis Hill, who was previously quoted as saying to MHProNews that the once cancelled Louisville Show needed to take a crawl, walk, run approach to rebuilding. Once up-trending while the Louisville Show was being promoted by MHProNews, and educational efforts were run by L. A. 'Tony' Kovach, now that Show has shrunk in exhibitions and display size again. Instead of acknowledging a warning signal, the new promoters – staunch pro-MHI member MHVillage and their so-called MHInsider magazine is spinning, wrongly – or lying? – about the downward trend at that event, as the report below reveals.  ICYMI, or want a refresher, you can click the linked text-image box below later for more depth on a related topic.
Fact Check, Darren Krolewski, MHInsider Claim on 2019 Louisville Show Attendance
 These disparate threads are surprisingly interconnected. Because they all come together to threaten the HUD Code industry's independent producers, retailers, communities, residents and their related interests. 
"It's arguably a different manifestation of Warren Buffett's, Kevin Clayton's and Tim Williams' strategic and economic moat," says Tony Kovach. ICYMI, see the related reports, further below the byline and notices.
The Solution?
Tony Kovach says that the Ziglar and other success guru principles that advocate understanding a problem before proposing solutions is a key.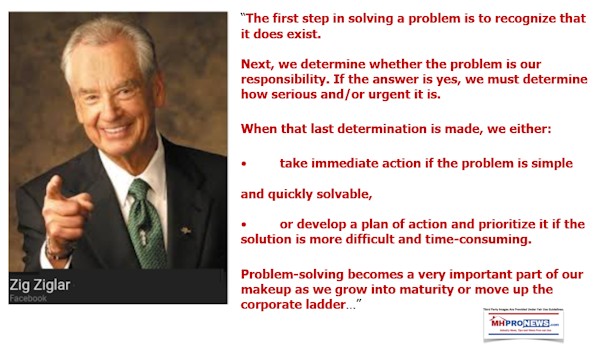 "Crawl, walk, run is an apt principle to keep in mind here too," says Kovach. "These seemingly disconnected trends intersect. It might seem to help in the short term some aggregators of manufactured home communities, who buy up distressed or under-performing properties from mom-and-pop ownership and turn them into a corporate ownership that is then targeted by MHAction. Is it surprising to learn that resident group GSMOL tipped us and helped identify the 'follow the money' ties between the radical anti-MHC corporate ownership MHAction group, and the Tides Foundation, which demonstrably got funding from Berkshire chair Warren Buffett?"
It is not quite a stage-managed affair.  But if you set people into motion doing what they do anyway, then what occurs is a seemingly choreographed resistance to manufactured homes. That does impact lending.  It does impact – artificially so – the natural appreciation that the National Association of Realtors and the Federal Housing and Finance Administration (FHFA) has each identified exists in manufactured homes. 
"We respect the rights of individuals and companies to support with their money whomever they please," says Tony Kovach. "But out of concern for those who support MHI, we and a few other voices have for some time raised the alarm about the troubling trends that MHI and their puppet masters have allowed the industry to be faced with. If I thought MHI was trying to solve problems, we'd more likely still be a MHI member. But as members of NAMHCO, MHARR long before them, and others have come to realize, paying MHI money is like feeding the hand that is biting yours."
Fake News, False or Misleading Narratives  
It may seem entirely unrelated, but it's nevertheless an apt example. For years, large swaths of the mainstream media has been parroting "Trump Russia Collusion."  Now, after nearly 2 years of examinations by over a dozen Democratic-supporting attorneys working for Special Counsel Robert Mueller, after 25 million dollars spent, thousands of subpoenas, piles of documents, and over 500 witness interviews, they found no shred of evidence against the president or his campaign. Harvard Law professor emeritus Alan Dershowitz, a Democrat himself, objectively denounced the probe repeatedly as illicit.  MHProNews reported those points by Dershowitz and others across the left-right divide.  Now Dershowitz is blasting Mueller for how he framed his statement of findings, but the famous Harvard law attorney is unsurprised by the result. He is sorry for the harm Mueller and the probe has had on numerous levels our largely polarized nation.
The fact trail now know reveals that the Mueller probe was fake news sparked by a disgruntled fired former FBI director Jim Comey, that was based upon a fake dossier. Our publisher placed this satirical cartoon on the home page years ago. Much of it has since come to pass.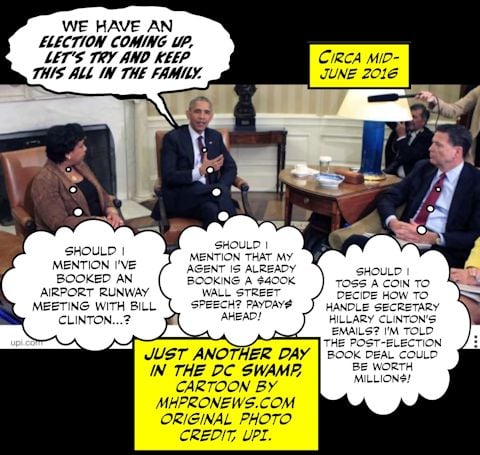 President Obama was supported by Warren Buffett. Buffett's grandson served in the Obama White House. 

It's not a conspiracy theory when there are facts, clear evidence, and a pattern of behavior that is largely predictable.  Buffett's ties to manufactured housing are unmistakable. His ties to other high-level Democrats are too. The same is true for Nathan Smith, of SSK Communities, and Kevin Clayton of Clayton Homes.  All are MHI members.  Again, that doesn't taint all MHI members, or all of those working for MHI member firms.  But a few key ones are clearly benefiting from actions and inactions that harm the majority to benefit a minority. 
But how does this Mueller analogy tie into the burgeoning movement to ban manufactured homes in cities and towns across America?
They are both examples of how fake news can be believed by millions of Americans.  Millions think of our industry in dark terms.  That's why a study by an independent real estate firm revealed that only about 4 percent of housing buyers seriously consider manufactured homes.  That's an alarm bell.  Couple that with MHVillage's own poor conversion data – which shows that less than a fraction of a single percent that shops for a manufactured home actually buys one – and you have a full blown crisis that helps explains that shipment challenges reflected below.  It can be viewed as coincidence or not that Buffett, along with other mega-billionaires, are tied into the machinations that have sparked, allowed or even fueled both of the disinformation trends. It is whatever it is.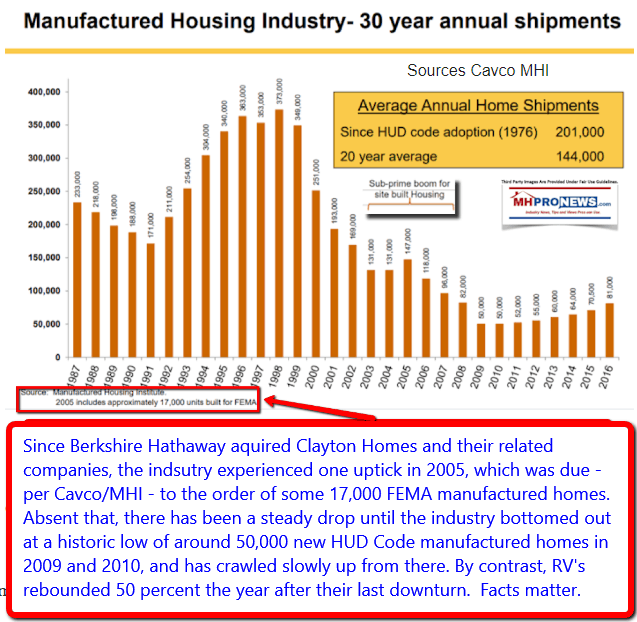 An Industry Under Assault? 
Is manufactured housing an industry under assault as Fath said? How can one say differently, in the light of the evidence? Yet Fath himself reveals that the pattern isn't a forgone conclusion. Rather, Fath himself says that something can and should be done to resist and profit during this troubling trend.
Protect, Educate, Promote. P.E.P. That's the simple formula for fighting the combination of seemingly natural but also artificially stoked and relatively unimpeded headwinds that are Buffett's proverbial sharks in the waters of his Moat. 
Part of the arguably evil genius here is that to a causal observer, it looks harmless enough.  When industry professionals don't recognize what's happening, how are regulators supposed to see it clearly without expert help?  The headwinds that lead to business closures and consolidations may appear to be natural market forces.  But even in nature if a fire is fueled and is allowed to spread, there is avoidable destruction just the same.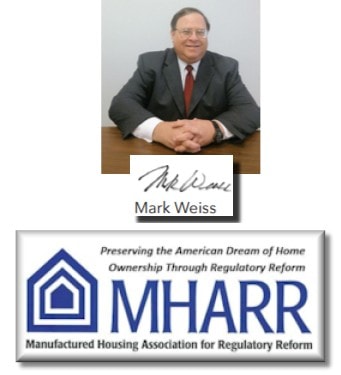 Posturing activity, what Mark Weiss, JD, President and CEO of the Manufactured Housing Association for Regulatory Reform (MHARR) called "the Illusion of Motion" is an apt description for what MHI does. For example, MHI make videos that too few watch, but it looks like an effort to promote. The Arlington based MHI place advertorials in newspapers and then claim that millions see them. Even if MHI's claim were so, then millions remain unconvinced by MHI's ads, social media, and videos. The proof is in the vexingly low new home production numbers.  That's not conspiracy 101, that's reality 101.
Meanwhile, MHI has attempted to weaponized much of the industry's trade media and bloggers. The resistance is on MHARR and MHProNews. It remains to be seen what NAMHCO will or won't do.
But a pair of reports from sources tied to NAMHCO suggest to MHProNews that they believe they are already making progress on Duty to Serve (DTS) when MHI could not? If so, that's a stunning indicator of just how poorly MHI performs in practice. If NAMHCO sources are correct, it will be the next exhibit in the collective case against MHI.
"Manufactured housing should be soaring, not snoring," says Tony Kovach. "The majority of manufactured home residents should be working with the independents of the manufactured home industry. Together they could break the chains that artificially bind the industry to low levels of performance. It's actually easy, in the sense that the laws already exist to make the needed changes. Thank the members of MHARR for two of those laws — the Duty to Serve, and "enhanced preemption," both of which MHARR leadership worked to enact. They are examples of what even a small association with focus can accomplish.  Now imagine if MHARR had the kind of funding that MHI does?"
The pattern of ineffective action or ill acts by MHI or the Berkshire brands being allowed to fester are part of a series of fake or misleading 'information' sources that's been purportedly weaponized to harm the interests of independents and individuals alike. 
That pattern hurts most everyone, save a few consolidators. It is an open question if or how those consolidators who are consciously supporting – or are standing mute and watching – will respond when those same forces that have been unleashed has turned on them. 
There were protests in the streets against Donald J. Trump, our nation's 45th president. The organizers said he collided with Russia.  Its likely that most of those protesters believed it. But over a dozen "angry Democrat" attorneys with $25 million spent in the effort couldn't find any evidence of collusion by anyone in America with Russia.  None.  That includes the president and his campaign. 
There are protests against manufactured housing too.  Citizens are led to believe that manufactured homes harm their property values. It's demonstrably not true, save perhaps in a narrow sense of how fake news influences some individuals home shopping behavior. Scaled, that does cause ripples.  Lower demand, and values are impacted.

Kevin Clayton is arguably right when he said on camera that Warren Buffett and his anti-competition strategic Moat can use nonprofits to their benefit. The BH Media Group, part of Buffett's Berkshire Empire could single handedly start the debunking process. They don't. Why? 
Isn't it obvious that Buffett, his lieutenants, their minions, and lemmings are getting what they want?  He could be promoting the truth of manufactured housing better than anyone.  Yet Berkshire's efforts are clearly metaphorical fig leaves compared to what is the naked truth of ineffective postured leadership.  
Meanwhile, the industry's independents suffer. So too do millions who could benefit from manufactured home living.
But it's not over. 
There is still time.
POTUS Trump proved by patient endurance and fighting back his innocence against a barrage of claims that he colluded with Russia.  His approval with mostly negative media hovers at around the same levels as then POTUS Barack Obama enjoyed with a mostly fawning media.  Fake news and misleading reports can be beaten.  Tom Fath and others prove it.  There are other examples that illustrate how a committed cadre of manufactured housing professionals and residents can begin the process of reclaiming the HUD Code industry. 
MHARR and MHProNews, and an array of sources and supporters who make the resistance possible have been laying the foundation independently, yet collaborating where possible, for years now. The next step is to begin to organize a post-production trade group that will do what MHI claims to do, but in fact fails to do.
That next step will be Thursday afternoon, at noontime. The location will be announced, but it is in the Tunica area,  not too far from the trade show that opens there today.
It will be a modest first step. MHARR, NAMHCO, or even the now purportedly weaponized NCC, all began with a modest meeting of the minds.  
The often debatably fake or ineffective education by MHI and their surrogates can be replaced by real education that is part of PEP. Protect. Educate. Promote.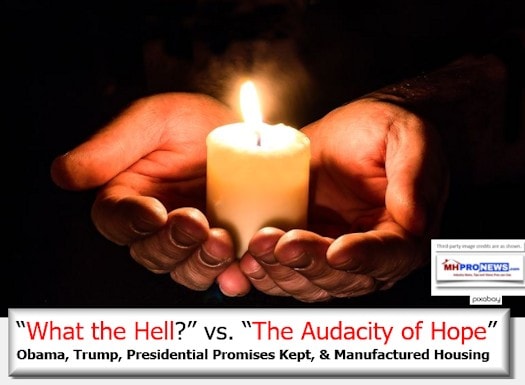 Those three letters of P.E.P. sum up what must be consistently and honestly done. It doesn't matter how hard the wind may seem to blow. POTUS Trump reveals that victory is possible. It starts – crawl, walk, run at Tunica with a small group of leaders who can make the changes to a brighter future a reality.  With about 100,000,000 in rental housing, there are few businesses with more upside potential than modern manufactured homes.  But the industry must fight forces within and without.  Think about Frank Rolfe's statement.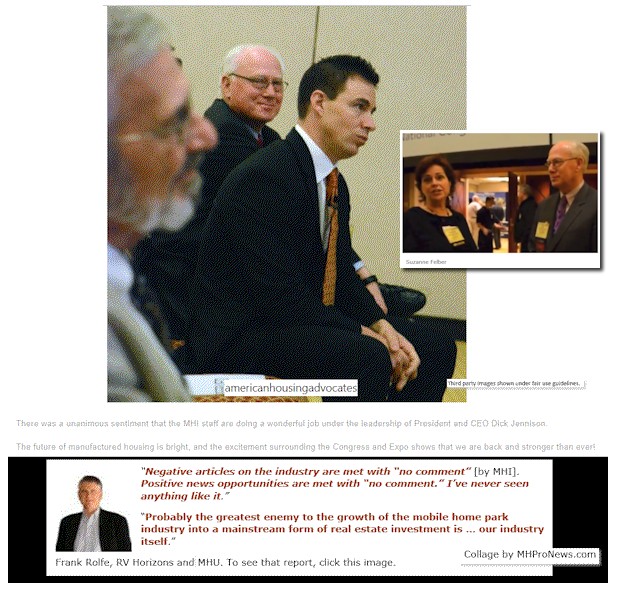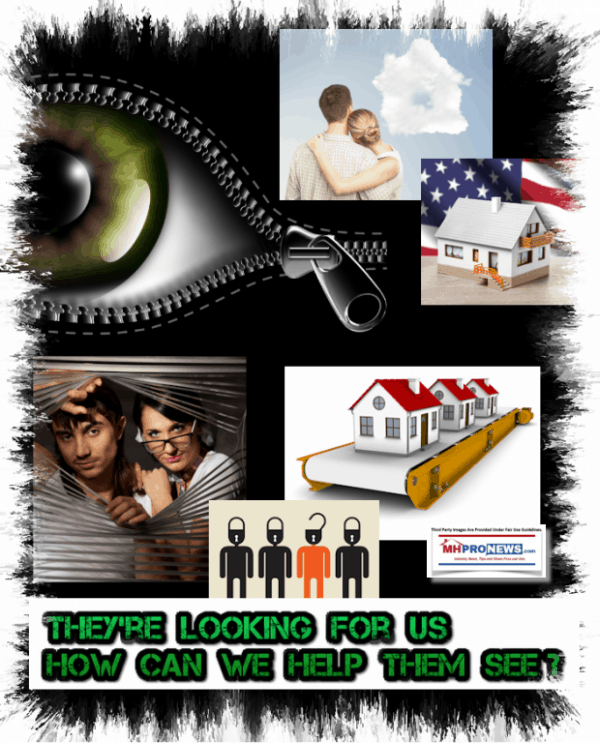 The alternative? Is to continue to allow those who spin or allow fake news to drive independent businesses out of business.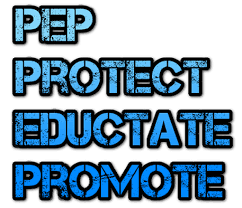 Fear of loss. Desire for gain. Take your pick – or both – for motivations.
The industry will arguably not achieve its tremendous potential until a pro-growth national association option exists to MHI. Learn more at the links, above and below. Make or modify your plans to attend the historic meetings Thursday afternoon, in Tunica MS near the main trade show location, which will start after their events are concluded.
NAMHCO,
MHARR,
Independent Producers and Retailers that are currently members of a variety of associations, or no association,
are all among those who plant to come to the kick off event to discuss that causes and cures for our industry's low results.  A new association doesn't require hundreds of members, but it may end up with hundreds of members once it begins. A new association needs only a few committed members, that is how each of the above as noted began.
That's what's new from manufactured housing most read and most trusted "Industry News, Tips, and Views Pros Can Use," © ## (News, analysis, and commentary.)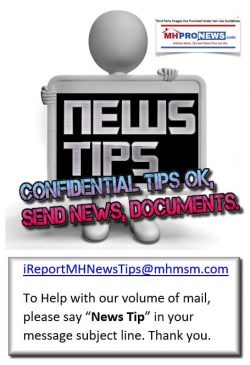 NOTICE: You can get our 'read-hot' industry-leading emailed headline news updates, at this link here. You can join the scores who follow us on Twitter at this link. Connect on LinkedIn here.

NOTICE 2: Readers have periodically reported that they are getting a better experience when reading MHProNews on the Microsoft Edge, or Apple Safari browser than with Google's Chrome browser. Chrome reportedly manipulates the content of a page more than the other two browsers do.
(Related Reports are further below. Third-party images and content are provided under fair use guidelines.)
1) To sign up in seconds for our MH Industry leading emailed news updates, click here.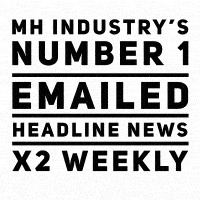 2) To pro-vide a News Tips and/or Commentary, click the link to the left. Please note if comments are on-or-off the record, thank you.
3) Marketing, Web, Video, Consulting, Recruiting and Training Re-sources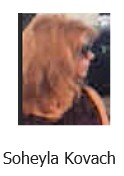 Submitted by Soheyla Kovach to the Daily Business News for MHProNews.com. Soheyla is a managing member of LifeStyle Factory Homes, LLC, the parent company to MHProNews, and MHLivingNews.com.
Related Reports

:
You can

click on the image/text boxes

to learn more about that topic.
Lesli Gooch, PhD, Manufactured Housing Institute EVP Reveals DTS Financing Con Job
Fact Check, Darren Krolewski, MHInsider Claim on 2019 Louisville Show Attendance
Speak No Evil, Only Evidence. Tunica Show, Feds, Clayton, 21st, MHI, MHARR, Public Debate, and You
Urgency Grows, Another City Prepares Ban on Manufactured Homes
Smile! You're on Candid Camera! Security, Casino Hotels, and Fix the MH Trick$ Tunica Event
Subsidized Housing vs Manufactured Homes, Community Owner Marge Clark Sounds Off
The U.S. Department of Housing and Urban Development (HUD), in the March 22, 2019 edition of the Federal Register, has issued a proposed rule that would amend the Federal Manufactured Housing Construction and Safety Standards (24 C.F.R. 3280) and Procedural and Enforcement Regulations (24 C.F.R.
The Department of Housing and Urban Development, on March 20, 2019, held the latest in a series of "HUDdle" conferences with invited HUD-program stakeholders. The conferences, which are an initiative of – and hosted by – HUD Secretary Ben Carson, focus on emerging issues at the Department, including, but not limited to, aspects of its ongoing regulatory reform process.
Washington, D.C., February 4, 2019 – The Manufactured Housing Association for Regulatory Reform (MHARR) reports that according to official statistics compiled on behalf of the U.S. Department of Housing and Urban Development (HUD), HUD Code manufactured home production declined again in December 2018.
Washington, D.C., November 15, 2017 – The Board of Directors of the Manufactured Housing Association for Regulatory Reform (MHARR) has authorized the public release of a comprehensive internal study by the Association of the past, present and future representation of the post-production sector (PPS) of the federally-regulated manufactured housing industry.