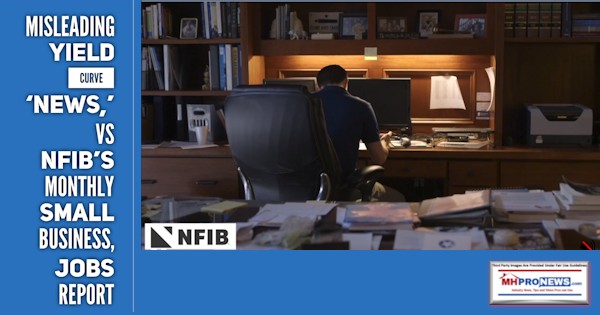 Yesterday on MHProNews' evening market report, our focus was on the simple premise that the panic over the yield curve was for reasons cited by several experts, inaccurate. But that didn't keep over a trillion dollars in stock value from being wiped out in less than a day. That came in response to reports summed up like this by NBC News, "The stock market took a steep dive on Wednesday after movements in the bond … Dow drops 800 points as Wall Street suffers worst day of year on recession fears…"
With just moments to go to the closing bell, markets are modestly up or only mildly down today.  Some stocks recovered part of yesterday's losses.  Word of strong performance by Walmart and others eased the worries of investors panicked into selling over recession fears that were supposedly 'signaled' by the 'yield curve.'  See our industry leading market report, linked below.
Janet Yellen, Art Laffer, Others Say Yield Curve Inversion False Recession Signal, plus Manufactured Housing Investment Updates
With that tee up, those who follow the National Federation of Independent Business (NFIB), and other reliable sources of data, would have arguably been better positioned to properly read the scary reports vs. the economic realities.  MHProNews has not yet published this month the NFIB's monthly report, which we are hereby remedying by publishing their press release from earlier this month. 
Note that the graphics inserted in the report are by NFIB but were not part of this specific press release.  Note the construction portion of their data. The NFIB video immediately below has been viewed over 12 million times, as of this date.
Washington, D.C. (August 1, 2019) – NFIB's monthly jobs report found that small business job creation slowed in July, falling to an average addition of 0.12 workers per firm, down from June but still historically strong. A record 26 percent of small business owners surveyed cited the difficulty of finding qualified workers as their single most important business problem.
 "While small business owners are continuing to hire employees and create new jobs at historic levels this summer, finding qualified workers is clearly restricting growth that could otherwise be taking place," NFIB President and CEO Juanita D. Duggan said. "Owners continue to benefit from tax and regulatory relief they've received to help recruit and retain employees."
A seasonally adjusted net 21 percent of small business owners plan to create new jobs, up two points from June. Not seasonally adjusted, 23 percent plan to increase total employment at their firm, and five percent plan reductions.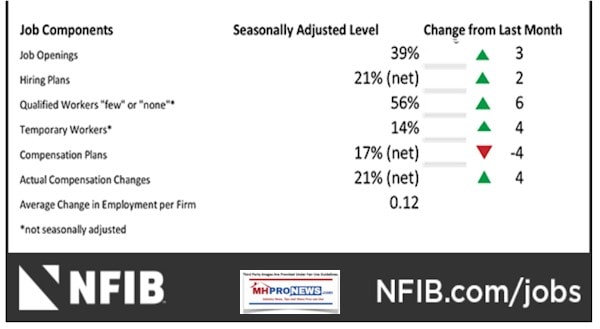 The shortage of qualified labor continues to hinder owners' ability to fill open positions. Sixty-three percent of owners reported hiring or trying to hire, up five points from the month before. However, 89 percent of those owners reported few or no qualified applicants for their open positions.
Other findings:
·        Thirty-nine percent of owners reported job openings they could not fill in the current period, up three points from June.
·        Thirty-five percent have openings for skilled workers (up four points) and 15 percent have openings for unskilled labor (up one point).
·        Thirty-six percent of owners reported few qualified applicants for their open positions, and 20 percent reported none.
"The inability to assemble work teams is a major contributor to the lackluster performance in labor intensive industries, most notably in construction," NFIB Chief Economist Bill Dunkelberg said. "Finding qualified workers has been a continuing problem for small businesses, and it is affecting productivity."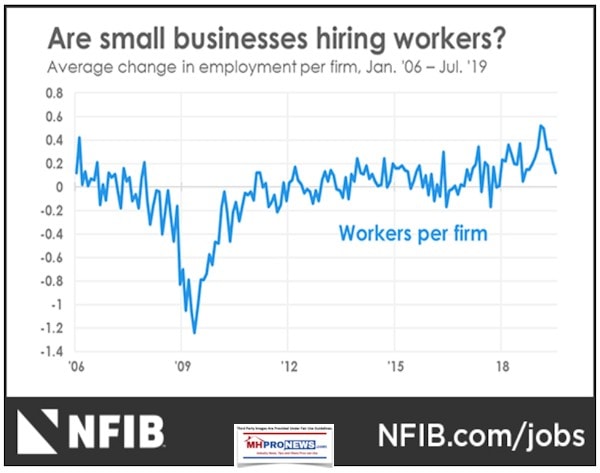 Thirty-two percent of owners in construction plan to add jobs, compared with five percent who plan reductions. However, 57 percent report few or no qualified applicants; 42 percent cite the labor shortage as their top business problem.
In transportation, 61 percent plan to increase employment, while four percent plan reductions.
Overall, few owners say they are cutting jobs, indicating that initial claims for unemployment will remain historically low. 
Up four points from June, 32 percent of owners reported raising worker compensation. The frequency of plans to raise compensation fell to 17 percent, the lowest reading since 2017. Raising compensation to keep or attract workers is the only short-term response that firms can make to rectify the labor shortage, Dunkelberg said.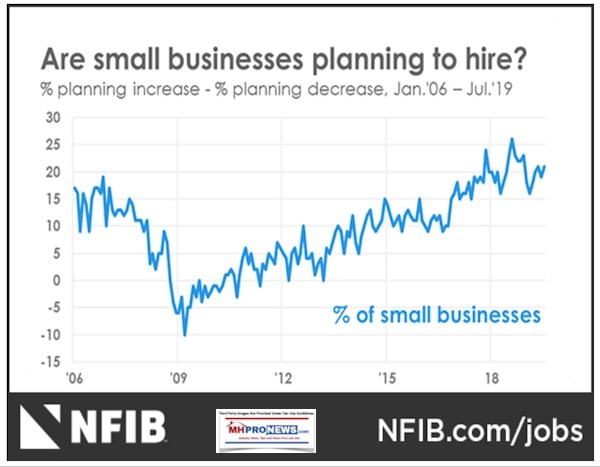 — End of extended quote from NFIB Aug 1 report. —
The video below by NFIB published on Jun 14, 2019 was viewed 3,246,489 times. According to sources at NFIB to MHProNews they have hundreds of members from the manufactured housing industry. 
Unlike the Manufactured Housing Institute (MHI), which has been accused by members and others of inaccurate and 'weaponized' data, there are no such concerns with NFIB, per the Google search done today below.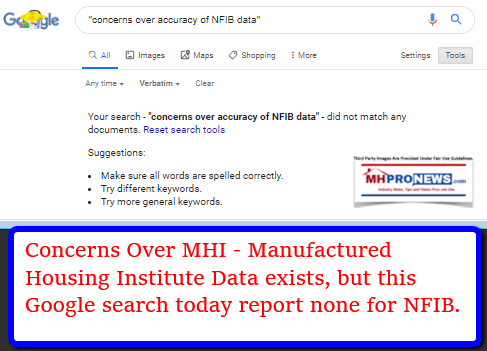 Knowing sources of generally reliable information – and discerning the difference between sources that are less reliable – is serious business for professionals and investors. See the report related to that issue, below.
Publicly Traded Manufactured Housing Firms – Which Source Do You Trust More? Why? MHI, MHARR, Others
That's all she wrote on this installment of manufactured home "Industry News, Tips, and Views Pros Can Use," © where "We Provide, You Decide." © ## (News, analysis, and commentary.)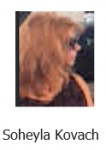 Submitted by Soheyla Kovach for MHProNews.com.
Soheyla is a managing member of LifeStyle Factory Homes, LLC, the parent company to MHProNews, and MHLivingNews.com. Connect with us on LinkedIn here and here.
Related Reports:
Click the image/text box below to access relevant, related information.
NFIB President Touts Optimism, Says Capital Spending, Expansion, and Sales Expectations Drive Performance – Plus Manufactured Housing Stock Updates