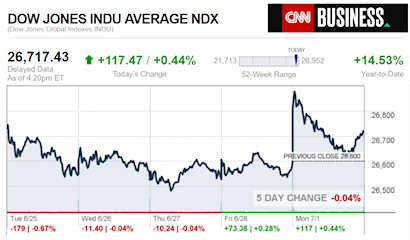 It is easy – and sometimes wise – to follow the same reports that others in business media are reporting. CNBC, Fox Business, CNN and others today are among those reporting on the 'pause' in the U.S.-China trade war, the surge in the markets, and the wisdom of allowing U.S. firms to sell to China's Huawei. Each of those are relevant. They are all among the market movers cited in our left-right headline summary that follows. But tonight's focus report is on small business and the return of optimism reported by the National Federation of Independent Business (NFIB). Catching up on the view from the giant NFIB association will be our featured report this evening.
If you're new, already hooked on our new spotlight feature – or are ready to get the MH professional fever – our headline report is found further below, after the newsmaker bullets and major indexes closing tickers.
The evolving Daily Business News market report sets the manufactured home industry's stocks in the broader context of the overall markets. Headlines – at home and abroad – often move the markets. So, this is an example of "News through the lens of manufactured homes, and factory-built housing." ©
Part of this unique evening feature provides headlines – from both sides of the left-right media divide – which saves busy readers time, while underscoring topics that may be moving investors, which in turn move the markets.
Readers say this is also a useful quick-review tool that saves researchers time in getting a handle of the manufactured housing industry, through the lens of publicly-traded stocks connected with the manufactured home industry.
This is an exclusive evening or nightly example of MH "Industry News, Tips and Views, Pros Can Use." © It is fascinating to see just how similar, and different, these two lists of headlines can be.
Want to know more about the left-right media divide from third party research? ICYMI – for those not familiar with the "Full Measure," 'left-center-right' media chart, please click here.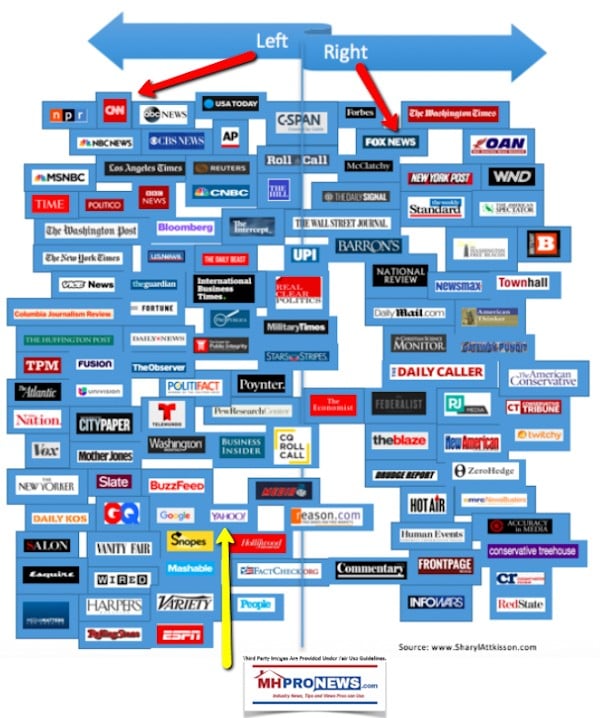 CNN Business
Monopolies are destroying the American Dream
Antitrust is a 2020 issue. That's good because our democracy is at stake, one expert argues
S&P 500 sets new closing record
ANALYSIS The fragile US-China truce won't heal wounds already made by tariffs
Investors are frantically searching for yield in a low-rate world
Gas taxes are rising because Americans are driving more fuel-efficient cars
Iran oil minister: 'OPEC might die'
Jeff and MacKenzie Bezos' $38 billion divorce settlement is expected soon
New York will start enforcing its styrofoam ban today
OPINION America is failing its workers
Pepsi is ditching plastic bottles for cans, even for water
Shopping Content by CNN Underscored
Here's how to preorder the new Xbox Elite 2 Wireless Controller
Malls are catering to a new type of customer: gamers
Kevin Durant signing with the Nets is terrible news for Madison Square Garden shareholders
Four day work weeks sound too good to be true. These companies make it work
Uber will now show you where to rent bikes and scooters
Harley-Davidson making small motorcycles in China
Your first ride on an e-scooter will be the most dangerous
Uber and Lyft battle LA over future of transportation
Usain Bolt has his own e-scooter company
HARNESSING THE POWER OF THE SUN
These women are bringing electricity to millions in India
Yes, this car is solar-powered. But it still has a plug
Indian farmers are using the sun to help water their crops
Harnessing India's sunny days for power
Cookie maker buys enough solar energy to make 10 billion Oreos a year
Fox Business
S&P 500 stock index begins July by setting a record high
Trump tells New York to rethink tax laws after New Jersey kills millionaire's tax
Costco sells $7B in clothing a year, surpassing some apparel retailers: report
NBA free agency spending tops $3 billion in 24 hours
Bobby Bonilla's Mets contract: Why ex-MLB star gets $1.19M annually until he's 72 years old
Trump's 'brilliant stroke' with China's Xi a win for US, Michael Pillsbury says
These are the best and worst run cities in the US, report finds
US economy breaks record with post-recession expansion
California gun owners face new background checks for ammo purchases
What is Scooter Braun's net worth?
Amazon CEO Jeff Bezos to pay out $38B to MacKenzie as divorce settlement is finalized
Wimbledon prize money breakdown: Here's how much the winners will get
Warren Buffett to donate $3.6B in Berkshire Hathaway shares to these five foundations
What is Kamala Harris' net worth?
OPEC extends oil production cut by 9 months
Former McDonald's USA CEO: Burger King hogging all the Impossible Burgers
USMCA will unleash American innovation: Dems must not stand in the way
Democrats have been 'hijacked by unelectable socialists': Varney
Trump-Xi trade talks at G20: America's biggest weakness is no big secret
Impact of Hong Kong protests on US-China trade talks
This is the best economy for small business in 50 years: NFIB CEO
Facebook providing stability to cryptocurrency?
Semiconductor shares surge after Trump lifts Huawei ban
Investors appeared to welcome Trump's move, but it drew scorn from lawmakers in both parties.
Halfway through 2019, tech leads Wall Street
Today's markets and stocks snapshot, at the closing bell…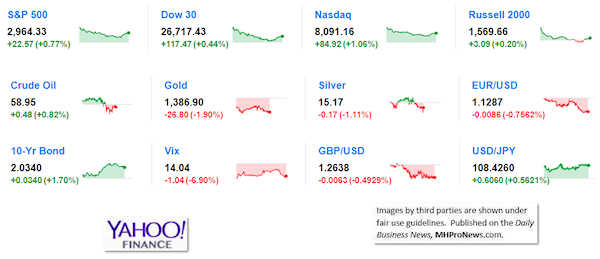 Today's MH Market Spotlight Report –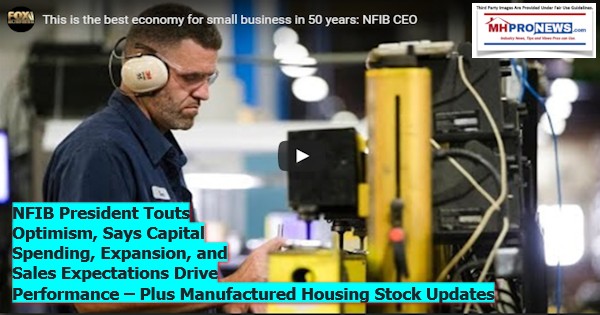 In 2018, Small Biz Trends ranked the NFIB as follows.
The Big List of Small Business Associations
· U.S. Small Business Administration. …
· SCORE. …
· U.S. Chamber of Commerce. …
· NFIB. …
· International Council for Small Business. …
· Entrepreneurs' Organization. …
· National Business Association. …
· NSBA.
Earlier today, the NFIB's president and CEO Juanita Duggan on the current economic environment for small business in America said that this is the best economy for small business in 50 years.
Frankly, that's not the sober view of small business in manufactured housing across America, or what we affectionately refer to on MHProNews at times as "MHVille." Small businesses in our industry run the gamut from those doing well to those struggling. But what is beyond doubt is that there were thousands of more small businesses in our industry 20 years ago. While some new locations are opening, they are arguably outpaced by those who close or have sold out to consolidators.
That said, let's turn to what NFIB reports, to get one more perspective on how MHVille's small businesses stack up with that of other parts of the economy.
Here's the NFIB optimism snapshot from June.
WASHINGTON, D.C. (June 11, 2019) — Small business optimism eclipsed pre-shutdown levels, increasing 1.5 points to 105.0 in May. Six components in the Small Business Optimism Index improved, three were unchanged, and one dipped. Capital spending plans increased along with actual outlays. Small business owners' expectations for sales, business conditions, and expansion all rose, as the previously reported inventory imbalance was resolved. Earnings, job creation, and compensation remained very strong.
"Optimism among small business owners has surged back to historically high levels, thanks to strong hiring, investment, and sales," said NFIB President and CEO Juanita D. Duggan. "The small business half of the economy is leading the way, taking advantage of lower taxes and fewer regulations, and reinvesting in their businesses, their employees, and the economy as a whole."
Business owners reporting capital outlays increased six points to 64 percent, the highest reading since February 2018. Thirty percent plan capital outlays in the next few months, up three points and historically high. Plans to invest were most frequent in transportation (45 percent), manufacturing (39 percent), professional services (39 percent), and construction (31 percent).
"Small business owners are demonstrating a continued confidence in the strength of the economy and are betting capital spending dollars on it," said NFIB Chief Economist William Dunkelberg. "This solid investment performance is supporting ongoing improvements in productivity and real wages."
A net nine percent of all owners (seasonally adjusted) reported higher nominal sales in the past three months, unchanged from April and historically strong. The net percent of owners expecting higher real sales volumes rose three points to a net 23 percent of owners. A net 16 percent expect better business conditions, up three points, and 30 percent say now is a good time to expand, a five-point increase. The frequency of reports of positive profit trends improved two points to a net negative one percent, a very solid gain.
The net percent of owners reporting inventory increases was unchanged at a net two percent (seasonally adjusted), consistent with the significant build up in the first quarter that added nearly one point to GDP growth. The net percentage of owners viewing current inventory stocks as "too low" was unchanged at a net negative four percent. The net percentage of owners planning to expand inventory holdings was unchanged at a net two percent, indicating the excessive inventory build in Q1 has been substantially resolved overall, helped by strong sales gains.
Inflation pressures remained subdued, even though reports of compensation gains remained at historically high levels. The government reported a substantial improvement in productivity and an associated decline in unit labor costs which offsets the need to increase prices to cover rising labor costs. The net percentage of owners raising average selling prices fell three points to a net 10 percent, seasonally adjusted. A net 20 percent plan price hikes, seasonally adjusted (down one point).
As reported in the May NFIB Jobs Report, small business owners added a net addition of 0.32 workers per firm, with 25 percent citing the difficulty of finding qualified workers as their Single Most Important Business Problem, matching the record high. Sixty-two percent of owners reported hiring or trying to hire employees, up five points from last month, but 54 percent reported few or no qualified applicants for the positions they were trying to fill (up five points).
About the Small Business Economic Trends
The NFIB Research Center has collected Small Business Economic Trends data with quarterly surveys since the 4th quarter of 1973 and monthly surveys since 1986. Survey respondents are drawn from a random sample of NFIB's membership. The report is released on the second Tuesday of each month. This survey was conducted in May 2019.
##
Compare and contrast with NFIB said in the first video from this morning to another one from 4 years ago.
Part of the challenge in the U.S. today is a lack of a sense of objective history. There is no doubt that the economy is doing much better than 2 or 4 years ago.
There is also no doubt for those who look at the data that manufactured housing is underperforming. For more on that, see the related reports, below.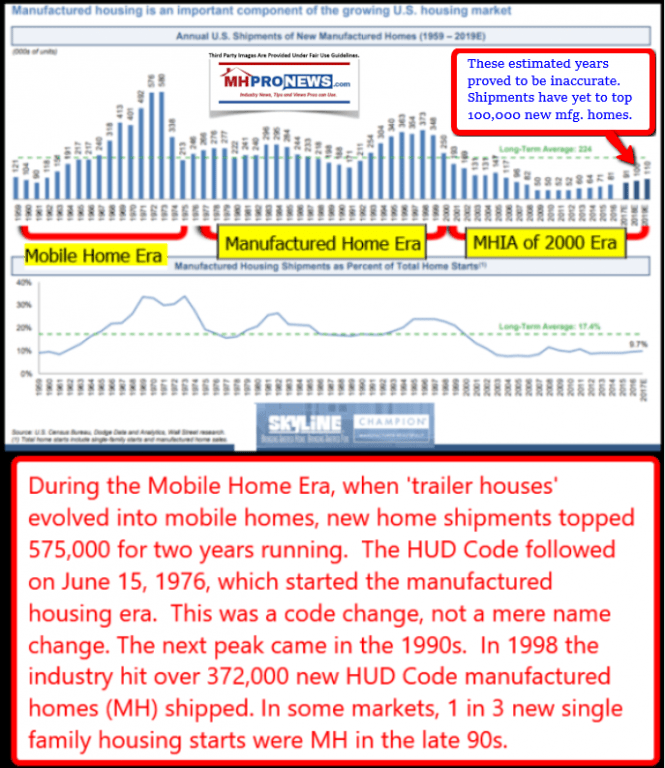 Related Reports:
Addressing Manufactured Housing Insanity, Unusual Equity LifeStyle Properties (ELS) Tip
Yahoo Finance Closing Ticker for MHProNews…
NOTE: The chart below includes the Canadian stock, ECN, which purchased Triad Financial Services.
NOTE: Drew changed its name and trading symbol at the end of 2016 to Lippert (LCII).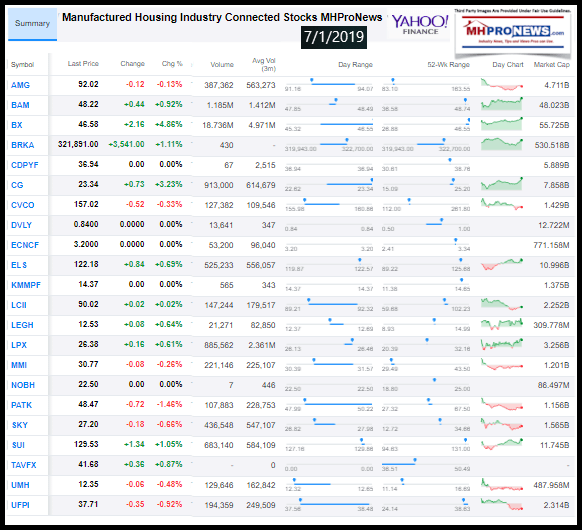 Updated:
Berkshire Hathaway is the parent company to Clayton Homes, 21st Mortgage, Vanderbilt Mortgage and other factory built housing industry suppliers.
LCI Industries, Patrick, UFPI and LP all supply manufactured housing.
AMG, CG and TAVFX have investments in manufactured housing related businesses.
Your link to industry praise for our coverage, is found here.
For the examples of our kudos linked above…plus well over 1,000 positive, public comments, we say – "Thank You for your vote of confidence."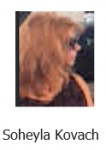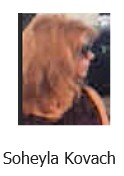 "We Provide, You Decide." © ## (News, analysis and commentary.)
(Image credits and information are as shown above, and when provided by third parties, are shared under fair use guidelines.)
Submitted by Soheyla Kovach to the Daily Business News for MHProNews.com.