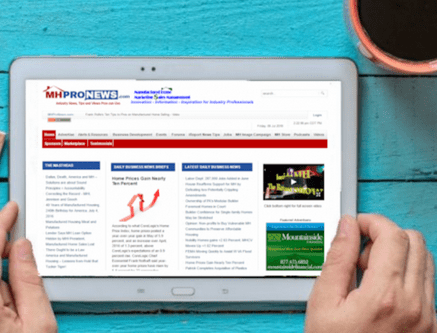 What's New in public focused Manufactured HomeLivingNews.com
Tiny Houses Owners face Big Legal Trouble?
What's New in Manufactured Housing Industry Professional News
Financial Services Committee says Dodd-Frank is damaging. YES! Communities redistributes assets. Private enterprise ready to supply modular buildings to flooded LA. MHI, MHARR spar with DOE, as MHI takes on Section 8 Vouchers. Claims in wake of flooding in LA rise to 70,000. $15 mandated minimum wage would cost 9 million jobs. Canadian city mixes manufactured and site-built homes. FEMA's manufactured housing units likely going to Louisiana. Entry level housing may be coming back. Clinton and Trump's economic, tax policies divergent. Georgia town halts siting of MH. Southwest Louisiana city nixes MHC plan. Pray's Homes in Maine has new owner. Mandate requires MHC owners give 90 days pre-closing notice. And much, much more in news, views, and information from across the globe you may peruse regarding off-site home and building construction.
Saturday, Aug. 20

MHI, MHARR, Leaked documents and DOE proposal, plus MHI on New Section 8 Vouchers
Friday, Aug. 19
Financial Services Committee Slams Dodd-Frank as Damaging
Private Enterprise Responds to Assisting Louisiana Flood Victims
Skyline Leads Manufactured Housing Sector Amidst MHCV and Broader Market Tumble
Hedge Fund Investors Bustling over Equity LifeStyle Properties
Manufactured Home Community Bordering Google Transforming into Tech Town
70,000 Claims for Assistance Filed Following Louisiana Flooding
Thursday, Aug.18
$15 Hour Minimum Wage would Cost Nine Million Jobs Nationally
New Manufactured Home Retailer Opening in Kentucky
Drew, Manufactured Housing CompValue and Dow rises – Is Fed Easing to Infinity?
Inventory of Entry-level Homes may finally be Rising
Canadian City Allows Manufactured Homes in Area Zoned Single-family Residential
Insiders Busy Trading Patrick Industries as it Joins S&P SmallCap 600
Wednesday, Aug. 17
FEMA's Manufactured Home Units Likely Heading to Louisiana
Home Sales Take a Tumble in California
REITs beat S&P 500 with Promising Forecast for the Year
Northern Georgia Town Votes Moratorium on New Manufactured Home Sitings
Calcasieu Parish Planning Committee Nixes MH Community Development
Clinton v Trump – Presidential Nominees and their Tax, Economic Strategies
Tuesday, Aug. 16
San Jose CA set to Vote on Modular Homes for the Homeless
Home Construction Continues its Slow but Steady Incline
Residents of Oregon Manufactured Home Community Consider Long-term Leases
Manufactured Homes can be as Modern as Traditional Houses, says Realtor on FoxNews
Pray's Manufactured Homes in Maine has New Owner
Mon. Aug. 15
Stock Exchange Winners and Losers under a Clinton Presidency
Logan's Crossing Manufactured Home Community Announces Annual Scholarships
Skyline Up, Manufactured Housing CompValue (MHCV) Mirrors Dow
Eight Modular Homes for Low-income Families Rising in Illinois
Manufactured Home Community Owner YES! Redistributes Assets
Ordinance Mandates Community Owners Give Nine Months Notice Before Closing
(Photo credit: MHProNews)

Article submitted by Matthew J Silver to Daily Business News-MHProNews