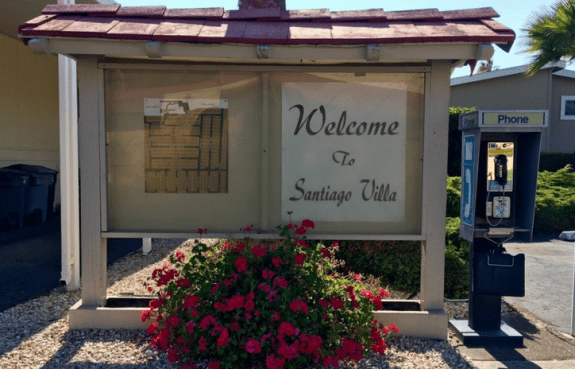 Santiago Villa manufactured home community was built in the 1960s as an affordable retirement community for those 55+ in Mountain View, Calif., long before the onset of Google, Microsoft and LinkedIn.
Now, however, since management has allowed families to move in, senior residents see their community colonized by corporate employees. Says Alexander Brown, a software engineer at Google and resident of Santiago for three years, "A lot of the residents blame Google for all the issues," Brown, who has made an effort to get to know people, said. "They hate Google in the abstract, but they give residents the benefit of the doubt. At least, they have for me."
In the Bay Area, where the asking price for a 70 year-old two bedroom cottage in Mountain View hit $1.1 million three years ago, with Google moving forward on an ambitious ten building development, the property's management has made moves that older residents feel are designed to move them out of the 358-home site community.
As theringer tells MHProNews, community management sent letters to several community residents notifying them that if they did not make particular changes to their home exteriors within one week, they could face eviction. Alterations included painting the exterior of a home or resealing a driveway, demands that older residents might have trouble meeting within one week.
Furthermore, community management has raised the site rent prices for new residents, making it tough for homeowners to sell their homes, which lowers the value of their homes.
A local real estate agent said, "The really unique thing is they have one of the highest space rent increases ever. They went from $900 to $2,000 a month. That creates a certain disparity between the owner's equity and the price."
The higher rents have put off prospective buyers, resulting in many residents unable to sell their homes at their desired asking price, leading management to buy the homes at a discount and replacing them with new homes that are often rented out to groups of Google employees at a much higher rate. The new manufactured homes, according to Brown, are all identical, and all beige, reminding him of Malvina Reynolds' song about little boxes made of ticky-tacky that all look just the same.
Santiago Villa general manager Maria Ahmad, who allegedly did not respond to a request for an interview for this article, had said earlier in the year funds from the increase in rents will be used to upgrade the community.
It is not unusual to find three employees of Google living in a two bedroom manufactured home, and one of the residents sleeping in the living room. Said a real estate agent, "It's a midweek commuter home,. Instead of commuting every day to their job, they find a home they live in through the week. On the weekends they go home to their main home, their bigger home." ##
(Photo credit: theringer/Alyssa Bereznak–Santiago Villa MHC, Mountain View, Calif.)

Article submitted by Matthew J Silver to Daily Business News-MHProNews.