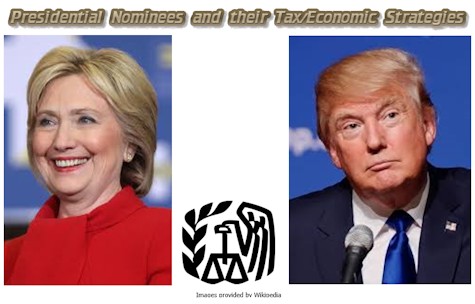 MarketWatch looked at key proposals on taxes set forth by the Democratic and Republican Presidential candidates. The economic outlooks and tax premises on which they are built highlight the stark contrast between the two hopefuls.
Their analysis of the tax proposals, shared with the Daily Business News, sheds light on the potential implications for businesses and professionals.
With the L. A. Times  latest national poll showing Hillary Clinton's lead slipping to just 1% over Donald Trump, the impact on business will be keenly watched by professionals inside and beyond factory built housing.
Hillary Clinton (D)
The Democratic nominee's proposal includes key strategies designed to increase taxes on the upper ranges of both personal and business holdings.
Individuals with income above $250,000 can expect to pay additional taxes to help fund Social Security, while multi-millionaires will be required to pay their "fair share" as salaries of more than $5 million per year will have an additional 4 percent surtax imposed.
Capital gains tax hikes by a potential Clinton administration, says analysists, discourage short-term investing, with investments held for less than 2-years taking the biggest hit.
Family benefits under Clinton's plan include expanding the earned income tax credit for lower-wage workers without children, while also liberalizing the child tax credit for those that do.
Donald Trump (R)
The Republican nominee's proposal lowers rates for most individuals and busineses, with a plan that is set to simplify the tax process in general. The proposed range will include only three tax brackets of 12%, 15% and 33%, versus the current seven brackets.
Trump aims to simplify the tax process, which along with lower rates, he sees as a way of attracting back over $2 trillion dollars in capital now parked overseas that could be brought back to the U.S. to spur economic activity without any direct cost by the federal government.
Additionally, Trump would remove the alternative minimum tax and the federal estate tax, while cutting the corporate tax rate down to 15% from the current 35%.
You can view the details from each candidate's website, found at the links below.
MH Industry and the Candidates
The manufactured housing industry sector, like all others that are paying close attention as the election campaigns advance, will most certainly be impacted by who wins the White House.  The arguably harmful impact of many regulations on the MH industry, includes the impact on home owners, consumers and businesss of Dodd-Frank.
Clinton has vowed to strengthen Dodd-Frank, while the Manufactured Housing Institute (MHI) is engaged in lobbying aimed at rolling back parts of the Consumer Financial Protection Bureau (CFPB) implementation of the law.
Warren Buffett, a major player in the manufactured housing marketplace, has come out in favor of Secretary Clinton.  MHProNews has previously noted on the Masthead blog that Buffett has said his business would do well under a Trump presidency, but that he favors a Clinton presidency.  The video that follows is from the Clinton campaign website.
A prior request for comment by MHI leadership on the apparent contradiction between Buffett's support for Clinton, who as noted supports Dodd-Frank, and their stated efforts to change CFPB rules via HR 650/S 682 has not been responded to as of press time on this story.
Western Journalism has produced a short video featuring Milwaukee, WI Sheriff David Clarke that questions the effectiveness of Democratic policies, saying they have led to more poverty, crime and urban unrest.  All of these are bad for people and for business.
It should be noted that Clarke asserts that he is a registered Democrat, but appeared at the GOP convention in support of Donald Trump.
Eric Trump, who is involved in a modular housing business, as reported here on MHProNews, had the following to say about the attacks on his father and his plans for restoring prosperity for all Americans.
The video above was produced by Fox Business, but is featured on the Trump campaign website. ##
(Image credits, Wikipedia)

Submitted to the Daily Business News by Frank Griffin, for MHProNews.