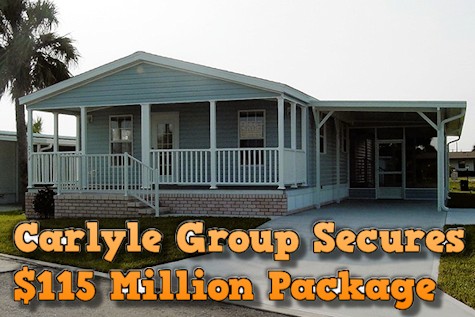 Manufactured home community (MHC) owner/operator Carlyle Group, headed by Ronald Singer, has recieved $115 million loan package to refinance 32 MHCs, per the CommercialObserver. Financed by Wells Fargo, the seven-year, fixed-rate loan could free Carlyle to further expand its efforts in the MH Community sector.
Grace and colleague Matt Krasinski joined Wells Fargo's commercial real estate team following the bank's acquisition of a $9 billion portfolio of GE Capital Real Estate loans, many backed by MHCs.
Lew Grace of Wells Fargo said, "The Carlyle Group has wide knowledge of this space and is a long-term customer of both Wells Fargo and the manufactured home community team who joined the firm last year from GE Capital Real Estate, myself included, and we look forward to strengthening our partnership."
The loan will refinance Carlyle's manufactured home communities across the country. Their current portfolio figures reflect more than 4,400 homes in Delaware, Maryland, North Carolina, New Jersey, Pennsylvania, Washington, West Virginia and Virginia with a 90 percent occupancy rate.
"The Wells Fargo team assisted us in designing a creative loan facility that meets both our current as well as addressing our future needs. We were able to lock in a great rate, and we look forward to growing our relationship with Wells," said Ronald Singer, President for the Carlyle Group.
This Carlyle is distinct from hedge fund The Carlyle Group (NASDAQ:CG) that is a global alternative asset manager with over $176 billion of assets under management including a handful of MHCs. MHProNews covers CG in our daily stock report of MH-related securities. ##
(Editor's Note: My thanks to those who caught and reported to us an initial error in this report. There are TWO Carlyle's in MH, and both are in the Communities sector.  Our goal is to always get facts correct, and so we value those watchful eyes of informed readers who advise us when an error exists and needs correction.
We also value reader's comments on opinion issues related to the MH industry.)
(Image credit: Carlyle Group, text added by MHProNews)

Article submitted by Frank Griffin, to Daily Business News for MHProNews.