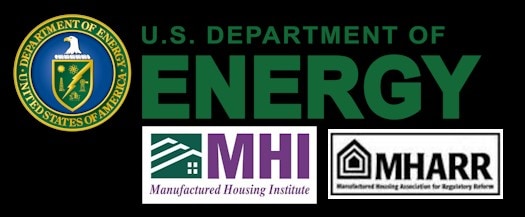 In response to the July 17 proposed rule on "Energy Conservation Standards for Manufactured Housing" from the Department of Energy (DOE), the Manufactured Housing Institute (MHI) sent a letter expressing concerns that the new rule would raise the price of manufactured homes. MHI also suggested the DOE "establish a clear compliance regimen, where such standards would be integrated into the HUD Code, before any rule is finalized," urging the agency to not finalize the rule until all these issues are addressed. MHI says over 750 letters were received by the DOE.
In a July 26, 2016 Daily Business News story, MHProNews posted the Manufactured Housing Association for Regulatory Reform's (MHARR) vociferous argument against the Dept. of Energy's proposed rule, suggesting that MHI, HUD and the DOE were colluding on the new rule.
A third party that asked not to be identified provided MHProNews with two 'leaked' documents – linked here and here – that included the following statement,  "This was an attempt to round up the support for DOE to supplant HUD as the governing standard for manufactured housing regulations.  This will have large ramifications for the manufacturers should it be passed.  You guys may already know all of this, but in case you didn't."  The "you guys" reference means, MHProNews.
MHARR has opposed this proposal for years. MHI's record on this issue at first looked to be an embrace of the new rule, undercutting MHARR's stance. But MHI's recent stance seems to indicate – at least publicly – a move to back away from it entirely.  Most in the industry oppose moving the manufactured housing program from HUD to any other federal department, but according to the source, some are working to accomplish such a move.
Editorially, MHProNews has opposed the DOE rule because it will drive up costs, locking more potential home buyers out of the market; and because consumers can already option in more energy saving features.

HUD and the Voucher Rule
Meanwhile, HUD is trying to determine the best methods to encourage Housing Choice Voucher (HCV) holders to move to areas with higher opportunity and lower poverty through its new rule, "Establishing a More Effective Fair Market Rent" in the Housing Choice Voucher (HCV) program.
HCV is designed to help very low income families afford decent safe housing in the private market, and it can be used by manufactured homeowners for land leases in communities. However, while apartment renters can use their vouchers wherever the best opportunities exist, manufactured homeowners cannot simply use the vouchers to up and move, because it costs $2,500 to $8,000 to move an MH.
In its comment letter to HUD, MHI stresses the importance of exempting manufactured homeowners from the new revisions. ##
Editor's Note: for additional insights and commentary on this issue, please click here.
(Image credits: MHI, MHARR and DOE logos)

Article submitted by Matthew J Silver to Daily Business News-MHProNews.