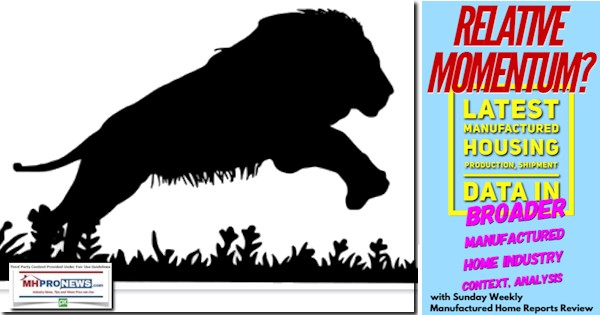 373,143. According to data collected on behalf of the United States Department of Housing and Urban Development (HUD) that was how many manufactured homes were built in the United States in 1998, 373,143. But by 2007, the industry produced only 95,752 HUD Code manufactured homes. At the current pace, the industry will likely top that 2007 total, but may not surpass the 117,373 produced and shipped by manufactured home producers in 2006.  Nevertheless, the industry's cheerleaders quickly point out that in in 2009 on 49,683 manufactured homes were built.  Gine the talent, experience, and resources available to the corporate interests behind the Manufactured Housing Institute (MHI) trade group, during an affordable housing crisis, the only logical explanation that the evidence reveals is that the insiders that dominate the association apparently want underperformance at this point in time. There will be more on that following the latest official data compiled for HUD as reported to MHProNews by the Washington, D.C. based Manufactured Housing Association for Regulatory Reform (MHARR).
For years, manufactured housing data has been reported a month and 3 days after the end of a given monthly new home production and shipment period. So, this report published by MHARR on December 3 is for the period of new home production for October 2021.
For years, both MHI and MHARR made such reports relatively public to at least industry's members via email. But more recently, MHARR alone has published this information where anyone can access it on their website. Not so for MHI, which stopped making reports like the one linked here more public. Only MHI members can access data via a login, unlike say the National Associated of Home Builders (NAHB) or the National Association of Realtors (NAR), or MHARR. Others want the public to know how much production is occuring in their industry. Why not MHI?
MHARR's latest data is best framed in the light of the prior report and analysis for September 2021, linked below. That report includes mainstream housing insights which sheds relative light on how manufactured housing is performing during a well-publicized affordable housing crisis.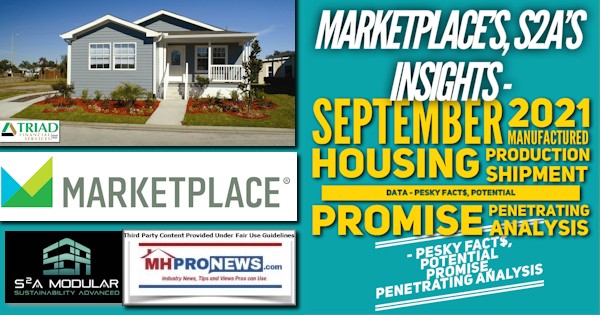 The data for October 2021 per MHARR is as follows. Note that the illustrations and caption on the top 10 cumulative states chart are added by MHProNews, but the data is as reported by MHARR.

FOR IMMEDIATE RELEASE                                            Contact: MHARR
                                                                                                          (202) 783-4087
HUD CODE PRODUCTION CONTINUES POSITIVE PACE IN OCTOBER 2021
 Washington, D.C., December 3, 2021 – The Manufactured Housing Association for Regulatory Reform (MHARR) reports that according to official statistics compiled on behalf of the U.S. Department of Housing and Urban Development (HUD), HUD Code manufactured housing industry year-over-year production increased once again in October 2021. Just-released statistics indicate that HUD Code manufacturers produced 9,254 homes in October 2021, a 2.4% increase over the 9,035 new HUD Code homes produced during October 2020. Cumulative production for 2021 now totals 88,689 homes, a 12.6% increase over the 78,761 homes produced over the same period in 2020.
A further analysis of the official industry statistics shows that the top ten shipment states from the beginning of the industry production rebound in August 2011 through October 2021 — with cumulative, monthly, current year (2021) and prior year (2020) shipments per category as indicated — are: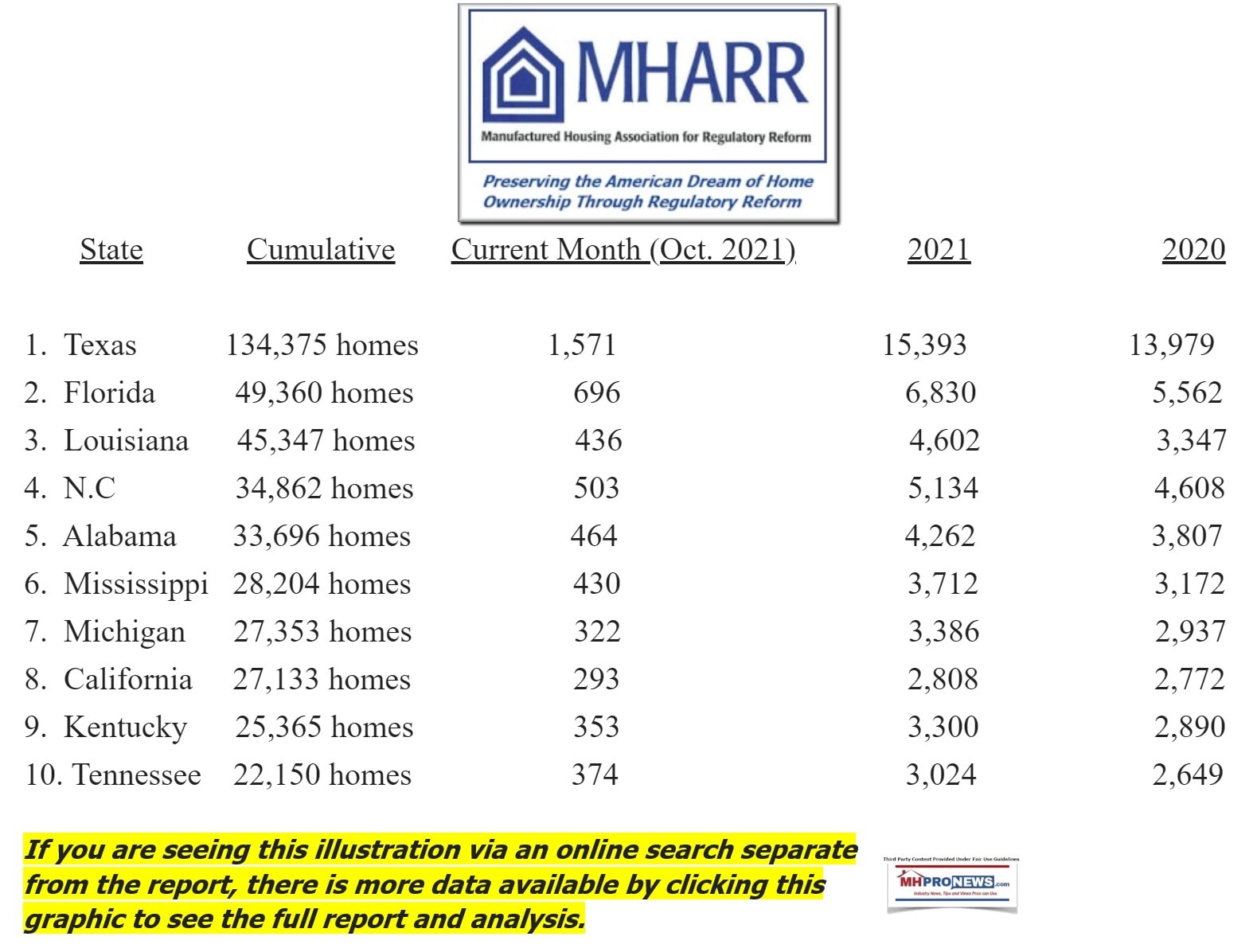 The October 2021 data results in no changes to the cumulative top-ten shipment list.
The Manufactured Housing Association for Regulatory Reform is a Washington, D.C.-based national trade association representing the views and interests of independent producers of federally-regulated manufactured housing. ##
— 30 –
Manufactured Housing Association for Regulatory Reform (MHARR)
1331 Pennsylvania Ave N.W., Suite 512
Washington D.C. 20004
Phone: 202/783-4087
Fax: 202/783-4075
Email: MHARR@MHARRPUBLICATIONS.COM
Website: manufacturedhousingassociation.org ##
##
More MHProNews Information, Analysis, Commentary and Weekly Headlines Review 
That relative improvement year to date in new home production over 2020's or 2007's very similar total results are apparently not the result of some brilliant execution of a cogent strategy by the industry's 'leaders' as represented by the Arlington, VA based Manufactured Housing Institute (MHI). For crystal clarity, that's not a slam. It is statement of reality that the corporate and MHI trade association leaders are intelligent, often well educated, experienced, and quite successful individuals. Those trade and company professionals are – precisely because they are intelligent and sufficiently seasoned – are therefor to be held to account for the troubling trends that manufactured housing has endured since 1998.
Why is MHI and their corporate/board leaders accountable?
Because MHI themselves routinely makes the claim that they represent "all segments" of manufactured housing. MHI statements routinely point out that their member producers, for example, reflect some 85 percent of all HUD Code manufactured home production.  While that claim is factually accurate, it misses the point that some 80 percent of industry production is from the so-called "Big 3" MHI member companies. Aside from Clayton Homes (BRK), Skyline Champion (SKY), and Cavco Industries (CVCO), all of their other remaining members produce only another 5 percent of all of the industry's production? Yes.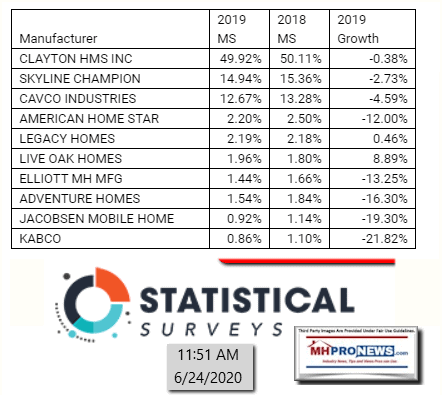 By contrast to 2003, the year that Buffett led Berkshire Hathaway (BRK) bought Clayton Homes and ultimately rolled Berkshire's investment in Oakwood into the Clayton fold, the top 25 manufactured housing producers reportedly built 93 precent of all manufactured homes.  Restated, there has been a striking consolidation of manufactured housing since the dawn of the Berkshire era of manufactured housing. Don't believe it? See for yourself, based on the data produced by the now defunct Manufactured Home Merchandiser Magazine.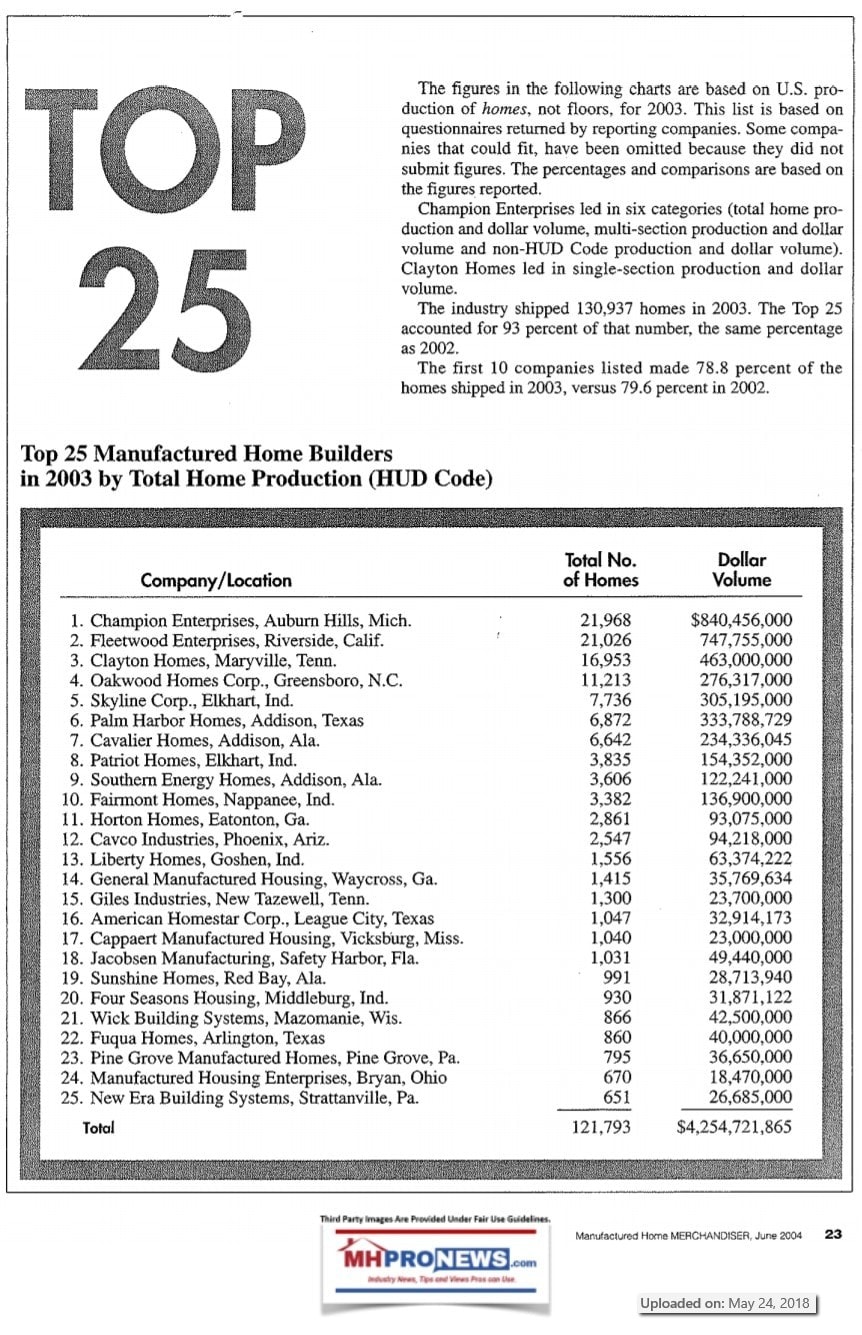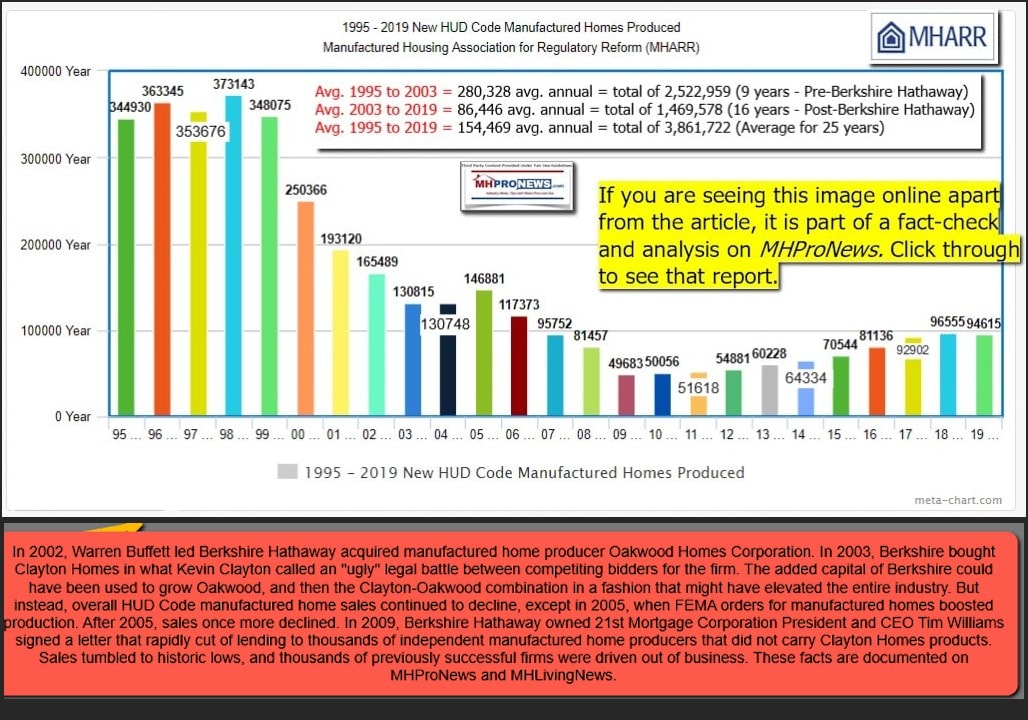 Per MHARR, from 2009 through 2020, here are the production totals by year. The percentage changes – up or down – by year follow each of those years, starting in 2010.
2009 – 49,683 homes
2010 – 50,056 homes (+.84%)
2011 – 51,618 homes (+3.1%)
2012 – 54,881 homes (+6.3%)
2013 – 60,228 homes (+9.7%)
2014 – 64,334 homes (+6.8%)
2015 – 70,544 homes (+9.6%)
2016 – 81,136 homes (+15.0%)
2017 – 92,902 homes (+14.5%)
2018 – 96,555 homes (+3.9%)
2019 – 94,615 homes (-2.0%)
2020 – 94,390 homes (-.23%)
Note that all of these years are vastly eclipsed by the 373,143 homes built in 1998. Such facts and reality-checks are as necessary as ever in this time that has been described as a "tapestry of lies" by Edward Curtin and others.  Curtin freely admits he didn't come up with that expression. Per Goodreads, see the last sentence where that phrase appears.
"
The majority of politicians, on the evidence available to us, are interested not in truth but in power and maintenance of that power. To maintain that power it is essential that people remain in ignorance, that they live in ignorance of the truth, even the truth of their own lies. What surrounds us therefore is a vast tapestry of lies, upon which we feed

."

― Harold Pinter, Art, Truth & Politics: The Nobel Lecture

It is no exaggeration to say that manufactured housing does not exist in a vacuum. Our manufactured home profession is a subset of the broader housing market. It is also a subset of the broader still American economy and political system.

While some trade publishers and bloggers in our profession from time-to-time mention the 'big picture,' it is often done so superficially as to render the possible insights fairly moot.
MHProNews, and our MHLivingNews sister-site, uniquely provide both big picture reports as well as a steady diet of manufactured home profession specific reports, fact-checks, analysis, and commentary.  It is no surprise that even our publishing rivals have each at various times praised our platform as being by far the best, even as they have launched and/or continued their own blogging or publishing efforts.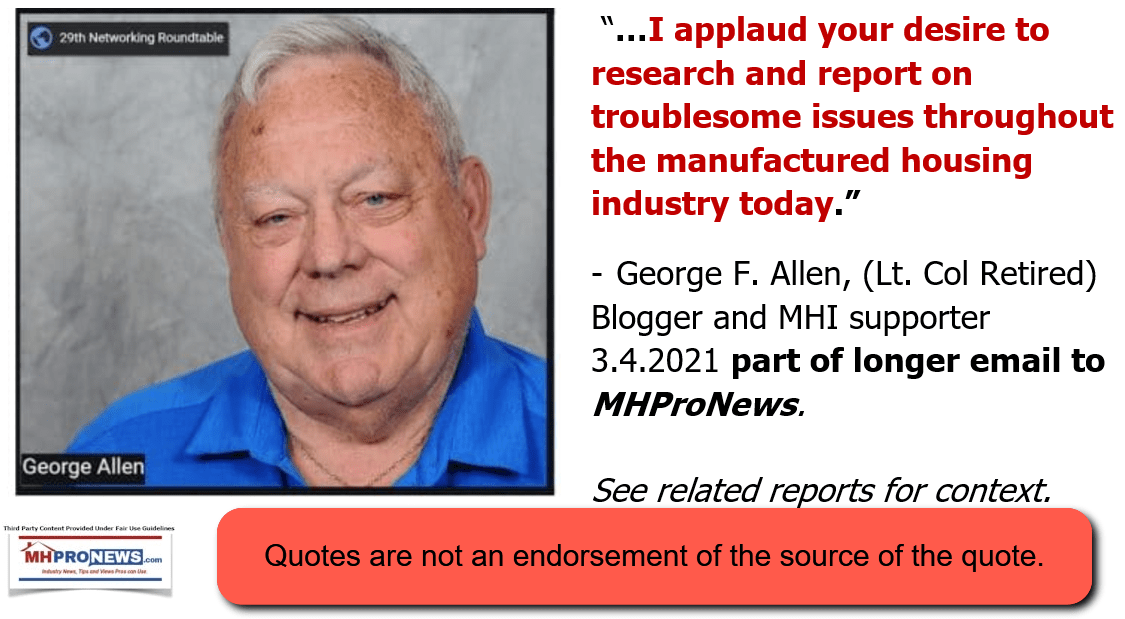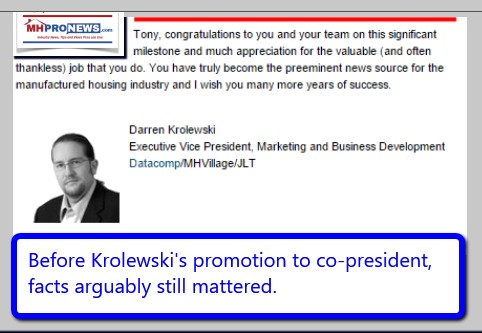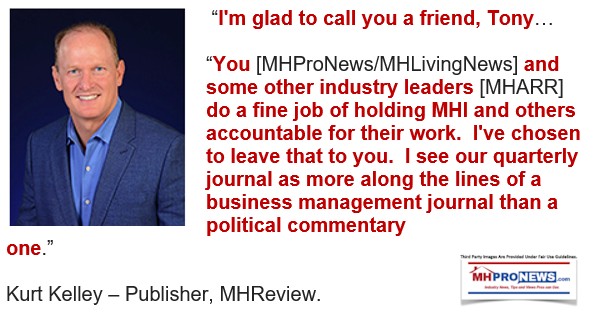 The sobering reality is that America in general, and manufactured housing more specifically, are part of a market that can't be described as a 'free market' in the traditional sense. For example. The stock market is to a significant degree being propped up by the Federal Reserve. So says a financial and economic analyst in one of our linked headlines-in-review reports below for Saturday 12.4.2021. That author points to data that insiders are selling stocks at the fastest rate on record. See the data and charts yourself. Agree or disagree with his analysis, but first look at the facts he provides. Then interpret those facts based on the known evidence.
Billionaire Mark Cuban has made an unusual foray into manufactured housing. Or as the media described it, he is bought into the "mobile home park" or "trailer park" business. That topic is explored in our latest report on MHLivingNews.
Among the reports on the Masthead linked below is one that provides a unique look at the strengths, weaknesses, opportunities, and threats (SWOT) for manufactured housing as 2021 draws towards a close and 2022 approaches.
MHARR provided the report above, but also spotlighted their new Q&A interview with their President and CEO, Mark Weiss, J.D. that was conducted by MHProNews. See those linked below.
There are numbers of more topics and trends that follow. They include a fresh take from MHI award-winner Marty Lavin, J.D., on the Industry Voices blog. There is also a not-to-be missed postscript for today for those who seek solutions to vexing systemic problems.
It seems that many in our profession are dodging the troubling headlines from mainstream media reports that shed light on why manufactured housing is underperforming. This is arguably a mistake. After all, a traditional job of media is supposed to be to hold the powerful to account. To do so, media – including trade media – must pull back the veil with facts, evidence, and accurately provided quotes and data. Covid19, trade with China and other countries, longstanding regulatory hurdles are just some of the topics that are realities in our profession. How other trade groups deal with their thorny issues is also explored in our headlines for the week that was.

But back to 'bad news' reports that dog the image of modern manufactured homes. Among those linked below involves MHI member Sun Communities. But other 'names' in our industry are featured too.
Facts and reality are what they are. Absent reality, people are at greater risk of stumbling into professional oblivion, as did so many of those firms on the MHMerchandiser report for 2003 that was shown above.
With no further adieu, here are the headlines that link to the reports for the week that was from 11.28.2021 to today, 12.5.2021.
What's New on MHLivingNews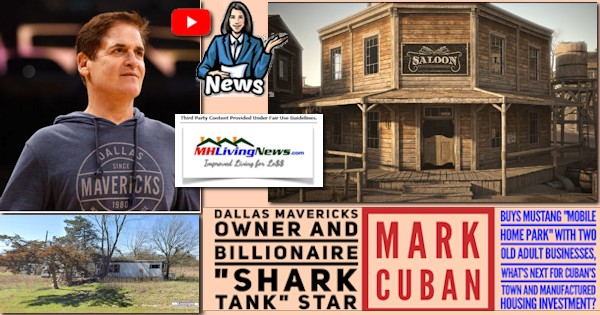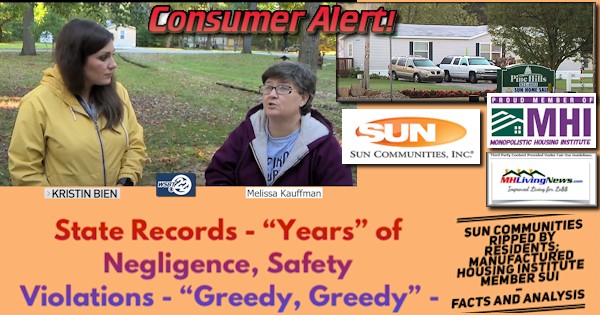 What's New from Washington, D.C. from MHARR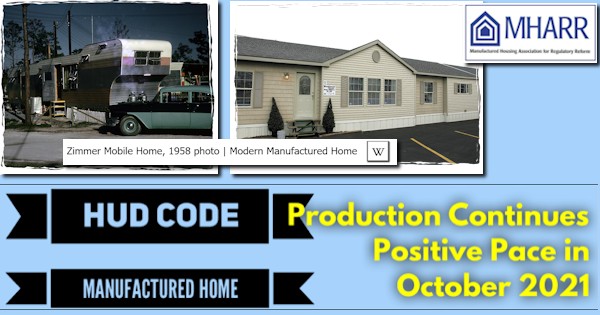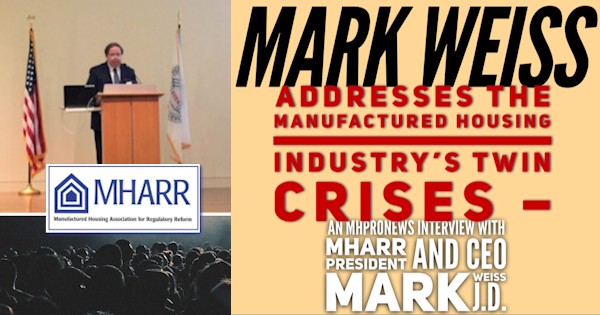 What's New and Recent on the Masthead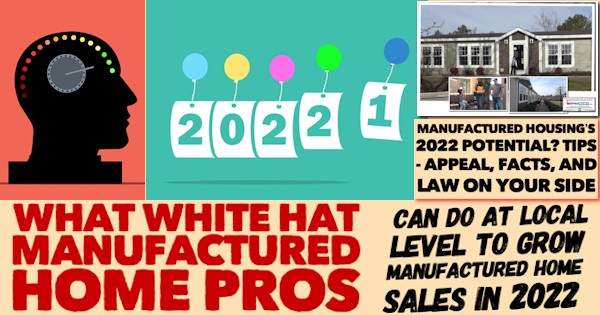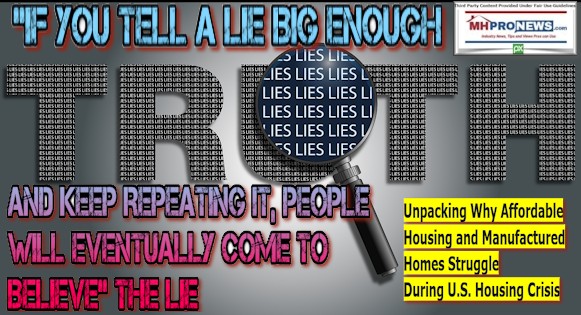 What's New on the Words of Wisdom

What's New on the Daily Business News on MHProNews
Saturday 12.4.2021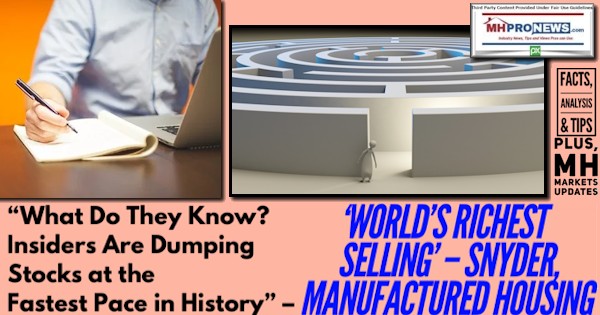 Friday 12.3.2021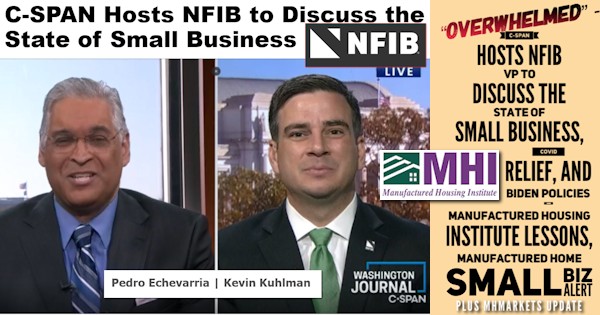 Thursday 12.2.2021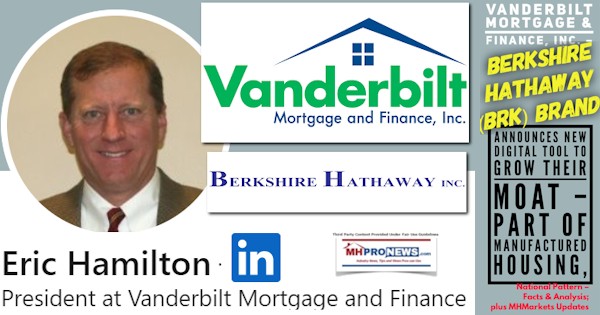 Wednesday 12.1.2021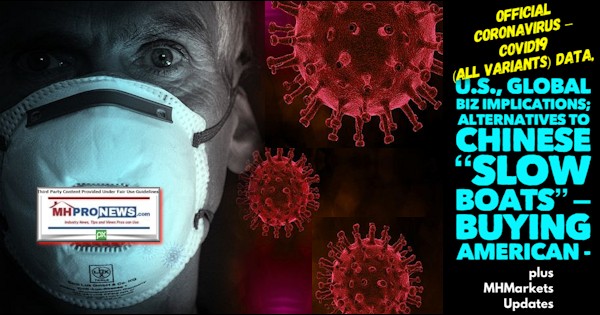 Tuesday 11.30.2021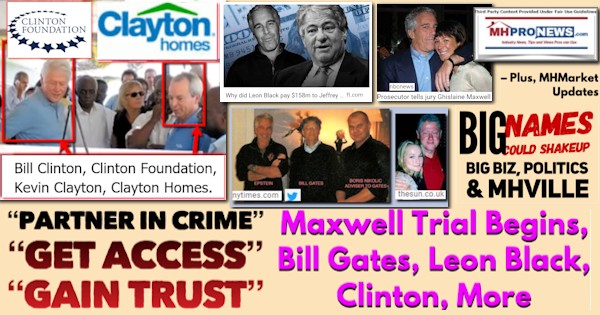 Monday 12.29.2021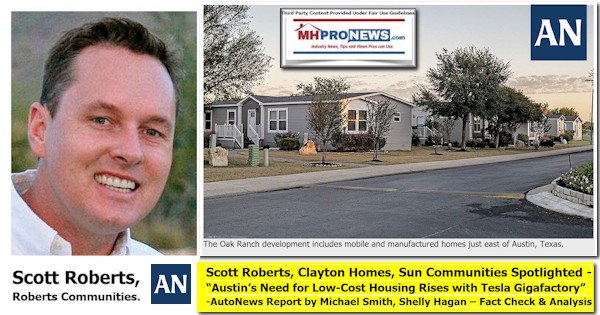 Sunday 12.28.2021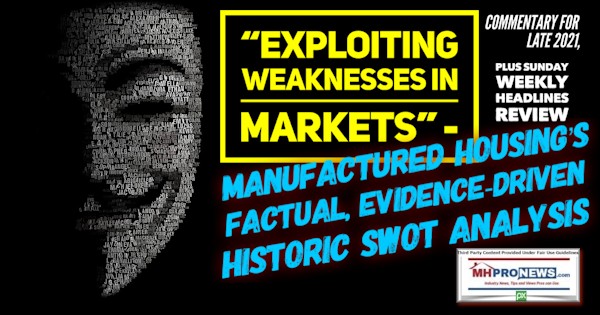 Postscript 
In the battle for saving the American Republic, no one mere mortal person, no one idea or source are going to be sufficient. There are a range of things that are necessary. The case can be made that without fixing certain systemic woes for the Republic, our manufactured home industry will never achieve its potential. A similar case can be made for other professions too. Joe Kotkin, a former Washington Post journalist and a self-declared former Democrat, has sounded the warning that a new feudal society is forming.  The elite oligarchs, said Kotkin are in control of many Democrats, some Republicans, and are creating a 'neo-fascist' society.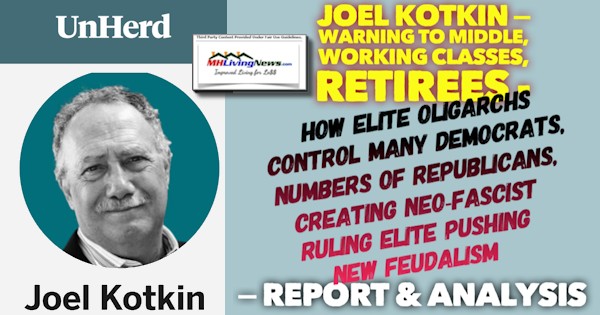 That is a view from a classical liberal who spent years on the political left in the U.S.
But there are similar warnings coming from the right too.
Among those long on the frontlines on-line for the struggle for protecting the Constitution and Judeo-Christian values is one Joseph Farah. Let's dwell on Farah for a few moments, because he and his media colleagues lace up some keen thoughts on what the battle plan for the next 2-4 years could or should be.
Farah is the founder and publisher of WND News. From certain voices on the left, WND are often demonized. For instance, the leftist Southern Poverty Law Center (SPLCenter.org) said that "WorldNetDaily [WND] is an online publication founded and run by Joseph Farah that claims to pursue truth, justice and liberty." SPLCenter then said WND was "one of the most unhinged far-right "news" sites on the Internet." Really? Because they disagreed with WND's concerns about then-President Barack Obama? The assault from others on left, including from left-leaning Google, has not stopped. Left-leaning Wikipedia describes WND as "fringe" and "far-right." While various deplatforming and demonetization efforts have left WND self-admittedly weakened, WND wears those attacks as a badge of honor as they continue to pursue news, health, money, cultural, opinion, and other topics with facts, evidence, and a largely Judeo-Christian worldview. WND and Farah are an example of how someone or some operation can be known by their enemies as well as from someone's friends.
To set the stage for some relevant news, commentary, and analysis from their prolific founder Farah, the following background from Amazon about the man is useful.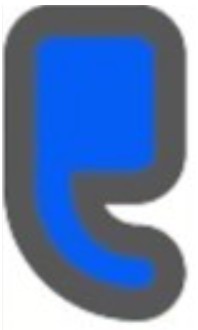 Joseph Farah is the founder, editor and chief executive officer of WND.com, the very first independent online news network. A lifelong newsman, Farah made a name for himself running daily newspapers in major markets, including the Sacramento Union, then the oldest daily West of the Mississippi. He has been an investigative reporter, foreign correspondent, award-winning editor and publisher.
He has also written or collaborated on more than a dozen books that have sold millions of copies. They include "Taking America Back," which has been reissued by three different publishers with more than 14 printings, and a collaboration with Rush Limbaugh on "See, I Told You So," the bestselling non-fiction book of 1993 and 1994. His latest book is "The Restitution of All Things," published in 2017.
Farah also founded WND Books, a publishing company that boasts the highest percentage of New York Times bestsellers per release. Later, he founded WND Films, which produced the best-selling faith movie of 2012 and 2013 — "The Isaiah 9:10 Judgment."
He writes one of the very few daily columns in the world for WND.com.
He has been both a nationally syndicated columnist and a nationally syndicated radio talk-show host."
That noted, about four weeks ago, Farah noted his plan for Trump replacing Democratic House Speaker Nancy Pelosi was the "first proposing Donald Trump getting essentially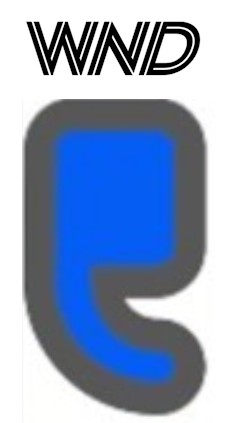 six more years as president, by first becoming speaker of the House, leading the impeachment of Joe Biden and Kamala Harris and taking over the White House after being cheated out of the 2020 election.
Now it seems more viable than ever.
Rep. Matt Gaetz, R-Fla., one of Trump's most ardent supporters, has not only heard the call, but has the tentative approval of the president to be nominated for speaker of the House after the midterm elections, assuming all goes well."
Steve Bannon is the firebrand author, speaker, and podcaster who has been the on-off-on again "War Room Pandemic" wingman for President Trump. Bannon has spoken about having Trump as House Speaker too.
Said Farah, "Trump would then lead the inevitable impeachments of Biden and Harris and succeed them as president for the next six years (taking into account his reelection in November 2024).
Don't worry, you don't have to be a House member to be speaker of the House! Any American can serve at the pleasure of the House – even temporarily. It's the only way Trump can serve another six years as president. After all he's gone through, it seems like the best way to reward him!"
"After the next election cycle when we take back the House of Representatives, when we send [current Speaker] Nancy Pelosi back to the filth of San Francisco, my commitment to you is that my vote for speaker of the U.S. House of Representatives will go to Donald J. Trump," said Gaetz. The speaker is third in line for the presidency – in other words, right after Biden and Kamala are dispatched for their crooked election and other high crimes.
Said Gaetz, "The American people want to see Republicans stand up and defend the tens of millions of Americans who feel like their vote was disgraced" in 2020.
Regarding Trump's interest in the position, Gaetz noted, "In my recent conversations with people in Trump world, there seems to be more enthusiasm than ever."
Said Farah, "the case is Donald Trump does not need to run for Congress and should not run for Congress as an individual congressman. That's ridiculous. What Donald Trump should do is after we [Republican supporters] win a sweeping victory, the House members should vote him as Speaker of the House, at least for some interim period of time. Not Kevin McCarthy, Donald Trump. Where Donald Trump takes the gavel from Nancy Pelosi and he immediately moves to impeach Joe Biden."
Farah elaborated by saying "Does it all seem to be far-fetched? Well, if we have a real election in 2022, it's looking better than ever." He cited notables like Senator Rob Portman (WI-R) who "characterized Trump as "definitely the leader" of the Republican Party."
Certainly, election integrity and addressing the 2020 controversies are high on the list of President Trump's list of things to do. It seems they are also on the minds of millions of voters too.
Farah and his publication are among those that are making the case that the truth about the 2020 election must be revealed by independent audits, such as the one that occurred in Arizona. Other jurisdictions have to various degrees being attempting something similar. These are popular, especially among those who believe that the 2020 election was 'stolen' from President Trump by supporters of Joe Biden.  They are making the case that the recent off-year elections in Virginia, New Jersey and elsewhere are pointing toward a possible red wave in 2022, possibly even in some blue strongholds.
So, clearly election integrity and voting are important parts of the solution. WND, which is broadly Christian but routinely tips their hats toward traditional Jewish values too, often makes the point that people of faith must be engaged as part of the solution to restoring the true promise of the American Republic for people of all backgrounds.
It is with that backdrop that this part of the postscript will now pivot to the following first published by the WND Newscenter and is used by MHProNews with permission.
The solution to Big Tech and the oligarchs
Readers offer views on government regulation, vote fraud, cultural division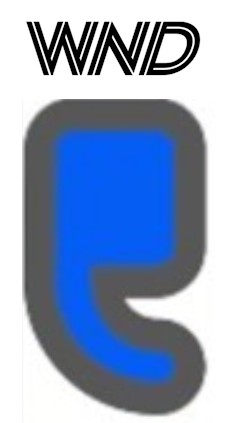 Published May 11, 2021 at 7:16pm
Anyone who thinks Big Tech will be reined in by regulations has not been paying close attention. The following cases exposed years of documented corporate, regulatory and accounting failures. They spotlight massive corruption and mainstream media misses.
Enron
· Theranos
· WorldCom
· VW "Diesel-Gate"
· Solyndra
· Bernard "Bernie" Madoff
· WeWork
· Lehman Brothers
· Fannie Mae, Freddie Mac (Government Sponsored Enterprises/GSEs).
Collectively, that list involved hundreds of billions of dollars in losses by investors. Various types of fraud, corruption and deception occurred. Because taxpayers and the broader economy were impacted by Lehman Brothers and GSEs housing-finance scandals, those cost Americans trillions of dollars.
John Kenneth Galbraith said: "Regulatory bodies, like the people who comprise them … become, with some exceptions, either an arm of the industry they are regulating or senile." Bingo.
Modern robber barons are dominating information and capital. Cold Fusion's documentary about the Theranos' scandal observed: "It's the illusionary effect where if you repeat a lie enough times people start to believe it, especially if you have credible names surrounding the product."
Problematic products are from corrupt companies.
Theranos' Elizabeth Holmes is shown with then Vice President Joe Biden and President Barack Obama. In the massive Enron scandal, Ken Lay and Jeff Skilling are shown with then President George W. Bush (R). Those establishment politicians are sufficient to make the point of the "illusionary effect" of "repeating a big lie enough times" when "credible names" are involved.
Harry Markopolos and his colleagues spent years trying to get public officials and mainstream media to expose the massive Bernie Madoff fraud they knew existed. Forbes says Madoff losses may have exceeded $50 billion.
Other regulatory failures are hiding in plain sight. The New York Times quoted Warren Buffett: "There's class warfare, all right, but it's my class, the rich class, that's making war, and we're winning."
Buffett's "class" profited wildly in the 2008 and 2020 economic upheavals. How? CNBC quoted billionaire Bill Gates: "I didn't even want to meet Warren because I thought, 'Hey this guy buys and sells things, and so he found imperfections in terms of markets, that's not value added to society, that's a zero-sum game that is almost parasitic.'"
The CDC defines parasitic: "A parasite is an organism that lives on or in a host organism and gets its food from or at the expense of its host."
Buffett said, "The most important thing for me is figuring out how big a moat there is around a business. What I would love, of course, is a big castle and a big moat with piranhas and crocodiles."
When carefully examined, these oligarchs and their businesses employ "parasitic" "moat" and "sabotage monopoly" methods. They create a slow-motion monopoly of various markets. Experts like James Schmitz say monopolies "inflict great harm on low- and middle-income Americans."
The solution? Enforce existing laws. Break these pernicious giants up. They cause social, economic and moral harm. Once broken up, watch the economy and America soar.
L. A. "Tony" Kovach ##
The solution to the issues that hobble our profession and so many others come down to these factors.
Good, reliable, factually accurate information that routinely sheds light on the various ways the problems that are thwarting our industry's potential.
Enforcing good laws. As MHProNews and MHLivingNews have often said, law enforcement should be part of our mantra for growth.
Supporting and/or voting for those who are in the fight to preserve the noble ideals that made the United States of America the freest society in the world. While that claim is demonstrably true, there is also no doubt that for many years and numbers of members of our society, justice has been unequal.  The press to "make America great again" should occur acknowledging that the American Republic has never been perfect. But unlike so many other places, be it Communist China, North Korea, Cuba, Venezuela, or others have a fraction of our freedom.
It is good, necessary, and useful to spotlight what's gone wrong and what can be done to fix it to a manufactured housing audience. But we are also uniquely reaching out to a broader audience on other platforms. The example from WND above is one case. Others are linked below.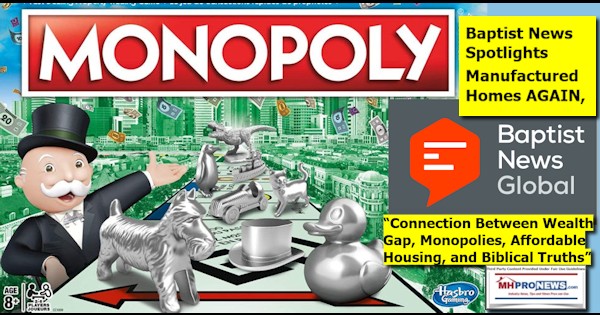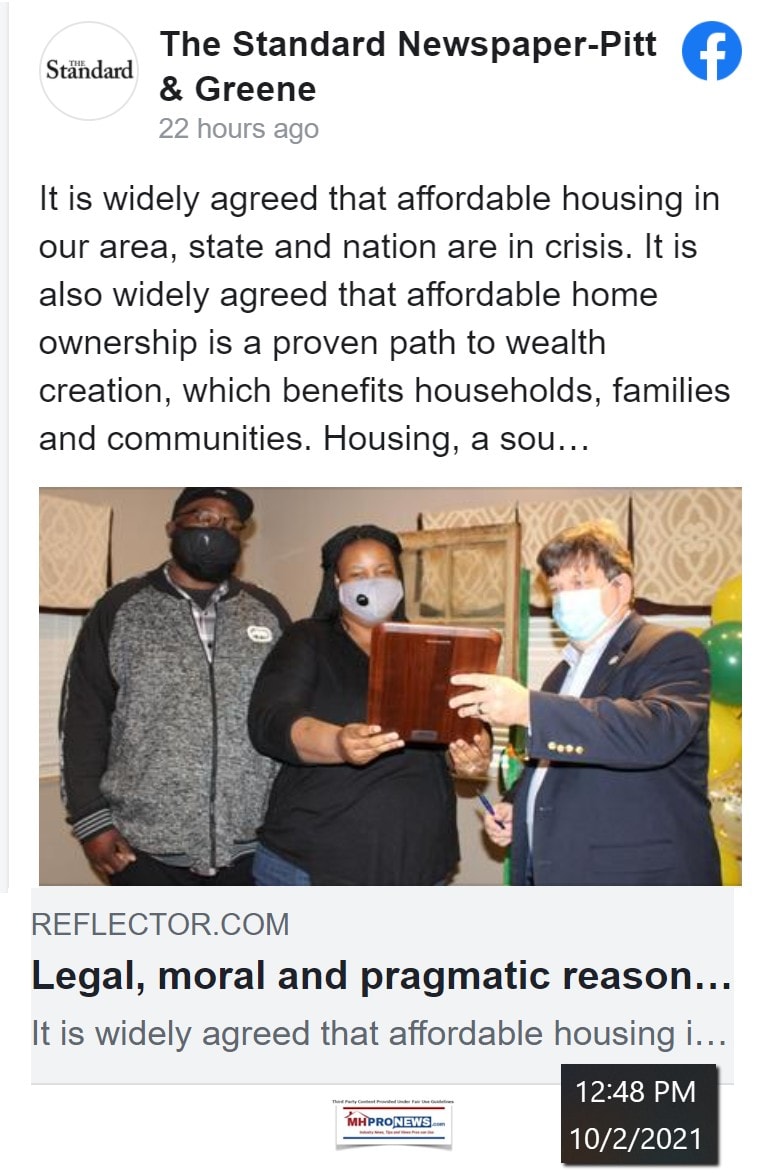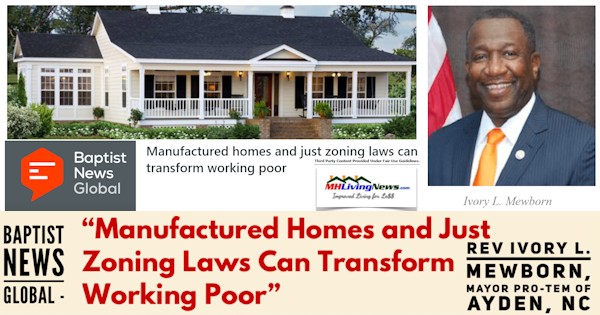 There are more efforts to come.
Accountability for arguably illegal behavior should occur. Only by holding those who have manipulated manufactured housing for their own benefits can our industry achieve its potential to solve the need of millions of quality affordable housing seekers. ###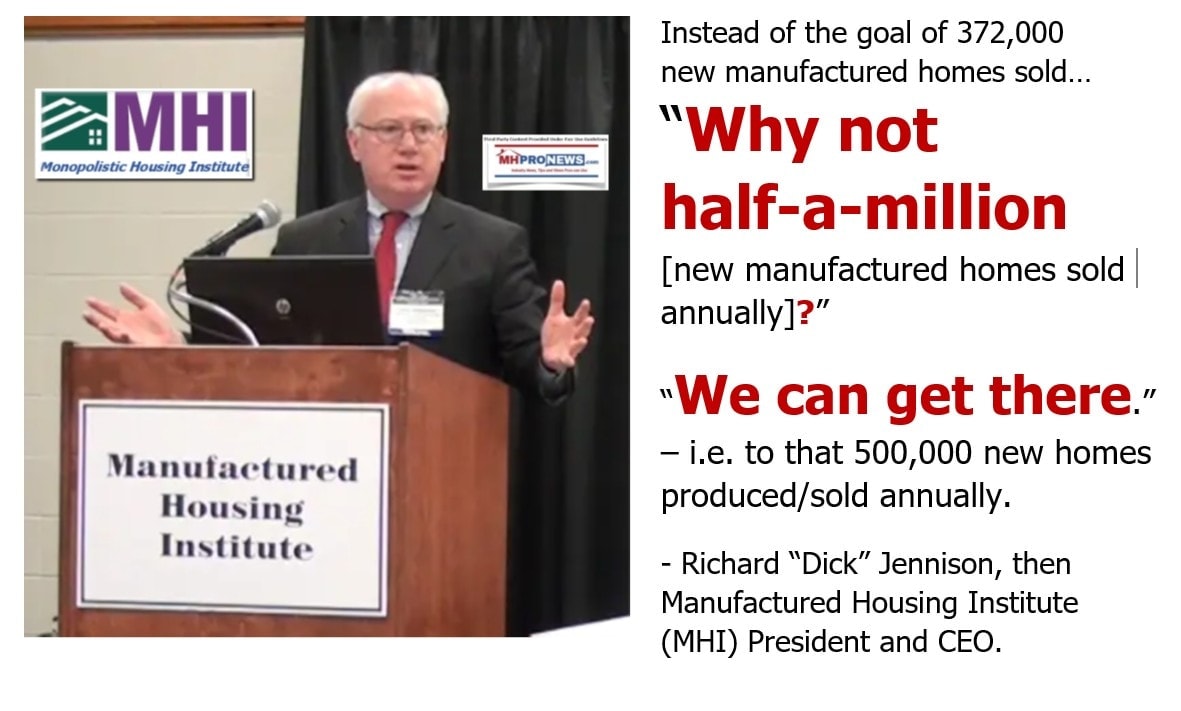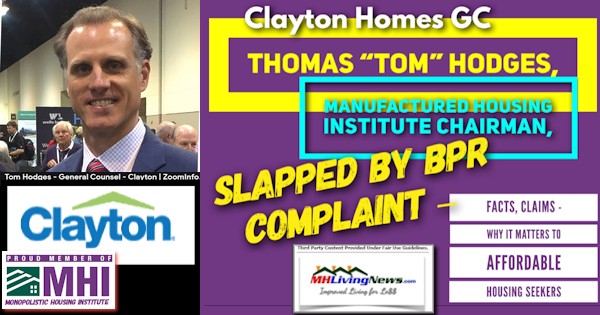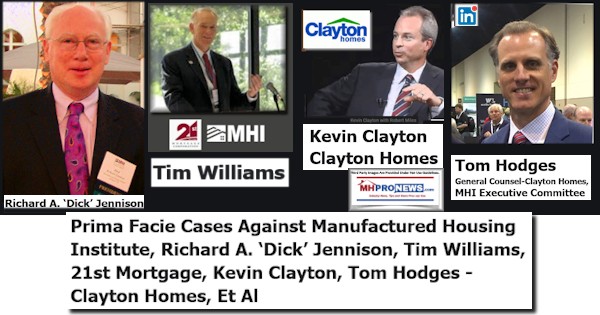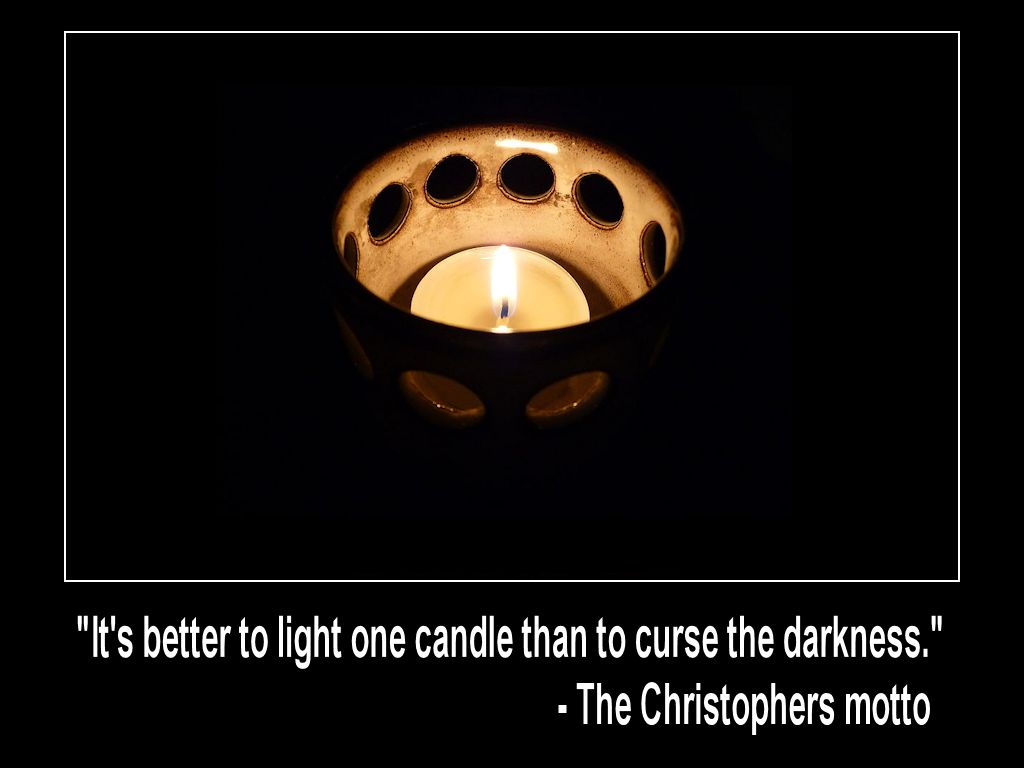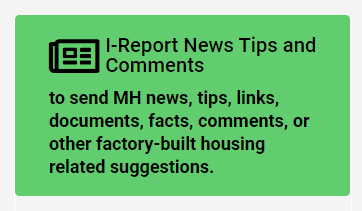 Our thanks to you, our sources, and sponsors for making and keeping us the runaway number one source for authentic "News through the lens of manufactured homes and factory-built housing" © where "We Provide, You Decide." © ## (Affordable housing, manufactured homes, reports, fact-checks, analysis, and commentary. Third-party images or content are provided under fair use guidelines for media.) (See Related Reports, further below. Text/image boxes often are hot-linked to other reports that can be access by clicking on them.)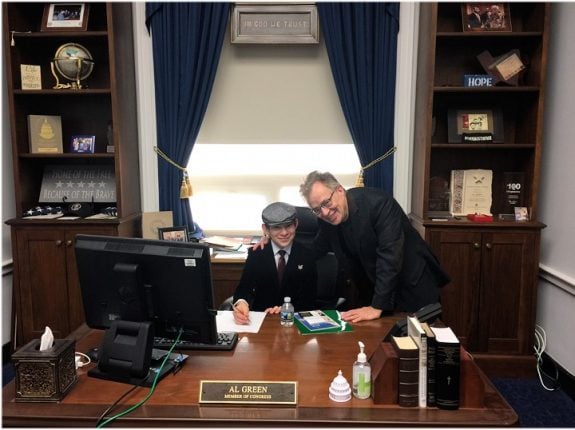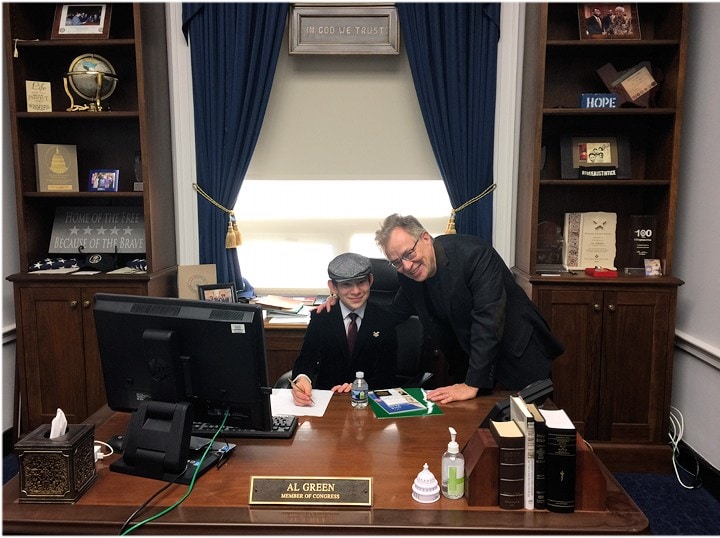 By L.A. "Tony" Kovach – for MHProNews.com.
Tony earned a journalism scholarship and earned numerous awards in history and in manufactured housing.
For example, he earned the prestigious Lottinville Award in history from the University of Oklahoma, where he studied history and business management. He's a managing member and co-founder of LifeStyle Factory Homes, LLC, the parent company to MHProNews, and MHLivingNews.com.
This article reflects the LLC's and/or the writer's position, and may or may not reflect the views of sponsors or supporters.
Connect on LinkedIn: http://www.linkedin.com/in/latonykovach
Related References:
The text/image boxes below are linked to other reports, which can be accessed by clicking on them.