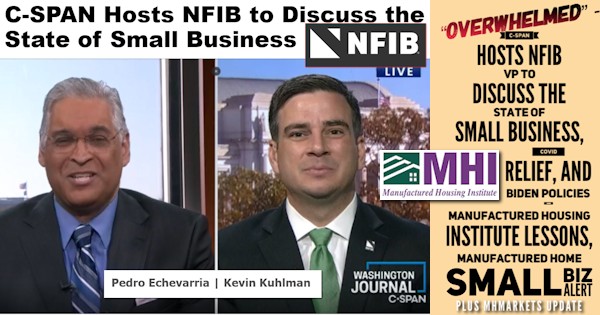 "The National Federation of Independent Business [NFIB] is the largest small business association in the U.S. It is headquartered in Nashville, Tennessee, with offices in Washington, D.C., and all 50 state capitals." That's according to Wikipedia. NFIB says they have around 300,000 small business member firms. In days gone by, a prior state association executive with the Kentucky Manufactured Housing Institute (KMHI) told MHProNews that they were NFIB members. Per that source, KMHI would periodically reach out to NFIB for their support on various manufactured housing issues. Later, an NFIB source told MHProNews that there are several hundred manufactured housing industry members in NFIB. With that backdrop, the following press release from the NFIB to MHProNews should shed light on the Manufactured Housing Institute (MHI), while at the same time providing insights that matter to most small businesses, including those who are involved in the manufactured housing industry.
This report, analysis, and commentary will consist of these segments.
A) NFIB's media release on their CSPAN discussion of small business policies in Washington, D.C. in the post-Trump Biden era.
B) The full video with transcript, which NFIB has linked up for ease of their members and readers' access.
C) MHProNews Analysis and Commentary in Brief. That will focus on 'comparing and contrasting' what NFIB has done in their release vs. what MHI did with their video about manufactured housing policy and HUD.
D) Following the above will be our daily business news staples – our left-right headline and manufactured housing connected stock market snapshot graphics.
With that outline, let's begin with A), the NFIB media release to MHProNews dated 12.1.2021.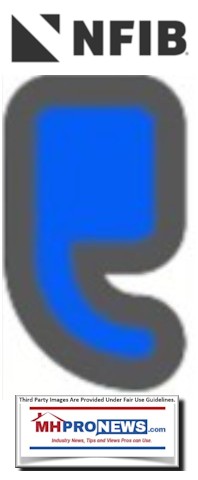 Washington Journal's C-SPAN segment highlighted current policies in Congress
On the morning of Nov. 23, Vice President of Federal Government Relations Kevin Kuhlman appeared on the Washington Journal series of C-SPAN to discuss the State of Small Businesses. Hosted by Pedro Echevarria, Kuhlman talked about the impact of the Biden Administration's policies on small businesses and answered questions from callers.
Echevarria and Kuhlman discussed topics and questions including:
Small Business Surtax
Paid Family & Medical Leave program
OSHA vaccine mandate and implementation
Inflation
COVID-19 relief programs
Supply chain disruptions
Labor shortages
Build Back Better Act
"Overall, there's a lot to digest and I think small business owners are quite frankly overwhelmed," Kuhlman says after listing the proposals in the Build Back Better Act legislation that may impact small businesses.
NFIB has analyzed various paid leave proposals for years and implementing such an expansive program in only two years will hurt small businesses. "Half of small business owners cannot fill open positions. That requires a flexible arrangement," Kuhlman explains. "Previously, businesses with fewer than 50 employees were not subject to the Family Medical Leave Act. So, they're really unfamiliar with paid family and medical leave requirements and policies… It's an unfamiliar policy that could disrupt or exacerbate their labor force challenges."
The Biden Administration's assessment of the economy's strength and being in a position to attack inflation can only come to fruition if we look at the root cause of inflation. "The American economy isn't going to fully recover to pre-pandemic levels until the small business half of the economy has recovered," added Kuhlman. "So, our advice to Congress and the Administration is to do no harm to these small businesses. Create an environment to help these small businesses survive and thrive."
For additional resources on COVID-19 relief programs, visit the Small Business Administration website. Learn more about NFIB's Small Business Survival campaign and how to get involved here.
As a small business owner, you can Take Action by reaching out with your personal story to your member of Congress to express your concerns with the Small Business Surtax, increased penalties, or inflexible Paid Family and Medical Leave Program. ##
B) The full video with transcript, which NFIB linked for the ease of their members and readers' access.
00:00:00

"WASHINGTON JOURNAL" CONTINUES.
00:00:10

JOINING US NOW, KEVIN KUHLMAN IS WITH THE NATIONAL FEDERATION OF INDEPENDENT BUSINESS. THANKS FOR JOINING US.
00:00:21

GOOD MORNING.
00:00:24

HOW WOULD YOU CHARACTERIZE THE PEOPLE YOU REPRESENT?
00:00:29

WE REPRESENT APPROXIMATELY 300,000 SMALL BUSINESS OWNERS THROUGHOUT THE COUNTRY. THEY ARE YOUR TYPICAL MAIN STREET BUSINESS BUT ALSO YOUR BACKSTREET BUSINESS. THEY ARE TYPICALLY EIGHT TO 12 EMPLOYEES BUT RANGE FROM SOLE PROPRIETORS WITH ZERO EMPLOYEES ALL THE WAY UP TO MANUFACTURERS WITH HUNDREDS OR THOUSANDS OF EMPLOYEES. THEY ARE REALLY AND ALL INDUSTRIES BUT REALLY ARE YOUR PROTOTYPICAL AMERICAN SMALL BUSINESSES.
00:00:57

WHEN IT COMES TO TOPICS OF DISCUSSION ON CAPITOL HILL TAKING PLACE SUCH AS THE PASSAGE OF THE BILL BACK AT HER PLAN, AND FIND ONE THE PEOPLE YOU REPRESENT, HOW MY LOOKING AT THIS LEGISLATION?
00:01:12

IT IS A LITTLE OVERWHELMING TO DIGEST. IT IS A VERY LARGE PIECE OF LEGISLATION AROUND $1.7 TRILLION DEPENDING ON WHO YOU ASK. THERE ARE SOME SPENDING PROGRAMS MANY OF WHICH ARE TEMPORARY AND ARE OFFSET BY SOME PERMANENT TAX INCREASES. A COUPLE OF PROVISIONS OR PROPOSALS THAT SMALL BUSINESS OWNERS SHOULD BE AWARE OF OUR AN EXPANSION OF PREVIOUS TAXES BUT ONLY APPLIED TO INVESTMENT INCOME THAT WILL NOW APPLY TO ALL BUSINESS INCOME ABOVE $400,000. WE ARE DEEMING THAT A SMALL BUSINESS OR TAX BECAUSE NOT ONLY DOES IT APPLY TO ALL BUSINESS INCOME ABOVE THOSE THRESHOLDS, THOSE THRESHOLDS ARE NOT INDEXED FOR INFLATION. SO IT WILL ABSORB MORE BUSINESSES EVERY SINGLE YEAR AND MY BUSINESS INCOME EVERY SINGLE YEAR. THERE'S ALSO A PAID FAMILY AND MEDICAL LEAVE REQUIREMENT. BUSINESS OWNERS OF ALL SIZES WILL HAVE TO COMPLY WITH THE PROGRAM. LASTLY, THERE ARE INCREASES IN PENALTIES AND PENALTY EXPOSURE ON THE PENALTY SIDE. EMPLOYMENT LAW VIOLATIONS WHETHER IT IS OSHA OR THE FAIR LABOR STANDARDS ACT. ON THE HEALTH CARE SIDE, THERE IS AN EXPANSION OF THE AFFORDABLE CARE ACT EMPLOYER MANDATE. SPECIFICALLY, THE AFFORDABILITY DEFINITION. THAT INCREASES PENALTIES AND PENALTY EXPOSURE. OVERALL, THERE IS A LOT TO DIGEST AND I THINK SMALL BUSINESS OWNERS ARE OVERWHELMED.
00:02:44

AS FAR AS SOMETHING LIKE THE PAID FAMILY LEAVE ACT. WHY IS THAT BAD FOR SMALL BUSINESS BECAUSE IT GIVES SOME TYPE OF REVENUE FOR PEOPLE WHO HAVE SICK CHILDREN OR SICK FAMILIES TO TAKE CARE OF THEM.
00:02:56

IT IS JUST UNFAMILIAR AT THIS POINT IN TIME. SMALL BUSINESSES ARE STRUGGLING WITH A LABOR SHORTAGE. HALF CANNOT FILL OPEN POSITIONS. THAT REQUIRES A FLEXIBLE ARRANGEMENT. PREVIOUSLY, BUSINESSES WITH FEWER THAN 50 EMPLOYEES WERE NOT SUBJECT TO THE FAMILY MEDICAL LEAVE ACT. THEY ARE REALLY UNFAMILIAR WITH PAID AND MEDICAL LEAVE POLICIES. IT IS AN UNFAMILIAR POLICY THAT SMALL BUSINESS OWNERS COULD DISRUPT OR EXACERBATE THEIR LABOR FORCE CHALLENGES.
00:03:38

THAT ONE THING WAS A STATEMENT THE WHITE HOUSE PUT OUT PARTICULARLY WHEN IT COMES TO THE BUILD BACK BETTER ACT AND SMALL BUSINESSES. THEY WROTE THIS SAYING, REVENUE RATINGS FROM CREATING A FAIR TAX SYSTEM WILL HELP INVESTMENT AND CREATE JOBS INCLUDING INVESTMENTS IN SMALL BUSINESSES. THIS INCLUDES CREATING A PAID LEAVE BENEFIT LEVELING THE PLAYING FIELD FOR SMALL BUSINESSES THAT CANNOT AFFORD TO PROVIDE THIS BENEFIT. IT ALSO IS HAS THE AGENDA WOULD INCREASE ACCESS TO CONTRACTING OPPORTUNITIES AND CREATE TENS OF BILLIONS OF DOLLARS IN FINANCING AND TECHNICAL ASSISTANCE PROGRAM — PROGRAMS. IF THAT IS THE CASE, WHAT IS WRONG WITH THAT APPROACH?
00:04:22

THAT IS ONE APPROACH. YOU CAN CALL ME A SKEPTIC AS TO WHETHER ALL OF THOSE REPORTED BENEFITS WILL COME TO FRUITION. I DON'T SPEAK TO ANY BUSINESS OWNER WHO SAYS I NEED THE PLAYING FIELD LEVEL BY CHANGING A TAX SYSTEM OR APPLYING A NEW MANDATE ONTO BUSINESSES. THEY MORE OFTEN THAN NOT, WHEN I SPEAK TO BUSINESS OWNERS, THEY WANT THE GOVERNMENT TO GET OUT OF THE WAY. I DO PUSH BACK ON THAT WITH THE FEDERAL GOVERNMENT CAN HELP EQUAL THE PLAYING FIELD OR LEVEL THE PLAYING FIELD BY APPLYING NEW TAXES OR MANDATES ONTO BUSINESSES. WE WILL SEE. THE PAID FAMILY AND MEDICAL LEAVE PROGRAM IS IN FLEXIBLE, A LITTLE COMPLICATED. IT IS RUN BY THE FEDERAL GOVERNMENT AND WILL APPLY TO ALL EMPLOYERS AND THEN EMPLOYERS WILL HAVE TO APPLY FOR A COMPLICATED REIMBURSEMENT SYSTEM THAT PROVIDES PARTIAL REIMBURSEMENT FOR THE PAID FAMILY AND MEDICAL LEAVE. WE HAVE SEEN PREVIOUS MANDATES THAT HAVE HAD FOR YEARS TO BE IMPLEMENTED THAT HAD TO BE PUSHED BACK. WE WILL SEE HOW THIS ALL PLAYS OUT AND WE WILL SEE IF IT ENDS UP BEING IN THE FINAL LEGISLATION. I KNOW THERE ARE CERTAIN SENATORS CONCERNED ABOUT THE CURRENT WORKFORCE ISSUES THAT SMALL BUSINESS OWNERS ARE SAYING AND SAY THIS MIGHT BE TOO MUCH FOR THIS PARTICULAR LEGISLATION.
00:05:51

I DO WANT TO INVITE THE FOLKS AT HOME TO CALL AND ASK OUR GUESTS QUESTIONS. IF YOU ARE A SMALL BUSINESS OWNER, THERE IS A NUMBER TO CALL. IF YOU ARE A SMALL BUSINESS EMPLOYEE, THERE IS A NUMBER TO CALL. OTHERS, YOU CAN CALL IN. IF YOU WANT TO TEXT US, YOU CAN DO SO. THOUGH SENATORS THAT HAVE CONCERNS, IS THIS SENATOR MANCHIN, ARE THERE OTHERS AND YOU THINK ISSUES LIKE THE PAID FAMILY LEAVE WILL SURVIVE THE SENATE REVISION OF THIS BILL?
00:06:29

WE SHALL SEE. I KNOW THERE ARE PROPONENTS PUSHING FOR IT TO REMAIN IN. SENATOR MANCHIN HAS EXPRESSED SKEPTICISM AS TO WHETHER THIS IS THE SAME PLACE — THE RIGHT PLACE. THERE ARE CURRENT CHALLENGES THAT SMALL BUSINESS OWNERS ARE FACING WHETHER IT IS FILLING OPEN POSITIONS AND WORKFORCE CHALLENGES, RISING INFLATION AND SUPPLY CHAIN DISRUPTION. IT IS A VERY FRAGILE SMALL BUSINESS RECOVERY. BUT THEN, WE ARE LOOKING AT THESE NEW PROPOSALS, MASSIVE CHANGES THAT WOULD BE UNDERWAY THAT COULD PROVIDE HEADWINDS. THAT IS THE PART OF — THAT IS PART OF THE REASON WHEN WE INTERVIEW MEMBERS THAT THEY ANTICIPATE THEIR RECOVERY WILL BE PUSHED BACK FURTHER AND FURTHER. MANY SAY THEY THINK IT WILL BE 2020 TWO OR LATER BEFORE THE LOCAL ECONOMY IS BACK.
00:07:33

IS THERE ANOTHER VERSION OF THAT TYPE OF PROGRAM ABOUT THE WORK IN YOUR MIND?
00:07:38

THERE COULD BE ONES THAT WORK AT THE TIME AND WE HAVE BEEN ANALYZING THESE POLICIES AT THE STATE AND FEDERAL LEVEL FOR YEARS. GENERALLY, WHEN IT IS A MANDATE, IT IS PRETTY INFLEXIBLE. THERE'S IS NOT MUCH NOTICE TIME. THEY DON'T END UP WORKING WELL FOR THE SMALL BUSINESS OWNER. SMALL BUSINESS OWNERS NEED FLEXIBILITY, THEY CANNOT HAVE A LOT OF COMPLIANCE BURDENS ON THE BACKEND. THESE FACTORS, WE HAVE LEARNED IN VARIOUS MANDATES OVER TIME WILL COMPLICATE THINGS AND MAKE THE COST OF BUSINESS MUCH MORE EXPENSIVE. FOR PROGRAM THAT WORKS WELL WITH OUR BUSINESSES, WE HAVE SEEN OTHER PROGRAMS AT THE STATE LEVEL WHERE IT IS RELATIVELY NEW, BUT THERE IS NOT A MANDATE. SIMILAR BIPARTISAN PROPOSALS IN THE SENATE.
00:08:31

OUR FIRST CALL COMES FROM RAYMOND ON OUR LINE FOR OTHERS. YOU ARE ON WITH KEVIN KUHLMAN. GO AHEAD.
00:08:43

I HAVE A QUESTION. WHAT IS AN INDEPENDENT SMALL BUSINESS? I AM SEEING NUMBERS AS HIGH AS $50 MILLION A YEAR IN GROSS REVENUE. HUNDREDS OF EMPLOYEES. WHEN I THINK OF A SMALL BUSINESS, I THINK OF A BUSINESS OF 50 EMPLOYEES OR LESS. WHAT IS A SMALL BUSINESS?
00:09:02

AT THE FEDERAL LEVEL, THERE ARE DOZENS OF DIFFERENT DEFINITIONS. HOW AND IF I BE — NFIB DEFINES A SMALL BUSINESS IS YOU CANNOT BE PUBLICLY TRADED. A TYPICAL MEMBER HAS ABOUT EIGHT TO 12 EMPLOYEES. WE HOPE THEY ARE GROWING BUSINESSES AND ADDING EMPLOYEES AND EXPANDING THE SMALL BUSINESS HALF OF THE ECONOMY, BUT IT IS REALLY TOUGH TO SAY WHAT EXACTLY IS A SMALL BUSINESS. THE FBA GENERALLY DEFINED SMALL BUSINESS AS FEWER THAN 100 EMPLOYEES. IT IS A COMPLICATED QUESTION WITHOUT AN EASY ANSWER.
00:09:47

WHEN IT COMES TO ISSUES FACING SMALL BUSINESSES, ONE OF THE THINGS CURRENTLY BEING DEBATED FROM THE ANNOUNCEMENT A FEW WEEKS AGO WAS THE PRESIDENT PAST…
00:10:09

AGAIN, THAT APPLIES TO BUSINESSES WITH 100 OR MORE EMPLOYEES, ALTHOUGH IN THE PROPOSED REGULATION, THEY QUESTION AS TO WHETHER IT SHOULD APPLY TO BUSINESSES WITH FEWER THAN 100 EMPLOYEES. CURRENTLY, THERE IS A LEGAL CHALLENGE TO THAT. OSHA HAS TEMPORARILY SUSPENDED ENFORCEMENT ALTHOUGH THEY SAY THEY ARE CONFIDENT THAT THEIR LEGAL CASE IS STRONG AND THEY WILL BE ABLE TO IMPLEMENT IT. AS PROPOSED, BUSINESSES WITH 100 OR MORE EMPLOYEES WOULD HAVE TO HAVE A WRITTEN PROPOSAL IN PLACE, WOULD HAVE TO RECORD WHETHER THEIR EMPLOYEES ARE VACCINATED OR NOT AND REQUIRE THEIR NONVACCINATED EMPLOYEES TO MASK AT WORK AS SOON AS DECEMBER 5, JUST AROUND THE CORNER AND A COUPLE OF WEEKS. IT WOULD THEN BE JANUARY 4 WHEN THE EMERGENCY TEMPORARY STANDARD , THE VACCINE OR WEEKLY TESTING REQUIREMENT WOULD KICK IN. BUSINESS OWNERS MUST MAKE A PLAN NOW DESPITE THE FACT THAT THE COURTS HAVE TEMPORARILY HALTED IMPLEMENTATION. WE DO EXPECT AN ADDITIONAL DECISION FROM THE SIXTH CIRCUIT IN THE NEAR FUTURE. THIS COULD GO ALL THE WAY TO THE SUPREME COURT SO IT IS AN EXTREMELY FLUID SITUATION BUT TWO DATES I WOULD POINT OUT WHERE THE DECEMBER 6 REQUIREMENT TO HAVE A PLAN IN PLACE AND RECORD WHETHER YOUR EMPLOYEES ARE VACCINATED OR NOT AND THEN EARLY JANUARY THAT DEADLINE TO HAVE THE VACCINE MANDATE OR WEEKLY TESTING REQUIREMENT IN PLACE.
00:11:45

HAS YOUR ORGANIZATION FOUGHT A LEGAL CHALLENGE OF ITS OWN ON THIS?
00:11:47

NFIB HAS BECAUSE IT PUTS BUSINESSES IN THE MIDDLE OF THE HIGH TEMPERATURE DEBATE. IT RESTRICTS THE FREEDOM OF SMALL BUSINESS OWNERS TO DECIDE HOW BEST TO MANAGE THEIR WORKFORCES, MANAGE THEIR BUSINESS AND IMPOSES UNWARRANTED BURDENS ON SMALL BUSINESSES THAT FURTHER THREATEN THE SMALL BUSINESS RECOVERY.
00:12:14

THERE IS A SURVEY DONE BY THE U.S. CHAMBER OF CONGRESS WHEN ASKED ABOUT THE VACCINE. A MAJORITY OF THOSE BUSINESSES HOLD, 64% OF SMALL BUSINESS OWNERS…
00:12:44

THE WAY NFIB VIEWS THIS IS SMALL BUSINESSES HAVE ALL OF THESE HEADWINDS GOING ON WHETHER IT IS WORKFORCE CHALLENGES, RISING INFLATION OR SUPPLY CHAIN DISRUPTION. IF YOU ADD ONE MORE ELEMENT OR MANDATE ON TOP OF THAT, YOU COULD REALLY HAVE TROUBLE ESPECIALLY ON THE WORKFORCE SIDE. SMALL BUSINESSES ARE STRUGGLING TO FILL OPEN POSITIONS. WE DON'T WANT TO LOSE A LOT OF THEIR EMPLOYEES THAT THEY CURRENTLY HAVE, OR EVEN JUST A FEW THAT THEY CURRENTLY HAVE BECAUSE OF THIS VACCINE MANDATE. WE VIEW IT AS PUTTING EMPLOYERS IN THE MIDDLE OF THE VACCINE DEBATE IS NOT THE RIGHT SOLUTION TO SOLVING IT.
00:13:25

OUR GUEST IS WITH US UNTIL 9:30. IF YOU ARE A SMALL BUSINESS OWNER, EMPLOYEE OF THE SMALL BUSINESS AND ALL OTHERS. THIS IS PATSY, MASSACHUSETTS. GOOD MORNING. THANKS
00:13:41

GOOD MORNING. I AM A SMALL — I WAS A SMALL BUSINESS OWNER BEFORE I RETIRED. I'M CALLING TO ASK THE QUESTION, HAS THE LARGE BUSINESS TAX CREDIT THAT TRUMP PUT IN, LIKE THE FIRST DAY IN OFFICE, HAS THAT BEEN REPEALED FROM THE BIG BUSINESS THAT MAY BE THAT MONEY WOULD BE ENOUGH TO HELP PAY MORE FOR WHAT WE HAVE. THANK YOU. I JUST WANT TO KNOW IF IT HAS BEEN REPEALED AND IF NOT, WHY.
00:14:18

THANK YOU FOR THE QUESTION. I BELIEVE YOU ARE REFERRING TO THE 2017 TAX LAW, THE TAX CUTS AND JOBS ACT. IN PARTICULAR, I AM ASSUMING YOU ARE REFERRING THE CORPORATE TAX REDUCTION, WHICH WOULD REDUCE THE CORPORATE TAX RATE FROM 35% ALL THE WAY DOWN TO 21%. THAT HAS NOT BEEN REPEALED. EARLIER PROPOSALS BY THE BIDEN ADMINISTRATION AND CONGRESS DID INCREASE THE CORPORATE TAX RATE. THOSE HAVE SINCE BEEN DROPPED. THERE ARE CERTAIN SENATORS CONCERNED WITH HOW THE WOULD IMPACT THE ECONOMIC RECOVERY, AND THEREFORE, THEY HAVE NOT BEEN REPEALED. IF I AM THINKING OF WHAT YOUR QUESTION REFERS TO.
00:15:09

A BUSINESS OWNER IN JOHNSON CITY, TENNESSEE. THIS IS WILLIAM.
00:15:15

HI, HOW ARE YOU?
00:15:18

FINE, THANK YOU.
00:15:24

I WANT TO LAY OUT A COUPLE OF FACTS. SMALL BUSINESSES, SPECIALISTS LIKE DOCTORS, PLUMBERS, PAY 60% TAX. CORPORATIONS PAY 20%. WORKERS PAY 25% TO 35%. THE INVESTMENT CLASS PAYS 0%. ANOTHER INTERESTING FACT IS THAT 26 OF THE DEMOCRATIC CANDIDATES WERE BACKED BY BILLIONAIRES. ONE OF THEM WAS THE ACHIEVEMENT OF YOU LATER OF ENERGY. HE STARTED IN COAL, THEN WENT TO MANIPULATING GAS BY PUSHING ENVIRONMENTALISM, AND IS NOW TRYING TO GET INTO WIND AND OTHER THINGS LIKE THAT.
00:16:19

YOU CALLED IN ON OUR LINE FOR OWNERS, WHAT TYPE OF BUSINESS DO YOU OWN?
00:16:23

CATERING.
00:16:25

WHAT WOULD YOU LIKE TO ASK OUR GUEST?
00:16:31

IF THE SMALL BUSINESS OWNERS AND UNIONS GOT TOGETHER, WE WOULD NOT NEED GOVERNMENT. WE WOULD NOT NEED BILLIONAIRES AND WE SHOULD START THE TAX RATE AT $2 MILLION AND DO IT AT 40% AND GO UP TO 90% LIKE EISENHOWER DID, AND OTHER ECONOMIC PEOPLE THINK WE SHOULD, AND TO HAVE A PLUNGER ATTACK AND GO AFTER THE PEOPLE THAT MAKE MONEY WITHOUT PAYING TAXES. THAT IS PLUNGER.
00:17:09

OK, THAT IS WILLIAM IN JOHNSON CITY, TENNESSEE.
00:17:13

THANK YOU FOR THE COMMENT. I THINK MANY OF OUR MEMBERS FEEL SIMILARLY THAT SMALL BUSINESS OWNERS DO BEAR THE BRUNT OF A LOT OF TAXATION AS CURRENTLY PROPOSED. SOME OF THESE PROPOSALS WOULD PUT THE TOP INDIVIDUAL OR PASS-THROUGH BUSINESS RATE, CORPORATIONS, LLCS, PARTNERSHIPS. 75% SMALL EMPLOYERS ARE ORGANIZED AS SUCH. IN CERTAIN STATES, IT WOULD BE NEAR 60%. THAT MIGHT BE WHERE THE MATH COMES FROM. WE DO LOOK OUT BECAUSE THE VAST MAJORITY OF OUR MEMBERS ARE ORGANIZED AS THOSE FOR THE SMALL BUSINESS OWNERS AND REALLY, THIS CREATES QUITE A DISPARITY BETWEEN PASS-THROUGH BUSINESS OWNERS AND THE CORPORATE TAX RATE. WE WOULD LIKE TO SEE DEBBIE MORE OF A PARODY INVOLVED IN THE CORPORATE RATE — THERE BE MORE OF A PARODY INVOLVED IN THE CORPORATE RATE.
00:18:18

CAN YOU HEAR ME OK?
00:18:19

YOU ARE ON.
00:18:22

I AM CONCERNED ABOUT THE CONSTITUTIONALITY OF THIS WHOLE BUSINESS MANDATES, LOCKDOWN, EVER SINCE MARCH WHEN THE OFFICIAL GLOBAL ECONOMIC LOCKDOWN OCCURRED WORLDWIDE. YET, I DO BUSINESS WITH TEENAGERS, GUIDING THEM TO COLLEGES AND I AM DISTURBED THAT COLLEGES HAVE GIVEN IN WITHOUT A WIMMER INTO THIS BECAUSE WHAT IS GOING ON IS BASICALLY AN BIOLOGICALLY UNSOUND. PEOPLE ARE NOT LEARNING ABOUT THEIR IMMUNE SYSTEM. TO DEFEND AGAINST ANY KIND OF VIRUS. DR. DAVID MARTIN SHOULD BE GOOGLED AND LISTENED TO. ALSO, GLOBALRESOURCES.CA IS A WEBSITE THAT WILL HELP PEOPLE UNDERSTAND WHAT IS GOING ON.
00:19:20

REGARDING BUSINESSES AND HOW THEY ARE IMPACTED, WHAT WOULD YOU LIKE TO TALK TO OUR GUEST ABOUT?
00:19:24

WHAT HE IS DOING ON A LEGAL STANDPOINT, WHAT HE IS DOING TO BRING THIS LAWSUIT, SUPPORT THE LAWSUITS AGAINST THE PEOPLE THAT ARE BEHIND THIS PANDEMIC. IS HE DOING ANYTHING AGO HOST: THAT IS ERIC IN MASSACHUSETTS.
00:19:43

THANK YOU. LET ME GO BACK TO LAST YEAR WHEN MANY STATES IMPLEMENTED LOCKDOWN ORDERS OR LIMITATION ORDERS. WE DID PUT UP STATE LEVEL BECAUSE NFIB DOES ADVOCATE AT THE STATE AND FEDERAL LEVELS TO LIMIT THE EMERGENCY POWERS WHICH WERE BEING EXPANDED. WE ADVOCATED TO LIMIT THOSE AT THE STATE LEVEL BECAUSE IT WAS JUST KIND OF AN ARBITRARY DESIGNATION. YOU HAVE A SMALL RETAILER THAT IS SHUT DOWN AND DEEMED NON-ESSENTIAL WHEN THE LARGE RETAILER DOWN THE STREET WAS ALLOWED TO CONTINUE TO OPERATE. WE MADE A LOT OF PROGRESS OF THE STATE LEVEL. FAST FORWARD TO NOW, WE DID BRING UP THE LEGAL CHALLENGE TO THE BIDEN ADMINISTRATION'S DEPARTMENT OF LABOR OCCUPATIONAL SAFETY AND HEALTH ADMINISTRATION EMERGENCY TEMPORARY STANDARD, THE REQUIREMENT THAT BUSINESSES WITH 100 OR MORE EMPLOYEES REQUIRE VACCINATION OR WEEKLY TESTING. WE JUST BELIEVE THAT OVERSTEPS OSHA'S AUTHORITY GIVEN TO THEM BY CONGRESS. THAT IS ONE LEGAL CHALLENGE WE HAVE. IT IS A VERY FLUID SITUATION. THERE IS A TEMPORARY INJUNCTION ON THE CURRENT VACCINE MANDATE REQUIREMENT. IT IS VERY FLUID AND THEY WILL BE DEVELOPMENTS IN THE NEXT COUPLE OF WEEKS ON THAT LIKELY.
00:21:03

KEVIN KUHLMAN JOINING US. IT WAS DURING HIS RENOMINATION ANNOUNCEMENT THAT THE PRESIDENT TALKED ABOUT HIS ASSESSMENT OF THE ECONOMY PARTICULARLY WHEN IT CAME TO INFLATION. I WANT TO PLAY YOU A LITTLE OF WHAT HE HAD TO SAY AND GET YOUR THOUGHTS. [VIDEO CLIP]
00:21:19

LAST YEAR, THE PANDEMIC SHUTDOWN MUCH OF THE GLOBAL ECONOMY. NOW, THERE IS A GLOBAL REAWAKENING CREATING BOTH AN INCREDIBLE OPPORTUNITY AND TOUGH CHALLENGES. AS ECONOMIES ALL ACROSS THE WORLD COME BACK FROM THIS PANDEMIC, AMERICA IS LEADING THE WAY. LIKE EVERY COUNTRY IN THE WORLD, WE HAVE TO DEAL WITH THESE ISSUES OF RISING COSTS, BUT REMEMBER, WE HAVE THE SKILL AND TOOLS TO GET IT UNDER CONTROL. WHILE OTHER COUNTRIES ARE STUMBLING OUT OF THIS PANDEMIC, WE ARE RACING AHEAD BECAUSE SO MUCH OF THE REST OF OUR ECONOMY IS DOING WELL BECAUSE WE HAVE CREATED SO MANY NEW JOBS AS FAST AS WE HAVE. WE ARE IN A POSITION TO ATTACK INFLATION FROM THE POSITION OF STRENGTH, NOT WEAKNESS.
00:22:08

THAT LAST PART, AS FAR AS THE STRENGTH OF THE ECONOMY AND ABILITY TO ATTACK INFLATION, HOW DO YOU RESPOND TO THE PRESIDENT'S ASSESSMENT?
00:22:18

I THINK THE FOCUS SHOULD BE ON WHAT IS CAUSING INFLATION AND ATTACKING SOME OF THOSE ASPECTS. IT IS THE WORKFORCE CHALLENGES, FULFILLING — FILLING OPEN POSITIONS, INFLATION IN GENERAL, SUPPLY CHAIN DISRUPTIONS. IF YOU ATTACK THE ROOT CAUSES OF EACH OF THOSE, THAT WOULD HELP THE SMALL BUSINESS HALF OF THE ECONOMY. THE AMERICAN ECONOMY IS NOT GOING TO FULLY RECOVER TO PRE-PANDEMIC LEVELS UNTIL THE SMALL BUSINESS HALF HAS RECOVERED. I GUESS OUR ADVICE TO CONGRESS AND THE ADMINISTRATION, AND WE ALWAYS APPRECIATE WHEN PRESIDENT BIDEN POINTS OUT THAT SMALL BUSINESSES ARE NOT ONLY VITAL TO THE NATIONAL ECONOMY, BUT ALSO TO THEIR LOCAL COMMUNITIES, IS DO NO HARM TO THESE SMALL BUSINESSES. CREATE AN ENVIRONMENT TO HELP THESE SMALL BUSINESSES SURVIVE AND THRIVE.
00:23:09

AS FAR AS INFLATION ITSELF, THE TREASURY SECRETARY SAID PRODUCTIONS MAY NOT FULLY HAPPEN UNTIL THE SECOND HALF OF 2022.
00:23:18

WE ARE HEARING SIMILAR FROM OUR MEMBERS. THEIR EXPECTATIONS ARE NOT A TEMPORARY PERIOD, BUT WILL BE FIVE OR SIX MONTHS DOWN THE ROAD BEFORE THEY SEE ANY RELIEF. THAT IS PROBLEMATIC AND WILL CONTINUE TO INCREASE OR REQUIRE THEM TO INCREASE PRICES. THEIR PLANS TO INCREASE PRICES ARE HOVERING NEAR RECORD LEVELS. AND IT IS NOT JUST MARGINALLY, NOT JUST 0% TO 5%. MANY ARE HAVING TO LOOK AND INCREASE PRICES 15% AND THEY ARE WORRIED ABOUT LOSING CUSTOMERS AS THE INCREASE PRICES BUT THEY ARE CAUGHT BETWEEN A ROCK AT A HARD PLACE.
00:23:59

EVEN A RECENT SURVEY YOUR ORGANIZATION TOOK SHOWED THAT 26% OF THOSE YOU SERVE PLANNED TO INCREASE EMPLOYMENT AT THE BUSINESS. 31% SAY THEY PLAN TO MAKE CAPITAL OUTLAYS. THOSE SURVEYS, -30% SAY THEY WANT — EXPECT THE ECONOMY TO IMPROVE. HOW DO EXPLAIN THE BALANCE OF MOVING FORWARD AND STILL EXPLAIN WHAT IS GOING ON?
00:24:25

OWNERS ARE DOING THEIR BEST TO TAKE CARE OF THE NEEDS OF THEIR CUSTOMERS BUT ARE UNABLE TO HIRE WORKERS. AND RECEIVE THE NECESSARY SUPPLIES AND INVENTORIES BECAUSE OF THE SUPPLY CHAIN DISRUPTIONS. THEIR INCREASING COMPENSATION BUT ARE JUST HAVING TROUBLE FILLING THE OPEN POSITIONS. THEY ARE TRYING TO TAKE ADVANTAGE OF THE BROADER ECONOMIC RECOVERY BUT ARE RUNNING INTO THESE CHALLENGES AND HEADWINDS AHEAD AND THUS, IT IS SLOWING THE SMALL BUSINESS RECOVERY.
00:24:54

HOW MUCH OF THE HIRING CHALLENGES BECAUSE OTHER EMPLOYERS ARE RAISING STARTING SALARIES BECAUSE EMPLOYEES ARE BEING ABLE TO NEGOTIATE A PRICE?
00:25:05

THERE IS DEFINITELY A CHALLENGE AND SMALL BUSINESS OWNERS ARE WILLING TO COMPETE. THEY ARE INCREASING COMPENSATION AT RECORD LEVELS AND THEIR PLANS TO DO SO ARE AT RECORD LEVELS. THEY ARE OFFERING EXPANDED BENEFITS, WHETHER IT IS MORE GENEROUS HEALTH INSURANCE, MORE FLEXIBLE PAID TIME OFF OPTIONS. REFERRAL BONUSES, HIRING BONUSES. THEY ARE PULLING ALL OF THE TRICKS OUT OF THE BAG TO TRY TO RETAIN AND RECRUIT QUALIFIED EMPLOYEES. UNFORTUNATELY, THAT ALSO INCREASES PRICES. IT IS A CHALLENGE. SMALL BUSINESS OWNERS ARE TRYING TO STEP UP AND MEET THOSE CHALLENGES AND HENCE, WE HAVE THIS FRAGILE SMALL BUSINESS RECOVERY.
00:25:49

THIS IS FROM WEST VIRGINIA AND CHESTER. WE HEAR FROM CLAIRE.
00:25:58

GOOD MORNING. I'M CALLING IN FROM CHESTER, WEST VIRGINIA. WE ARE A SO PROPRIETOR BUSINESS AND DID NOT FIND MONEYS IN THE GOVERNMENT TO HELP OUR BUSINESS IN ANY WAY BECAUSE WE DID NOT HAVE EMPLOYEES. WE WERE WONDERING, IS THERE A PROGRAM YOU CAN GIVE ME A NUMBER FOR THAT COULD HELP AN INDIVIDUAL BUSINESS? IT IS A MOTEL ON THE RIVER ON ROUTE 2 IN CHESTER.
00:26:24

THANK YOU, CLAIRE.
00:26:27

MANY OF THE REPPO — RECOVERY PROGRAMS HAVE NOW EXPIRED. ONE OF THE UNFORTUNATE DOWNSIDES TO THE INFRASTRUCTURE LAW IS THAT EARLIER THAN EXPECTED ENDED. THERE IS ONE PROGRAM THAT STILL EXISTS. IT IS A LOAN, THE INJURY DISASTER LOAN. A 3.5% INTEREST LOAN OVER A 30 YEAR TERM. IT IS AVAILABLE THROUGH THE END OF THE YEAR. TO MY KNOWLEDGE, THAT IS THE LAST PROGRAM THAT DOES EXIST. THEY MAY ALSO BE RELATED TO THE ECONOMIC DISASTER LOAN SOME DISASTER EMERGENCY GRANTS ASSOCIATED WITH IT BUT THOSE ARE BASED ON CENSUS TRACKS AND WHETHER YOUR AREA HAS LOST ECONOMIC ACTIVITY. I RECOMMEND GOING TO SBA.GOV TO CHECK OUT SOME OF THOSE PROGRAMS. IT IS THE ECONOMIC DISASTER LOAN.
00:27:46

FOR THE MONEY APPROVED BY CONGRESS IN THE LAST ADMINISTRATION AND THIS WANT TO HELP, WHAT DEGREE WHERE THEY HAVE ACTUAL HELP?
00:27:54

THERE ARE A COUPLE OF DIFFERENT PROGRAMS THAT THE PREVIOUS ADMINISTRATION CONTINUED INTO THIS ADMINISTRATION. PROBABLY MOST NOTABLY WAS THE PAYCHECK PROTECTION PROGRAM. THAT WAS A FORGIVABLE LOAN PROGRAM SO LONG AS BUSINESS IS MAINTAINED OR PAID EMPLOYEES OR MET CERTAIN OVERHEAD NEEDS. FROM OUR MEMBERS PERSPECTIVE, IT WAS PRETTY SUCCESSFUL. THREE OUT OF FOUR SMALL BUSINESS IS APPLIED. ALMOST ALL OF THEM RECEIVED FORGIVENESS AT LEAST FOR ROUND ONE AND MANY ARE PURSUING FORGIVENESS FOR ROUND 2. A LITTLE BIT MORE TARGETED ON THE SECOND ROUND. YOU ALSO HAVE THE ECONOMIC EMERGENCY DISASTER LOAN. MANY WERE RELUCTANT TO TAKE ON NEW DEBT DOING IT WAS NOT AS WIDELY ADOPTED AS OTHERS. IT IS STILL ONE THAT IS AVAILABLE NOW. WE HEARD FROM MANY MEMBERS WHO DID TAKE ADVANTAGE OF THE EMPLOYEE RETENTION TAX CREDIT. THAT IS STILL AVAILABLE TO BE APPLIED FOR RETROACTIVELY. AND FOR THE FIRST THREE QUARTERS AND 2021. IF A BUSINESS OWNER HAS NOT LOOKED INTO THAT, WE RECOMMEND TALKING TO A TAX ADVISOR ABOUT THE EMPLOYEE RETENTION TAX CREDIT. IT REALLY DID HELP SMALL BUSINESSES DURING THE PANDEMIC WHEN THERE WAS HIGH DEGREES OF UNCERTAINTY AND MONEY WERE SHUT DOWN OR LIMITED.
00:29:28

HOW MANY OF YOUR BUSINESSES THAT YOU REPRESENT ARE DEPENDENT ON THOSE INTERNATIONAL SUPPLY CHAINS?
00:29:35

INTERNATIONAL SUPPLY CHAINS ALSO CREATED PROBLEMS FOR LOCAL SUPPLY CHAINS AS WELL. HALF OF SMALL BUSINESSES HAVE BEEN NEGATIVELY IMPACTED OR ARE CURRENTLY SUFFERING FROM SUPPLY CHAIN DISRUPTIONS AND 60% THINK THOSE WILL CONTINUE INTO THE FUTURE. THAT NUMBER IS UNFORTUNATELY STAYING STEADY OR GROWING. SUPPLY CHAIN DISRUPTIONS ARE ONE OF THE VARIABLES HAPPENING IN THE ENVIRONMENT. THERE IS GOOD NEWS FOR RELIEF, BUT BUSINESS OWNERS ARE EXPECTING TO HAVE CONTINUED SUPPLY CHAIN ISSUES ON TOP OF THE OTHER VARIABLES THAT EXIST.
00:30:16

WHAT DO YOU THINK OF THE BIDEN ADMINISTRATION'S HANDLING OF THE SUPPLY CHAIN ISSUE?
00:30:21

IT IS A CHALLENGE. THE BIDEN ADMINISTRATION HAS MADE SOME CHANGES TO THE PORTS ALLOWING WORKING WITH LOCAL COUNTIES AS WELL TO ALLOW CONTAINERS TO BE STACKED UP HIGHER THAN THEY WERE PREVIOUSLY. I THINK THAT IS A PRETTY INTUITIVE STEP TO DO. WE WILL SEE. BUSINESS OWNERS ARE NOT EXPECTING IMMEDIATE RELIEF ON THIS. I KNOW THERE IS A SHORTAGE OF TRUCK DRIVERS, BUT HOPEFULLY, THESE ISSUES CAN BE WORKED OUT AND RESOLVED SOONER RATHER THAN LATER BECAUSE SIX MONTHS FROM NOW, EXPECTATIONS THAT LOCAL RECOVERIES ARE RECOVERING IN LATE 2022 OR 2023 IS NOT GOOD NEWS FOR THE SMALL BUSINESS ECONOMY.
00:31:15

HELLO. THE REASON I'M CALLING IN IS BECAUSE I ACTUALLY HIRE PROVIDERS, USUALLY YOUNGER STUDENTS AT OUR LOCAL UNIVERSITIES THAT COME IN AND ACTUALLY WORK WITH MY SONS WITH AUTISM. I'VE NOTICED EVEN PRE-PANDEMIC, THERE HAS BEEN LABOR SHORTAGES HERE. I AM ACTUALLY SHOCKED WHEN I DO HIRE SOMEBODY, I FIND OUT THEY DON'T GET THE DRIVERS LICENSE UNTIL THEY ARE 22 YEARS OLD OR 23. ANY THOUGHT ABOUT ADVOCATING MAYBE BRINGING BACK DRIVER'S ED BACK IN HIGH SCHOOL SO THAT YOUNG PEOPLE CAN JOIN THE LABOR MARKET? , THE JOB MARKET?
00:32:03

I THINK IT WOULD BE A GOOD IDEA TO REMOVE ANY BARRIERS TO THIS WORKFORCE CHALLENGE WHETHER THAT INCLUDES BRINGING DRIVER'S ED BACK OR TAKING A LOOK AT ANY OF THE BARRIERS THAT ARE CAUSING PROBLEMS FOR BUSINESSES TO HIRE EMPLOYEES. IT IS NOT A NEW PROBLEM AS YOU IDENTIFIED. WE ASK OUR MEMBERS EVERY MONTH WHAT IS YOUR BUSINESS PROBLEM. FINDING QUALITY EMPLOYEES HAS BEEN THE TOP ANSWER SINCE 2018. IT HAS JUST GOTTEN PARTICULARLY BAD WITH RECORD LEVELS OF THOSE TRYING TO FILL OPEN POSITIONS AND BEING UNABLE TO DO SO.
00:32:40

WITH AS IS MAPS WITH — MATT SMITH OFF OF TWITTER.
00:32:50

WE LIKE TO SAY THERE IS A SMALL BUSINESS HALF OF THE ECONOMY, ABOUT 44%, 45% OF THE GROSS DOMESTIC PRODUCT COMES FROM SMALL BUSINESSES, THOSE WITH FEWER THAN 500 EMPLOYEES. THEY ARE AN ENGINE OF JOB CREATION. JUST LIKE THE PRESIDENT SAYS, THEY ARE PILLARS OF THEIR LOCAL ECONOMY, SPONSORING LITTLE LEAGUES AND NONPROFITS AND SCHOOL EVENTS. THEY REALLY ARE IMPORTANT TO THE SMALL BUSINESS ECONOMY FROM THE NATIONAL LEVEL BUT ALSO DOWN TO THE LOCAL LEVEL.
00:33:24

PART OF THE ADMINISTRATION'S GOAL FOR BUILD BACK BETTER IS TO PUT THE MONEY INTO THE IRS TO HELP IMPROVE TAX COLLECTIONS AMONGST THOSE WHO MIGHT AVOID TAXES. WHAT DO YOU THINK OF THAT PROPOSAL OVERALL, IS THERE AN EFFECT ON SMALL BUSINESSES BECAUSE OF IT?
00:33:38

THERE IS HUNDREDS OF MILLIONS OF DOLLARS TO EACH ENFORCEMENT AGENCY IN THE BUILD BACK BETTER ACT. PARTICULARLY, ONE OF THE ISSUES YOU'RE TALKING ABOUT HIS PROPOSED FUNDING FOR THE IRS. THEY SAY IT WILL BE TARGETED ONLY AT AUDITS OF HIGHER INCOME INDIVIDUALS. ONE OF THE PROVISIONS THAT WAS NOT INCLUDED IN THE HOUSE BILL BUT A REPORT THAT MAY BE REVISITED IN THE SENATE BILL AND I KNOW IRS AND TREASURY ARE PUSHING HARD FOR IT, IS INCREASED IRS REPORTING WHICH WOULD REQUIRE FINANCIAL INSTITUTIONS, EVERYONE'S BANK OR CREDIT UNION TO PROVIDE ANNUAL GROSS INFLOWS AND OUTFLOWS OF CUSTOMERS. THEY SAID THEY MAY LIMIT IT TO BUSINESS OWNERS BUT THAT WOULD BE CONCERNING TO NFIB MEMBERS TO HAVE THEIR BANKING INFORMATION AND ANNUAL GROWTH INFLOWS AND OUTFLOWS REPORTED TO THE IRS. THAT THEY WOULD SOMEHOW INCREASE THEIR AUDIT RATE OF BUSINESS OWNERS AS A RESULT. THERE ARE SOME CONCERNING PROPOSALS OUT THERE RELATED TO THE INCREASED IRS ENFORCEMENT AND INCREASED IRS REPORTING. WE WILL SEE WHAT ENDS UP BEING IN THE PROPOSAL THAT SMALL BUSINESS OWNERS HAVE BEEN PRETTY CONCERNED ABOUT THOSE INCREASED PROPOSALS.
00:35:01

LET'S HEAR FROM OUR LINE FROM OTHERS.
00:35:09

I HAVE THREE POINTS OR QUESTIONS I WOULD LIKE TO ASK YOU. ONE IS THE DEFINITION OF SMALL BUSINESS. IF KOCH INDUSTRIES HAS 20 FACTORIES WITH 500 PEOPLE, ARE THEY STILL CONSIDERED SMALL BUSINESS BECAUSE EACH OF THEIR FACTORIES HAVE 500 PEOPLE? THE SECOND ONE IS THE PPP LOAN THAT IS FORGIVEN. IS THAT NOT THE VERY DEFINITION OF SOCIALISM BUT MAYBE FOR RICH PEOPLE? IN THE THIRD ONE IS, WE HAVE A REAL PROBLEM HERE WHERE ONE PARTY DOES NOT WANT TO RAISE WAGES FOR WORKING PEOPLE, BUT BECAUSE EVERY FAMILY NOW NEEDS TO WORKING PEOPLE, THE WIFE AND HUSBAND BOTH HAVE TO WORK, AREN'T WE JUST BASICALLY SAYING LET'S KEEP WAGES LOW BUT OUR TAXPAYER MONEY IS GOING TO FUND THE CHILD CREDIT IN THE BUILD BACK BETTER? SO AREN'T WE GIVING THE BIG CORPORATIONS —
00:36:25

WE GOT YOUR POINT. THANK YOU.
00:36:29

AS WE SAID EARLIER IN THE PROGRAM, THERE ARE MANY DIFFERENT DEFINITIONS AT THE FEDERAL LEVEL FOR SMALL BUSINESS. GENERALLY, THE SMALL BUSINESS ADMINISTRATION CONSIDERS A SMALL BUSINESS A BUSINESS WITH FEWER THAN 500 EMPLOYEES, ALTHOUGH THEY HAVE VARIATION BASED ON INDUSTRY. OTHER PROGRAMS HAVE DIFFERENT DEFINITIONS. AS FAR AS PPP, I DISAGREE IT WAS SOCIALISM FOR RICH PEOPLE. THESE BUSINESSES — MANY OF THESE BUSINESSES WERE SHUT DOWN OR LIMITED AS A RESULT OF COVID-19. I THINK THE PAYCHECK PROTECTION PROGRAM PROVIDED A LOT OF BENEFITS AND KEPT A LOT OF EMPLOYEE IS CONNECTED TO THEIR PLACE OF EMPLOYMENT WHICH WAS REALLY IMPORTANT. I PROVIDED RELIEF FROM SUPER SWOLLEN UNEMPLOYMENT INSURANCE ROLLS WHERE A LOT OF THOSE HAD TROUBLE KEEPING UP WITH DEMAND. IT WAS GENERALLY A VERY SUCCESSFUL PROGRAM. NO ONE ANTICIPATED THE PANDEMIC WOULD BE AS LONG OF DURATION AS IT IS. I DO THINK BOTH PARTIES SUPPORT RISING WAGES. THERE MIGHT BE TWO DIFFERENT PERSPECTIVES OF DOING SO. INCREASED WAGES ARE A GOOD THING AND SMALL BUSINESS OWNERS ARE FINE COMPETING WITH THEM — COMPETING FOR EMPLOYEES. IT IS A CHALLENGE, BUT GOOD FOR THE OVERALL ECONOMY AS WAGES INCREASE.
00:37:57

ONE MORE CALL. NICK.
00:38:00

THANK YOU VERY MUCH. I AM A CURRENT GRAD STUDENT AT A CURRENT UNIVERSITY AND I HAVE STUDENT LOAN DEBT, ABOUT $17,000 OF STUDENT LOAN DEBT THAT IS ONE OF…
00:38:32

NFIB REPRESENTS SMALL BUSINESS OWNERS. WE HAVE NOT PUSHED FOR CANCELING STUDENT LOAN DEBT. NFIB MEMBERS ARE SMALL BUSINESS OWNERS, THEY ARE TRYING TO HIRE EMPLOYEES, MANY OF WHICH ARE COLLEGE GRADS AND HELP THEM WITH THAT STUDENT LOAN DEBT, BUT WE DO NOT HAVE ANY RESEARCHER SURVEYS FROM OUR MEMBERSHIP THAT SAY IT WOULD NECESSITATE US TO TAKE A POSITION ON WHETHER TO CANCEL STUDENT LOAN DEBT.
00:39:04

WHAT IS YOUR ORGANIZATION'S PLAN BETWEEN NOW AND WHEN CONGRESS COMES BACK?
00:39:09

NFIB HAS BEEN WORKING ON A SMALL BUSINESS SURVIVAL CAMPAIGN. AS A GRASSROOTS ORGANIZATION, WE HAVE MADE A PRIORITY TO CONNECT SMALL BUSINESS OWNERS WITH THEIR MEMBERS OF CONGRESS TO HAVE AND EXPRESS THEIR PRIORITIES AND CONCERNS WITH SOME OF THE CURRENT PROPOSALS. AS THESE PROPOSALS HAVE DEVELOPED AND CHANGED ON A MONTHLY OR WEEKLY OR DAILY BASIS, WE ARE DOING OUR BEST TO KEEP OUR MEMBERS INFORMED AND THE CHALLENGES IN FRONT OF THEM. WE ARE CONNECTING OUR MEMBERS OVER THE NEXT COUPLE OF WEEKS WITH THE SENATE TO HAVE THEM HERE FROM SMALL BUSINESS OWNERS ABOUT WHAT CONDITIONS ARE LIKE IN THEIR STATE AND LOCAL ECONOMIES AND TALK ABOUT SOME OF THEIR CONCERNS WITH THE BUILD BACK BETTER ACT, PARTICULARLY WITH SOME OF THE MANDATES BEING IMPOSED ON SMALL BUSINESSES. UNTIL THEN, THE SMALL BUSINESS HALF OF THE ECONOMY HAS RECOVERED THE FULL ECONOMY WILL NOT RECOVER TO FULL PANDEMIC LEVELS AND WE THINK THE INITIATIONS SHOULD CONSIDER SMALL BUSINESS OWNERS AS THEY LOOK TO CONTINUE THESE POLICIES.
00:40:13

KEVIN KUHLMAN IS THE FEDERAL GOVERNMENT RELATIONS VICE PRESIDENT OF THE NATIONAL FEDERATION OF INDEPENDENT BUSINESSES. HAPPY HOLIDAYS.
00:40:24

DON'T FORGET ABOUT SMALL BUSINESS SATURDAY RIGHT AFTER THANKSGIVING.
00:40:28

FOR THE FINAL HALF HOUR, WE WILL GO TO OPEN FORUM. IF IT IS AN ISSUE OF POLITICS THAT MATTERS TO YOU AND YOU WANT TO COMMENT ON IT, YOU CAN DO SO. ONE LINE FOR DEMOCRATS, ONE FOR REPUBLICANS AND INDEPENDENTS. OPEN FORUM WILL TAKE PLACE RIGHT AFTER THIS. (music) (music)
00:40:46

WHEN CONGRESS RETURNS NEXT WEEK, SEVERAL ITEMS ARE ON THE AGENDA. THE HOUSE AND SENATE FOES TO EXTEND THE FEDERAL FUNDING TO AVOID A GOVERNMENT SHUTDOWN AND DEAL WITH THE DEBT LIMIT TO PREVENT DEFAULT. MAKER'S PLAN TO COMPLETE WORK ON CLIMATE AND SOCIAL SPENDING PLANS NEXT MONTH AS WELL AS DEFENSE PROGRAMS AND POLICY LEGISLATION. WATCH THE HOUSE LIVE ON C-SPAN AND THE SENATE ON C-SPAN TWO. ONLINE AT C-SPAN.ORG OR FOLLOW CONGRESS WITH C-SPAN NOW, OUR NEW VIDEO APP.
Part C) Additional Information, More MHProNews Analysis and Commentary in Brief
The headline and plan for this report indicated That will "focus on 'comparing and contrasting' what NFIB has done in their release vs. what MHI did with their video about manufactured housing policy and HUD."
MHI could aptly make the point that they were able to get manufactured housing into CSPAN reports earlier this year. That would be true.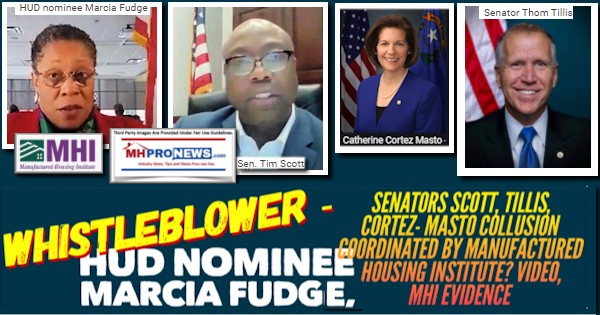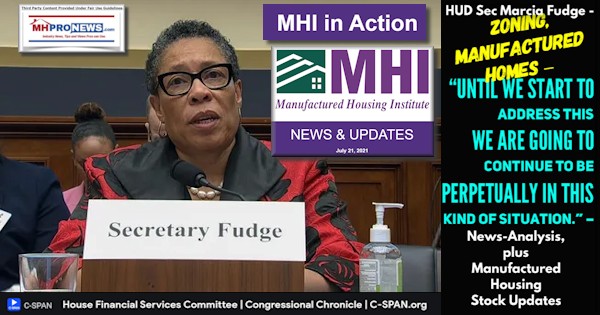 But regrettably, the case can also be made that the second of those reports reflects something starkly different then what MHI postured. To rephrase that, MHI can reasonably be accused of misleading their own members and/or members of their state association affiliates.
NFIB didn't just make a claim. They linked their claim up to the evidence. Then, that evidence aligned with their claim.
By contrast, MHI made a claim (see the second report linked above). Their report failed to mention that what they were praising themselves for was arguably a public setback with HUD and the congressman that posed the question MHI apparently asked him to ask Secretary Marcia Fudge.
It is not the first time that MHI has deliberately failed to properly inform their own members and that of the industry that reads their MHI 'housing alerts' or their 'news and updates.' No wonder so many concerns have been raised by credible sources accusing MHI of various misdeeds?
You can't make this up. But you can soak up the insight and recognize that MHI has ducked accountability for this type of problematic behavior for years.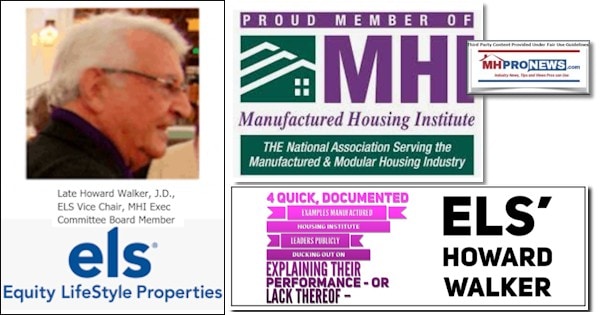 Stay tuned for more. But for now, when MHI makes a claim, that is a good reason to sift the details to see if their claims hold together when carefully scrutinized. Because despite MHI's assertion that they are working for "all segments" of the industry, the evidence reveals that it is consolidators that benefit, while others are often getting the short end of the deal.  No wonder Samuel Strommen at Knudson Law has sounded the alarm about the problems associated with MHI. So too have others inside our industry.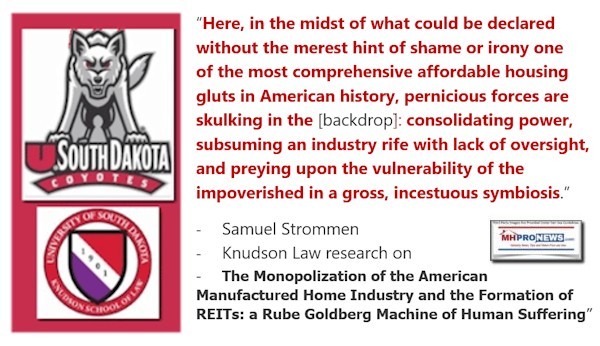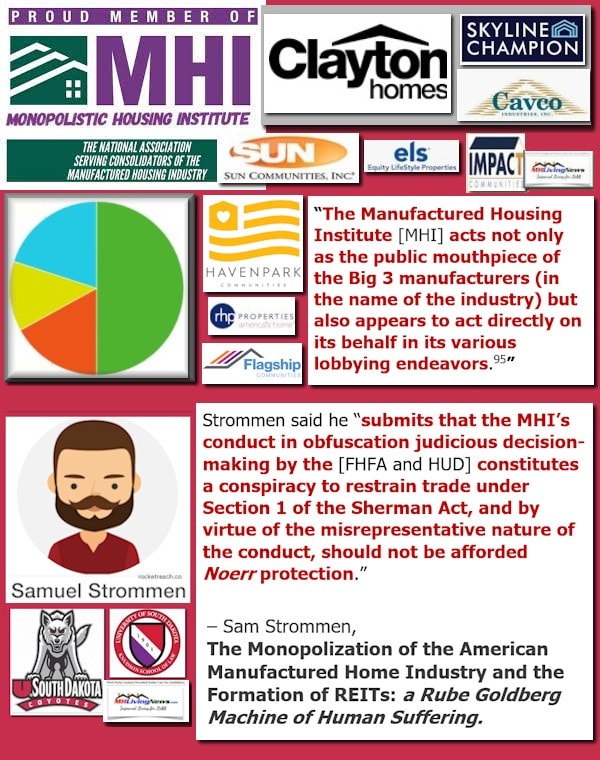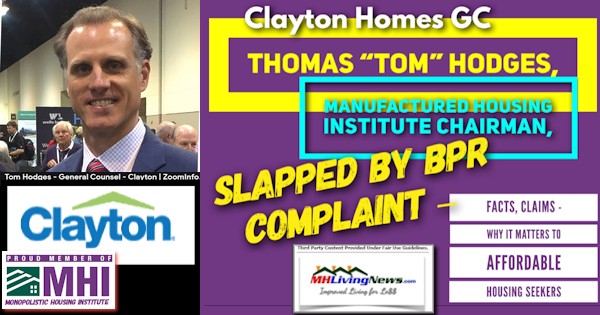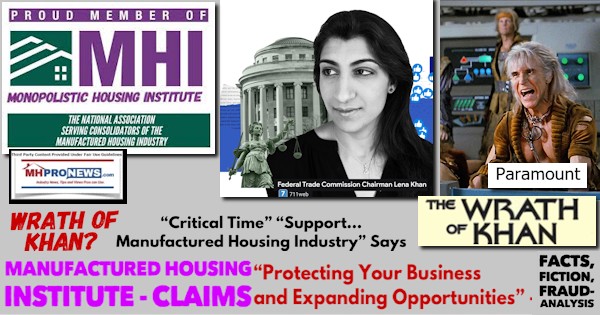 When will MHI do what they and their outside attorneys claim they do?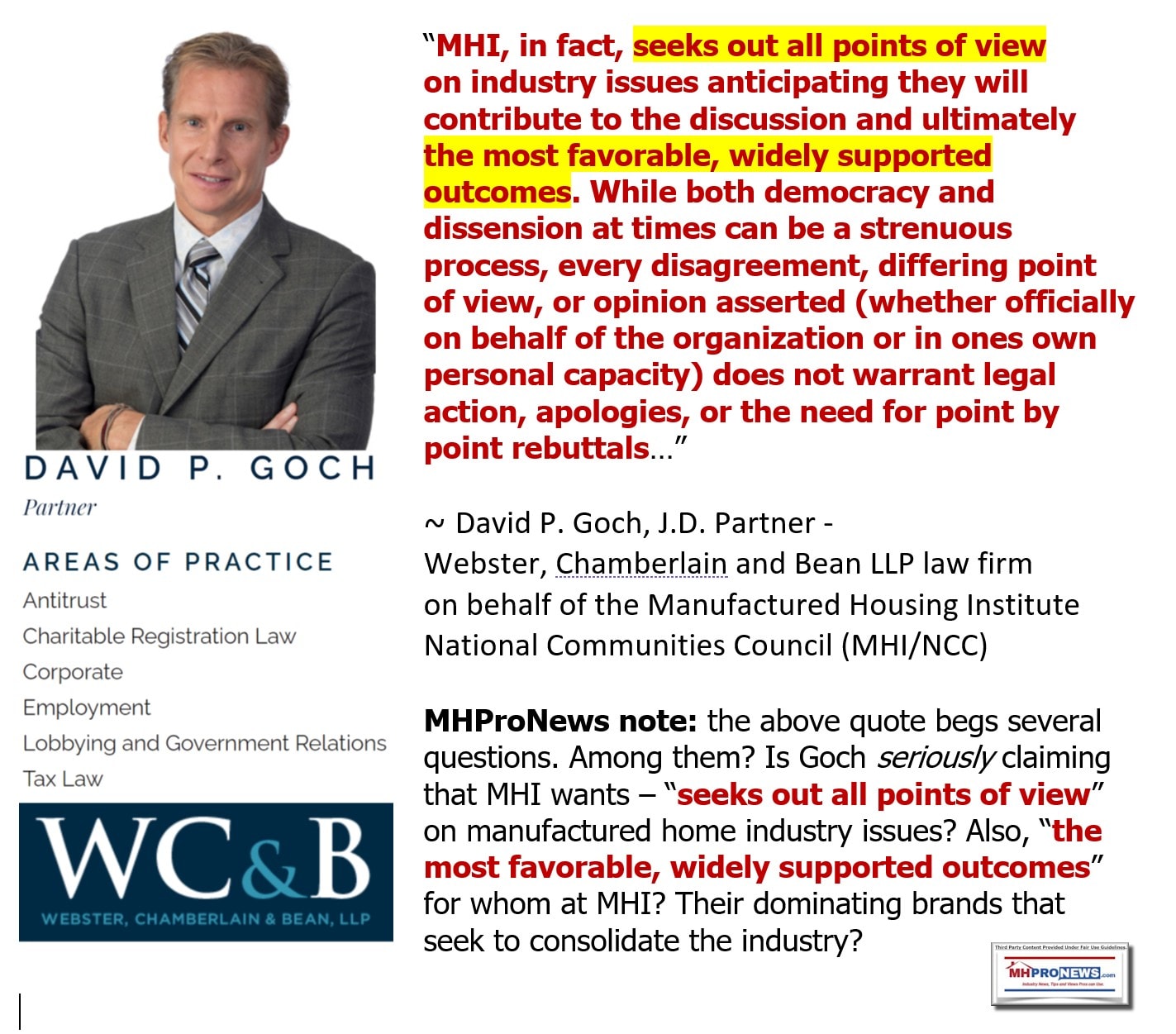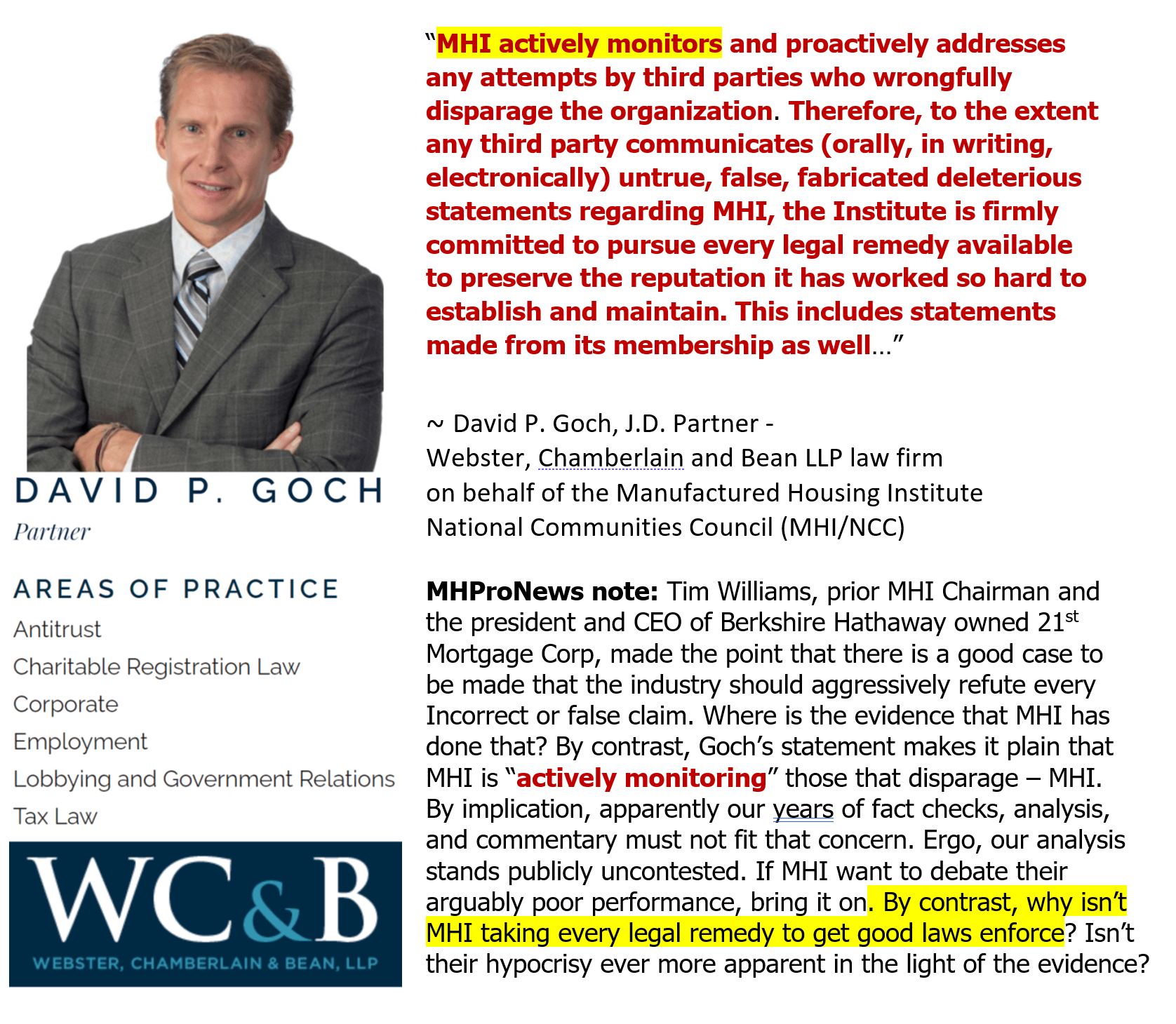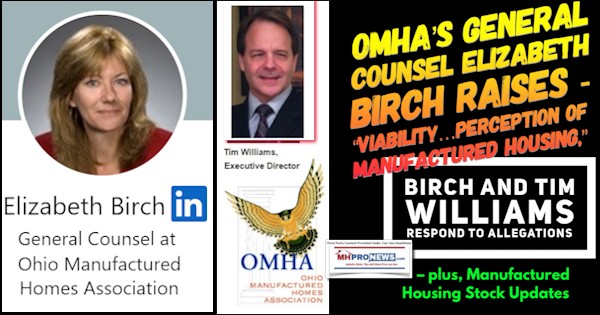 D)
Next up is our business daily recap of yesterday evening's market report, related left-right headlines, and manufactured housing connected equities.
The Business Daily Manufactured Home Industry Connected Stock Market Updates.  Plus, Market Moving Left (CNN) – Right (Newsmax) Headlines Snapshot. While the layout of this daily business report has been evolving over time, several elements of the basic concepts used previously are still the same. For instance. The headlines that follow below can be reviewed at a glance to save time while providing insights across the left-right media divide. Additionally, those headlines often provide clues as to possible 'market-moving' news items.
Market Indicator Closing Summaries – Yahoo Finance Closing Tickers on MHProNews…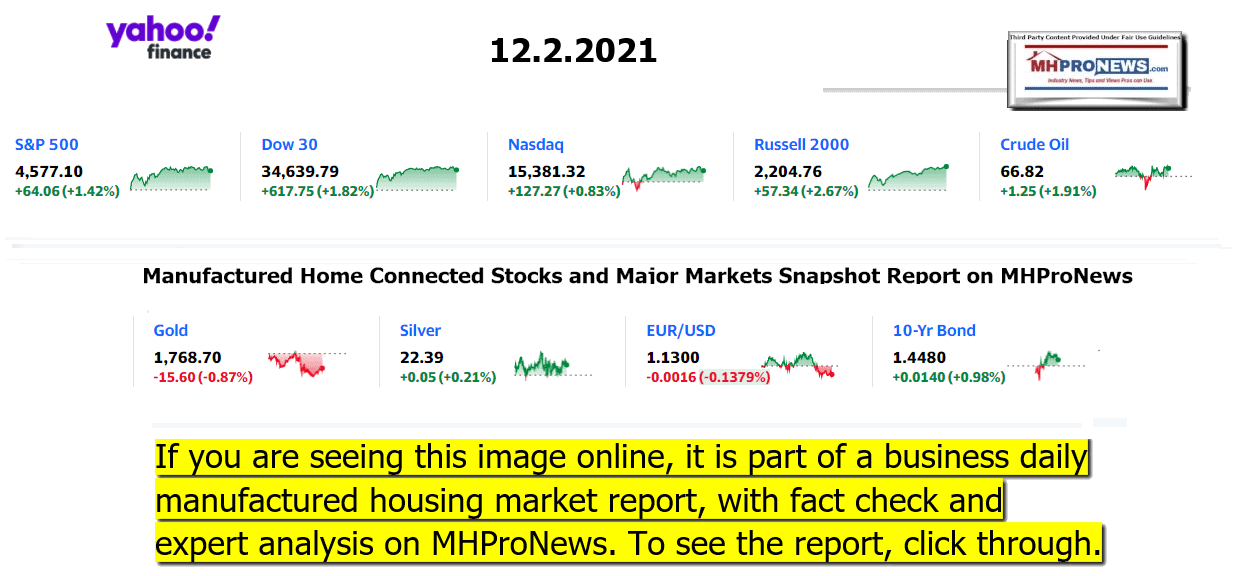 Headlines from left-of-center CNN Business – from the evening of 12.2.2021
Technicians perform production control tasks at the implant zone in the cleanroom at Fab7 in the Globalfoundries Inc. semiconductor fabrication (fab) facility in Singapore, on May 18, 2021.
Biden official pleads with Congress to immediately address computer chip shortage
Workers are ghosting employers. Here's how companies can combat no-shows
Dow gains more than 600 points as wild stock market volatility continues
Government shutdown would cost the US economy $1.8 billion a week
OPEC and Russia will pump more oil in January despite price plunge
Could the biggest SPAC deal on record reignite the Wall Street fad?
Dollar General is chasing wealthier shoppers with 1,000 new stores
Why price increases can actually be good for everyday Americans
This rare McDonald's treat is making a comeback
Why baseball's billionaire owners and millionaire players just can't get along
MLB blacks out players on its website
BuzzFeed is voting to go public, but much of its staff just walked out
Christian television network founder and preacher Marcus Lamb, who discouraged vaccinations, dies after being hospitalized for Covid-19
The Microsoft Xbox Series X (L) and Sony PlayStation 5 home video game consoles are shown alongside a television and soundbar on November 3, 2020.
Here's how gamers are scoring video consoles during a global shortage
An employee walks past crude oil storage tanks at the Juaymah Tank Farm in Saudi Aramco's Ras Tanura oil refinery and oil terminal in Ras Tanura, Saudi Arabia, on Oct. 1, 2018. Saudi Arabia is seeking to transform its crude-dependent economy by developing new industries, and is pushing into petrochemicals as a way to earn more from its energy deposits.
OPEC's power was waning. Soon it may have more sway than ever
A whopper burger sits in the kitchen at a Burger King restaurant in Basildon, U.K., on Wednesday, Sept. 8, 2010.
Burger King is returning the Whopper to its original price
Headlines from right-of-center Newsmax – evening of 12.2.2021
Controversial House Jan. 6 Panel Will Hold Public Hearings in 2022
Crowds try to break through a police barrier at the Capitol on Jan. 6,. (AP)
Newsmax TV
Rand Paul: Blame Dems If Govt Shuts Down | video
Blackburn: Blocking Biden's Mandate Will Protect Americans | video
Mark Meadows: Media Weaponizing Trump's False-Positive COVID Test | video
Marshall: Conservatives Still Plan Shutdown Move on Mandate | video
Ferguson: Dems 'Going Alone' on Deal to Fund Government | video
Oz: Fauci 'J. Edgar Hoover' of Healthcare | video
Jim Jordan: Biden Will Lose, Constitution Will Win on Vaccine Mandates | video
More Newsmax TV
Newsfront
Germany Locks Unvaxed Out of Public Life; Mandate Looms
Unvaccinated people across Germany will soon be excluded from nonessential stores, restaurants and sports and cultural venues, Chancellor Angela Merkel announced Thursday, and parliament will consider a general vaccine mandate as part of efforts to curb coronavirus…… [Full Story]
Survey Shows Job-Jumpers Quit During Pandemic Because The Felt 'Life Is Too Short'
[Full Story]
Analysis: Trump's Supreme Court Picks Poised to Deliver on Abortion
The month before being elected president in 2016, Donald Trump [Full Story]
Elle Will Drop Fur From Magazines Worldwide
Elle magazine announced on Thursday it will stop using fur in all its [Full Story]
Illinois Is Becoming a Safe Space for Women Seeking Abortions
Abortion clinics in Illinois have become a safe space for women [Full Story]
Media Twists Waukesha Parade Massacre Into 'Parade Crash'
Shortly after a violent, career criminal with a history of racist and [Full Story] | Platinum Article
Insight Poll: 36 Percent Want Companies to Speak Out
Sixty-three percent of corporate executives agree companies should [Full Story]
South Africa Sees Rise in COVID Reinfections From Omicron
South Africa is seeing an increase in COVID-19 reinfections due to [Full Story]
Related
Omicron Confirmed in Man Who Attended NYC Anime Convention
Fauci: 'We Don't Know' Whether Yearly COVID-19 Booster Shots Necessary
Omicron May Soon Cause Over Half of COVID Infections in Europe: EU
Israel Halts Controversial Tech to Track Omicron Variant
Pushing COVID-19 Boosters, Biden Says 'We Need to be Ready'
Marcus Lamb, Christian TV Network Founder, Dies After COVID Battle
Overwhelmed Biden to Restart Trump's 'Remain in Mexico' Policy
The Biden administration will restart a controversial Trump-era [Full Story]
Dozens Of Michigan Schools Shut In Wake Of Deadly School Shooting
Dozens of Michigan schools, including some of the biggest in the [Full Story]
Paul to Newsmax: Blame Dems If Govt Shuts Down
Congressional Democrats have known for the past two months that [Full Story] | video
House Jan. 6 Panel to Hold Public Hearings in 2022
Liz Cheney, R-Wyo., announced Thursday the House Jan. 6 panel [Full Story]
California Issues Earliest Ever 0 Percent Water Allocation Amid Drought
The California drought conditions are so dire the Department of Water [Full Story]
Enes Kanter Freedom Says He Wants to 'Educate' LeBron on China
Boston Celtics center Enes Kanter Freedom says he welcomes the chance [Full Story]
Haley to Receive GOP Group's Highest Award at The Citadel
Former U.S. Ambassador Nikki Haley is being feted Thursday night at [Full Story]
A full 52% of young Americans think democracy is "in trouble," [Full Story]
Music Legend Clarence Avant's Wife Shot and Killed
Jacqueline Avant, the wife of music icon Clarence Avant and [Full Story]
UN on Lockdown After Armed Man Seen Pacing Outside Gate
United Nations headquarters in New York City was locked down Thursday [Full Story]
GOP Fears Blame as Government Shutdown Threat Looms
Republicans fear a gambit by conservative GOP senators to demand a [Full Story]
Black Lives Matter Group Calls for 'Black Xmas'
The Black Lives Matter Global Network Foundation is calling for a [Full Story]
Gallup Poll: 71 Percent of Low-Income Adults Report Inflation Hardship
Despite Biden administration apologists' attempts to spin rocketing [Full Story]
Related
Inflation to Persist Around the Globe…and Reach 4.4 Percent in the US: OECD
Texas Law Restricting Abortion Medications Goes Into Effect
A new law that makes it a felony in Texas to provide abortion [Full Story]
Woman Who Drove Through BLM Protest Refuses Plea Deal
The New York City woman who drove through a Black Lives Matter [Full Story]
Symone Sanders Leaving Kamala Harris' Office
Symone Sanders, the senior adviser and chief spokesperson for Vice [Full Story]
McConnell: We Are Not Going to Shut the Government Down
Senate Republican leader Mitch McConnell said on Thursday Republicans [Full Story]
US Weekly Jobless Claims Rise Less Than Expected; Layoffs at Lowest Since 1993
The number of Americans filing new claims for unemployment benefits [Full Story]
Pollster Issues Warning to Dems Ahead of Midterms
Democrat pollster Brian Stryker, in an interview with The New York [Full Story]
Biden Launching Winter COVID-19 Booster, Testing Campaign
President Joe Biden is set to kick off a more urgent campaign for [Full Story]
US, South Korea Eye Broader Asia Role While Sprucing Up North Korea Plans
The defense chiefs of the United States and South Korea said on [Full Story]
Blinken Urges Russia to Step Back From Ukraine Crisis
S. Secretary of State Antony Blinken met his Russian opposite [Full Story]
MLB Locks Out Players After Failing to Reach New Labor Deal
Major League Baseball locked out its players on Thursday after [Full Story]
Incredible Miniature Telescope Lets You See for Miles
Smarter Living Daily
More Newsfront
Finance
US Weekly Jobless Claims Rise Less Than Expected; Layoffs at Lowest Since 1993
The number of Americans filing new claims for unemployment benefits increased less than expected last week, pointing to tightening labor market conditions, while layoffs tumbled to a 28-1/2-year low in November…. [Full Story]
Rising Uncertainty Provides Boost to Gold and Silver
Google Delays Return to Office in Europe, Middle East, Africa
Biden Says Plan to Fight COVID-19 Does Not Include Shutdowns
TSA Requires Rail and Airports to Strengthen Cybersecurity
More Finance
Health
California Confirms 1st US Case of COVID-19 Omicron Variant
A person in California became the first in the U.S. to have an identified case of the COVID-19 omicron variant, U.S. officials said Wednesday as scientists continue to study the risks posed by the new strain of the virus…. [Full Story]
Pushing COVID-19 Boosters, Biden Says 'We Need to be Ready'
Survivors of Severe COVID Face Doubled Risk for Death a Year Later
Omicron COVID-19 Variant Case Identified in Minnesota
Cleveland Clinic Successfully Implants First Leadless Pacemaker Defibrillator System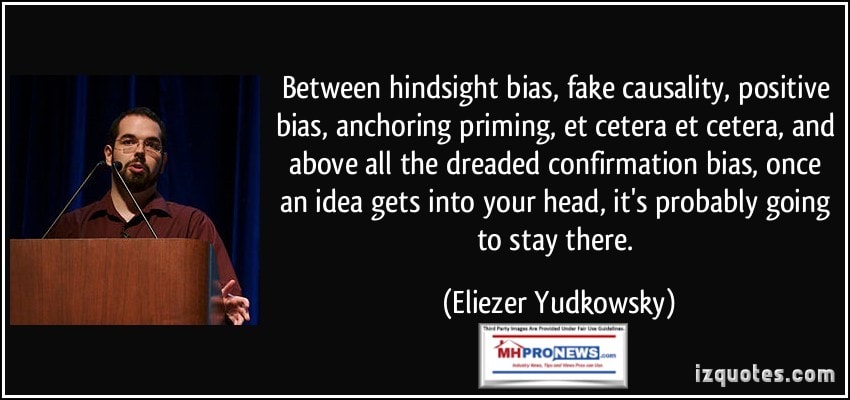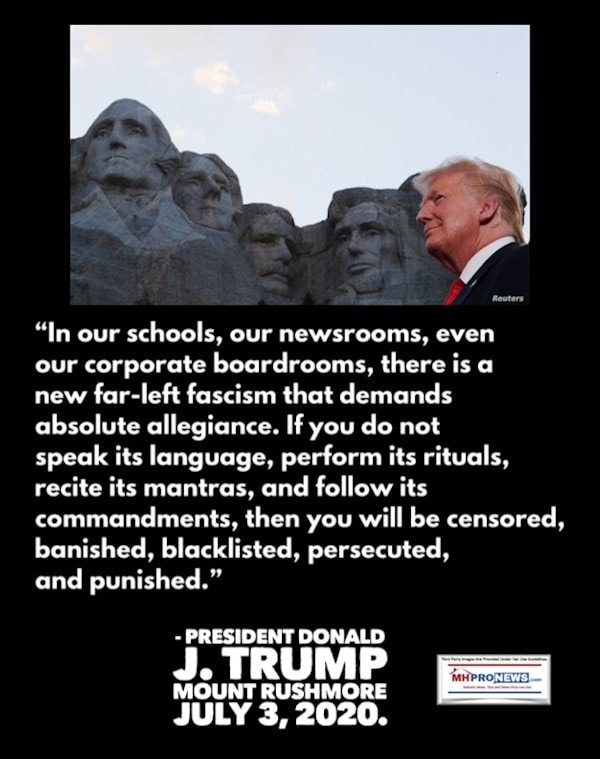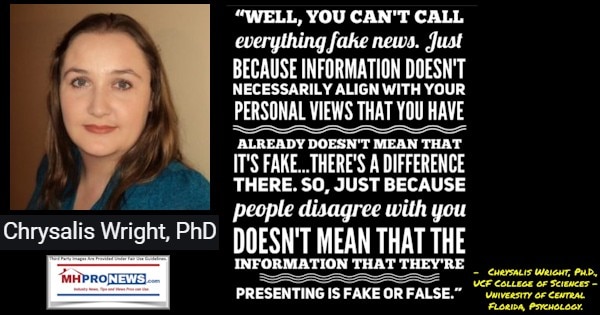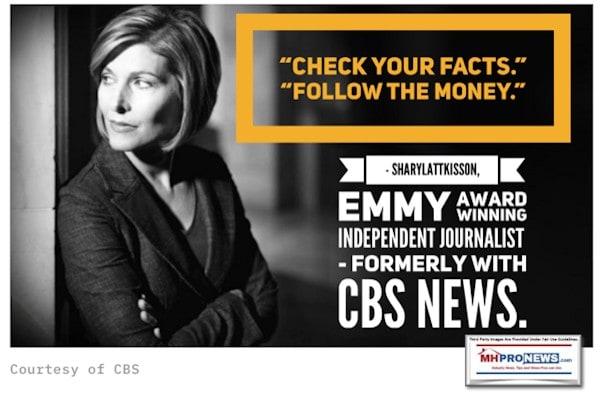 Manufactured Housing Industry Investments Connected Equities Closing TickersSome of these firms invest in manufactured housing, or are otherwise connected, but may do other forms of investing or business activities too.
NOTE: The chart below includes the Canadian stock, ECN, which purchased Triad Financial Services, a manufactured home industry lender
NOTE: Drew changed its name and trading symbol at the end of 2016 to Lippert (LCII).
NOTE: Deer Valley was largely taken private, say company insiders in a message to MHProNews on 12.15.2020, but there are still some outstanding shares of  the stock from the days when it was a publicly traded firm.  Thus, there is still periodic activity on DVLY.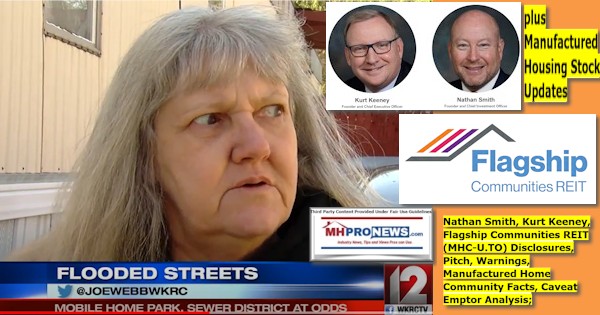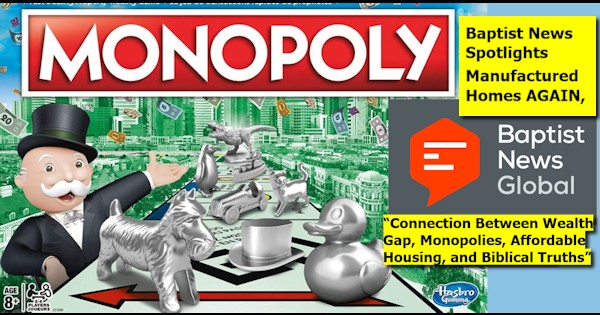 https://www.manufacturedhomelivingnews.com/clayton-homes-gc-thomas-tom-hodges-manufactured-housing-institute-chairman-slapped-by-bpr-complaint-facts-claims-why-it-matters-to-affordable-housing-seekers/

https://www.manufacturedhomepronews.com/masthead/project-saturn-code-name-monarch-sec-v-cavco-stegmayer-et-al-federal-suit-revelations-about-cavco-skyline-champion-other-manufactured-housing-brands-apparen/

Note: depending on your browser or device, many images in this report can be clicked to expand. Click the image and follow the prompts

https://www.manufacturedhomepronews.com/steve-lawler-deer-valley-corporation-dvc-otcmkts-dvly-announces-merger-plus-manufactured-home-investing-stock-updates/

https://www.manufacturedhomepronews.com/nobility-homes-financial-position-very-strong-sales-strong-but-challenges-including-lending-and-others-examined-plus-manufactured-housing-stocks-update/

  https://www.manufacturedhomelivingnews.com/consumer-alert-state-records-years-of-negligence-safety-violations-greedy-greedy-sun-communities-ripped-by-residents-manufactured-homes-dam/
As the Summer of 2021 draws to a close

…

Berkshire Hathaway is the parent company to Clayton Homes, 21st Mortgage, Vanderbilt Mortgage and other factory built housing industry suppliers.


·

LCI Industries, Patrick, UFPI, and LP each are suppliers to the manufactured housing industry, among others.




·

AMG, CG, and TAVFX have investments in manufactured housing related businesses.

For

insights from third-parties and clients about our publisher

, click here.


Enjoy these 'blast from the past' comments.

MHProNews. MHProNews – previously a.k.a. MHMSM.com – has celebrated our 11th year of publishing, and is starting our 12th year of serving the industry as the runaway most-read trade media.

Sample Kudos over the years…

It is now 11+ years and counting…

Learn more about our evolutionary journey as the industry's leading trade media, at the report linked below.

· For expert manufactured housing business development or other professional services, click here.
· To sign up in seconds for our industry leading emailed headline news updates, click here.

Disclosure. MHProNews holds no positions in the stocks in this report.

https://www.manufacturedhomepronews.com/years-of-state-national-level-manufactured-housing-factual-data-find-your-states-production-shipment-info-here-troubling-manufactured-home-affordable-housing-trends-issues-and-fact-checks/

https://www.manufacturedhomepronews.com/dominating-manufactured-housings-top-50-2020-year-in-review-by-manufactured-home-professionals-news-analysis/

To get our x2 weekly industry-leading emailed news headlines, click here. http://eepurl.com/bl-9t5

We recommend that news tips NOT use company, nonprofit or organizational emails or cell phones. To report a news tip, click the image above or send an email to iReportMHNewsTips@mhmsm.com – To help us spot your message in our volume of email, please put the words NEWS TIP or COMMENTS in the subject line.

That's a wrap on this installment of "News Through the Lens of Manufactured Homes and Factory-Built Housing" © where "We Provide, You Decide." © (Affordable housing, manufactured homes, stock, investing, data, metrics, reports, fact-checks, analysis, and commentary. Third-party images or content are provided under fair use guidelines for media.) (See Related Reports, further below. Text/image boxes often are hot-linked to other reports that can be access by clicking on them.)

All on Capitol Hill were welcoming and interested. But Congressman Al Green's office was tremendous in their hospitality. Our son's hand is on a package that included a copy of the Constitution of the United States and other goodies. Tamas has grown considerably since this photo was taken. 

By L.A. "Tony" Kovach – for MHProNews.
Tony earned a journalism scholarship along with numerous awards in history. There have been several awards and honors and also recognition in manufactured housing. For example, he earned the prestigious Lottinville Award in history from the University of Oklahoma, where he studied history and business management. He's a managing member and co-founder of LifeStyle Factory Homes, LLC, the parent company to MHProNews, and MHLivingNews.com. This article reflects the LLC's and/or the writer's position, and may or may not reflect the views of sponsors or supporters.