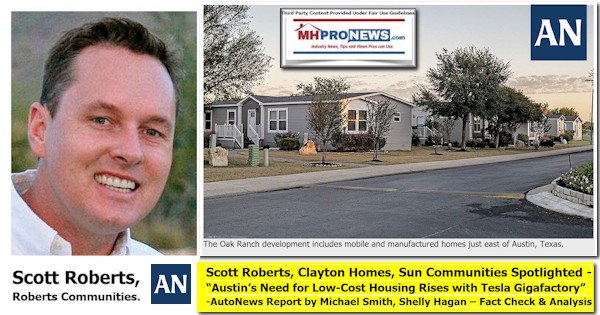 As the turbulent year of 2021 draws toward a close, affordable housing has been one of the key issues that confronts tens of millions of Americans. On November 29, 2021 Michael Smith and Shelly Hagan did a report for AutoNews – their original report is linked here – that will doubtlessly be touted and/or discussed in manufactured housing circles. After all, despite some common terminology item, Smith and Hagan's report is largely positive. Indeed, the case can be made that it is also largely accurate. That said, there are apparent misses too. The misses are at least as important, perhaps more so, than the hits. Both will be explored in this exclusive fact check, analysis, and commentary that follows.
It should disclosed that this writer for MHProNews initially posted a comment on their report via their Disqus system. There were no links to any website. But an hour after those observation were posted, those comments have not yet appeared on their article, per checks and reports.
It should also be noted that DJ Pendleton, the executive director of the Texas Manufactured Housing Association (TMHA) was asked to weigh in on this topic. So too has Tom Hodges, General Counsel to Clayton Homes and the current Manufactured Housing Institute (MHI) Chairman. Also asked for reaction have been MHI CEO Lesli Gooch, a corporate official at Sun Communities, and two MHI attorneys, among others.  Time will tell if any of those weigh in on a topic that they have claimed matters to them.
This fact check and report will provide the following segments below.
An unedited copy of the text of the report, which many who are not subscribers to AutoNews may otherwise not be able to access. This is being provided under fair use guidelines for media.
Emails to industry trade groups and attorneys asking for comments on this topic.
Facts, Analysis, and Commentary that are not found in the AutoNews report by Smith and Hagan.
With that plan, here is the AutoNews report.
Austin's need for low-cost housing rises with Tesla 
With average annual salaries planned at just less than $50,000 for the assembly-line workers, it's unclear how all those people will be able to afford homes in Texas' capital.
November 29, 2021 12:00 AM
By Michael Smith, Shelly Hagan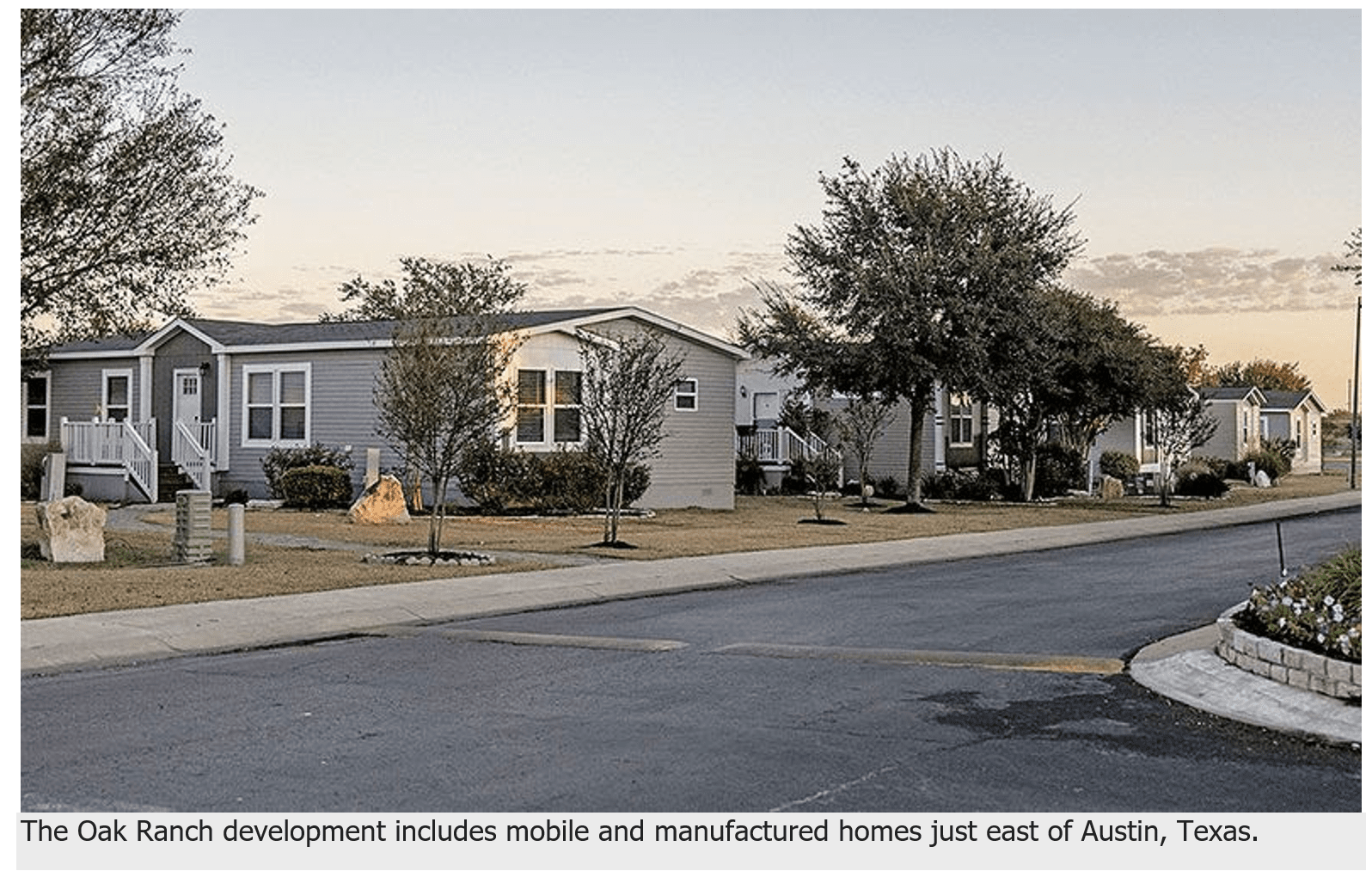 Elon Musk's influence is spreading to Oak Ranch, a sprawling development of manufactured homes about five miles south of the Tesla Gigafactory going up outside Austin. New lots line freshly paved roads, each with a patch of gravel ready for a new house.
It's part of a boom in lower-cost housing alternatives such as trailer parks, RV sites and tiny houses across the Texas capital, where the median price for a home has soared to $525,000. Nowhere captures the frenzy as well as Del Valle, where the Tesla plant is nearing completion and investment tied to the automaker has lifted typical home values by 58 percent since January 2020, according to data compiled by Zillow Group Inc.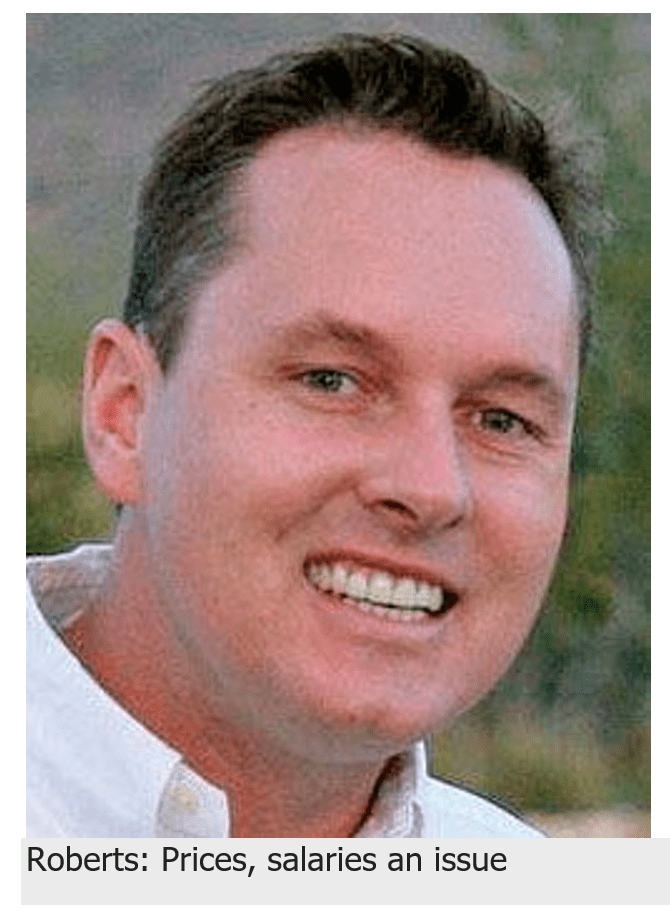 At Oak Ranch, the sales force is regularly fielding inquiries from potential buyers hoping to land a gig at the Gigafactory. Both are located about 15 miles east of the heart of hipster Austin, in a formerly remote area past the airport.
"When I bought that land 12, 13 years ago, I remember everyone saying, 'Gosh, that's not a good part of town,' " said Scott Roberts, CEO of Scottsdale, Ariz.-based Roberts Communities, which has developed Oak Ranch, two other mobile home parks in the region and a cluster of tiny homes around an organic farm. "Now, one of the highest-appreciated sub-markets of Austin is Del Valle, and that whole thing is 100 percent attributed to Elon Musk."
Tesla's $1 billion factory will be the crown jewel of the automaker's U.S. manufacturing operations, producing the Model Y sedan, the forthcoming Cybertruck and batteries. While some high-end executive jobs will no doubt follow the relocation of Tesla's headquarters to Austin, the company has promised more than 5,000 and up to 10,000 "middle-skill" jobs at the factory.
But, with average annual salaries planned at just less than $50,000 for assembly-line workers, it's unclear how all those people will be able to afford a home in Austin.
"How is a $47,000-a-year person that has kids, and all of the costs associated with that, going to buy a $500,000 house?" Roberts asked. "They can't."
Housing prices have soared in Austin for some of the same reasons they have across the U.S.: low interest rates, a lack of construction and buyers flush with cash. And like elsewhere, the creation of affordable dwellings just hasn't kept up with demand over decades.
Multiple factors
But it's hard to find a city that has had it worse than Austin, where a booming tech industry and loads of newcomers from the coasts have combined to push up prices. The value of a typical single-family home jumped 54 percent since the beginning of 2020, tops among any of the 50 largest metro areas in the U.S. tracked by Zillow.
"It disproportionately affects low- income households, millennials and households of color," said Matt Menard, an independent real estate broker in Austin. "We've had a few more clients ask about mobile homes as an alternative."
Other nontraditional types of housing are also getting fresh looks. Four miles from Oak Ranch and a 10-minute drive from the future Gigafactory is Austonia RV Resort. There are 100 camper and RV sites there, with plans to add 100 more next year. Much of the demand comes from contractors for Tesla such as safety inspectors and machine operators working on the new plant. Homebuilders Icon and Lennar Corp. are constructing the world's largest neighborhood of 3D-printed homes.
The affordability crisis in Austin also has added to the number of people living on the streets. The city estimates there are 2,500 homeless people on any given night, and high housing prices are partly to blame. So many people were pitching tents on medians, beneath overpasses and in parks that it sparked a backlash. In May, voters passed a referendum to ban public camping, essentially telling police to clear out the encampments.
Companies such as Tesla need to help do something about the problem, said Eric Samuels, president of the Texas Homeless Network. "I can state the most obvious, and that's that they need to pay a wage that allows their workers to live in Austin," he said.
Soaring prices
At Oak Ranch, sale prices for manufactured homes — most made by Berkshire Hathaway Inc.'s Clayton Homes unit — have also soared. While banners outside the development tout prices as low as $60,000, in fact the minimum now is about $90,000. A top-end four-bedroom unit — with a soaker tub, solid-wood kitchen cabinets, recessed lighting, energy-efficient windows and a walk-in closet — is $140,000.
Soaring demand is pressing Sun Communities Inc., the largest purchaser of factory-built homes in the U.S., to scour the Austin area for land to build new mobile home parks, expanding on multiple developments it already runs. Part of that pressure is coming from Tesla's factory, according to COO John McLaren.
"That's just one component, but the rise in single-family home prices is eclipsing everything," he said in an interview. "When you widen the radius and look beyond Austin, it's really happening everywhere in America."
Sun Communities, a publicly traded company with a market value near $23 billion, plans to plow as much as $500 million into 60 to 70 mobile home developments across the country, double this year's spending.
Looking to expand
For its part, Roberts Communities has $200 million invested in Austin and wants to at least double that if it can find enough land to expand. For now, Scott Roberts — whose father founded the company — is adding 180 more mobile homes to the hundreds already at Oak Ranch, which features amenities including a fitness center, swimming pool and clubhouse.
The sales force there winces at the phrase "trailer park" and the disorder often associated with the term, emphasizing that the development is designed to be a family-friendly community. Regulations forbid rentals and require yards be kept neatly trimmed and free of clutter. Maintenance workers help show residents how to do small repairs themselves to encourage upkeep and pride of ownership. And there are regular get-togethers for residents, including the occasional Taco Tuesday, that bring neighbors together.
The downtown skyline can be seen from parts of the development, and at night the electric glow from the Tesla plant under construction brightens the sky.  ##
###
MHLivingNews, MHProNews, the Reflector, and Baptist News Global have uniquely reported that HUD's research Pamela Blumenthal and Regina Gray's recent report broke last September.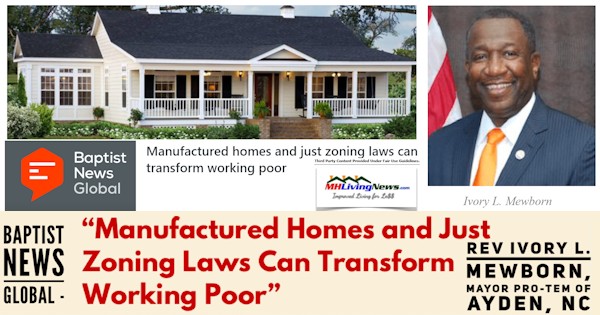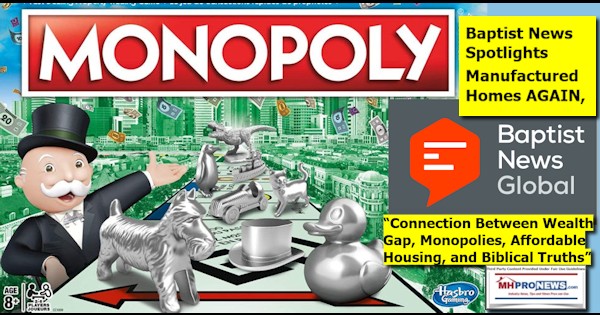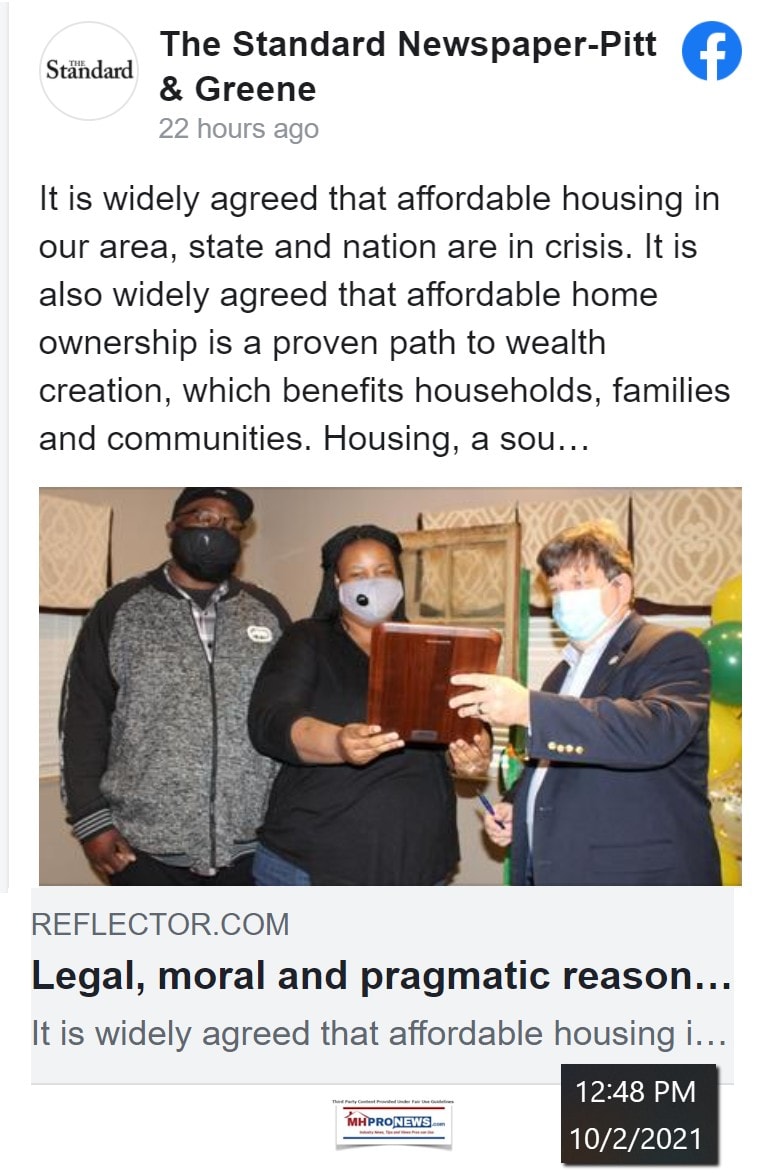 Briefly, Blumenthal and Gray made the point that the causes for the housing shortage have been known for 50 years. Let that sink in – the causes have been known for 5 decades. They are local zoning and regulatory barriers. Both major parties have talked about solutions, but have not implemented the actual fix, they argued.
That said, oddly, HUD's report by Blumenthal and Gray did not mention the Manufactured Housing Improvement Act of 2000 (MHIA). The MHIA and its enhanced preemption provision was supposed to fix this zoning and regulatory barrier issue for HUD Code manufactured homes.
On paper, the Manufactured Housing Institute (MHI) and the Manufactured Housing Association for Regulatory Reform (MHARR) seem to hold the same position on federal preemption, commonly called "enhanced preemption" to make it distinct from the original preemption that existed since manufactured homes were first built in June 15, 1976. They are both make much the same statements. But the critical distinction will be unveiled further below. Comments by lawmakers that enacted this provision will also follow further below.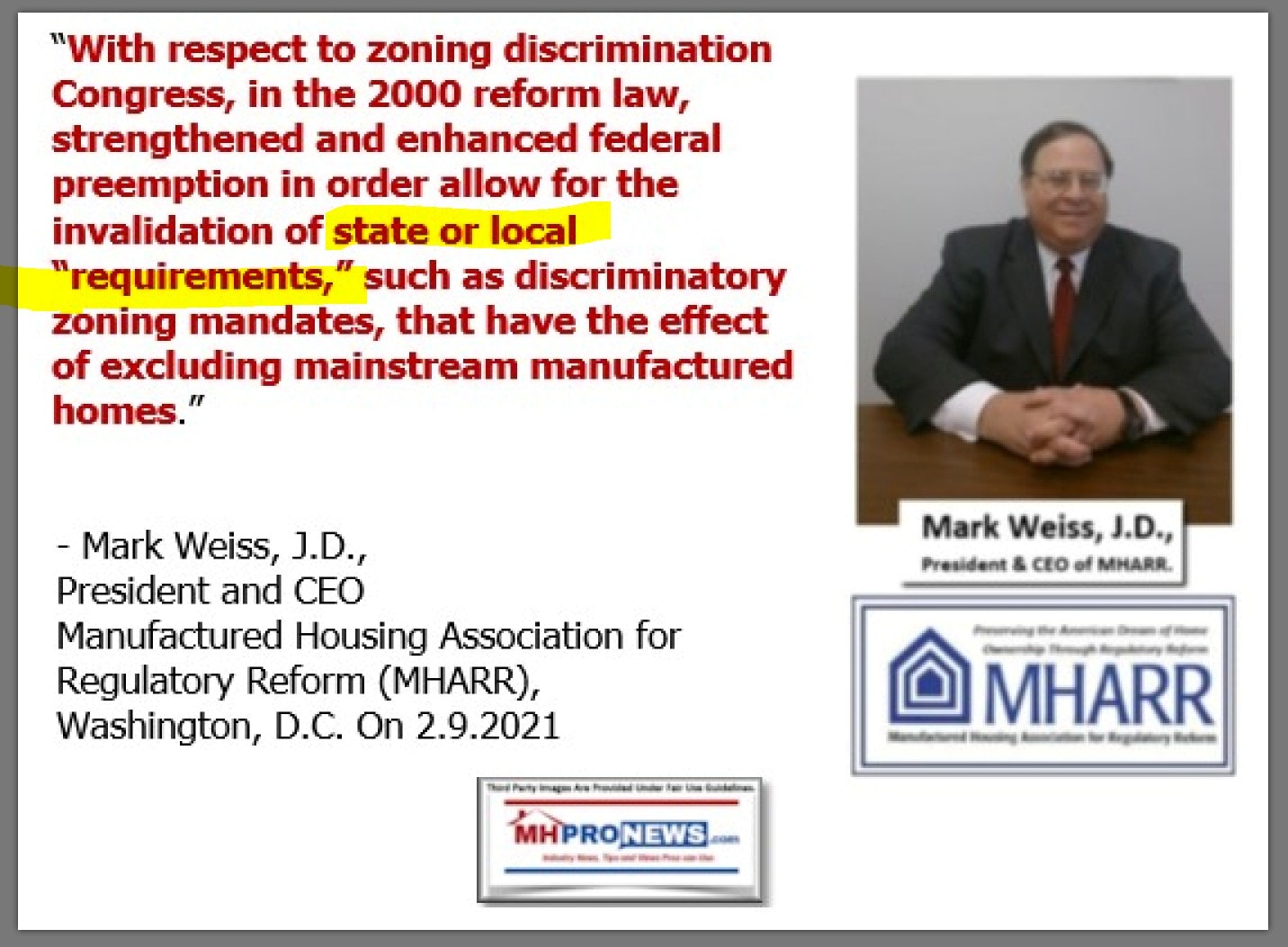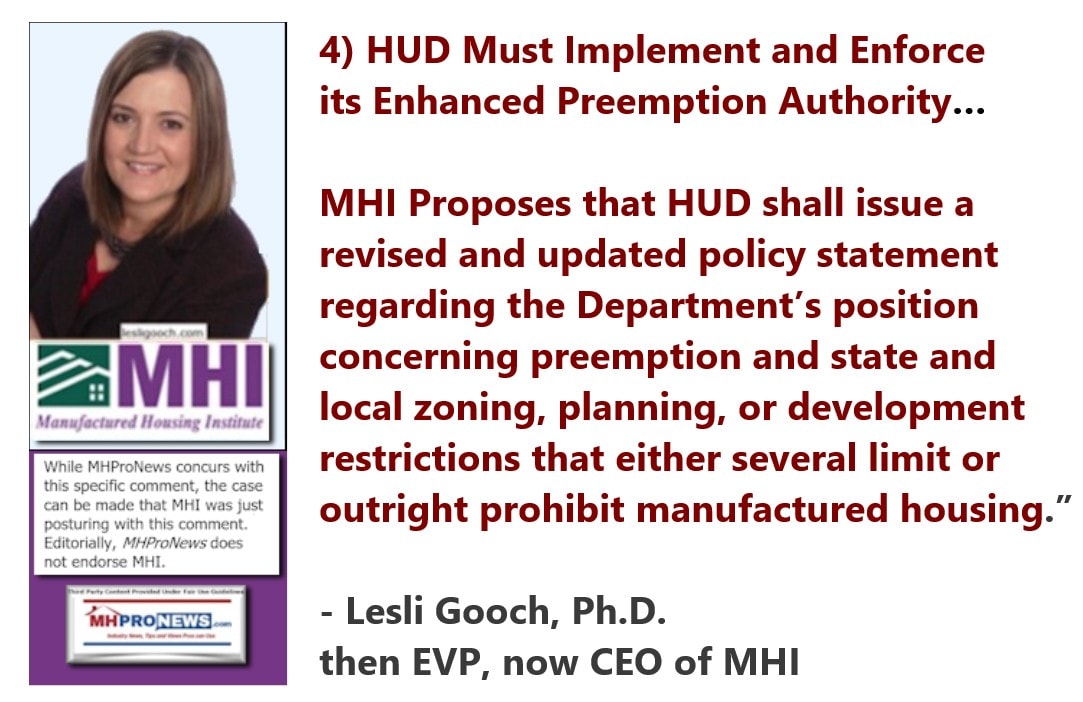 The following message was sent to manufactured housing industry corporate, association, and trade media officials via key contacts for their comments and reactions.
from:
L. A. "Tony" Kovach – MHProNews
to:
Tom Hodges @ Clayton Homes

Lesli Gooch @ Manufactured Housing Institute (MHI)

John Greiner @ Graydon Law
David Goch @ WC-B Law

cc:
Jonathan Colman @ Sun Communities
bcc:
info@mfghome.org,
George F Allen (Blogger, MHI member)
Kurt Kelley (Publisher, TMHA member)
Brad Nelms – (Blogger and MHI member)
Darren Krolewski (Publisher and MHI member)
date:
Nov 29, 2021, 11:08 AM
subject:
Media Request for Comment on Media Report on Manufactured Housing
Tom, Lesli, John, David, et al,
You are likely familiar with this report published earlier today which mentions several MHI members.
https://www.autonews.com/mobility-report/austins-need-low-cost-housing-rises-tesla-gigafactory
As you may recall, Tim Williams of 21st and prior MHI chairman, said that there is a good argument for correcting every report. While the report above is largely accurate, it misses entirely mention of the Manufactured Housing Improvement Act of 2000 (MHIA), and its "enhanced preemption" provision that current MHI CEO Lesli Gooch claims it wants enforced.
Will MHI make a public response to this pressing issue of getting enhanced preemption enforced? If not, why not?
While we invite a response to any of the headlines further below, this specific topic is what we are asking you to send an emailed response. Please advise, thank you.
Tony
…
##
That email was followed by links to various headlines, many of which can be found from the report linked here and again further below.
The following request for comment was sent to D.J. Pendleton, J.D., who is the executive director of the Texas Manufactured Housing Association (TMHA).
| | |
| --- | --- |
| from: | L. A. "Tony" Kovach @ MHProNews |
| to: | DJ Pendleton @ Texas MHA |
| cc: | Caitlin Nauert @ Texas MHA |
| date: | Nov 29, 2021, 10:56 AM |
| subject: | DJ, media request for comment |
DJ,
I trust you are aware of this article, correct?
https://www.autonews.com/mobility-report/austins-need-low-cost-housing-rises-tesla-gigafactory
Please advise if you will be raising the issue of what is not covered in their report, namely, the Manufactured Housing Improvement Act of 2000 (MHIA) and its "enhanced preemption" provision that Lesli Gooch claims MHI wants to see enforced.
You know the drill. Please advise via email. Thank you.
Tony
…
##
Additional Information, More MHProNews Analysis and Commentary
What, if anything, those trade groups, corporate officials, their attorneys, or other industry publishers and bloggers will say or comment on the above remains to be seen. But if the pattern in recent years holds, the likelihood is this.
A) They will not likely point out that while MHI postures support for the Manufactured Housing Improvement Act of 2000 (MHIA or 2000 Reform Law) and its "enhanced preemption" provision, they have not acted legally to enforce it.
B) By contrast, after a far shorter time frame, Tiny House Hands Up (THHU) and the Institute for Justice (IJ) have sued to get their rights enforced.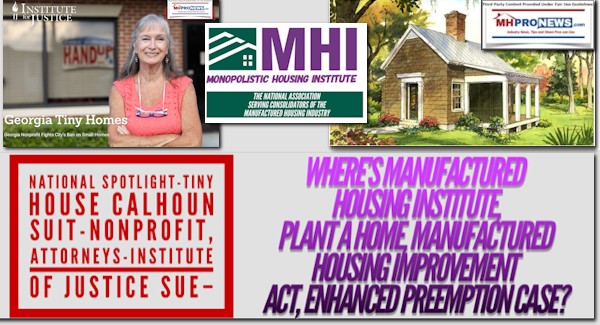 C) MHI ironically pointed out that the Biden regime vax mandate has been stopped by legal action. What they did not say is that it was a coalition of state attorney generals and a coalition of trade groups that initiated suits that have put at least a temporary pause on this arguably unconstitutional 'mandate.'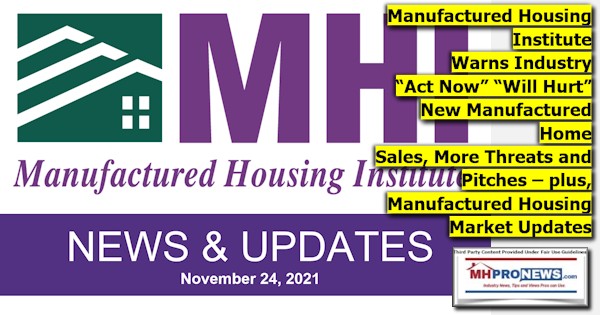 D) MHLivingNews and MHProNews have exclusively published the research by Samuel "Sam" Strommen from Knudson Law. Strommen has no known ties to manufactured housing, and thus has no axe to grind. Yet, he has made a compelling evidence-based legal 'case' for what he calls "felony" violations of the Sherman (antitrust, antimonopoly) Act.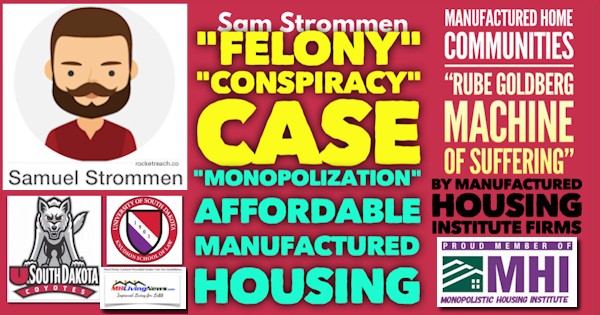 E) It remains to be seen if James A. "Jim" Schmitz Jr. and his fellow research colleagues will do a follow up report in some way akin to what Strommen has done. That noted, Schmitz – a research economist for the Minneapolis Federal Reserve – have made clear that the problems noted by AutoNews report above in terms of housing shortages, homelessness, etc. are caused in a significant degree by suppressing the most proven form of affordable housing. Namely, HUD Code manufactured homes.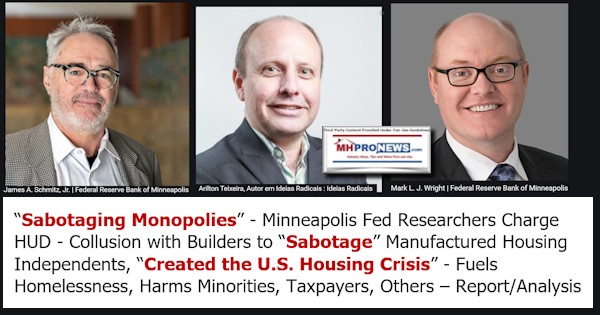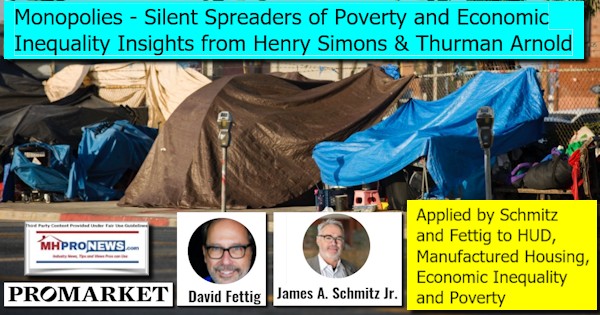 F) Much of this can be boiled down to the following. On a string of issues, MHI claims to be "

representing

" "all segments" of manufactured housing. But if so, why hasn't MHI sued to get their stated positions enforced? Why didn't MHI encourage state affiliates, such as the TMHA to support MHARR's offer to get "enhanced preemption" enforced?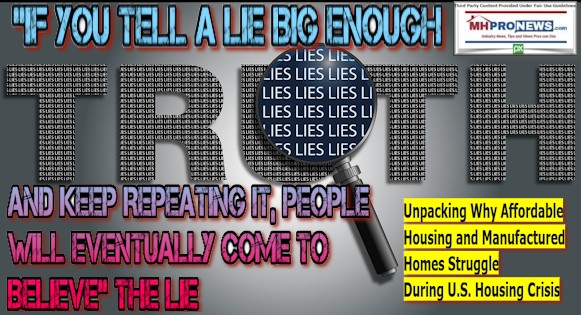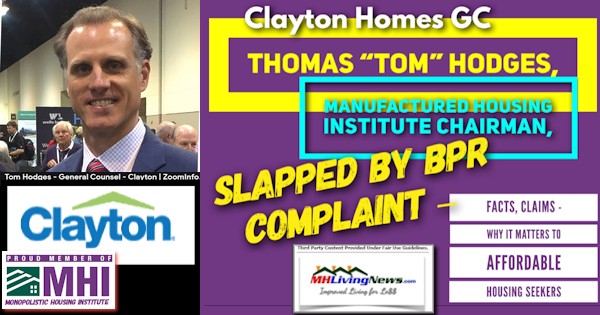 G) MHProNews raised that notion years ago, starting while still an MHI member. After all, then MHI VP and General Counsel, Rick Robinson authored a book entitled "Writ of Mandamus."  They can hardly claim ignorance of the various legal arguments possible to get laws they claim they back enforced.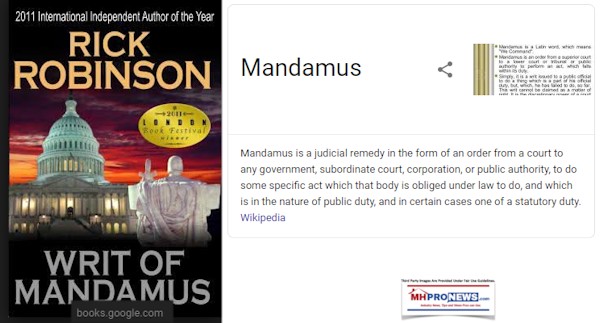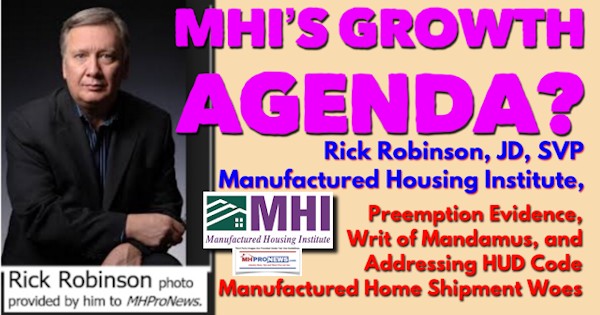 H) Given repeated opportunities to walk their talk, MHI has demurred. Given repeated opportunities to prove their support for the laws that they claim to favor, they have failed to act legally to get them enforced.
"Exploiting Weaknesses in Markets" – Manufactured Housing's Factual, Evidence Driven Historic SWOT Analysis and Commentary for Late 2021, plus Sunday Weekly Headlines Review
I) The track record of MHI appears quite clear. They posture and palter, but produce results that benefit a few insiders.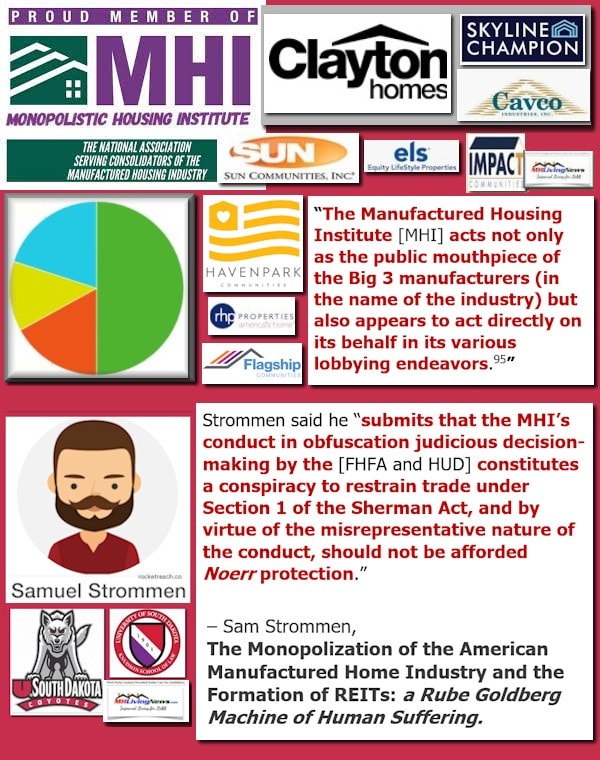 J) Much of this boils down to well document allegations by Strommen that MHI is acting on behalf of brands such as Clayton Homes, Sun, Roberts Communities and others to benefit 'insider' firms' while harming outsider firms and tens of millions of Americans. Sun was contacted because they appear to be moving into the camp of those who are MHI members that are being accused of "predatory" behavior. Well, that is considered a common feature of monopolization, big companies can become more aggressive.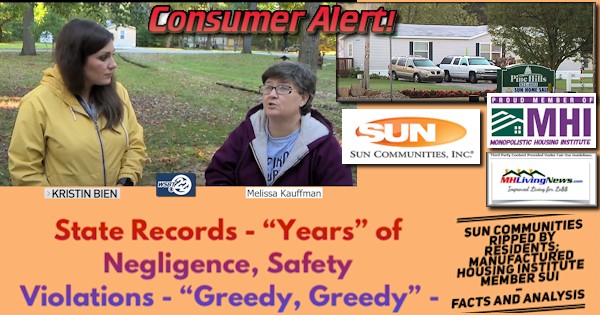 K) If MHI wants to attempt to disprove this pattern, let them do so by doing their jobs and actually walking the walk on their claimed positions.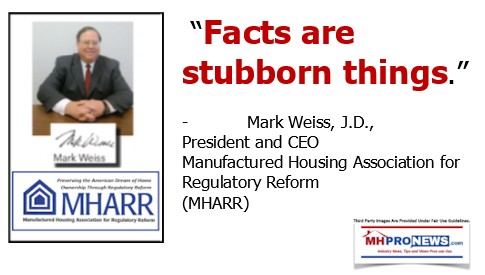 Facts are stubborn things. So said Mark Weiss, J.D., who said he heard that in law school.  Some say that was first said by founding father, John Adams. Per GoodReads:
"
Facts are stubborn things; and whatever may be our wishes, our inclinations, or the dictates of our passion, they cannot alter the state of facts and evidence

."

The truth is hiding in plain sight. Facts may not be fun for numbers of people. Facts and evidence may make some people uncomfortable. But it is not until the facts are confronted and the laws that have been marginalized or sidestepped are properly enforced that this pattern will be changed. To learn more, see the 500-word op-ed linked below. ##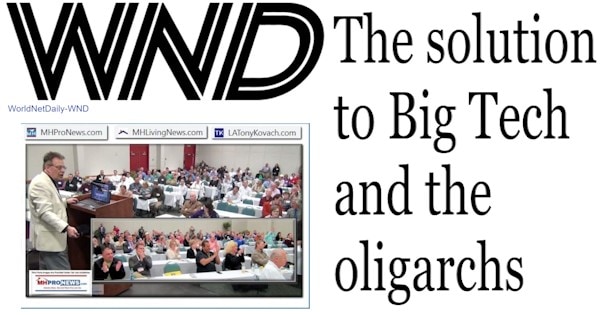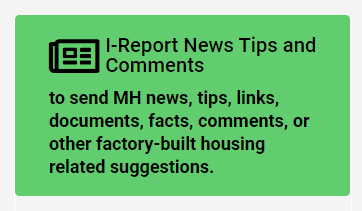 Our thanks to you, our sources, and sponsors for making and keeping us the runaway number one source for authentic "News through the lens of manufactured homes and factory-built housing" © where "We Provide, You Decide." © ## (Affordable housing, manufactured homes, reports, fact-checks, analysis, and commentary. Third-party images or content are provided under fair use guidelines for media.) (See Related Reports, further below. Text/image boxes often are hot-linked to other reports that can be access by clicking on them.)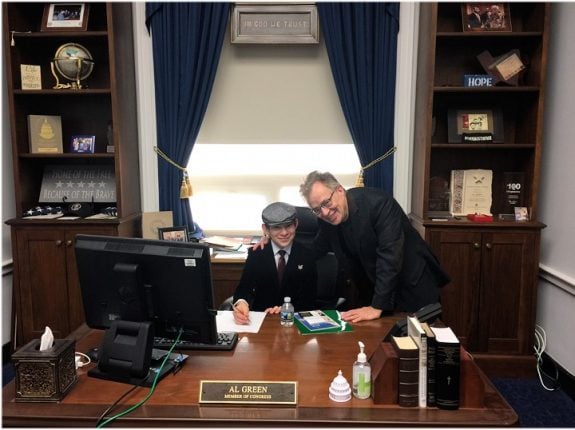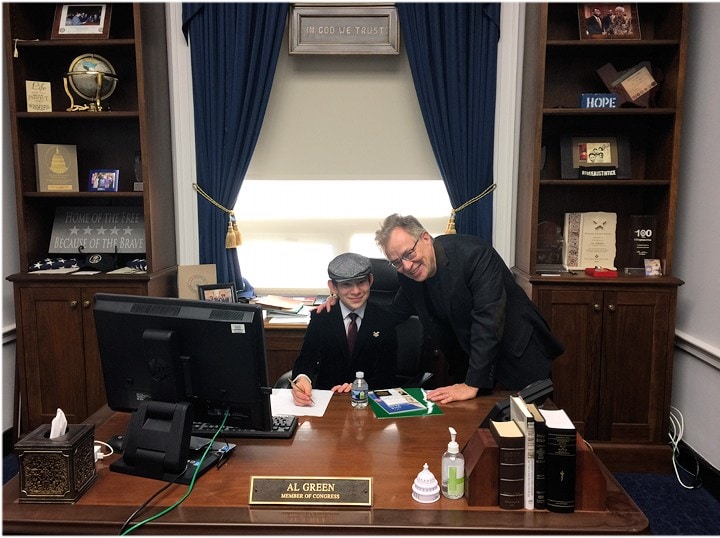 By L.A. "Tony" Kovach – for MHProNews.com.
Tony earned a journalism scholarship and earned numerous awards in history and in manufactured housing.
For example, he earned the prestigious Lottinville Award in history from the University of Oklahoma, where he studied history and business management. He's a managing member and co-founder of LifeStyle Factory Homes, LLC, the parent company to MHProNews, and MHLivingNews.com.
This article reflects the LLC's and/or the writer's position, and may or may not reflect the views of sponsors or supporters.
Connect on LinkedIn: http://www.linkedin.com/in/latonykovach
Related References:
The text/image boxes below are linked to other reports, which can be accessed by clicking on them.