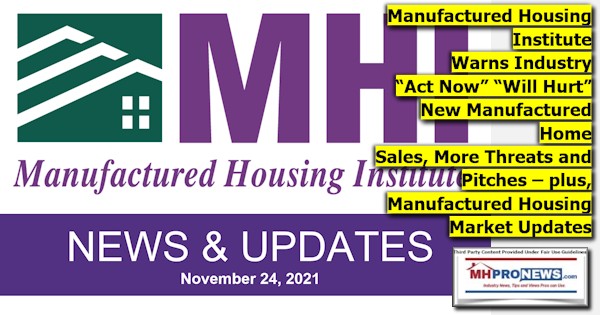 On the surface, much of what the Manufactured Housing Institute (MHI) "News and Updates" said is quite correct. In their MHI 11.24.2021 'news' items there are several items that MHProNews covered days or weeks before and that our publication reported in more detail. That noted, what is said and unsaid from MHI on this date is noteworthy. So, MHProNews will provide the bulk of their email, minus their irony-fail MHI turkey. Among their hot topics is the looming Department of Energy (DOE) energy rule, which they admit will "hurt" homebuyers, which means by extension, that it would hurt manufactured home sales. Additionally, they mention the House passage of the Biden Build Back Better (think "Great Reset) bill, which includes several housing provisions that MHI for whatever reason fails to mention. Some of those provisions reward competitors of HUD Code manufactured housing without benefiting our industry in a comparable manner – could that explain their omission?
Their release is below, under an oversized MHI logo (we'd hate to have to psychoanalyze that practice of MHI's). It will be followed by additional information, more MHProNews analysis, commentary, and linked related information. These features precede the industry's still only Daily Business News, left-right headlines snapshot, and manufactured housing market report.
In the MHI email shown below, the highlighting was added by MHProNews. Those highlighted items will be part of our analysis.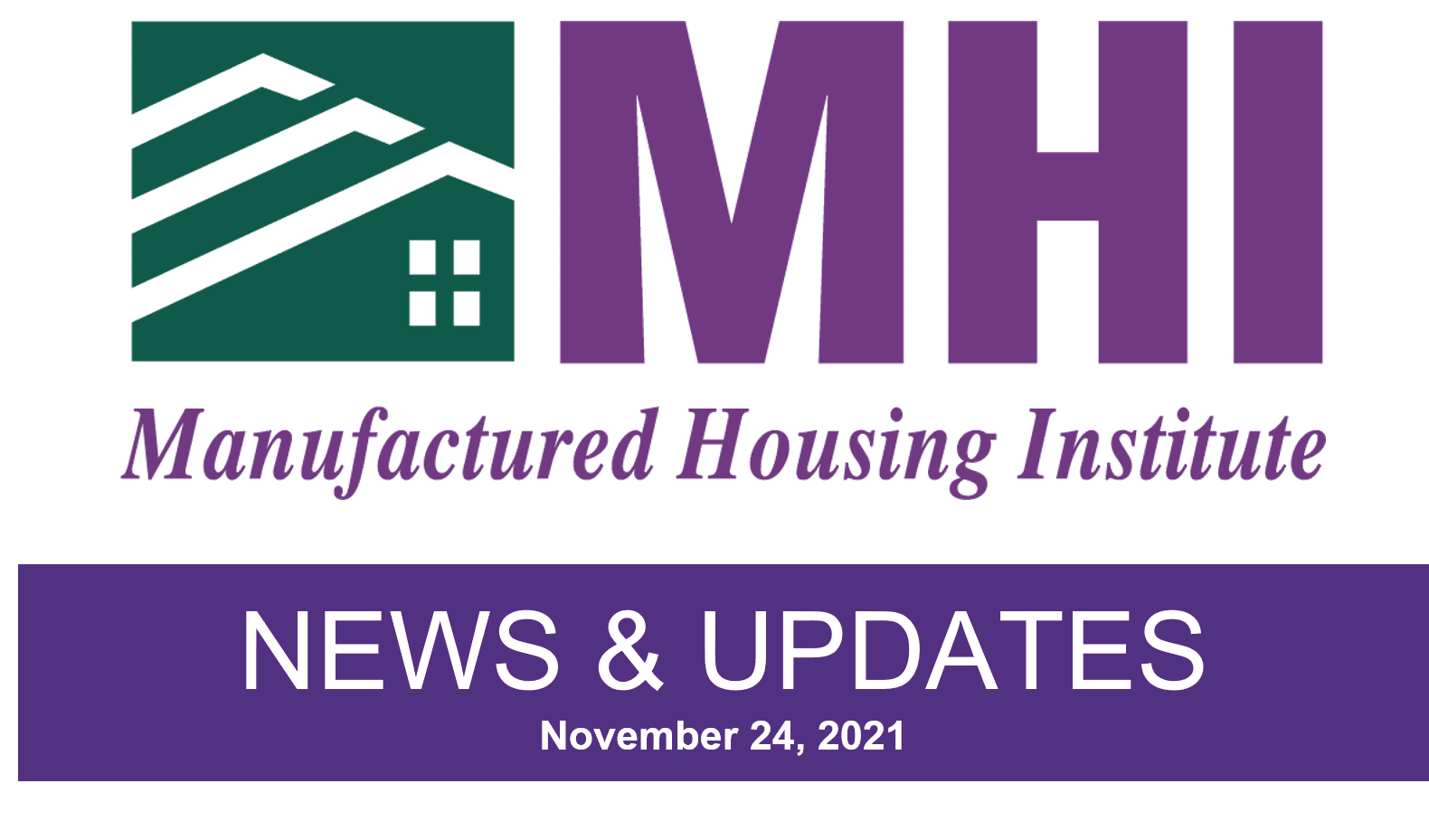 Proposed Energy Efficiency Standards for Manufactured Housing
News from Washington
Industry Resources
Proposed Energy Efficiency Standards for Manufactured Housing
ACT NOW – DEADLINE THIS FRIDAY
Tell DOE its Energy Standards for
Manufactured Housing are Unreasonable
To date, more than 900 people have responded to MHI's Call to Action telling the DOE that the energy efficiency standards they have proposed for manufactured housing are not workable. It is critical that DOE hear from all sectors of the manufactured housing industry about how detrimental this proposal would be for homeowners.

The deadline for submitting comments is this Friday, November 26, 2021, and MHI strongly encourages you to tell the DOE the proposal is not workable for manufactured housing and will hurt homebuyers seeking affordable homeownership.

To participate in the Call to Action, click the button below and follow the simple steps on MHI's website. The letter to DOE has already been composed – all you have to do is insert your home address and click submit.
MHI Submits Comprehensive Letter to DOE about
its Proposed Manufactured Housing
Energy Efficiency Standards
As part of its comprehensive strategy to address the DOE's proposed rule about new energy efficiency standards for manufactured housing, MHI has argued during meetings and in comment letters that the proposed changes are not workable for manufactured housing and will hurt the availability of manufactured homes for homebuyers. In its formal letter to the DOE, MHI called on the Department to strongly consider the cost impact of any potential standards on the affordability of today's manufactured homes.
News from Washington
OSHA Suspends Enforcement of
COVID-19 Vaccine Mandate for Businesses
The Occupational Safety and Health Administration (OSHA) is

suspending enforcement of the Administration's COVID-19 vaccine mandate for large private businesses pending future developments in ongoing litigation

. OSHA has also filed a motion with the Sixth Circuit Court of Appeals in Cincinnati, Ohio, to dissolve the earlier court's decision to stay the order.
Administration Creates Task Force to
Address Manufactured Housing Financing Issues
The White House has convened a Manufactured Housing Task Force, focused primarily on federal finance tools, products and programs for the purchase, refinance, and rehabilitation of manufactured homes and communities.
House Passes President's Spending Package
The House of Representatives has passed the "Build Back Better Act" which is the Administration's $1.75 trillion spending package on domestic priorities.
Learn, Grow and Succeed in Manufactured Housing
MHI offers a variety of educational opportunities and accreditations through the Manufactured Housing Educational Institute (MHEI) – each tailored to suit individual segments of our industry.

Interested in becoming an installer, renewing an installer license or need continuing education? MHEI is the place to go for manufactured home installation offering online training for installers of manufactured homes to meet the education requirements for licensing. Click here to learn more.

If you are a park owner or manager, learn all the tricks of the trade by signing up for the Accredited Community Manager (ACM) course. The two-part course gives you all the training you will need to manage a manufactured home community efficiently and effectively, including management and resident policies, community maintenance, leasing and sales techniques, and fair housing laws. After completing both courses, you can apply for the ACM distinction. Click here to learn more.

Are you a retailer looking to increase sales and improve your customer's experience? The Professional Housing Consultant (PHC) designation highlights what today's buyers are looking for in manufactured housing and covers a wide variety of topics including an overview of the industry, in-depth information about mortgage financing, and successful sales techniques and strategies to help meet the demand of today's manufactured home shoppers and make more sales. Click here to learn more. ##
##
Additional Information, More MHProNews Analysis and Commentary
For a few moments, set aside the threatening DOE rule. If someone jumped into a time capsule and looked back at MHI messaging from a decade or more ago, some of the same types of statements were being made by the Arlington, VA based trade group.
This MHI email could be a study in irony. But this MHProNews analysis will focus for a few moments on the blinding light contrast in what MHI said about the OSHA rule, and what they didn't say about DOE, financing, or other issues.
Per MHI, above:
"The Occupational Safety and Health Administration (OSHA) is

suspending enforcement of the Administration's COVID-19 vaccine mandate for large private businesses pending future developments in ongoing litigation

."
Who is doing that litigation to stop harmful-to-businesses vax mandates ? MHI didn't say. So, MHProNews will tell you. Let's pivot back toward the demonstrable threat that on the surface MHI and MHARR both seem to agree is looming.
There are several Republican led state attorney generals, per a range of mainstream media.
NACS Sues OSHA Over COVID-19 Vaccine Mandate – CSP …NACS is an acronym for National Association of Convenience Stores. "Nov 10, 2021 — NACS is one of 11 associations suing the Occupational Safety and Health Administration (OSHA) over its vaccination and testing emergency."
This is a five-star insight. MHI reportedly has filed similar comments to that of the Manufactured Housing Association for Regulatory Reform (MHARR). But what is apparently missing is any mention of litigation. Yet, MHI themselves said about others stopping the OSHA mandate via litigation.
Additionally, the argument can be made that MHI failed to note that it was Warren Buffett 'dark money' bucks that have helped bring the industry to this threat that MHI admits is serious.
Furthermore, MHI fails to mention that they were pressing behind the scenes for this same rule that they now claim to be opposing.
Moreover, why hasn't MHI sued to get FHFA – to get the FHFA to enforce "Duty to Serve" manufactured housing?
Or why hasn't MHI sued FHA to get them to remove the harmful 10/10 rule and other barriers that limit Title I lending?
Or why hasn't MHI sued to get HUD to routinely enforce the Manufactured Housing Improvement Act (MHIA) of 2000 and its so-called "enhanced preemption" and other valuable provisions?
Properly examined, MHI's own email is like a road map for over a decade of their own posturing and failures. See the related reports below for more.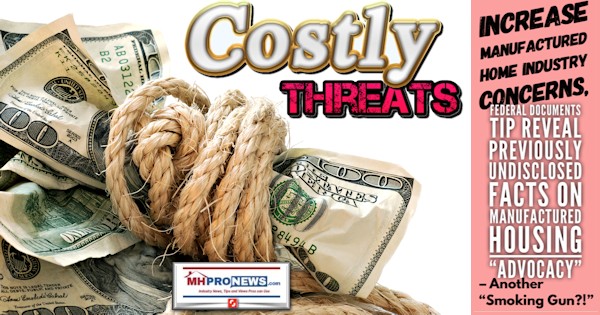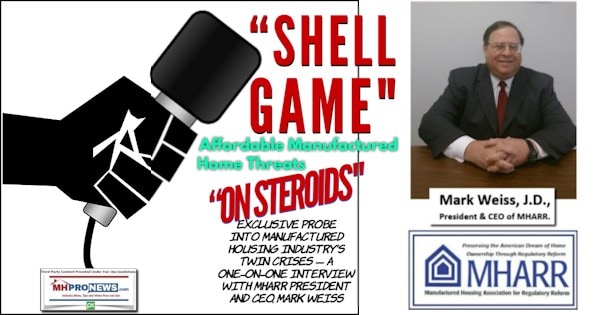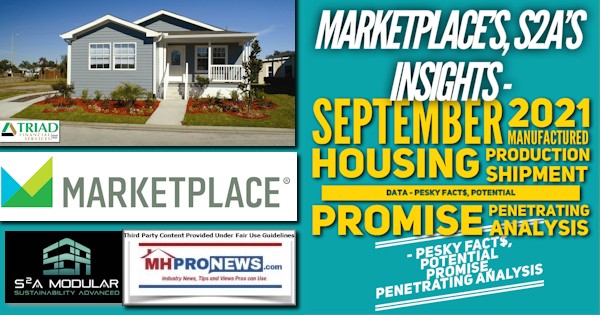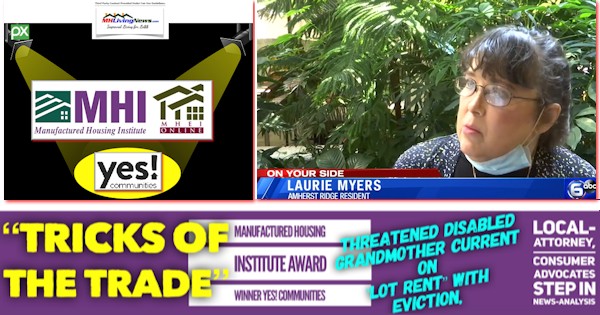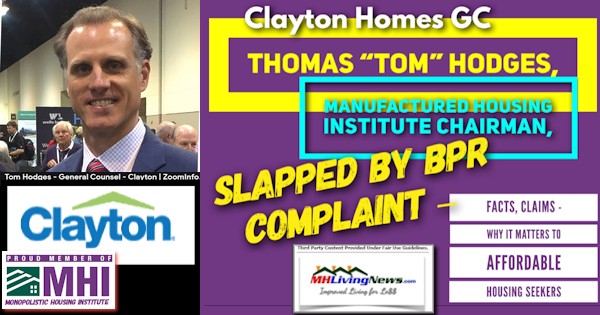 Last but not least, MHI doesn't mention that hundreds of form letters have little impact on the regulatory process. Rather, what they are is an apparent social glue that makes MHI look good as if it is doing something, when it is not doing the most important things, such as threatening or engaging in legal action, as nonprofits and/or states have done.
MHI's hilarious, if it where not so tragic, emails reveal just how apparently duplicitous and feckless the group is. But those who benefit, the consolidators, are smiling all the way to the bank. MHProNews has been warning industry members about that pattern for years.
Next up is our business daily recap of yesterday evening's market report, related left-right headlines, and manufactured housing connected equities.
The Business Daily Manufactured Home Industry Connected Stock Market Updates.  Plus, Market Moving Left (CNN) – Right (Newsmax) Headlines Snapshot. While the layout of this daily business report has been evolving over time, several elements of the basic concepts used previously are still the same. For instance. The headlines that follow below can be reviewed at a glance to save time while providing insights across the left-right media divide. Additionally, those headlines often provide clues as to possible 'market-moving' news items.
Market Indicator Closing Summaries – Yahoo Finance Closing Tickers on MHProNews…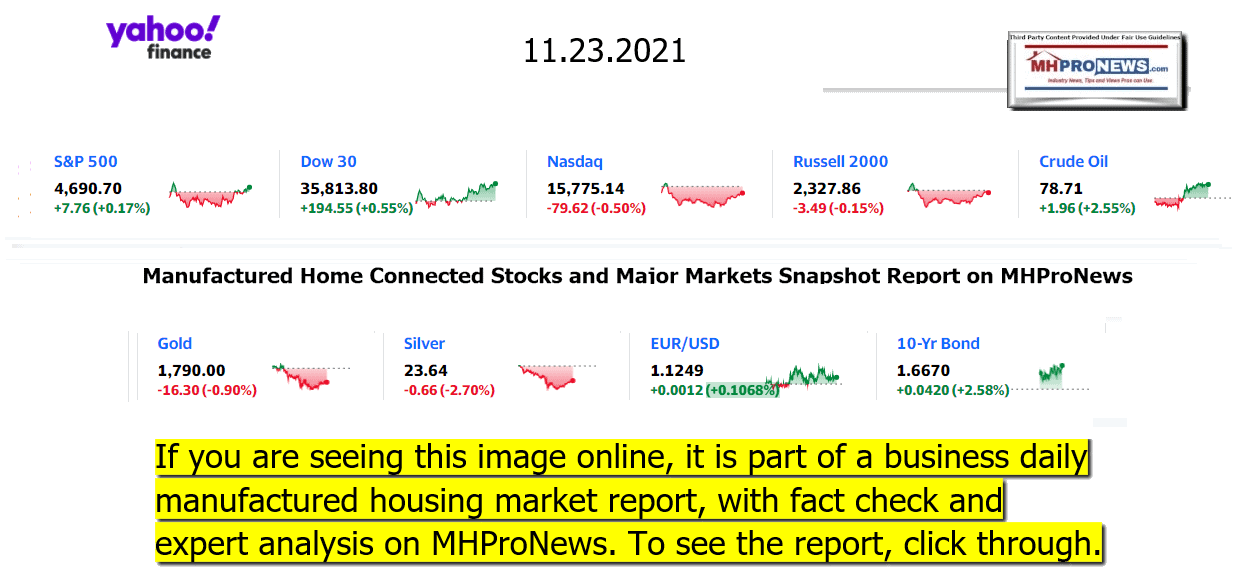 Headlines from left-of-center CNN Business – from the evening of 11.23.2021
Battling high oil prices
Oil production units working in Gaoyou Hubian oilfield, Yangzhou City, Jiangsu Province, China, September 17, 2021. Yangzhou's mineral resources mainly include oil, natural gas and mineral water with good quality and large reserves. Large and medium-sized oil fields with reserves of nearly 10 million tons have been developed.
These countries are joining the US to tap their emergency crude reserves
Holiday travel is always a nightmare, but this year will be worse
Best Buy CEO: Jump in theft is traumatizing staff
Breakfast is going to be more expensive next year
Dollar Tree hikes prices 25%. Everything will now cost $1.25
Not just the supply chain: Going green is hiking prices, too
Why Jay Powell's second Fed term could be even tougher than his first
LIVE UPDATES Elizabeth Holmes takes the stand for third day of testimony
Here's why gas is so cheap at Costco and Walmart
Jeff Bezos' rocket company, Blue Origin, to send Good Morning America host to edge of space
Target says it will never open on Thanksgiving again
Rivian shares plunge after saying it won't work with Ford on EVs
How to avoid the world's second biggest economy in your portfolio
Tiffany is selling its most expensive piece of jewelry ever
Grocery store shelf with cans of Ocean Spray brand Jellied Cranberry Sauce in Alameda, California in November 2020.
Why are cranberry sauce labels upside-down? Science
A employee walks down an aisle at a Home Depot Inc. store in Chicago, Illinois, U.S., on Monday, Nov. 23, 2020.
Stores are closing on Thanksgiving, but thousands of retail staff are still working
A handwritten sign explains reduced hours at a Starbucks Cofee cafe in Lafayette, California due to staffing shortages, October 22, 2021.
Thousands of restaurants are open, but you're not allowed inside
REAL ESTATE
This April 13, 2019, file photo, shows rows of homes, in suburban Salt Lake City. With prices surging worldwide for heating oil, natural gas and other fuels, the U.S. government said Wednesday, Oct. 13, 2021, it expects households to see jumps of up to 54% for their heating bills compared to last winter.
These companies buy homes instantly. What that means for the market
US home sales on track for the best year since 2006
These zip codes have median home prices over $4 million
Manhattan rents climb to pre-pandemic levels
High home prices may push some loan limits to $1 million
RETAIL
The CVS logo is displayed outside a CVS store on November 18, 2021 in Los Angeles, California. CVS Health is closing 900 stores nationwide over the next three years in response to 'changing buying patterns' while employees whose stores close will be offered employment at nearby locations.
CVS had every advantage, but it lost the pandemic. Here's what happened
What supply chain crisis? Walmart is doing just fine
Macy's stock is roaring back to life
TJ Maxx is raising prices on some upscale brands
Nearly half of Victoria's Secret's holiday products have been stuck at ports or in transit
Headlines from right-of-center Newsmax – evening of 11.23.2021
Oil Rises 3% to One-Week High After Biden Taps Emergency Reserves
A gas pump at a Mobil gas station shows a cash price of $4.33 a gallon for 87 octane gasoline in New York City last week. (Sipa via AP Images)
Newsmax TV
Murphy: Biden Controlled in a 'Puppeteer Presidency' | video
Brooks: WH Has 'No Concept' of How Free Enterprise Works | video
Walberg: Spending Bill a 'Boondoggle,' Doesn't Deliver | video
Fitzgerald: Parade Deaths Point to Need for Bail Reform | video
Gohmert: 'I Will Be Running for the Texas Attorney General's Job' | video
Donalds: Build Back Better Bill 'Chock Full of Payback' | video
Blackburn: Mainstream Media in 'Cahoots' With Biden, Administration | video
More Newsmax TV
Newsfront
Lawyer: Brian Laundrie Fatally Shot Self in Head
An attorney for the family of Brian Laundrie said Tuesday that he fatally shot himself in the head.Laundrie had been the subject of a manhunt for more than a month as investigators searched for clues in the slaying of his girlfriend, Gabby Petito, during their cross-country…… [Full Story]
Jury Awards $25M in Damages for Unite the Right Violence
A jury ordered white nationalist leaders and organizations to pay [Full Story]
Oil Rises 3 Percent to One-Week High After US Taps Emergency Reserves
Oil prices rose to a one-week high on Tuesday after a move by the [Full Story]
Jury Holds Pharmacies Responsible in Opioid Crisis Trial
Three retail pharmacy chains recklessly distributed massive amounts [Full Story]
House Panel Probing Capitol Riot Subpoenas Leaders of Proud Boys, Oath Keepers
The House of Representatives committee probing the deadly Jan. 6 riot [Full Story]
Texas Takes Border Crisis Into Own Hands Via Operation Lone Star
Frustrated by the Biden administration's refusal to secure the [Full Story] | Platinum Article
Scott Gottlieb: 'A Lot of Breakthrough Infections Happening'
Former Food and Drug Administration Commissioner Scott Gottlieb said [Full Story]
Rittenhouse Trial Coverage Had 'Very One-Sided Approach'
Long before a jury of his peers acquitted Kyle Rittenhouse on all [Full Story] | Platinum Article
NYC Mayor-Elect Considers Goldman CFO for Key Economic Position
New York City Mayor-elect Eric Adams is considering giving Goldman [Full Story]
Biden Admin Considering Sending Weapons, Military Advisers to Ukraine: Report
The Biden administration is considering sending military advisers and [Full Story]
Scientist: Earth Will Develop Rings Like Saturn
Earth will eventually develop rings composedof space junk, according [Full Story]
Matthew McConaughey on Texas: 'I Will Let You Know Shortly'
Matthew McConaughey told The Hollywood Reporter in an interview [Full Story]
US Release of Oil From Reserves May Set Up Showdown With OPEC
The Biden administration's release of 50 million barrels of crude [Full Story]
Survey: Most Like 1-Day Black Friday Shopping Over Monthlong Sales Deals
Survey: Most Like 1-Day Black Friday Shopping Over Monthlong Sales Deals
Retailers have transformed a Black Friday one-day deal into a [Full Story]
Apple Files Lawsuit Against Israeli Spyware Maker NSO Group
Apple Inc. said Tuesday it has filed a lawsuit against Israeli cyber [Full Story]
Not a Dollar Anymore: Most Dollar Tree Products to Get Pricier
Dollar Tree Inc will start selling most products for $1.25 at all its [Full Story]
Scalise: Biden's Oil Plan Is a Political Gimmick
Steve Scalise says President Joe Biden's order to release 50 [Full Story]
Judge Denies Proud Boys Leader's DC Jail Release
A request that Proud Boys leader Henry "Enrique" Tarrio be released [Full Story]
Ron Johnson: Left's Policies Led to Parade Attack
Democrats' policies on criminal justice and the bond process "almost [Full Story]
Trump-Backed Arizona Governor GOP Primary Contender Leads in New Poll
A former TV news anchor endorsed by former President Donald Trump in [Full Story]
'QAnon Shaman' Original Lawyer Denies Client Hired New Attorneys to Seek Appeal
"QAnon Shaman" Jacob Chansley, who was sentenced last week to 41 [Full Story]
Education Dept Wants to Stop Sex Crime Data Reporting
Education Dept Wants to Stop Sex Crime Data Reporting
The Department of Education (DOE) is looking to end the effort to [Full Story]
Texas Poll: More Back Gov. Abbott on Border Than Biden
More Texans support GOP Gov. Greg Abbott's border policies than those [Full Story]
Fauci Unsure If 4th COVID-19 Booster Shot Needed
National Institute of Allergy and Infectious Diseases Director [Full Story]
3 Held After Smash-and-Grab Theft at LA Luxury Mall
A group of thieves smashed windows at department store at a luxury [Full Story]
Washington DC Homicides Spike to Highest Level Since 2003
Washington, D.C., recorded the 200th homicide of this year on Monday, [Full Story]
Senate GOP Builds Fundraising Edge on Democrats; House Coffers About Even
Senate Republicans are compiling a cash advantage over Democrats [Full Story]
Blue Origin to Launch 'GMA' Co-anchor Michael Strahan Into Space
"Good Morning America" co-anchor Michael Strahan will be flying into [Full Story]
Biden Admin Asks Court to Immediately Lift Stay on COVID Vaccine Mandate
The U.S. government asked a federal appeals court to immediately lift [Full Story]
Fitzgerald to Newsmax: Parade Deaths Point to Need for Bail Reform
Details emerging about the suspect accused of running over people in [Full Story] | video
Polls Show Biden's Reelection Plans Face Uphill Climb
President Joe Biden will have a difficult time getting reelected, [Full Story]
More Newsfront
Finance
Biden Taps Powell for Second Term as Fed Chair; Brainard to be Vice Chair
Federal Reserve Chair Jerome Powell was nominated for a second four-year term by President Joe Biden on Monday, extending a tenure that began somewhat by chance, and survived blistering criticism from former President Donald Trump…. [Full Story]
Stocks Are Mixed, Oil Prices Rise Despite Release of Crude
Biden Says Gas Prices Will Drop after Release of Strategic Reserves
Grammy Facts: Blurred Genre Lines and a Retiree Revolution
6 Things Investors Should Be Thankful For This Year
More Finance
Health
COVID Cases, Hospitalizations on the Rise Just Before Thanksgiving
Federal health officials are imploring Americans to get vaccinated as coronavirus cases and hospitalizations start to climb just ahead of the holidays. There's been an 18% increase in the United States' seven-day average of reported coronavirus infections, and a 6% increase…… [Full Story]
Housework Linked to Better Balance and Memory in Older Adults
Study: Non-Opioid Painkillers An Effective Option After Knee Surgery
Animal Study Finds Vaccine Against Lyme Disease Effective
Study: Vaping Could Weaken Your Bones</li
Manufactured Housing Industry Investments Connected Equities Closing TickersSome of these firms invest in manufactured housing, or are otherwise connected, but may do other forms of investing or business activities too.

NOTE: The chart below includes the Canadian stock, ECN, which purchased Triad Financial Services, a manufactured home industry lender
NOTE: Drew changed its name and trading symbol at the end of 2016 to Lippert (LCII).
NOTE: Deer Valley was largely taken private, say company insiders in a message to MHProNews on 12.15.2020, but there are still some outstanding shares of  the stock from the days when it was a publicly traded firm.  Thus, there is still periodic activity on DVLY.

https://www.manufacturedhomepronews.com/masthead/cavco-industries-the-devil-is-in-the-details-latest-earning-call-facts-insights-legal-market-and-other-analysis-others-missed/

https://www.manufacturedhomepronews.com/legacy-housing-vs-clayton-homes-cavco-industries-skyline-champion-manufactured-housing-institute-facts-and-high-noon-analysis-commentary/

https://www.manufacturedhomepronews.com/benzinga-reveals-insider-trading-by-skyline-champion-executives-sell-sell-sell-mhi-tipster-is-cavco-like-sec-probe-of-sky-leaders-ahead-plus-manufactured-housing-market-updates/

Note: depending on your browser or device, many images in this report can be clicked to expand. Click the image and follow the prompts

https://www.manufacturedhomepronews.com/masthead/baptist-news-spotlights-manufactured-homes-again-connection-between-wealth-gap-monopolies-affordable-housing-and-biblical-truths-facts-and-analysis-l-a-tony-kovach/

https://www.manufacturedhomepronews.com/masthead/marketplaces-s2as-insights-september-2021-manufactured-housing-production-shipment-data-pesky-fact-potential-promise-penetrating-analysis/

https://www.manufacturedhomelivingnews.com/clayton-homes-gc-thomas-tom-hodges-manufactured-housing-institute-chairman-slapped-by-bpr-complaint-facts-claims-why-it-matters-to-affordable-housing-seekers/

https://www.manufacturedhomepronews.com/masthead/project-saturn-code-name-monarch-sec-v-cavco-stegmayer-et-al-federal-suit-revelations-about-cavco-skyline-champion-other-manufactured-housing-brands-apparen/

https://www.manufacturedhomepronews.com/steve-lawler-deer-valley-corporation-dvc-otcmkts-dvly-announces-merger-plus-manufactured-home-investing-stock-updates/

https://www.manufacturedhomepronews.com/1-billion-in-acquisitions-sun-communities-sui-leasing-sales-surging-manufactured-home-stunning-rv-insights-bidens-america-sun-communities-consolidation-monopolization/

https://www.manufacturedhomepronews.com/nobility-homes-financial-position-very-strong-sales-strong-but-challenges-including-lending-and-others-examined-plus-manufactured-housing-stocks-update/

As the Summer of 2021 draws to a close…

Berkshire Hathaway is the parent company to Clayton Homes, 21st Mortgage, Vanderbilt Mortgage and other factory built housing industry suppliers.
· LCI Industries, Patrick, UFPI, and LP each are suppliers to the manufactured housing industry, among others.
· AMG, CG, and TAVFX have investments in manufactured housing related businesses. For insights from third-parties and clients about our publisher, click here.
Enjoy these 'blast from the past' comments.

MHProNews. MHProNews – previously a.k.a. MHMSM.com – has celebrated our 11th year of publishing, and is starting our 12th year of serving the industry as the runaway most-read trade media.

Sample Kudos over the years…

It is now 11+ years and counting…

Learn more about our evolutionary journey as the industry's leading trade media, at the report linked below.

· For expert manufactured housing business development or other professional services, click here.
· To sign up in seconds for our industry leading emailed headline news updates, click here.

Disclosure. MHProNews holds no positions in the stocks in this report.

https://www.manufacturedhomepronews.com/years-of-state-national-level-manufactured-housing-factual-data-find-your-states-production-shipment-info-here-troubling-manufactured-home-affordable-housing-trends-issues-and-fact-checks/

https://www.manufacturedhomepronews.com/dominating-manufactured-housings-top-50-2020-year-in-review-by-manufactured-home-professionals-news-analysis/

To get our x2 weekly industry-leading emailed news headlines, click here. http://eepurl.com/bl-9t5

We recommend that news tips NOT use company, nonprofit or organizational emails or cell phones. To report a news tip, click the image above or send an email to iReportMHNewsTips@mhmsm.com – To help us spot your message in our volume of email, please put the words NEWS TIP or COMMENTS in the subject line.

That's a wrap on this installment of "News Through the Lens of Manufactured Homes and Factory-Built Housing" © where "We Provide, You Decide." © (Affordable housing, manufactured homes, stock, investing, data, metrics, reports, fact-checks, analysis, and commentary. Third-party images or content are provided under fair use guidelines for media.) (See Related Reports, further below. Text/image boxes often are hot-linked to other reports that can be access by clicking on them.)

All on Capitol Hill were welcoming and interested. But Congressman Al Green's office was tremendous in their hospitality. Our son's hand is on a package that included a copy of the Constitution of the United States and other goodies. Tamas has grown considerably since this photo was taken. 

By L.A. "Tony" Kovach – for MHProNews.
Tony earned a journalism scholarship along with numerous awards in history. There have been several awards and honors and also recognition in manufactured housing. For example, he earned the prestigious Lottinville Award in history from the University of Oklahoma, where he studied history and business management. He's a managing member and co-founder of LifeStyle Factory Homes, LLC, the parent company to MHProNews, and MHLivingNews.com. This article reflects the LLC's and/or the writer's position, and may or may not reflect the views of sponsors or supporters.

>