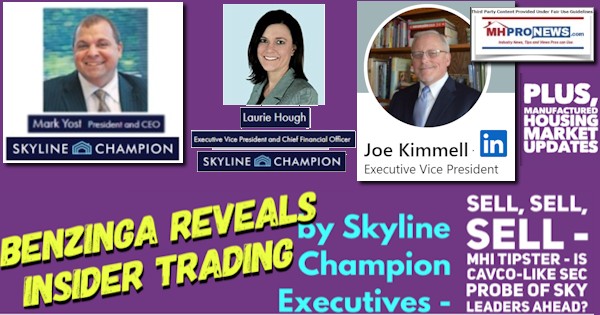 In a report on financial news publisher Benzinga on Friday, November 12, 2021, they reported on a Form 4 Securities and Exchange Commission Form 4 filing by Skyline Champion (SKY) Executive Vice President Joseph Kimmell. Per Benzinga, this is only the latest of a steady stream of trades by corporate insiders that are shown below. Those trades shown are all sell, sell, sell going back to January 2020, and before.
Benzinga said:
"What Happened: A Form 4 filing from the U.S. Securities and Exchange Commission states that Joseph Kimmell exercised options to purchase 8,031 Skyline Champion shares at a price of $32.11 per share for a total of $257,875 on November 9. They then sold their shares on the same day in the open market. They sold at a price of $76.59 to raise a total of $615,094 from the stock sale.
Following the transaction, Kimmell still owns 27,714 shares of the company, worth $2,078,550."
What's dubbed by that publication as an artificial intelligence generated article reviewed by a human noted said the following.
"Why Insider Transactions Are Important
Insider transactions shouldn't be used primarily to make an investing decision, however an insider transaction can be an important factor in the investing decision.
In legal terms, an "insider" refers to any shareholder who owns at least 10% of a company. This can include executives in the c-suite and large hedge funds. These insiders are required to let the public know of their transactions via a Form 4 filing, which must be filed within two business days of the transaction.
When a company insider makes a new purchase, that is an indication that they expect the stock to rise.
Insider sells, on the other hand, can be made for a variety of reasons, and may not necessarily mean that the seller thinks the stock will go down."
Other insider trades in 2020 and 2021, per Benzinga, are as shown.
Skyline Champion Corp
Ticker
Company Name
Insider Names
Title
Qty.
Price
Size ($)
Filing Date
Type
Δ Own
Own
Trade Dates
+

1

SKY
Skyline Champion Corp
Joseph Kimmell
EVP
0
$54.35
$357.22K
Nov 12, 2021
SELL-OPTIONS
0.00%
27.71K
Nov 9
+

2

SKY
Skyline Champion Corp
Wade Jonathan Lyall
EVP
-21.20K
$72.90
$1.55M
Nov 8, 2021
SELL
-54.14%
17.95K
Nov 5
+

3

SKY
Skyline Champion Corp
Joseph Kimmell
EVP
-6.00K
$62.22
$373.32K
Aug 31, 2021
SELL
-17.80%
27.71K
Aug 27
+

4

SKY
Skyline Champion Corp
Timothy Burkhardt
VP & CONTROLLER
-7.36K
$63.01
$463.88K
Aug 11, 2021
SELL
-22.29%
25.67K
Aug 10
+

5

SKY
Skyline Champion Corp
Keith Anderson
DIRECTOR
-29.72K
$60.52
$1.8M
Aug 11, 2021
SELL
-10.35%
257.4K
Aug 9
+

6

SKY
Skyline Champion Corp
Laurie Hough
EVP, CFO, TREASURER
-13.31K
$53.89
$717.2K
Jun 29, 2021
SELL
-16.06%
69.55K
Jun 28 – Jun 29
+

7

SKY
Skyline Champion Corp
Laurie Hough
EVP, CFO, TREASURER
-6.69K
$53.89
$360.58K
Jun 9, 2021
SELL
-7.47%
82.85K
Jun 7
+

8

SKY
Skyline Champion Corp
Laurie Hough
EVP, CFO, TREASURER
-60.00K
$50.13
$3.01M
May 27, 2021
SELL
-40.12%
89.55K
May 26
+

9

SKY
Skyline Champion Corp
Keith Anderson
DIRECTOR
-121.95K
$48.78
$5.95M
May 27, 2021
SELL
-27.36%
323.83K
May 26
+

10

SKY
Skyline Champion Corp
Keith Anderson
DIRECTOR
-128.05K
$47.03
$6.02M
Apr 7, 2021
SELL
-22.32%
445.78K
Apr 5 – Apr 6
+

11

SKY
Skyline Champion Corp
Laurie Hough
EVP, CFO, TREASURER
-11.92K
$45.01
$536.61K
Mar 18, 2021
SELL
-7.38%
149.54K
Mar 17
+

12

SKY
Skyline Champion Corp
Mark Yost
CEO & PRESIDENT
-70.42K
$45.59
$3.21M
Mar 15, 2021
SELL
-16.67%
352.04K
Mar 11
+

13

SKY
Skyline Champion Corp
Mak Capital One Llc,…
DIRECTOR
-368.56K
$43.85
$16.16M
Mar 5, 2021
SELL
-10.94%
3M
Mar 3 – Mar 5
+

14

SKY
Skyline Champion Corp
Keith Anderson
DIRECTOR
-110.00K
$34.32
$3.77M
Jan 14, 2020
SELL
-15.93%
580.62K
Jan 10 – Jan 13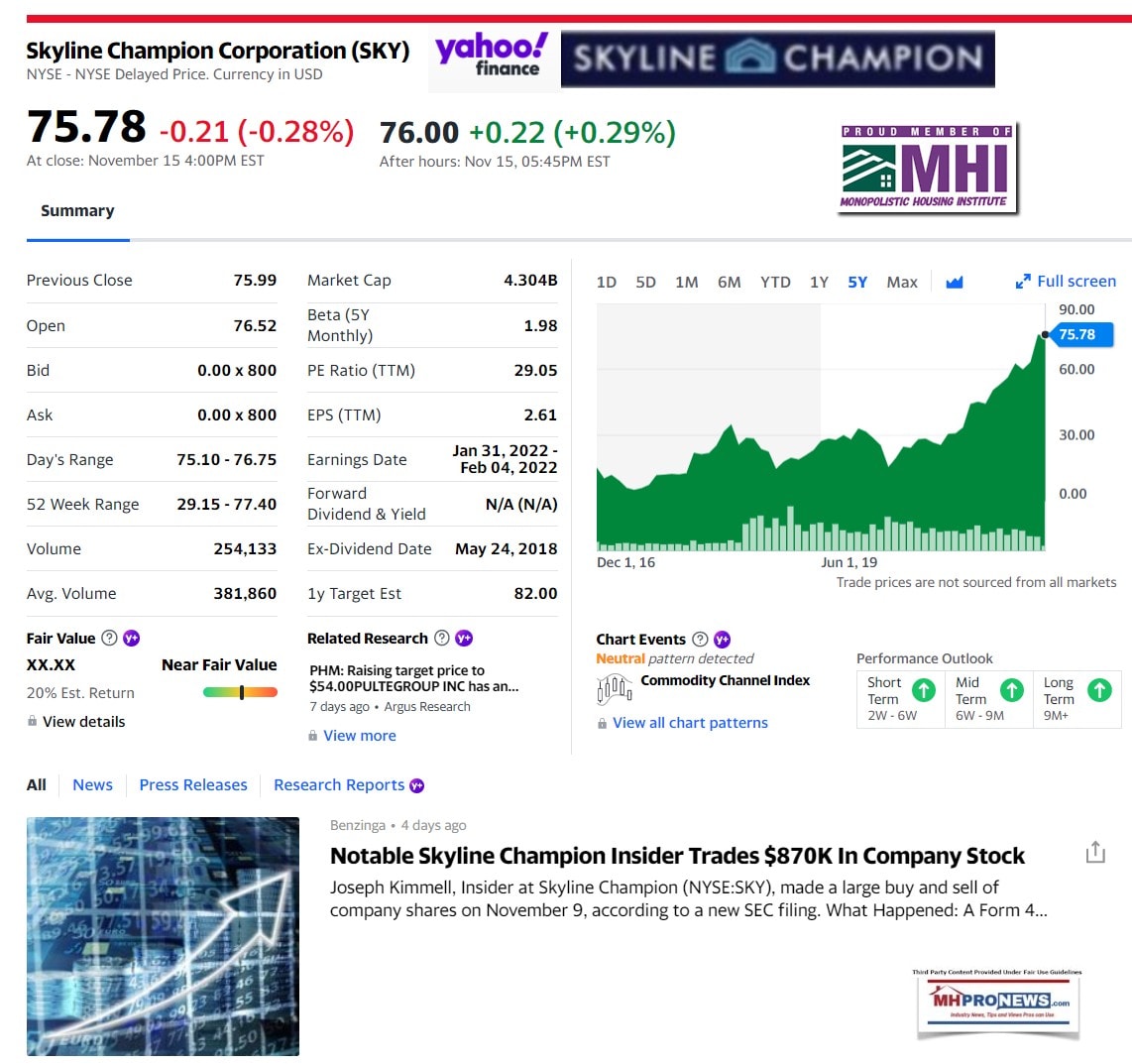 Additional Information, More MHProNews Analysis and Commentary
While it is true that lawful and reported insider trades may not reveal a problem, this long pattern of sell, sell, sell should be a cautionary note for several reasons.
Among the possible concerns are the following.
Per a source at the Manufactured Housing Institute (MHI) to MHProNews, in the wake of the SEC probe of Cavco Industries, that professional was "surprised" that the SEC has not (yet) made a similar probe of Skyline Champion (SKY). Time may tell if this is an apt insight or not. See the report below to better understand the concern that tipster has raised.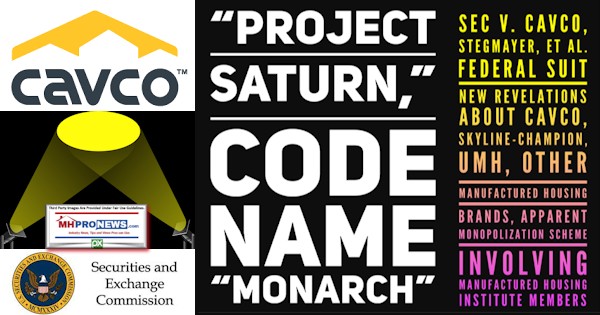 That noted, that same MHI-connected source correctly predicted to MHProNews months before the SEC pleadings against Cavco were filed what the core of the SEC case would be. That MHI source proved to be correct. While that is no guarantee that they are correct about Skyline Champion swimming in those same questionable waters as Cavco, being correct in the prediction of the above only helps their contention that SKY has could or has crossed the line too.
Additionally, Skyline Champion has in various ways 'doubled down' on support for MHI and MHI's policies. For instance.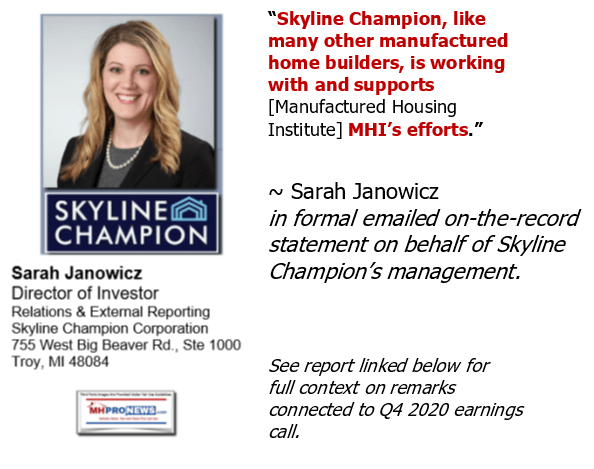 That support of MHI by Skyline Champion leadership is despite obvious disconnects between MHI's stated positions and MHI's actions with respect to those stated positions. That only emphasizes the concerns that MHI is paltering and posturing in order to keep industry independents 'on board.' Three stark examples have been spotlighted recently.  They are explored in the three reports and analysis linked below.  For example. While Tiny House Hands Up (THHU) and the Institute of Justice (IJ) are suing the town of Calhoun, GA, MHI has been silent and hands-off per local sources in Ayden, NC or other prior examples like it in recent years spotlighted by MHProNews. MHI claims it wants more lending, but didn't as much as sign onto a letter to the FHFA to press the Government Sponsored Enterprises (GSEs) of Fannie Mae and Freddie Mac that might yield more competitive lending. Some of MHI's own members are on that letter, see that report too. Then, on the looming and reportedly costly hikes that would arise from the Department of Energy (DOE) rule implementation being considered, MHI (as in the other examples) seems to say the right things, often similar to what the Manufactured Housing Association for Regulatory Reform (MHARR) has said. That noted, a document tip obtained from the DOE reveals that MHI was doing something quietly behind the scenes that contradicts their own public claims. Put differently, the third linked report below reveals paltering, 'forked tongue,' and 'two faced' behavior.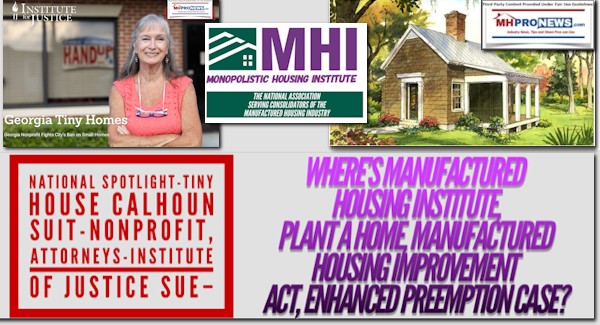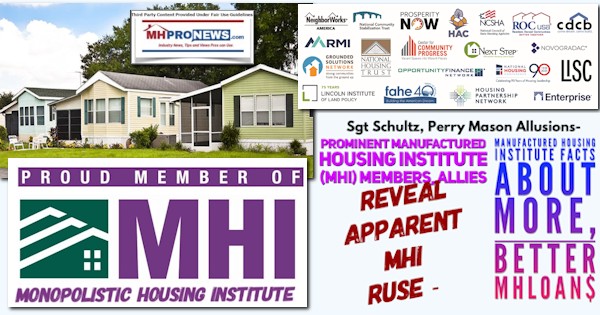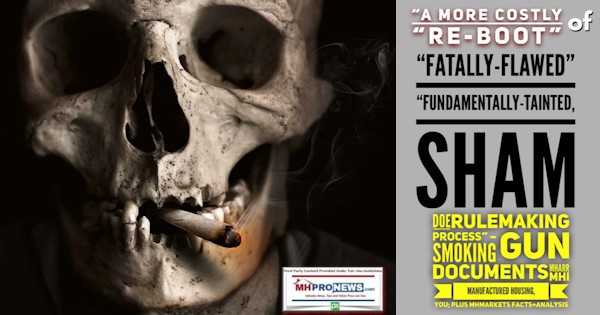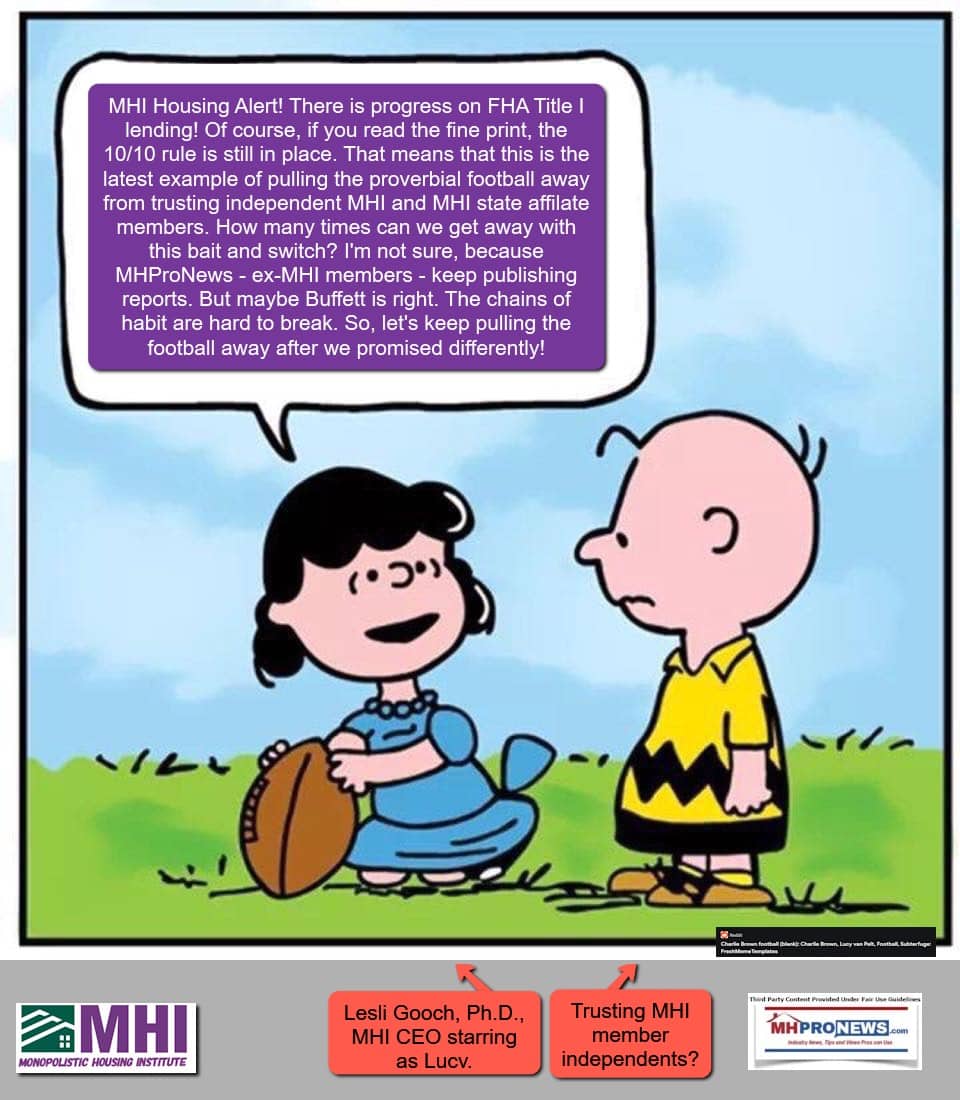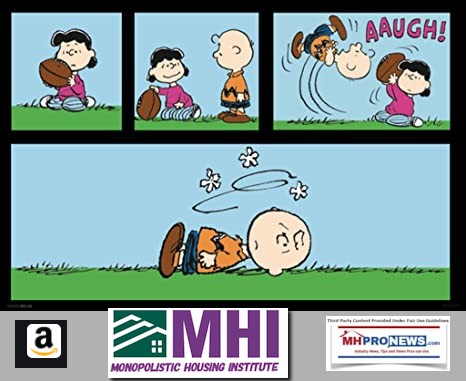 Note that by MHI posturing efforts without actually intending to accomplish them, allows MHI's dominating consolidators opportunities to engage in social settings with possible targets of acquisition.  That notion was presented as a tip in 2020, but it has since been confirmed several times by corporate statements since. Meaning, MHI's own members undercut their formal statements. But why does this put Skyline, Cavco, or Clayton Homes into a potentially awkward spot? Why might that cause the sale of stock by corporate insiders?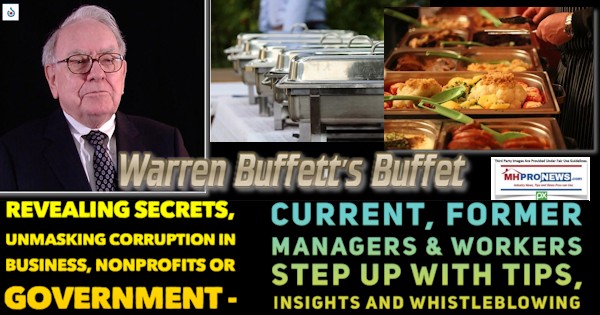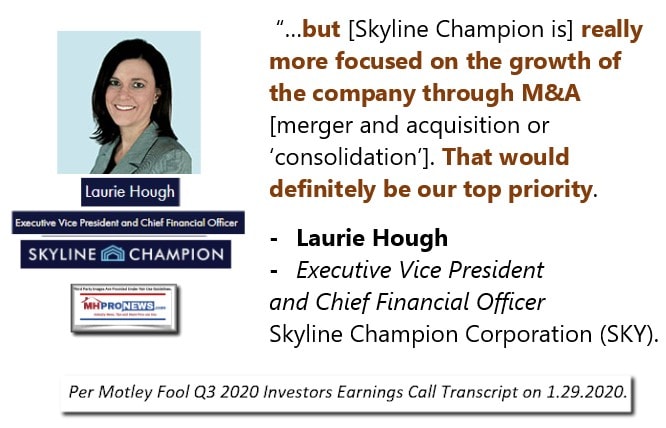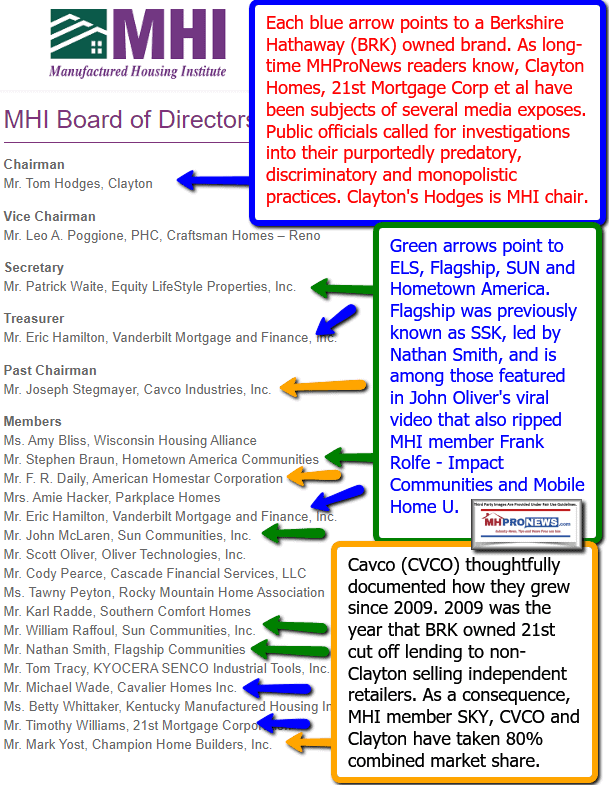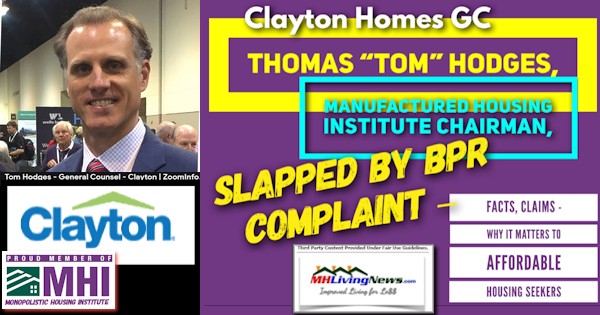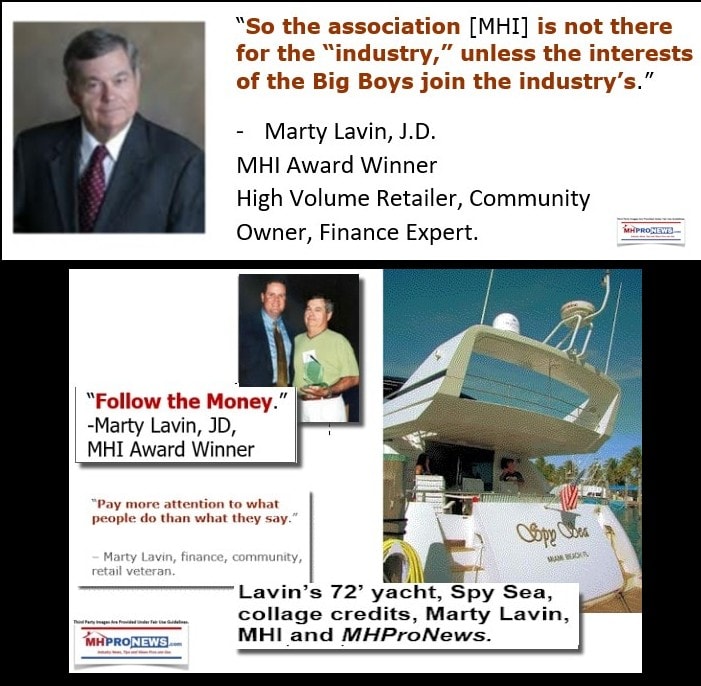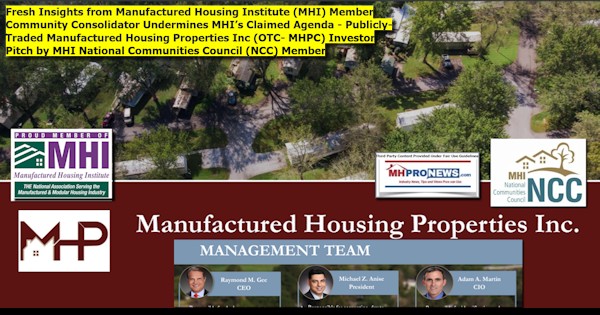 The answer is simple and sobering. At some point, the smoldering and growing pile of MHI and their big boy connected BS may hit the fan in a more public way beyond the realms of this publication. If and when that does, certain stocks may drop. As was the case of Cavco, shareholder litigation may rise. So, there can be innocent reasons for such sales. But there may be other reasons that point to what is lurking behind the curtain.
For all such insights, there is no place else in all of manufactured housing trade media to get the facts, evidence, common sense analysis and commentary that is found on MHProNews and our MHLivingNews sister site. Stay tuned… ##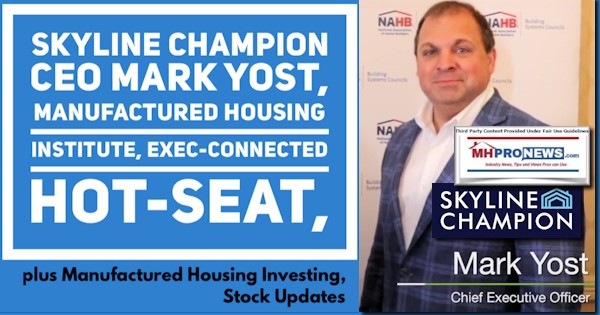 Next up is our business daily recap of yesterday evening's market report, related left-right headlines, and manufactured housing connected equities.
The Business Daily Manufactured Home Industry Connected Stock Market Updates.  Plus, Market Moving Left (CNN) – Right (Newsmax) Headlines Snapshot. While the layout of this daily business report has been evolving over time, several elements of the basic concepts used previously are still the same. For instance. The headlines that follow below can be reviewed at a glance to save time while providing insights across the left-right media divide. Additionally, those headlines often provide clues as to possible 'market-moving' news items.
Market Indicator Closing Summaries – Yahoo Finance Closing Tickers on MHProNews…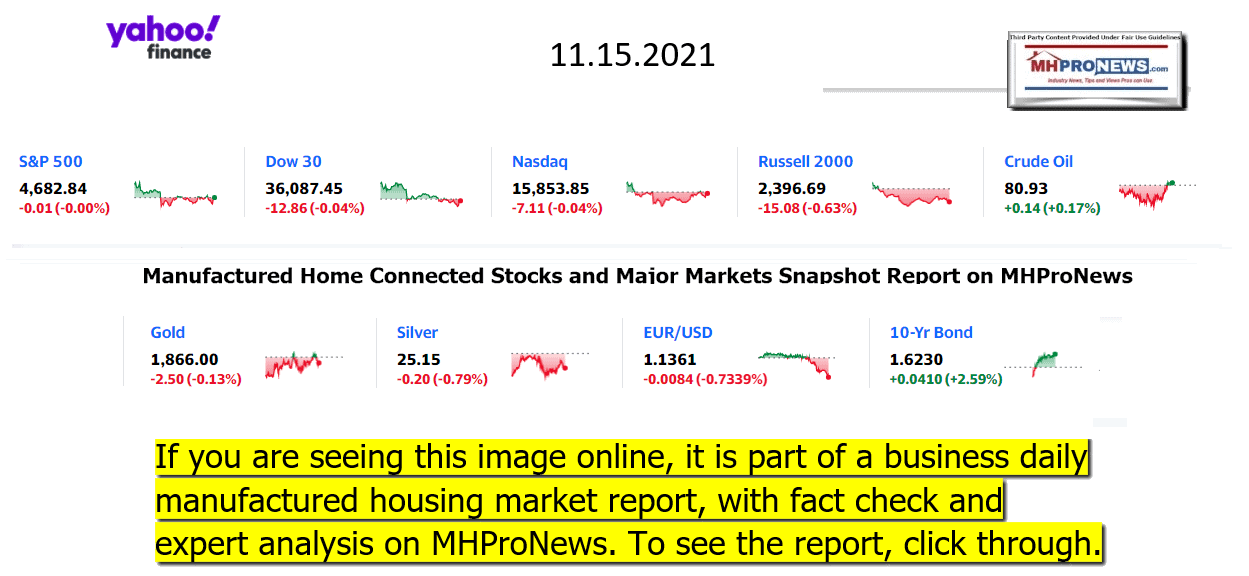 Headlines from left-of-center CNN Business – from the evening of 11.15.2021
Doing the unthinkable
Jane Fraser, chief executive officer for Latin American at Citigroup Inc., speaks during the Milken Institute Global Conference in Beverly Hills, California, U.S., on Monday, April 29, 2019. The conference brings together leaders in business, government, technology, philanthropy, academia, and the media to discuss actionable and collaborative solutions to some of the most important questions of our time.
Citi's Jane Fraser made unheard of decisions on Wall Street weeks into her role as CEO
Lucid Air named MotorTrend Car of the Year
Wall Street can't decide what 2022 will hold
California just set a new gas price record
The biggest risk companies face that everyone forgets
Unemployment rate could match 50-year low by end of 2022
Xi and Biden are meeting. There's a lot at stake for their economies
Casper is being taken private again, just two years after its splashy IPO
What will your raise look like in 2022? There's good news and bad news
Elon Musk wouldn't be the richest person in the world without US taxpayers
Grocery store CEO: How we're dealing with food shortages and higher prices
Reese's reveals its largest peanut butter cup yet
Applebee's hopes this product will be a hit among Gen-Z customers
Information disorder 'creates a chain reaction of harm,' report says
Adele notches 10 million viewers for CBS with 'One Night Only' special
This new technology can power thousands of homes
US far-right radio show Alex Jones speaks to supporters of US President Donald Trump as they demonstrate in Washington, DC, on December 12, 2020, to protest the 2020 election.
Sandy Hook families win legal victory against Alex Jones in defamation case
Fisher Island aerial view, Miami.
America's 10 most expensive zip codes have median home prices over $4 million
Tech gadgets will be nearly impossible to find this holiday season
BREAKING UP
COLOGNE, GERMANY – AUGUST 12: Johnson & Johnson photographed on August 12, 2021 in Cologne, Germany. (Photo by Jeremy Moeller/Getty Images)
Why giant companies are suddenly splitting into pieces
Johnson & Johnson is splitting up
Toshiba plans to break into three firms
GE is splitting into three companies
GE changed our lives. What went wrong?
ON THE ROAD
The Acura Integra smashes the nostalgia button
The Rivian R1T starts the electric pickup races
See the first new Range Rover in a decade
GM unveils 670 horsepower Corvette Z06
The Ford Mustang Mach-E GT amps up the power in the company's electric lineup
Headlines from right-of-center Newsmax – evening of 11.15.2021
Bannon Excoriates Biden After Court Appearance: 'They Took On the Wrong Guy'
Steve Bannon gives a statement before his court appearance on Monday. He had more to say after. (Getty)
"I'm telling you right now, this is going to be the misdemeanor from hell for Merrick Garland, Nancy Pelosi and Joe Biden," Bannon said…"… And we're going to go on the offense. We're tired of playing defense." [Full Story]
Newsmax TV
Meuser: Infrastructure, Spending Bills Equals 'Disaster' | video
Burchett: Pro-Infrastructure GOP Lawmakers Will Skip Signing | video
AG Landry: Looking for Permanent Stay on Mandate | video
Mark Meadows: Dems Desperate to Keep Focus on Jan. 6 | video
Dershowitz: Liberal Media, Not Rittenhouse, Guilty of 'Vigilante Justice' | video
Jordan: Americans Will Return GOP to Power
Waltz: Our Foes 'Smell Weakness' in WH | video
More Newsmax TV
Newsfront
GOP Bill Aims to Decriminalize Marijuana
A new bill introduced Monday by Rep. Nancy Mace, R-S.C., would federally decriminalize and tax marijuana, an alternative to Democratic proposals to legalize the drug…. [Full Story]
NASA Not Expected to Send Crew to Moon Until 2026 or Later: Watchdog
A U.S. government watchdog on Monday said NASA failed to accurately [Full Story]
Judge Releases Steve Bannon Without Bail on Jan. 6 Charges
Steve Bannon, a longtime ally of former President Donald Trump, was [Full Story]
Related
Former Trump Impeachment Attorney to Represent Steve Bannon
Trump Adviser Bannon Excoriates Biden After Court Appearance
Cash in Bank Accounts May Be at Risk With Biden's Latest Announcement
NATO Chief Wary of Russian Military Moves near Ukraine
NATO Secretary-General Jens Stoltenberg urged Russia on Monday to be [Full Story]
Rasmussen Poll: 64 Percent of Voters Think US on Wrong Track
Most U.S. voters believe the country is heading down the wrong track, [Full Story]
Biden's Vaccine Mandate for Businesses Turns Employees Into 'Government Informers'
If President Joe Biden's coronavirus vaccine mandate goes into effect [Full Story] | Platinum Article
Biden to Appoint Group to Supervise Infrastructure Law
President Joe Biden will appoint officials to help ensure enactment [Full Story]
Kevin McCarthy Faces Backlash After House GOP Infrastructure Defections
House Minority Leader Kevin McCarthy's command of the GOP caucus is [Full Story] | Platinum Article
Amazon's Healthcare Business Has Landed Hilton as a Key Customer
com Inc has reached a deal to sell virtual medical services to [Full Story]
Survey: Many Still Nervous About Holiday Gatherings
For Emily Litvin, this Thanksgiving is going to look different from [Full Story]
Nikki Haley Blasts Biden Ahead of Virtual Meet With China's Xi
Former U.S. Ambassador to the United Nations Nikki Haley on Monday [Full Story]
GOP Rep. Gooden Blows Whistle on Secret Ops to Move Migrants
A House Republican, tipped off by a San Diego whistleblower, has seen [Full Story]
Poll: Nearly 40 Percent Worried About Catching COVID During Holiday Season
Many Americans remain worried about contracting COVID-19 during the [Full Story]
Homeland Security Ramps Up Recruitment to Combat Cyberattacks
The Department of Homeland Security has launched a new federal [Full Story]
Patrick Leahy, Vermont Dem, Not Seeking Reelection
Patrick Leahy, D-Vt., the longest-serving member of the Senate, [Full Story]
Schumer Calls Out Biden Inaction on Gas Prices: 'We Need Immediate Relief'
Amid rising gas prices, even Democrats are concerned President Joe [Full Story]
Trump Dismisses Report McConnell Tried to Disinvite Him From Biden Inauguration
Former President Donald Trump on Monday angrily dismissed a claim [Full Story]
Infowars' Alex Jones Found Liable for Defamation in Sandy Hook 'Hoax' Case
Infowars host Alex Jones was found liable Monday for damages in [Full Story]
Report: Russian Weapons Test Created Debris in Outer Space
Russia performed a major anti-satellite weapons test that produced [Full Story]
Tech Billionaire Thiel Moving to DC Enclave of Power Players: Report
Technology billionaire Peter Thiel is reportedly moving into an [Full Story]
Defense Lawyer in Ahmaud Arbery Trial Tries to Eject Jesse Jackson
A lawyer for one of the three white men charged with murdering Ahmaud [Full Story]
Louisiana AG Landry to Newsmax: Looking for Permanent Stay on Mandate
Louisiana AG Landry to Newsmax: Looking for Permanent Stay on Mandate
A more permanent injunction against President Joe Biden's COVID-19 [Full Story] | video
Judge Dismisses Weapons Charge at Rittenhouse Murder Trial
The judge at Kyle Rittenhouse's murder trial on Monday dismissed a [Full Story]
Former Trump Impeachment Attorney to Represent Steve Bannon
David Schoen, one of former President Donald Trump's attorneys during [Full Story]
Justices Turn Away VW Appeals Over Emissions Scandal Suits
The Supreme Court on Monday turned away appeals from Volkswagen that [Full Story]
Infrastructure Bill Will Help Boost Number of Electric School Buses
The new infrastructure bill passed by Congress includes an allocation [Full Story]
Democrat Beto O'Rourke Running for Texas Governor
Democrat Beto O'Rourke is running for governor of Texas, pursuing a [Full Story]
Andrew Cuomo Might Run Again for NY Governor: Report
Disgraced former New York Gov. Andrew Cuomo likely will re-emerge on [Full Story]
Jim Jordan: Democrats' Social Spending Plan Will 'Raise Your Taxes'
House Democrats' plan to pass a $1.75 trillion social spending [Full Story]
US Journalist Freed From Myanmar Jail With Ex-diplomat's Aid
American journalist Danny Fenster, sentenced only days ago to 11 [Full Story]
Biden to Tell Xi That China Must Play by the Rules: Senior US Official
President Joe Biden will tell Chinese leader Xi Jinping at a virtual [Full Story]
More Newsfront
Finance
Infrastructure Bill Will Help Boost Number of Electric School Buses
The new infrastructure bill passed by Congress includes an allocation of $5 billion in federal funds to help localities buy brand-new battery-powered school buses. The provision represents a…… [Full Story]
GOP Bill Aims to Decriminalize Marijuana
A Complicated Relationship: Biden and Xi Prepare for Meeting
Judge Rejects Nikola Founder's Bid to Dismiss or Move Criminal Fraud Case
Maxime Croll: 5 Tips to Creatively Combat Cost-of-Living Increases in Retirement
More Finance
Health
Certain Antidepressants Appear to Curb Severe COVID-19
Certain commonly prescribed antidepressants appear to substantially lower the risk of dying among seriously ill COVID-19 patients, a large new study indicates. Selective serotonin reuptake inhibitors (SSRIs) are among the most widely prescribed drugs for the treatment of…… [Full Story]
Eat This Plant Fat And Live Longer
Less Salt, More Potassium Lowers Heart Disease Risk: Study
Your Morning Cup of Coffee Can Affect Your Heart's Rhythms
Austria Locks Down Unvaccinated as Europe Fights Fresh Wave
Manufactured Housing Industry Investments Connected Equities Closing Tickers
Some of these firms invest in manufactured housing, or are otherwise connected, but may do other forms of investing or business activities too.
NOTE: The chart below includes the Canadian stock, ECN, which purchased Triad Financial Services, a manufactured home industry lender
NOTE: Drew changed its name and trading symbol at the end of 2016 to Lippert (LCII).
NOTE: Deer Valley was largely taken private, say company insiders in a message to MHProNews on 12.15.2020, but there are still some outstanding shares of  the stock from the days when it was a publicly traded firm.  Thus, there is still periodic activity on DVLY.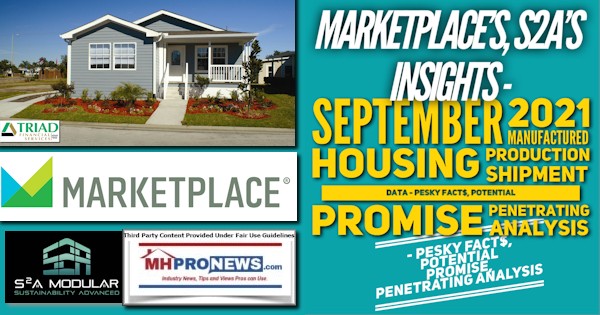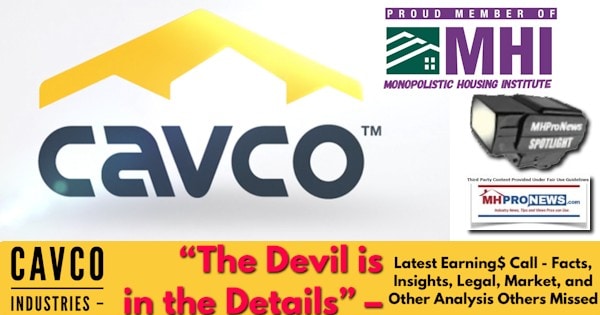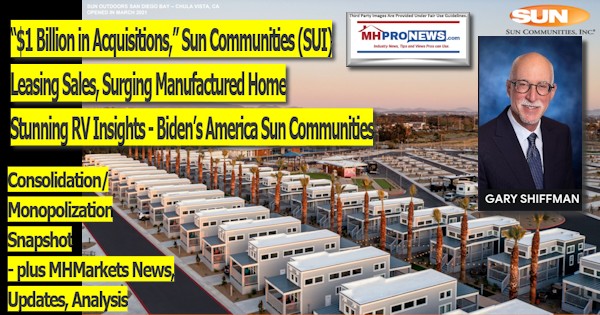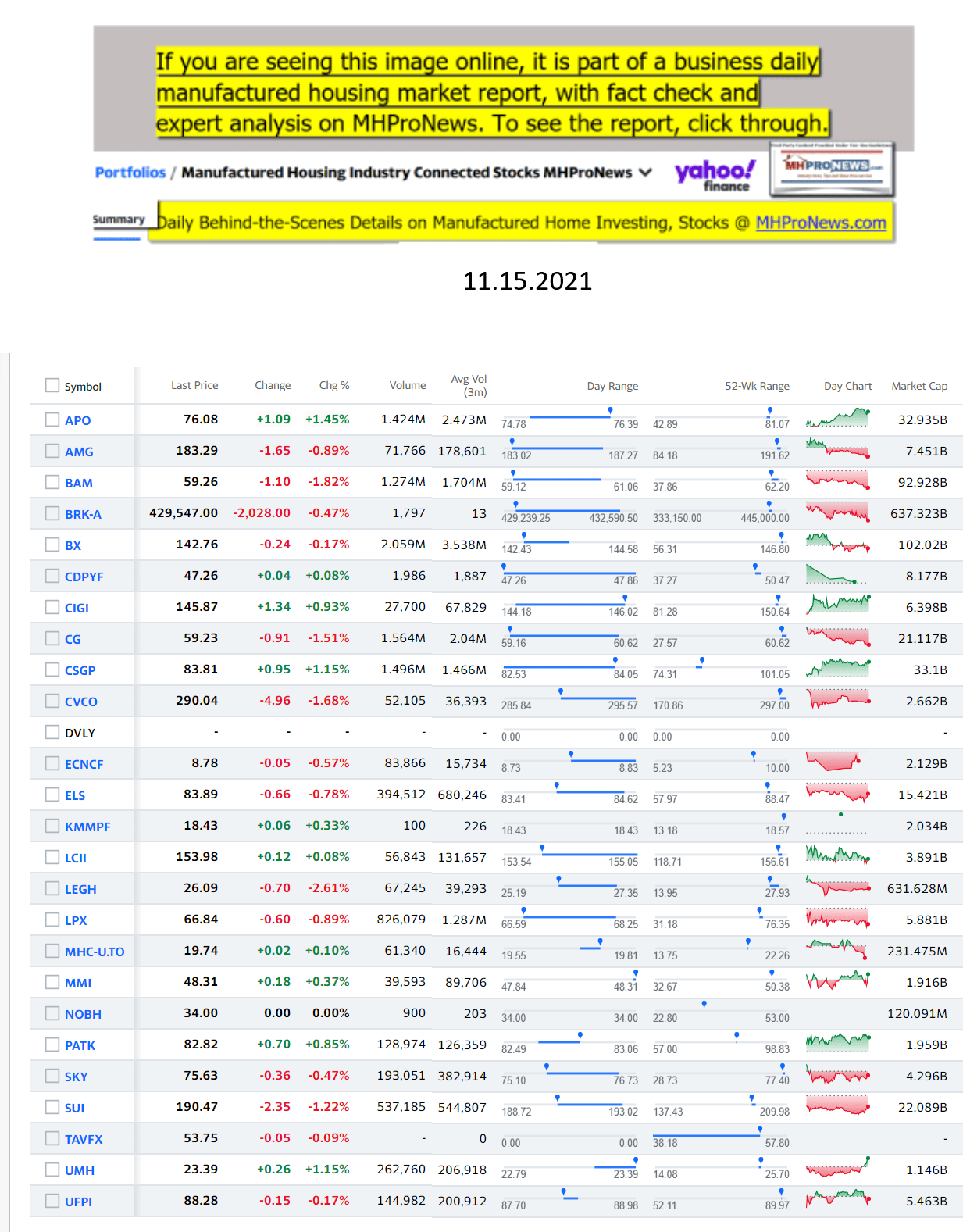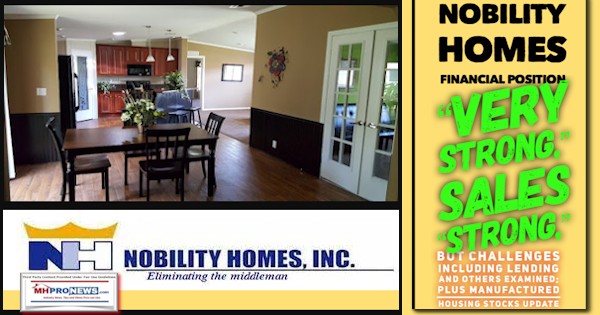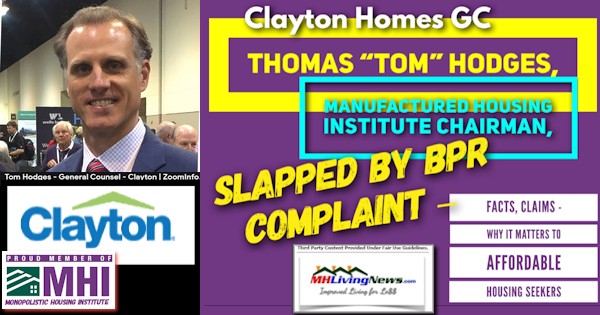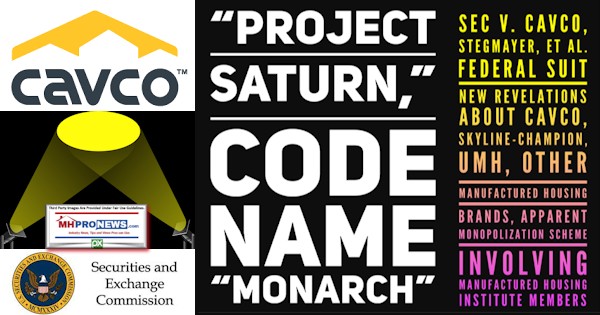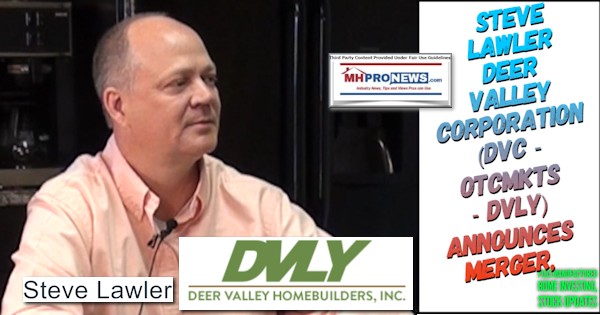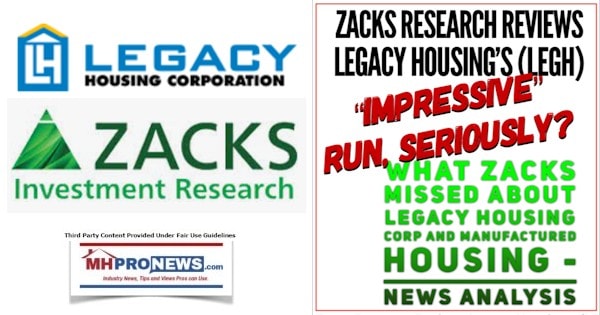 As the Summer of 2021 draws to a close…
Berkshire Hathaway is the parent company to Clayton Homes, 21st Mortgage, Vanderbilt Mortgage and other factory built housing industry suppliers.
· LCI Industries, Patrick, UFPI, and LP each are suppliers to the manufactured housing industry, among others.
· AMG, CG, and TAVFX have investments in manufactured housing related businesses. For insights from third-parties and clients about our publisher, click here.
Enjoy these 'blast from the past' comments.
MHProNews. MHProNews – previously a.k.a. MHMSM.com – has celebrated our 11th year of publishing, and is starting our 12th year of serving the industry as the runaway most-read trade media.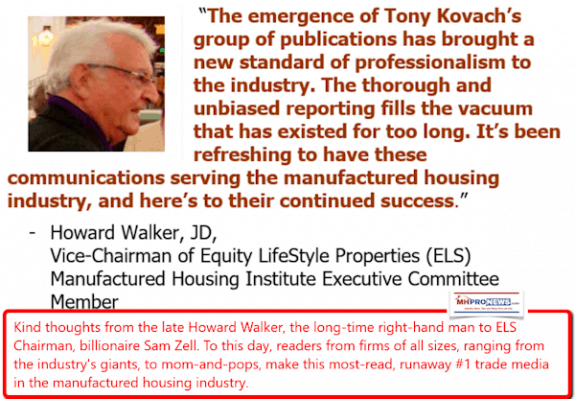 Sample Kudos over the years…
It is now 11+ years and counting…
Learn more about our evolutionary journey as the industry's leading trade media, at the report linked below.
· For expert manufactured housing business development or other professional services, click here.
· To sign up in seconds for our industry leading emailed headline news updates, click here.

Disclosure. MHProNews holds no positions in the stocks in this report.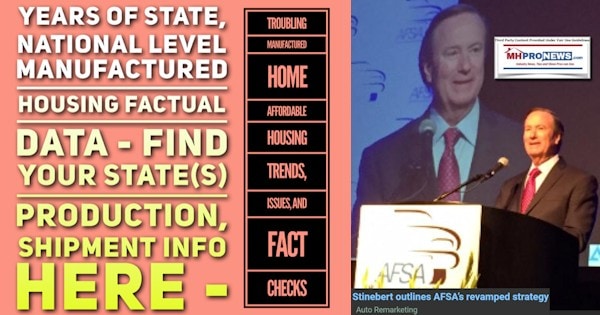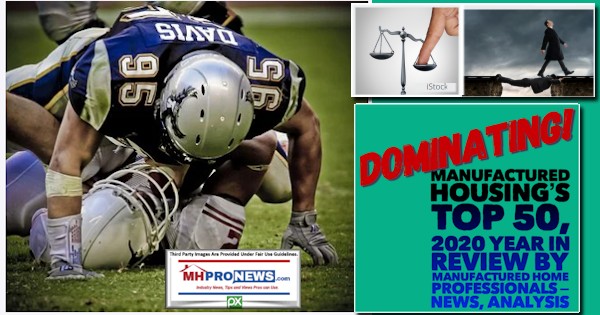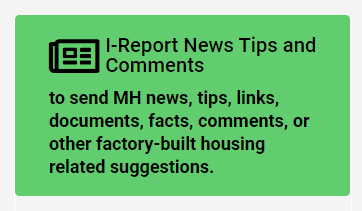 That's a wrap on this installment of "News Through the Lens of Manufactured Homes and Factory-Built Housing" © where "We Provide, You Decide." © (Affordable housing, manufactured homes, stock, investing, data, metrics, reports, fact-checks, analysis, and commentary. Third-party images or content are provided under fair use guidelines for media.) (See Related Reports, further below. Text/image boxes often are hot-linked to other reports that can be access by clicking on them.)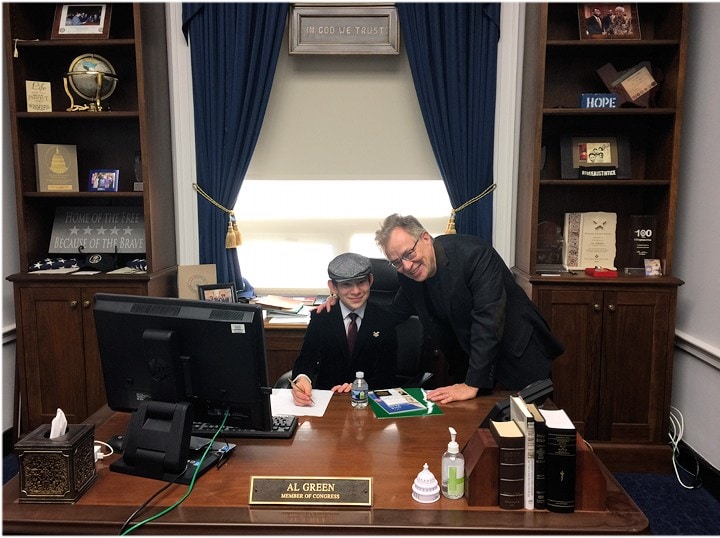 By L.A. "Tony" Kovach – for MHProNews.
Tony earned a journalism scholarship along with numerous awards in history. There have been several awards and honors and also recognition in manufactured housing. For example, he earned the prestigious Lottinville Award in history from the University of Oklahoma, where he studied history and business management. He's a managing member and co-founder of LifeStyle Factory Homes, LLC, the parent company to MHProNews, and MHLivingNews.com. This article reflects the LLC's and/or the writer's position, and may or may not reflect the views of sponsors or supporters.