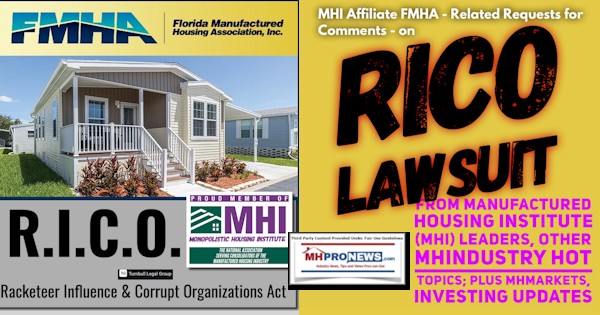 The following inquiry was sent to Manufactured Housing Institute (MHI) leaders, dozens of other industry members – including attorneys – about 3 hours ago. It is related to a case reported by the legal reporting site, Law360. It should be self-explanatory. It will be followed by additional related information, analysis, commentary and the business daily market recap and reporting on manufactured housing and macro-market investing.
from:
L. A. Tony Kovach @ MHProNews
to:
"Clayton, Kevin" @ Clayton Homes,
Tim Williams @ 21st Mortgage Corporation,
Leo Poggione @ Craftsman Homes [MHI Chairman],
Eric Hamilton @ Vanderbilt Mortgage and Finance (VMF),
Matt Webb @ 21st Mortgage,
Lesli Gooch, CEO at Manufactured Housing Institute (MHI),
"Hodges, Tom" @ General Counsel, Clayton Homes, prior MHI Chairman,
David Goch @ WC-B Law, MHI outside counsel,
John Greiner @ Graydon Law, MHI outside counsel,
cc:
info@mfghome.org
date:
Jan 25, 2022, 12:32 PM
Subject: Media Request for Comment on RICO Lawsuit vs. MHI Association Affiliate, Award Winning MHI member, Attorneys as Defendants, and other Legal Issues
Kevin Clayton, Tim Williams, Leo Poggione, Tom Hodges, Lesli Gooch, David Gooch, John Greiner ~
1) A lawsuit was brought back to my attention because residents brought suit not only against the community and related management, but also against the Florida Manufactured Housing Association (FMHA) and attorneys detailed in this linked Law360 report. The disposition of the suit may be less significant than the fact that it involved a plausible RICO claim involving a trade group and related attorneys. The question is this. Do you think that other plaintiffs' attorneys will learn from that case, refine the arguments based upon evidence that has emerged, and bring a sharper RICO and/or antitrust suit in the foreseeable future?
2) MHProNews has been in communications with a number of attorneys and legal nonprofits. Some of them tell MHProNews that they already have significant experiences in the manufactured housing arena. While a periodic MHI blogging mouthpiece took a public swipe at the thesis of Samuel Strommen with Knudson Law by attacking the messenger, several attorneys, legal and other researchers have told MHProNews that they find the evidence and arguments well-reasoned and compelling. That said, why is it that MHI leaders have opted to duck, dodge, distract, deflect, detract or otherwise avoid comments on Strommen's thesis?
3) MHARR has publicly called for "the industry" – often a reference to MHI – to sue to get the industry's rights under the MHIA and DTS enforced. MHARR has also argued for well over a decade that MHI claims to represent "all segments" of the industry while MHI fails to take the effective steps to make existing laws meaningful in overcoming zoning, placement and financing legislation into actual effect. MHProNews does not speak for MHARR but observes that MHARR has called for MHI to use your legal resources appropriately and effectively. Why, for instance, didn't MHI threaten legal action against Ayden, NC, or Texas? The evidence-based case can be made that MHARR has publicly asked MHI to do its stated job. That noted, at what point will MHI announce and finally act legally after nearly 14 and 22 years of ineffective posturing and delays?
4) There are a range of other issues that we would welcome your comments, including the latest Dave Ramsey and other topics linked below.
5) As to the recent Washington Post and DOE related items. Tim Williams/21st made the point years ago – which we editorially concur with – that there is a good argument to be made "the industry" should respond to every problematic claim and article. He then announced MHI's public relations professional. Why hasn't MHI, therefore, published a press release with Berkshire owned BusinessWire – or another like service – that takes the mainstream media to task each and every time there is a misstatement? Why is MHI allowing the industry's image to be disparaged with verbiage and claims that tend to focus on pre-2000 law issues? Why hasn't MHI ever used in a media release the words "Enhanced Preemption" – which is even missing from MHI's own website?
6) The facts are overwhelming on the industry's side. Yet past MHI chairman Joe Stegmayer said on an MHI video that the industry's story is largely untold. If so, how does MHI explain their role in that misunderstanding of the industry's products? Couldn't MHI hit repeatedly – as Williams suggested – on simple themes until they sink in? There appears to be ignorance and bias, however well meaning. The argument should be focused on the post-Manufactured Housing Improvement Act (MHIA) of 2000 processes and standards. Are the mainstream media claiming that HUD is not doing a good job in regulation of the industry?
The media and public officials must focus on the fine balance between consumer safeguards and affordability that exists since the MHIA was enacted. What all too often is claimed goes against the demonstrated reality of "today's modern and affordable manufactured homes."
You know the drill. Please email your response or reaction for our mutual accuracy.
We remind the industry members in the BCC section of this email that for years MHI not only praised and utilized MHProNews services, but also would promptly reply to such inquiries. We have emails and published comments and videos from such MHI leaders as Kevin Clayton, Tim Williams/21st, Nathan Smith, the late Howard Walker, Thayer Long, Richard "Dick" Jennison, Rick Robinson and others. While MHI can constitutionally remain silent, that silence may be construed – right or wrong – as the notion that MHI leaders.
We will publish these questions today. But MHI is invited to respond today or later. It is not as if these issues haven't been raised before. There is only so long that the industry – and consumers – will tolerate the status quo during an affordable housing crisis, don't you agree?
Respectfully,
Tony
… ##
Several linked items were included in that inquiry, some of which will be shown further below.
Additional Information, More MHProNews Analysis and Commentary
Because not everyone is signed up with Law360, some key parts of that segment of the inquiry from that source are as follows. Terminology or other issues are in the original.
"Fla. Mobile Home Park Owners, Attys Hit With RICO Suit
The homeowners' association for a central Florida mobile home park filed a putative class action Tuesday accusing the park owners and Tampa law firm Lutz Bobo & Telfair PA of engaging in a racketeering scheme to dupe homeowners and buyers into accepting less favorable land rental terms.
The Schalamar Creek Mobile Homeowners Association Inc. filed the 95-page complaint in the Middle District of Florida on behalf of current and past homeowners of the Lakeland, Florida, community, which is restricted to residents 55 and older. The suit seeks treble damages and actual, statutory and punitive damages on claims brought under the federal Racketeer Influenced and Corrupt Organizations statue and other state and federal laws.
At the core of the allegations are claims that the park's owners, including Murex Properties LLC, its principal Steven Adler and a subsidiary of The Northwestern Mutual Life Insurance Co., acted with counsel from Lutz Bobo attorneys Richard Lee and David Eastman to subvert mobile homeowners' and buyers' rights under the Florida Mobile Home Act to "assume" — or pass along — the terms of their existing lease agreement with the park owner when reselling their homes to private buyers.
The complaint alleges that the park owners lied to homeowners by telling them that new lease terms, a document known as a prospectus, would apply only to buyers of new homes. Instead, the park owners allegedly forced resale buyers to sign on to the new prospectus, causing them to incur significantly higher rents. Sellers who were induced to surrender their older prospectuses each lost $10,000 to $15,000 in resale value, the suit claims, estimating the homeowners' collective lost revenue at more than $7.5 million.
The complaint includes accounts from sellers and buyers who say they were told they had to sign "assumption of lease" and "prospectus receipt" documents to "transfer the lease." They describe being rushed through the signing process and said they were either not given a chance to read through the documents or provided copies of the new prospectus.
"Defendants Lee, Eastman, and Lutz Bobo Law Firm [which drafted the documents used by the defendants] cloaked the forced surrender of the right to assume along with a feigned acceptance of the increased ad valorem tax pass-ons with an air of legitimacy," the homeowners' association claims. "The documents were written in a dizzying and nearly incomprehensible use of legalese."
The right to transfer the lease terms was put in place by the Florida Legislature in recognition of what the complaint describes as the "unique hybrid tenancy," where a mobile homeowner typically owns what is in fact a quite permanent home but leases the land underneath from the mobile home park owner, according to the complaint. Several state and federal courts have also recognized the need for protections to equalize this landowner-tenant relationship, the suit said.
Lutz Bobo attorneys and the Florida Manufactured Housing Association Inc., which Eastman founded and represents, also allegedly lobbied state agencies and the Florida Legislature on behalf of the park's owners to corrupt the mobile homeowners' rights, according to the suit.
The suit also claims that when Adler and Murex bought the Schalamar Creek mobile home park in 2011 through Northwestern Mutual's Florida subsidiary Osprey Links LLP, they worked out "an apparent back-handed 'sweetener' deal" for community-wide trash pick-up to be performed through a perpetually renewing contract with a company owned by the sister of the previous park owner, Randall Knapp." …
Read more at: https://www.law360.com/articles/1125764/fla-mobile-home-park-owners-attys-hit-with-rico-suit?copied=1
MHProNews previously reported on that evolving case at the link below.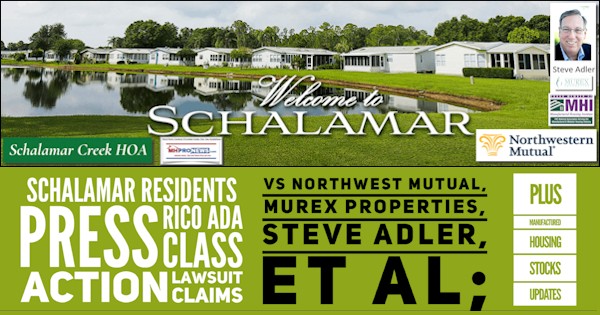 It is difficult to imagine how intelligent, educated, and successful professionals can still be talking approaching 14 and 22 years since the enactment of favorable laws. Housing is a multi-trillion-dollar industry. The MHIA was passed in part to remove the image, placement, and consumer concerns that still lingered from the original 1974 manufactured housing legislation.
Certainly, the evidence-based argument can be made that HUD Code manufactured home advanced in three separate phases from the trailer houses and mobile homes of 45+ years ago.
The passage of the HUD Code, designed to weed out the quality, energy, and durability issues pre-1976. That went into effect on 6.15.1976. Before that date, a factory-built residential home on a permanent chassis is a mobile home or a trailer house.
The wind standards update of 1994. Those were published by the official Federal Register on 14.1994.
The Manufactured Housing Improvement Act of 2000 (MHIA or sometimes referred to by MHARR as the 2000 Reform Law).
That third update is pivotal. Before that date, a judge quipped that the original HUD Code (1974 that took effect in 1976) was akin to an automotive or trailer law. There was some truth to that comment. But after the MHIA, manufactured housing was supposed to enter a new era as full-fledged affordable housing on part with conventional or modular housing in a practical sense. That's not to say that manufactured homes are built the same as a modular or 'stick built' (on site assembled or constructed home). But in terms of engineering and the balance between durability, affordability, energy, and consumer protections, manufactured housing are proven and essential.
Who says? To his eternal and historic credit, Tom Hardiman of the Modular Home Builders Association (MHBA) who publicly took MHI to task for not standing up for their own industry, consumers and homeowners!  Hardiman said he would never disparage a HUD Code manufactured home. He said they fulfilled an important niche. We plan to refer in the near term to a new item from Hardiman to MHProNews.
Why did MHI leaders make the dubious if not flawed move to embrace the CrossMod moniker instead of bolstering the image of manufactured homes?
There are simply too many questions about the questionable behavior of MHI's leaders. They seem to fit the claim that Danny Ghorbani, former MHI VP and founding president of what became MHARR, said to MHProNews. Namely, that the largest companies have dominated MHI, often to the detriment of independents.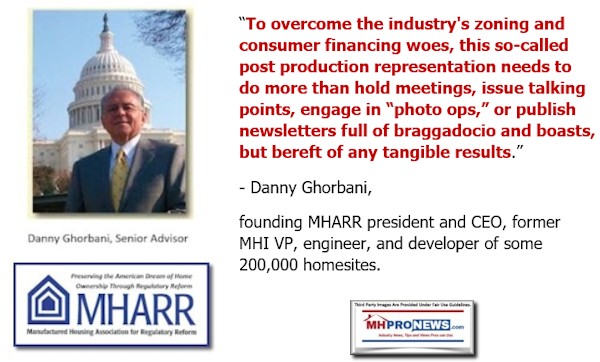 Ghorbani and Weiss are apparently on the same page on that notion.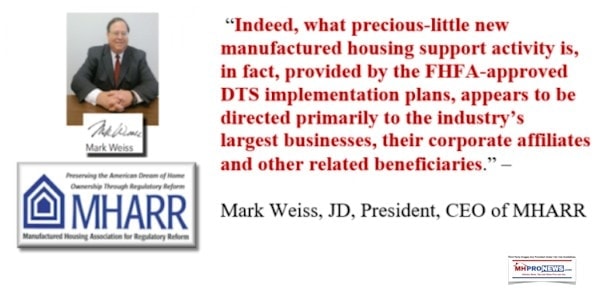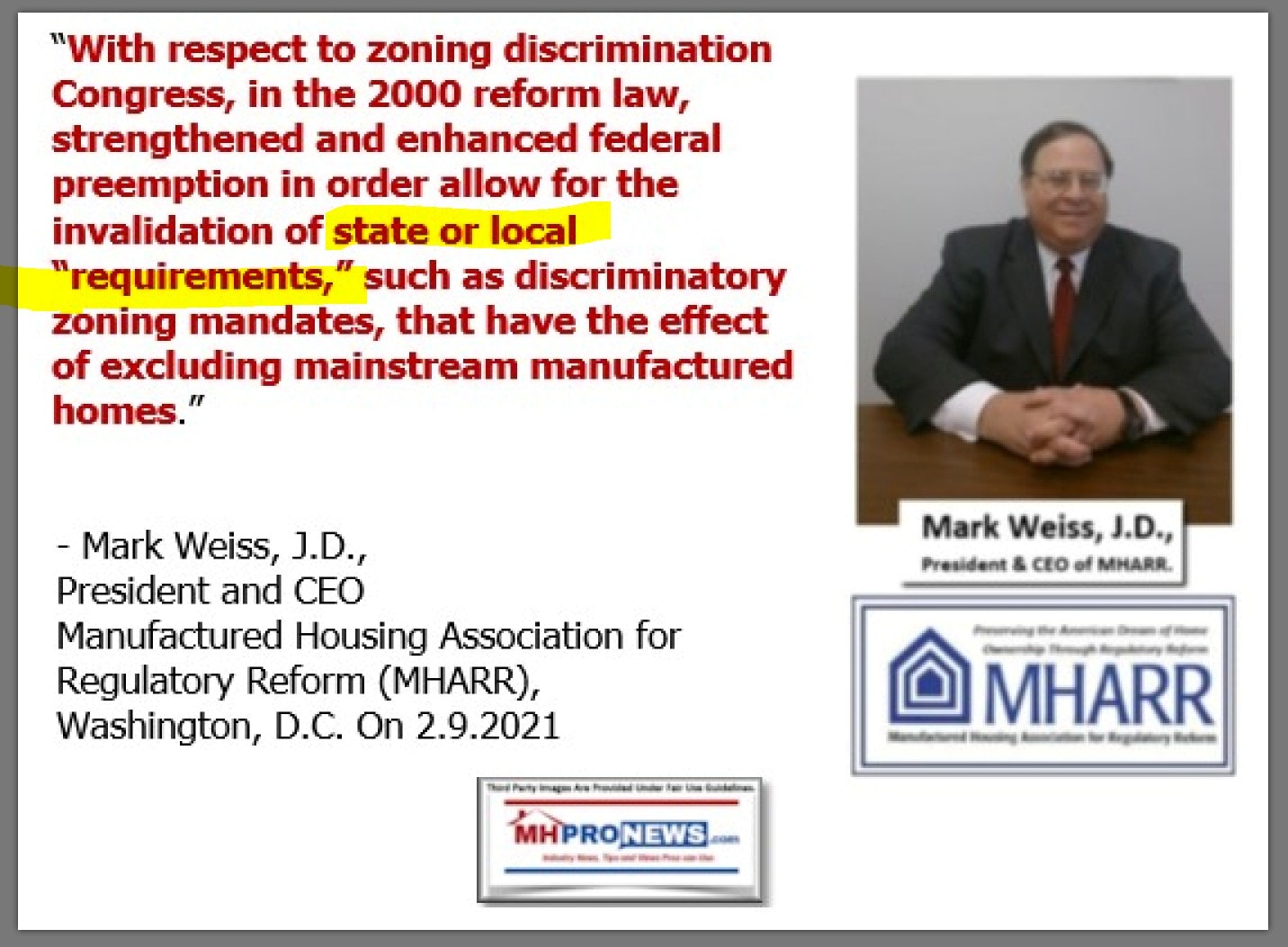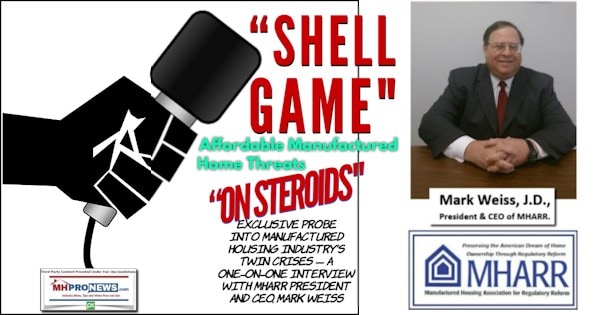 To the credit of part-time MHI mouthpiece, George Allen, he has at times called out generic behavior by MHI members. He has at times decried MHI's behavior. But his vacillation has weakened the value of his voice for possible change. Examples are shown. What Allen arguably needs is consistency for the sake of the independents he claims to represent.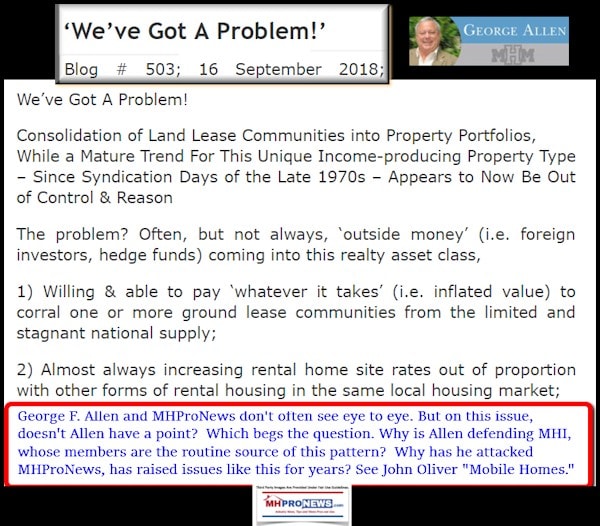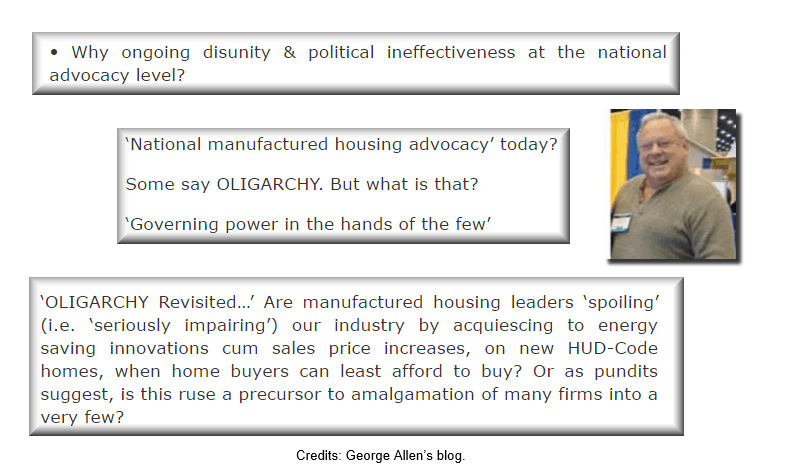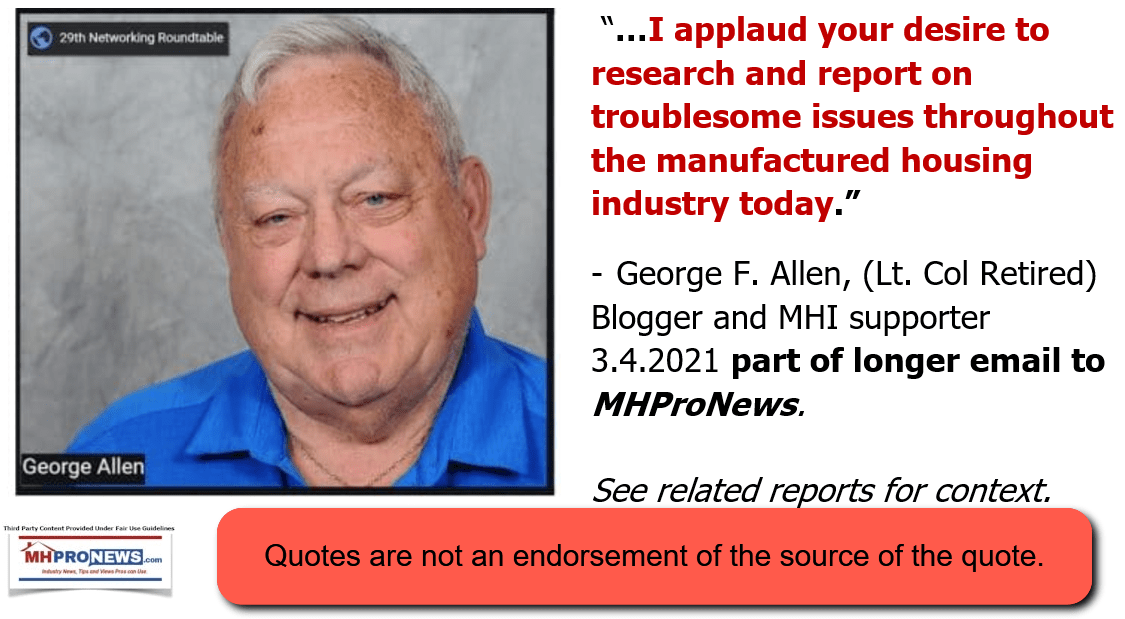 To Kurt Kelley's credit, he has provided some MHARR items without editing them. Kelley has also produced a few interview and other articles that undermined MHI's credibility by inference. Arguably, Kelley is in a tough spot, because his clients are routinely MHI members.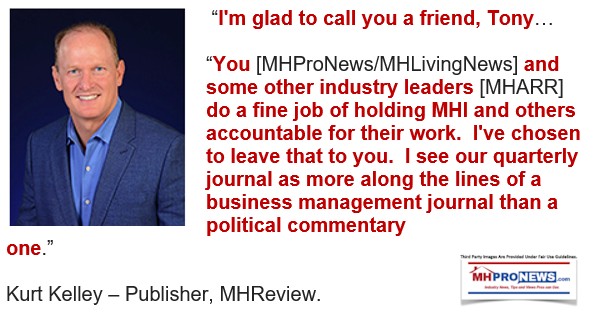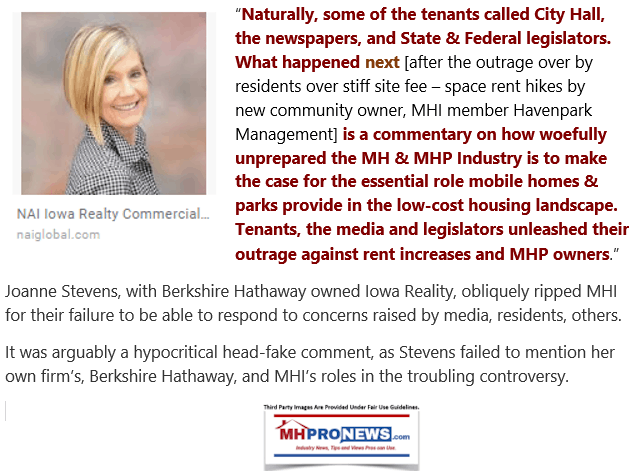 Darren Krolewski arguably knows better but is playing the footsy and fluffer game with MHI and their dominating brands via MHVillage's MHInsider. Like Kelley, MHInsider occasionally says something that cuts against MHI by inference, but it is not their actual apparent thesis.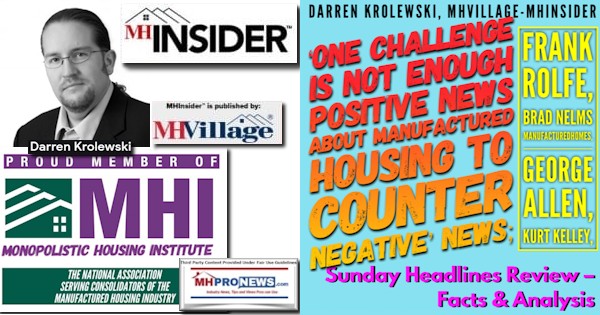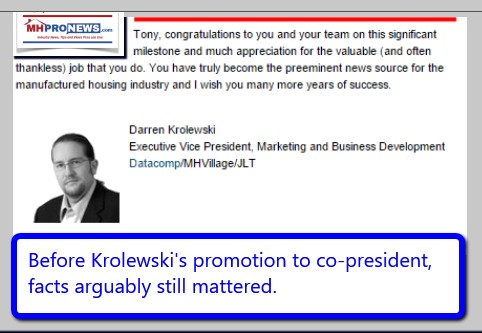 MHI can't have it both ways. Nor can MHI's apparent mouthpieces.
Either MHI has clout, as they have repeatedly claimed, or they do not.
MHI either wants robust growth, or they want consolidation into the hands of their dominating brands.
If MHI can't after some 14 and 22 years get a law enforced, then the time is long overdue for them to sue to get those laws enforced.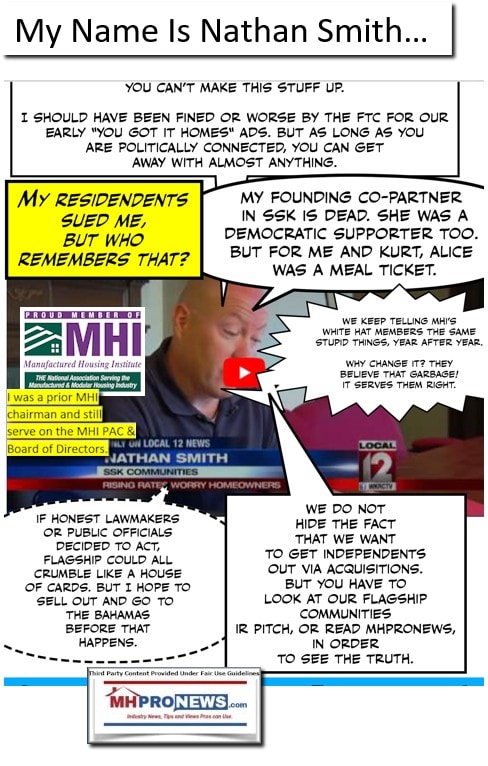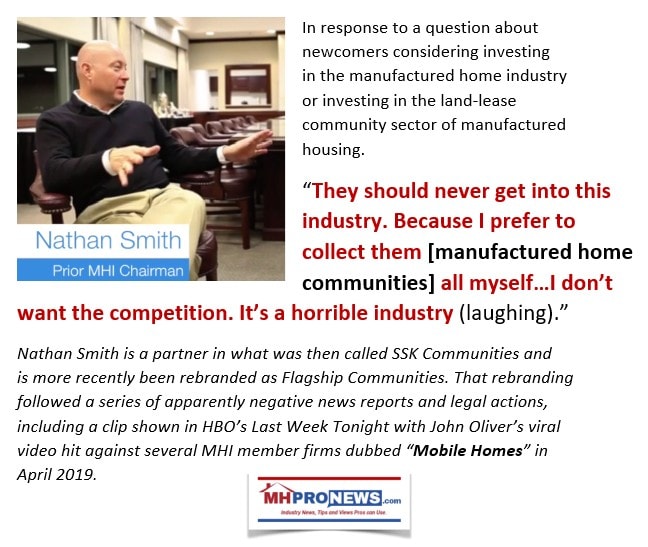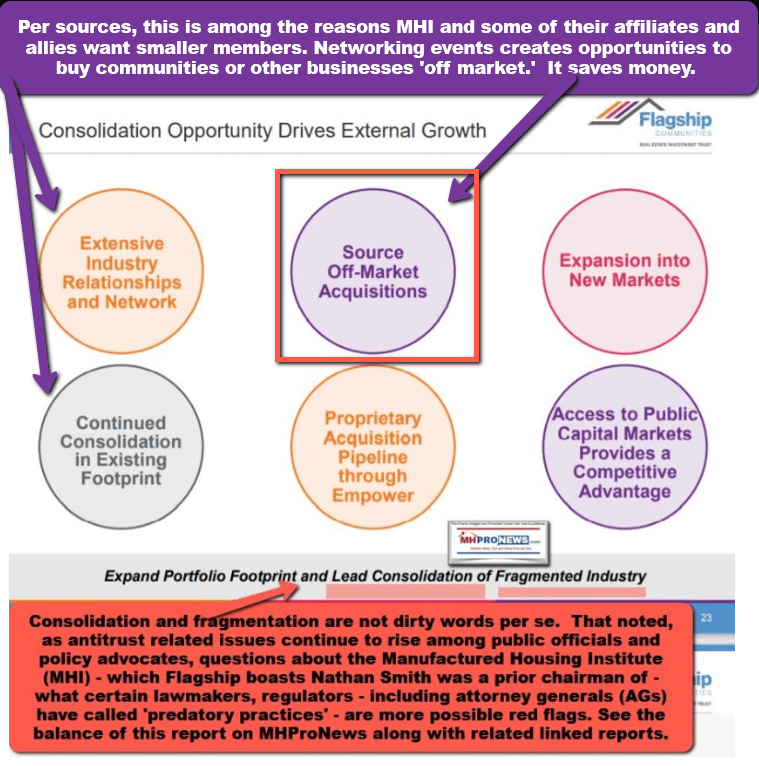 Failure for them to do so could leave their board, staff, and perhaps even their attorneys vulnerable to RICO and antitrust action. Who says? It is implied by Law360 – since a case was already made against FMHA. It was detailed and argued by Samuel Strommen at Knudson Law.
MHI can't have it both ways. Their duty is to do what they claim. Their failure to fulfill that duty is arguably an apparent de facto benefit to consolidators. MHI members who are consolidators openly proclaim that in public statements to investors.
Given the increase in litigation against certain MHI members, including but not limited to the SEC vs. Cavco Industries, or those linked herein, the clock may be ticking.
Will MHI and their leaders do their jobs? Will they sue to get the industry's rights protected?
Failure to do so, in some views, arguably increases the risk of litigation against MHI potentially by consumers, industry professionals who have been harmed, or perhaps even by public officials.
Stay tuned as MHProNews monitors and reports on such issues that others in our profession's trade publishing have not yet reported on in like manner.
USA Today, Washington Post and HousingWire – Mainstream News on Manufactured Housing – First Look; Sunday Manufactured Home Headlines, Reports Weekly Recap
Dave Ramsey, Ramsey Solutions "Why Are Mobile Homes a Bad Investment?" Corrections Requested – "It Would be Smart to Save the $100,000, Right? Wrong!" Claims Ramsey – MHProNews Facts & Analysis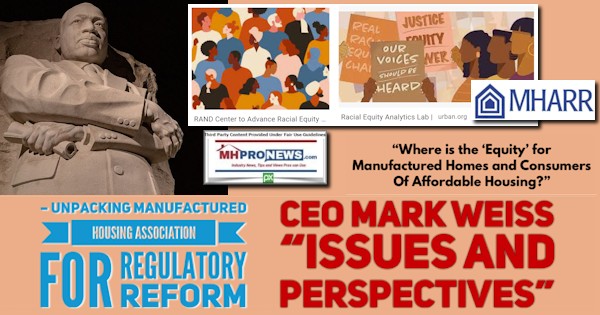 FeganScott Class Action v Manufactured Housing Institute Member ELS: "Announces Investigation into Equity LifeStyle Properties for Widespread, Chronic Neglect of Mobile Home Properties Across U.S." – plus MHMarket Updates
##
Next up is our business daily recap of yesterday evening's market report, related left-right headlines, and manufactured housing connected equities.
The Business Daily Manufactured Home Industry Connected Stock Market Updates.  Plus, Market Moving Left (CNN) – Right (Newsmax) Headlines Snapshot. While the layout of this daily business report has been evolving over time, several elements of the basic concepts used previously are still the same. For instance. The headlines that follow below can be reviewed at a glance to save time while providing insights across the left-right media divide. Additionally, those headlines often provide clues as to possible 'market-moving' news items.
Market Indicator Closing Summaries – Yahoo Finance Closing Tickers on MHProNews…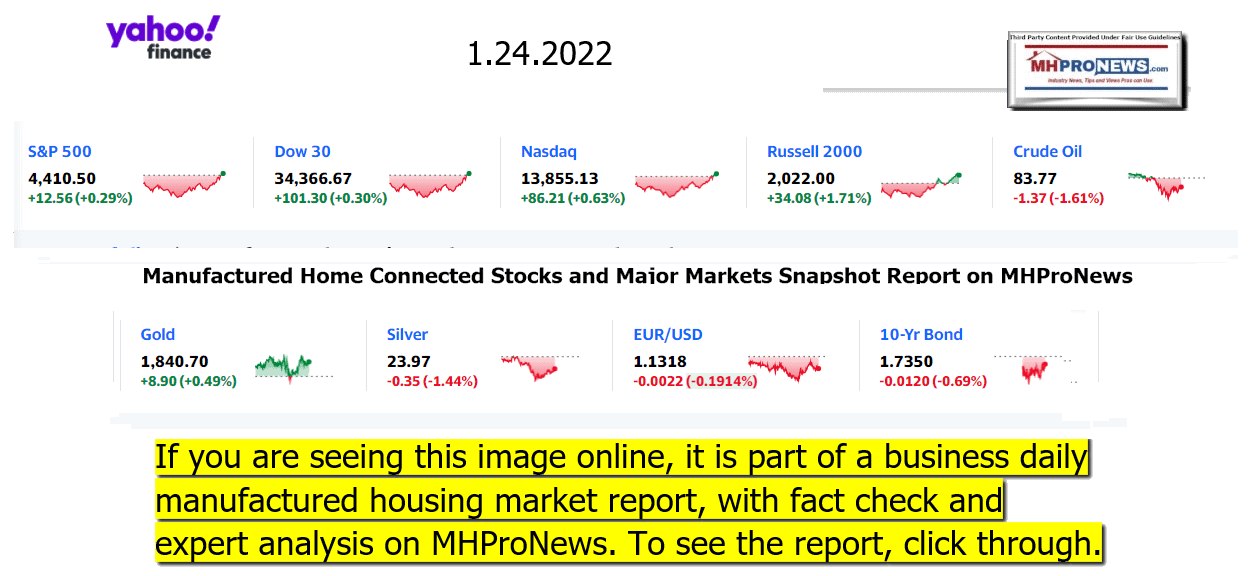 Headlines from left-of-center CNN Business – from the evening of 1.24.2022
Selloff intensifies
Traders work on the floor of the New York Stock Exchange (NYSE) on January 18, 2022 in New York City.
Dow tumbles sharply on fears about Ukraine tensions, Fed moves and inflation
Unlike Trump, Biden doesn't use stocks to judge the economy, White House says
Stocks are a 'superbubble' about to burst, top hedge fund manager warns
Wall Street is circling Kohl's, Peloton and Unilever
Kohl's stock surges 35% after takeover offers
Another TV character has a heart attack while riding a Peloton
Getting paid on Venmo or Cash App? This new tax rule might apply to you
Opinion: Investors are feeling too giddy about the economy
Rolls-Royce buyers are shockingly young
So many people want a Ford Maverick that Ford's stopped taking orders
Four attorneys general sue Google for 'deceptive' location tracking
Financial adviser arrested and fired after throwing drink at smoothie shop employees following his son's allergic reaction
Meta is building an AI supercomputer
'Shameless,' former NBC host says of the Olympics returning to Beijing
Abigail Disney takes her fight to her family's turf
Watch self-propelled electric RV you can park remotely
Preproduction model with available equipment shown. Available Summer 2022. Closed course. Professional Driver. Do not attempt unless you have special off-road driving training and are driving on a closed course. Always consult the owner's manual before off-road driving, know your terrain and trail difficulty, and use appropriate safety gear. Ford is committed to the preservation of the environment and treading lightly.
Ford reveals dune-jumping Bronco Raptor
Robinhood and Coinbase shares fall to their lowest levels ever
A cruise liner Crystal Symphony photographed in May 2013.
A cruise ship had an arrest warrant waiting in Miami. So it took passengers to the Bahamas
NEW WORKPLACE
Rira Raisi works in her home where she has been working during the COVID-19 pandemic while her dog Pablo waits nearby in San Francisco Calif., on Tuesday, April 6, 2021. Raisi is hoping to return to work with a hybrid schedule that includes several work from home days.
OPINION
LinkedIn economist: 3 ways the pandemic changed the labor market
Worker absences triple because of Omicron
'Boost everybody,' Andy Slavitt says
Citigroup to fire unvaccinated employees this month
Goldman Sachs tells workers to stay home due to Covid
ON THE ROAD
Peugeot e-208 electric car.
Stellantis hopes to make the best of a delayed electric start, CEO says
This concept BMW will mess with your head
Watch this self-driving racecar go 173 mph
Why car prices remain so stubbornly high
Think 2021 was bad? Not for Rolls-Royce, Bentley and Lamborghini
Headlines from right-of-center Newsmax – evening of 1.24.2022
27 Lawmakers Call Upon House Leaders to Ban Members From Stock Trading
Newsmax TV
Joyce: Parents Have Primary Education Responsibility | video
RNC's McDaniel: GOP Shouldn't Take 2022 Wins for Granted
Carl: Biden Reacting 'Six or Eight Months Late' on Ukraine | video
Grothman: Violence Growing With Biden, Liberals 'Soft on Crime' | video
Fred Fleitz: Blinken Too Inexperienced to Match Lavrov
Ric Grenell to Newsmax: Ukraine 'Disaster' Has Only 'Terrible and Bad Choices' | video
More Newsmax TV
Newsfront
US Puts 8,500 Troops on Heightened Alert Amid Russia Tension
The Pentagon said Monday that Defense Secretary Lloyd Austin has put up to 8,500 troops on heightened alert, so they will be prepared to deploy if needed to reassure NATO allies in the face of ongoing Russian aggression on the border of Ukraine.Pentagon press secretary John…… [Full Story]
Related Stories
Russia May be Considering a Cyberattack on US Homeland: DHS
Blinken Holds Ukraine Talks With Allies After Biden Says Attack Likely
EU Ready for 'Never-Seen-Before' Sanctions If Russia Attacks Ukraine
Ireland Warns of Russian War Drills Off Its Coast
27 Lawmakers Call Upon House Leaders to Ban Members From Stock Trading
Twenty-seven U.S. representatives –25 Democrats and two Republicans [Full Story]
Houston-area Police Officer Killed For Second Day in Row
Ramon Gutierrez, an off-duty Texas policeman, died after being [Full Story]
Use of FBI Informants Complicates Michigan Governor Kidnapping Case
In a trial that is being closely watched as one of the most [Full Story]
Hope Seen Once the Omicron Wave Increases Global Immunity
World health officials are offering hope that the ebbing of the [Full Story]
Related
Head of US Special Operations Command Has COVID-19
Sarah Palin Positive COVID Test Casts Doubt Over Start of NY Times Libel Trial
Seven School Boards Sue to Halt Virginia Gov's Mask-Optional Order
Declining High-School Graduation Rates Caused by Pandemic
Biden's First Year: Economy Struggles Amid 'Bidenflation'
The early strides made by President Joe Biden to reinvigorate the [Full Story] | Platinum Article
Russia May be Considering a Cyberattack on US Homeland: DHS
Russia may consider conducting a cyberattack on the U.S. homeland if [Full Story]
Supreme Court to Hear Challenge to Race in College Admissions
The conservative-dominated Supreme Court on Monday agreed to hear a [Full Story]
Six Found Murdered in Milwaukee Home
Another body was found on Monday inside a Wisconsin home, bringing to [Full Story]
MLK's Niece Says Biden 'Playing the Race Card' on Voting Reform
President Joe Biden is "playing the race card" in his remarks about [Full Story]
Denver Elementary School Says It Will Teach BLM Principles to Elementary Students
An elementary school in Denver, Colo., is planning to host a [Full Story]
Dow Drops 1,000 Points as Markets Extend Their Slide in 2022
Stocks sank in morning trading on Wall Street Monday, putting the [Full Story]
Book: Bidens Reaped $31M in Chinese Communist Business Dealings
A new book by Peter Schweizer claims the Biden family earned $31 [Full Story]
Virginia's New AG Fires Top Jan. 6 Investigator From His University Position
Tim Heaphy, chief investigative counsel for the House committee [Full Story]
US Threatens Russia With Use of Novel Export Tool
The Biden administration might expand the reach of U.S. sanctions [Full Story]
Oil Falls on Strong Dollar and Potential Fed Rate Increases
Oil prices fell on Monday, hit by a stronger dollar and investor [Full Story]
US Mayors Seek to Address Income Inequality With Cryptocurrency
Some U.S. mayors want to address income inequality by giving [Full Story]
Biden's First Year: President's Favorability Falls Into the Basement
During his campaign for the White House, President Joe Biden was [Full Story] | Platinum Article
Tom Brady Retirement Talk Shifts Into High Gear After Buccaneers Loss
The Tom Brady 'will he, won't he?' retirement debate shifted into [Full Story]
WHO: 'Dangerous' to Assume Pandemic Is Nearing End, More Variants Expected
The head of the World Health Organization (WHO) said on Monday it [Full Story]
Related
EU Regulator Set to Rule on Pfizer COVID Pill by End-Jan, Ahead of Merck
Facebook Parent Meta Says Its New AI Supercomputer Will Be World's Fastest
Facebook parent Meta Platforms Inc said on Monday that its research [Full Story]
Related
Washington, DC Sues Google Over Location Tracking Practices
Dow Drops 1,000 Points as Markets Extend Their Slide in 2022
After Maxwell, Will 8 'Powerful Men' Be Charged in Epstein Case
Most recently, the eight powerful men Ms. Giuffre claimed in her 2011 [Full Story]
Iran Refuses US Prisoner Release as Nuclear Talks Precondition
Iran on Monday ruled out any U.S. preconditions for reviving a 2015 [Full Story]
SPAC Linked to Trump's Venture Outperforms Others in Sector
Shares of the blank-check acquisition firm that agreed to merge with [Full Story]
US Carriers in South China Sea as Taiwan Reports Further Chinese Incursion
Two U.S. aircraft carrier groups have entered the disputed South [Full Story]
Assange Granted Appeal in UK to Fight Extradition to US
WikiLeaks founder Julian Assange's battle to avoid extradition to the [Full Story]
Taliban Hold First Talks in Europe since Afghan Takeover
The Taliban and western diplomats have began their first official [Full Story]
Trump-Endorsed Wyo. Candidate Beats Liz Cheney in GOP Straw Poll
A House candidate endorsed by former President Donald Trump, Harriet [Full Story]
Cruise Ship Changes Course After US Judge Orders Seizure
A cruise ship that was supposed to dock in Miami sailed to the [Full Story]
6 Panel Chair Speaks to Former Trump AG Barr
The chairman of the House committee investigating the Jan. 6 Capitol [Full Story]
Biden's Trucking Action Plan Fails to Address Parking
President Joe Biden's $2 trillion infrastructure plan comes up short [Full Story]
More Newsfront
Finance
Facebook Parent Meta Says Its New AI Supercomputer Will Be World's Fastest
Facebook parent Meta Platforms Inc said on Monday that its research team has built a new artificial intelligence supercomputer that it thinks will be the fastest in the world when completed in mid-2022…. [Full Story]
Tesla Countersues JPMorgan, Claims Bank Sought 'Windfall' After Musk Tweet
Shopify Eases Concerns Over Fulfillment Network Changes, Shares Rebound
IRS Launches Website for Claiming Part 2 of Child Tax Credit
Short Sellers Up About $114 Billion in 2022 Amid US Market Slide
More Finance
Health
Analysis: COVID Appears to Be on Retreat in US
New coronavirus cases are falling in parts of the United States hardest hit by the fast-spreading omicron variant, according to a Reuters analysis of public health data, offering an early indication the virus might once again be on retreat…. [Full Story]
Paxlovid is Effective Against COVID-19, But Hard to Find
Weight Loss Does Not Increase Fertility Treatment Success: Study
UK Will Test Merck's COVID Pill With Hospitalized Patients
FDA Declines to Approve Merck's Cough Treatment, Asks for More Data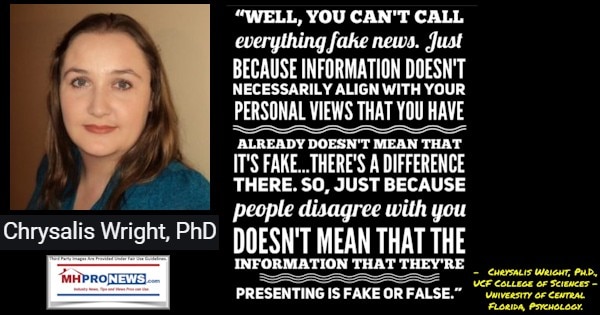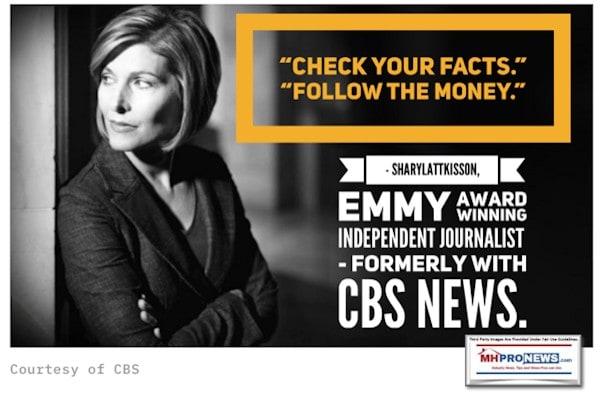 Manufactured Housing Industry Investments Connected Equities Closing Tickers
Some of these firms invest in manufactured housing, or are otherwise connected, but may do other forms of investing or business activities too.
NOTE: The chart below includes the Canadian stock, ECN, which purchased Triad Financial Services, a manufactured home industry lender
NOTE: Drew changed its name and trading symbol at the end of 2016 to Lippert (LCII).
NOTE: Deer Valley was largely taken private, say company insiders in a message to MHProNews on 12.15.2020, but there are still some outstanding shares of  the stock from the days when it was a publicly traded firm.  Thus, there is still periodic activity on DVLY.
Clayton-21st Storm Watch – Sinatra's Summer Wind Blows Early? – Manufactured Housing Moat Breach – Manufactured Home Values Increasing Faster than Site-Built – Case for Something New in 2022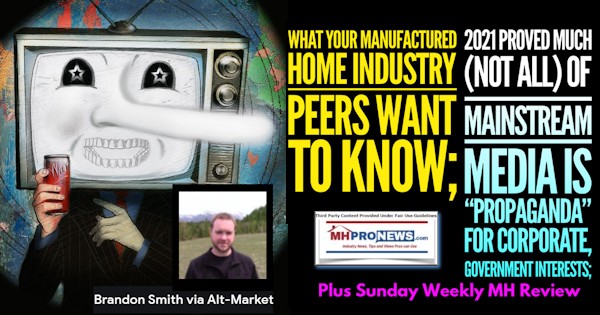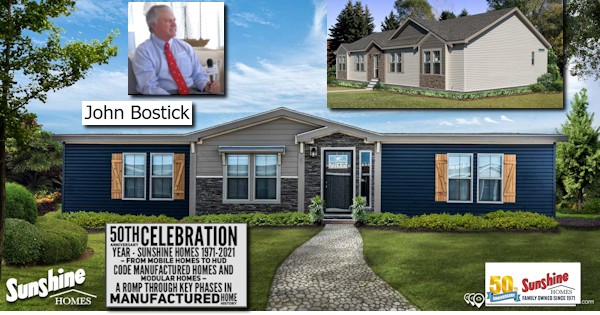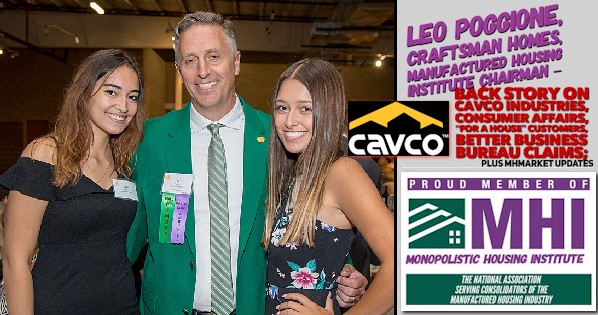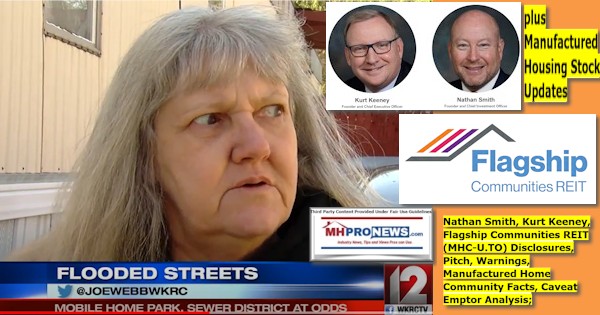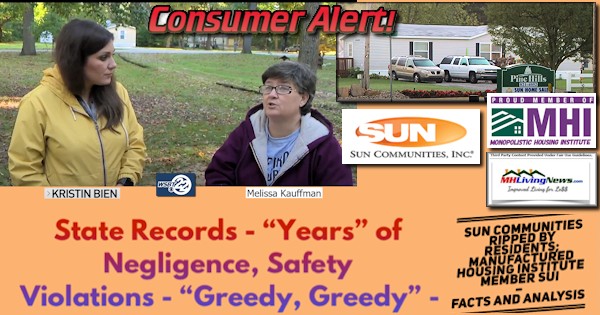 In cases such as Apollo, Berkshire Hathaway, Blackstone or others, manufactured housing may only be part of their corporate interests. Note: depending on your browser or device, many images in this report can be clicked to expand. Click the image and follow the prompts. To return to this page, use your back key, escape or follow the prompts.

https://www.manufacturedhomepronews.com/steve-lawler-deer-valley-corporation-dvc-otcmkts-dvly-announces-merger-plus-manufactured-home-investing-stock-updates/

https://www.manufacturedhomepronews.com/nobility-homes-financial-position-very-strong-sales-strong-but-challenges-including-lending-and-others-examined-plus-manufactured-housing-stocks-update/

2022 dawns

…

Berkshire Hathaway is the parent company to Clayton Homes, 21st Mortgage, Vanderbilt Mortgage and other factory built housing industry suppliers.


·

LCI Industries, Patrick, UFPI, and LP each are suppliers to the manufactured housing industry, among others.




·

AMG, CG, and TAVFX have investments in manufactured housing related businesses.

For

insights from third-parties and clients about our publisher

, click here.


Enjoy these 'blast from the past' comments.

MHProNews. MHProNews – previously a.k.a. MHMSM.com – has celebrated our 11th year of publishing, and is starting our 12th year of serving the industry as the runaway most-read trade media.
Sample Kudos over the years…
It is now 11+ years and counting…
Learn more about our evolutionary journey as the industry's leading trade media, at the report linked below.
· For expert manufactured housing business development or other professional services, click here.
· To sign up in seconds for our industry leading emailed headline news updates, click here.

Disclosure. MHProNews holds no positions in the stocks in this report.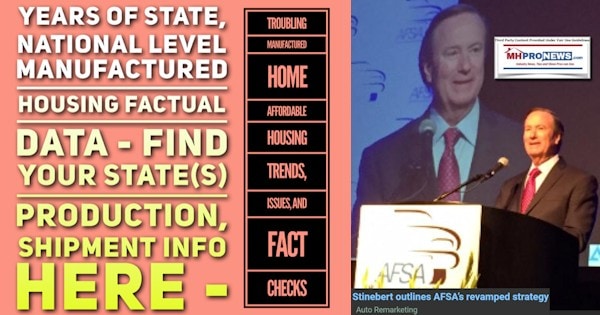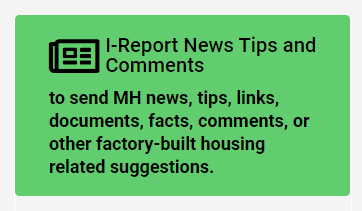 That's a wrap on this installment of "News Through the Lens of Manufactured Homes and Factory-Built Housing" © where "We Provide, You Decide." © (Affordable housing, manufactured homes, stock, investing, data, metrics, reports, fact-checks, analysis, and commentary. Third-party images or content are provided under fair use guidelines for media.) (See Related Reports, further below. Text/image boxes often are hot-linked to other reports that can be access by clicking on them.)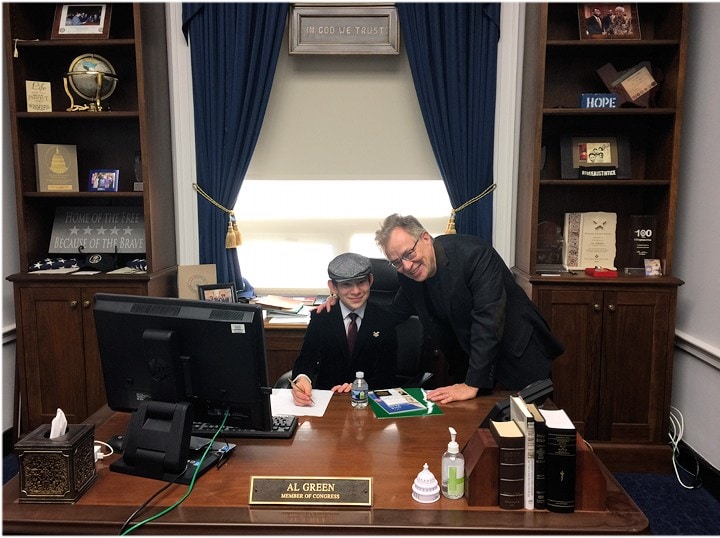 By L.A. "Tony" Kovach – for MHProNews.
Tony earned a journalism scholarship along with numerous awards in history. There have been several awards and honors and also recognition in manufactured housing. For example, he earned the prestigious Lottinville Award in history from the University of Oklahoma, where he studied history and business management. He's a managing member and co-founder of LifeStyle Factory Homes, LLC, the parent company to MHProNews, and MHLivingNews.com. This article reflects the LLC's and/or the writer's position and may or may not reflect the views of sponsors or supporters.