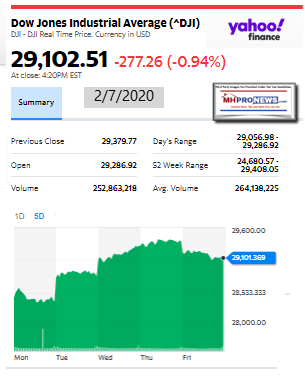 Perhaps it was inevitable. It certainly was logical. Earlier today, the Modular Home Builders Association (MHBA) Executive Director Tom Hardiman, CAE, absolutely ripped the Manufactured Housing Institute (MHI) publicly in a devastatingly effective published broadside.
On a day when the markets in general fell, on the afternoon President Donald J. Trump touted Opportunity Zones, and the night of the next Democratic debate, our featured focus will be MHBA's Hardiman's comments and a related MHProNews analysis. See that further below.
Periodic readers of this business-nightly feature should note there are new tweaks to some of the standard portions of our evening market/investing report. Read carefully as some changes of the 'standard text' that follows before our left-right headlines and also in other features near the end of tonight's reports.
Every evening our headlines that follow provide snapshots from two major media outlets on each side of the left-right news spectrum that reflect topics that influence or move investor sentiment. In moments on this business evening report, you can get 'insights-at-a-glance.'
This report also sets the broader context for manufactured housing markets, in keeping with our mantra, "News through the lens of manufactured homes and factory-built housing" ©.
We begin with headlines left-of-center CNN followed by right-of-center Fox Business. We share closing tickers and other related data courtesy of Yahoo Finance, and more. 5 to 10 minutes reading this MHProNews market report every business night could save you 30 minutes to an hour of similar reading or fact-gathering elsewhere.
Perhaps more important, you will get insights about the industry from experts that care, but also dare to challenge the routine narrative that arguably keeps manufactured housing underperforming during an affordable housing crisis.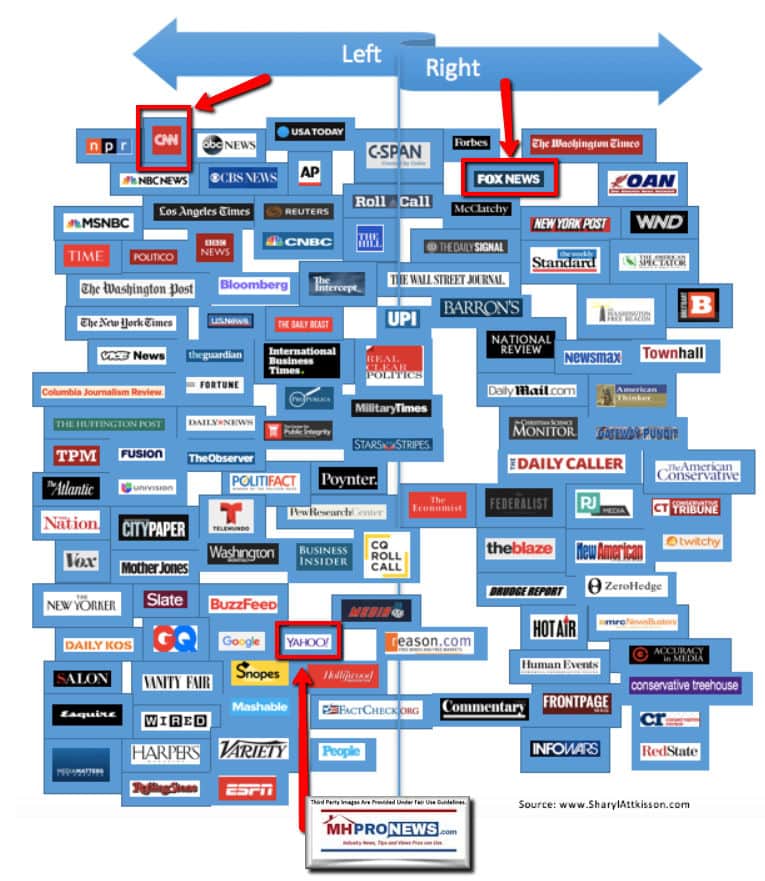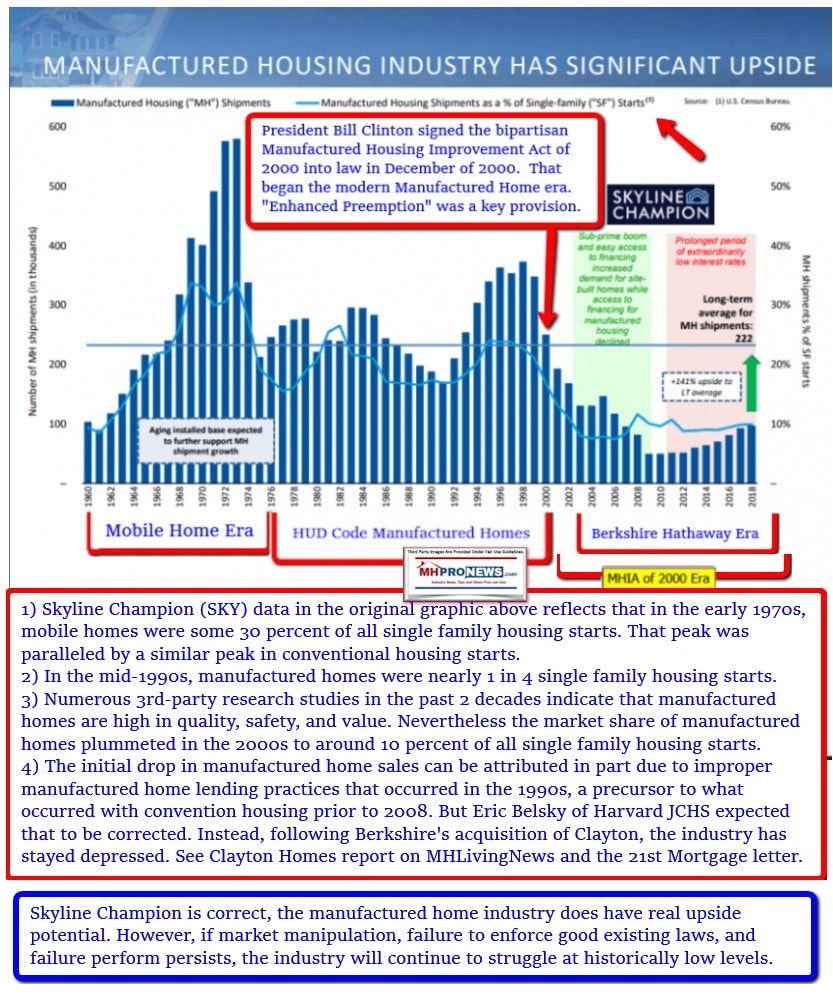 Mainstream vs. Trade News, Politicos, President Trump, Senator Sanders, Billionaire Bloomberg, Law Enforcement and Manufactured Housing's Unique Plight
Newsy, Peeling Back Media Bias, Manufactured Housing Sales, Investing, Politics, and You
Headlines from left-of-center CNN Business
The race for jobs
Here's how Trump's three years of job gains compares to Obama's
The US economy added 225,000 jobs in January, beating expectations
Why aren't paychecks getting fatter?
Tesla's insane rally already rivals some of the biggest bubbles in recent history
Why small companies' stocks keep lagging Corporate America's giants
How a beloved organic grocery chain collapsed
Opinion: Why Netflix already won the Oscars
DC has a lot riding on 'Birds of Prey' and Harley Quinn
Canada Goose warns that the coronavirus will hurt its sales
Coronavirus fears lead to worldwide mask shortages
Going on a cruise? Here's how the coronavirus will change your trip
Spotify, Apple Music and Amazon Music could soon hike prices. This company is betting on it
California law restricting freelance journalists may change
Cherry Vanilla Coke has been a stealth hit for years. Now you can officially get it at the store
Workers assemble cars at the newly renovated Ford's Assembly Plant in Chicago, June 24, 2019. – The plant was revamped to build the Ford Explorer, Police Interceptor Utility and Lincoln Aviator. (Photo credit should read JIM YOUNG/AFP via Getty Images)
Ford shakes up management after giving a dreadful outlook
Roman and Seth celebrate in the ring during the WWE show at Zenith Arena on may 09, 2017 in Lille, France. (Photo credit should read PHILIPPE HUGUEN/AFP via Getty Images)
Things keep getting worse for WWE
THAT'S ENTERTAINMENT
Hollywood is more diverse than ever. So why are the Oscars still so white?
Disney apologizes to school that was charged $250 for showing 'The Lion King'
ViacomCBS is set to unveil a new streaming service
Disney+ has already scored 28.6 million subscribers
Everything you need to know about Peacock, NBC's new streaming service
BILLIONAIRES
Bill and Melinda Gates Foundation donates $100M to coronavirus relief
Blackstone CEO pledges to donate majority of his wealth
MacKenzie Bezos dumped a ton of Amazon stock
Companies run by billionaires are better for investors
22 men own more wealth than Africa's 326 million women, Oxfam says
Headlines from right-of-center Fox Business
Stocks slide as coronavirus worries overshadow blowout jobs report
Even with the pullback, stocks still gained on the week and are hovering near all-time highs.
Trump says wealthy investing 'tremendous' amounts in underserved communities via Opportunity Zones
Pence confirms tax cuts 2.0 'absolutely' coming, likely this year
Fed says chance of recession has 'fallen noticeably,' but warns of emerging threat
American wages and jobs heading in the right direction
US economy adds 225,000 jobs in January, blowing past expectations
Sanders goes after Buttigieg for billionaire donors amid fight for New Hampshire
Warren aide accuses Buttigieg campaign of skirting finance laws to influence super PAC spending
Elon Musk doesn't care if Telsa employees have this on their resume
Counterfeit goods: The latest example of Trump delivering on 'America First' promise
Jeff Bezos' girlfriend's pesky brother leaks major news about his relationship
Bloomberg courting wealthy donors, but not for their money
Harvey Weinstein's lead attorney explains how she has avoided rape
This type of fund is the 'most strategic' way set up a retirement nest egg
Weinstein trial: Prosecution rests on 6 women's accounts
Lance Armstrong's $14M Aspen home for sale
Virginia Democrats advance assault weapon ban
NY to sue feds over its ouster from trusted traveler programs
Ex-Pimco CEO sentenced in college cheating scandal
Young drinkers are reversing the oldest trend in boozing
Royal couple — not Meghan and Harry — buys $16M Hamptons estate
WATCH: Fire breaks out at Disneyland
Gen Z looks ready to cancel Valentine's Day
Varney: Democrats are 'imploding' as stocks rise
Coronavirus fears plague Chinatown restaurant business nationwide
Phishing scammers use Trump's name more than all other candidates combined in phony emails
What is Lizzo's net worth?
Netflix identifies 9 videos removed on foreign government orders
Where are the jobs? These sectors hired the most workers in January
What is Dave Chappelle's net worth? Comic's comeback brings big payday
TSA agent turns security line into own private peepshow
Harvey Weinstein's bombshell admission about consensual sex
Larry Kudlow says US economy in 'very strong territory' in 2020
Coronavirus outbreak infects Canada Goose luxury coats, drags down shares
Royal Caribbean cruise arrives in New Jersey, passengers to be tested for coronavirus
US cities with the youngest entrepreneurs
Why the health care system is causing 'moral injury' among doctors, nurses
Uber's new profit target wins five-star rating from Wall Street
Meghan Markle, Prince Harry steal limelight in South Beach
Woman apologizes for claiming PetSmart caused dog's death
Stocks slide as coronavirus worries overshadow blowout jobs report
XFL reeboot has key financial advantage over past football startups
'All My Children' star Susan Lucci says there's 'buzz' about a potential reboot
Who is Kylie Jenner?
Secret surveillance program: How a spy scandal brought down this Swiss bank CEO
Casper's IPO dreams dashed, reminder hot startups still need reality check
A great time to refinance: What to know
Why Sephora is thriving in a retail apocalypse
Confronted with his messages to mogul, Weinstein defense witness tanks on the stand
10 Market Indicator Closing Summaries – Yahoo Finance Closing Tickers on MHProNews…

Featured Focus – Where Business, Politics and Investing Can Meet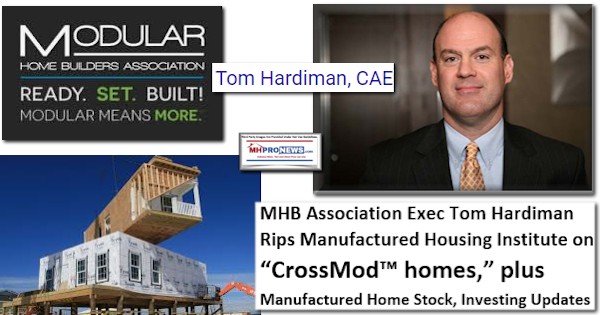 MHProNews confirmed with a source at the Modular Home Builders Association (MHBA) that Tom Hardiman, CAE, their executive director, wrote their post that is linked here on their website. What follows below is just one of several punchy pull quotes that takes dead aim and fired at the Manufactured Housing Institute (MHI) and their so-called new class of HUD Code manufactured homes dubbed "CrossMod™ homes."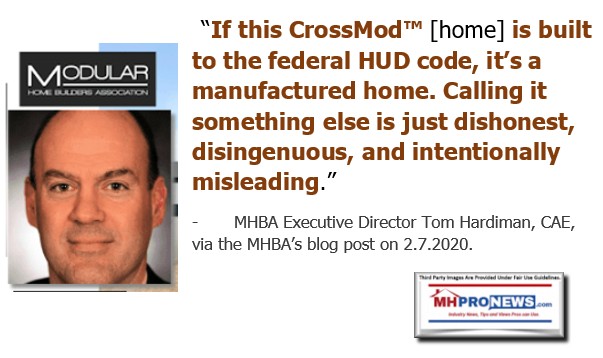 This evening's report will follow the following structure.
Part 1) the bulk of Hardiman's public post, which in some respects has some similarities with weeks of fact checks, analysis and commentary by MHProNews. See the bulk of Hardman's themes, below.
Part 2) an MHProNews analysis on this issue.
Let's also note in support of MHBA's claim that MHProNews' Daily Business News highlighted in several reports over the years how the MHBA promoted modular housing through a variety of media engagement steps, including, but not limited to, a featured modular 'home of the month' campaign. So, what Hardiman said aptly reflects the notion that the MHBA's investment paid off in the increased acceptance of the term "modular" in housing.
Notice: The highlighting in the text below was added by MHProNews, but the statements were all as published by MHBA's Hardiman. The insert of the image from MHI's promotional literature of a CrossMod™ is by MHProNews, and was not in the original. That said, our insertion illustrates what Hardiman's statement was apparently referencing at that point in his narrative and analysis. Note too that MHBA declined further comment on this matter, beyond their already published statements.
Why MHI's New CrossMod™ Isn't a Mod at All!

You may have recently heard about a new trademarked housing product from the Manufactured Housing Institute (MHI) called CrossMod™. According to their sales literature, the home:
"represents the blending of features built on-site to create a new class of homes for our industry (cross or crossover) and the innovative, efficient methods used in off-site home construction (mod or modern). Additionally, MHI's research found the undefined use of "mod" drew favorable associations to the terms "modern" and "modular." While nine percent of respondents said they would consider purchasing a manufactured home, 46 percent said they would purchase a CrossMod™. This is why the distinction between the two categories is so important for attracting more home buyers to our products."
Please read that paragraph again, let it sink in, and fully understand exactly what is going on. The term "manufactured home" only appeals to nine percent of potential home buyers. But add the "undefined use of mod" to the name and suddenly it jumps to 46%!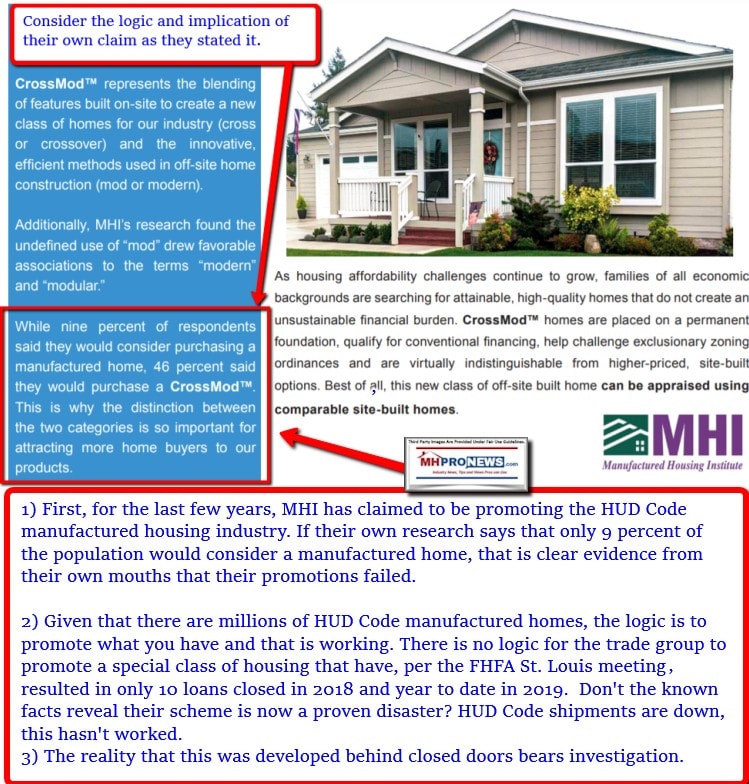 MHBA and the commercial trade association MBI, have invested considerable resources into research, education, surveys, and alliances to help improve the public's perception of the term "modular." And its working! Today, modular construction is poised to explode in growth.
Dozens of universities across North America now teach architects, engineers, and construction managers about modular construction. This was not the case five years ago! "Modular" didn't suddenly become popular and acceptable overnight. It did so in part because our industry trade associations made it a priority years ago.
Putting a manufactured home on a permanent foundation, adding a pitched roof and a porch doesn't make it modular. It makes it a damn nice manufactured home. And that's nothing to shy away from. Take pride in your own industry and own it! But don't high-jack our industry because your marketing team thinks it will help with sales.
These new products will inevitably be used as comps when assessing the value of true modular and site-built homes. How is that fair? What happens to the value of the tens of thousands of "regular" manufactured housing units when the industry itself turns it back on them.
I will never make a disparaging remark about a manufactured home. It is a viable and affordable housing solution that is much needed in this country and has provided decent living accommodations for countless people. But it's NOT a modular home. If this CrossMod™ is built to the federal HUD code, it's a manufactured home. Calling it something else is just dishonest, disingenuous, and intentionally misleading.
We are calling on the Manufactured Housing Institute to stop marketing this product and to stop misleading the public. We are asking the public to ask one simple question when considering this product: "What code is this built to?"
If I have a bike with two wheels and a seat, and it propels forward as a mode of transportation. Can I call it a Harley Davidson? After all, there are some similarities."
##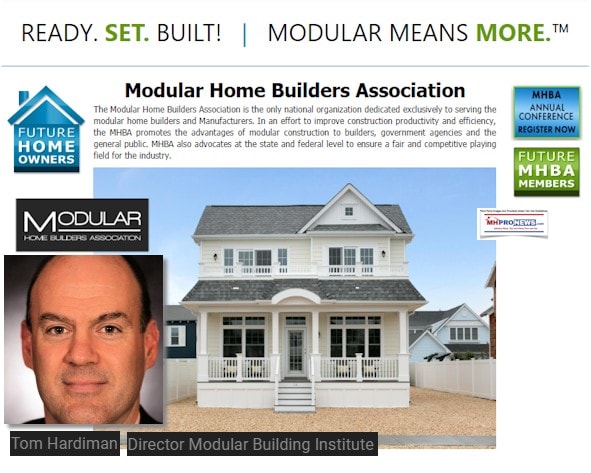 Part 2) an MHProNews Analysis and Commentary on MHBA's Statement.
First, Hardiman deserves credit for taking a bold public stance in favor of his industry and for calling out MHI publicly for their problematic behavior.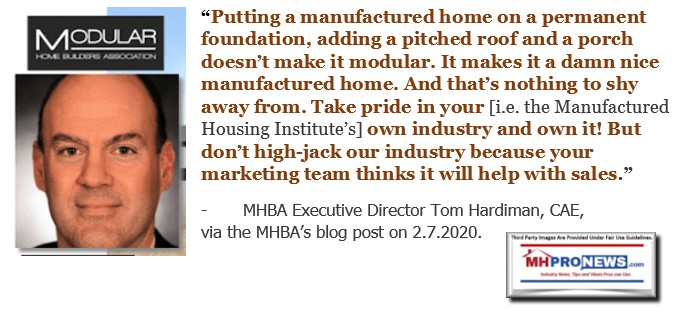 Wittingly or not, Hardiman's point mirrors some of MHProNews analysis – as our insert from days ago into his post illustrated above. This 'new class' scheme was not only bad for modular housing, as Hardiman sternly warns, it is also logically bad for the vast majority of manufactured homeowners and the independent operators of the industry at large. Since MHI launched this 'initiative' – which we have warned about for approaching two years – the shipments of HUD Code manufactured homes have declined.
2019 Year-End Totals Reveals Decline in New HUD Code Manufactured Home Production, Shipments vs. 2018
Furthermore, MHI has failed to advise their own members that FHFA, Fannie and Freddie have cut back on their commitments to this problematic breed of HUD Code home. Why is Clayton Homes-dominated MHI doubling down on a demonstrably failed initative?
Revealing-FHFA Meeting on Duty to Serve Lending Called Manufactured Housing Institute, Manufactured Housing Association for Regulatory Reform, Others – Report, Analysis
While Hardiman shows respect to manufactured homes, NAHB in the meeting that MHI conveniently failed to tell their members about ripped HUD Code manufactured housing. Why didn't MHI stand up for their own homes? See the report linked above for more details.
Will Hardiman and the MHBA go beyond this warning? Time will tell.
But editorially, as this analysis reflects, MHProNews is already on record saying that this problem plagued-project "CrossMod™ homes" ploy has arguably already proven to be a market place failure.  Besides the concerns noted by Hardiman, MHARR, MHProNews and even MHI's own members have all ripped it. When will the Omaha-Knoxville-Arlington axis listen to reason? How much more harm has to occur for the image of manufactured housing?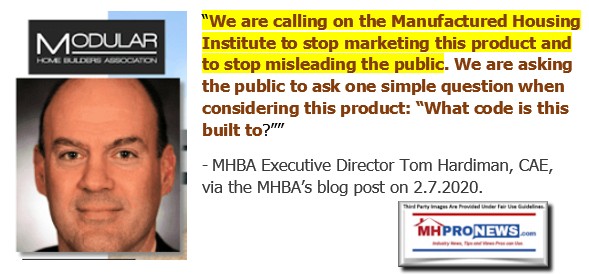 From the manufactured home perspective, Hardiman could certainly have phrased some of this differently. That said, he has arguably done for the modular housing association's members what MHI should be doing for manufactured housing; namely, standing up for ALL of the HUD Code industry's products with pride! Hardiman said as much "Take pride in your industry and own it!" He also said what he did without being dismissive of manufactured housing, as some do. Indeed, that's the bottom line. MHI et al should work to elevate all of manufactured housing, not just a few CrossMod™ homes. 
"MHProNews applauds Tom Hardiman's clear-eyed statement to the Manufactured Housing Institute," said MHProNews publisher L. A. 'Tony' Kovach. "It is long overdue that MHI start properly defending, defining and promoting ALL of the HUD Code manufactured home industry, instead of arguably undermining the industry's independents and the millions who already own a manufactured home."  Kovach added that what Hardiman said and what MHARR has done for years are examples of what a trade group should be doing to protect their interests. 
As a programing note, it isn't over for heating coming toward MHI. There is more "incoming" that is de facto aimed at MHI, from within their own ranks. That will likely be part of a new report this weekend. Stay tuned.
To learn more about issues Hardiman raised, see the related reports linked below.
Related Reports:
Warren Buffett Lieutenant Kevin Clayton Shows Off HUD Secretary Carson, Touts "CrossMod" Manufactured Housing
Investor Alert – Manufactured Housing Institute Paltering Concerns, Fannie Mae's Duty to Serve, plus Manufactured Housing Investing, Stocks Updates
Paltering, Manufactured Homes, CrossModTM Homes, Manufactured Housing Institute, Clayton Homes, Berkshire Hathaway Manufactured Home Lenders, DTS, and You
Skyline Champion (SKY) Drops – Posts Sales Declines – Silver Lining with Dark Clouds, Report and Analysis
Cavco Releases Quarterly, New, Revived Controversies Loom – plus Manufactured Home Stock, Investing Updates
Complaints to State and Federal Officials, Agencies About Corrupt Practices in Manufactured Housing Industry Growing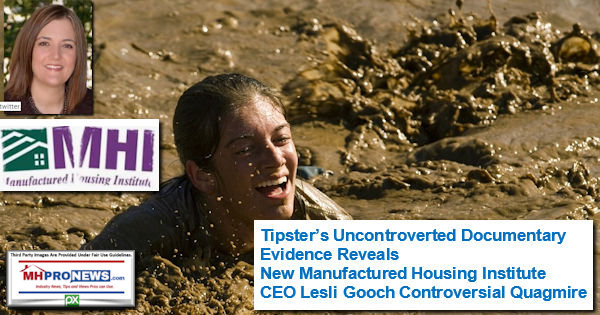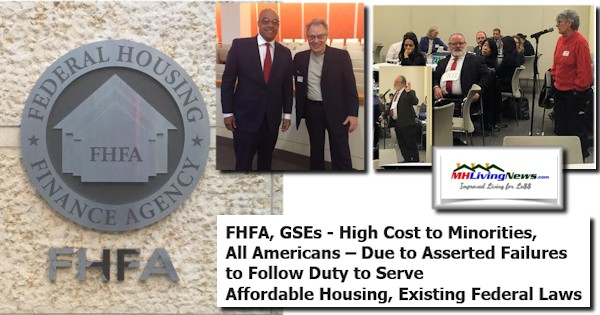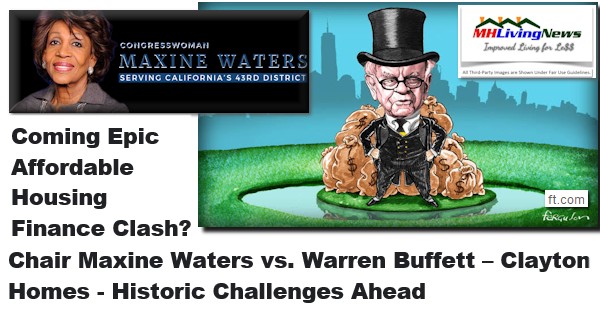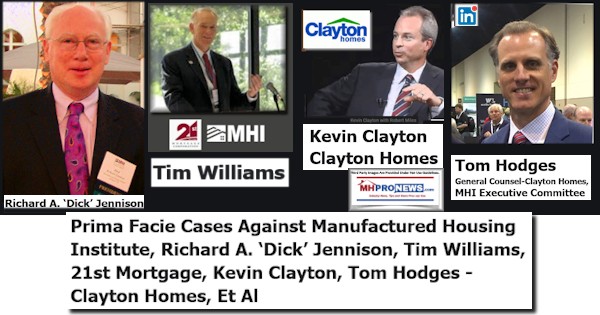 CEO Lesli Gooch-Let Me Tell You Reasons Pay MHI Dues to Win MHI Excellence in Manufactured Housing Awards
Manufactured Housing Industry Investments Connected Closing Equities Tickers
Some of these firms invest in manufactured housing, or are otherwise connected, but may do other forms of investing or business activities too.
NOTE: The chart below includes the Canadian stock, ECN, which purchased Triad Financial Services, a manufactured home industry lender
NOTE: Drew changed its name and trading symbol at the end of 2016 to Lippert (LCII).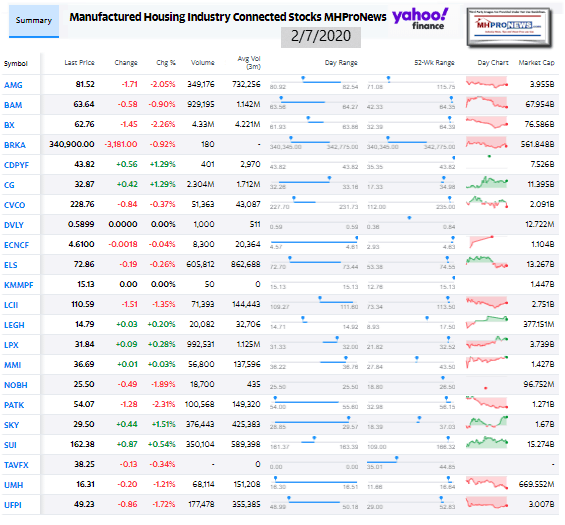 Winter 2020…
Berkshire Hathaway is the parent company to Clayton Homes, 21st Mortgage, Vanderbilt Mortgage and other factory built housing industry suppliers.
· LCI Industries, Patrick, UFPI, and LP each are suppliers to the manufactured housing industry, among others.
· AMG, CG, and TAVFX have investments in manufactured housing related businesses. For insights from third-parties and clients about our publisher, click here.
Enjoy these 'blast from the past' comments.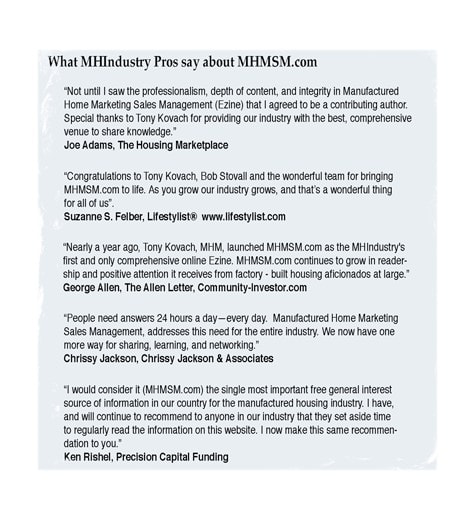 MHProNews. MHProNews – previously a.k.a. MHMSM.com – has now celebrated our tenth anniversary.
Learn more about our evolutionary journey as the industry's leading trade media, at the report linked below.
Celebrating 10 Years of Goal- and Solution-Oriented Manufactured Home Industry Innovation Information, and Inspiration for Industry Professionals
· For expert manufactured housing business development or other professional services, click here.
· To sign up in seconds for our industry leading emailed headline news updates, click here.
Disclosure. MHProNews holds no positions in the stocks in this report.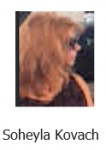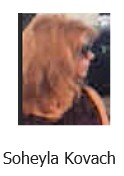 "We Provide, You Decide." © ## (News, analysis and commentary.)
(Image credits and information are as shown above, and when provided by third parties, are shared under fair use guidelines.)
Submitted by Soheyla Kovach, co-managing member of LifeStyle Factory Homes, LLC and co-founder for MHProNews.com, and MHLivingNews.com.

Connect with us on LinkedIn here and here.