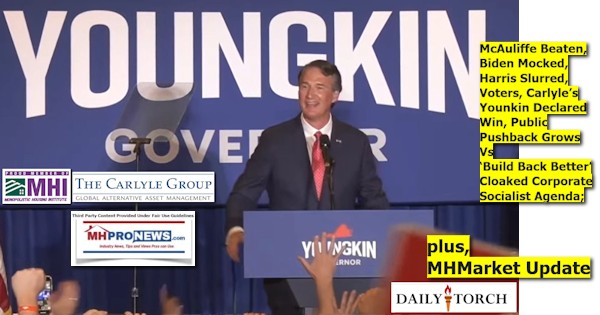 "Joe Biden suffered a bitter political blow early on Wednesday when Democrats went down in a shock defeat in the election for governor of Virginia. The Democratic candidate, Terry McAuliffe, had campaigned with Biden and Barack Obama but it was not enough to prevent the Republican Glenn Youngkin pulling off an upset. The AP called the race for Youngkin in the early hours of Wednesday morning." So said the left-leaning Guardian in their lead-in to their report on the November 2, 2021 election in the Commonwealth of Virginia. But it wasn't just former President Obama and his former VP Biden who tried to rally the base for McAuliffe, who did not concede -perhaps hoping for a Biden/Kamala Harris repeat of late vote counting from 2020? Biden's posited VP Harris came to support McAuliffe. As the Washington Post reported on Oct 17, "Stacey Abrams of Georgia helped make the case Sunday at a rally in Norfolk as the race for governor intensifies." A full constellation of Democratic stars and their various allies tried to rally their base in favor of McAuliffe. This is just part of the array of news that reflects on the political, and thus economic, environment that affordable manufactured housing is striving to operate in.
While this can be viewed as a repudiation of the PINO Biden "Build Back Better" and much of what has caused some 7 of 10 Americans to believe that the country is on the wrong track in 2021, time will tell if Youngkin, a former The Carlyle Group (CG), which has been a Manufactured Housing Institute (MHI) member company, will execute on promises made to voters in VA. MHProNews reported on those ties on July 4, 2021. As a parent from Loudon County, VA said, now it is time to make sure that candidates deliver for voters.
Note that McAuliffe put out an announcement this morning that he was conceding.
Carlyle Group's Former Co-CEO VA Gubernatorial Contender Glenn Youngkin "Predatory" Manufactured Home Communities Practices Becoming Campaign Issue – Senator Warren, Manufactured Housing Institute – ABC, AP, Mainstream Media Reports
Against that backdrop, the following reports from media that MHProNews has developed relationships with will cover these topics.
VA and other off-year election results.
Kamala Harris being publicly slurred in a variant of "Let's Go Brandon" or #FJB in deep blue New York City – see video and report.
Biden's economic plan stalls as "Stagflation" sets in. What it means for businesses and consumers.
Linked items and our business daily left-right headline recap with manufactured housing market reports.
https://www.wnd.com/2021/11/republican-glenn-youngkin-wins-virginia-governor-race/
ELECTION 2021
Republican Glenn Youngkin wins Virginia governor race
Democrat Terry McAuliffe: 'We are going to continue to count the votes'
By WND News Services
Published November 3, 2021 at 12:56am
(POLITICO) — CHANTILLY, Va. — Republican Glenn Youngkin has won the race for governor in Virginia, riding a wave of late momentum to deliver a rebuke of Democratic control in Richmond and Washington.
Youngkin defeated Democrat Terry McAuliffe, according to three television networks, denying McAuliffe's bid to become Virginia's first repeat governor since the 1970s.
With more than 94 percent of the expected vote counted, Youngkin has staked out a 3-point lead — a margin that reflects major gains for Youngkin and his party across Virginia and in other states as well. In New Jersey, Democratic Gov. Phil Murphy is locked in an unexpectedly tight race with Republican Jack Ciattarelli. … ##
From the Daily Torch to MHProNews, is their following report on the voting outcomes.
Youngkin shock win in Virginia vote of no confidence in Biden, portends red wave for GOP in Congress in 2022
This is one of the greatest votes of no confidence in the 21st Century.
Against the destructive policies of President Joe Biden, a torrent of spending that has brought back memories of the 1970s — surging inflation as the middle class are taxed their savings at the grocery store and then scenes of American defeat overseas in Afghanistan that stranded hundreds of Americans and thousands of American allies, who now suffer under the tyranny of the Taliban.
Against unconstitutional vaccine mandates that are pitting employers against long-time employees.
Against the Justice Department investigating parents angry about the quality of their children's education by addressing it at school boards.
Against the Biden administration's wholly inadequate response to the strain on America's supply lines.
Glenn Youngkin's improbable win in Virginia to take the governor's race for the Republican Party for the first time since 2009, coupled with Jack Ciatarelli's surprisingly strong showing and possible gubernatorial upset in New Jersey, all harkening back to Bob McDonnell in Virginia and New Jersey's Chris Christie's upsets in 2009.
All of which may serve as a precursor to a red tidal wave in 2022 for Republicans running for Congress, state houses and legislatures and governorships across the country.
For perspective in Virginia, in 2020, President Joe Biden won the state by 10 points against former President Donald Trump, 54 percent to 44 percent. And in 2017, Democratic Gov. Ralph Northam beat Republican challenger Ed Gillespie by 9 points, 54 percent to 45 percent. That followed a close race between McAuliffe and former Virginia Republican Attorney General Ken Cuccinelli in 2013, when McAuliffe won by just a point.
The race in Virginia tightened in the closing days as Biden's approval rating has been tanking.
For the 2022 Congressional midterms, Quinnipiac's early October poll has Republicans leading, 47 percent to 44 percent, but most outlets still show Democrats leading. Watch for that to turn on a dime now that Virginia and even a state like New Jersey is in play.
A recent poll by the National Republican Congressional Committee shows Republicans leading Democrats 43 percent to 40 percent in 85 battleground Congressional districts for 2022.
This is all terrible news for Biden and Democrats.
In midterm elections dating back to 1906 through 2018, the party that occupies the White House usually loses seats in the House 90 percent of time, on average 31 seats, and loses seats in the Senate 71 percent of the time, on average about three seats.
All more than enough for Republicans to take back one or both chambers of Congress in 2022. Which is why Virginia is so important as a bellwether. And so is New Jersey.
This is a national wave taking place. In 2010, Republicans trounced Democrats and picked up 63 seats in the House and 6 seats in the Senate. And that was with the relatively charismatic Barack Obama in office.
With the economy overheating and so many problems and an absentee president, 2022 could be even more impactful.
This is a vote of no confidence in Biden, and Democrats in Congress are about to start heading for the K Street life rafts. Watch out. ##
Robert Romano is the Vice President of Public Policy at Americans for Limited Government.
Next up…on MHProNews:
https://www.wnd.com/2021/11/kamala-smacked-sexually-suggestive-name-new-chant/
Kamala smacked with sexually suggestive name in new chant
WATCH: Booing for VP turns graphic at Carnegie Hall
By Bob Unruh
Published November 2, 2021 at 5:51pm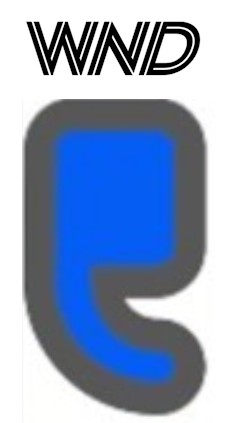 Americans in large numbers recognize – and even approve of – the recently appearing chant criticizing Joe Biden that goes "Let's go Brandon."
It's a euphemism for the very graphic "F— Joe Biden" that first appeared, and it came about more or less because a reporter at a NASCAR event, hearing the original chant while interviewing a driver named Brandon, noted on-air that the crowd was encouraging the driver with "Let's go Brandon."
Now those critics are including Vice President Kamala Harris in their verbal barrage, and it's not at all genteel.
In fact, it could be viewed as downright insulting.
Listen:
Anti mandate New Yorkers greet the VP outside Carnegie Hall with chants of "Kamala is a whore" pic.twitter.com/18YZQJkzvT

— Elad Eliahu (@elaadeliahu) November 1, 2021
Reports explained the chant appeared as protesters gathered at New York's Carnegie Hall where Harris was attending a show.
The crowd's reaction started out with booing, then deteriorated into the "Kamala is a wh—!" slogan.
Another video was posted of the same protesters citing Biden, only this time they weren't using the PG-rated version, they were using the original, so that video cannot be posted here.
A commentary at a pro-Trump blog pointed out, "If people are this angry against Biden and Kamala in NYC, imagine the red wave rising across the rest of the nation."
And without making any insinuations, USA Today reported back when Harris was launching her own bid for the presidential nomination that while she was his "girlfriend," Harris was appointed to several state positions by then-California Assembly Speaker and former San Francisco Mayor Willie Brown. ##
From the WND Newscenter to MHProNews is this on Bidenflation an the economy.
STAGFLATION
Stephen Moore: The '$4 trillion spend, tax, borrow and print money scheme' must be defeated
By Stephen Moore
Published November 2, 2021 at 7:15pm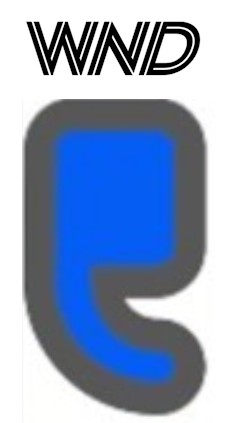 A good friend who owns a major auto dealership in the Dallas area recently told me he typically has about 500 to 1,000 cars and trucks on his lot. Now, he has 15. That's how severe the supply chain problem has become.
He said people are buying cars over the sticker price. You usually haggle down the price for a new car. Now, you haggle up the price! Welcome to Bidenflation.
But now, the Commerce Department has reported that the high-flying U.S. economy with a 6.5% growth rate for the first half of this year has crash-landed in the third quarter with an anemic rate of just 2% growth. Those lousy numbers predate the supply chain crisis that emerged in October.
At the start of the year, the Philadelphia Federal Reserve Bank predicted 7% growth. So, that's quite a downgrade we are seeing.
Car sales, for example, are way down because of microchip shortages. The carmakers also don't have the metals they need to make the cars. Don't try to buy a used car either. Those prices in many parts of the country are up by more than 20% – even for clunkers. Many grocery stores now have empty shelves of produce and vegetables.
It means we have slow growth while inflation has hit its highest level in more than a decade at 5.6%. In addition, consumer confidence in the economy has tumbled.
All of this is a bit reminiscent of the economy of the 1970s. Does anyone remember the term stagflation? Those under the age of 40 probably don't even know what that is, and they've certainly never experienced it upfront and personally.
Here's the definition from Investopedia: "Stagflation is characterized by slow economic growth while at the same time accompanied by rising prices (i.e., inflation)."
Under Presidents Richard Nixon, Gerald Ford and Jimmy Carter, years of persistently high inflation triggered a surge in unemployment. That then led to the term "misery index." The sum of the inflation rate and the unemployment rate. It exceeded 18% in Carter's last year in office.
And then it was, "So long, Jimmy." With the economy sagging, Carter lost a landslide election to Ronald Reagan.
The lesson here is straightforward: The witches' brew of slow growth and higher prices is the ultimate curse for politicians.
Inflation, which had been relatively tame for 40 years, has been a cascading problem in President Joe Biden's first 10 months in office. The consumer price index suddenly galloped from less than 2% in the Trump years to 5% and 6% in the past four months. The cross-your-fingers hope by the Federal Reserve Board and the White House that the sticker-price rises at the grocery store, the restaurant and the gas station were only "transitory" have melted away like an ice cream cone on an August afternoon. Inflation is accelerating, and Jack Dorsey, the CEO of Twitter, predicts hyperinflation.
Let's hope he's wrong, but there is no plan in Washington or by the Fed to slow it down.
In fairness to Biden, some of the steep rises in prices were bound to happen due to the depressed prices in 2020. As consumer spending popped like a cork from a champagne bottle when lockdowns ended and the economy returned to normal, there was a natural demand response to reopening.
But nearly every Biden policy has made inflation and the economic slowdown worse. The absurd $1.9 trillion blue-state bailout bill passed in March marinated the economy with $100 bills as if dropping like confetti from helicopters. According to Casey Mulligan at the University of Chicago, the expansion of welfare programs such as food stamps and unemployment benefits (not tied to working) is paying people up to $75,000 for not working a single hour in many states.
Big surprise that the labor force participation rate had shrunk and companies had 11 million jobs they couldn't fill. Last month, nearly 200,000 people dropped out of the job market.
No wonder the Job Creators Network says that small-business optimism has seldom been lower than today. When you treat profitable companies like villains, the owners go into protection mode.
Why invest when the politicians in Washington are threatening to tax away your earnings in the name of paying your "fair share"? Businesses that make profits are now demonized as enemies of the people in this new liberal anti-growth crusade. They keep forgetting that without employers, there are no jobs.
The income redistributionists who seem to be driving the Democratic Party agenda will soon learn that their pixie dust economic doctrine called modern monetary theory, which posits that Congress can spend and borrow ad infinitum, is a giant hoax. When the political class begins to plunder company profits indiscriminately in the name of "fairness," the profits and the businesses start to disappear.
So, if Congress and the White House are afraid of the forces of stagflation, as they should be, what should they do?
The first and most urgent step to contain stagnation is to defeat Biden's $4 trillion spend, tax, borrow and print money scheme.
This week's GDP report is a five-alarm siren warning that the Biden debt binge has to stop now. Hopefully, temporary stagflation doesn't turn into runaway stagflation. ##
Related MHProNews reports: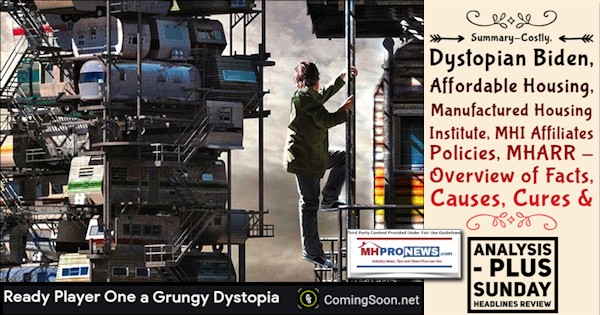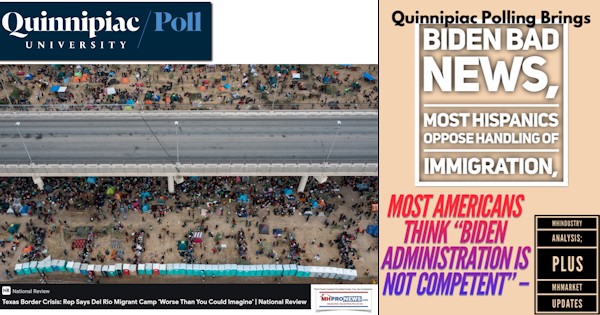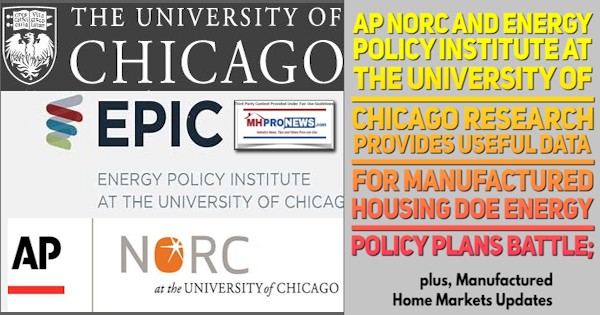 Unlike our go-along to get along, or self-serving rivals in MHVille publishing and blogging, MHProNews and MHLivingNews dare to publish reports that unmask realities, be they popular or not. That is what journalism is supposed to do, reflect reality so the people can make properly informed decisions.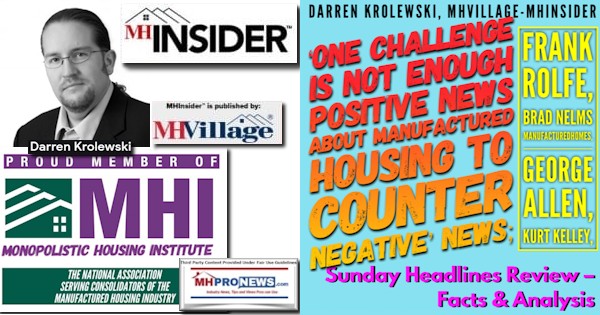 Once again, just for fun but manufactured housing related, Yahoo News announced the pending quarterly update from Cavco Industries.  There was one comment, and apparently only one comment, that they allowed to be posted. It is shown below. In one sense related to that was a tip.  Per a fascinating source, Warren Buffett – while not liking our platforms, is reportedly aware of them. If so, we'll take that as a compliment.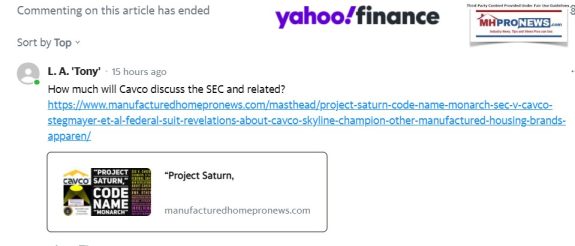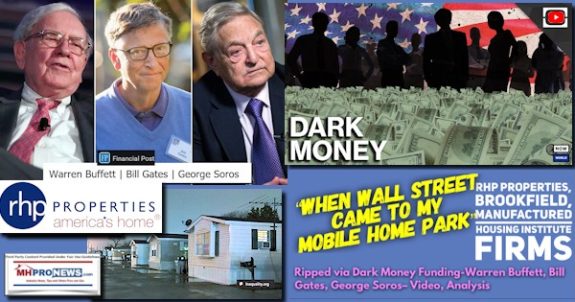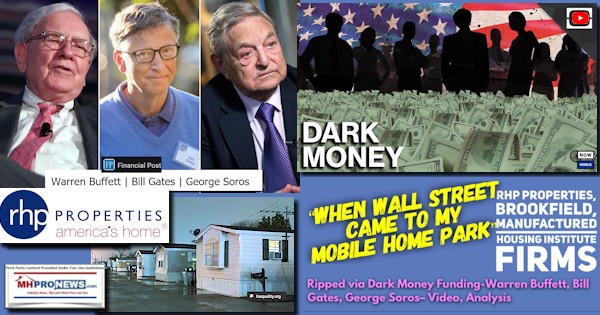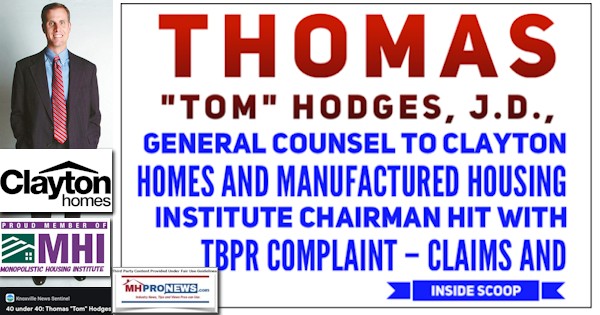 Next up is our business daily recap of yesterday evening's market report, related left-right headlines, and manufactured housing connected equities.
The Business Daily Manufactured Home Industry Connected Stock Market Updates.  Plus, Market Moving Left (CNN) – Right (Newsmax) Headlines Snapshot. While the layout of this daily business report has been evolving over time, several elements of the basic concepts used previously are still the same. For instance. The headlines that follow below can be reviewed at a glance to save time while providing insights across the left-right media divide. Additionally, those headlines often provide clues as to possible 'market-moving' news items.
Market Indicator Closing Summaries – Yahoo Finance Closing Tickers on MHProNews…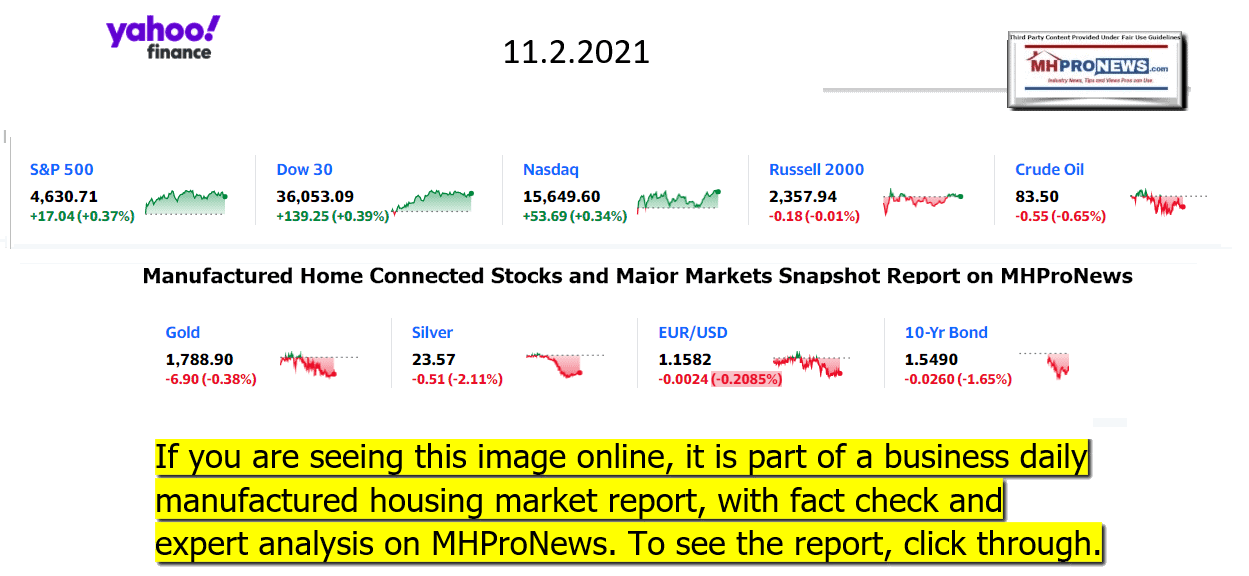 Headlines from left-of-center CNN Business – from the evening of 11.2.2021
Lives at stake
Adar Poonawalla, chief executive officer of Serum Institute of India Ltd., at the company's Hadapsar plant in Pune, Maharashtra, India, on Friday, Jan. 22, 2021.
RISK TAKERS
India's billionaire vaccine prince held the key to ending the pandemic. His plans went awry
Why flying is so bad and about to get worse
Facebook is shutting down its facial recognition software
Americans grow pessimistic on the economy as high inflation lingers
Avis stock more than doubles thanks to rental car boom
China is urging families to stock up on food as supply challenges multiply
Watch this robot take over a fry station
Maersk turns record profit and predicts supply chain chaos will continue
I'm not picking on Elon Musk. Just please help, says UN food official
Musk's tweet raises doubt about Hertz's order for 100,000 Teslas
Yahoo pulls out of China for good
What's it really like to work at a company? Here's how to find out
Chipotle is testing a new chicken recipe for the first time in 28 years
Quentin Tarantino to sell 7 never-before-seen 'Pulp Fiction' clips as NFTs
Big Tech television ads paint a rosy picture of a problematic industry
A restaurant storefront on Middle Neck Road has a "Help Wanted" sign in a window on July 15, 2021 in Great Neck, N.Y.
3 reasons it's so hard for companies to hire right now — and what they can do about it
A student's room at the Munger Graduate Residence Hall, University of Michigan in Ann Arbor.
Here's what it's like to live in one of Charlie Munger's windowless dorms
Flippy, the french-fry making robot made by Miso Robotics, is getting an upgrade at a Chicago-area White Castle.
White Castle thinks a robot can make better french fries
THE C-SUITE
Jes Staley, chief executive officer of Barclays Plc, poses for a photograph following a Bloomberg Television interview on day two of the World Economic Forum (WEF) in Davos, Switzerland, on Wednesday, Jan. 22, 2020. World leaders, influential executives, bankers and policy makers attend the 50th annual meeting of the World Economic Forum in Davos from Jan. 21 – 24.
Barclays CEO quits after investigation into links with Jeffrey Epstein
TikTok rival Kuaishou has a new CEO
Fortune 500 CEO: 'Work-life balance is a lie'
Watch: Spanx employees stunned by CEO's gift
Activision Blizzard's CEO looks to slash his pay by millions as the company's harassment scandal continues
MEDIA
New York, NY – September 13, 2021 – South Street Seaport Pier 17 Studios: Peyton Manning on the set of Monday Night Football with Peyton and Eli.
(Photo by Kelly Backus/ESPN Images)
ESPN's 'Manning Cast' is a hit. It could also change how we watch the NFL
Disney's newest 'Star Wars' series is here
Warner Bros. sets 'Dune' sequel for 2023
Hong Kong passes film censorship law
October was a strong month for the box office. Theaters look to have happier holidays
Headlines from right-of-center Newsmax – evening of 11.2.2021
Scott: I'd Back Bid by Trump to Recapture WH
Then-President Donald Trump shakes hands with Sen. Tim Scott, R-S.C., at the White House signing of an executive order to establish the White House Opportunity and Revitalization Council in 2018. (Alex Wong/Getty Images)
Special Election Coverage
Newt: If Virginia Race Is Close, Dems Will Try to 'Steal It'
Tight Virginia Race Becomes Referendum on Biden Presidency
Officials Monitoring Elections for Cyberthreats
Trafalgar Poll: Youngkin Has Slight Lead in Va.
Trump Rips McAuliffe During Tele-Rally for Youngkin
Anti-Tax Furor Fuels Final GOP Surge in New Jersey Governor's Race
McAuliffe Slams Trump Endorsement of Youngkin in Va. Gov Race
More Special Election Coverage
Newsmax TV
Sessions: 'Socialists Have Taken Over' Dem Party | video
Blackburn: Angry Voters Will Lead to Win for Youngkin | video
Comer: Dems 'Scared to Death' About Potential Youngkin Win | video
Gloria Allred: Questions Surround 'Rust' Movie Set Shooting | video
Curtis Sliwa: I'll Be Tough on NYC Crime as Mayor | video
Cline and Van Drew: Biden Policies Will Lose in Virginia, New Jersey | video
More Newsmax TV
COVID Mandates Under Fire
2,300 NYC Firefighters Call Out as Vax Mandates Take Hold | video
Alabama AG Sues to Halt Biden's Federal Contractor Vaccine Mandate
Worker Rebellion Swells Over Vaccine Mandates
Critics of Biden Vaccine Mandate 'Lobby' for Change in Rare Meetings
Louisiana Court Temporarily Blocks Healthcare Vaccine Mandate
9K Unvaccinated NYC Workers Won't Be Paid Monday
Youngkin: I Won't Order Vaccine Mandates | video
Vaccines for Kids 5-11 Ready by Next Week – White House
More COVID Mandates Under Fire
Newsfront
Facebook to Shut Down Facial Recognition System
Facebook Inc. announced Tuesday it is shutting down its facial recognition system, which automatically identifies users in photos and videos, citing growing societal concerns about the use of the technology…. [Full Story]
Dollar Firms as Fed Policy Meeting Gets Underway
The dollar firmed slightly on Tuesday as the U.S. Federal Reserve [Full Story]
Doctors Often Unaware of the Only Available Treatment for Early COVID-19
While we wait for authorization for Merck's new antiviral pill for [Full Story]
Russian Security Chief Meets With CIA Director in Moscow
A top Russian security official met the visiting chief of the Central [Full Story]
U of Florida's Academic Freedom Reviewed Over Testimony Ban
The University of Florida has been asked by its accrediting body to [Full Story]
Conservatism Conference Attendees to Newsmax: Virginia's Gubernatorial Race Key Focus
The National Conservatism Conference is attracting hundreds of [Full Story] | video
Related
Cruz Advocates for Reagan-Era Patriotism
Rubio Decries Difference Between Candidate, President Biden
Biden-Pope Huddle Slammed by Catholics, Praised by Progressives
It's a major event when a U.S. President meets with the Pope – and [Full Story] | platinum
Scott Declares He Would Support Trump Bid for Presidency
Tim Scott said he would back former President Donald Trump if he [Full Story]
Senior Political Analyst Rick Santorum Joins Newsmax
Newsmax Media, Inc. announced Tuesday that former Sen. Rick Santorum, [Full Story]
NYC Mayor de Blasio Files for Possible Bid for Governor
New York City Mayor Bill de Blasio appears to be laying the [Full Story]
Biden's Climate Concern Is 'Just a Massive PR Exercise,' Experts Say
Though President Joe Biden appeared to be dozing off Monday at the [Full Story] | platinum
Navy: US Submarine Hit Underwater Mountain
A U.S. nuclear-powered submarine that struck an underwater object in [Full Story]
RNC's McDaniel Pushes Turnout in Virginia, New Jersey
Republican National Committee Chairwoman Ronna McDaniel urged voters [Full Story]
Christie: Sleepy Biden Sends 'Wrong Image' on Climate
Former New Jersey Gov. Chris Christie said Tuesday that President Joe [Full Story]
Texas Poll: Gov. Abbott, Dem O'Rourke in Virtual Tie
Texas Gov. Greg Abbott and expected Democrat challenger Beto O'Rourke [Full Story]
Manchin: 'Not in a Rush' to Get Deal on Budget Bill
Despite a desire by the Democratic Party leadership to pass both the [Full Story]
Georgetown Poll: Dems Doubt Biden Leading the Party
Voter frustration and a growing sense the country is headed in the [Full Story]
Madonna Now Wants to Blow Up Cancel Culture
Madonna is not shy to say what she is thinking and in a new interview [Full Story]
Election Commission Clears Foreign Funding in Bill Lobbying
While foreign donors cannot contribute to election campaigns, they [Full Story]
Lawmakers Seek More Jewish Programming to Fight Anti-Semitism
Five members of Congress are calling on cable and satellite [Full Story]
Another Poll Confirms Biden's Plummeting Approval
A new Harvard CAPS/Harris poll reveals President Joe Biden's approval [Full Story]
Abbott: Remove 'Pornographic' Books From School Libraries
Texas Gov. Greg Abbott on Tuesday said that the Texas Association of [Full Story]
White House Rolls Out Plan to Curb Gun Suicides in US
The Biden administration is rolling out a new initiative aimed at [Full Story]
Actor Kristy Swanson Hospitalized With COVID
Kristy Swanson, the original "Buffy the Vampire Slayer" who has been [Full Story]
Pence: James Madison, Bible Guided Me in Deciding to Certify Election
Former Vice President Mike Pence says he was influenced by founding [Full Story]
Record Number of Migrants Looking for Asylum in Mexico
Migrants, in record numbers, are now seeking asylum in Mexico. In [Full Story]
China Urges Families to Keep Stocks of Daily Necessities Ahead of Winter
The Chinese government has told families to keep daily necessities in [Full Story]
Census Analysis Finds Undercount but Not as Bad as Predicted
The 2020 census missed an estimated 1.6 million people, but given [Full Story]
US Civil Rights Leader Jesse Jackson in Hospital With Injury
S. civil rights leader Jesse Jackson has been admitted to hospital [Full Story]
Sean Spicer to Newsmax: Ron Klain 'Driving the Train'
Lost in the mainstream media's adulation and lack of pressing [Full Story] | video
Democratic Rep. Cori Bush Slams Sen. Manchin for Opposing Spending Bill
Cori Bush, D-Mo., rebuked Sen. Joe Manchin, D-W.Va., for [Full Story]
One Simple Method to Keep Your Blood Sugar Below 100
Glucofort
More Newsfront
Finance
New Ferrari CEO Vigna Prioritizes Technology
Ferrari will seek technology partnerships as it moves ahead with the transition towards cleaner mobility, new CEO Benedetto Vigna said on Tuesday after the sportscar maker raised this year's core earnings guidance. [Full Story]
Natgas Jumps Nearly 7 Percent on Profit Taking by Short Sellers
Avis Shares Soar in Meme-Like Rally as Retail Traders Spark Squeeze
Facebook to Shut Down Facial Recognition System
US Says Oil, Gas Sales Damage Climate – But Won't Stop Them
More Finance
Health
FDA Authorizes Pfizer COVID-19 Vaccinations in Young Kids
The Food and Drug Administration on Friday paved the way for children ages 5 to 11 to get Pfizer's COVID-19 vaccine. The FDA cleared kid-size doses – just a third of the amount given to teens and adults – for emergency use, and up to 28 million more American children could… [Full Story]
Doctors Often Unaware of the Only Available Treatment for Early COVID-19
Zinc Might Help Shorten Your Cold or Flu, Study Finds
'Delta Plus' Variant Surfaces in 8 U.S. States
Nearly 1 in 3 Older Adults See at Least 5 Doctors Per Year
Manufactured Housing Industry Investments Connected Equities Closing Tickers
Some of these firms invest in manufactured housing, or are otherwise connected, but may do other forms of investing or business activities too.
NOTE: The chart below includes the Canadian stock, ECN, which purchased Triad Financial Services, a manufactured home industry lender
NOTE: Drew changed its name and trading symbol at the end of 2016 to Lippert (LCII).
NOTE: Deer Valley was largely taken private, say company insiders in a message to MHProNews on 12.15.2020, but there are still some outstanding shares of  the stock from the days when it was a publicly traded firm.  Thus, there is still periodic activity on DVLY.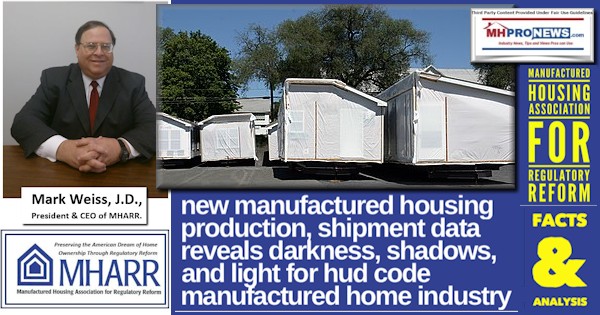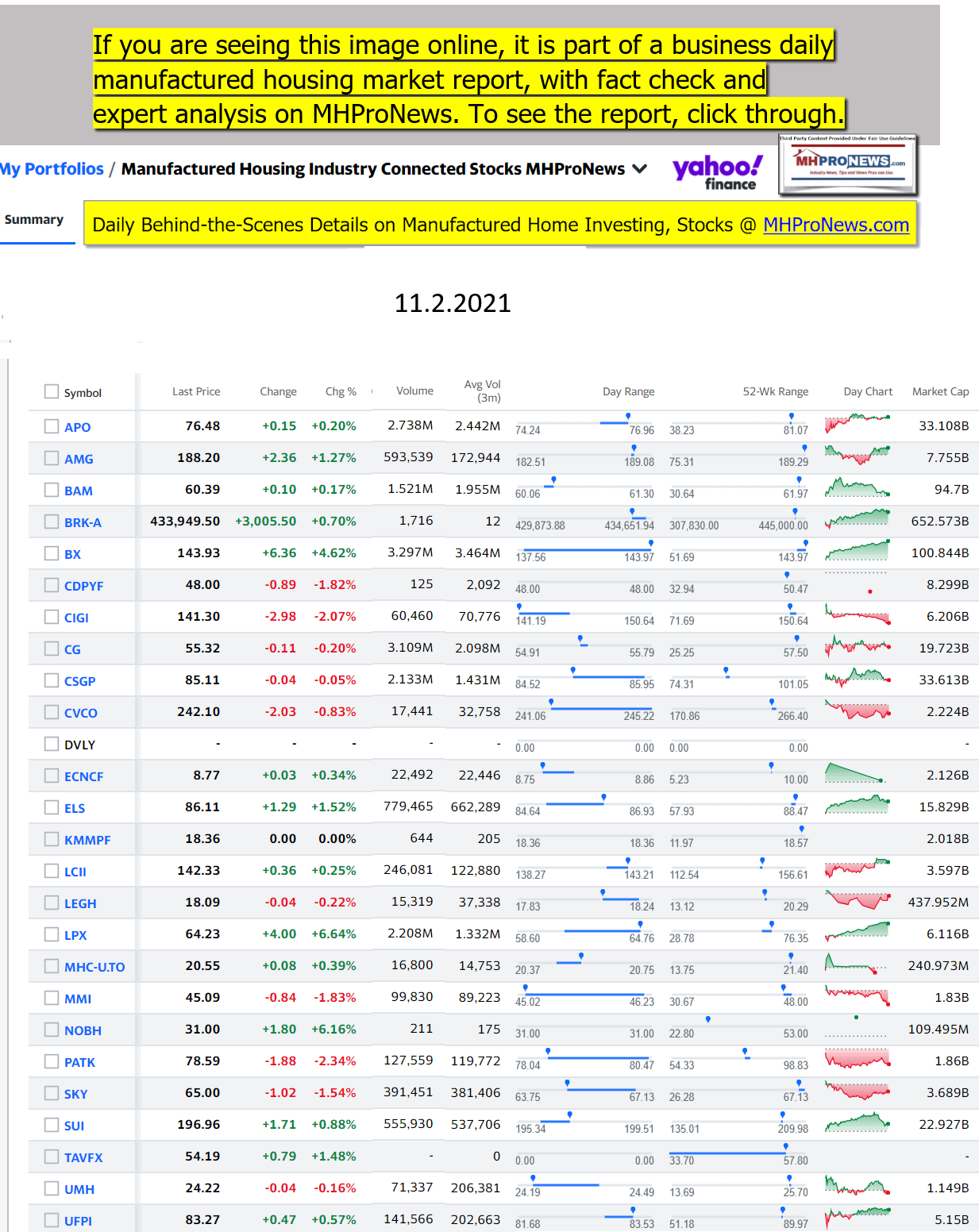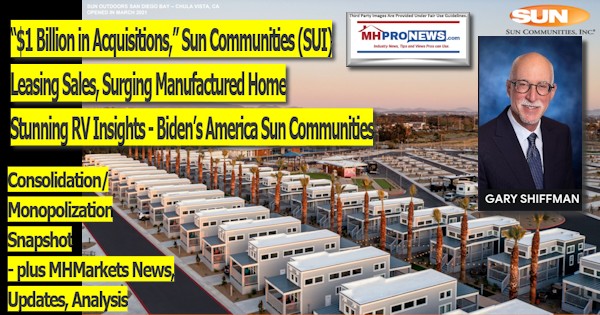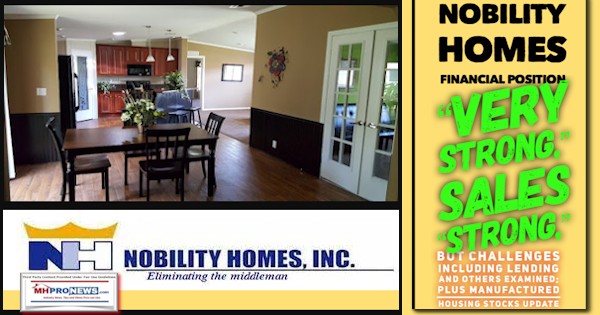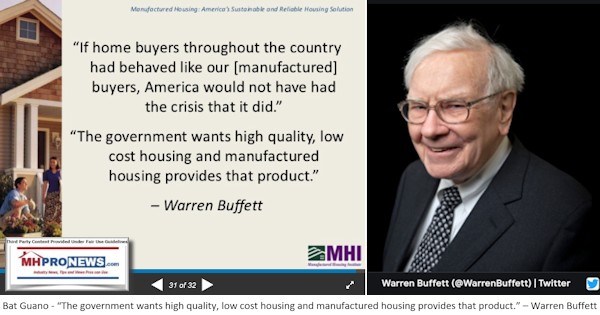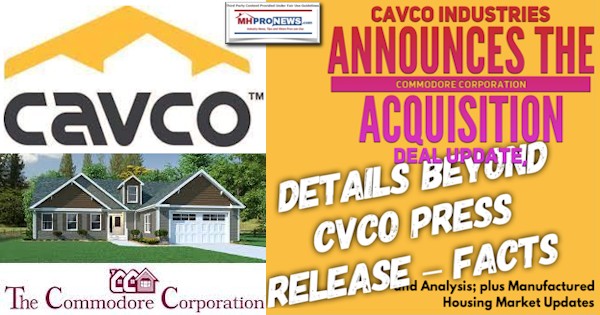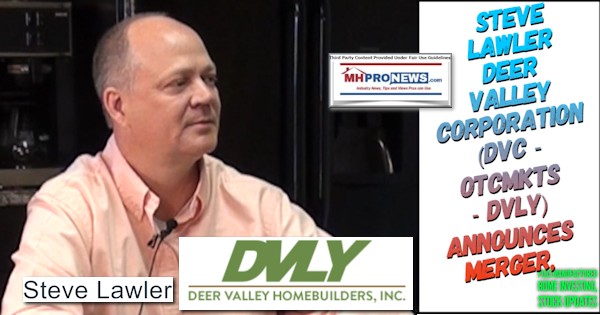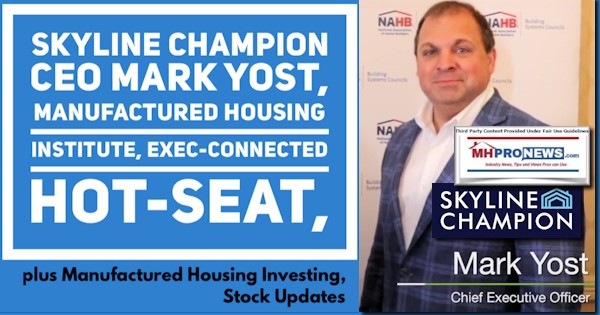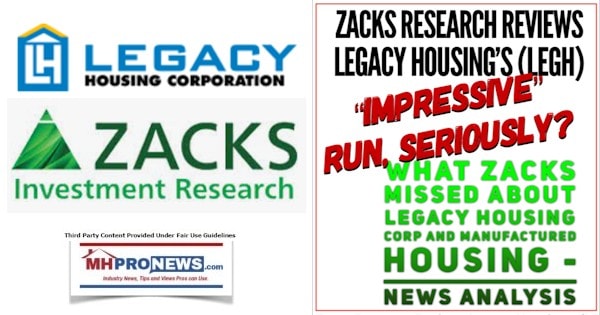 As the Summer of 2021 draws to a close…
Berkshire Hathaway is the parent company to Clayton Homes, 21st Mortgage, Vanderbilt Mortgage and other factory built housing industry suppliers.
· LCI Industries, Patrick, UFPI, and LP each are suppliers to the manufactured housing industry, among others.
· AMG, CG, and TAVFX have investments in manufactured housing related businesses. For insights from third-parties and clients about our publisher, click here.
Enjoy these 'blast from the past' comments.
MHProNews. MHProNews – previously a.k.a. MHMSM.com – has celebrated our 11th year of publishing, and is starting our 12th year of serving the industry as the runaway most-read trade media.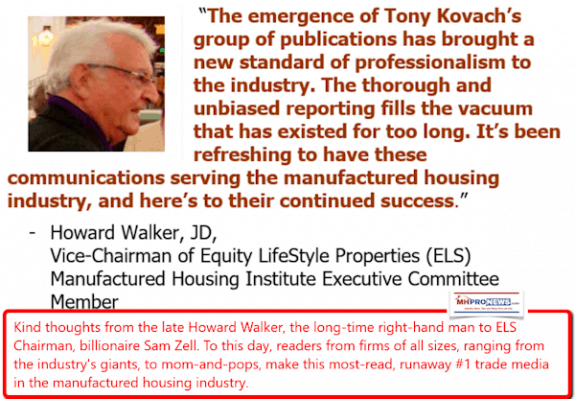 Sample Kudos over the years…
It is now 11+ years and counting…
Learn more about our evolutionary journey as the industry's leading trade media, at the report linked below.
· For expert manufactured housing business development or other professional services, click here.
· To sign up in seconds for our industry leading emailed headline news updates, click here.

Disclosure. MHProNews holds no positions in the stocks in this report.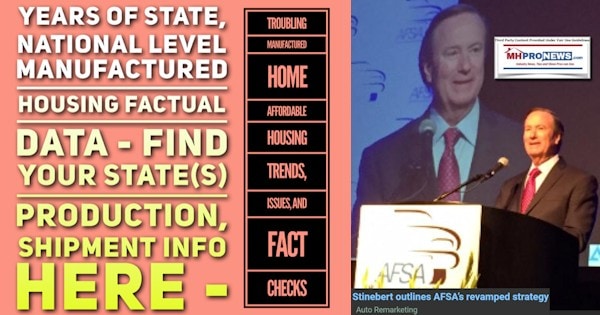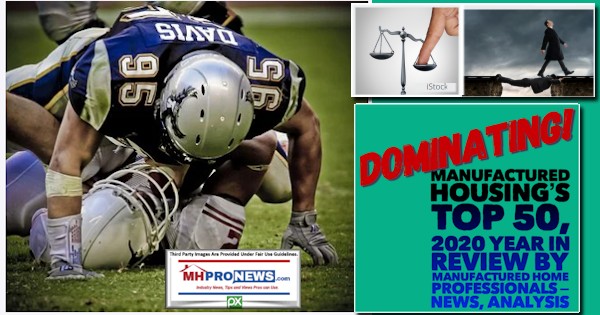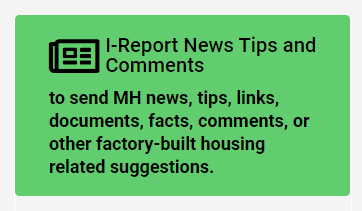 That's a wrap on this installment of "News Through the Lens of Manufactured Homes and Factory-Built Housing" © where "We Provide, You Decide." © (Affordable housing, manufactured homes, stock, investing, data, metrics, reports, fact-checks, analysis, and commentary. Third-party images or content are provided under fair use guidelines for media.) (See Related Reports, further below. Text/image boxes often are hot-linked to other reports that can be access by clicking on them.)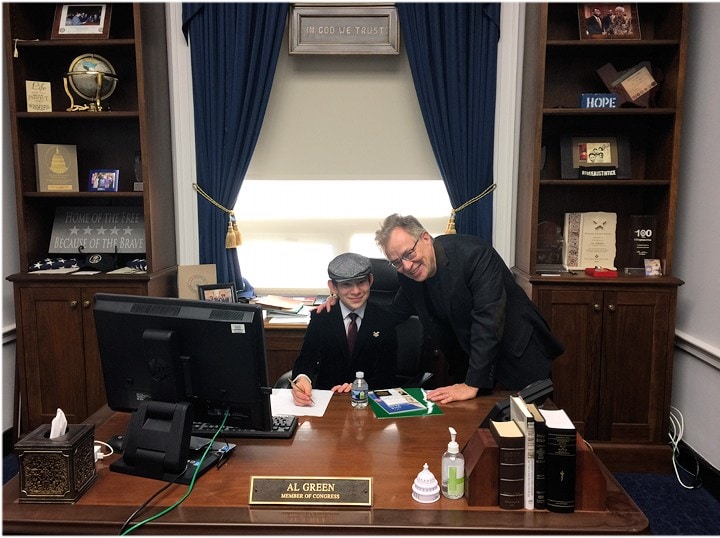 By L.A. "Tony" Kovach – for MHProNews.
Tony earned a journalism scholarship along with numerous awards in history. There have been several awards and honors and also recognition in manufactured housing. For example, he earned the prestigious Lottinville Award in history from the University of Oklahoma, where he studied history and business management. He's a managing member and co-founder of LifeStyle Factory Homes, LLC, the parent company to MHProNews, and MHLivingNews.com. This article reflects the LLC's and/or the writer's position, and may or may not reflect the views of sponsors or supporters.