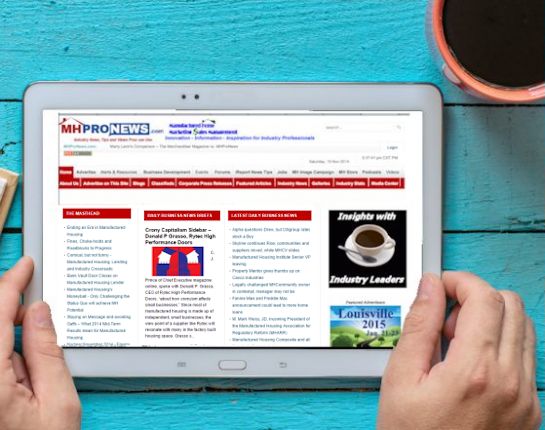 Every week, the 'history' of modern manufactured and modular housing is passing before the eyes of our readers here. We cover some mainstream housing news too, when it ought to be of keen interest to those in some aspect of factory-built housing. Our web reports tell us there are those who are faithfully on our pages daily by the thousands. Our most recent stats suggest the average page views (which loosely relates to the number of articles being read) are an amazing 12 per reader per visit.
Then there are those who can only come once weekly, and for both of the daily or weekly reading groups, this headline news recap has time saving, insights-yielding and thus potential money-making value!  Daily readers can make sure they didn't 'miss' or forget something useful to them, and those weekly readers can catch up on Sunday morning.
You'll see news this week on manufactured home community giants ELS, and SUN Communities too.  Skyline Homes has a new president.  There are features on bamboo housing, Wells Fargo, an MH Sales tax roll back and much, much more via the headlines linked below.
The weekly recap this week will add a new feature. We're also adding the headlines for the videos and related stories on popular Manufactured Home Living News. On MHLivingNews.com – the industry's stories are being told through the lens of those who know MH well and respect our industry's amazing products and services. MH Home owners, industry pros and other experts who have taken the time to really get to know and understand manufactured homes and the MH community lifestyle. So this week, you'll find below a Video Interview with an elected official, a whily fisherman who loves his MH, and a housing inspector who compares MH to conventional housing are among the features drawing numbers that dwarf many MH websites. The Dennis Raper – chain-saw carving MH builder's foreman – has been a particular hit, come see why!  
Share these MHLivingNews videos with your customers, local media,Realtors ® in your market and residents.  Client companies and non-clients alike are telling us these stories are helping them close sales with customers 'on the fence,' as well as are bringing in customers they never saw before.  That in itself is good news for MH.
Enjoy the week that was, via the links to stories you can click through to, below.
On a personal note, Matthew Silver, our Daily-Business-News writer's mother passed away this weekend. Our sincere condolences to Matthew and all those touched by her death. She surpassed the century mark…Shalom…may she rest in peace.
What's New On ManufacturedHomeLivingNews.com
http://manufacturedhomelivingnews.com/mayor-phil-segraves-talks-growth-business-development-and-todays-manufactured-housing-found-in-guin-al-based-deer-valley-homebuilders/
http://manufacturedhomelivingnews.com/authentic-fisherman-dave-cavinder-catching-fish-and-the-community-lifestyle-at-new-durham-estates-westville-in-inside-mh-video-interview/
http://manufacturedhomelivingnews.com/the-hybrid-core-a-different-style-factory-home-building-process/
http://manufacturedhomelivingnews.com/dennis-raper-wood-working-artist-at-sunshine-homes-chain-saw-artist-video-interview/
http://manufacturedhomelivingnews.com/house-inspector-tim-bunch-comparing-conventional-and-manufactured-homes-inside-mh-road-show-video/
Saturday 27th 
http://www.MHProNews.com/blogs/daily-business-news/analysts-give-manufactured-home-community-giant-els-thumbs-up/
Friday 26th 
http://www.MHProNews.com/blogs/daily-business-news/richard-w-florea-named-president-and-ceo-of-skyline-corporation-manufacturedmodular-home-builder/
http://www.MHProNews.com/blogs/daily-business-news/manufactured-housing-composite-value-rose-tracked-stocks-closed-mixed/
http://www.MHProNews.com/blogs/daily-business-news/high-dollar-community-closure-looms-for-buena-vista-mobile-home-park/
http://www.MHProNews.com/blogs/daily-business-news/tax-bills-mailed-for-manufactured-homes-in-ohio/
Thursday 25th
http://www.MHProNews.com/blogs/daily-business-news/plans-for-manufactured-home-community-expansion-on-hold/
http://www.MHProNews.com/blogs/daily-business-news/equity-lifestyle-properties-director-sheds-stock/
http://www.MHProNews.com/blogs/daily-business-news/mhcv-edges-up-health-care-stocks-rise-on-supreme-court-decision/
http://www.MHProNews.com/blogs/daily-business-news/texas-dealer-offering-manufactured-homes-at-cost-to-flood-victims/
http://www.MHProNews.com/blogs/daily-business-news/2500-bamboo-and-wood-house-measures-861-square-feet/
http://www.MHProNews.com/blogs/daily-business-news/georgia-jurisdiction-will-allow-upgrades-to-manufactured-homes/
Wednesday 24th
http://www.MHProNews.com/blogs/daily-business-news/insider-trading-at-sun-communities-randall-k-rowe/
http://www.MHProNews.com/blogs/daily-business-news/new-single-family-home-sales-reach-highest-point-in-seven-years/
http://www.MHProNews.com/blogs/daily-business-news/deer-valley-skyrockets-62-50-percent-dow-falls-178-points/
http://www.MHProNews.com/blogs/daily-business-news/objectionable-epa-provision-may-be-removed-from-ohio-budget/
http://www.MHProNews.com/blogs/daily-business-news/another-new-manufactured-home-community-plan-advances/
http://www.MHProNews.com/blogs/daily-business-news/michigan-jail-expansion-will-include-modular-cells/
http://www.MHProNews.com/blogs/daily-business-news/sales-tax-rescinded-on-used-manufactured-homes/
Tuesday 23rd
http://www.MHProNews.com/blogs/daily-business-news/affluent-foreigners-purchased-over-100-billion-in-u-s-real-estate/
http://www.MHProNews.com/blogs/daily-business-news/wells-fargo-beefs-up-manufactured-home-community-lending-sector/
http://www.MHProNews.com/blogs/daily-business-news/deer-valley-regains-some-of-yesterdays-loss-nobility-homes-loses-its-gain-of-yesterday/
http://www.MHProNews.com/blogs/daily-business-news/manufactured-home-community-owner-els-outpaces-sp-500/
http://www.MHProNews.com/blogs/daily-business-news/honolulu-modular-homeless-initiative-will-seek-funding-elsewhere/
http://www.MHProNews.com/blogs/daily-business-news/mini-ipos-offer-smaller-investors-opportunity-to-invest/
Monday 22nd
http://www.MHProNews.com/blogs/daily-business-news/existing-home-sales-first-time-home-buyers-both-rise/
http://www.MHProNews.com/blogs/daily-business-news/deer-valley-nosedives-dow-gains-over-100-points/
http://www.MHProNews.com/blogs/daily-business-news/rent-control-expanded-to-include-fair-rate-of-return-and-non-standard-increases/
http://www.MHProNews.com/blogs/daily-business-news/canadian-energy-co-buying-modular-builder-evia-finance-of-luxembourg/
http://www.MHProNews.com/blogs/daily-business-news/new-ordinance-details-siting-of-manufactured-homes/
Last Sunday Weekly Recap June 14-20th, 2015
http://www.MHProNews.com/blogs/daily-business-news/sunday-morning-recap-june-14-2015-to-june-20-2015/
##