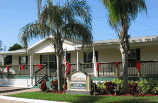 Shares of Equity LifeStyle Properties, Inc. (NYSE:ELS) rose +4.21 percent over the last week and +2.24 percent in the last four weeks, earning a consensus recommendation of "Buy" from analysts. The shares have outperformed the S&P 500 by 3.42 percent in the last week, and by 3.02 percent over the last four weeks.
6.09 percent of the shares are held by insiders of the company, 89.4 percent are in the hands of institutions. While shares of the company have gained +23.05 percent in the past year, americansharejournal tells MHProNews, the S&P 500 has gained +7.51 prcent during the same period. Average shares trade volume for three months is 332,039, and average ten day volume is 329,775 shares.
The shares posted a 52-week high of $58.11 on March 23, 2015 and a one year low on Sept. 25, 2014 of $41.44. The 50-day moving average is $53.70 and the 200-day moving average is shown at $53.73.
ELS is a publicly-traded real estate investment trust (REIT). With 370 manufactured home and recreational vehicle communities in 32 states and British Columbia comprising nearly 140,000 homesites, it is the largest MH/RV community owner in North America. ##
(Photo credit: Equity LifeStyle Properties, Inc.–Lake Haven MHC in Clearwater, Florida)

Article submitted by Matthew J. Silver to Daily Business News-MHProNews.