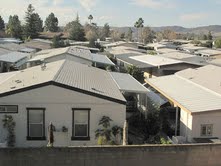 City Attorney Glenn Vasser of Prescott, Arkansas proposed a new mobile home ordinance at the recent Prescott City Council that puts it on the same legal footing with site-built homes in terms of foundations and placement as it relates to neighboring structures.
Manufactured home communities (MHC) must be at least two acres but not more than 20 acres without approval of the Prescott Planning and Zoning Commission. Homesites have to be a minimum of 40 feet wide and 80 feet deep, according to magnoliareporter, and at least 3,200 square feet in size. Communities cannot have more than eight MH per acre, and the homes have to be at least ten feet from the side of the nearest home and a minimum of eight feet front to rear.
MHProNews has also learned the ordinance will require a legal description of the land where the home will be sited, the street address, owners of the property, zoning classification and how the land is currently being used. In addition, a statement will be needed indicating that the placement will not interfere with other structures. The ordinance requires a plat survey detailing dimensions of the property, where the manufactured home will be sited, structures on adjoining land and right of way. ##
(Photo credit: MHProNews-manufactured home community)

Article submitted by Matthew J. Silver to Daily Business News-MHProNews.