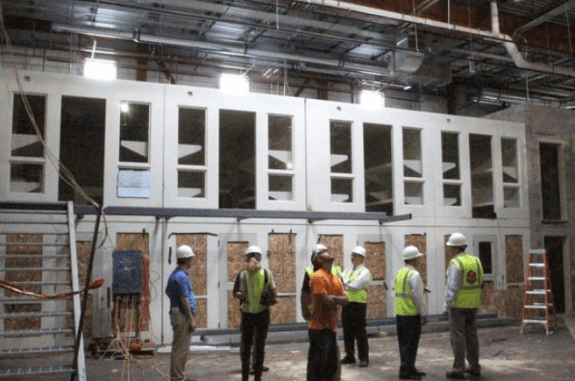 Modular units are being used to expand the women's section of the Livingston County Jail in Howell, Michigan. A spike in heroin related offenses has increased the female inmate population from around a dozen inmates daily 12 years ago to 60, in an area designed for 31. The new design, which will accommodate 80 inmates, is similar to a bicycle wheel with the walls serving as the spokes, and the spaces in between are the modular pods housing the inmates.
The new cell-pod design will allow administrators to separate inmates based upon their security risk level. Stacked in two-story sections, each cell will have its own shower, which will diminish the assault rate of inmate on inmate that currently occurs. Lt. Tom Cremonte said, "No one wants to go into one of the showers because it is kind of isolated. There are 57 inmates and two showers in one area. Hygiene will improve. Infection rates will go down in the jail. Complaints of lice will go down."
Access to the utilities for each cell is from the back, resulting in less disruption to the inmate population, according to livingstondaily. Additionally, there will be two access points to the women's section, one for transporting inmates to court, the other for intake and release. The new modular pods will be ready for occupancy in October, MHProNews has learned.
The second phase of construction will include a special management unit for inmates with behavioral and mental issues, those with special needs and inmates in protective custody who need to be separated from the general population. Upgrading the evidence and property room and technological improvements to the security system are also part of the second phase.
Howell is between Detroit and Lansing. ##
(Photo credit: livingstondaily/Alan Ward–Modular upgrade of Livingston County Jail)

Article submitted by Matthew J. Silver to Daily Business News-MHProNews.