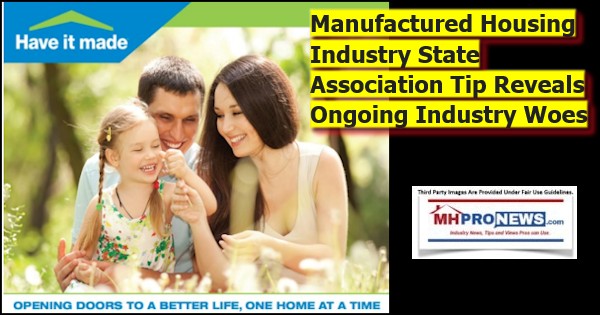 It's a new year and a new decade.
The decade just passed is the worst one on record in manufactured housing history. That's a fact.
In order for manufactured housing in general to advance, certain realities must be directly addressed and resolved. As every business professional learns or knows, things happen for a reason. There are routinely business systems in place – or ought to be in place – that identify problematic areas. Once problems are spotted, management or ownership decides how to correct it.
The alternative to dealing with core issues is to keep repeating the same mistakes, over and over again.
The status quo apparently works for a relative few insider companies that often happen to be members of the Manufactured Housing Institute (MHI), such as Clayton Homes, from which the graphic on the left side of the featured image was utilized.
2020 is also a presidential election year. Democratic presidential hopefuls, Senators Bernie Sanders (VT-I and self-proclaimed Democratic Socialist) and Elizabeth Warren (MA-D), as well as President Donald J. Trump have said that the system in America is rigged. Ironically, Warren Buffett agrees. Buffett – the chairman for Berkshire Hathaway, which owns Clayton Homes, 21st Mortgage Corporation and other units operating in manufactured housing – plainly said the following. "There's class warfare, all right, but it's my class, the rich class, that's making war, and we're winning," reported in the New York Times on November 26, 2006.
When leading members of the two major opposing political parties in the U.S. agree that there's a problem of a rigged system, and a source of the problem – Mr. Buffett – concurs, half of the problem in theory is solved. If the system in general is rigged, why would it be a surprise that manufactured housing is rigged too? Once root causes are understood, the next step is to address those foundational issues.
Because as every builder or good manufactured home retailer/installer knows, if you have a weak or shifting foundation, no matter how well made the home may be, everything else becomes problematic.
There is a new gilded era that has been steadily emerging. The Gilded Era and the age of the Robber Barons is back with a vengeance. The laws deployed then to stop the robber barons already exist, so why aren't they being used now?
With this preface, let's turn to the tip that has generated the data that has sparked this specific report.
State Association Member's Tip
According to an item sent by a state manufactured housing association member, five out of seven states covered in their report below have suffered a year-over-year downturn in 2019 vs. 2018. Given the need for millions of affordable housing units, that fact alone is an outrage. That reality calls into question the industry's so-called 'leadership.'
It is also a call to action, as opposed to continuing with the status quo.
Ironically, the Manufactured Housing Institute (MHI) on the same day this tip came in praised themselves as the 'champions' of the manufactured housing industry. This report had to be done on Satirical Saturday, because you simply can't make this stuff up. Does anyone at MHI speak Yiddish? Do they understand the meaning of the word chutzpah?
One of those states that has experienced a drop in new HUD Code manufactured home shipments is Arkansas. As longer-time and attentive MHProNews may recall, Arkansas made a splash about their production of videos that promote the manufactured home industry. Despite those quality videos, Arkansas' year-to-date shipments are reportedly down by some -18.2 percent. To the credit of the Arkansas Manufactured Housing Association (AMHA), the number of views of their videos dwarfs those of the Manufactured Housing Institute (MHI). One of their three videos is shown below.
But the fact that nice videos fail to move the needle in a positive direction only confirms the concerns raised by MHLivingNews. In the report linked here and further below, our analysis of Zillow's market research spotlighted how interest in manufactured homes has declined in a two-year period that the Manufactured Housing Institute claimed to be promoting the industry. How is that for 'championing' the industry?
Texas is the number 1 state in America for manufactured housing production and shipments.  They too are reportedly down by some 18.2 percent. That's alarming for those who have a longer-term vision of the industry's potential during an affordable housing crisis.
Oklahoma – whose state association organized this data –  and Missouri both had more mild dips, as the chart below reflects.
By contrast, Louisiana, another top state in recent years, is also down by 13.4 percent.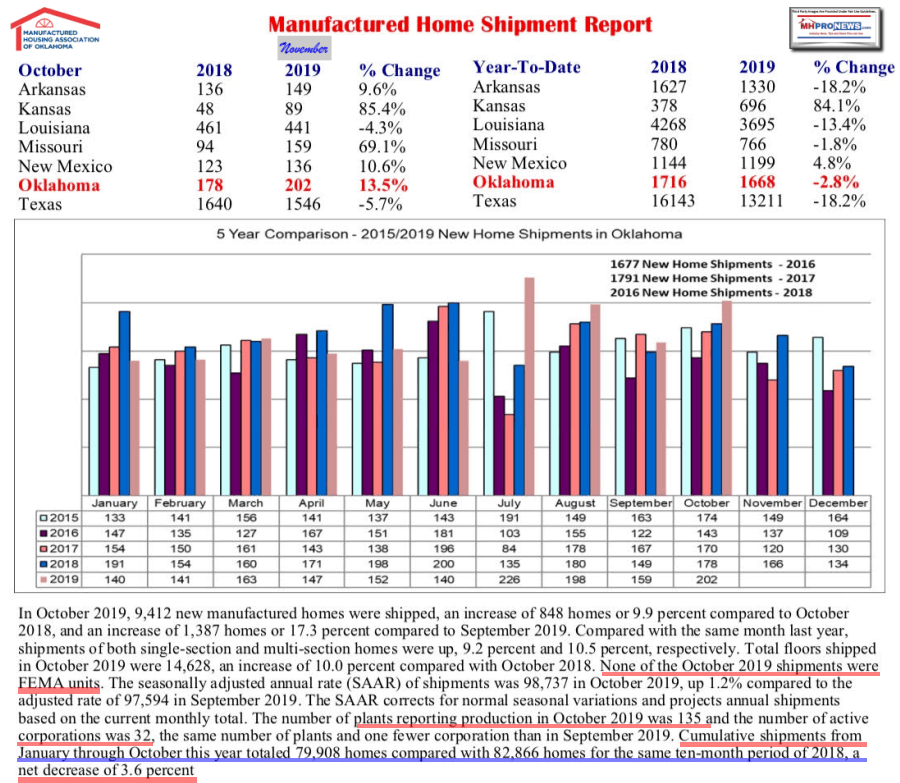 These factoids confirm a long-standing concern that MHProNews' publisher and industry consultant L.A. 'Tony' Kovach has made. Namely, that pretty pictures, fine websites, cool videos or even 3D tours were not going to lift the industry's sales.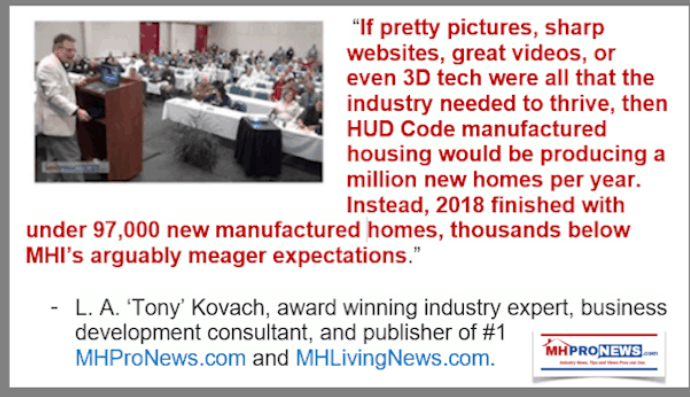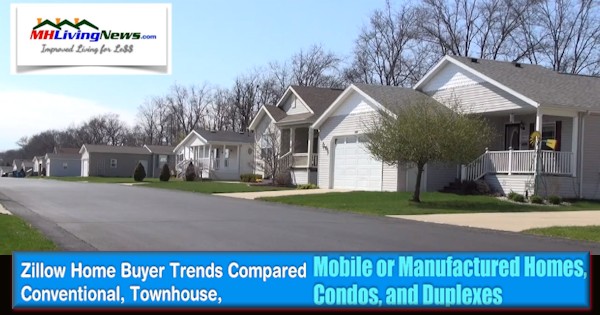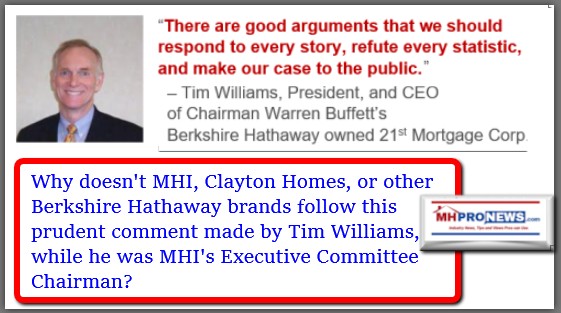 Only addressing the underlying causes of the industry's long malaise will get manufactured housing sales moving back toward their true potential.
What is that potential?
If one believes outgoing Manufactured Housing Institute (MHI) President and CEO Richard A. 'Dick' Jennison, it is 500,000 new units per year. Okay, if Jennison was correct, then why has MHI failed to achieve their own president's own stated goal?
MHI CEO Dick Jennison's Pledge – 500,000 New Manufactured Home Shipments
Our MHProNews estimates for the manufactured home industry's potential would be significantly higher – closer to a million new HUD Code units annually (+/-). But either way, the key is addressing the underlying causes of the problems. If interest in manufactured housing is down, as Zillow documented, of course new HUD Code manufactured home sales will be down.
While MHI is sending out pretty looking emails that wish everyone a happy new year, they are also busy doubling down on a clearly flawed rollout of the Clayton Homes backed "new class of homes" project recently dubbed "CrossModTM homes."
But a normal business, once a product or service fails in the marketplace for whatever reasons, typically doesn't double down on a failure. Rather, a typical business would logically cut their losses, hopefully learn their lessons and move on. So why isn't MHI doing that with the new class of homes  scheme? If MHI are at all sincere about 'helping' the industry, why are they pushing a plan that has failed?
After MHI spent well over $150,000 directly on the initial research — and even more on other aspects of so-called marketing, public relations and claimed promotion of the industry — MHI's grand scheme has ended up much as MHProNews warned readers almost 2 years ago. The MHI 'new class of homes' project, MHProNews management warned, was a Trojan Horse. The logic behind it was flawed from its inception.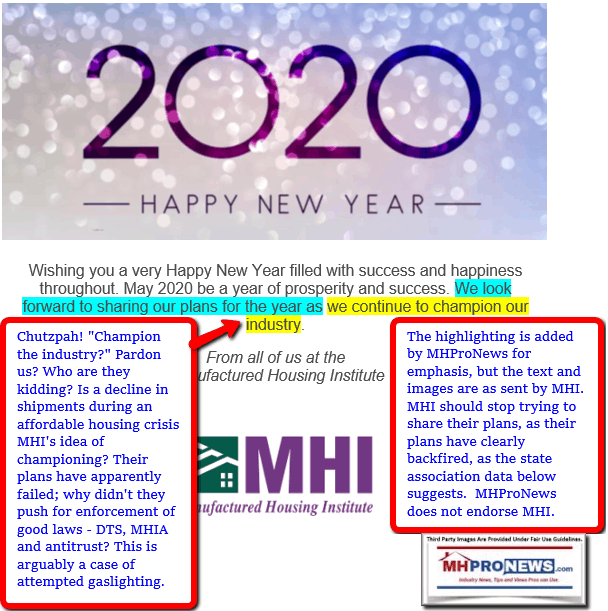 Marketing and sales pros, think objective about this reality. If you have a product or service that is good, and there are misunderstandings about that quality and value, then the solution isn't to rename it. You have to fix the perception. That is best done by making the case with facts that are hopefully provided by third-parties. MHLivingNews organized a list of such third-party research that spans 2 decades of data. Why doesn't MHI have something like it?
In case you missed it, or need to see the facts on how this MHAO shipment data intersects with MHI's allegedly corrupt and deceptive trade practices, see the report linked below. That report makes a prime facie case for perjury. But the report below doesn't stop there.
Exposé – Manufactured Housing Institute Ducker "Research" Cost$, Salaries, Other Spending & Program$ Revealed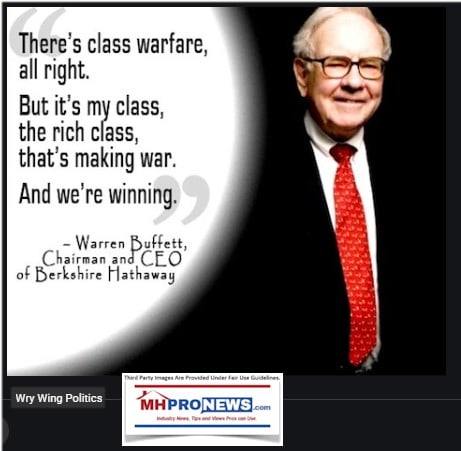 MHProNews and others have politely or bluntly alleged epic failures by MHI which has resulted in steady consolidation of the industry. When MHI doesn't admit their errors and failures, how are they to be trusted?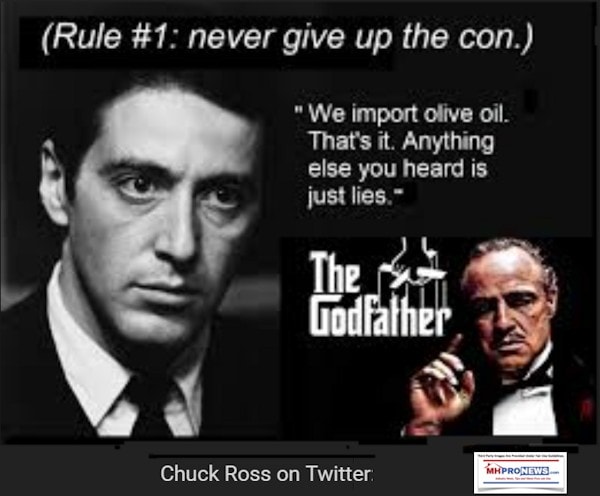 The time to end the charade involving MHI and their big boy backers is long overdue. It is unrealistic to expect a con to admit that they are a con, isn't that the lesson from the Godfather?
National Criminal Justice Reference Service (NCJRS), Razzle Dazzle, Manufactured Housing Institute – Analyzing the Latest
Instead of asking for good existing laws to be fully enforced, MHI has often arguably twisted, paltered, postured, and 'provided' plans for almost everything save what was actually needed. Instead of dealing head on with allegations we've raised for years, MHI has spent untold thousands of dollars in member dues on outside attorneys to threaten MHProNews instead of debating us publicly.  If we at MHProNews were mistaken, misguided or malicious, then why doesn't MHI, Clayton and their big boy supporters just prove us wrong publicly? Why do they use razzle dazzle on the industry instead?
The sobering reality is that by dodging what they can't disprove, they keep demonstrating that the allegations have merit.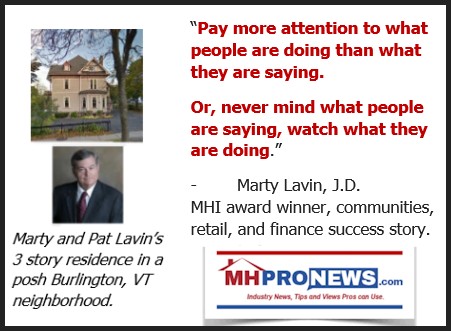 There is an old saying, 'fool me once, shame on you, fool me twice, shame on me.'  MHI and their key members should arguably be investigated for a variety of fraudulent, antitrust and perjuries. Is it reasonable to believe that any organization can be as routinely incompetent as MHI has been during the last decade? Isn't it far more likely that they have been and are continuing to attempt a con that is resulting in the consolidation of the industry during an affordable housing crisis?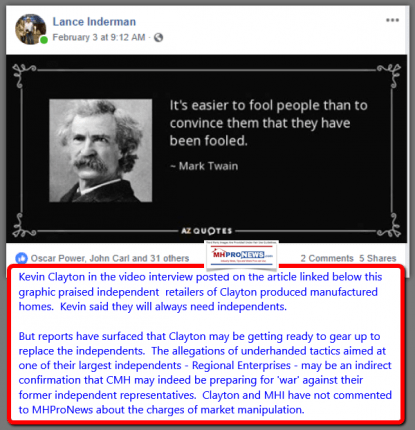 Keep in mind that MHI used to hold a very similar position as the Manufactured Housing Association for Regulatory Reform (MHARR) with respect to the enforcement of good laws. Who says? MHI did in their own documents. See the recent news tip from an MHI source shown below.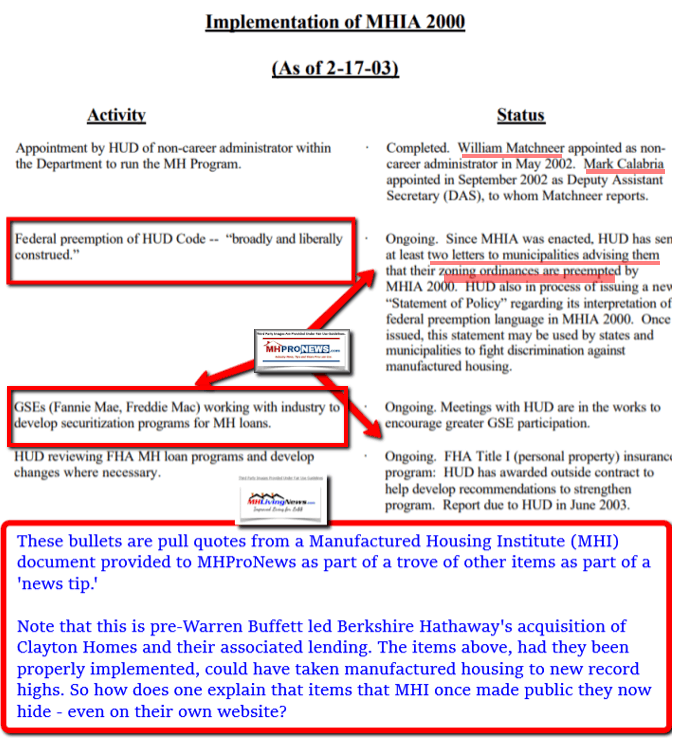 There is no reasonable reason to trust MHI and their powers that be any longer, is there?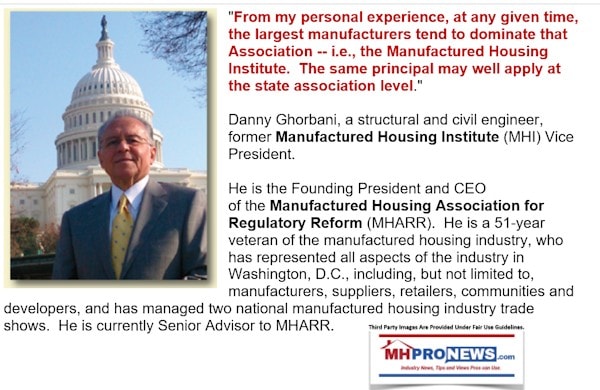 The fact that MHI are still trying to push a new bill that would arguably undermine the very legislation that they, MHARR and state associations worked so hard to pass in 2000 says it all, doesn't it?
Federal Bill that MHI, Prosperity Now, NAMHCO Tout – MHARR Opposes, Why?
MHProNews has made several allegations about MHI, Clayton Homes, 21st Mortgage and other 'big boys' in the industry plain.  The wheels of justice grind slowly. Sometimes those wheels of justice grind invisibly.
Don't expect the perpetrators of various crimes to roll over and admit wrongdoing.  Given the history, that's unrealistic. But we're bluntly warning the industry and investors that MHI and their powers that be are facing a variety of allegations that at some point should become ever more public. That they are public already is evidence in the two videos below.
Until public officials more openly state that they are investigating various schemes involving MHI, Clayton Homes, 21st Mortgage, Vanderbilt Mortgage and Finance (VMF) and other MHI 'big boy members,' don't let photo ops or videos or any other game playing nonsense distract you.  Razzle dazzle is a technique, a method, like gaslighting is a method of deception too.
Saturday Satire and Executive Summaries for Manufactured Housing Professionals, Investors, Advocates, Researchers, Public Officials, and Investigators
Insider Tip – "Selling Access" to HUD Secretary Ben Carson, Manufactured Housing Institute's Latest Razzle Dazzle
Don't let slick magazines game you either. Epic corruption is in evidence. Advocates, consumers, manufactured home industry professionals and investors should be cautious and prudent, based on a decade of failed 'results' from your 'champions' at MHI.  Our allegations stand unchallenged by those we believe the evidence clearly indicates have rigged the system in manufactured housing in their own favor.
There is always more information and insights ahead, but that's a wrap for this Saturday installment of manufactured housing "Industry News, Tips and Views Pros Can Use" © – MHVille's runaway #1 news source, where "We Provide, You Decide." © (News, fact-checks, analysis, and commentary.) Notice: all third party images or content are provided under fair use guidelines for media.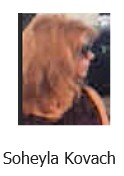 Submitted by Soheyla Kovach for MHProNews.com.Soheyla is a co-founder and managing member of LifeStyle Factory Homes, LLC, the parent company to MHProNews, and MHLivingNews.com. Connect with us on LinkedIn here and here.
Related Reports: Click the image/text box below to access relevant, related information.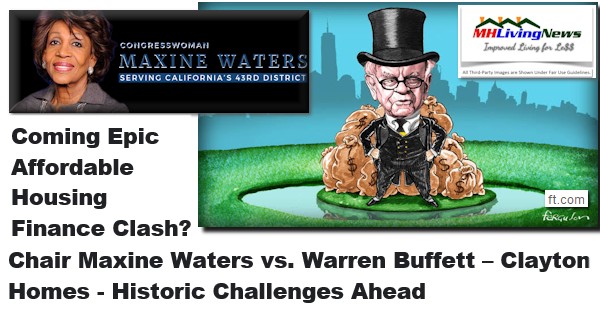 National Association of Realtors Pending Sales Compared to Manufactured Housing, plus Manufactured Home Investing, Stock Updates
Sam Zell, Equity Lifestyle Properties (ELS) Statement Raises Concerns for Manufactured Housing Industry, Investors, Officials, Others
Secretary Carson Certifies Data – Controversies, Corruption as 2019 Ends in Manufactured Housing Ville
Applying Democratic, Republican & Barak Orbach's Monopolization Logic to Affordable Housing Crisis Impacting Manufactured Home Industry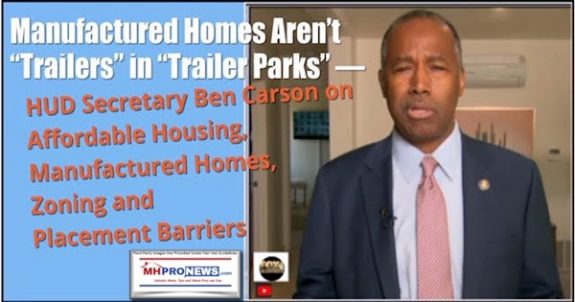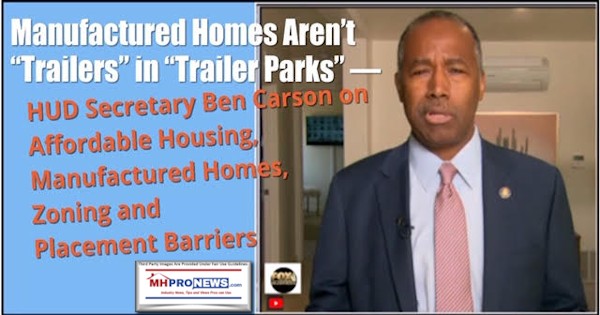 Clayton Homes, 21st Mortgage, MHVillage, Manufactured Housing Institute Leaders Challenged
Publicly Traded Manufactured Housing Firms – Which Source Do You Trust More? Why? MHI, MHARR, Others
Rumble over Anti-MH Law-State Association, Manufactured Housing Institute (MHI), Clayton Homes, and MHARR
Affordable Manufactured Housing's Puzzling Contemporary Condition Revealed by Quotable Quotes from Residents, Professionals, Expert Researchers, Advocates, Public Officials, Graphics, and Reports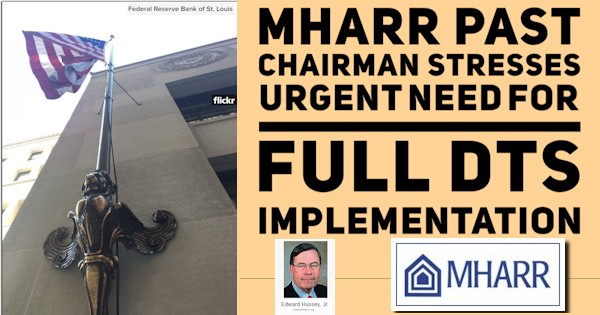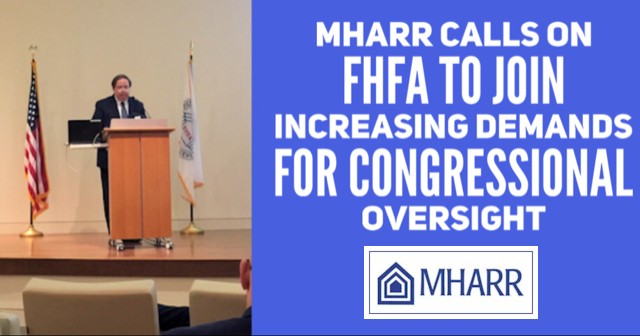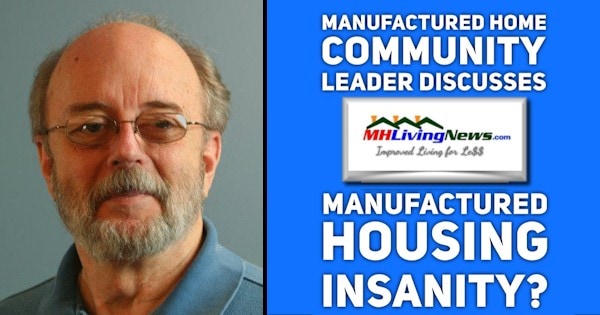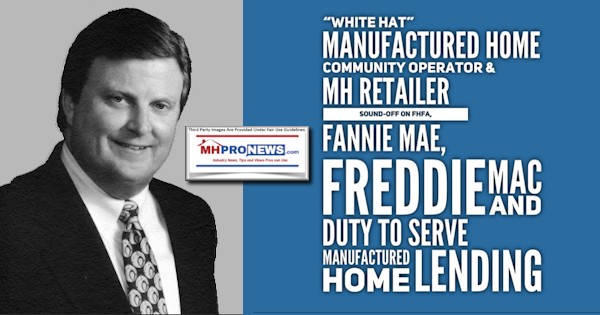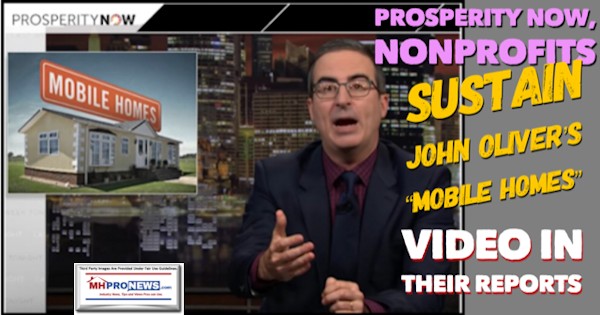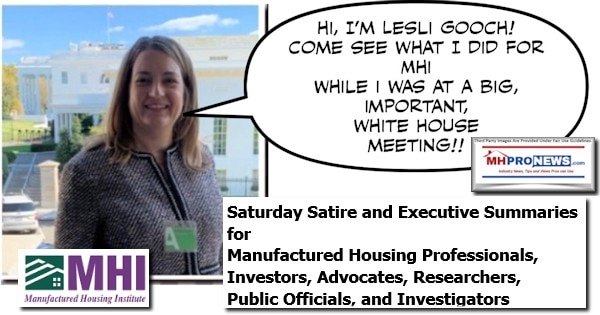 Manufactured Double Talk? Analyzing New Land-Lease Manufactured Home Community Developments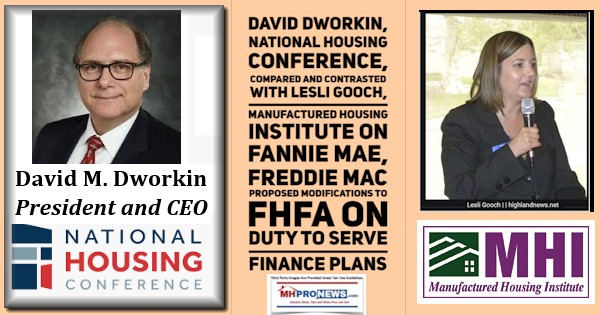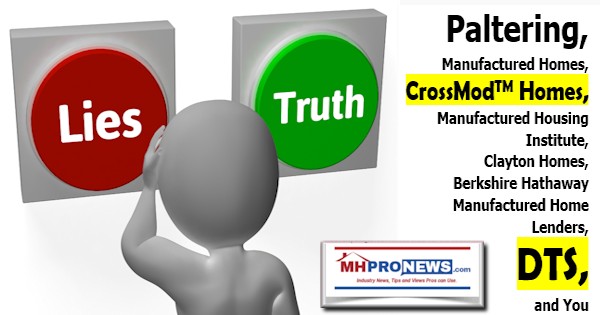 21st Mortgage News Tip – Not Just DTS Chattel Lending Being Diverted, plus Manufactured Home Investing, Stock Updates
Cavco, Sun, ELS Public Statements Point to Problems for MHI, Fannie, Freddie – Public Officials, Investor, Advocates, Professionals Alerts
Netflix's The Irishman, Manufactured Housing Industry Lawyers, HBO's John Oliver Strikes Again – Manufactured Home Sunday Weekly Review 12.22 to 12.29.2019
Are Big VW, Fiat Chrysler, BMW Automotive Lawsuits with SEC Signaling Woes for Publicly Traded Manufactured Housing Institute (MHI) Members?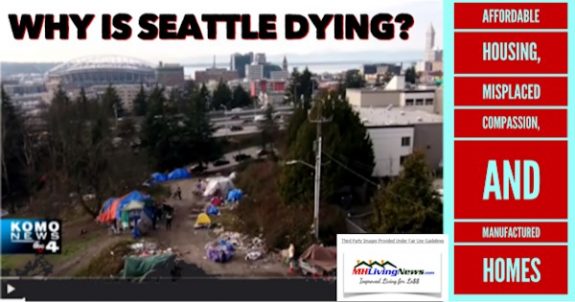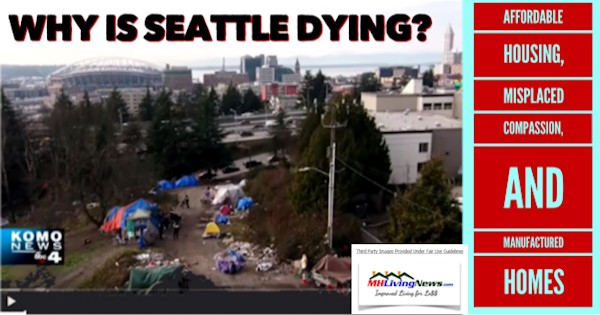 HUD's Brian Montgomery – William 'Bill' Matchneer Exposé – If the Shoe Fits, Affordable Housing, Manufactured Homes – Impacting American Dreams?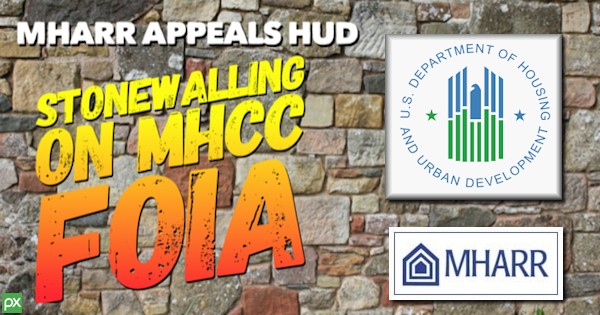 What Warren Buffett, Kevin Clayton, Tim Williams, Berkshire Brands and Manufactured Housing Institute Leaders Fear