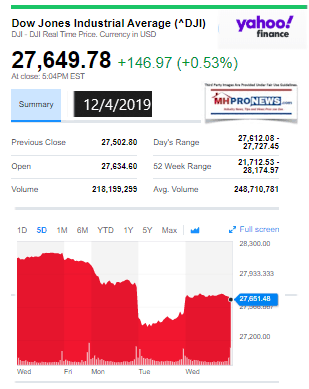 The Duty to Serve manufactured housing – most often of interest to the lack of personal property or 'home only' chattel lending – has been at center stage recently. But not to be forgotten are other lending options that have also been mysteriously sidelined, while higher rate loans take their place. This evening's spotlight feature is a news tip from a 21st Mortgage Corporation 'Insider.' That will follow our customary graphical summaries of the broader market news, left-right bullet headlines and standard features further below.
Longtime readers please note there are a few tweaks to some of the standard portions of our evening market/investing report. Read carefully as some changes of the 'standard text' that follows before our left-right headlines and also in other features near the end of tonight's reports.
Every evening our headlines that follow provide snapshots from two major media outlets on each side of the left-right news spectrum that reflect topics that influence or move investor sentiment. In moments on this business evening report, you can get 'insights-at-a-glance.'
This report also sets the broader context for manufactured housing markets, in keeping with our mantra, "News through the lens of manufactured homes and factory-built housing" ©.
We begin with headlines left-of-center CNN followed by right-of-center Fox Business. We share closing tickers and other related data courtesy of Yahoo Finance, and more. 5 to 10 minutes reading this MHProNews market report every business night could save you 30 minutes to an hour of similar reading or fact-gathering elsewhere.
Perhaps more important, you will get insights about the industry from experts that care, but also dare to challenge the routine narrative that arguably keeps manufactured housing underperforming during an affordable housing crisis.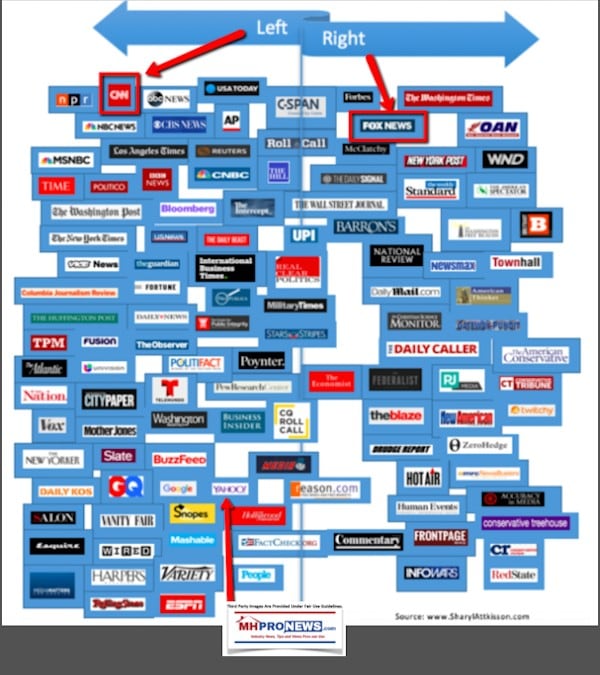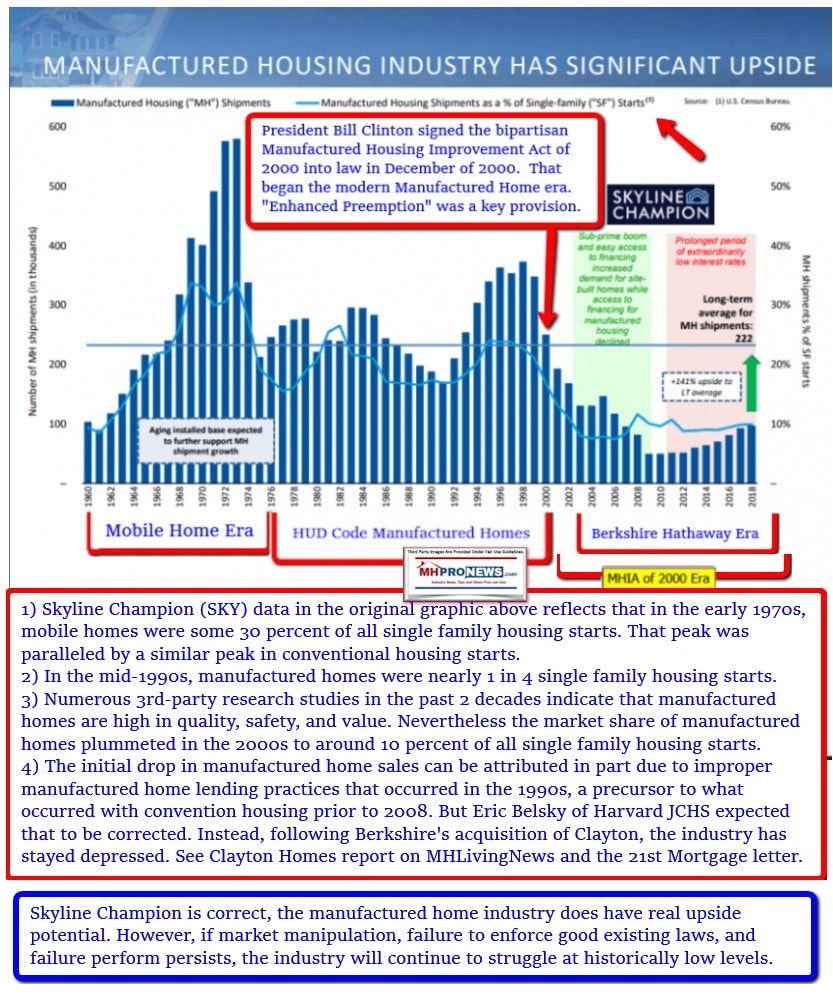 Newsy, Peeling Back Media Bias, Manufactured Housing Sales, Investing, Politics, and You
Headlines from left-of-center CNN Business.
Facebook's power – A rumor about white vans on the social media network is spreading fear across America
Oil prices could plunge 30% if OPEC fails to act
LIVE UPDATES Stocks snap three-day losing streak
Goodbye, China: US companies are already moving out of the country
Larry Summers: Trump's trade war is a 'Stop, or I'll shoot myself in the foot' strategy
Despite US threats, Johnson vows to move forward with tech tax
Ford is turning McDonald's coffee waste into headlights
Tupperware goes high-end with $25 straws and $15 apple savers
Peloton is 'disappointed' people misread its much-maligned holiday ad
Instagram will now ask new users to provide their age
PERSPECTIVES How Boeing could still win back our trust
Federal judge disqualifies Huawei's lawyer
Mandy DeMesa, team member on the HFV6 engine block line. Hourly employees are represented by UAW Local 163.
Electric cars pose a major threat to auto jobs
SPECIAL REPORT Toxic air and gridlock: India's tech cities are choking on their success
Gun safety grades for stores: Walmart got an A; Home Depot got an F
Sundar Pichai didn't have a computer growing up. Now he's CEO of Google
Google's co-founders may be stepping down, but don't expect much to change
Fired Google employees to file unfair labor practice suit
Tensions between Google and its employees hit a breaking point
Google's 'Project Nightingale' center of federal inquiry
RISE OF THE MACHINES – AI software defines people as male or female. That's a problem
How your poop can help train AI
Alexa will soon be able to sound excited or disappointed
AI can learn how a pizza is assembled. Here's why that matters
The robot revolution is here. Prepare for workers to revolt
Headlines from right-of-center Fox Business.
House takes big step toward finally hanging up on annoying robocalls
Top Republican is "sure" President Trump will sign it.
The No. 1 robocall scam and where people get hassled most
Employees to grill Viacom-CBS execs on merger 'synergies' as potential layoffs loom
Billionaire hedge fund magnate to buy majority stake in New York Mets
CEO: USMCA offers necessary reset for trade, deserves bipartisan support
Google co-founder step down just as feds eye company's practices
Amazon, UPS will test new way to deliver packages
Glitch cripples several major US airlines
Pop star announced as pre-Super Bowl concert headliner
Hair dye, chemical straighteners may cause serious illness, study reveals
Varney on Trump at NATO: We haven't seen a president like this
How much Starbucks pays female workers compared to male workers
How shipping flexibility saved a production lineVideo
Stocks snap 3-day skid on positive US-China trade deal report
Local union leaders send Fiat Chrysler contract to members
Elon Musk cries pour-mouth, backtracks on 'pedo guy' tweet during trial
Uber CEO reveals when flying cars will take off, previews 'Uber Air'
Chick-fil-A rolling the dice in Vegas casino
Businesswoman appointed to Senate has history of hefty political donations
Ivanka Trump visits Indiana prison on a 'mission'
Iran demands $130 billion from America
Billionaire: Trade deal will get done in 'not too distant future'
Biden rolls out his answer to Warren's wealth tax, big tech breakup plans
Sprout Social, Bill.com set pricing ranges ahead of next week's IPO debuts
Yogurtland wants you to put this snack on your ice cream
Trump, Trudeau respond after Canadian leader caught gossiping on camera
Hospitals sue Trump over price transparency rule
Verizon CEO: Transition to faster 5G service charging full speed ahead in US
Bankrupt PG&E reportedly nears massive payout agreement to wildfire victims
5G wireless coming to rural America thanks to $9B from FCC
LOGO'S A NO-GO: Reporter required to cover coffee cup during impeachment hearing
NBA bigwig: China airing our games a sign of 'thawing' tensions
NBA star's disallowed dunk sparks controversy
Rent control could negatively impact these US cities
Famed eatery asking diners to pay toward staff insurance
Ford, McDonald's team up to turn food waste into car parts
States spending more on education don't graduate more kids
OPEC struggles with global oversupply of oil
OPEC intrigue lifts oil prices
SpaceX, NASA gear up for space station resupply launch
Prince Andrew has 'no way back' into royal family: Report
Pepsi buys popular chip snack in push for healthier food
Female truckers bailing out vital industry during job shortage
10 Market Indicator Closing Summaries – Yahoo Finance Closing Tickers on MHProNews…

Featured Focus – Where Business, Politics, and Investing Meet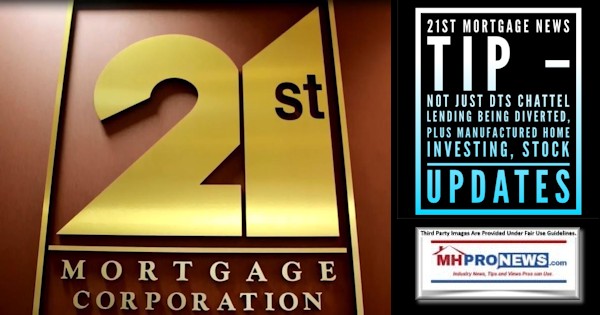 There are several such news tip messages that frankly don't make the publishing cut at MHProNews. So why share this one?
Because it dovetails with other information from other sources that have said similarly. It confirms and to an extent clarifies how the topic of FHA Title I lending has been handled by 21st, per the sources statement.
First the unedited statement, then some analysis and links to more information.

"I might be able to shed some light on 21st Mortgage not originating FHA loans. When I was there, we were told to tell anyone that asked we were licensed to do them but that it was the Credit Manager's discretion if FHA was the best option, concerning fees, paperwork, etc. From what I gathered, it was the consensus the powers that be didn't want to fool with FHA due to the extra requirements on their part. 
What can you expect from a company where a collector told a customer to not worry about paying their other bills and pay their mortgage or they'd take their home (heard on my last day there), suggest they pawn belongings and donate plasma (read in the notes on a repoed home I was researching), and have what appear to be cameras in their bathrooms (see attached video and photo)."
That video and photo referenced by the news tip source are another reason why this message was worth sharing, as it added a truly 'inside insight' that supports the claim of the person involved that they were working for 21st Mortgage.
Those visual items are being held for another time. But they are revealing – in more ways than one. Stay tuned for more on this one.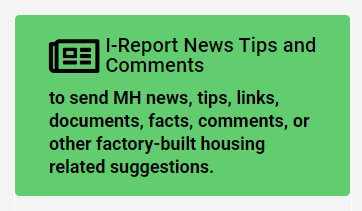 MHProNews Analysis
Credit is the lifeblood of any big-ticket sale. That's not MHProNews' view alone, but rather the statements of numerous experts in housing, including the previously cited statement of then Harvard JCHS researcher, Eric Belsky.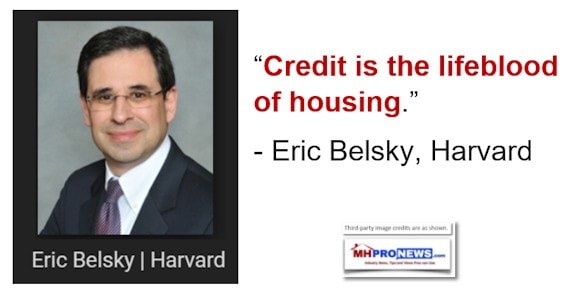 Hobble the lending of retailers, and someone with scant ethics can knock thousands of them out of business in a reasonably short period of time.
Hobble the lending of retailers, and you can knock several HUD Code producers either out of business entirely or make them feel compelled to sell out at a discounted price.  Community operators suffered for a time from that pattern too.
Not only did Clayton Homes arguably benefit from that, but so too did Skyline Champion (SKY) and Cavco Industries (CVCO) builders.
With the insights from that tipster coupled with what follows in the report linked below, the pattern emerges of how choking off lending can deepen and widen the moat of Clayton and others. That case is made in depth in the report below.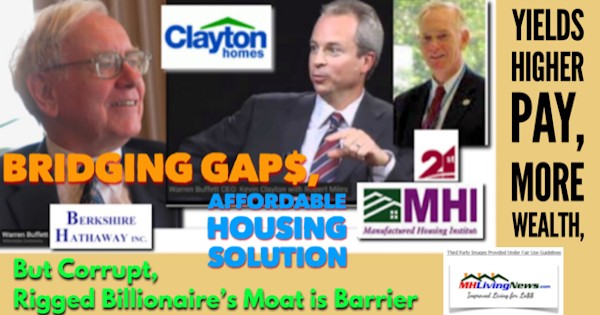 Cavco very thoughtfully documented for us how hobbling or killing off those retailers resulted in their 10-year acquisition march since then. Keep in mind Cavco's former CEO was Joe Stegmayer, who was a Clayton Homes division president.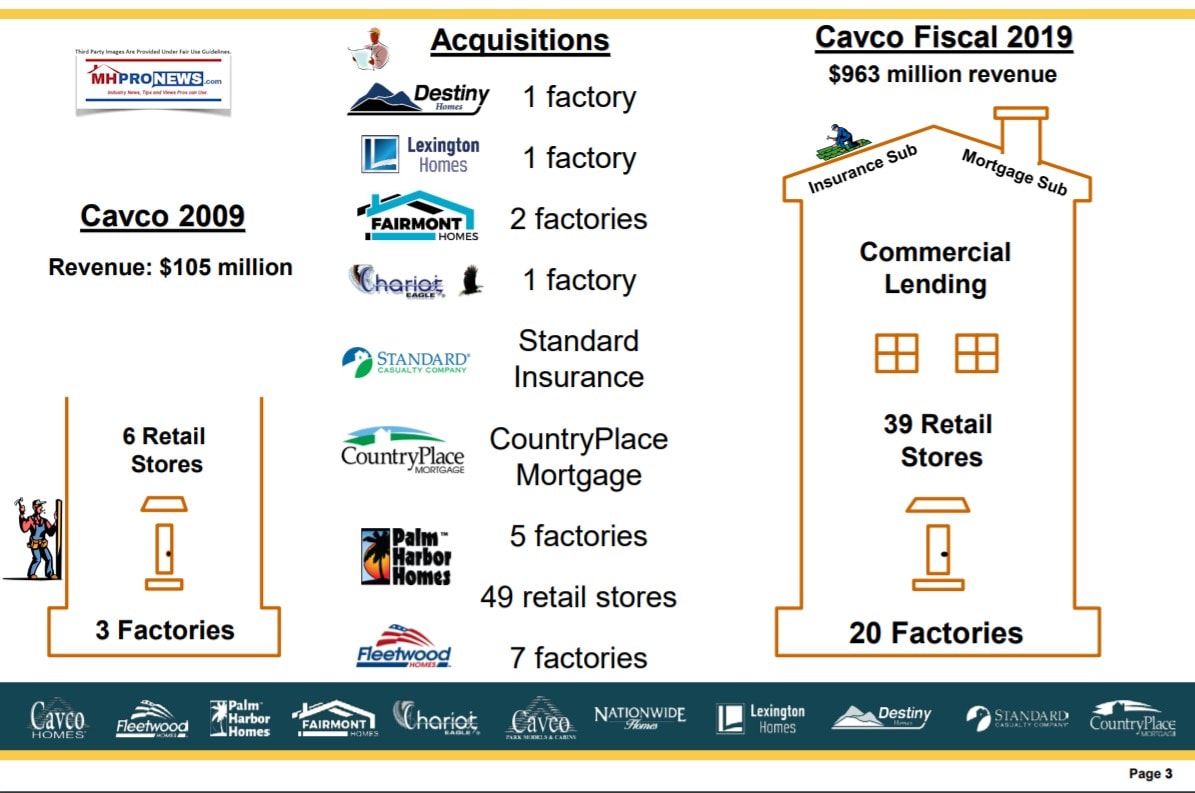 It was in 2014 that MHProNews sounded the alert that low production levels threatened the ongoing existence of the industry's independents. Within weeks of that alert, U.S. Bank pulled out of manufactured home lending. Keep in mind that US Bank's loan program was profitable.
But also note that Berkshire owned a stake in US Bank's parent company, US Bancorp. They also own a good chunk of Wells Fargo, which several years of HMDA data suggests is the #3 lender in manufactured housing. Coincidences?
Our sources at US Bank at that time told MHProNews that they were surprised by the move to pull out of manufactured home lending. Their programs were performing well, they were profitable, sustainable and competitive. Do those sound like reasons to nudge them out as a competitor?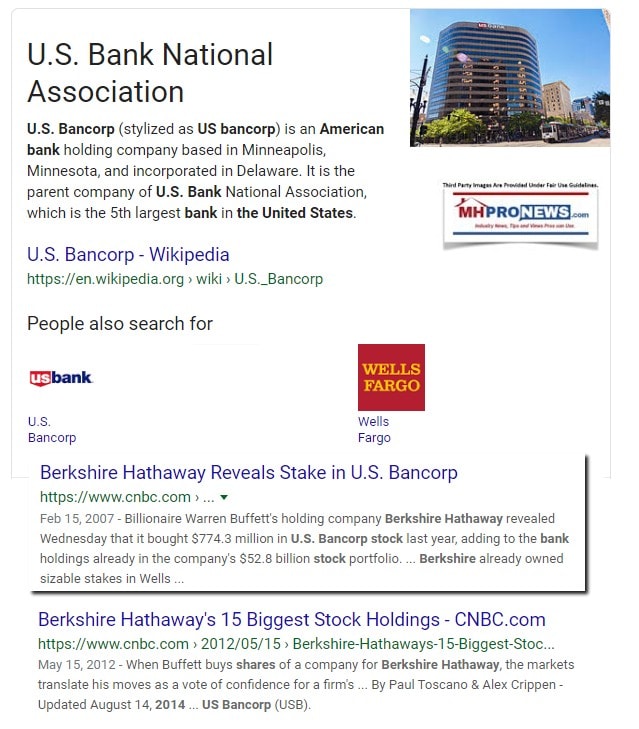 The parent company's official reason for pulling out was too much risk due to Dodd-Frank combined with too low a loan volume. That was similar thinking to what UMH Properties told MHLivingNews. Note that MHProNews and MHLivingNews understanding of some issues have evolved based upon new evidence since the report linked below, but the facts with respect to lending are still useful insights.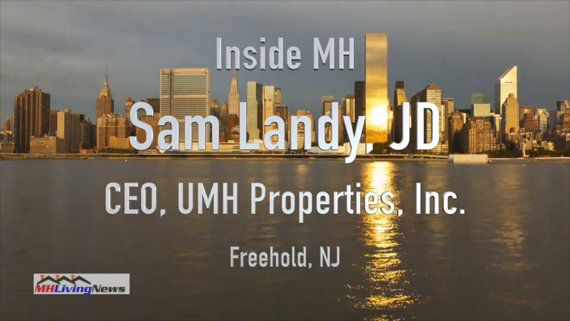 All of those factors had similar outcomes. Less lending meant fewer home buyers. Fewer loans and buyers mean less competition. Short term that spells underperformance. But for a company thank thinks in terms of decades, not weeks or months, such a strategy could have a big payoff down the road.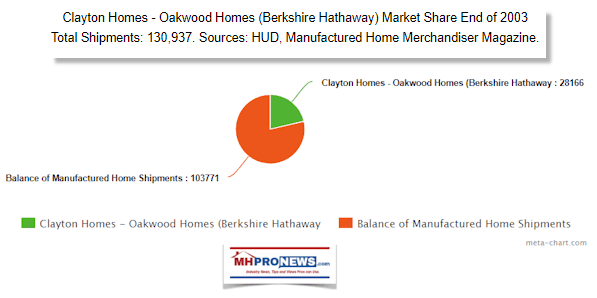 Because of Berkshire's capital, that allowed Clayton to grow at a steady clip while others failed or sold out cheap.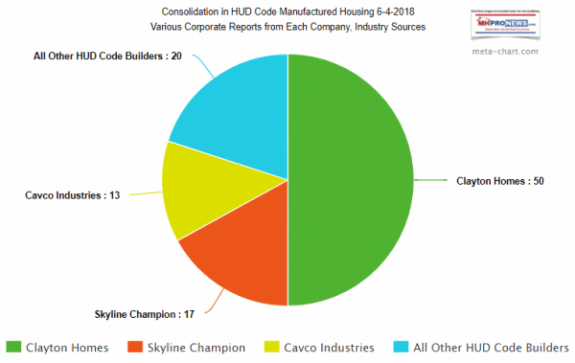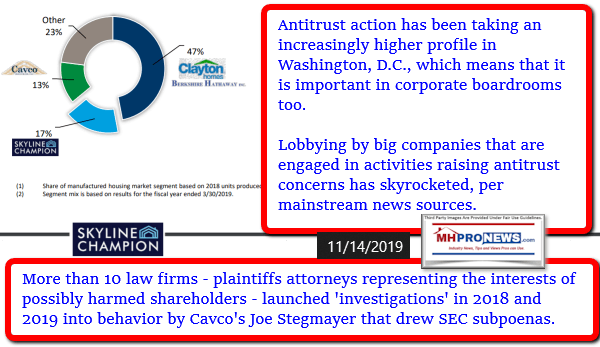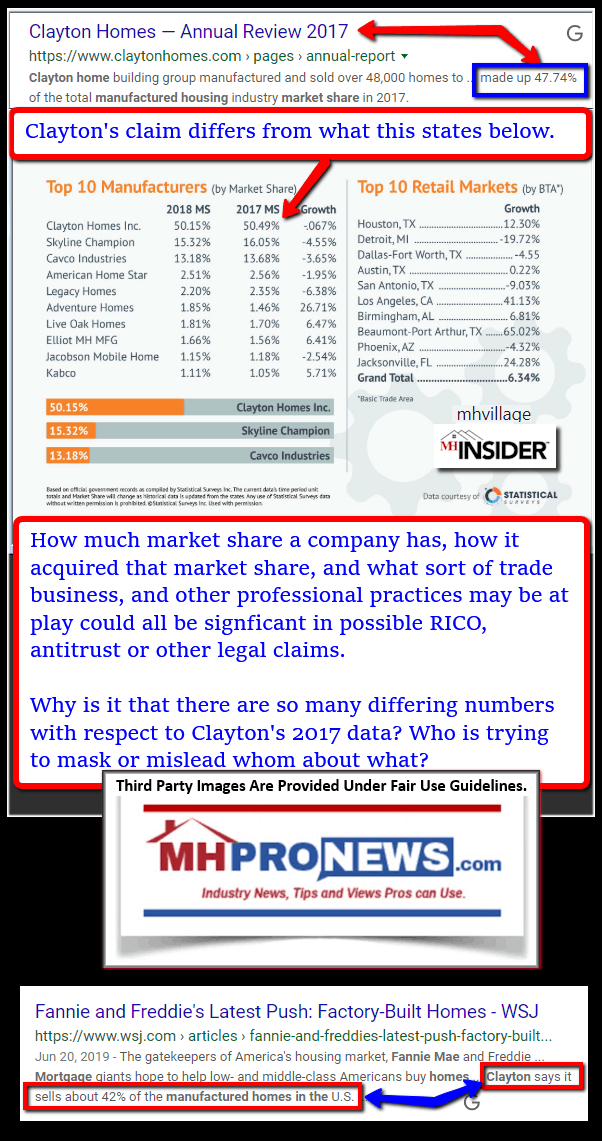 The infographic below – properly understood – is a snapshot of both the potential of the market, but also of just how poorly manufactured housing has in fact been performing for over 15 years.

Sources have told MHProNews that when Clayton offers to buy a retail center, they don't pay the blue sky premiums that pre-BK Fleetwood and Champion once did roughly 2 decades ago. Rather, they offer a more modest buy out, promising the owner the opportunity to keep running the business but offering greater lending options through Vanderbilt than one can gain through 21st alone.
One of those companies that sold out told MHProNews that they pulled old 21st turndowns and were told that numbers of those would be 'bought' by VMF. The added revenue would make the deal appealing. It also radically reducing the personal risk of having their business fail.  It is only through the lens of planned underperformance that one could make sense of Richard 'Dick' Jennison's odd comment in the video below. What association leader argues for slow growth instead of vibrant, robust and sustainable growth? What association leader could have kept his job after such an outlandish statement?
Doesn't that fit the Buffett mantra's and moat building insights below?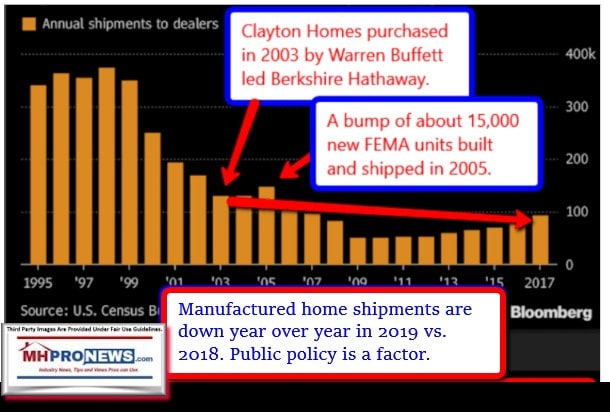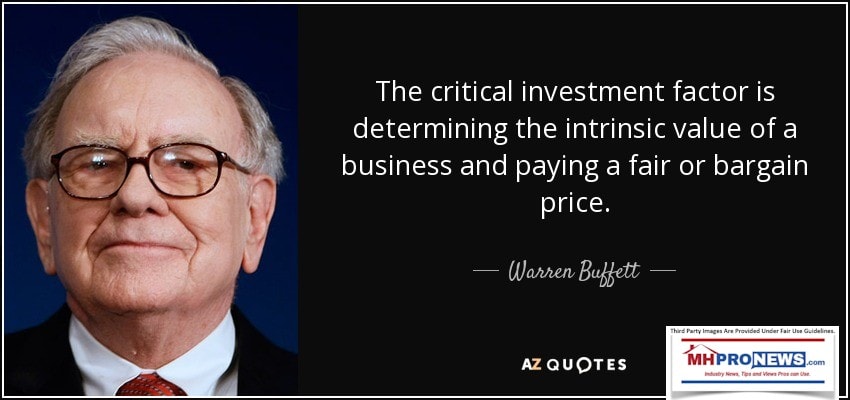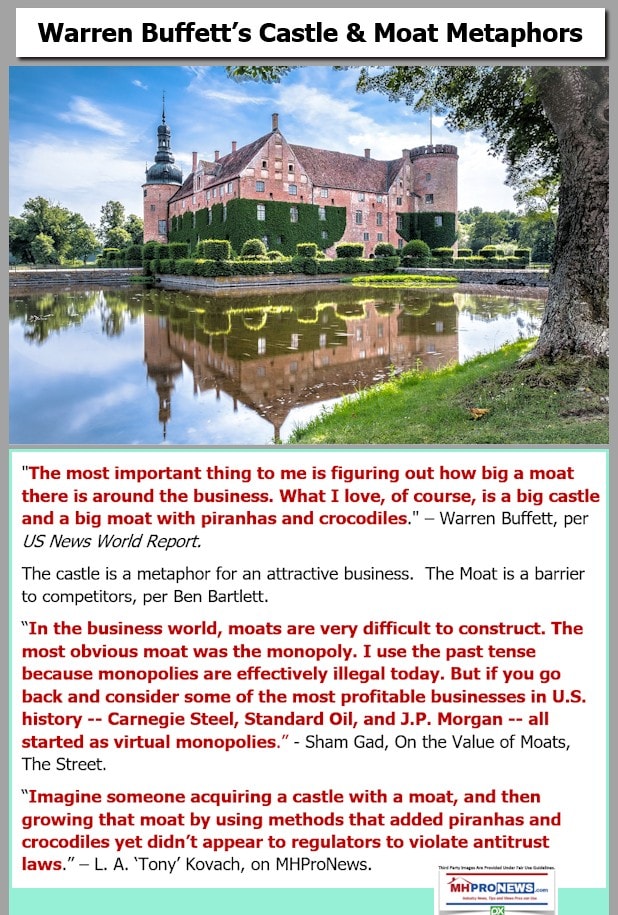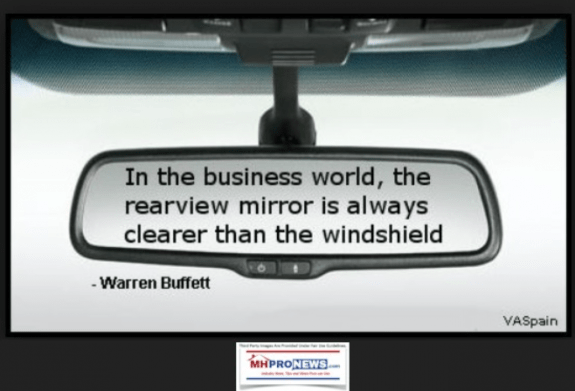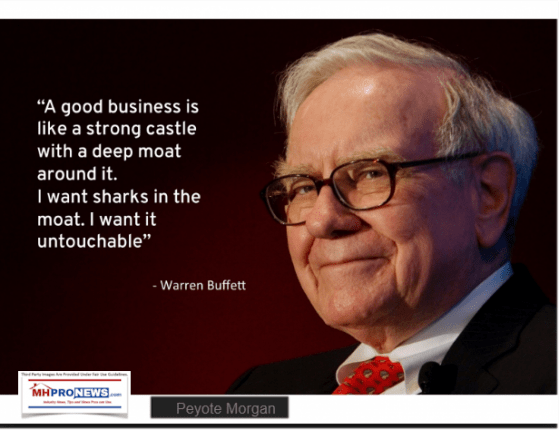 We'd argue that the only want to understand the manufactured home industry's currently low state of performance is through a historic lens that includes all of these sorts of granular details. These are the types of things that regulators on their own might never pick up on.
See the related reports, linked above and below, from the text image boxes as shown for additional details and insights.
We have informed sources that tell us that CVCO and Sky could do fine for a while, but could take a tumble that ought to be easily anticipated. Per those sources, their failure to push issues like robust lending along with others related to placement are leading to a crunch. Why would they do that, one might ask?
Because they can better weather the storm that is ahead, say sources, than smaller firms could. Once the powers that be in the Omaha-Knoxville-Arlington axis and their allies get as much as they think they can without antitrust or other scrutiny, the foot can come off the brakes and HUD Code manufactured home sales will magically spring back to life. Part of that could arise from a robust application of good laws on the books like DTS and the enhanced preemption clause of the MHIA 2000.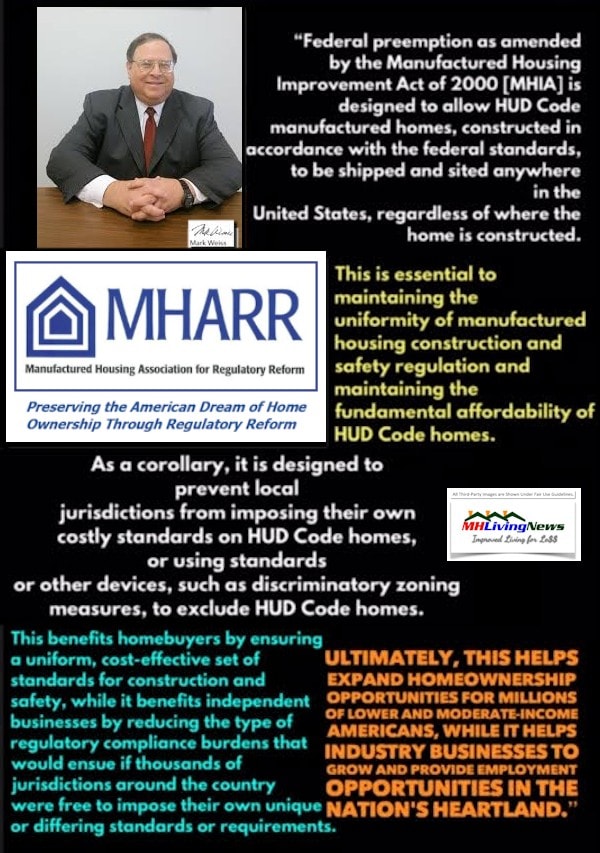 Bottom line, there are current and looming risks for producers and thus others in manufactured housing. Thus, the need for DTS, FHA Title I and Title II, USDA, VA and other lending reforms that this platform and others have argued are necessary for years.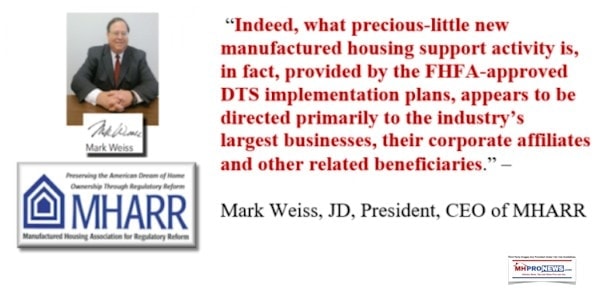 While the hit coming on MHVille isn't imminent – and is potentially avoidable – those looming threats and the history since 2003 also suggest that Berkshire's and their allies' thirst is arguably as relentless as it is patient. Those that want to stay independent or who want to invest successfully in this otherwise promising space need to be equally relentless in pushing back with the lawful and prudent means available.
That begins with understanding. See the related reports linked below and above.
Related Reports: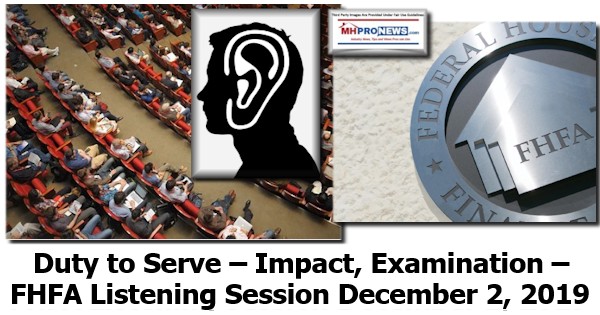 "I was Moved, Literally Crying" – Duty to Serve Manufactured Housing, Underserved Markets DC Meeting – plus Manufactured Home Investing, Stock Updates
Study in Contrasts-Lesli Gooch v Mark Weiss, Manufactured Housing Duty to Serve Presentations Spotlight Lack of Proper Lending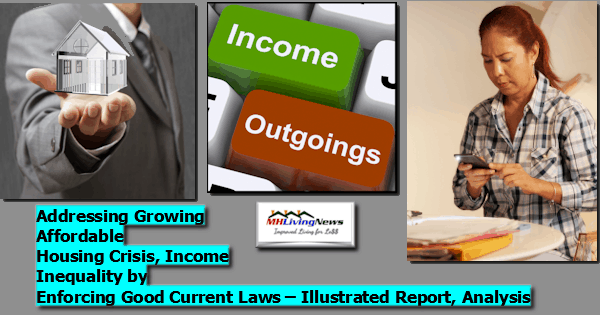 Huge "Landmark Case" – Law Firm Wins Millions for Manufactured Home Community Residents, Broader Industry Impacts Ahead?
Investor Alert – Manufactured Housing Institute Paltering Concerns, Fannie Mae's Duty to Serve, plus Manufactured Housing Investing, Stocks Updates
Manufactured Housing Industry Investments Connected Closing Equities Tickers
Some of these firms invest in manufactured housing, or are otherwise connected, but may do other forms of investing or business activities too.
NOTE: The chart below includes the Canadian stock, ECN, which purchased Triad Financial Services, a manufactured home industry lender
NOTE: Drew changed its name and trading symbol at the end of 2016 to Lippert (LCII).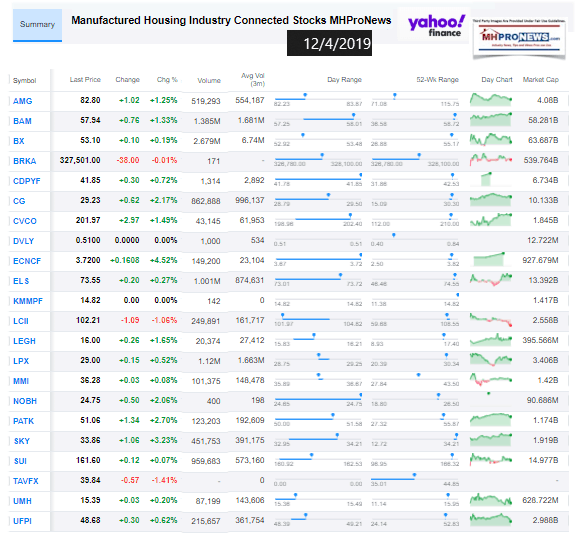 Winter 2019…
Berkshire Hathaway is the parent company to Clayton Homes, 21st Mortgage, Vanderbilt Mortgage and other factory built housing industry suppliers.
· LCI Industries, Patrick, UFPI, and LP each are suppliers to the manufactured housing industry, among others.
· AMG, CG, and TAVFX have investments in manufactured housing related businesses. For insights from third-parties and clients about our publisher, click here.
Enjoy these 'blast from the past' comments.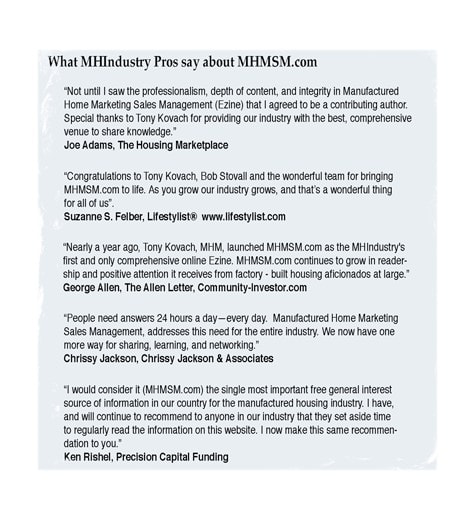 MHProNews. MHProNews – previously a.k.a. MHMSM.com – has now celebrated our tenth anniversary.
Learn more about our evolutionary journey as the industry's leading trade media, at the report linked below.
Celebrating 10 Years of Goal- and Solution-Oriented Manufactured Home Industry Innovation Information, and Inspiration for Industry Professionals
· For expert manufactured housing business development or other professional services, click here.
· To sign up in seconds for our industry leading emailed headline news updates, click here.
Disclosure. MHProNews holds no positions in the stocks in this report.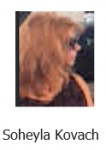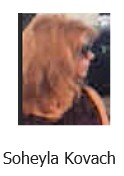 "We Provide, You Decide." © ## (News, analysis and commentary.)
(Image credits and information are as shown above, and when provided by third parties, are shared under fair use guidelines.)
Submitted by Soheyla Kovach, co-managing member of LifeStyle Factory Homes, LLC and co-founder for MHProNews.com, and MHLivingNews.com.

Connect with us on LinkedIn here and here.