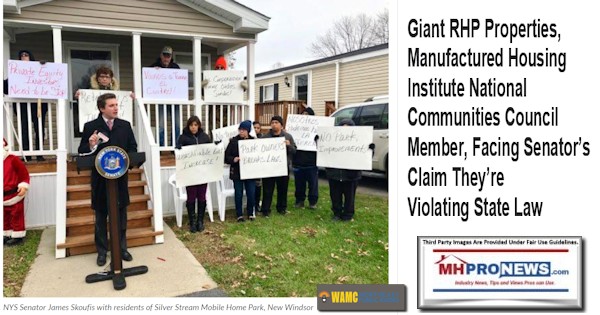 Residents, including activists with Warren Buffett donation backed MHAction, are protesting another rent hike by giant community operator RHP Properties. In doing so they obtained support from Democratic State Senator James Skoufis who called their behavior clearly illegal under their state's new rent control law.
RHP denied that charge, saying their rate hike is justified under the terms of the new state law.
But in making their argument, RHP President Joel Brown clearly contradicted Manufactured Housing Institute Executive Vice President and CEO-elect Lesli Gooch's statement made on 12.2.2019 at the FHFA listening session. Gooch claimed anew that average site rents are rising only some 3 percent a year. If that is true in some technical sense, then it is MHI/NCC member firms who are on the high side of that claimed 3 percent average.
RHP clearly wants double that, per their president. ELS and SUN are also beyond that rate hike too, according to their own public statements.
Where is MHI's Code of Ethical Conduct?
National Communities Council of the Manufactured Housing Institute "Code of Ethics," SSK Communities Update, Review
The RHP case proves once again why rent control is repeatedly proven not to work unless something else helps mitigate the upward pressure on site fees.
That would require more new communities being developed. If MHI were serious about their claimed support for enhanced preemption, and for seeing hundreds or thousands of new properties being developed – not just one or two handfuls a year – then they'd do what MHARR asked MHEC members to do.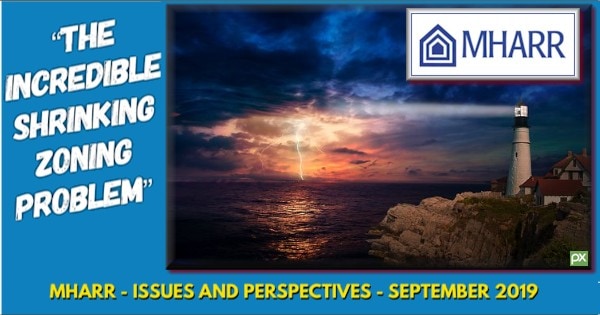 MHLivingNews has done a deep dive on this topic in the report linked below.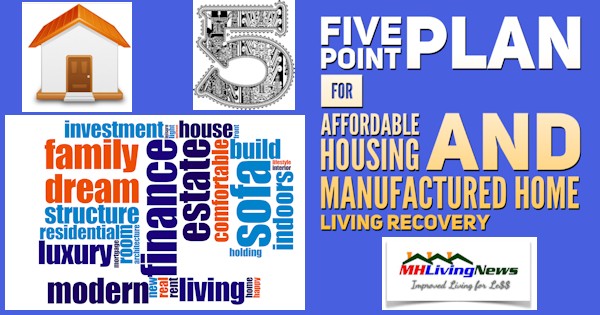 Per Public Radio, WAMC:

A New York state senator is urging the owner of a mobile home park in Orange County to withdraw a rent increase that he says is unlawful.
Democratic state Senator James Skoufis recently joined residents of Silver Stream Village Mobile Home Park in New Windsor, declaring that a nearly 6 percent rent increase over the prior year violates the Housing Stability and Tenant Protection Act passed in June and enacted in July. The law mandates that mobile home lot rent increases are capped at 3 percent, barring extenuating circumstances such as a significant property tax increase. Silver Stream Village is owned by RHP Properties. Skoufis says there were no extenuating circumstances.
"In this case, in Silver Stream Village, the town and county property taxes for this owner actually decreased from 2018, and the school property taxes only increased by 1 percent. There were no major capital improvements. There were really no minor capital improvements at Silver Stream Village over the past year," says Skoufis. "And so a number of the tenants have already initiated their own private right-of-action lawsuits against the park owner vis-à-vis this new law that was enacted this year And they will be successful because this is a very clear violation."
Skoufis cites a letter sent to residents by RHP, in which the property owner acknowledges the new law. Skoufis read a sentence from the letter that says the New Windsor mobile home park's community is impacted by increased expenses, requiring a rent increase above the allowable 3 percent. Skoufis says the letter did not include justification. Joel Brown, president of RHP Properties, Inc. issued a statement saying RHP communicated rent increases to residents in a timely fashion and the increases are within the new law. His statement says that while the newly enacted law states that rents may not increase more than 3 percent a year, it also allows for up to 6 percent in increases when the landlord's expenses have increased in certain categories such as property taxes or capital improvements. He says, "Unfortunately the community has been impacted by these increased expenses which has required a rent increase above the three percent. We have sent residents a publication from the Housing division [Division of Housing and Community Renewal] that explains the new law to prevent further misunderstandings." Again, Skoufis:
"Let me be clear. RHP will lose in court. Let's save the time and the energy and we are calling on them, we're demanding that they withdraw this unlawful rent increase," Skoufis says. "Similarly, I am calling on, short of a withdrawal of those rent increases, I am calling on the Division of Housing and Community Renewal to intervene immediately and negotiate a lawful rent increase with the owners of this park."
The rent increase is for the lot that contains the home. Several of the residents of the 138-lot Silver Stream Village Mobile Home Park are on fixed incomes, including Yvonne Maldonato.
"I'm not only advocating for myself, I'm advocating for the whole community because I'm not the only one that lives here, okay. All these families here live here, okay," Maldonato says. "They cannot, they do not get a lease that they can understand. They get a lease in English; 90 percent of the park are Hispanic."
She says when she moved there at the end of August 2016 her lot rent was $695. Now, it's close to $1,000. She's afraid she'll have to move. Skoufis says RHP took over Silver Stream in late 2017, and this increase is the second of its size."
###
The powers that be at MHI apparently get to thumb there nose at the association's so-called code of ethical conduct. This incident is one of many that are revealing on several levels.
That's a wrap on this morning's installment of manufactured housing trade media's #1 source for "Industry News, Tips, and Views Pros Can Use," © where "We Provide, You Decide." © (News, fact-checks, analysis, and commentary.)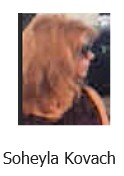 Submitted by Soheyla Kovach for MHProNews.com.
Soheyla is a co-founder and managing member of LifeStyle Factory Homes, LLC, the parent company to MHProNews, and MHLivingNews.com. Connect with us on LinkedIn here and here.
Related Reports:
Click the image/text box below to access relevant, related information.
MHCC held its most recent meeting in Washington, D.C. from October 29-31, 2019. While the Committee approved and recommended to HUD several potentially…
Imagine for the new few minutes that you are a detective trying to solve a mystery. Detectives look for clues and examine evidence. Investigators ought to be objective. Like a doctor seeking the cause for an ailment, there are tests, results, facts, and reason that should to be the drivers for solving any puzzle.
No Description