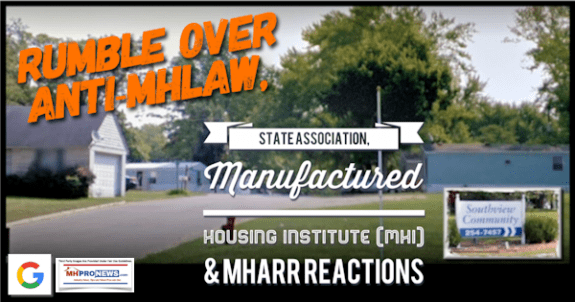 Local zoning, ordinances, and barriers-of-entry have been one of the significant factors limiting manufactured home sales.
That's a widely held view, which virtually all state associations, the Manufactured Housing Institute (MHI), a Clayton Homes' attorney, and the Manufactured Housing Association for Regulatory Reform (MHARR) would broadly agree upon publicly.
It's an issue that MHProNews and MHLivingNews has tracked for years, as is indicated in one of dozens of such reports, linked below.
"The one issue that will prohibit affordable housing in the future – not only manufactured homes, but site-built – is local zoning and covenants." – Jay Hamilton, executive director of the Georgia Manufactured Housing Association Armed with facts, figures and studies, he explained that manufactured homes were as well or better built, more fire resistant, more wind resistant – and far more affordable – than their site-built counterparts.
That noted, last week, the Daily Business News on MHProNews spotlighted another specific case and sought not just words, but action about a pending and existing law. We asked that state's association, MHI – which is the national "post-production" 'umbrella' trade group headquartered in Arlington, VA – plus Clayton's attorney on the MHI Executive Committee to weigh in.
Today, MHProNews present their responses, along with an update from that town's mayor.
MHProNews contacted the mayor and another public official in Washington, Indiana, to provide reaction to certain questions and concerns that the Washington Times Herald recently reported. ICYMI, or need a refresher, our initial report on this specific case is linked below.
Anti-MH Bigotry, Prejudice, and Possibly Illegal Action on Display in Manufactured Housing's Birthplace?
We'll begin this blow-by-blow with on-the-record commentary from the town's mayor, Joe Wellman.
Q & A with Washington, IN Mayor Joe Wellman
Bullets in the following indicate a question from MHProNews, and are followed by the verbatim reply from Mayor Wellman.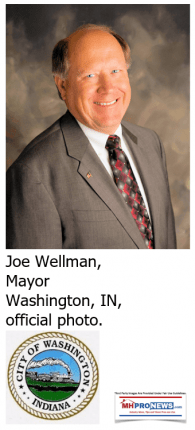 "The article may have been accurate as far as it went, but it did not cover every pertinent detail.  The issue is the maintenance, or lack thereof, of rental Type III manufactured housing.  Those that are maintained & remain safely inhabitable would be grandfathered.  We have more than 100 rental units that our Plan Commission & Board of Zoning Appeals get neighbor complaints about.  The Council introduced this ordinance at the request of the local Plan Commission & the Board of Zoning Appeals, both entities having had public meetings on the topic with no negative public input," said Mayor Wellman. He then added:
"Saying we are anti-mobile homes is not accurate, but we are anti-unsafe housing."
Has the city attorney and/or others made you aware of possible legal issues related to this existing and proposed ordinance?
"We remain in discussion with counsel," said the southern Indiana town's mayor.
Please see the attached draft report we have on this topic for our readers [note to readers, to see the article with downloads provided to the mayor, linked here and above]. This article is scheduled for Monday early morning, and any reply before than can help us adjust the article as needed.
"Indiana State statute requires that an ordinance be introduced at one meeting, but requires a second meeting before it is voted on.  The purpose being for public input on the topic.  The second reading on this ordinance will likely be postponed as we consider input and counsel review.  It is also important to note that in Class 3 Indiana cities the Mayor only votes on an ordinance in the event of a tie vote, but I will forward your concerns to counsel & Council," said Mayor Wellman.
He added, "See my answers above.  The preference would have been that your organization contact my office prior to going to others so that we could mutually discuss the topic.  Our intent is always to work out mutually-agreeable terms if and whenever possible on any & all issues."
In a follow up the initial contact by MHProNews to the Washington, Indiana – Mayor Joe Wellman was asked what decisions were made on their proposed manufactured home regulation?
"The ordinance was tabled for further study," said the mayor.
That's at least a temporary victory.
The question now is, what will follow?
Let's turn now to what other industry professionals said about this troubling anti-manufactured housing case.
The Manufactured Housing Institute (MHI) and Clayton Homes?
You can sum up MHI and Clayton Homes' attorney, Tom Hodges – who sits on the MHI Executive Committee – in a word.
Silence.
Sources contacted in that state – as well as in Washington, IN – last week likewise provided no indication of any MHI or Clayton follow up.  That's true, even though the contact from MHProNews gave them days in advance of the town's meeting to react.
Both Clayton and MHI have said that zoning issues matters. But when given an opportunity to manifest that concern, where was their practical demonstration of their claimed, stated concerns?


Is it another case where MHI award-winner, Marty Lavin's dictums apply?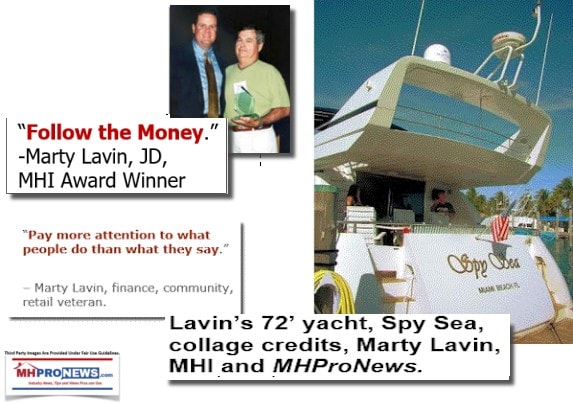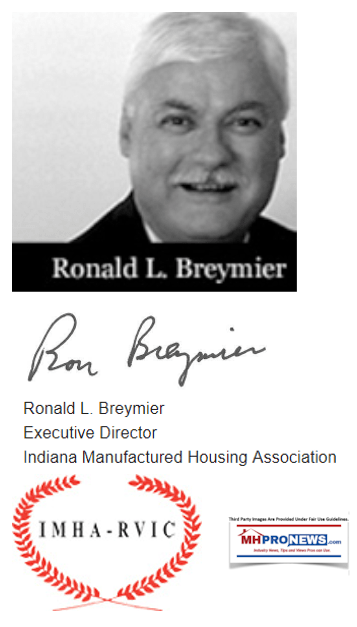 Indiana Manufactured Housing Association Reacts
In an on-the-record statement from Ronald L. Breymier, Executive Director of the Indiana Manufactured Housing Association and Recreation Vehicle Indiana Council to MHProNews, he explained their position on this controversy as follows. "The association has informed the mayor of Washington, Indiana that the ordinance is against state law and may be in violation of Federal Fair Housing. If it moves forward it must apply the same requirements to other forms of rental housing in its jurisdiction."
When asked late yesterday afternoon (Monday, 10.1.2018) when that contact from their association with Washington, IN, took place Breymier said, "Earlier today. An association member told me he would attend the meeting with information provided by the association. I have not heard back from the member for feedback, therefore we decided to reinforce the message today."
The Word from Washington, D.C.?
"Your action in this case, Tony [Kovach, for MHProNews], is a perfect example of how much one dedicated person, with accurate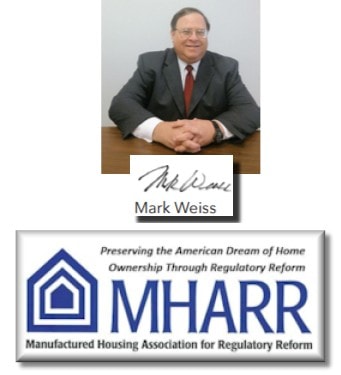 information, can do to change minds on crucial issues facing the industry, and for that, you are to be commended," said Mark Weiss, President and CEO of the Washington, D.C. based Manufactured Housing Association for Regulatory Reform (MHARR). 
"At the same time, though, it shows why the industry desperately needs an independent, collective, national post-production association, as MHARR has called for," said Weiss, who is also an attorney.
"This sort of discriminatory exclusion [i.e.: the case in Washington, IN], unfortunately is not limited to this one community, but rather, is taking place at the local level in many jurisdictions around the country. As a result, while the industry is building its best homes ever, a lack of consumer financing coupled with this sort of discriminatory exclusion, is holding the industry back from reaching production levels in the hundreds-of-thousands of homes, and harming American homebuyers at the same time.  Worse yet, the trend line on discriminatory exclusion only seems to be getting worse, not better," Weiss stated.
"The manufactured home industry needs an effective organization that will fight these along with other post-production battles, or will step-up where states may need more support, and when other self-proclaimed "protectors" of the industry's post-production sector have either failed, or have not even tried."
"The future success and growth of the industry depends on opening access to our homes and to our consumers in every county, town and city around the country.  To do that, a dedicated, independent post-production association is absolutely essential," explained Weiss.
Others informed on this matter also thanked MHProNews' publisher L. A. 'Tony' Kovach as well for diving into this case, which apparently caused Washington to step back and reevaluate the legality of this issue.
"I recall a case in Wisconsin, years ago, where another public official was taking an anti-manufactured home position," said Kovach. "I reached out, and informed that gentleman about the Manufactured Housing Improvement Act of 2000. He admitted that he was totally unaware of the federal law."


"The industry has the laws needed to improve the circumstances of potentially millions of:
affordable housing seekers,
current manufactured home owners,
professionals and investors,
the residents of those towns who live in conventional housing, who mistakenly believe that a manufactured home will reduce their property's value. HUD, and Trulia, Urban Institute, and National Association of Realtors (NAR) ® research and other studies all contradict the common misconceptions.
Then there's the harm caused to local, state, and federal budgets from lost economic activity, which a 2017 study by NBER researchers demonstrates."
"MHARR, which focuses on production related issues, is arguably correct in saying that MHI or even Clayton are failing to stand up to many of these local issues," said Kovach. "The solution? It obviously isn't more of the same, it is a new, motivated post-production trade group that hammers away at this every time the issue arises. MHI and Clayton have the budget.  But where's their ongoing action? MHI members who expect them to deal with this growing problem better wake up to the reality that they've rarely done much beyond talk and posture. The proof is in how common this is.  People like MHI member Frank Rolfe have raised related concerns."
A few hours of effort can often dissuade public officials from taking anti-manufactured home stances.  As MHARR and others noted, Tony Kovach's example shows how this can be done. A combination of state and national contacts every time a zoning issue occurs would make a difference.  Finally, the appointment of a HUD Office of Manufactured Housing Program administrator who is essentially the opposite of Pam Danner could also make a significant dent in this issue.  "We Provide, You Decide." © (News, analysis, and commentary.)
(Related Reports are further below. Third-party images and content are provided under fair use guidelines.)
1) To sign up in seconds for our MH Industry leading emailed news updates, click here.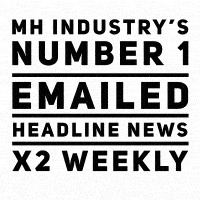 2) To pro-vide a News Tips and/or Commentary, click the link to the left. Please note if comments are on-or-off the record, thank you.
3) Marketing, Web, Video, Consulting, Recruiting and Training Re-sources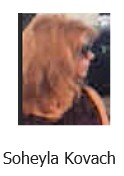 Submitted by Soheyla Kovach to the Daily Business News for MHProNews.com. Soheyla is a managing member of LifeStyle Factory Homes, LLC, the parent company to MHProNews, and MHLivingNews.com.
Related Reports

:
Greener, Stylish Manufactured Homes – Hidden Facts in the Washington Post Manufactured Housing Narrative
People generally don't buy something that they don't understand, misunderstand, have concerns about, aren't motivated to have, or are otherwise unable to buy. Until understanding, interest, desire, opportunity, need, and the means to buy all come together, no purchase is made. There are more details.
Has the Manufactured Housing Institute Accused Former MHI Chairman Nathan Smith of Federal Law Violations?
Fear affects decision-making every day. But often, " F.E.A.R." is an acronym for " False Evidence Appearing Real." Our research indicates that the solution to the affordable housing crisis is hiding in plain sight, but fear and prejudice have kept it from being widely embraced.