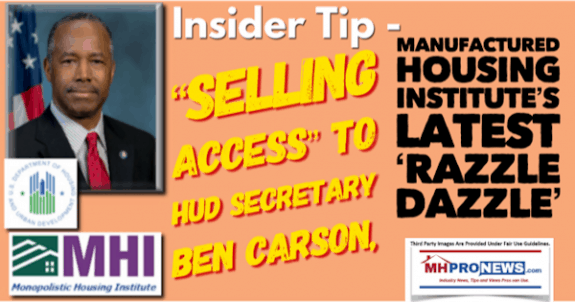 The definition given by Dictionary of the noun razzle-dazzle reads in part as follow, with the bold added for emphasis: "Informal. showiness, brilliance, or virtuosity in technique or effect, often without concomitant substance or worth; flashy theatricality: The razzle–dazzle of the essay's metaphors cannot disguise its shallowness of thought."
The Urban Dictionary defines the term 'dog and pony show' in similar terms. "Man do the ignorant apathetic masses eat up this dog and pony show."
"Dog and pony show" is a colloquial term which has come to mean a highly promoted, often over-staged performance, presentation, or event designed to sway or convince opinion for political, or less often, commercial ends," said Wikipedia.
So razzle dazzle, or dog and pony show are designed to catch the eye and impress, even if there is no substance or practical usefulness to it. With that backdrop is this following insider tip. The words in brackets are added for clarity, our common MHProNews bold and brown are added to make a direct quote pop, but the comments – typos and all are in the original – are from an insider with knowledge of the developments in the manufactured housing industry's version of 'the Swamp.'
"On the BC [Ben Carson] matter, though, you are absolutely right, as they use these stuff for dog and pony show, but never ask these people [at the Manufactured Housing Institute] to get something tangeable done for the industry and consumers…waste of the industry's hard-earned clout."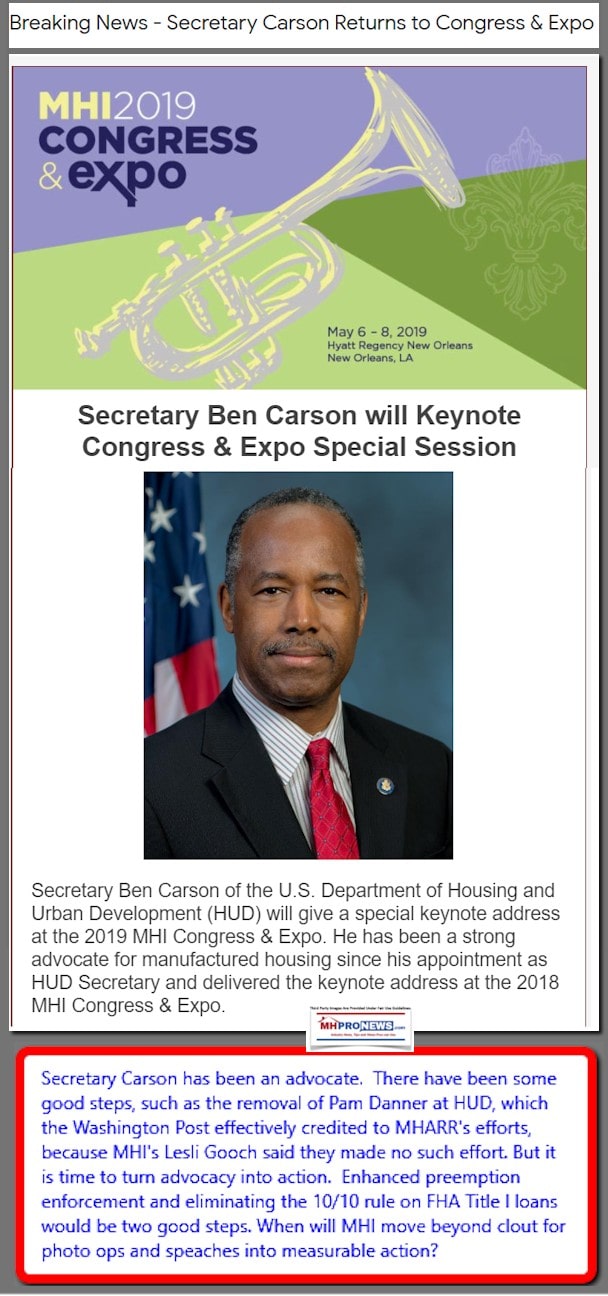 The Daily Business News with MHProNews was previously tipped some time back about the red herring use of photo ops with political figure by Manufactured Housing Institute (MHI) and members of Congress, federal or state officials.  Photo ops are morally neutral, the specifics of how it is used is the question. In MHI's case, per insiders, they are literal 'head fake' attempts to impress the rank and file industry member with their access – what MHI touts as clout – but without actually producing any useful results.
This new allegation would suggest that MHI is selling access to photo opportunities to Secretary Carson, because it costs hundreds of dollars to attend MHI's Congress and Expo.
People love selfies and photos with celebrities and famous people. The desire for a photo with a notable person can include public officials. The photo of Nathan Smith with Vice-President Joe Biden, or the signed photo from Barack Obama serves to make the point.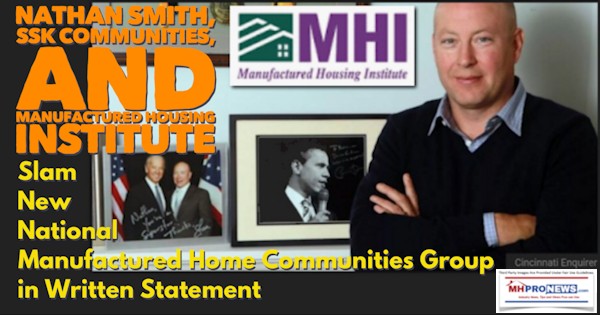 One reason that presidential or other campaigns make coffee shop, restaurant, factory, or other stops is precisely to give 'real people' the opportunity to have a photo made with them. It is a practice done by people of both major parties. Those photos become free ads for a politico on social media, emails, texts or other more traditional ways to commemorate that moment. MHProNews team members are not immune to that phenomenon; we have photos with notables and officials too. We have not opted to publish such photos recently of a given team member with some well-known political personality. Doing so could be misinterpreted.
It's a Profit Center
An upcoming analysis of the MHI 990s make it clear that meetings and events like their 'Congress and Expo' are profit centers. They earn significantly more from such an event than the cost to put it on.
In essence, per another source with insider knowledge, what the Arlington, VA based Manufactured Housing Institute (MHI) is doing is "selling access" for "photo opportunities" with HUD Secretary Ben Carson in this case, or with other figures in various instances. Professionals got photos last year with Secretary Carson or others and more will doubtlessly do so this year. That's not necessarily a slam on Carson or HUD. It is what it is.
Both MHI and HUD will be given an opportunity to respond to these concerns.
Where is the Practical Use of MHI Access and Clout?
The quote at top is a key to understanding the emergence of the puzzling picture that is manufactured housing today. If MHI has such "clout," when they have photos with several key people in the Trump Administration, or with Democrats or the GOP in Congress, why aren't they using it to gain real results? Why is MHI proudly pushing a speech and photo opportunities?
Why aren't they asking and OBTAINING Secretary Carson's potentially powerful position for HUD's intervention in areas like
Or why haven't they shown results in obtaining:
Eliminating the 10/10 rule on FHA Title I loans?
A broad use of the Duty to Serve lending by the GSEs for all manufactured homes, not just for the Clayton Homes promoted 'new class of homes?'
The list of possible 'asks' by MHI and their 'big boy' masters could go on.  One might note what MHARR said to Fannie Mae's new CEO, when they made the point that failing to implement DTS (or by inference, other such policies) adds to the profitability of Berkshire Hathaway owned brands in manufactured housing.  It gives Clayton and their sister companies an outsized influence.  It makes the point that MHI award-winner Marty Lavin previously made, doesn't it?
Wasted MHI Clout? 
If MHI has such clout, as they have claimed for years in graphics like the above, why didn't the stop the hit against their own prominent members in the John Oliver viral "Mobile Homes" video?
If MHI has such clout, why is the primary media narrative arguably against the industry's homes and communities, rather than for it?
MHI can no longer as easily escape with the 'head fake' photo "razzle dazzle" or "dog and pony show" techniques any longer, so long as MHProNews and/or any others spotlight what they are and have been doing for years.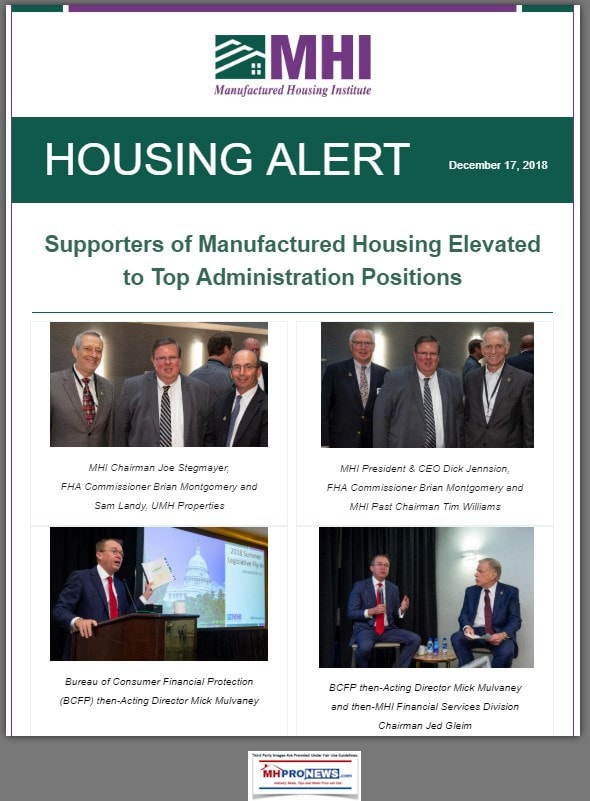 Rhetorical or visual red herrings are a deceptive ruse arguably designed to deceive and impress independents or others without delivering any actual and measurable results. MHI is collecting millions in dues, and what do they have to show for it?  Why is the industry performing at a lower total production rate today than the year that Warren Buffett entered the industry over 15 years ago?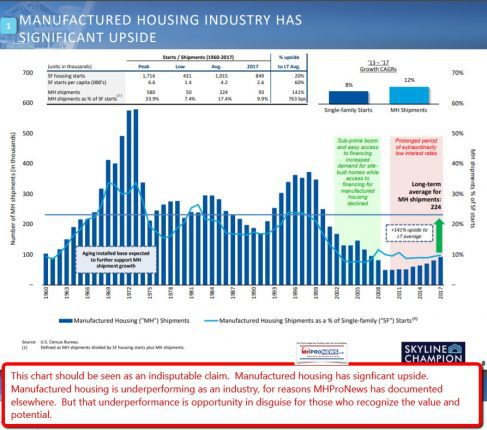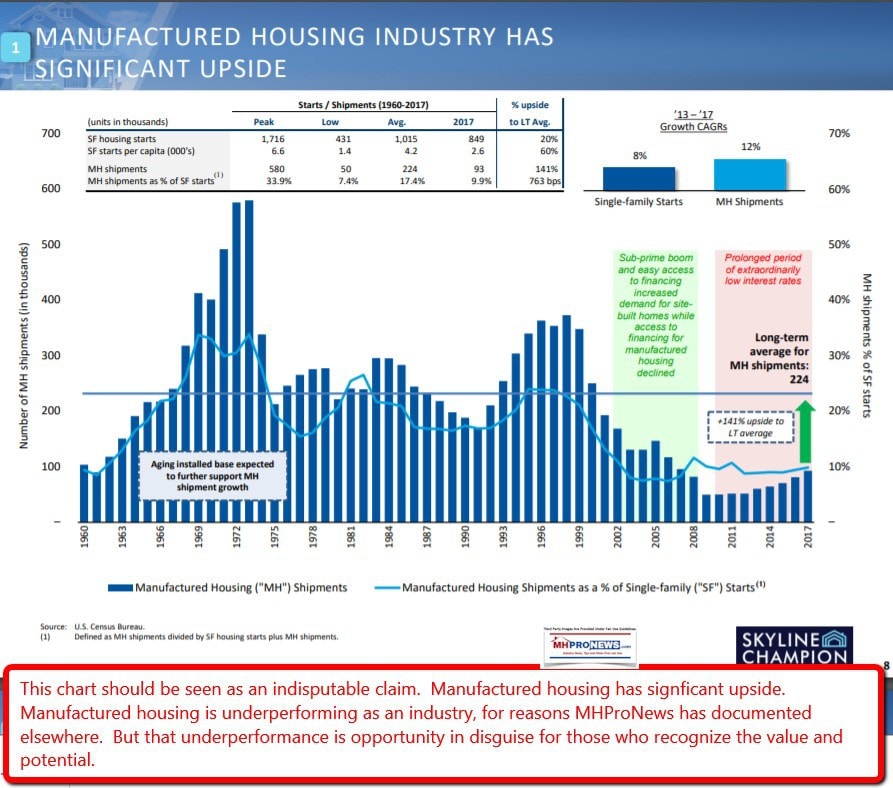 MHI obtained a video with Secretary Carson, and a video with previous HUD Secretary Julian Castro. Castro is currently seeking a run at the White House as a Democrat. Dr. Carson is a well-known member of the GOP, and as a Republican, sought his party's nomination as president in the 2016 campaign cycle.  Why are those videos touting bi-partisan praise for the industry not on the home page of their website?  Why instead are they a challenge to find?
The evidence and reasons suggests – and the Omaha-Knoxville-Arlington axis has not yet denied or explained away – the claim that the "Illusion of Motion" has made MHI money, while the industry continues to consolidate into ever fewer hands.  MHI meetings have become 'Buffett's Big Boy Buffet.' Members pay for the honor of potentially becoming the next meal for a corporate giant.
If the industry was performing near their historic norm, or to the industry's potential, then the value of those businesses arguably would be higher.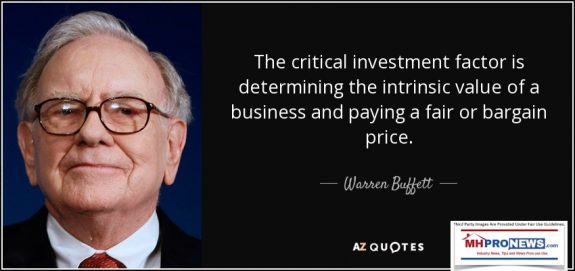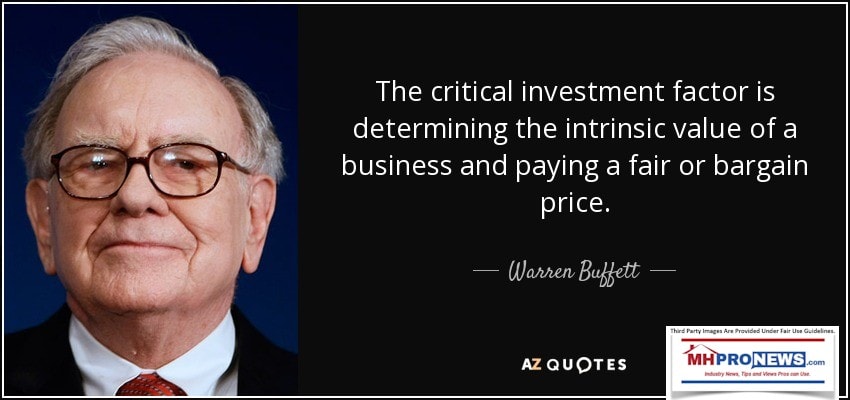 "Is it a coincidence that failing to fight and win media image, to fully implement good laws, to overcome regulatory or other hurdles creates shark-like resistance?  Meanwhile, the manufactured home industry staying smaller limits the attraction of new competition, and that pattern allows Warren Buffett and his de facto allies to buy up chunks of the industry at a discount? Aren't these useful in doing exactly what Buffett has said in his own words?"  That summarizes points that publisher and industry expert L. A. 'Tony' Kovach has made.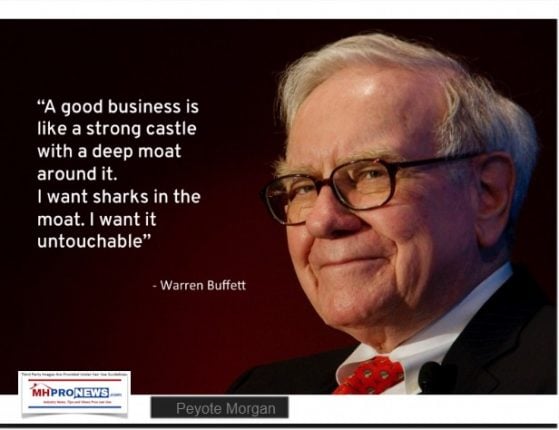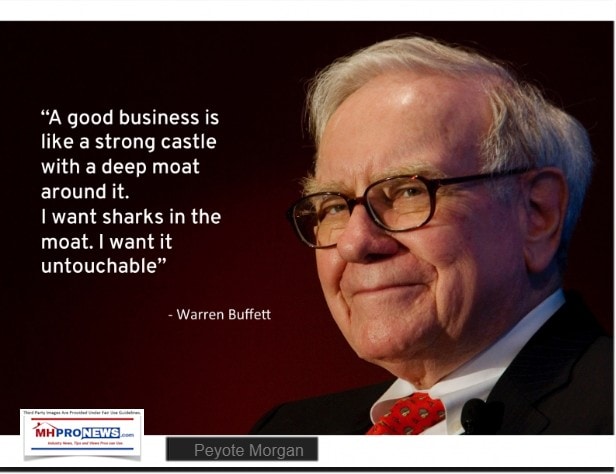 The industry's independents in MHI ought to demand their money's worth, or seek new structures that achieve the claimed goals of the Arlington based association that claims to represent "all segments of factory-built housing."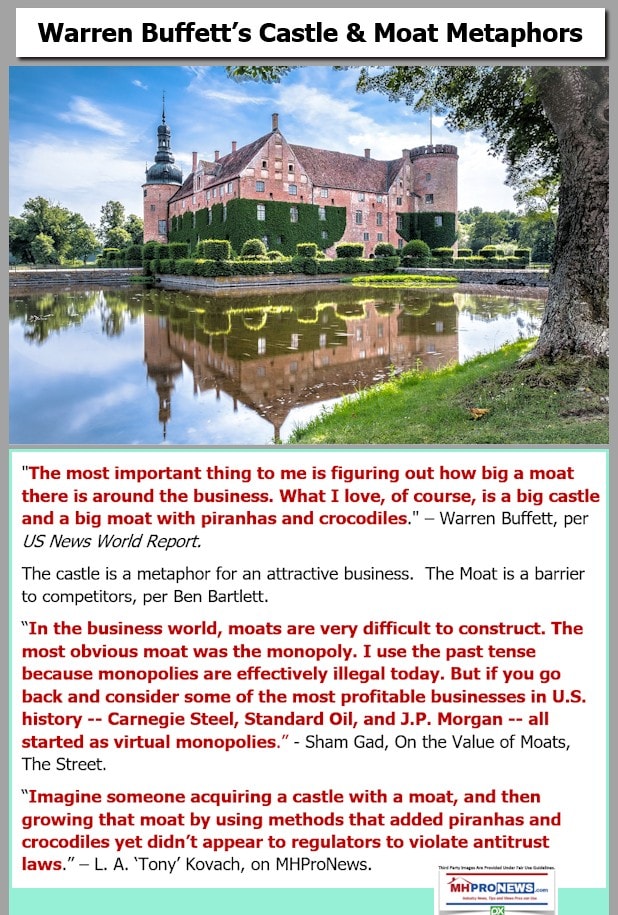 "Photo ops and nice speeches are fine, and we can all enjoy them.  But it is measurable results that the industry needs, and the same applies to current manufactured home owners and the roughly 100 million living in rentals, most of who want to become a home owner." says Kovach.
The time for razzle dazzle and head fakes is over. The industry continues to be consolidated.
See the related reports to learn more, found further below the byline, offers, and notices.  That's this morning's edition of manufactured housing "Industry News, Tips, and Views Pros Can Use" © where "We Provide, You Decide." © ## (News, analysis, and commentary.)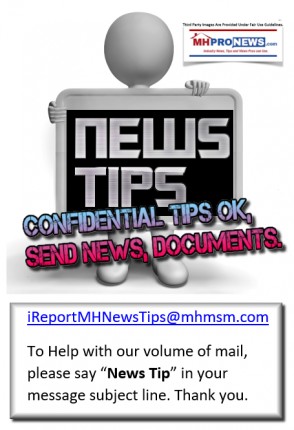 Your link to industry praise for our coverage, is found here.
For the examples of our kudos linked above…plus well over 1,000 positive, public comments, we say – "Thank You for your vote of confidence."
"We Provide, You Decide." © ## (News, analysis and commentary.)
(Image credits and information are as shown above, and when provided by third parties, are shared under fair use guidelines.)
Submitted by Soheyla Kovach to the Daily Business News for MHProNews.com.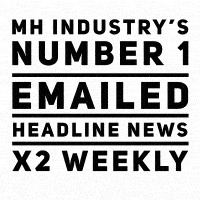 2) To pro-vide a News Tips and/or Commentary, click the link to the left. Please note if comments are on-or-off the record, thank you.
3) Marketing, Web, Video, Consulting, Recruiting and Training Re-sources
Submitted by Soheyla Kovach to the Daily Business News for MHProNews.com. Soheyla is a managing member of LifeStyle Factory Homes, LLC, the parent company to MHProNews, and MHLivingNews.com.
Related Reports

:
You can

click on the image/text boxes

to learn more about that topic.
For Want of a Nail For want of a nail the shoe was lost. For want of a shoe the horse was lost. For want of a horse the rider was lost. For want of a rider the message was lost. For want of a message the battle was lost.
Whitney Houston died a tragic death. She began her career in Gospel. It was Roberta Flack's, not Houston's song, but one might suspect that near the end of her dramatic life, the lyrics " killing me softly with his song " were perhaps filled with deep meaning for Whitney.