The difference between the interests of smaller businesses and larger businesses comes to light in the eight-point plan advanced by the Job Creators Network in conjunction with former House Speaker Newt Gingrich. When most professionals take a step back and look at their own profession, they see bigger businesses in competition with smaller businesses. That is certainly true in manufactured housing, but as noted, it is also true of other professions. One doesn't have to be a Democratic supporter or a fan of the Biden White House to realize the value of the insight quoted from one of their pages, as follows: "For decades, corporate consolidation has been accelerating. In over 75% of U.S. industries, a smaller number of large companies now control more of the business than they did twenty years ago. This is true across healthcare, financial services, agriculture and more. That lack of competition drives up prices for consumers. …. Barriers to competition are also driving down wages for workers. … Inadequate competition holds back economic growth and innovation." While not directly responding to that, the JCN/Gingrich explained 8 point plan for "Small Business Prosperity" is in significant ways precisely that. Gingrich was a driving force behind the Clinton Presidency era effort dubbed "The Contract with America." That 'contract' focused issues that resonated with voters. "The Contract with America" helped put Republicans back in control of the leadership of the U.S. House in 1994 for the first time in decades.
That historic accomplishment championed by Gingrich may shed light on why JCN and Gingrich teamed up on this new eight-point initiative for "Small Business Prosperity Plan" which JCN is asking smaller businesses to email their lawmakers in support of, which will be shown in their formal statement below.
As background, a range of reports point to information from sources such as the Small Business Administration (SBA) or other data that present the rather impressive facts about just how important small businesses are to America when looked at as a group. In September 2022 Zippia provided this small business snapshot which asserts that there are some 33.2 million small businesses in the U.S.A. Per Zippia, which labels itself as 'the career expert,' are the following factoids.

Well, after extensive research, our data analysis team concluded that:
There are 33.2 million small businesses in the United States.
61.7 million people in the U.S. are employed by small businesses.
Small businesses have created an average of 525,000 new jobs each year since 2000
23% of small businesses closed due to the COVID-19 pandemic.
The average Paycheck Protection Program (PPP) loan in 2021 was $46,000.
20%of small businesses fail within their first year.
Only 55%of small businesses survive five years or more.
Additional insights from that source, along with more charts/graphics, are found at this link here.
With that backdrop of the ever-dwindling survival rate of small businesses, next up is the WND NewsCenter's report on the topic, which is followed by the actual 8 point plan as published on the JCN site.
HEALTH MONEY POLITICS U.S. WORLD
Gingrich releases 'very important step,' a plan to help small business
'This is something that has to get done'
By WND News Services
Published September 22, 2022 at 10:21am
By John Hugh DeMastri
Daily Caller News Foundation
Former Speaker of the House Newt Gingrich, alongside Job Creators Network (JCN) president Alfredo Ortiz, announced the eight-point "Small Business Prosperity Plan" at a JCN event Wednesday, aiming to provide Congress a roadmap for supporting small businesses.
The plan recommends that Congress take action to make the 2017 Tax Cut and Jobs Act permanent before it expires in 2025, tie work requirements to government assistance and increase energy production in the U.S., according to the JCN, who partnered with Gingrich to develop the plan. The announcement comes as small business optimism languishes near record lows, according to a JCN poll conducted by pollsters John McLaughlin & Scott Rasmussen.
"Never before has Mainstreet been under such an assault as policymakers levy a growing number of regulations and taxes on small businesses," Gingrich and Ortiz said in a joint statement given to the Daily Caller News Foundation. "That's why we've partnered on this plan to help strengthen the small business community, which is the backbone of the U.S. economy."
🚨Roundtable Alert: "Just Good Business 🚨

This Wednesday, we'll discuss #CorporateResponsibility and how pro-worker policies can pay off.

Our panelists:

🔹 @BizRoundtable's Dane Linn

🔹 @indeed's @SvenjaGudell

🔹 @BCorporation's @HollyEBarstow

🔹 @MicrosoftIPC's Portia Wu pic.twitter.com/16BAj1DaIc

— Economic Disparity & Fairness in Growth Committee (@FairGrowthCmte) September 19, 2022
The plan also calls for reduced red tape for small business, and would exempt them from new federal regulations by default, putting the onus on Congress to prove their necessity, according to Ortiz. Speakers at the event also touted the plan's commitment to providing more capital for small businesses, which Ortiz characterized as being crucial for empowering minority-owned small businesses in an interview with the DCNF.
Speakers discussed the impact of the Federal Reserve's ongoing battle with inflation, and argued that the interest rate hikes announced Wednesday would put further strain on employers.
"When you're trying to get a piece of equipment that's a million dollars, those [increases] really do mean a lot," said Nicole Wolter, small business owner of the H M Manufacturing, speaking at the event. "It's clear that the climate for small business has soured."
Inflation persisted in August at 8.3% annually; more than four times the Fed's goal of 2% annual inflation. President Joe Biden has repeatedly downplayed the impacts of inflation, going so far as to claim the Inflation Reduction Act has helped reduce costs "at the kitchen table," despite historically high grocery prices.
Ortiz noted that he hoped the plan would be embraced by politicians regardless of political affiliation, and that Republicans would find it complimented House Minority Leader Kevin McCarthy's "Commitment to America" plan, to be announced later this week. Gingrich characterized the Small Business Prosperity Plan as "a very important step" to an American economic recovery.
"This is something that has to get done," said Ortiz. ##
This story originally was published by the Daily Caller News Foundation. ###
Per the JCN website, here are more specifics on the plan which includes a link to send a message to lawmakers in support of the 8-point program. Ponder items like point 6, below, and how it applies to mom and pop or other smaller businesses in manufactured housing.
Tell your legislators to support the American Small Business Prosperity Plan. Click here to send them a letter.
There are more than 30 million small businesses in America and they are the backbone of the U.S. economy. Members of the upcoming 118th Congress should support the plan to make these small business job creators a priority by tackling a pro-growth policy agenda.

MAKE THE TAX CUTS AND JOBS ACT PERMANENT
The 2017 Tax Cuts and Jobs Act unleashed a tsunami of small business expansion—leading to one of the strongest economies in half a century. But now, the legislation is set to incrementally expire and effectively hike taxes on America's small business community. Congress should make small business tax relief permanent.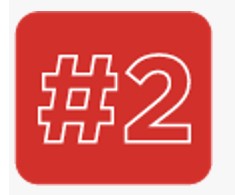 UNLEASH DOMESTIC ENERGY PRODUCTION
High gas prices are a top concern for small businesses as they face skyrocketing transportation costs. Congress should demand that the Biden administration unshackle the U.S. oil industry so they can increase production and lower costs.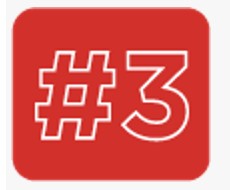 HEALTHCARE REFORM TO BENEFIT SMALL BUSINESSES AND FAMILIES
The current healthcare system isn't working; government red tape and middlemen are inflating costs and reducing choices. Policymakers need to restore the doctor-patient relationship and remove D.C. bureaucrats and politicians from the exam room, as well as increase healthcare choices, price transparency and competition. Visit HealthcareForYou.com to learn more.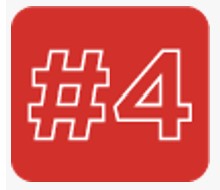 EXEMPT SMALL BUSINESSES FROM NEW REGULATIONS
Handling the ever-growing mountain of government regulations put in place by D.C. is a major hurdle for small business owners. Unlike large corporations, small businesses have a difficult time absorbing compliance costs that are associated with government red tape. So, as a default, Mainstreet should be exempt from any new government regulations, unless policymakers can prove that small businesses would not be disproportionately harmed by the change.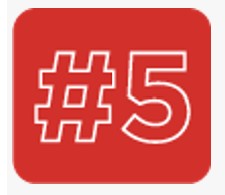 REIN-IN GOVERNMENT SPENDING TO COMBAT HIGH INFLATION
Out-of-control government spending is contributing to near-record inflation that is acting as a tax hike for small businesses. As the cost of input materials goes up, businesses can only pass along so much of the burden to consumers. Small business budgets eat the rest. Congress should cut the budget and reallocate unused pandemic-era funds for targeted small business relief before even considering additional spending bills. Sixty- seven percent of Americans—and 74 percent of Hispanic-Americans— believe limiting federal spending and balancing the budget will help tame quickly rising prices.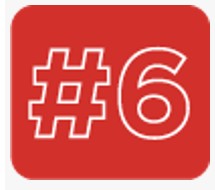 EXPAND ACCESS TO CAPITAL FOR SMALL BUSINESSES
It's often difficult for small businesses to compete with their larger counterparts because it's challenging to access capital. Congress should explore strategies to open up capital markets more widely to small businesses so they can compete, innovate, and grow like their big business competitors.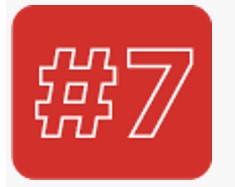 DIGNITY OF WORK REQUIREMENT FOR RECIPIENTS OF GOVERNMENT ASSISTANCE
Providing a reasonable government-funded safety net for Americans who fall on hard times is welcome and necessary. But at the same time, we need to restore the dignity of work to help address lingering labor shortages that are compromising the U.S. economy. Congress should tie work requirements to government assistance programs for able-bodied people—a proposal that is supported by 74 percent of Americans.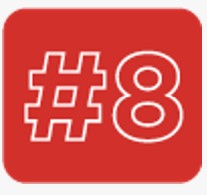 GET TOUGH ON CHINA AND UNCLOG OBSTRUCTED SUPPLY CHAINS
Chronic supply chain problems have been a big headache for small businesses who are disproportionately affected. Congress should investigate what government regulations can be lifted to help smooth the movement of goods from "Point A" to "Point B." Federal officials also need to get tough on the U.S.'s biggest economic rival, China, so the country becomes less reliant on products from abroad. ##
Additional Information with More MHProNews Analysis or Commentary 
There are numerous levels that federal/state/local policies have negatively impacted small businesses. JCN's Small Business Prosperity Plan plus several of those threads into a single statement, as shown above.  This impact of regulations, policies, and taxes are obvious in our manufactured home profession on a host of issues. The largely negative impacts are caused by a range of policies that include land-use/zoning, financing and limits on access to competitive financing for millions, or more recently, COVID19 and the related lockdown and 'vax' policies. The contradiction between the two tweets below are an apparent example of that harm.
FAUCI: "You have to do something that's rather draconian, and sometimes when you do draconian things, it has collateral negative consequences." pic.twitter.com/fEGAbM588a

— Townhall.com (@townhallcom) September 21, 2022
"I don't think it's irreparably damaged anyone," says Anthony Fauci when asked if he regrets the forced lockdowns that kept kids out of school.

"People selectively pull things out about me." pic.twitter.com/HDgJfyMFUX

— RNC Research (@RNCResearch) August 23, 2022
Dr. Anthony Fauci has grown less popular with millions of Americans than he was in 2020 as more and more information about him and his policies has emerged.  For instance, the admission by his colleague Dr. Deborah Birx, Bill Gates and others that they 'knew' that the lockdowns and vaccinees wouldn't be as effective as was initially being claimed is more than disturbing. Tens of millions of Americans had their lives upended. Perhaps 100,000 or more small businesses were permanently closed as a result of the lockdowns and related policies, per Zippia and other sources. So, when Dr. Fauci says "I don't think it has irreparably damaged anyone" he obviously isn't thinking about those who have reported an adverse reaction to the COVID19 treatments rebranded as vaccinations. Fauci wasn't thinking about those who lost their jobs, fell behind on rent or mortgages, or who wateched their small businesses close through no fault of their own.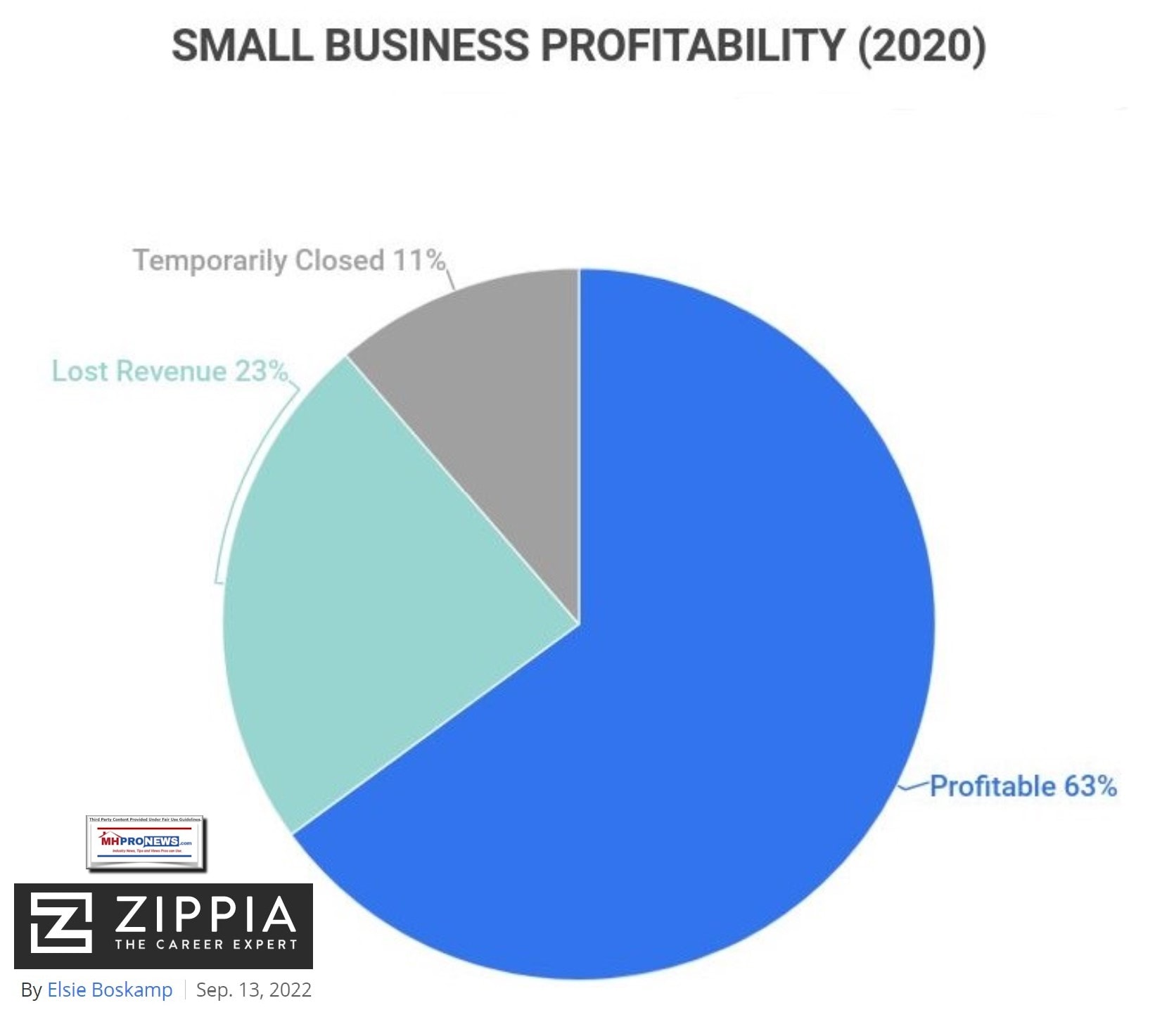 Anyone who things that government is benign or neutral in its impact on business is perhaps naïve, failing to see the bigger picture. The quotes and linked reports that follow will outline some of those costs and harms. Some of what follows are broader, others are manufactured home specific.
For instance. Federal policies in the Biden era have driven the sharp rise in inflation, the rise in interest rates and the related slowdown on housing. This is difficult to deny. For those who weaponize data in an attempt to make their own partisan case, note that this inflation spike began in 2021 and has risen sharply since. President Trump left the White House in January when the Bidens moved in on 1.20.2021.  When the multitrillion dollar spending spree began is reflected in the graphic and related report linked below it.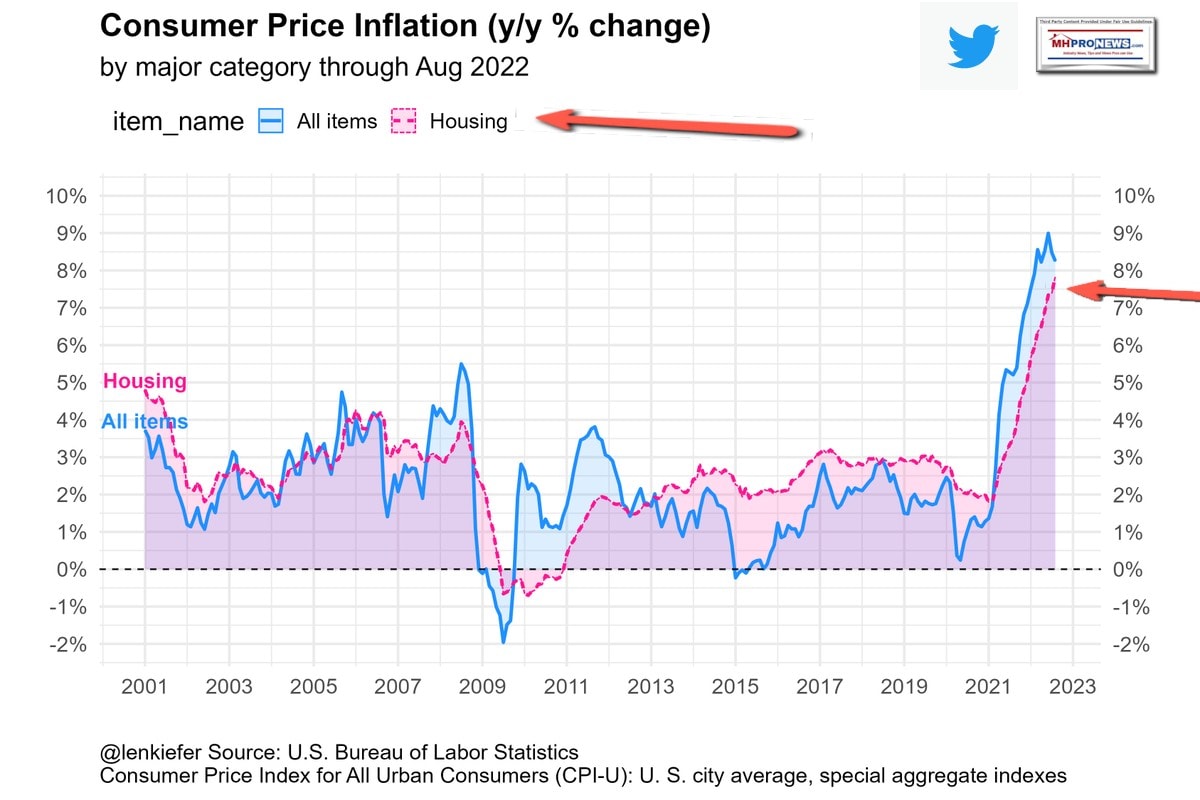 Homebuilder Index Falls 9th Straight Month, Manufactured Housing Problems and/or Opportunities Ahead – plus MHVille REITs, Stocks Update
"JPMorgan CEO and Chairman Jamie Dimon, gave a darker than normal outlook. Dimon said that Americans are currently being "crushed" by inflation," per the NY Post in its report on Wednesday 9.21.2022 testimony to Congress. Per Dimon, "We finance Americans' ambitions with loans for homes, autos, and growing a small business, and provide valuable products and services to more than half of American households." He said it should have been obvious that the sharp boost in federal spending was going to fuel inflation. "The amount of monetary and fiscal stimulus was so large; how could it not drive more inflation and thereby higher rates," said Dimon according to the Economic Times. Dimon has described himself as "barely a Democrat" or more famously said: "My heart is Democratic, but my brain is kind of Republican."
Policies obviously matter. The Trump era policies produced growth that raised the boats of millions of Americans, some leaving poverty for greater prosperity. This graphic below from CNN reflected a sharp rise in the incomes of Americans. While incomes are continuing to rise under Biden, inflation has eroded the value of the dollar. The data reflects that most people are now losing ground again, vs. gaining ground under the Trump-era policies.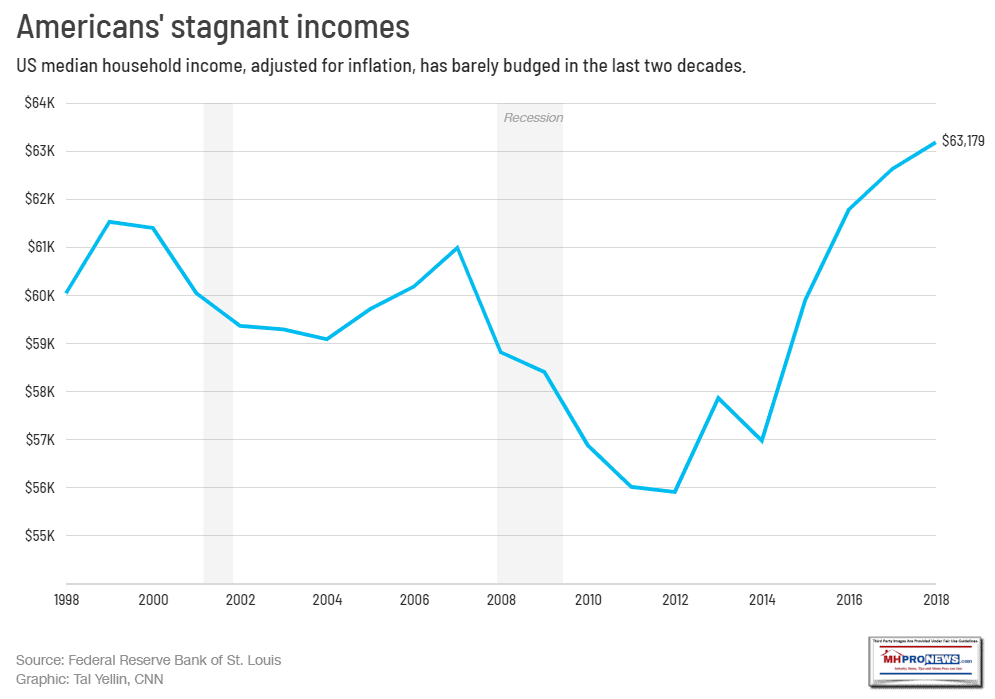 To effect change, voters will have to 1) turn out to vote and 2) know what to vote for and against. For those who like current policies and their impacts, voting Democratic is how that is accomplished. For those who oppose most of the economic and interlaced policies that JCN and others have spotlighted, they should vote Republican. Not voting is essentially a vote for Democrats as that is a status quo stance.
According to an Washington, D.C. based advisor to non-partisan AMAC Action on 9.22.2022, the following insights are from recent polling. That advisor told AMAC delegates that some of the polls focus on likely voters (LV) while others are registered voters (RV). He said that LVs are what matters more as they are motivated to go vote. Per that metric, Republicans could gain 4 U.S. Senate seats and could swing from being in the minority to being in the majority in the House by some 35 members. These 3 screen shots from that roughly 25-minute briefing this writer for MHProNews attended tells the tale.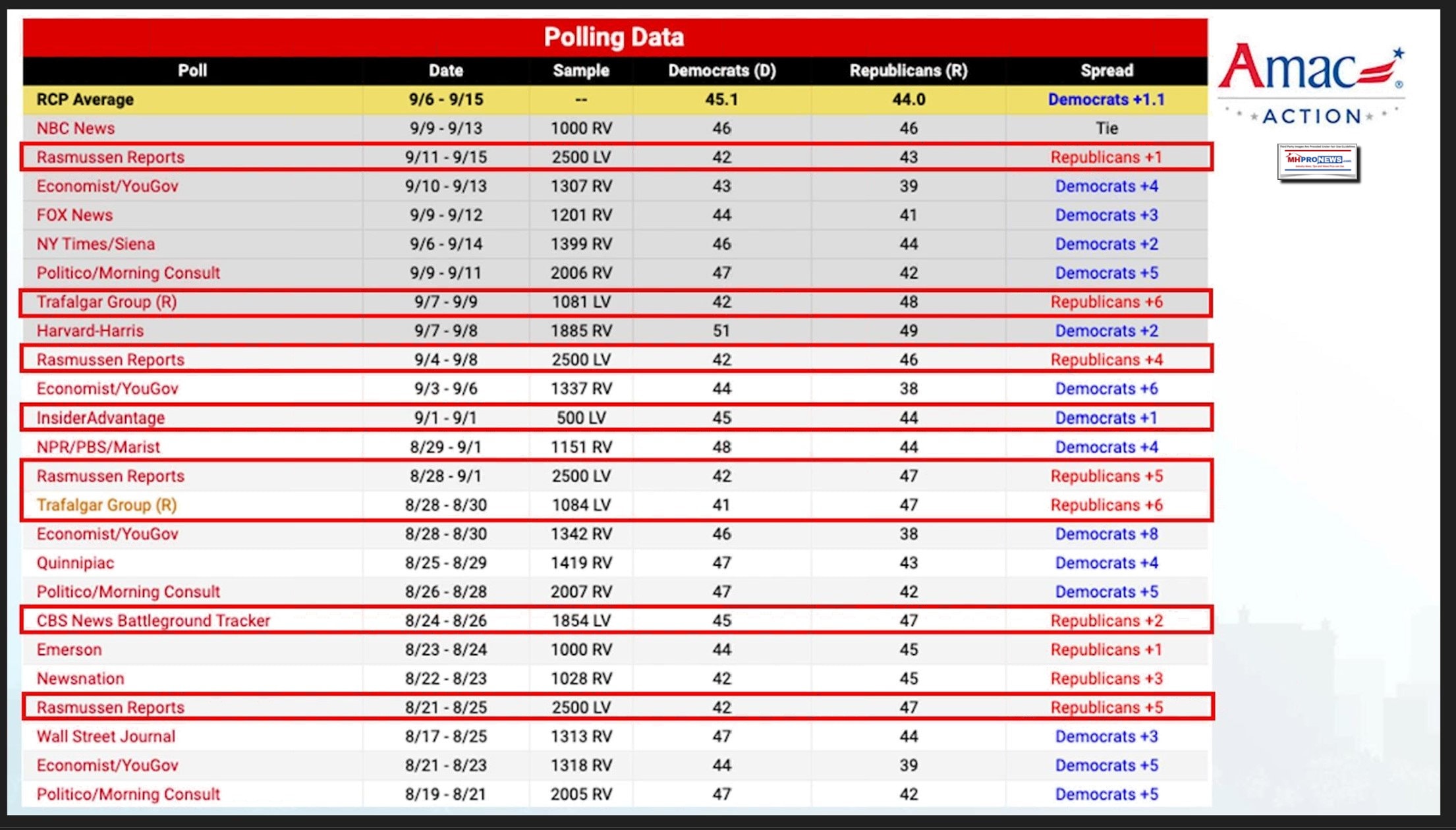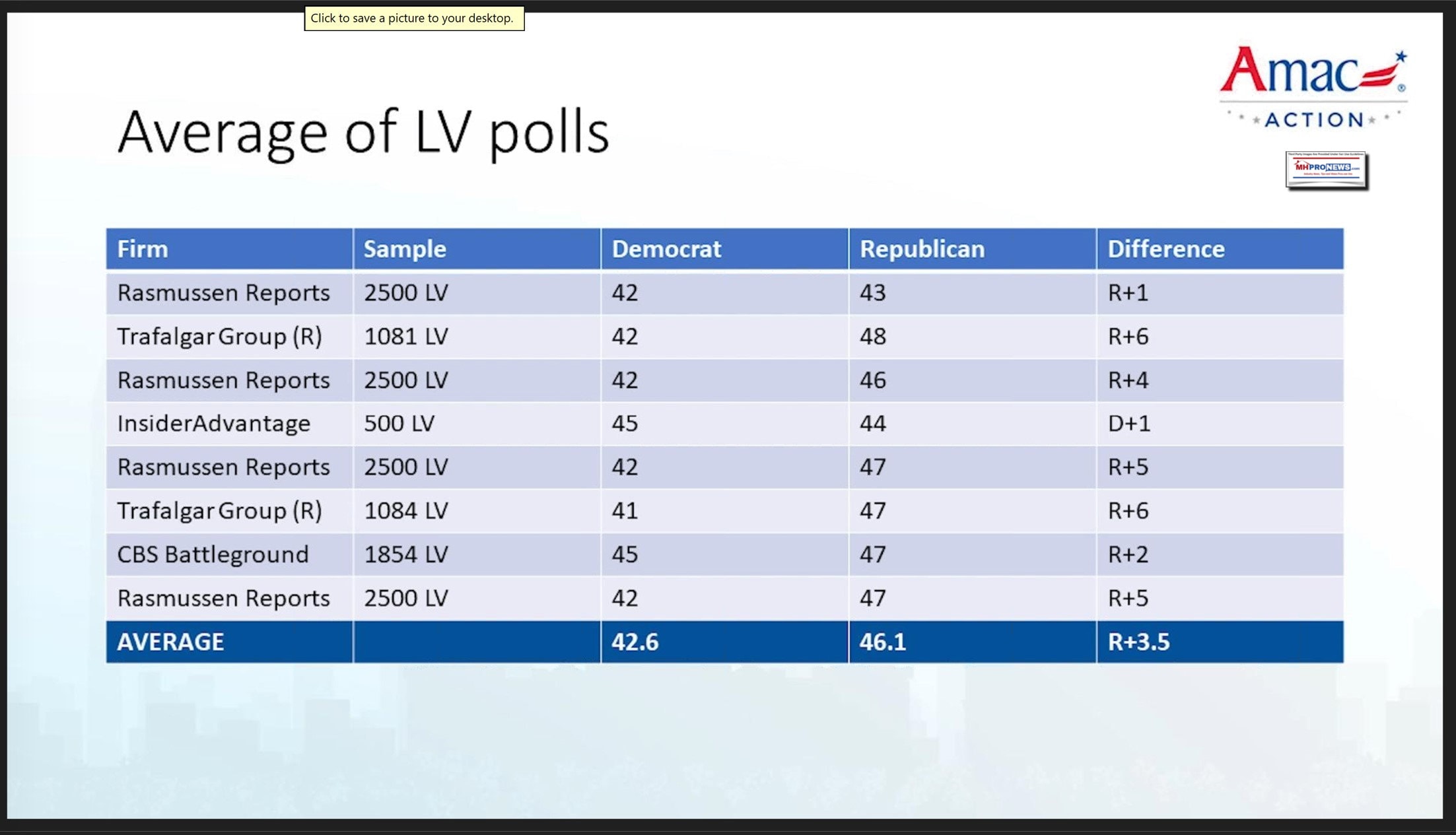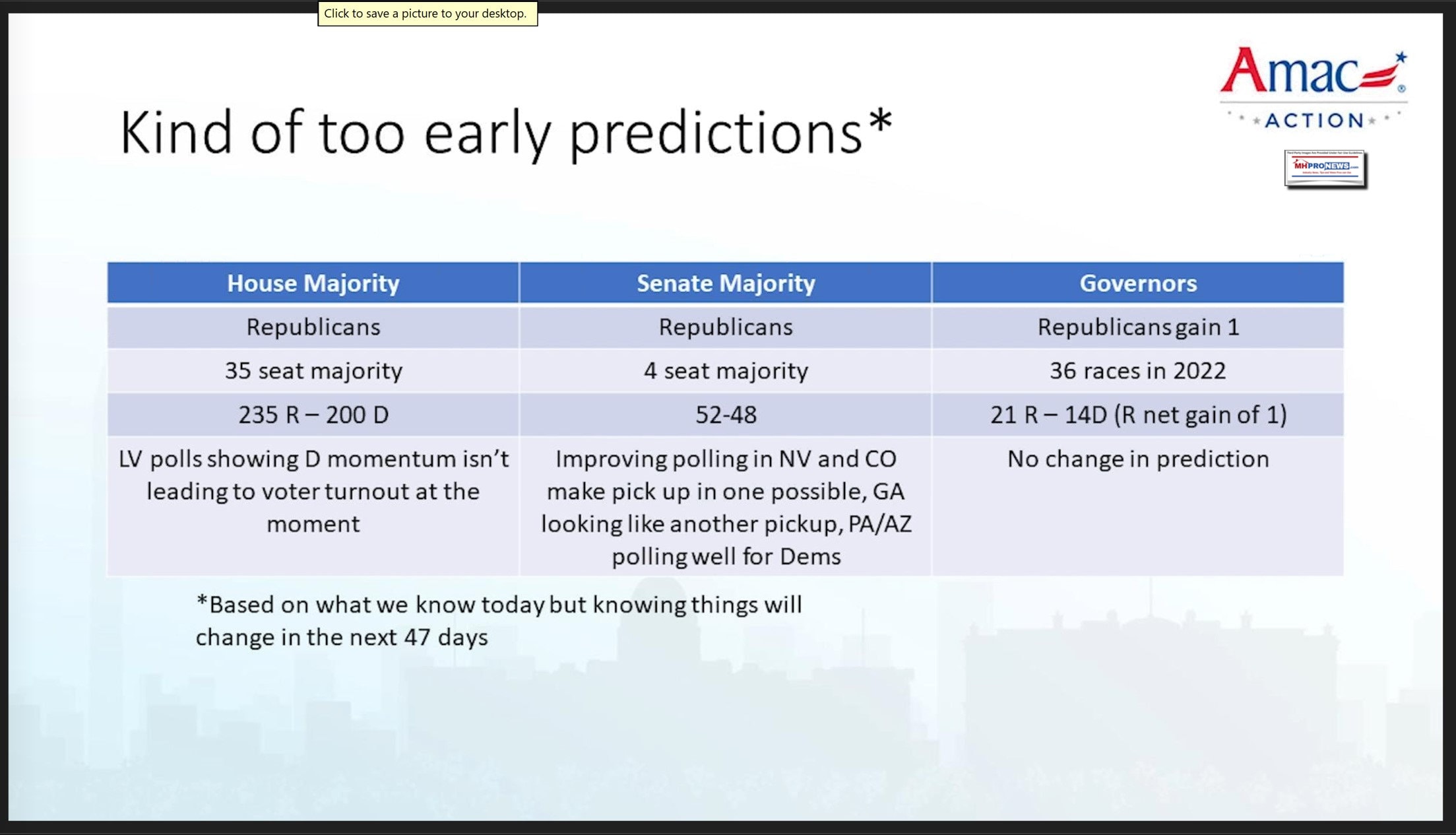 So, despite some hype by pro-Democratic media, there appears to be considerable momentum in the favor of Republicans retaking the House and the Senate too. If so, that can change several of the spending and taxation dynamics that have driven inflation, higher energy costs, the southern border crisis and more. Learn more about policies, behaviors, and outcomes in the linked reports.
Understanding Crony Corporate, Paltering Media, Washington D.C. Reality Check with B.S. Decoder Ring – Sunday Satire on National, Affordable Housing Issues, with Weekly MHVille Headlines Review
'Tail Wagging Dog' 'Three Fingers Pointing Back' 'Deranged, Power-Mad Sociopaths' – Psychology Today, David Kupelian, Chris Plante Vexing Insights on Key Issues; plus MH REITs, Stocks Update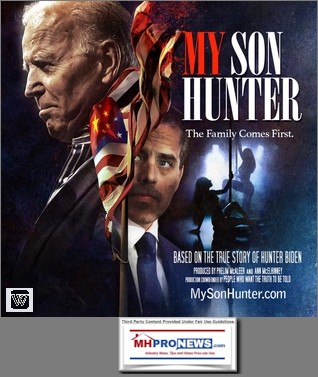 Building Generational Wealth by Lowering the FHA's MIP – Manufactured Housing Institute, MBA, NAHB, NAR Joint Request Unpacked in BS Detecting Friday Follies; plus MHVille REITs, Stocks Update
IPS GILDED GIVING 2022-'Wealth Inequality Distorts Philanthropy Imperils Democracy' Reports Finger Warren Buffett, Bill Gates, More Philanthro-Feudalism Linked Billionaires; plus MHVille REITs, Stocks Update
'Dead Presidents' – Deal Making by Manufactured Housing Institute PAC Contributors, Starting with Big Communities Buys by RHP Properties and Ross H Partrich; plus MHVille REITs, Stocks Update
Last but not least for this segment today. Within the manufactured housing world, industry professionals must look carefully at the significant differences between the Manufactured Housing Institute and the Manufactured Housing Association for Regulatory Reform. MHARR openly says they are for the independent smaller producers. See the linked and related reports to learn more. ##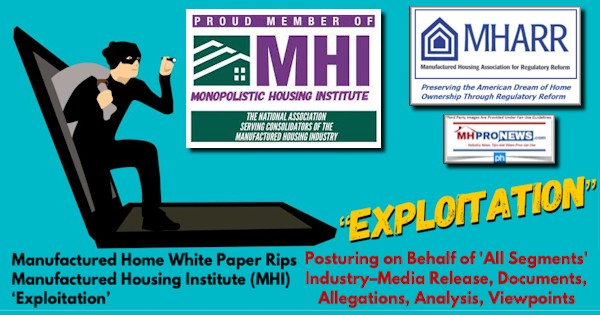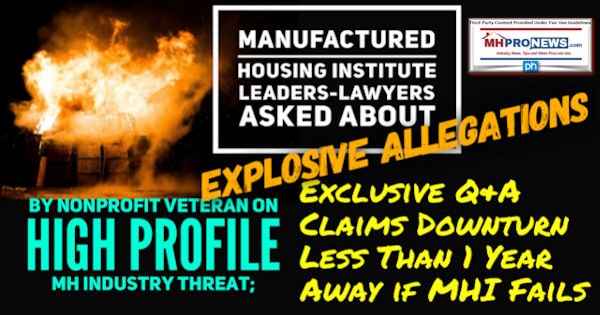 Daily Business News on MHProNews Markets Segment
NOTICE: Based on feedback, a modification of our Daily Business News on MHProNews recap of yesterday evening's market report is provided. It will still include our left (CNN Business) and right (Newsmax) 'market moving' headlines. The macro market moves graphics will provide context and comparisons for those invested in or tracking manufactured housing connected equities.
Reminder: several of the graphics on MHProNews can be opened into a larger size. Click the image and follow the prompts in your browser or device to OPEN In a New Window. Then, in several browsers/devices you can click the image and increase the size. Use the escape or back key to return.
Headlines from left-of-center CNN Business – from the evening of 9.21.2022
Housing crisis
Residential single family homes construction by KB Home are shown under construction in the community of Valley Center, California, U.S. June 3, 2021
It's harder than ever for Americans to keep a roof over their head. Here's why
Rising mortgage rates hit home builders as buyers pull back
Mortgage rates rise to nearly 6.3%, the highest since 2008
JPMorgan Chase CEO warns policy makers to be 'prepared for the worst'
US economic barometer drops for sixth month in a row, potentially 'signaling a recession'

As the 2022 midterms draw closer, Biden and Democrats are attempting various efforts to stir up their base and encourage or 'buy' votes, such as through the constitutionally questioned student loan forgiveness plan. Democratic House Speaker Nancy Pelosi previously said the plan would require Congressional approval. What happened to that? Who died and made Biden a ruler by fiat? Joe Biden and some of his admin officials announced inflation is 'zero percent' for the prior month. What? Who believes that who is going to the grocery store? It was running at 9.1 percent the previous month, but many believe that the actual rate of inflation is about double that claim. Yes, gas prices have fallen, due to an apparent drop in global demand as an economic slowdown is taking place. The Washington Examiner said that a historic record 88 percent now thinks that the U.S. is on the wrong track under Biden. As the value of the dollar erodes, that impact should be considered when looking at stock market performance. Note: depending on your browser or device, many images in this report can be clicked to expand. Click the image and follow the prompts. To return to this page, use your back key, escape or follow the prompts.

America's dependence on credit cards is growing. The Fed's rate hike will make it more painful

Tesla recalls 1.1 million cars for windows that can 'pinch'
Hertz is buying up to 175,000 electric vehicles from GM
Kia, Hyundai are easy targets for thieves, insurance data confirms
Walmart isn't waiting for Black Friday. It's ready for holiday shoppers now
Kittyhawk, the electric air taxi company, is shutting down
Jamie Dimon, Chairman and CEO of JPMorgan Chase & Co., listens to remarks before a House Financial Services Committee hearing on oversight of America's largest consumer banks, at the U.S. Capitol, in Washington, D.C., on Wednesday, September 21, 2022.
Why Jamie Dimon apologized to Elizabeth Warren
Federal Reserve Chair Jerome Powell speaks at a news conference Wednesday, Sept. 21, 2022, at the Federal Reserve Board Building, in Washington. Intensifying its fight against chronically high inflation, the Federal Reserve raised its key interest rate by a substantial three-quarters of a point for a third straight time, an aggressive pace that is heightening the risk of an eventual recession.
Jerome Powell is heading into the 'danger zone'
KANSAS CITY, MISSOURI – NOVEMBER 01: Patrick Mahomes #15 of the Kansas City Chiefs reacts before the start of the first half against the New York Giants at Arrowhead Stadium on November 01, 2021 in Kansas City, Missouri.
Amazon's 'Thursday Night Football' is a hit
Headlines from right-of-center Newsmax 9.21.2022
NYC Preps Humanitarian Relief Centers as Migrant Wave Grows
Two more busloads of migrants arrived in New York City from Texas on Thursday, WPIX-TV reported, on the same day that Mayor Eric Adams announced the city will open humanitarian relief centers to aid the influx of asylum-seekers arriving in the city daily. [Full Story]
Ukraine MP Rudik: No End of War Before Winter
Grover Norquist: Biden Gaslighting US on Recession | video
Fitzgerald: Bill Designed to Fix Bail Flaws | video
Braun: Accusations Against Trump a Diversion | video
Florida Rep. Perez: DeSantis Focused on Job, Not 2024 | video
Paul: Inflation 'Canceled Out' All That Free Pandemic Money | video
Graham: Putin 'Gaslighting' With Nuclear Threat | video
Giuliani: AG Case 'Another Fascist Outrage'
Newsfront
FTC Orders Amazon's Bezos to Testify in 'Prime' Membership Probe
Amazon founder Jeff Bezos has been ordered to testify in a federal probe of the company's Prime membership program…. [Full Story]
Trump: A President Can Declassify Documents 'Even by Thinking About It'
Former President Donald Trump maintains that a president can [Full Story]
Special Master: Trump's Lawyers Must Say Whether FBI Planted Evidence
The special master appointed to review documents seized at Donald [Full Story]
Pope Thinks Putin Is Ill, World War III Has Started
Pope Francis sees Russia's war on Ukraine as the beginning of World [Full Story] | Platinum Article
Russians Flee to Neighboring Border Amid Mobilization
Russians are rushing to the border with neighboring Georgia after [Full Story]
Related
Ukraine's Mariupol Defenders, Putin Ally in Prisoner Swap

"In the business world, the rear-view mirror is always clearer than the windshield." – Warren Buffett. That begs a key question. Why don't more people LOOK at the rearview mirror so they can learn more about the patterns that influence what's ahead? Note: depending on your browser or device, many images in this report can be clicked to expand. Click the image and follow the prompts. To return to this page, use your back key, escape or follow the prompts.

Retired General: US Will Attack Russian Military If Putin Nukes Ukraine

Zelenskyy Aide: Ukraine Needs Funds, Expand Russia Sanctions
Former Top NATO General: West Must Be Prepared for War With Russia
WH: GOP Abortion Ban Would Mean a Nationwide Crisis
The White House and the American College of Obstetricians and [Full Story]
Lindsey Graham Takes Swing at Abortion Ban 'Home Run'
South Carolina Sen. Lindsey Graham stunned many of his GOP colleagues [Full Story] | Platinum Article
Dick Morris to Newsmax: N.Y. Lawsuit Part of Dems' Plan to Keep Trump Out
It's clear that former President Donald Trump has "a lock on the [Full Story]
Related
Tenney to Newsmax: N.Y. Trump Lawsuit a 'Political Hit Job' |video
Former Trump lawyer to Newsmax: N.Y. AG James Weaponizing Justice System |video
Dershowitz to Newsmax: N.Y. Lawsuit Against Trump 'Not a Strong Case' |video
US Sanctions Iranian Morality Police After Woman's Death
The U.S. government on Thursday imposed sanctions on Iran's morality [Full Story]
Related
At Least 9 Killed as Iran Protests Over Woman's Death Spread
Critical Race Theory Continues to Creep Into Curriculums Nationwide
The battle over teaching critical race theory in the classroom didn't [Full Story] | Platinum Article
Biden's Approval Up 3 Points in Battleground States
President Joe Biden's overall approval rating has improved in the [Full Story]

In instances such as Apollo, Berkshire Hathaway, Blackstone or others, manufactured housing may only be part of their corporate interests. Note: depending on your browser or device, many images in this report can be clicked to expand. Click the image and follow the prompts. To return to this page, use your back key, escape or follow the prompts.

NSA Hackers Allegedly Gained Access to Chinese Infrastructure

Chinese state media is claiming the National Security Agency hacked [Full Story]
Video Report: Trump Legal Team Responds to N.Y. AG Suit
The Trump legal team says, "today's filing is neither focused on the [Full Story] | video
Warrant: Lindell's Phone Connected to Alleged Identity Theft
MyPillow founder Mike Lindell's filing Tuesday against Attorney [Full Story] | video
Democrat Reps Slam Tlaib Over 'Antisemitic' Remarks on Israel
Debbie Wasserman Schultz of Florida and Jerry Nadler of New [Full Story]
Large Study Finds COVID Raises Risk for Long-Term Brain Injury
People who had COVID-19 are at higher risk for a host of brain [Full Story]
Grassley Calls for Transparency From FBI on Afghan Evacuees
Chuck Grassley, R-Iowa, on Thursday called for transparency from [Full Story]
2 More Buses Filled With Migrants Arrive In NYC
Two more busloads of migrants arrived in New York City from Texas on [Full Story]
US Leading Indicator Falls, Signaling Recession
A gauge of future U.S. economic activity declined for a sixth [Full Story]
Related
Average Mortgage Rates Climb to 6.29%
More Americans Apply for Jobless Aid
Constitution Stops Charles Becoming Britain's 'Green' King
On a blustery November day last year Britain's future king stood [Full Story]
Related
UK Government Formally Confirms Lifting of Fracking Ban
Video Report: DeSantis Not Backing Down on Relocation
Border and southern states are not backing down on sending migrants [Full Story] | video
Publishers Plan to Capitalize on Jan. 6 Panel's Future Report
The Jan. 6 Select Committee's report is the hottest government [Full Story]
Video Report: Israeli PM Lapid Calls for 2-State Solution
Many prominent Jewish leaders are blasting the Israeli Prime Minister [Full Story] | video
3 Arrested in $5 Million Beverly Hills Jewelry Heist
Three suspects were arrested this week in connection with a brazen [Full Story]
Gates Foundation Prods UN on Gender Inequality, Hunger
Bill Gates and Melinda French Gates combined characteristic optimism [Full Story]
Renowned Author Joan Didion Honored by Hundreds at Memorial
Joan Didion's precision with words extended even to ones she would [Full Story]
Powell's Stark Message: Inflation Fight May Cause Recession
The Federal Reserve delivered its bluntest reckoning Wednesday of [Full Story]
Security Flaw Makes Kia, Hyundai Easy Targets for Thieves
Some Hyundai and Kia cars and SUVs are missing a "key" anti-theft [Full Story]
With Only 9 GOP Votes, House Passes Presidential Election Reform Act
On Wednesday, the Democrat-controlled House chamber passed the [Full Story]
Kim Guilfoyle to Newsmax: N.Y. AG 'Not Tough' Nor 'Smart Enough to Beat Us'
New York Attorney General Letitia James is struggling in the polls [Full Story] | video
Rick Scott to Newsmax: Biden a 'Do-Nothing' President
Rick Scott told Newsmax on Wednesday that Joe Biden is "like a [Full Story] | video
More Newsfront
Finance
FTC Orders Amazon's Bezos to Testify in 'Prime' Membership Probe
Amazon founder Jeff Bezos has been ordered to testify in a federal probe of the company's Prime membership program…. [Full Story]
Average Manhattan Rent Climbs to $5,246
Bank CEOs Questioned on Consumer Protections, Social Issues
Peter Reagan: The Biggest Mistake of the Inflation Reduction Act
Neptune & Rings Shine in New Space Telescope Photos
More Finance
Health
Night Owls at Greater Risk for Diabetes, Heart Trouble
If you're constantly burning the midnight oil, you may be setting yourself up for Type 2 diabetes and heart disease. When compared with folks who go to bed early and wake with the sun, night owls are more likely to be insulin-resistant, a new study finds. When the body… [Full Story]
Exposure to Blue Light May Contribute to Wrinkles
Nightmares in Middle Age Linked to Higher Risk for Dementia
Bears Don't Get Diabetes, May Provide Secret to a Cure
New Analysis Finds Biogen ALS Drug Slows Disease Progression
===================================
NOTE 1: The 3rd chart above includes the Canadian stock, ECN, which purchased Triad Financial Services, a manufactured home industry lender
NOTE 2: Drew changed its name and trading symbol at the end of 2016 to Lippert (LCII).
NOTE 3: Deer Valley was largely taken private, say company insiders in a message to MHProNews on 12.15.2020, but there are still some outstanding shares of the stock from the days when it was a publicly traded firm.  Thus, there is still periodic activity on DVLY.
Note 4: some recent or related reports to the equities named above follow.
Triad Financial Services Q2-2022 FINANCIAL RESULTS, per ECN Capital – Several Bright Spots in Manufactured Home Market Highlighted, Including Communities, Retail, Land-Home, Floor; MHStocks Update
'Blackrock Weaponizing ESG'– State AGs Probe MHCommunities Owner, Private Equity Giant Blackrock on Possible Antitrust, Securities, Fiduciary Violations, See AGs' Document; plus MHStocks Update
Cavco Quarterly Results, Facts, and Trends Include SEC Suit Update, Manufactured Home Production Volumes, Financial Figures, Corporate Data and Manufactured Housing Analysis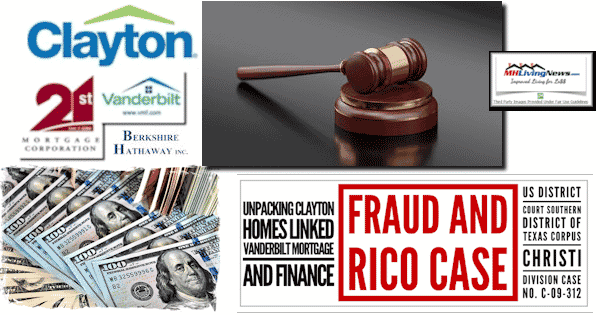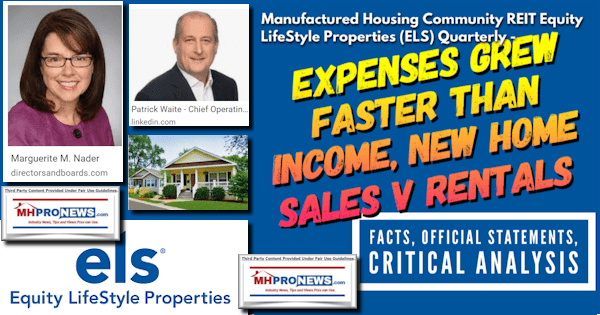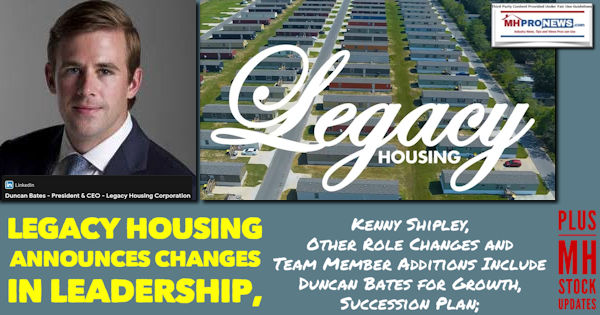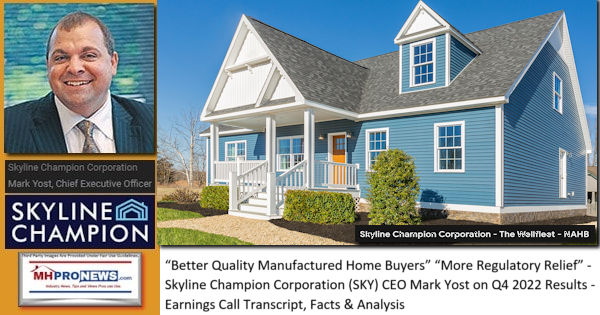 Manufactured Home Communities (a.k.a. 'Mobile Home Parks' – SIC) – Exploring UMH Properties; Fellow Manufactured Housing Institute Member Yes! Communities Suits and Settlements; plus MH Markets Updates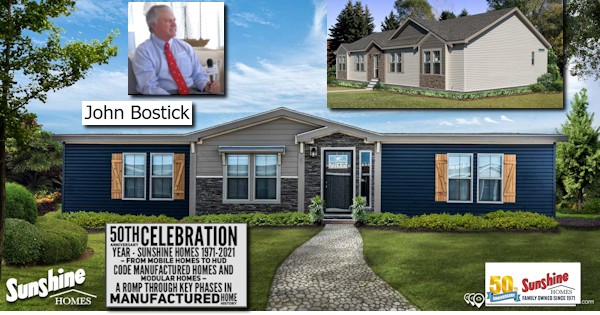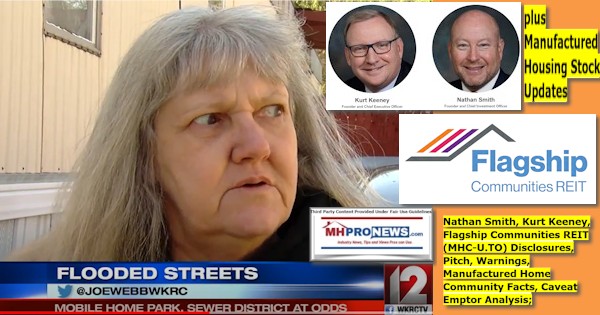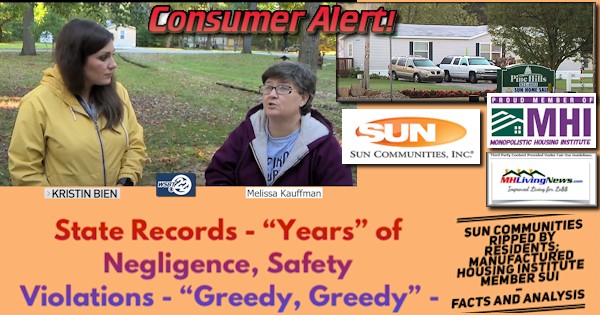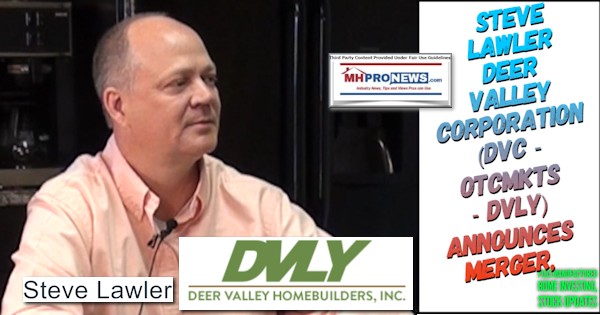 2022 …Berkshire Hathaway is the parent company to Clayton Homes, 21st Mortgage, Vanderbilt Mortgage and other factory-built housing industry suppliers.
· LCI Industries, Patrick, UFPI, and LP each are suppliers to the manufactured housing industry, among others.
· AMG, CG, and TAVFX have investments in manufactured housing related businesses. For insights from third-parties and clients about our publisher, click here.
Disclosure. MHProNews holds no positions in the stocks in this report.
· For expert manufactured housing business development or other professional services, click here.
· To sign up in seconds for our industry leading emailed headline news updates, click here.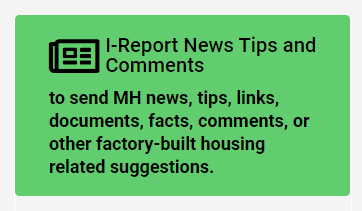 That's a wrap on this installment of "News Through the Lens of Manufactured Homes and Factory-Built Housing" © where "We Provide, You Decide." © (Affordable housing, manufactured homes, stock, investing, data, metrics, reports, fact-checks, analysis, and commentary. Third-party images or content are provided under fair use guidelines for media.) (See Related Reports, further below. Text/image boxes often are hot-linked to other reports that can be access by clicking on them.)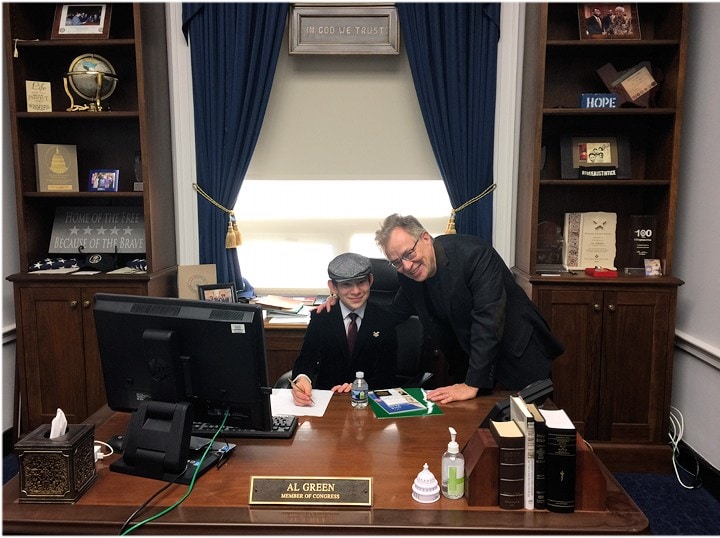 By L.A. "Tony" Kovach – for MHProNews.
Tony earned a journalism scholarship along with numerous awards in history. There have been several awards and honors and also recognition in manufactured housing. For example, he earned the prestigious Lottinville Award in history from the University of Oklahoma, where he studied history and business management. He's a managing member and co-founder of LifeStyle Factory Homes, LLC, the parent company to MHProNews, and MHLivingNews.com. This article reflects the LLC's and/or the writer's position and may or may not reflect the views of sponsors or supporters.
As Conventional Housing Slides, Manufactured Housing Sales Continue Mo – State-by-State and National Data June 2022 – Facts, Forecast, and Analysis; plus MHVille REITs, Stock Market Update
Factual and Viewpoint Insights from August 2022 in MHVille Manufactured Housing Pros, Public Officials, Investors, and Curious People Seeking Affordable Manufactured Home Knowledge and Trends