Left-leaning, generally pro-Biden and Democratic Party, PBS News said on 2.25.2022 that "56 percent of Americans think Biden's first year was a failure." The top problem voters listed was inflation, per PBS' reported polling at that time. Problems associated with inflation have only grown worse since then. Housing affordability has dropped to record low levels, said left-leaning CNN. CNN pointed to data generated by the National Association of Realtors (NAR) for their evidence. For all the big talk by Biden and Democrats who have voted with him nearly 100 percent of the time about "Build Back Better," their claims and promises have proven to be an illusion. Disasters at home and abroad for American interests under Biden-Democratic leadership have followed since the exit of the deposed 45th President of the United States (POTUS) Donald J. Trump from the White House. Suburban women, a problem area for Trump, are per recent polling, one of several segments of the U.S. electorate that are swinging to the G.O.P. (Grand Old Party, better known as the Republican Party) this election cycle. A growing number of ethnic minorities have or are planning to vote Republican too.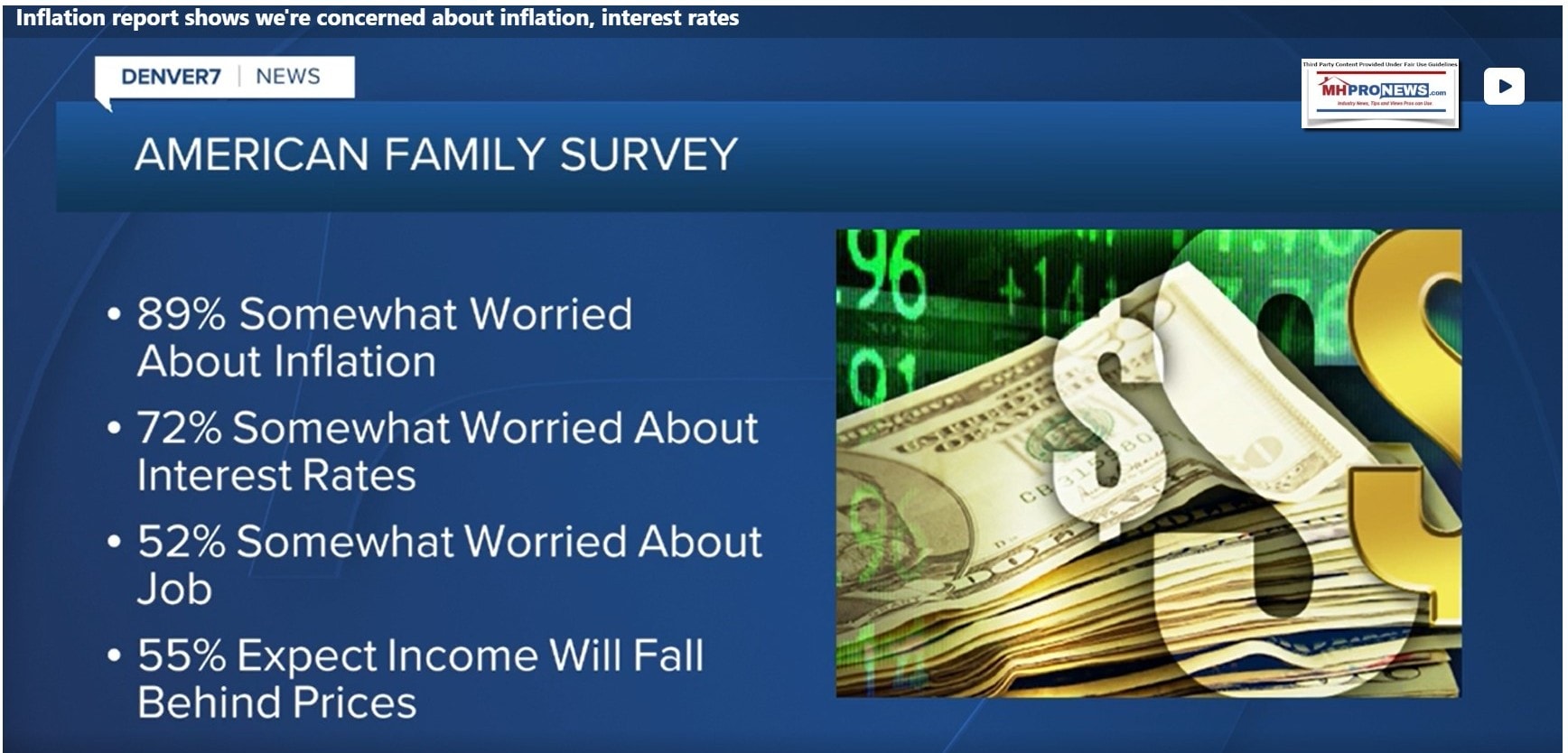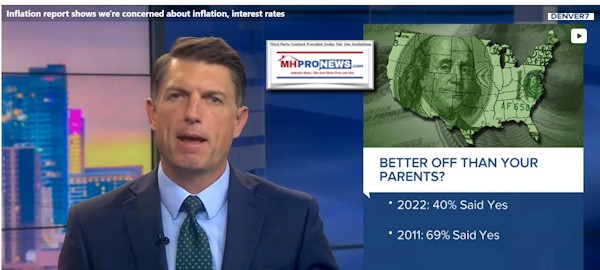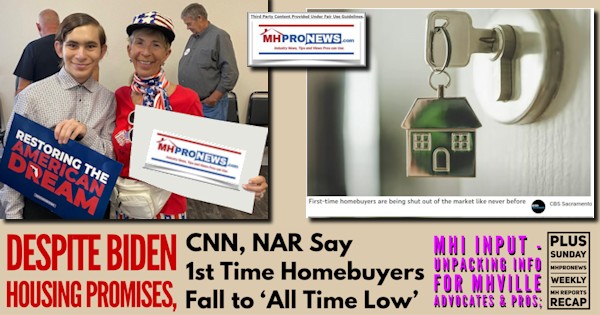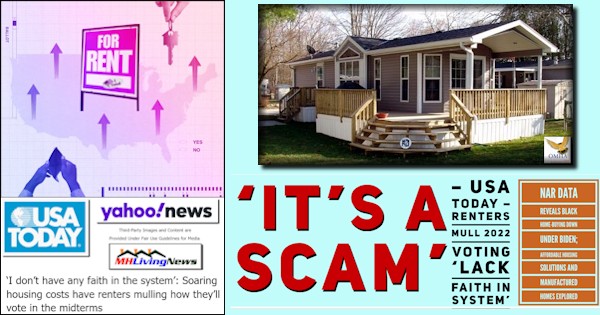 MHProNews Editorial. There are any number of possible excuses for not voting today if someone hasn't already voted. Upon close examination, very few of those excuses will hold water.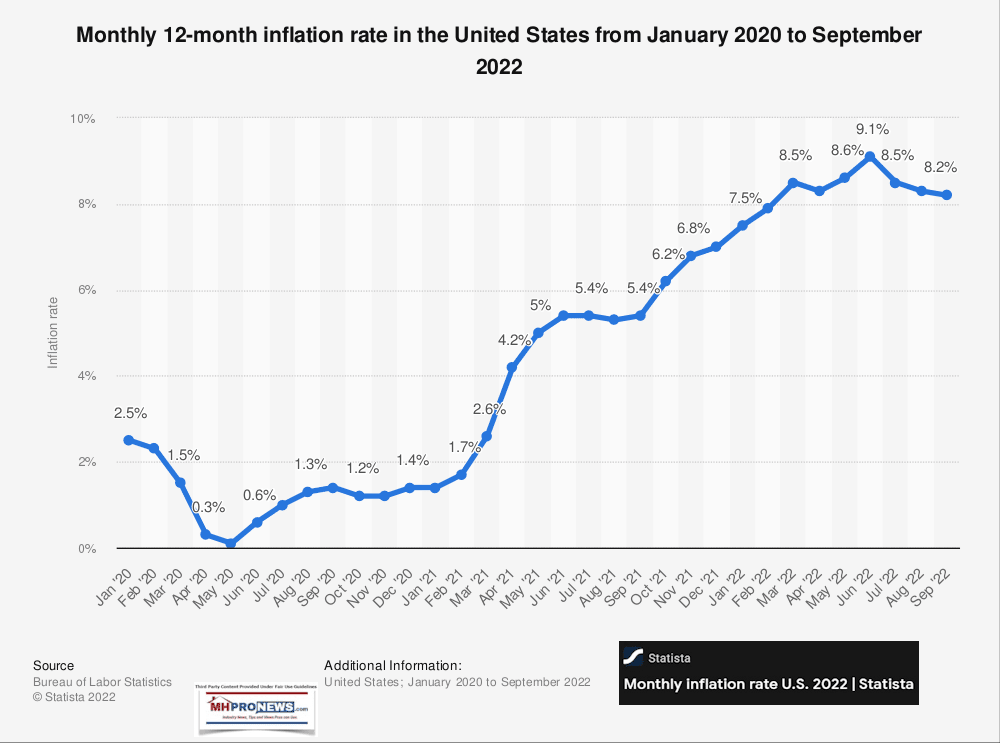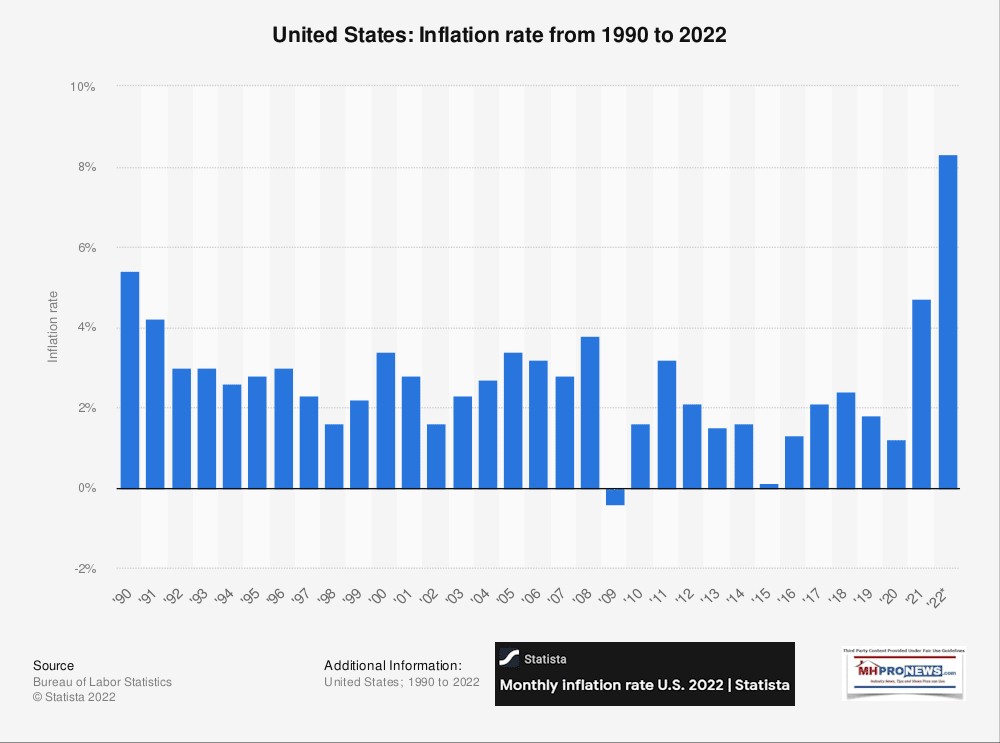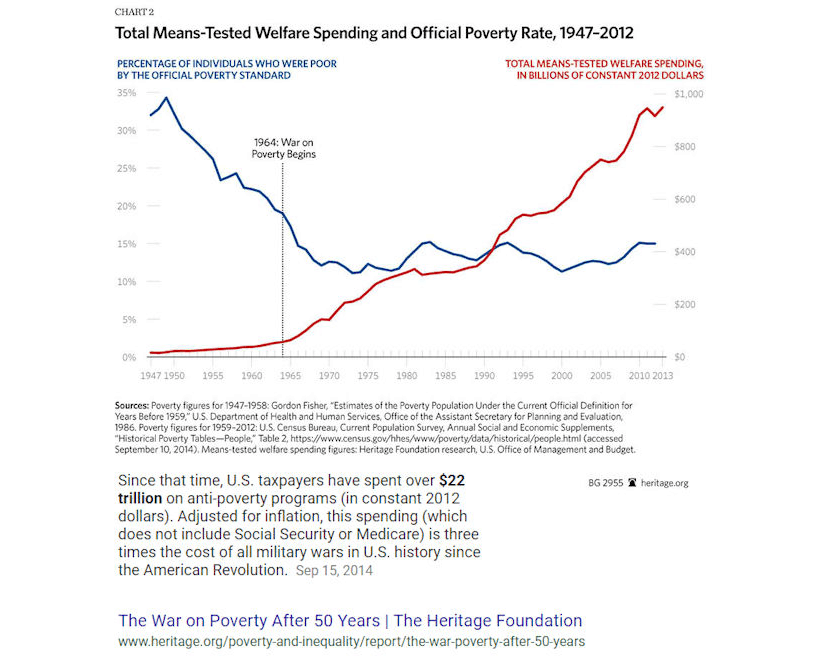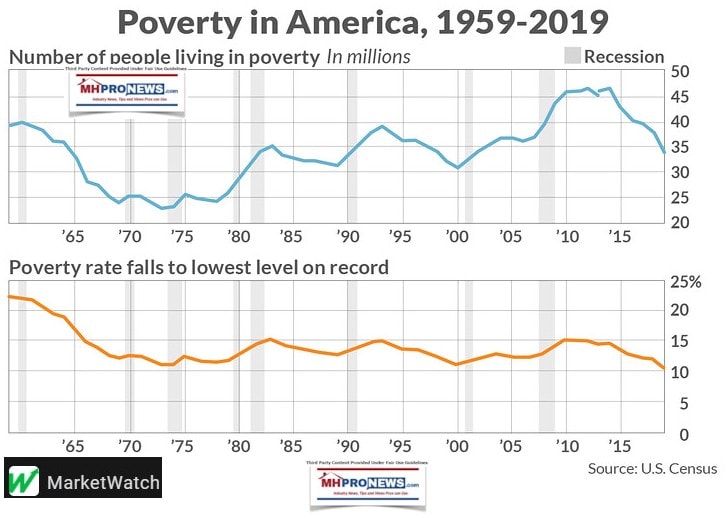 Straight from Top Democrat's Lips to Your Eyes, Ears – 'We Knew Recovery Plan Would Cause Inflation' – Thank James Clyburn for Some Straight Talk – Sunday Weekly MHVille Headlines Recap
If a person is able to go vote and fails to do so, it may not take long for the day to come when that individual will look in the mirror and might realize that their vote could have made a significant difference. Even in deep blue (i.e.: in the U.S., Democratic party dominated voter states or districts) areas of the U.S., recent polling puts Republican (also known as Grand Old Party or GOP) candidates in striking distance of defeating their rivals in U.S. House, Senate, or other electoral contests which have been held by Democrats for years.
Using the Freespoke.com search engine, an array of topics come up on a page 1 search result that demonstrate that a single vote can and has made the difference in literally thousands of elections.  Per ThoughtCo: a "study of 16,577 national elections from 1898 through 1992 found that one vote influenced the outcome."
Affordable housing advocates and manufactured home professionals, homeowners, investors, and others should be more motivated than some to vote today if they haven't already done so. As recent reports on MHProNews/MHLivingNews reflected, homeownership under Joe Biden and Democratic party rule has plunged to the lowest level ever recorded since such research data has been kept. Said the National Association of Realtors in a report carried by CNN, MHProNews/MHLivingNews and others, "Housing Research Reveals Plunge of First Time Buyers to 'Lowest' Level 'Ever'."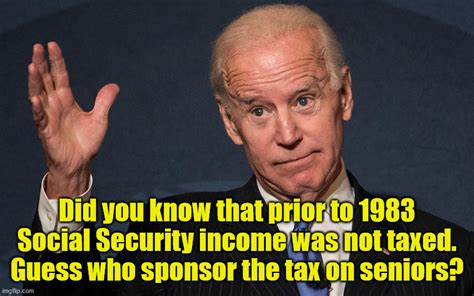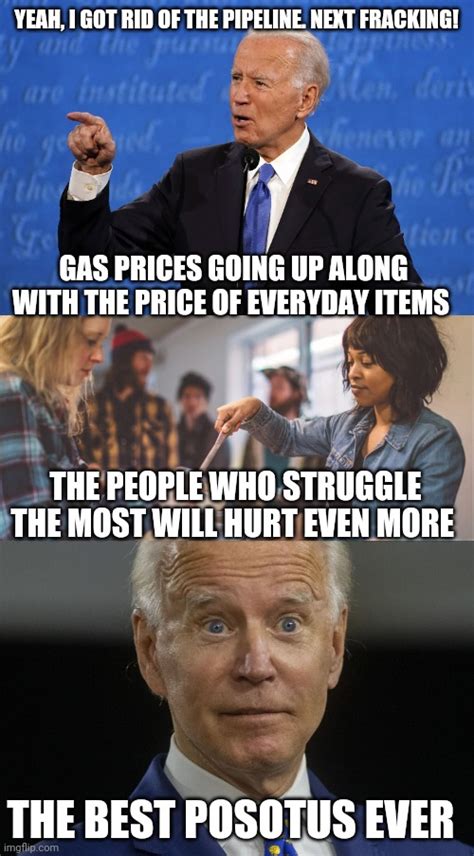 President Joe Biden: "I'm already being told if [Republicans] win back the House and Senate, they're going to impeach me. I don't know what the hell they're going to impeach me for." https://t.co/bEsCkwcx8b pic.twitter.com/6tBFREvoXv

— Newsmax (@newsmax) November 7, 2022
Russia hoax, Nursing home slaughter, Lockdowns, Border mess, Masks, School closures, Gas prices, Quarantine passports, Curfews, Inflation, Crime, Taxes, Assault on free speech, Assault on gun rights, Grooming children, Censorship, Antifa/BLM riots, weaponizing DOJ/IRS #Vote

— James Woods (@RealJamesWoods) November 7, 2022
Voted! pic.twitter.com/DY5DBue50w

— Ivanka Trump (@IvankaTrump) November 7, 2022
EMPTY ARENA for Obama, Joe Biden and Democrats in Pennsylvania.
This ain't 2008! NO support from REAL Americans. These guys are Frauds. pic.twitter.com/rrBiQQz8UV

— Benny Johnson (@bennyjohnson) November 6, 2022
The contrast on the left of thousands of empty seats for Barack Obama and Joe Biden in Pennsylvania vs. the Trump rally in that same state on the right is eye-popping.
That said…
…don't count on someone else's vote making the difference in your part of the country. Even a single vote may make the difference, per research cited above that reveals that thousands of U.S. elections have been decided by a single vote. Many more elections have been decided by very thin margins. Your vote DOES matter. If you are tired of the fallout from Biden-Democratic policies in the last 20 months, then vote R.E.D. = Remove Every Democrat.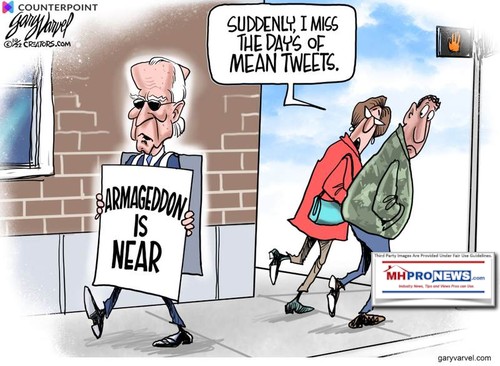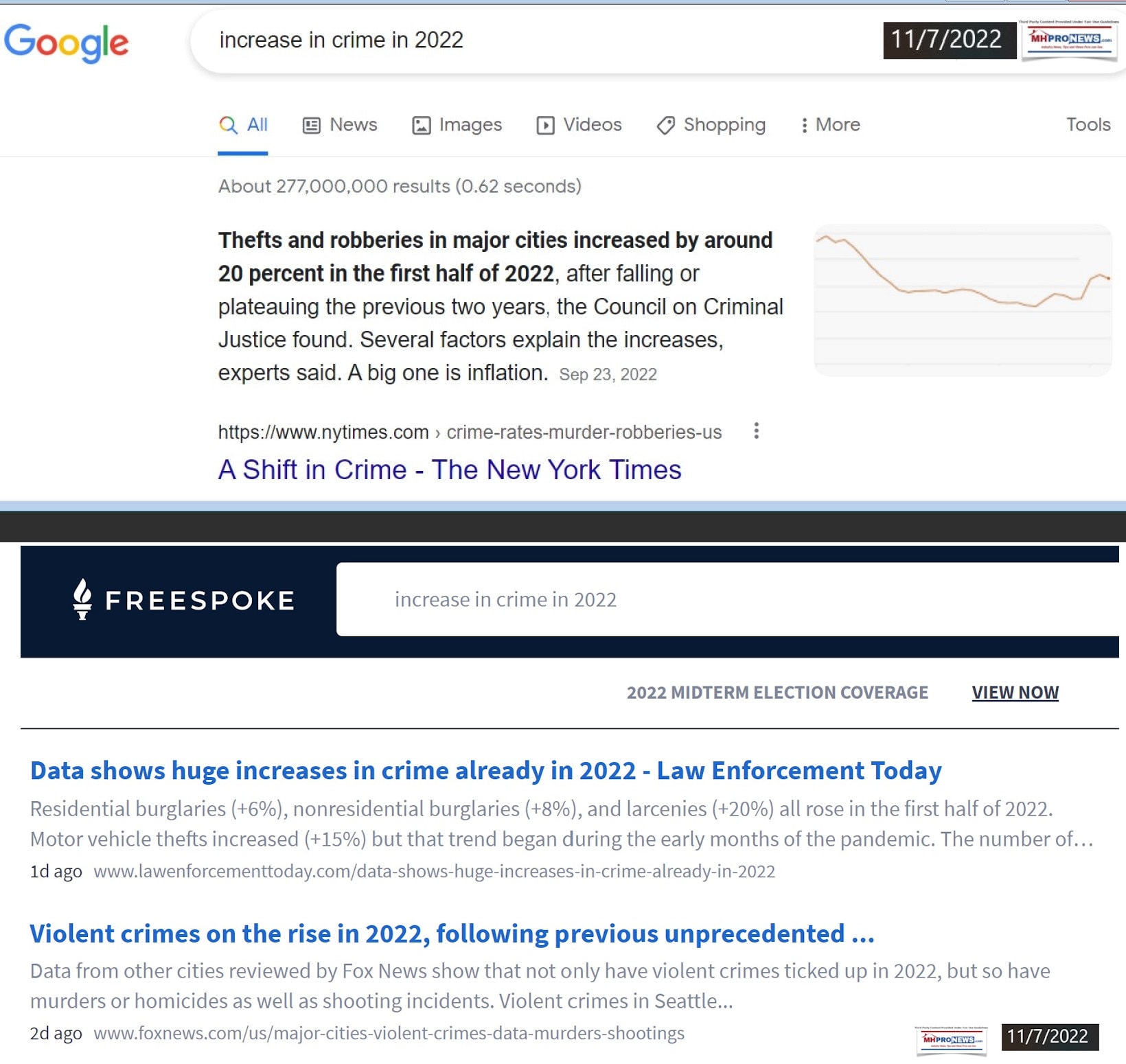 Then, support the plans linked below.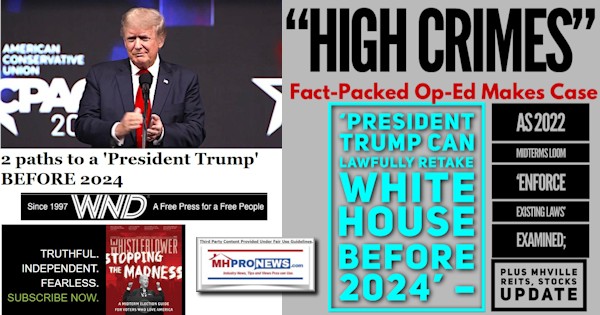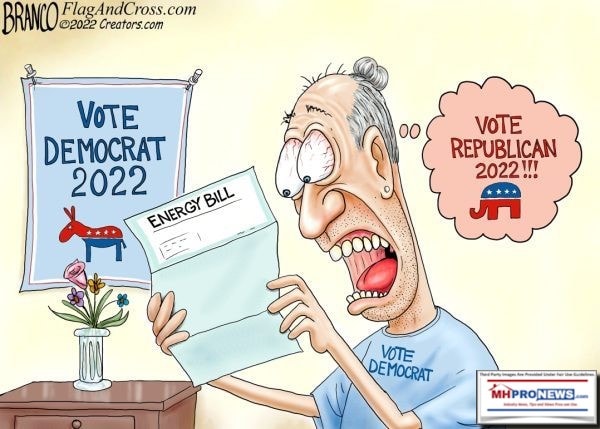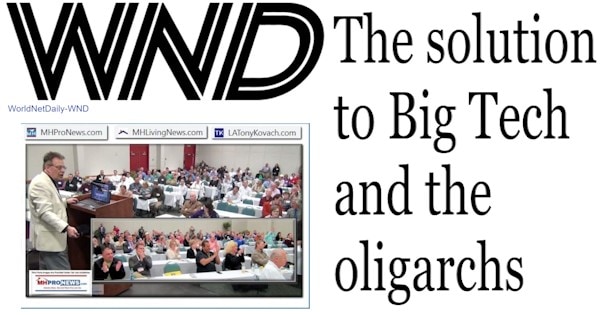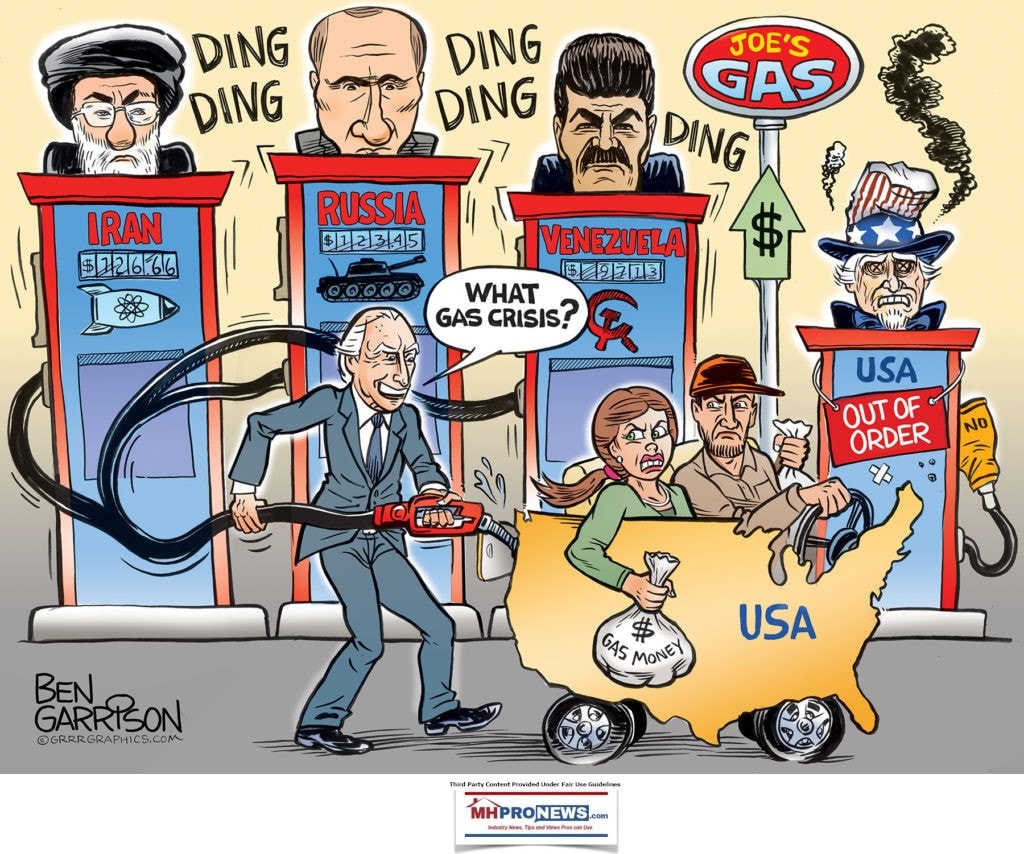 https://amac.us/on-election-eve-red-wave-poised-to-crash-onto-blue-shores/
'Bottomless Pinocchio': Washington Post rips Biden's incessant lies
Energy inflation was 'by design' and Biden 'desired these results': Report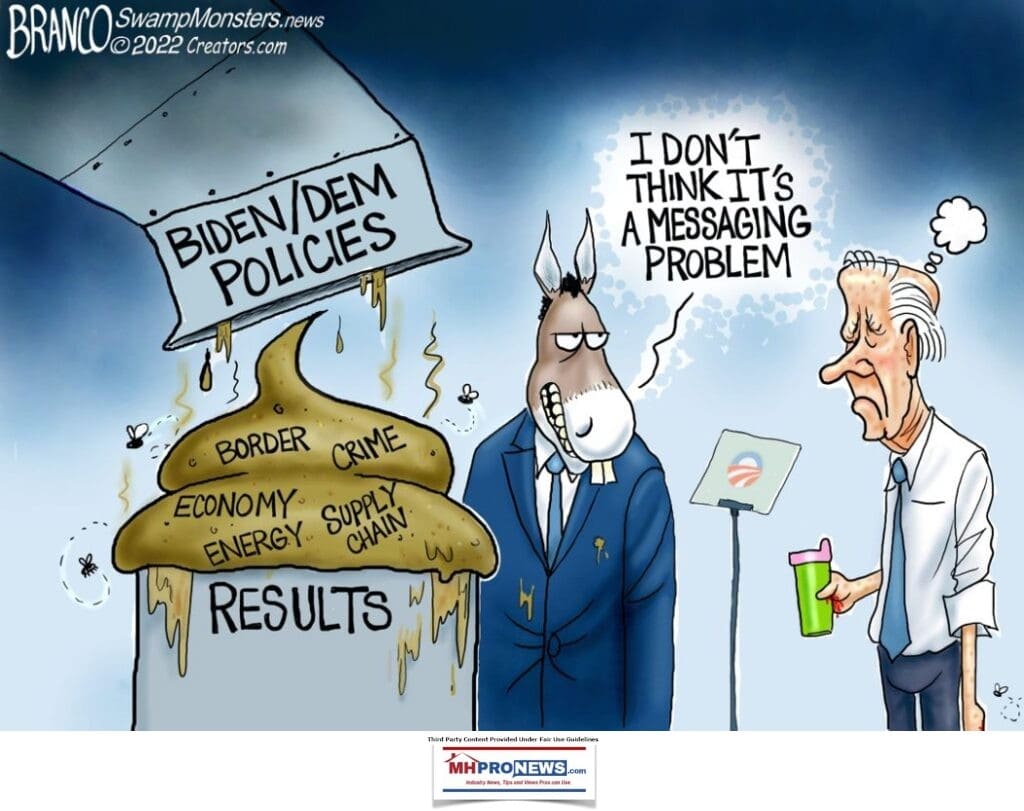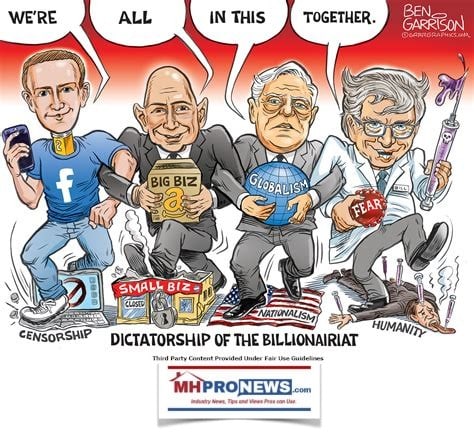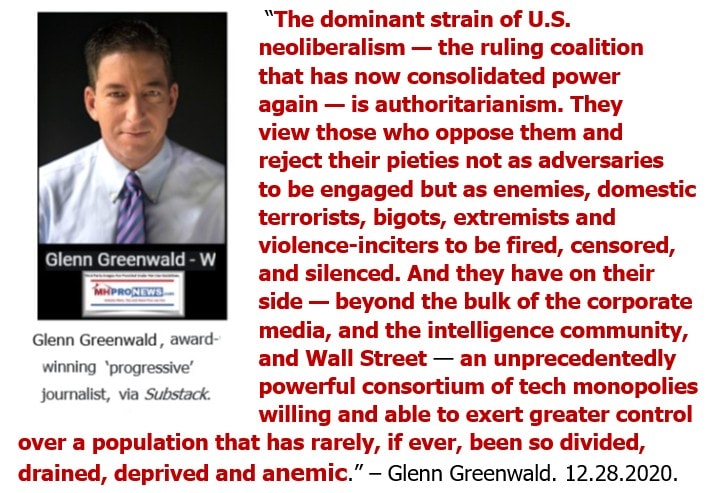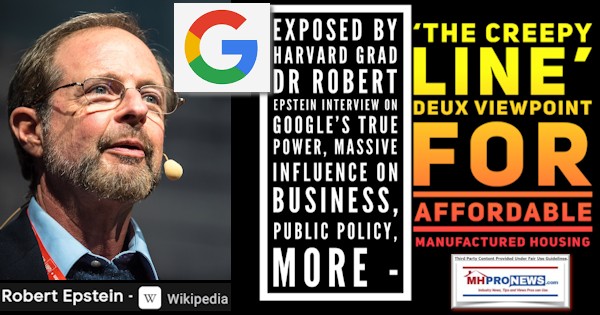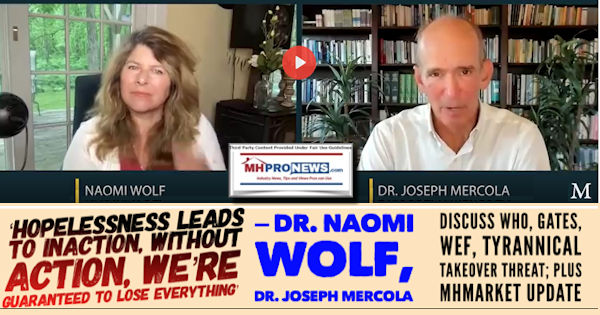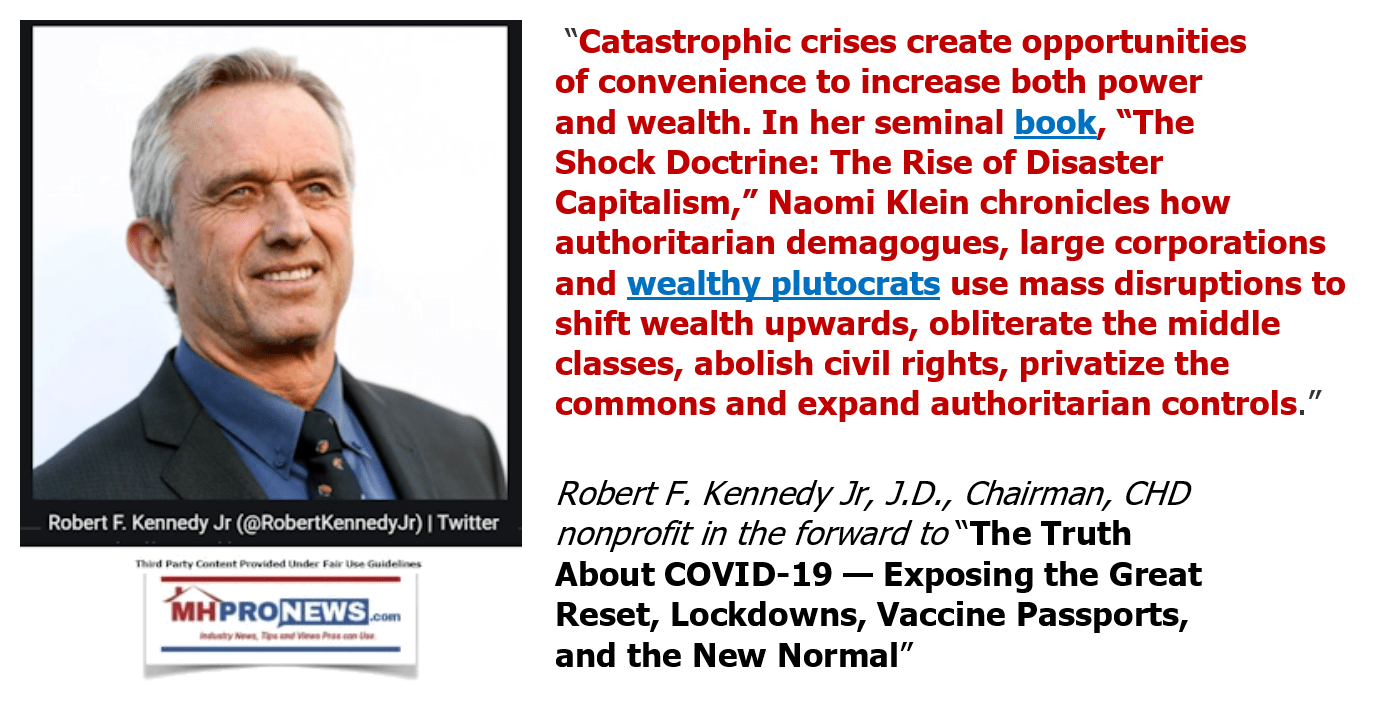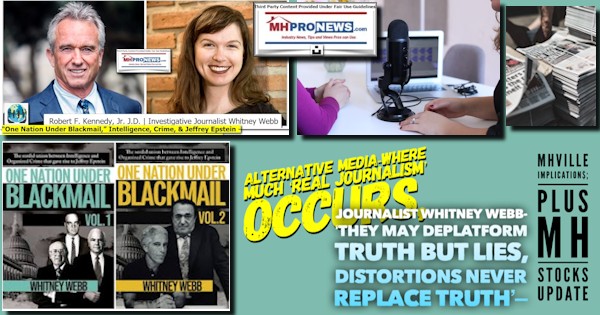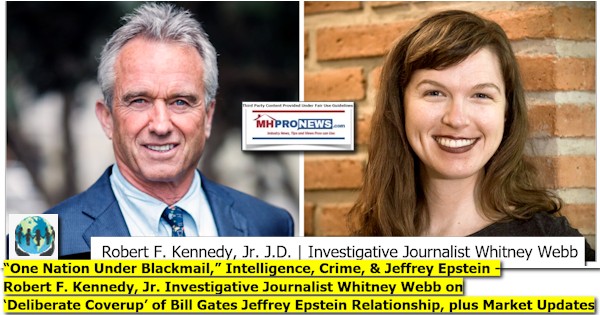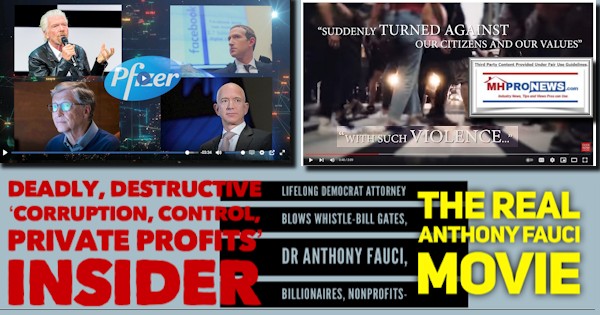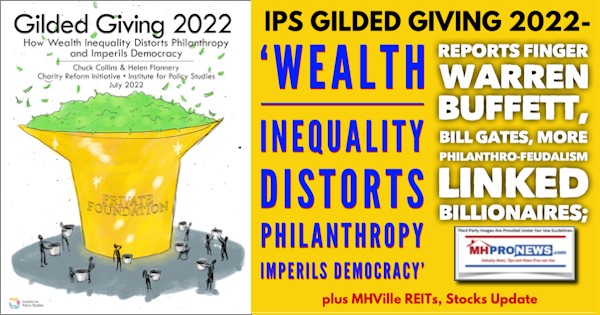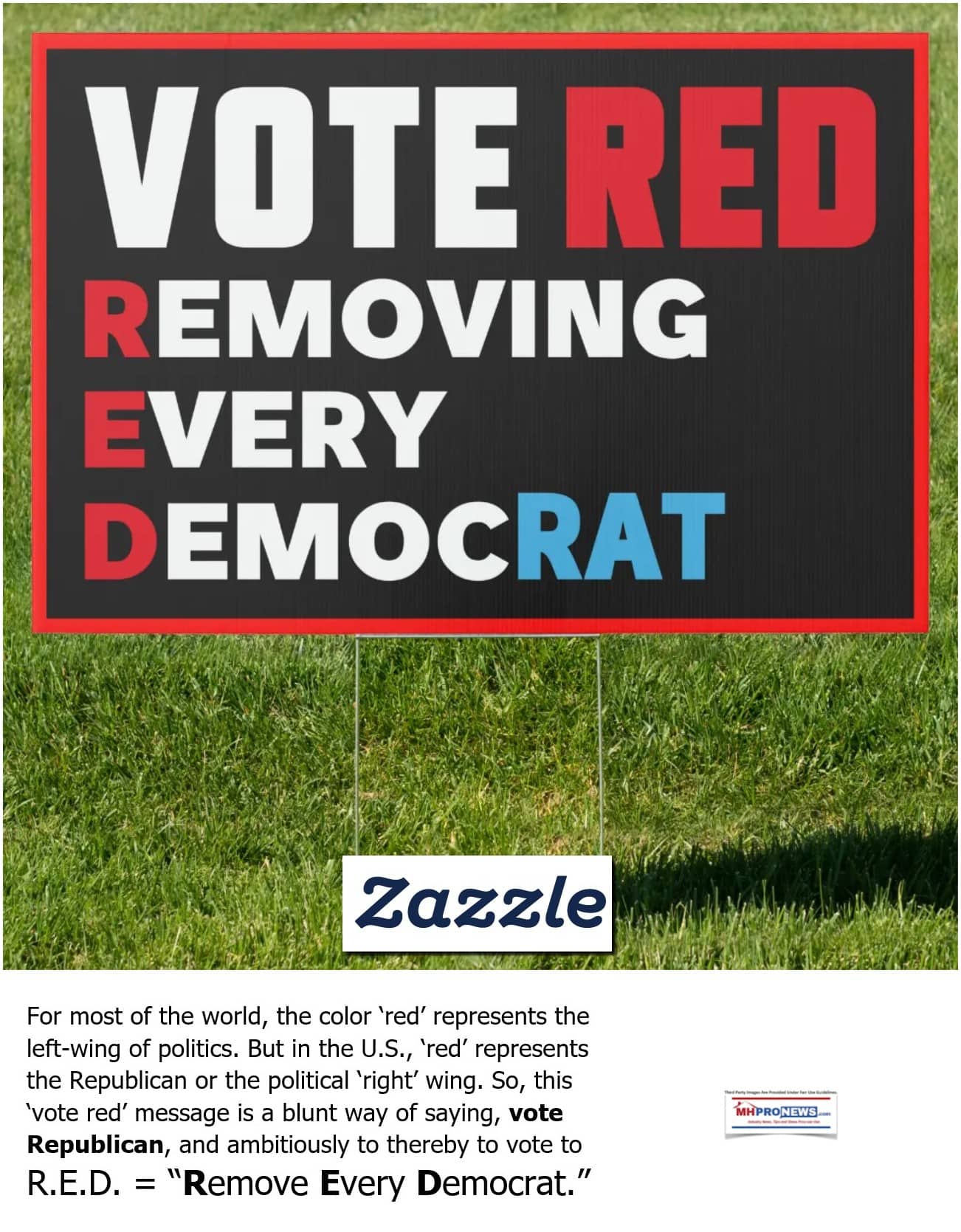 Daily Business News on MHProNews Markets Segment
The modifications of our prior Daily Business News on MHProNews recap of the recap of yesterday evening's market report are provided below. It still includes our signature left (CNN Business) and right (Newsmax) 'market moving' headlines. The macro market moves graphics will provide context and comparisons for those invested in or tracking manufactured housing connected equities.
In minutes a day readers can get a good sense of significant or major events while keeping up with the trends that are impacting manufactured housing connected investing.
Reminder: several of the graphics on MHProNews can be opened into a larger size. For instance: click the image and follow the prompts in your browser or device to OPEN In a New Window. Then, in several browsers/devices you can click the image and increase the size. Use the 'x out' (close window) escape or back key to return.
Headlines from left-of-center CNN Business – from the evening of 11.7.2022
Don't listen to Powell
Federal Reserve Chairman Jerome Powell speaks at a news conference following a Federal Open Market Committee meeting, Wednesday, Nov. 2, 2022, in Washington.
Want to know what the Fed will do next? Follow the economy, not what the Fed chair says

Note: depending on your browser or device, many images in this report and others on MHProNews can be clicked to expand. Click the image and follow the prompts. For example, in some browsers/devices you click the image and select 'open in a new window.' After clicking that selection, you click the image in the open window to expand the image to a larger size. To return to this page, X out (close) the window, or depending on the device, you may need to use your back key, escape key (Esc), or follow the prompts.

A recession in the US is not a slam dunk, Goldman Sachs says

Here's how much you'd really get if you win Powerball
Meta said to be planning significant layoffs
What the wave of tech layoffs tells us about the US economy
US consumers borrowed $25 billion more in September
Tyson Foods CFO arrested after entering wrong home, falling asleep
Why Apple may be working on a 'hey Siri' change
Apple expects iPhone 14 shipments to be hit by China's Covid curbs
Millions of passengers are switching to this budget friendly airline
Kathy Griffin suspended from Twitter for impersonating Elon Musk
Twitter could be a new wild card for the midterms
A former NBA champion is changing 'how the world builds' to fight the climate crisis
This electric car is covered in solar panels
Content by The Ascent
It's official: now avoid credit card interest into 2024
S. President Joe Biden campaigns in support of Democratic U.S. senatorial candidate John Fetterman and Democratic nominee for Pennsylvania governor Josh Shapiro, in Philadelphia, Pennsylvania, U.S., November 5, 2022.
Biden's stock market record so far is the second worst since Jimmy Carter
A person receives a lottery ticket for Powerball's 1.6 billion dollar jackpot in New York City, U.S., November 4, 2022.
Powerball used to have a jackpot limit. Then it exploded
New York, USA – 9 April 2020: Airbnb website on laptop screen close up.
Airbnb addresses users' biggest pet peeve: Cleaning fees
MARKETS
MIDTERMS
Main facade of New York Stock Exchange building in the Financial District of Lower Manhattan, New York, United States, on October 23, 2022.
How midterms could affect Wall Street
How QAnon and election lies spread in Spanish

"In the business world, the rear-view mirror is always clearer than the windshield." – Warren Buffett. That begs a key question. Why don't more people LOOK at the rearview mirror so they can learn more about the patterns that influence what's ahead? Note: depending on your browser or device, many images in this report can be clicked to expand. or example, in some browsers/devices you click the image and select 'open in a new window.' After clicking that selection, you click the image in the open window to expand the image to a larger size. To return to this page, use your back key, escape or follow the prompts.

Is the economy improving? Days before the midterms, no one has a good answer

Musk hints that Trump will not be back on Twitter before the midterms
Analysis: Biden issued a warning about election deniers
MEDIA
The MoviePass application is displayed in the App Store on an Apple Inc. iPhone in an arranged photograph taken in Washington, D.C., U.S., on Friday, Aug. 17, 2018. Movie Pass, owned by Helios & Matheson Analytics Inc., said this week that the number of films would be narrowed to six, which followed an earlier announcement that members would be limited to three films for $9.95 a month.
Former MoviePass executives face fraud charges
Hear the NAACP CEO's takeaways from his meeting with Elon Musk
Why horror films kill at the box office all year round
CNBC axes Shepard Smith's news program amid
NBC News pulls report on Paul Pelosi attack
Headlines from right-of-center Newsmax 11.7.2022
Poll Sees Rising Support for GOP Among Black, Latino Voters
The 2022 Elections
WH Says No Specific, Credible Threats to Election Security
WSJ Poll: Rising Support for GOP Among Black, Latino Voters
Musk Recommends Voting for Republicans in Midterms

In instances such as Apollo, Berkshire Hathaway, Blackstone or others, manufactured housing may only be part of their corporate interests. Note: depending on your browser or device, many images in this report and others on MHProNews can be clicked to expand. Click the image and follow the prompts. For example, in some browsers/devices you click the image and select 'open in a new window.' After clicking that selection you click the image in the open window to expand the image to a larger size. To return to this page, use your back key, escape or follow the prompts.

Mike Huckabee: If GOP Wins, Don't 'Play Nice'

GOP's Dixon: Education No. 1 Issue in Michigan | video
Mark Ronchetti: New Mexico 'Ready for Change' | video
Joe Pinion: This Is Year Schumer Will Finally Be Defeated | video
Johnson: Dems Having 'Buyer's Remorse,' Say They'll Support Me | video
More The 2022 Elections
Newsmax TV
Mark Morgan: 86K Got Away in 30 Days at Southern Border | video
Meuser: 'Good News' if US Is Engaged in 'Back Channel' Talks With Russia
Sebastian Gorka: US Should Stand With Ukraine, Reagan Would | video
Gov. Candidate Ganahl: 'Red Wave Rising'
El Paso Councilwoman: Mayor Refusing Disaster Declaration
Fred Fleitz: Biden's Democracy Warnings 'Ridiculous' | video
Dick Morris: Trump, DeSantis Won't Fight for '24 GOP Nod | video
More Newsmax TV
Newsfront
GOP Leaders Demand COVID-19 Unemployment Fraud Update
Two Republicans on the House Ways and Means Committee asked Labor Secretary Marty Walsh to provide documents on the Biden administration's knowledge of COVID-19 pandemic unemployment fraud…. [Full Story]
Justice Jackson Dissents on First Supreme Court Opinion
Justice Ketanji Brown Jackson issued her first opinion as a Supreme [Full Story]
National Park Service Request: Don't Lick Toads
TheNational Park Serviceaskedthe publicnot to licktoads, specifically [Full Story]
Iran Admits Supplying Russia With Drones
With Iran admitting that it is supplying drones to Russia that are [Full Story]
Zelenskyy: Russia Suffers Heavy Losses in Ukraine's East
Kyiv Mayor: Missile Attacks Force Evacuation
Russian Battalion Wiped Out Within Days, Survivors Say
WSJ: Top WH Aide Held Secret Nuke Talks With Putin Aides
Job Cuts Pile Up as Recession Fears Mount
Corporate America is cutting thousands of jobs to rein in costs amid [Full Story]
5 Biggest Recent 'October Surprises'
From unearthed video recordings to reopened FBI investigations to a [Full Story] | Platinum Article
John Lennon's Killer: There Was 'Evil in My Heart'
The man who gunned down John Lennon outside his New York City [Full Story]
How the Powerball Jackpot Grew to $1.9 Billion
Monday night's estimated $1.9 billion Powerball jackpot is nearly [Full Story]
S&P 500 Rises, Meta Jumps as Investors Eye Midterms
The S&P 500 rose on Monday as investors focused on Tuesday's midterm [Full Story]
Risk for Seasonal Depression Increases as Days Get Shorter
As the daylight hours shrink, people's moods can wind up in the tank. [Full Story]
DOJ Charges Haitian Gang Leaders in Notorious Kidnappings
Criminal charges have been filed against leaders of five notorious [Full Story]
Trump Appeals N.Y. Court Order for Company Watchdog
Former President Donald Trump on Monday appealed a judge's order to [Full Story]
DeSantis Preps Florida for Rare November Hurricane
A rare November hurricane is aimed at Florida's east coast, and [Full Story]
First Humans Receive Transfusions of Lab-Grown Blood
First Humans Receive Transfusions of Lab-Grown Blood
Two patients in the U.K. have received transfusions of blood that has [Full Story]
Tyson Foods CFO Arrested for Public Intoxication, Trespassing
Tyson Foods Chief Financial Officer John Tyson was arrested for [Full Story]
Rasmussen Reports: Slightly More Republicans Than Dems Will Vote
More Democrats than Republicans who are likely voters have already [Full Story]
Report: DHS Examines Handling of Migrants' Personal Property
The Department of Homeland Security is investigating agency practices [Full Story]
438 Early Voters in Davidson County, Tenn., Get Wrong Ballot
A voting mix-up in Davidson County, Tennessee, caused 438 voters to [Full Story]
'Putin's Chef' Claims US Election Interference
Russian businessman Yevgeny Prigozhin said Monday he had interfered [Full Story]
US Claiming $1B in Bitcoin Stolen From Silk Road
The United States is seeking a forfeiture order for more than $1 [Full Story]
Musk Recommends Voting for Republicans in Midterms
Twitter Inc. owner Elon Musk, the world's richest person, on Monday [Full Story]
Video Report: Iran Sends Rocket Into Orbit for 'Peaceful Purposes'
Jerusalem correspondent Daniel Cohen reports on tensions ramping up [Full Story] | video
Astros Wins World Series, But Businessman Hits Jackpot
The Houston Astros won the World Series, but a Houston businessman [Full Story]
Serbia Eager to Cut Russian Energy, Move Closer to EU
Once aligned with Russia, Serbia has been taking decisive steps to [Full Story]
At Least 19 Dead in Tanzania Passenger Plane Crash
At least 19 people died when a passenger plane crashed into Lake [Full Story]
Suspicious Package Containing White Powder Sent to Kari Lake's Phoenix Office
A suspicious envelope containing white powder was delivered to [Full Story]
Russian Trolls Home In on Biden, Dems, Ukraine Aid
Russia's online disinformation efforts have been reenergized ahead of [Full Story]
Rick Scott: Focused on Election, Not Push for Leader Seat
National Republican Senatorial Committee Chairman Rick Scott Sunday [Full Story]
Musk Slams Hulk Actor Mark Ruffalo After Feud With AOC
Elon Musk blasted Mark Ruffalo in a tweet Saturday after the [Full Story]
Israel's Premier Calls for Unity After Netanyahu Victory
Israel's prime minister on Sunday issued a plea for national unity, [Full Story]
Florida Election Officials Wary of Potential Tropical System
Election officials in some Florida counties urged people to vote [Full Story]
Finance
Musk Recommends Voting for Republicans in Midterms
Twitter Inc. owner Elon Musk, the world's richest person, on Monday recommended that voters pick Republican candidates for the U.S. Congress in Tuesday's midterm elections…. [Full Story]
Richard Branson Must Face Virgin Galactic Lawsuit
Judge Blocks Penguin, Simon & Schuster Merger
GOP Leaders Demand COVID-19 Unemployment Fraud Update
Twitter Alternatives Users Are Turning to
Health
Study: Paxlovid Lowers Risk for Long COVID
The antiviral pill Paxlovid not only reduces hospitalization and death after catching COVID-19, new research shows it also cuts the chances of long COVID by roughly 25%. The drug, which combines a newer antiviral called nirmatrelvir with an older medication known as… [Full Story]
New Research Finds Cancer Survivors at Increased Risk for Bone Fractures
Adults Get RSV, Too: What You Need to Know
Two Eggs for Breakfast Not Enough Protein, Say Nutritionists
New Antibiotic Effective Against UTIs
===================================
NOTE 1: The 3rd chart above includes the Canadian stock, ECN, which purchased Triad Financial Services, a manufactured home industry lender
NOTE 2: Drew changed its name and trading symbol at the end of 2016 to Lippert (LCII).
NOTE 3: Deer Valley was largely taken private, say company insiders in a message to MHProNews on 12.15.2020, but there are still some outstanding shares of the stock from the days when it was a publicly traded firm.  Thus, there is still periodic activity on DVLY.
Note 4: some recent or related reports to the equities named above follow.
'No Assurance Inflation Will Not Affect Our Future Profitability Financial Position'=Cavco Industries 10-Q, Solitaire Deal, More CVCO Data; Supreme Court Ruled-SEC Regs on False-Omitted Remarks
Cavco Industries Announces Planned Buyout of Manufactured Home Builder and Manufactured Housing Retailer Solitaire Homes, Official Statement and Information Beyond the New Release
Triad Financial Services Q2-2022 FINANCIAL RESULTS, per ECN Capital – Several Bright Spots in Manufactured Home Market Highlighted, Including Communities, Retail, Land-Home, Floor; MHStocks Update
'Blackrock Weaponizing ESG'– State AGs Probe MHCommunities Owner, Private Equity Giant Blackrock on Possible Antitrust, Securities, Fiduciary Violations, See AGs' Document; plus MHStocks Update
Truist, Other Investors Increase Multi-Million Dollar Stakes in Legacy Housing Corporation (LEGH), Corp Update by CEO Duncan Bates, with Added Facts, Analysis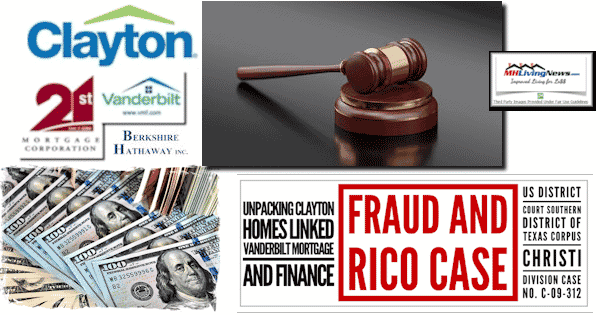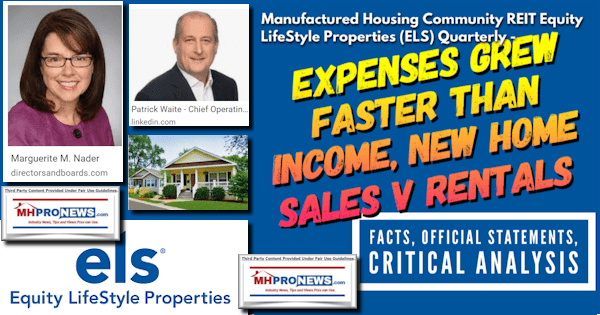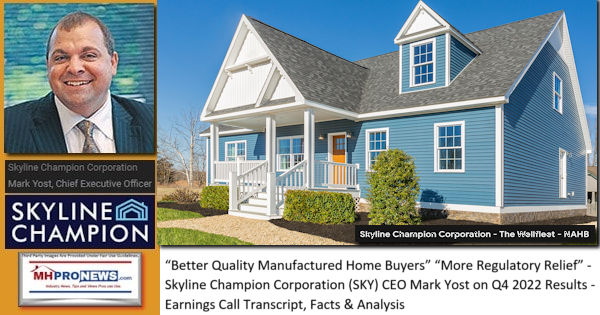 Manufactured Home Communities (a.k.a. 'Mobile Home Parks' – SIC) – Exploring UMH Properties; Fellow Manufactured Housing Institute Member Yes! Communities Suits and Settlements; plus MH Markets Updates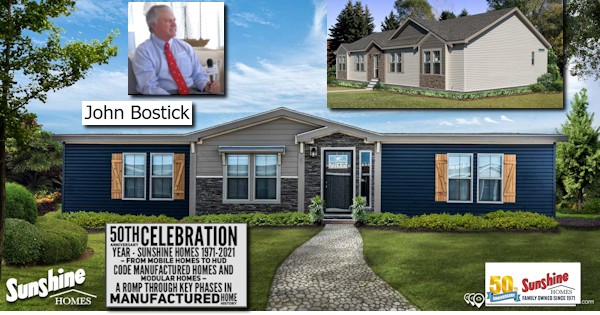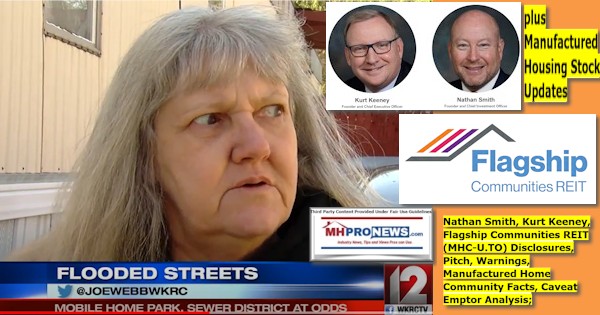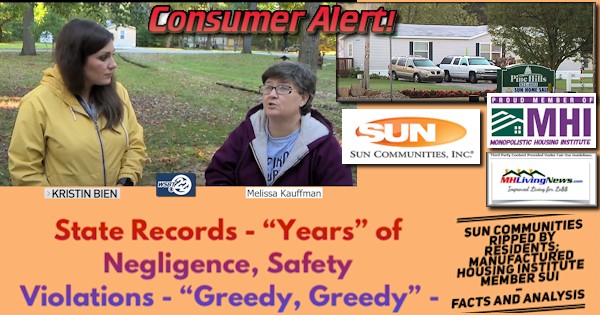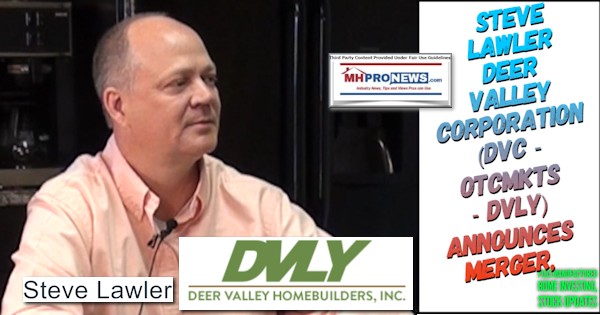 2022 …Berkshire Hathaway is the parent company to Clayton Homes, 21st Mortgage, Vanderbilt Mortgage and other factory-built housing industry suppliers.
· LCI Industries, Patrick, UFPI, and LP each are suppliers to the manufactured housing industry, among others.
· AMG, CG, and TAVFX have investments in manufactured housing related businesses. For insights from third-parties and clients about our publisher, click here.
Disclosure. MHProNews holds no positions in the stocks in this report.
· For expert manufactured housing business development or other professional services, click here.
· To sign up in seconds for our industry leading emailed headline news updates, click here.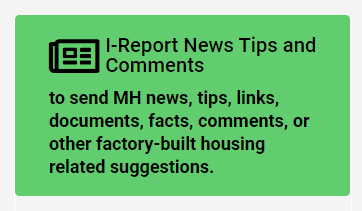 That's a wrap on this installment of "News Through the Lens of Manufactured Homes and Factory-Built Housing" © where "We Provide, You Decide." © (Affordable housing, manufactured homes, stock, investing, data, metrics, reports, fact-checks, analysis, and commentary. Third-party images or content are provided under fair use guidelines for media.) (See Related Reports, further below. Text/image boxes often are hot-linked to other reports that can be access by clicking on them.)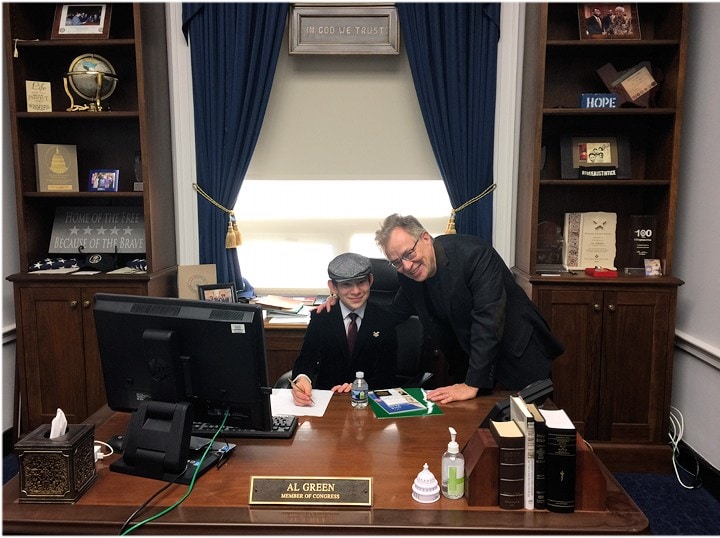 By L.A. "Tony" Kovach – for MHProNews.
Tony earned a journalism scholarship along with numerous awards in history. There have been several awards and honors and also recognition in manufactured housing. For example, he earned the prestigious Lottinville Award in history from the University of Oklahoma, where he studied history and business management. He's a managing member and co-founder of LifeStyle Factory Homes, LLC, the parent company to MHProNews, and MHLivingNews.com. This article reflects the LLC's and/or the writer's position and may or may not reflect the views of sponsors or supporters.
Factual and Viewpoint Insights from August 2022 in MHVille Manufactured Housing Pros, Public Officials, Investors, and Curious People Seeking Affordable Manufactured Home Knowledge and Trends