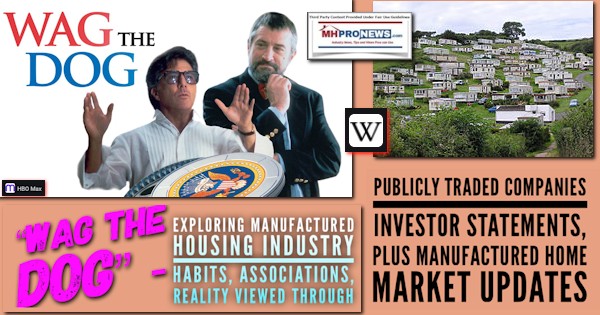 "Wag the Dog" is a name of a movie, but it is also a technique used by politicians and others to divert attention from an uncomfortable or embarrassing subject. Indeed, the movie is based on precisely that diversionary tactic notion. Head fakes are deployed in sports, politics, and business too. While the argument can be made that there are risks to a public company, or a division of a publicly traded firm, making deliberately misleading statements, there are several examples of 21st century publicly traded firms that took the gamble. Some have not yet been brought to justice. But scandals that involved over a dozen once gleaming brands and their leaders that took a hard fall make it clear that justice may be slow, but it still may be forthcoming. It is with that in mind that the following first of this specific kind of report here on MHProNews is presented. This exclusive report organizes several distinct examples from several different manufactured housing brands that all make a similar claim. Note: the fact that not all public firms in manufactured housing are making a similar pitch only serves to highlight what follows.
What are those claims? One is that manufactured housing is "fragmented" and that they are poised to consolidate – through "mergers and acquisitions" (M&A) significant parts of HUD Code manufactured housing. The implications of that will follow the evidence provided by the publicly traded companies themselves. These are all from the investor relations presentation of the brand shown. These come from the community sector as well as the production sector. Beyond the press for acquisitions or M&A, is one more common point between each of these companies.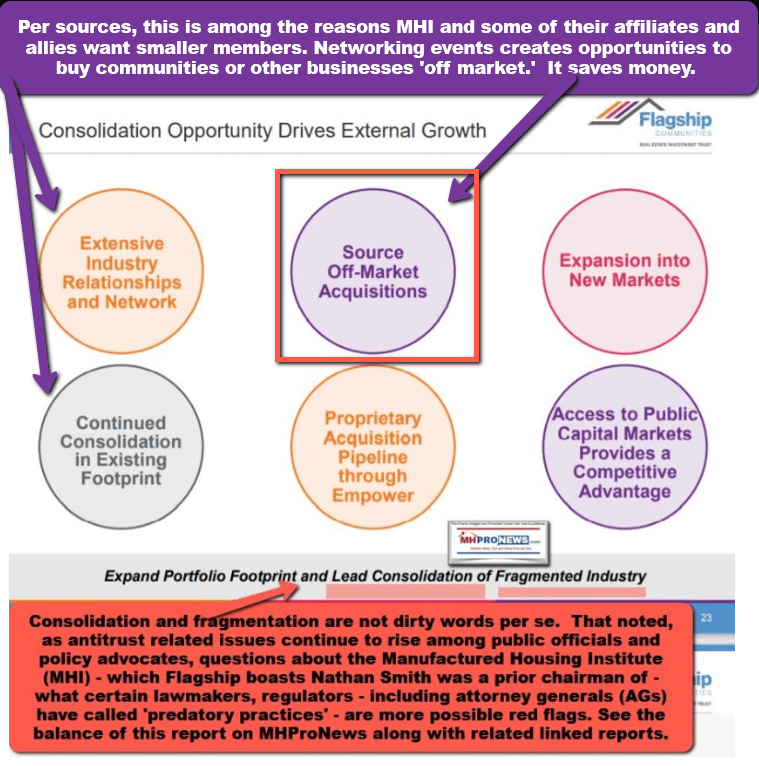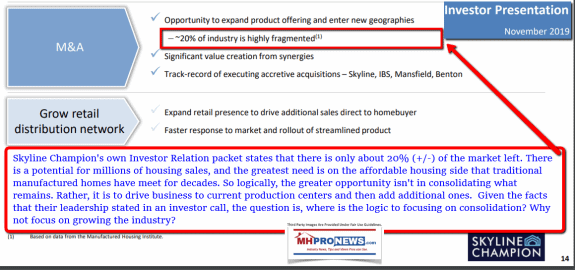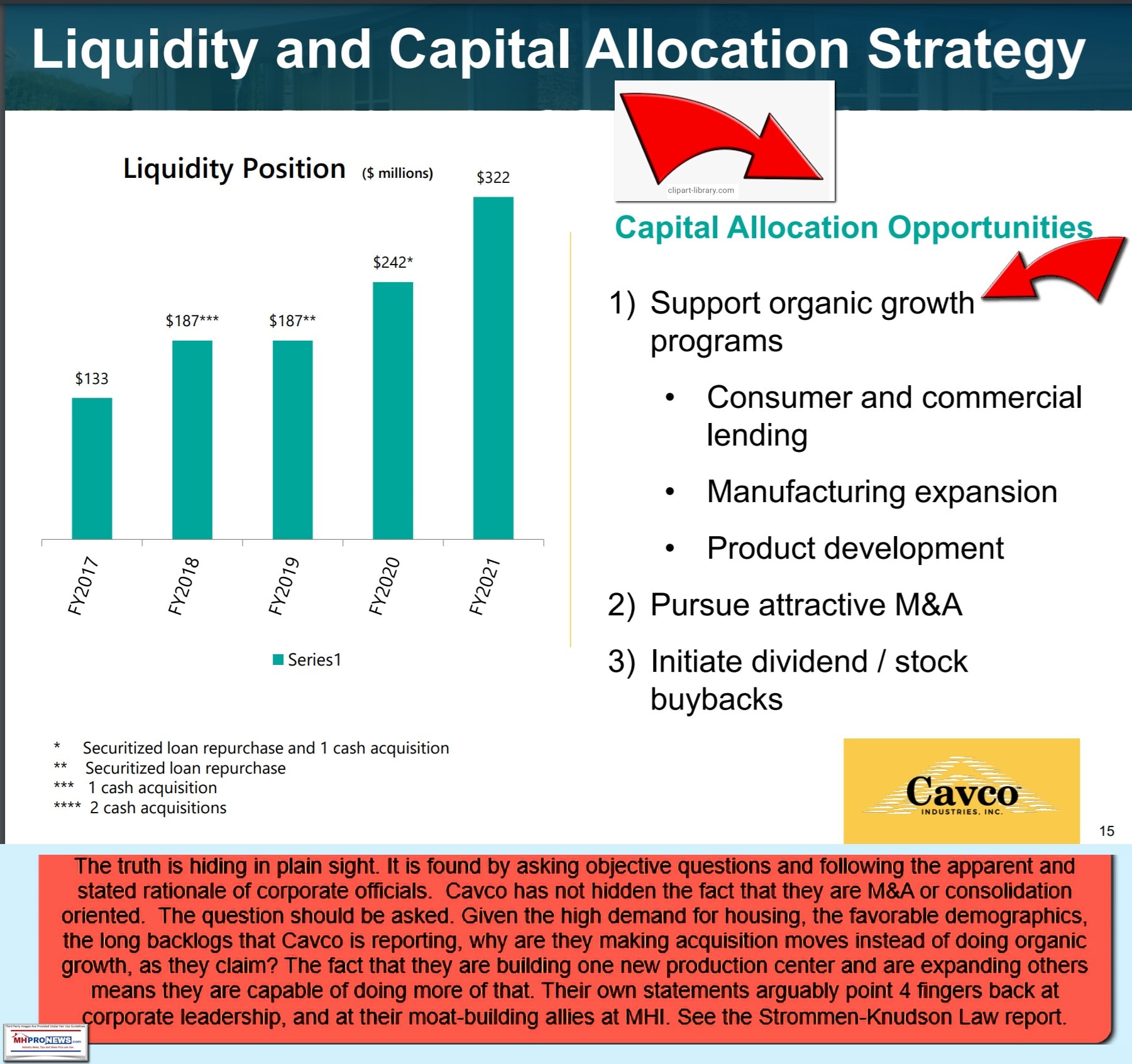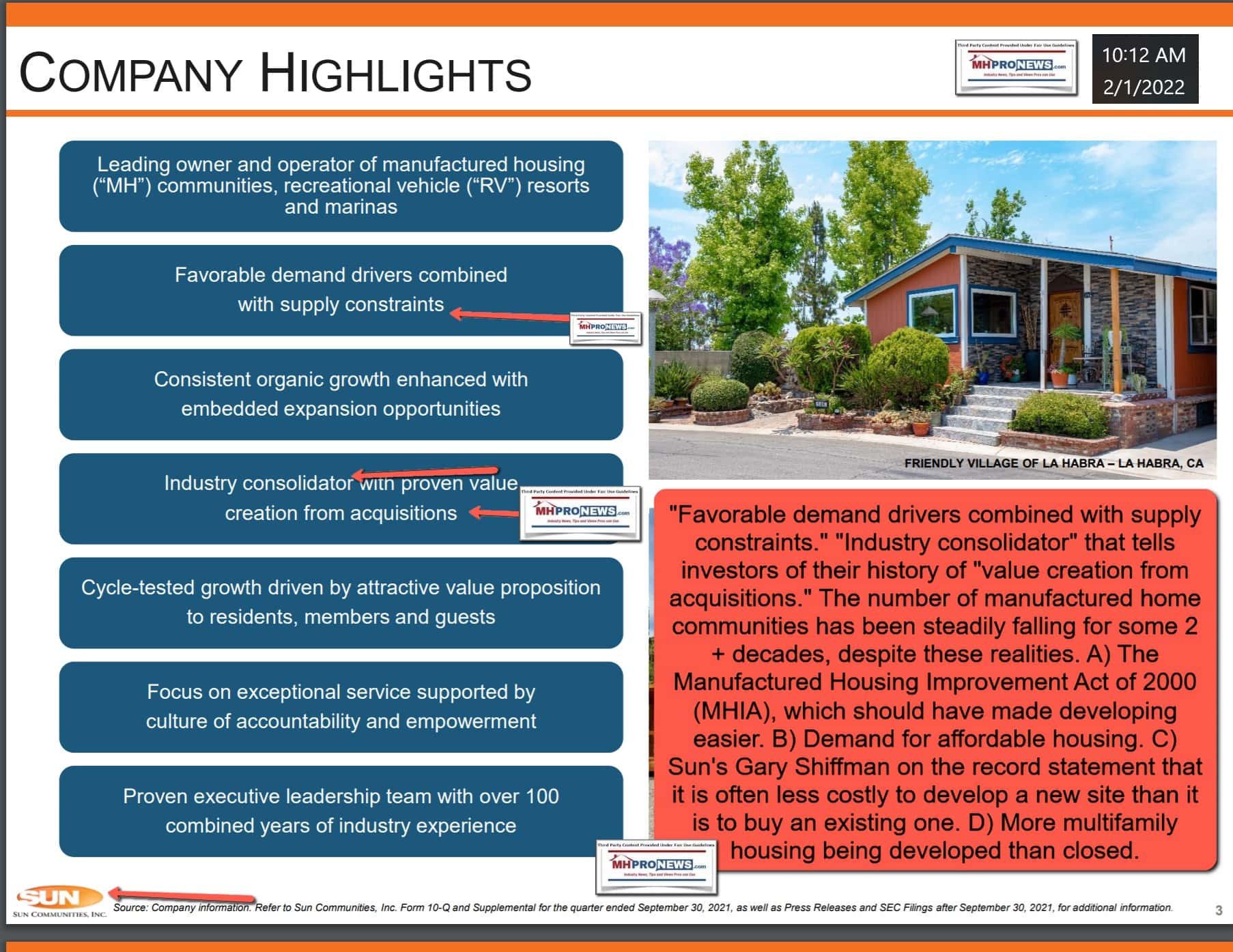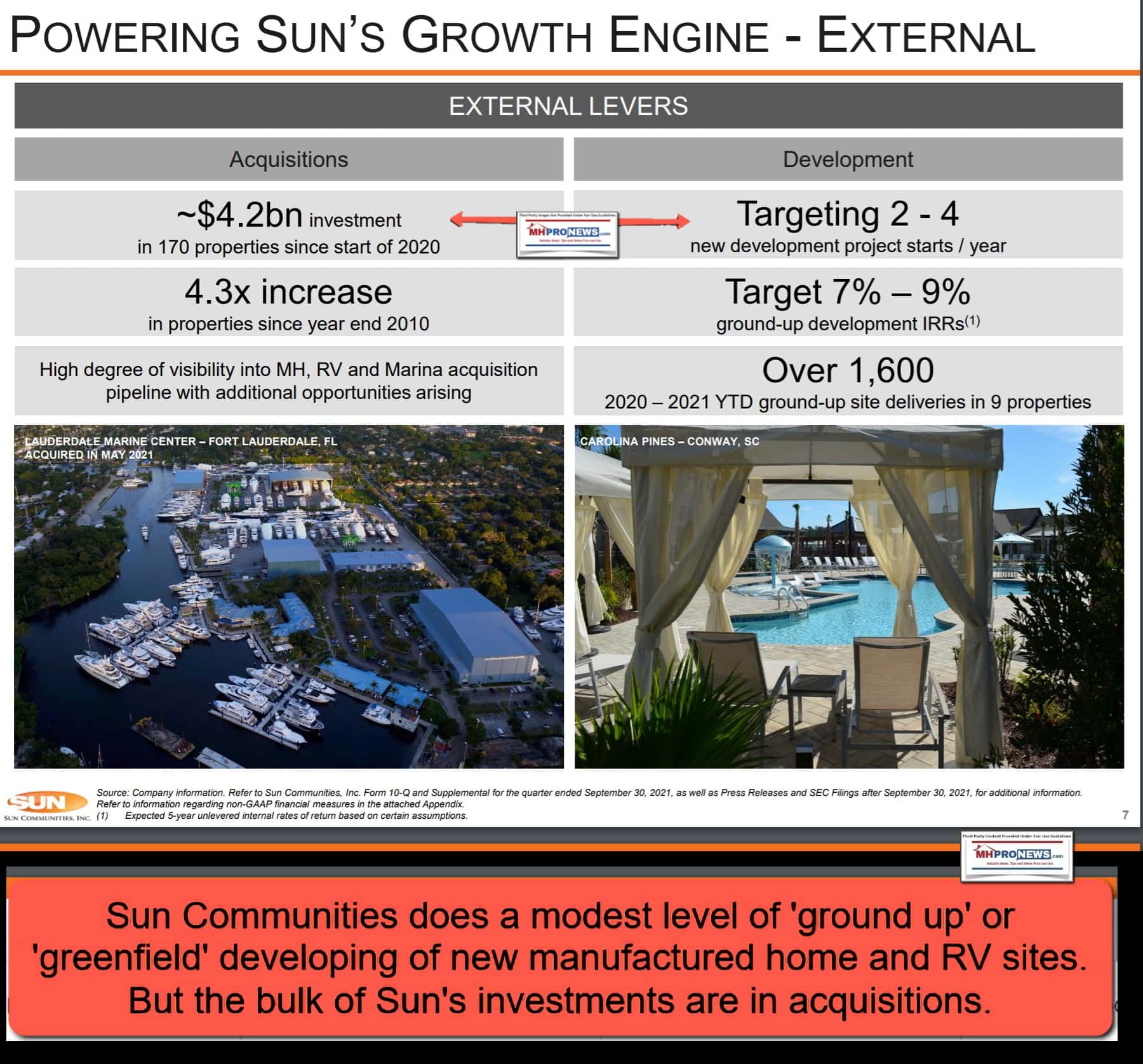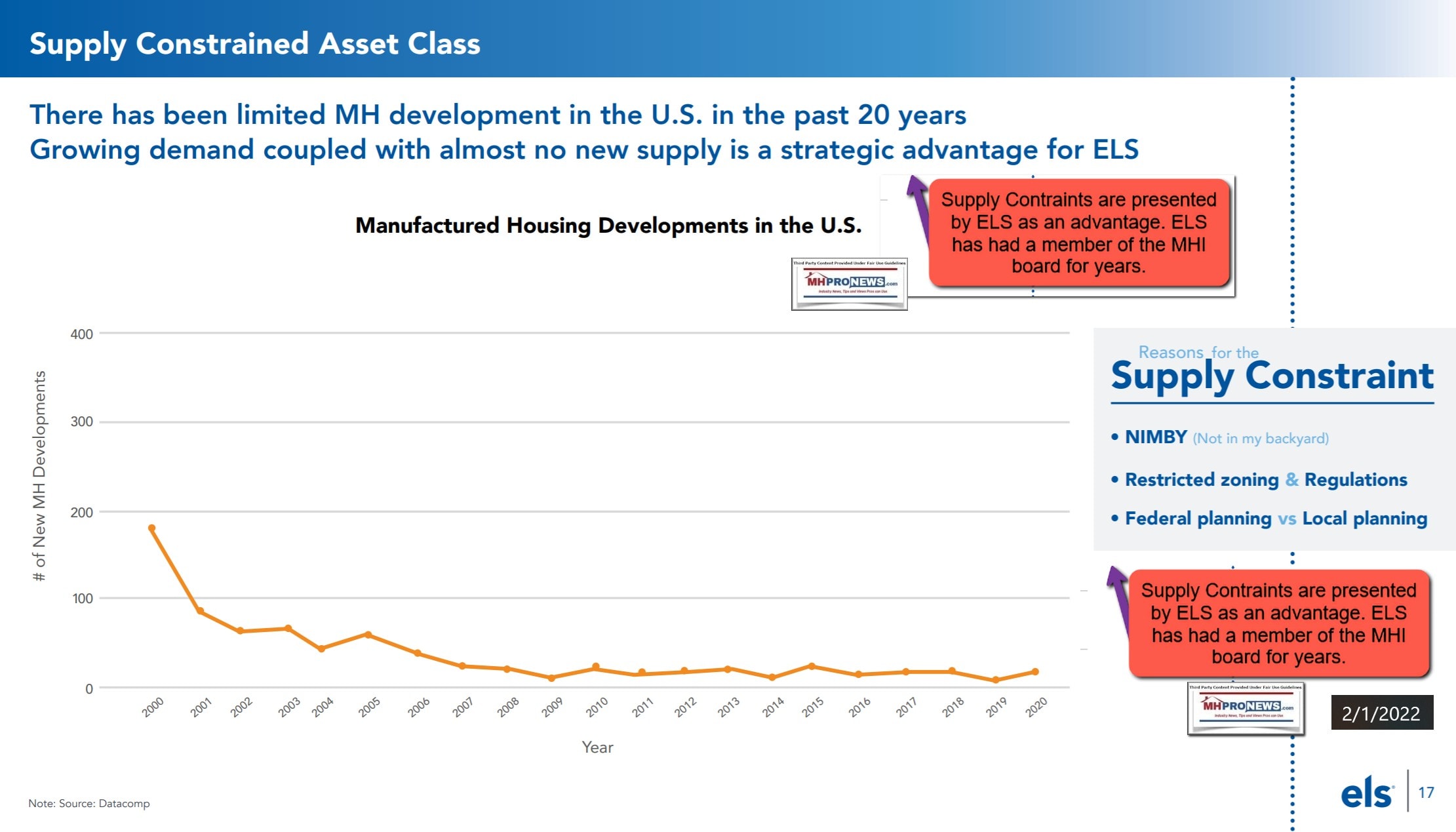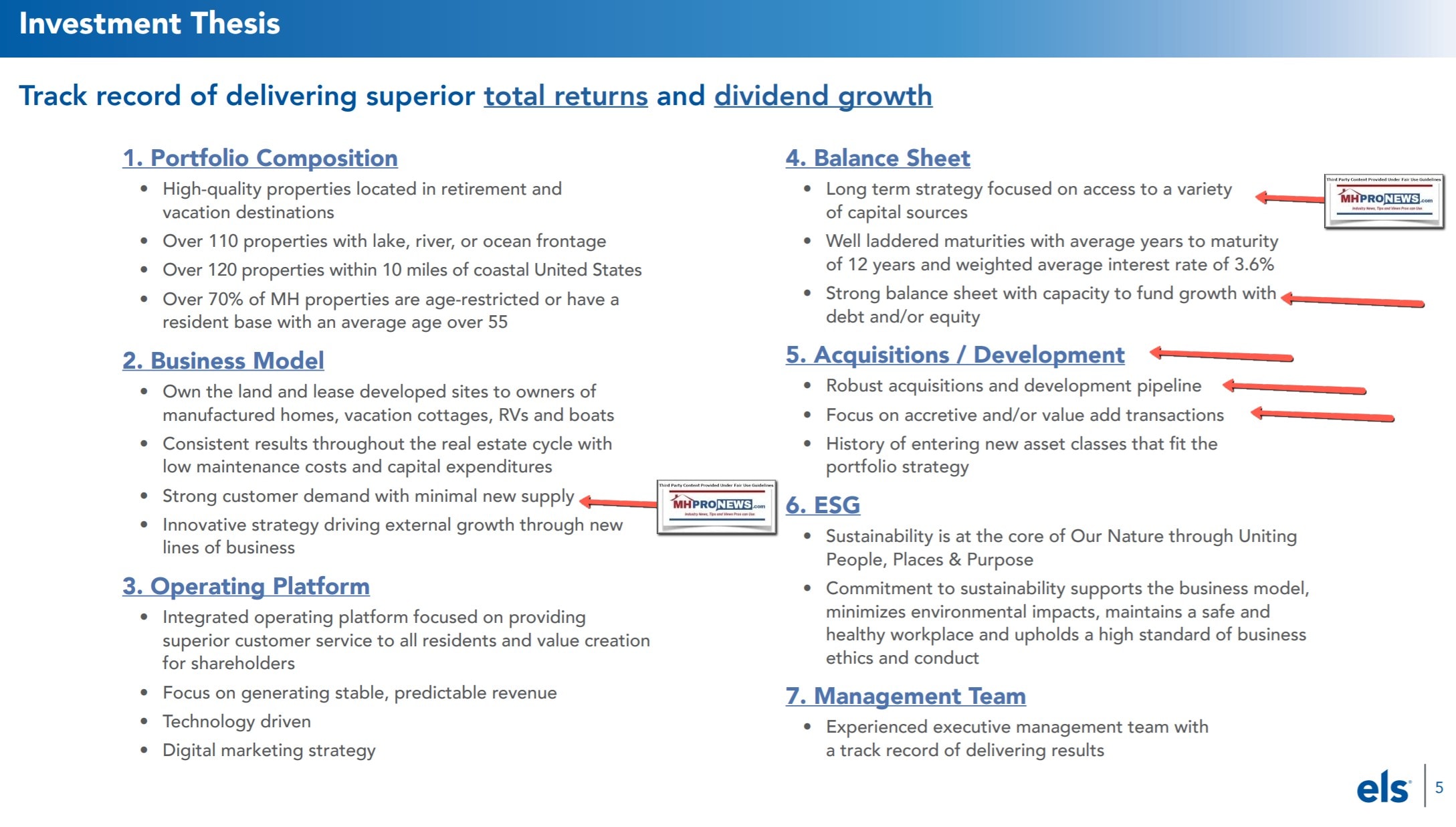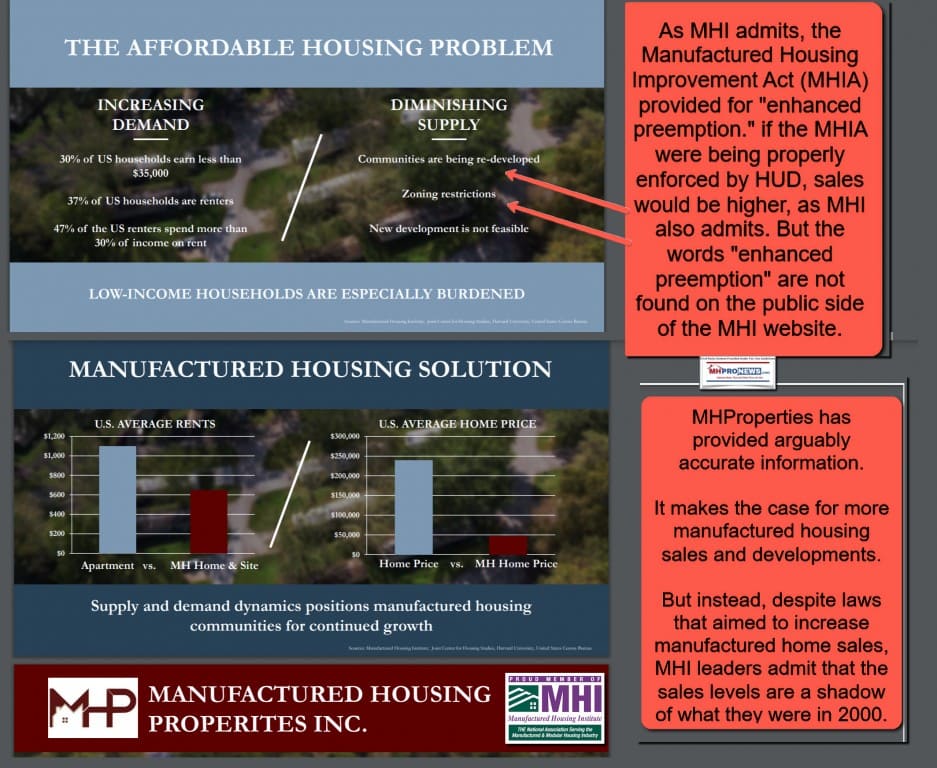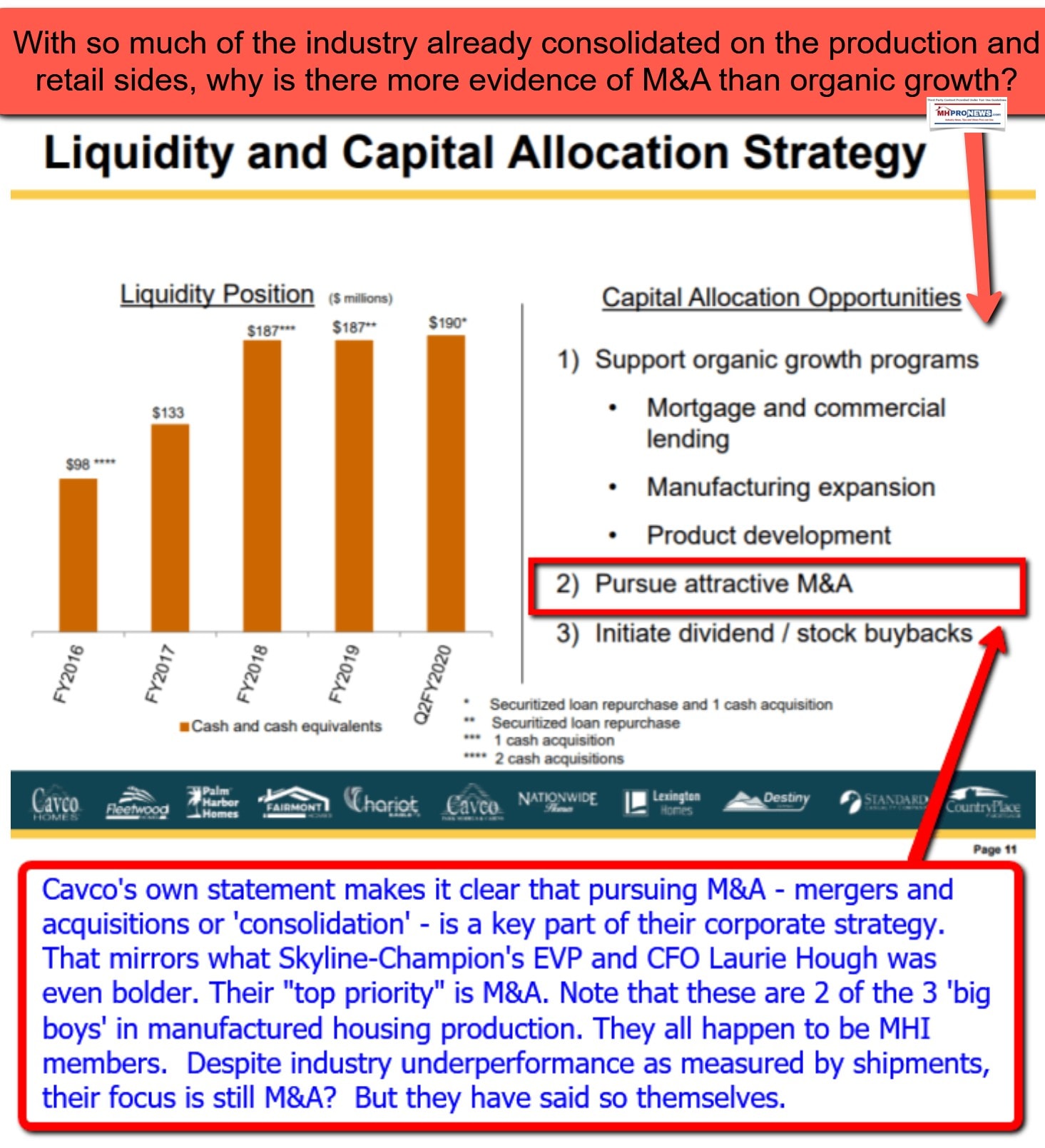 These quotes shed added light on this topic.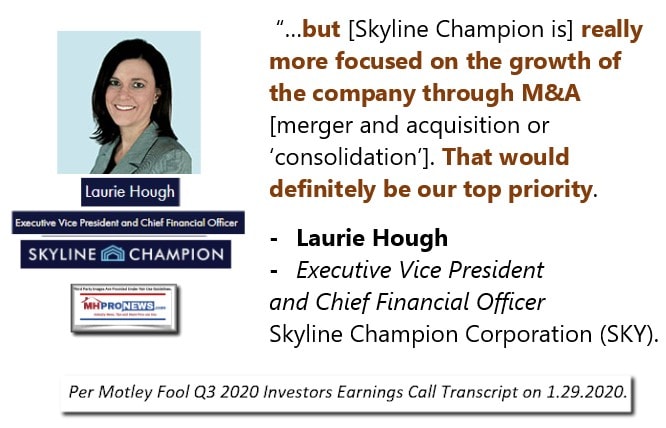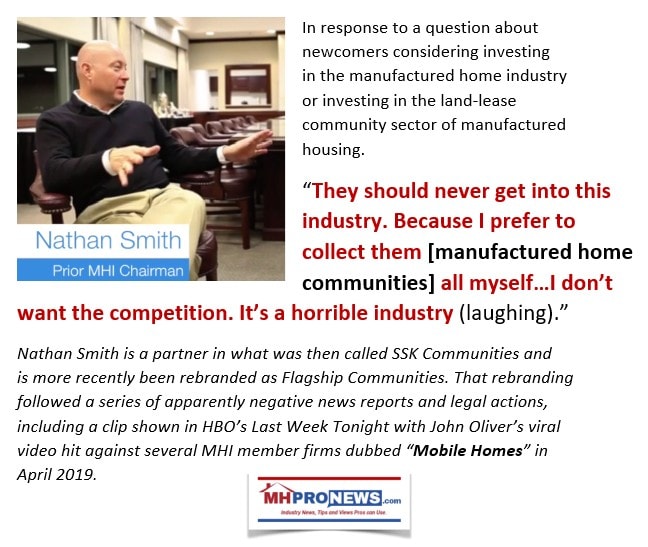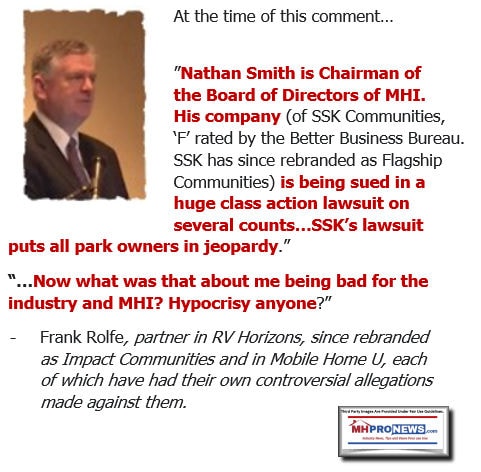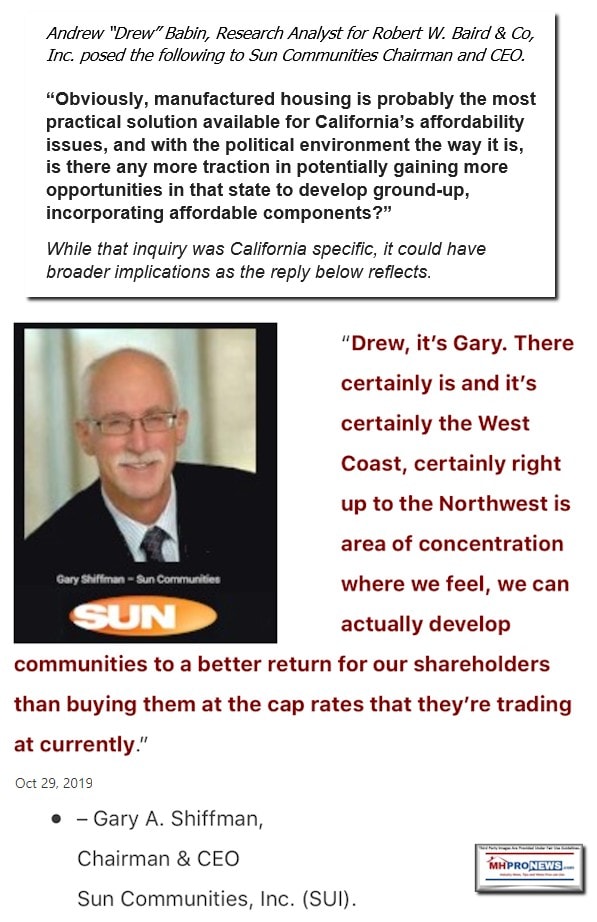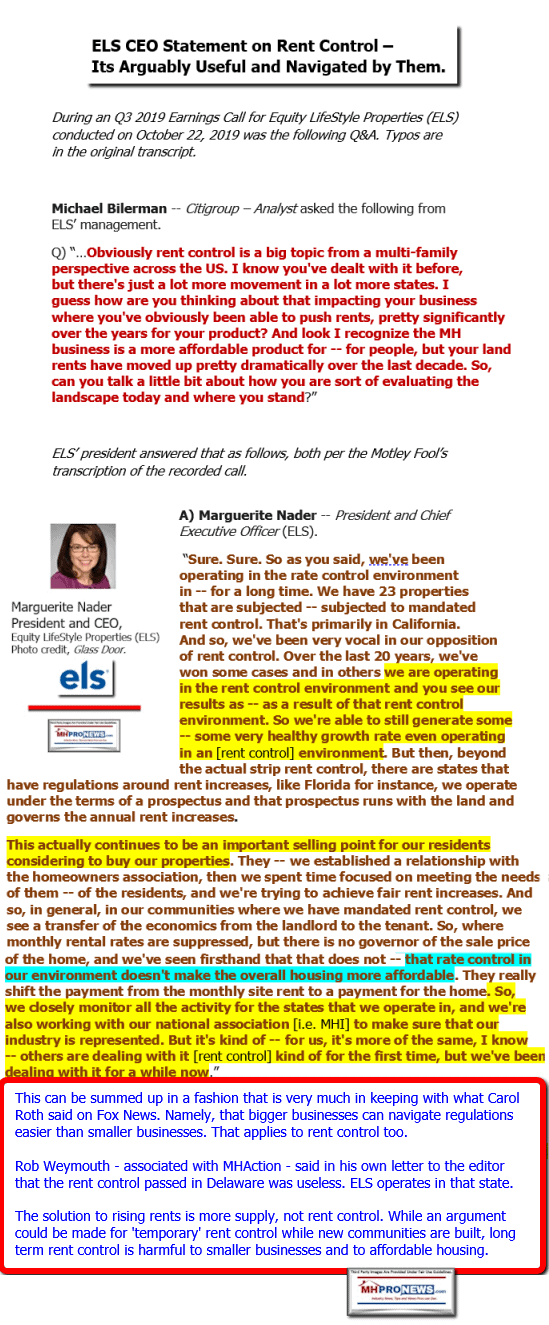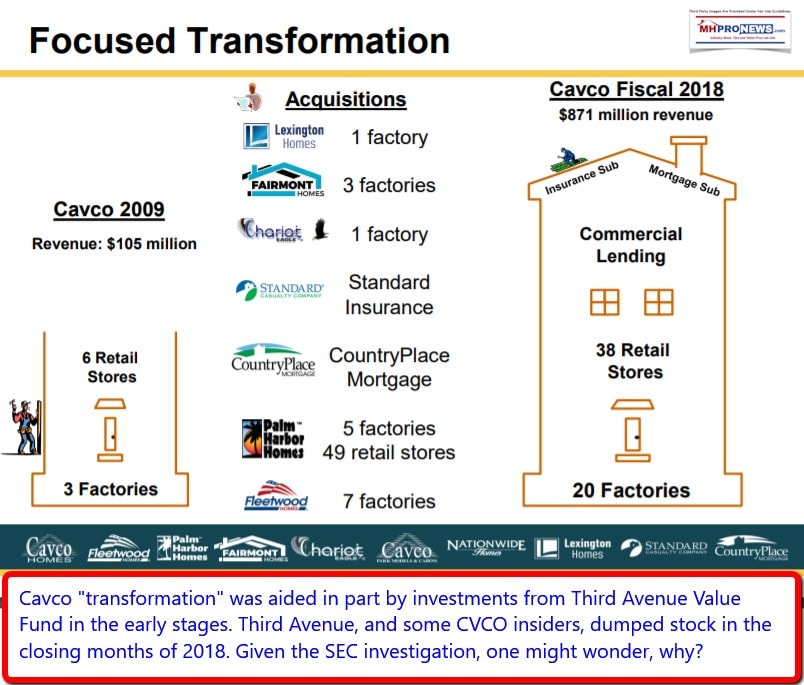 Note that publicly traded Legacy Housing (LEGH) or Nobility Homes (NOBH) are not known to have made similar claims of being focused on M&A. They are focused on organic growth vs. growth through acquisitions. What each of these M&A focused firms have in common is membership in the Manufactured Housing Institute (MHI). Several have held or still hold MHI board positions.  Note the graphic below is during Tom Hodges term at the helm, which has since been replaced by Leo Poggione. Poggione's Craftsman Homes has a big stake from Cavco Industries (CVCO), per an SEC filing by that firm.  All of the green arrows are community operators, many of whom are reflected in the investor slides shown above. Yellow firms are public companies that are also consolidators.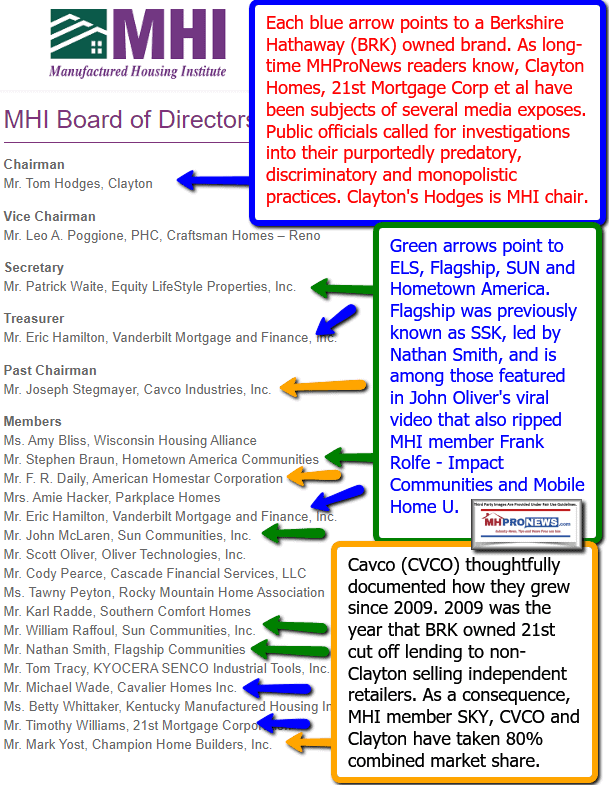 So, despite MHI's claims that they want to see the industry grow, and that they want to see good federal laws enacted in 2000 and 2008 fully enforced, what has in fact occurred has been an overall shrinkage of the industry's production, retail operations, financing, and numbers of communities.  It is hardly plausible to say that just occurred by happenstance. An Occam's Razor style case can be made that MHI is posturing a desire to see these laws enforced, but that instead they have postured and thwarted their implementation. For what end, some skeptics might ask? For the purpose of consolidation.  The evidence for that is found in the examples shown above. They seem to belie what Lesli Gooch and other MHI mouthpieces claim.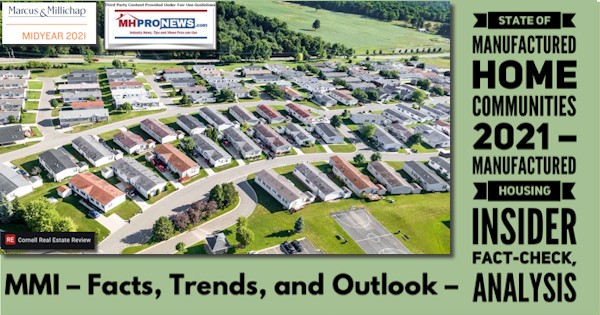 Restated, by wagging the dog, by using diversionary "razzle dazzle" or warm and fuzzy emotion tactics, MHI is apparently able to posture their claim that they are working for "all segments" of the industry, when the evidence strongly suggests that they are working for the interests of consolidators who believe they benefit from this vexing status quo.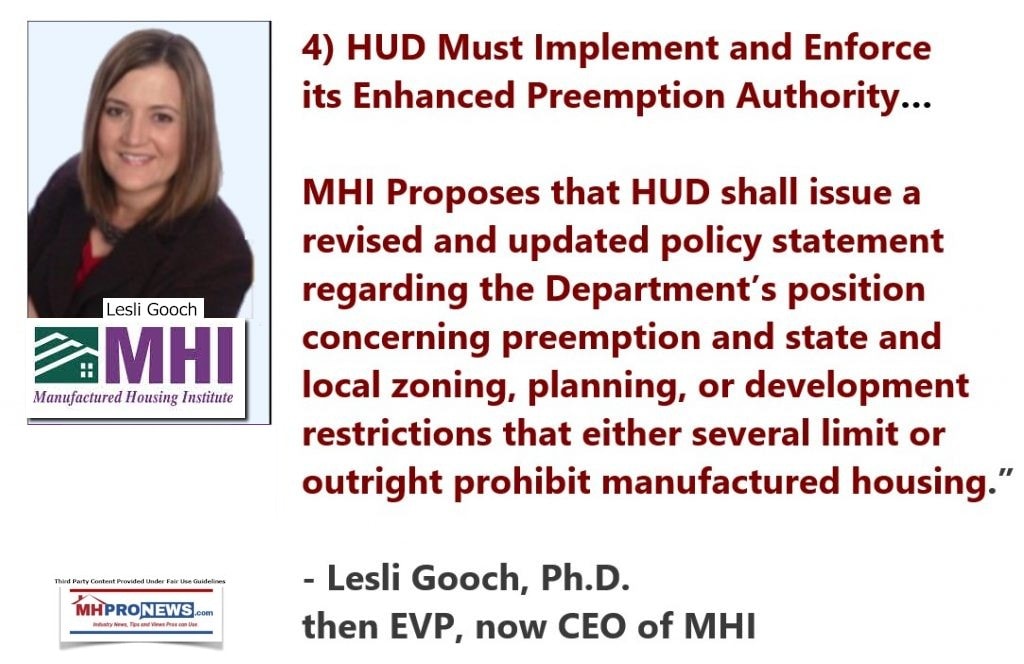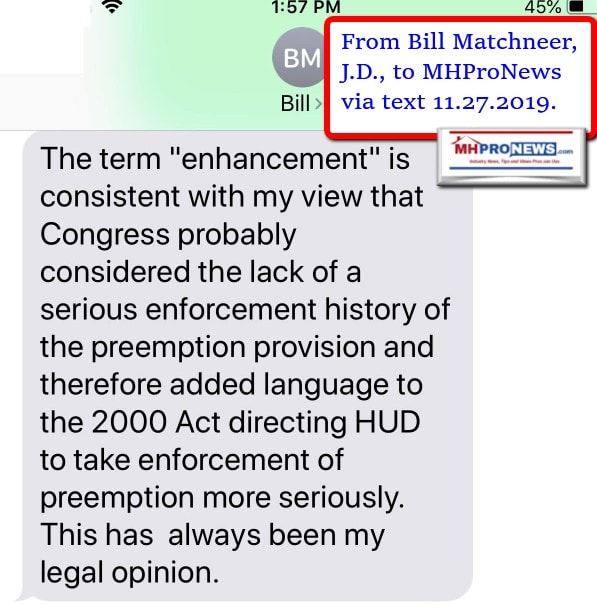 William Wade "Bill" Matchneer III, J.D., Died – Celebration of Life Provided by Bill's Wife Laurie Matchneer, Classic Video Interview with Matchneer Touting Manufactured Housing, Additional Career Insights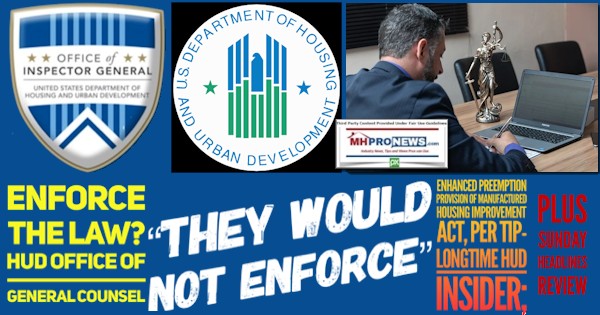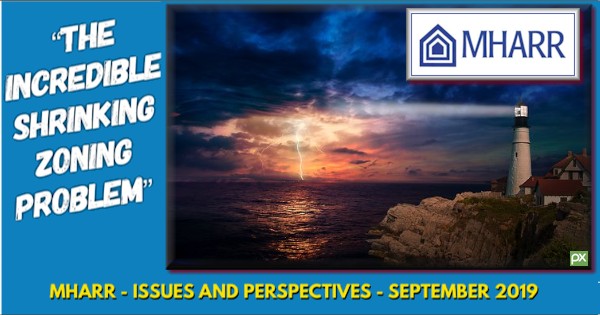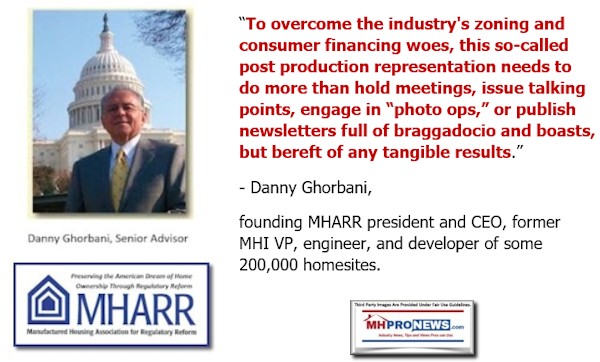 Who makes such claims? MHARR leaders, longtime MHI member and award-winner Marty Lavin, J.D., Doug Ryan, and others.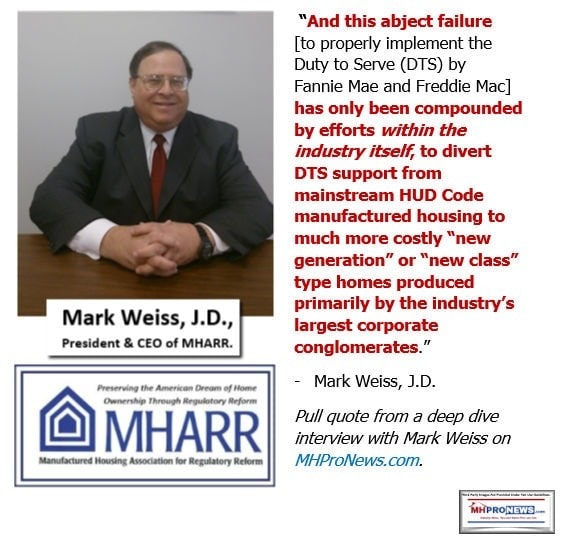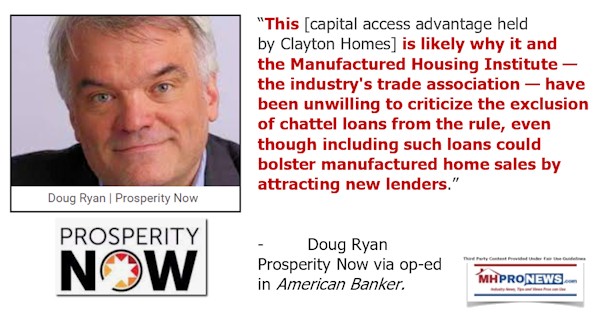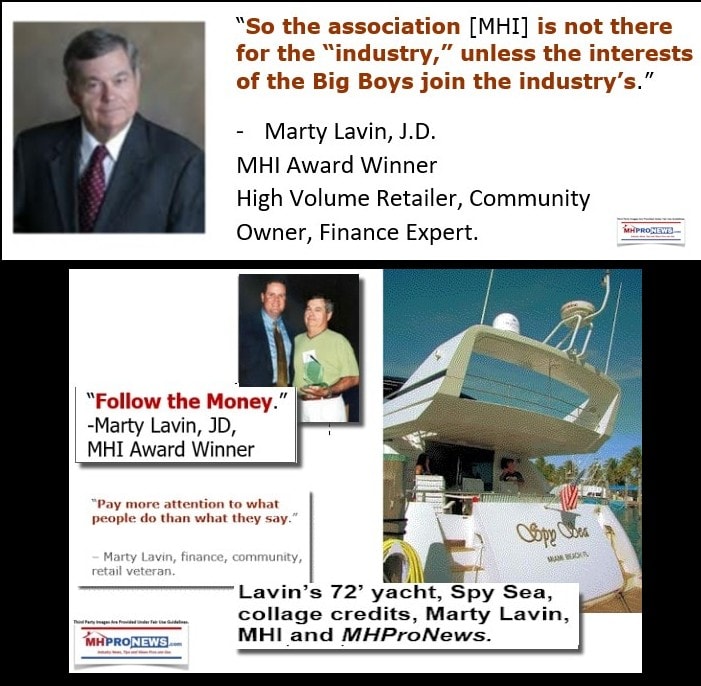 Something may become common and yet may still reflect a problematic legal and/or ethical position. For investors, public officials, affordable housing advocates, media, and others, these evidence-based positions raise concerns. Note that when MHI leaders – corporate, legal, and staff – have been asked to respond to these concerns, they have remained mute. Thus, the prima facie case holds as the allegations stand publicly unchallenged.
SEC Lawsuit Updates ex-Skyline Exec, Cavco Industries, Joe Stegmayer, Dan Urness – Why is Manufactured Housing Underperforming During Affordable Housing Crisis? Legal Updates, Reports Explore Claims
Danny Glover and Revealing Manufactured Housing Realities – Power of Correct Questions and Observations Regardless of Good, Bad, Laughable, or No Reply – plus Sunday Manufactured Home Weekly Recap
Summing Up Facts, Analysis, and Commentary
So, among several points worth noting is that all of those companies are Manufactured Housing Institute (MHI) members.
Another point worth noting is that by attracting independents, especially into meetings and events where social or networking opportunities exist, become possible targets for acquisition. This is not mere speculation. Note how Flagship Communities says so openly in as much as they state that they have a methodology for making off-market deals. While there are certainly other off-market opportunities, what is more obvious than meeting in a business meeting with a semi-relaxed social context? A few drinks, a few pleasantries, a few questions, and see where the conversation goes.
Schalamar Creek Mobile Homeowners v Steve Adler, Murex Properties, Northwest Mutual, David Eastman, Lutz Bobo & Telfair, FMHA – Opinion, Pleadings – RICO Info, More – Plus MH Investing Updates
As noted, that MHI, several of their major brands, and some of their attorneys have declined comment. They have not denied or directly publicly challenged these evidence-based claims.
Kevin Clayton – Wacky Wednesday in MHVille – Why Wonky Wit Works in Accountability, Education, Reports & Views in Manufactured Housing and Beyond; plus Macro, Manufactured Home Markets Recap
Unpacking Marcel Schwantes-Inc. on "Breaking the Habits" 'No Longer Serving You,' Credits Buffett: "The chains of habit are too light to be felt until they are too heavy to be broken" – plus MHMarkets Update
Wag the Dog. Moat building. MHI's apparent failure to sue to enforce the industry's rights under federal laws. The related linked reports above and below provide more insights. This apparent ploy that benefits a few at harm to the many may have been used for too long to continue without notice moving ahead. "We Provide, You Decide." ©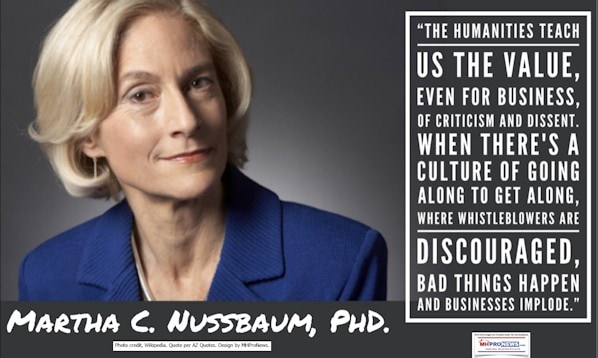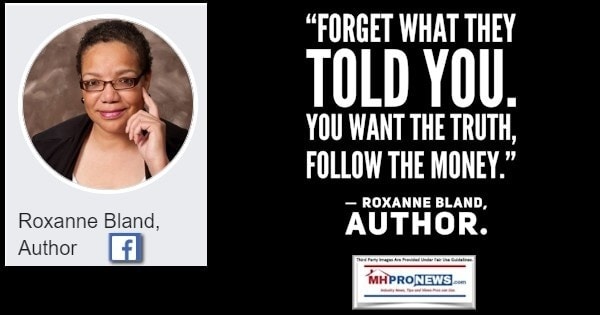 ##
Next up is our business daily recap of yesterday evening's market report, related left-right headlines, and manufactured housing connected equities.
The Business Daily Manufactured Home Industry Connected Stock Market Updates.  Plus, Market Moving Left (CNN) – Right (Newsmax) Headlines Snapshot. While the layout of this daily business report has been evolving over time, several elements of the basic concepts used previously are still the same. For instance. The headlines that follow below can be reviewed at a glance to save time while providing insights across the left-right media divide. Additionally, those headlines often provide clues as to possible 'market-moving' news items.
Market Indicator Closing Summaries – Yahoo Finance Closing Tickers on MHProNews…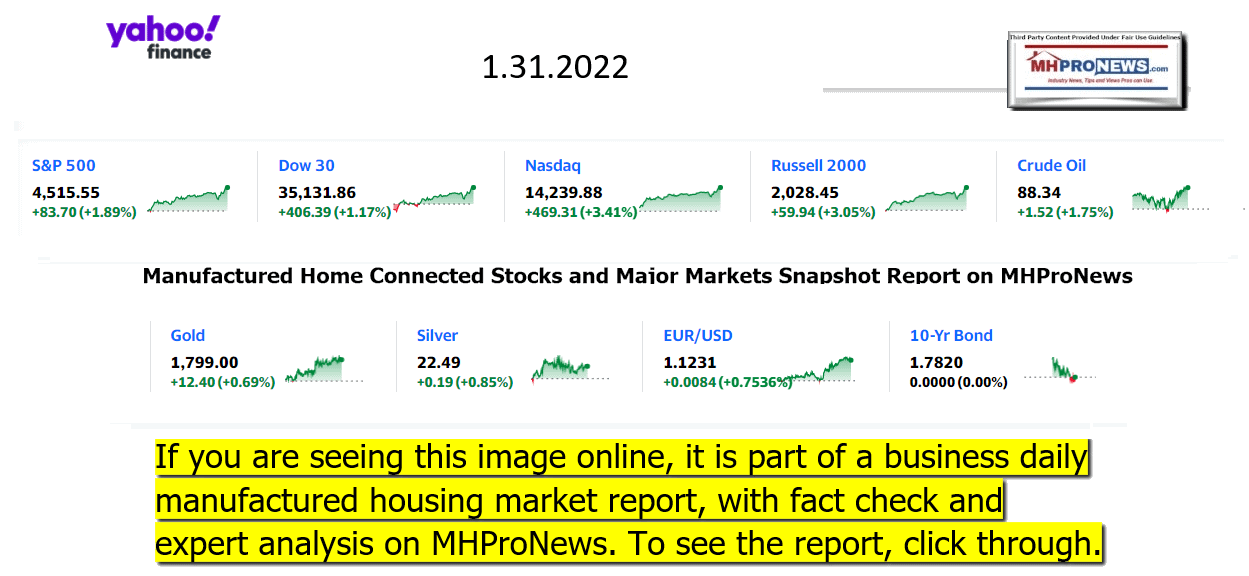 Headlines from left-of-center CNN Business – from the evening of 1.31.2022
China in crisis
Hungarian-born US investor and philanthropist George Soros looks on after having delivered a speech on the sidelines of the World Economic Forum (WEF) annual meeting, on January 23, 2020 in Davos, eastern Switzerland. (Photo by FABRICE COFFRINI / AFP) (Photo by FABRICE COFFRINI/AFP via Getty Images)
George Soros warns that the country's troubled real estate industry could devastate its economy
Warren Buffett is having the last laugh
Why grocery prices keep surging
Why companies are obsessing over worker pay
This could be the biggest Super Bowl ever for online betting. Here's why
The labor market is upside down. Here's what CEOs can do about it
This is what a $1 million home looks like in 4 European cities
Sony to acquire video game studio Bungie in $3.6 billion deal
Elon Musk offered a Florida teen $5,000 to delete a Twitter account tracking his jet. It wasn't enough
Musk took the entire EV sector down with these comments
Peloton die-hards are sticking with the flailing company
Glossier lays off a third of its corporate staff
Joe Rogan exits the octagon following the women's flyweight fight between Miranda Maverick and Erin Blanchfield during the UFC 269 event at T-Mobile Arena on December 11, 2021 in Las Vegas.
Joe Rogan responds to backlash from Spotify artists
The Alice, seen here in a rendering, is a battery-powered plane by electric aviation company Eviation. It is undergoing testing and will be flying within a few weeks.
Alice, the first all-electric passenger airplane, prepares to fly
Customers wait for their Dominos pizza order under signs advertising job openings on November 5, 2021 in Miami Beach, Florida.
Domino's will pay you $3 to not get your pizza delivered
BEAUTY
Oscar Mayer's bologna face mask quickly sells out
The company behind Dove is hiking prices
TikTok sold out a lipstick that's been around for decades
Sephora launches same-day delivery service
This TikTokker is launching his own skincare line
SUPPLY CHAIN
Firefighters try to control the fire that gutted a plastic factory in Mayapuri on September 16, 2021 in New Delhi, India.
A jump in factory fires is dangerous for workers – and the supply chain
Grocery price hikes: 'We're going to feel the effect'
Tesla warns of continued supply chain issues
China is risking a big hit to supply chains
Shipping CEO: Best solution to supply chain chao
Headlines from right-of-center Newsmax – evening of 1.31.2022
Monmouth Poll: Two-Thirds Say Time Has Come to Accept COVID as Part of Life
One of many pop-up COVID testing sites across New York City. This one was photographed last week along East 14th Street in Manhattan. (A P)
Ukraine in Crisis
US Blasts Russia at UN for Troop Build-Up Near Ukraine
US Prepared to Sanction Russian Elites Close to Putin If Russia Invades Ukraine
6,600 US Citizens Were Living in Ukraine in October: State Dept.
Russian Navy Holds Anti-Submarine Drills in Norwegian Sea
Barrasso: US Should Hit Russia With Sanctions Before It Invades Ukraine
Senate Close to Deal on Legislation to Sanction Russia
Portman Discounts Fear That US Troops Will Fight In Ukraine
NATO Calls on Europe to Diversify Energy Supply
More Ukraine in Crisis
Newsmax TV
Mace: Biden Has Nothing to Celebrate in State of the Union
Heritage President Roberts Vows to Take Back America
Biggs: Mayorkas Can Help the Border by Resigning
Tenney: Putin Using 'Energy as a Weapon' With Ukraine, Europe
Dershowitz: NY Times' 'Mistakes' Always 'Hurt the Right, Help the Left' | video
Claudia Tenney to Newsmax: Gov. Hochul 'Petty Tyrant in NY' | video
Ron Johnson: US Response to COVID 'a Miserable Failure' | video
More Newsmax TV
Newsfront
US Watchdog Warns Over Athletes' Safety at China Olympics
A U.S. rights monitor sounded the alarm Monday over athletes' safety at China's upcoming Winter Olympics, after the host threatened "punishment" for anti-Beijing comments.The Congressional-Executive Commission on China — a group of Washington lawmakers and White House…… [Full Story]
Biden Will Hear Sen. Grassley's Input on SCOTUS Pick
President Joe Biden is scheduled to meet with a pair of veteran [Full Story] | video
HHS Sec. Becerra on Hot Seat: 'Step Up, or Step Aside'
The White House's approval ratings on the COVID-19 pandemic response [Full Story]
Moderna Announces Full US Approval for Its COVID-19 Vaccine
Moderna announced Monday that U.S. health regulators granted full [Full Story]
Related
Omicron Accelerates Concerns About Long COVID
How Merck's and Pfizer's COVID-19 Pills Compare
Japan Starts Mass COVID Boosters as Omicron Cases Soar
White House's Free COVID-19 Tests Mostly Made in China
Federal Reserve: Inflationary Pressure May Be Easing
Data watched closely by the Federal Reserve showed inflation [Full Story]
'Hypocrite' Biden Slammed for 'Illegitimate' 2022 Election Rhetoric
After a year of dramatic declarations that questioning the fairness [Full Story] | Platinum Article
White House: Black College Bomb Threats 'Disturbing'
White House spokesperson Jen Psaki described reports that seven [Full Story]
New Push to Put Cop Killers on Death Row in Illinois
Frustrated by increasing anti-police rhetoric and progressive "bail [Full Story] | Platinum Article
Monmouth Poll: Two-Thirds Say Time to Accept COVID as Part of Life
Although Americans continue to be worried about the spread of [Full Story]
Historically Black US Colleges and Universities Receive Bomb Threats
Several historically Black colleges and universities in the United [Full Story]
Schumer Calls for $1.5 Billion in Funding for Illegal Gun Task Force
Senate Majority Leader Chuck Schumer, D-N.Y., is calling for at least [Full Story]
Cruz Speculates on Biden Supreme Court Pick, Suggests It Could Be Harris
In a recent podcast, Republican Sen. Ted Cruz, of Texas, speculated [Full Story]
US Blasts Russia at UN for Troop Build-Up Near Ukraine
Tensions between Russia and the United States over Moscow's troop [Full Story]
House Republicans Developing 2023 Agenda for Expected Majority Status
House Republicans are feeling so good about prospects of retaking [Full Story]
Rihanna is pregnant and expecting her first baby with rapper A$AP [Full Story]
Richard Walters Stepping Down as RNC Chief of Staff
Republican National Committee chief of staff Richard Walters is [Full Story]
Biden Issues an Infrastructure 'Roadmap' to Help Spend $1T
President Joe Biden urged U.S. governors on Monday to ramp up their [Full Story]
3 Republican Senators May Support Biden's Supreme Court Pick
While President Joe Biden does not need any Republican senators to [Full Story]
Georgia DA Asks FBI for Security After Trump Protest Remarks
The district attorney of Fulton County, Georgia, has called on the [Full Story]
Policeman Gets $75K Settlement Over Suspension for Pray Protest at Abortion Clinic
Louisville, Kentucky, is paying a police officer a $75,000 settlement [Full Story]
Biden Fed Nominee Backed Slavery Reparations for Black Americans
One of President Joe Biden's nominees to the Federal Reserve's Board [Full Story]
'Bridgerton' Star Nicola Coughlan Asks People to Stop Commenting on Her Body
Nicola Coughlan is asking that people refrain from commenting on her [Full Story]
Diabetes Deaths Top 100,000 for Second Straight Year, Federal Panel Urges New Strategy
More than 100,000 Americans died from diabetes in 2021, marking the [Full Story]
Celebrations for Year of the Tiger Are Muted, but Bring Hope
People across Asia prepared Monday for muted Lunar New Year [Full Story]
NKorea Confirms Test of Missile Capable of Striking Guam
North Korea confirmed Monday it test-launched an intermediate-range [Full Story]
Hunter, Business Partners' Records Subpoenaed in 2019 Over China Deals
The Department of Justice in 2019 subpoenaed Hunter Biden and two of [Full Story]
NY Times: Dems Outpaced GOP in 2020 'Dark Money'
The New York Times reports that Democrats outpaced Republicans in the [Full Story]
Rams Rally, Will Meet Bengals in Super Bowl
Two years ago, the Cincinnati Bengals were the NFL's worst team. Now [Full Story]
Former Miss USA Falls to Death in NYC
Former Miss USA winner Cheslie Kryst died Sunday after jumping off a [Full Story]
Trump: Effort to Change Election Rules Prove VP Could Change Results
Former President Donald Trump asserted Sunday that former Vice [Full Story]
NYC Mayor Adams: 'Rapid Decline' in COVID-19 Cases
New York City is seeing a "rapid decline" in COVID-19 cases, says [Full Story]
More Newsfront
Finance
Inflationary Pressure May Be Easing: Fed
Data watched closely by the Federal Reserve showed inflation expectations remained broadly anchored through the end of last year, while an alternate measure of inflation showed the most intense price pressures may have begun to ease…. [Full Story]
Nasdaq Gains Avert Worst January on Record
US-China Trade Relations in 'Difficult' Stage: Tai
Canada's Trudeau 'Not Intimidated' by Trucker Protest
Faith in the Metaverse: A VR Quest for Community, Fellowship
More Finance
Health
Moderna Announces Full US Approval for Its COVID-19 Vaccine
Moderna announced Monday that U.S. health regulators granted full approval to its COVID-19 vaccine, a shot that's been given to tens of millions of Americans since its emergency authorization over a year ago. The action by the Food and Drug Administration means the agency…… [Full Story]
Protect Your Health During Winter Workouts
Omicron Subvariant BA.2 More Infectious Than 'Original'
Omicron Accelerates Concerns About Long COVID
How Merck's and Pfizer's COVID-19 Pills Compare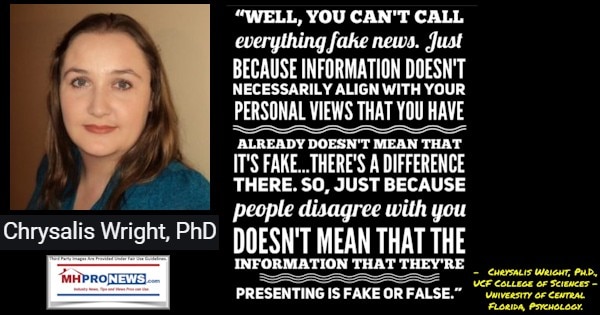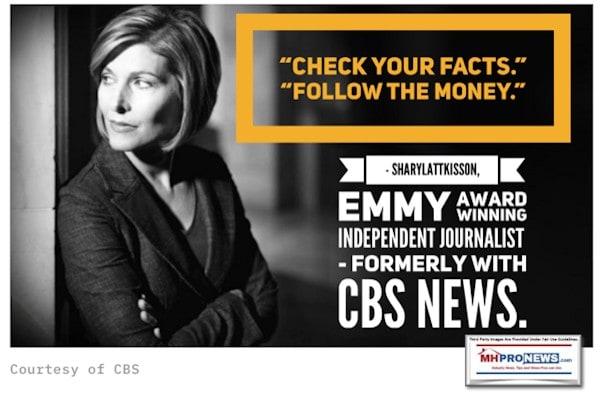 Manufactured Housing Industry Investments Connected Equities Closing Tickers
Some of these firms invest in manufactured housing, or are otherwise connected, but may do other forms of investing or business activities too.
NOTE: The chart below includes the Canadian stock, ECN, which purchased Triad Financial Services, a manufactured home industry lender
NOTE: Drew changed its name and trading symbol at the end of 2016 to Lippert (LCII).
NOTE: Deer Valley was largely taken private, say company insiders in a message to MHProNews on 12.15.2020, but there are still some outstanding shares of  the stock from the days when it was a publicly traded firm.  Thus, there is still periodic activity on DVLY.
Clayton-21st Storm Watch – Sinatra's Summer Wind Blows Early? – Manufactured Housing Moat Breach – Manufactured Home Values Increasing Faster than Site-Built – Case for Something New in 2022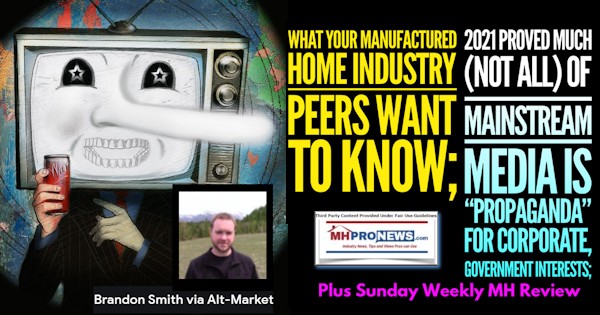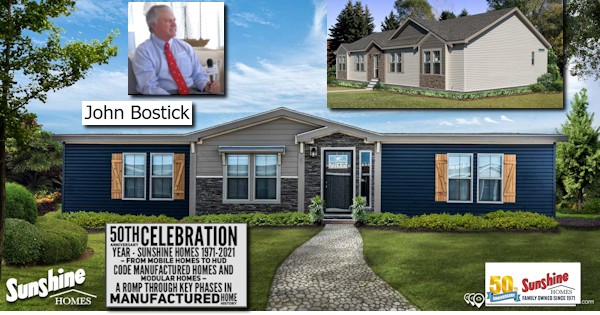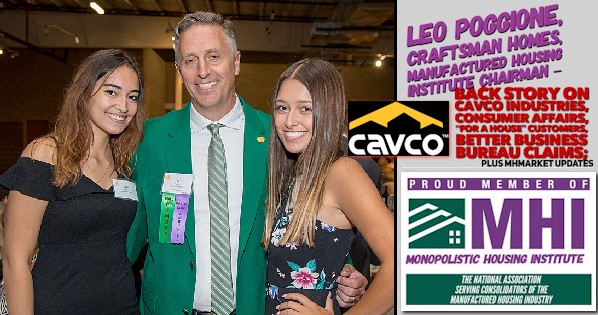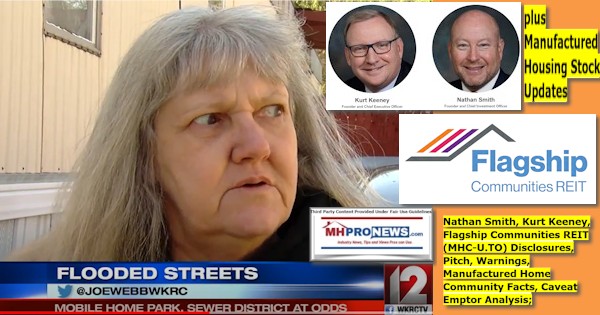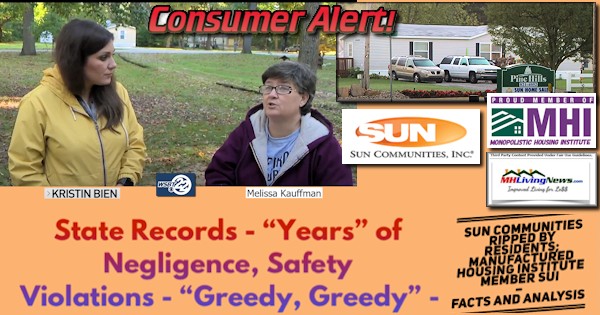 In cases such as Apollo, Berkshire Hathaway, Blackstone or others, manufactured housing may only be part of their corporate interests. Note: depending on your browser or device, many images in this report can be clicked to expand. Click the image and follow the prompts. To return to this page, use your back key, escape or follow the prompts.

https://www.manufacturedhomepronews.com/steve-lawler-deer-valley-corporation-dvc-otcmkts-dvly-announces-merger-plus-manufactured-home-investing-stock-updates/

https://www.manufacturedhomepronews.com/nobility-homes-financial-position-very-strong-sales-strong-but-challenges-including-lending-and-others-examined-plus-manufactured-housing-stocks-update/

2022 dawns

…

Berkshire Hathaway is the parent company to Clayton Homes, 21st Mortgage, Vanderbilt Mortgage and other factory built housing industry suppliers.


·

LCI Industries, Patrick, UFPI, and LP each are suppliers to the manufactured housing industry, among others.




·

AMG, CG, and TAVFX have investments in manufactured housing related businesses.

For

insights from third-parties and clients about our publisher

, click here.


Enjoy these 'blast from the past' comments.

MHProNews. MHProNews – previously a.k.a. MHMSM.com – has celebrated our 11th year of publishing, and is starting our 12th year of serving the industry as the runaway most-read trade media.
Sample Kudos over the years…
It is now 11+ years and counting…
Learn more about our evolutionary journey as the industry's leading trade media, at the report linked below.
· For expert manufactured housing business development or other professional services, click here.
· To sign up in seconds for our industry leading emailed headline news updates, click here.

Disclosure. MHProNews holds no positions in the stocks in this report.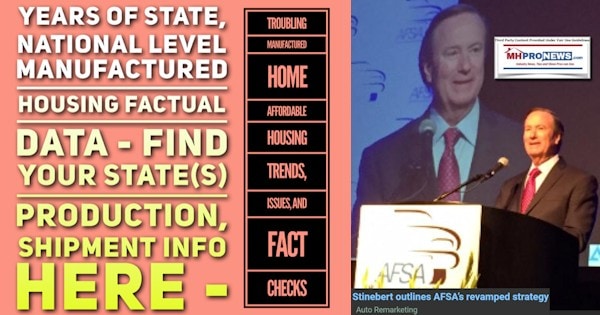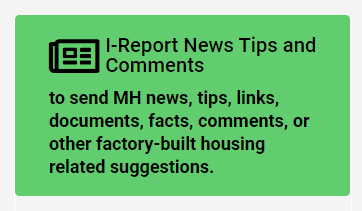 That's a wrap on this installment of "News Through the Lens of Manufactured Homes and Factory-Built Housing" © where "We Provide, You Decide." © (Affordable housing, manufactured homes, stock, investing, data, metrics, reports, fact-checks, analysis, and commentary. Third-party images or content are provided under fair use guidelines for media.) (See Related Reports, further below. Text/image boxes often are hot-linked to other reports that can be access by clicking on them.)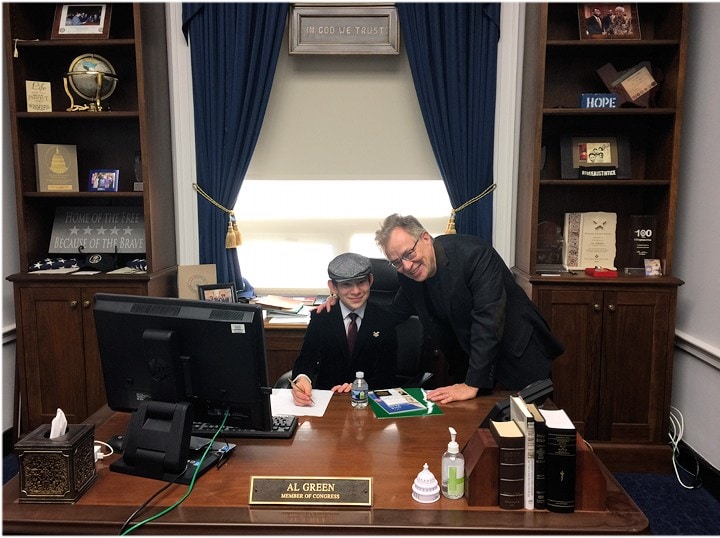 By L.A. "Tony" Kovach – for MHProNews.
Tony earned a journalism scholarship along with numerous awards in history. There have been several awards and honors and also recognition in manufactured housing. For example, he earned the prestigious Lottinville Award in history from the University of Oklahoma, where he studied history and business management. He's a managing member and co-founder of LifeStyle Factory Homes, LLC, the parent company to MHProNews, and MHLivingNews.com. This article reflects the LLC's and/or the writer's position and may or may not reflect the views of sponsors or supporters.