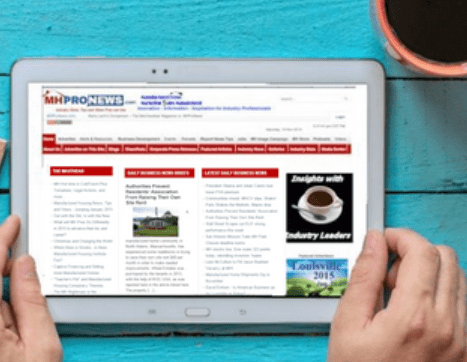 What's New in public focused Manufactured HomeLivingNews.com
> How A Manufactured Modular Home Production Center Achieves Savings and Quality – Inside MH Video with Mike Stone
> 4 Easy Ways to Keep Your Home Clean
What's New in Manufactured Housing Industry Professional News
As the Dodd-Frank Act hits the five year mark, stories abound how its offspring, the Consumer Financial Protection Bureau, continues to confound the manufactured home industry as well as the banking and mortgage industries, and the accompanying importance of MH fiancing reform. Meanwhile, MHLivingNews and MHProNews publisher L. A. "Tony" Kovach lands on The Hill in D. C., and as a family man on 83degreesmedia. In other news, industry pressure changes minds in a Texas city, several MHCs change hands, MH lands in Native American hands, MH Firms Plan Q2 Financials Release, much, much more.
Saturday, July 25
Temporary Modular Housing being Restricted in Bakken Oilfield
Friday, July 24
The Avoidance of the Rule of Law by Dodd-Frank
Dow Falls -163 Points, Most Tracked Manufactured Housing Stocks also Drop
Modular Workforce Housing Planned for Southwest Louisiana
Help Ensure Passage of The Preserving Access to Manufactured Housing Act
UMH Properties Set to Release Q2 Financials Aug. 7
Capital One Arranges $14 Million Fannie Mae Loan
Thursday, July 23
Drew Industries to Release Second Quarter Financials
Deer Valley Corp. Jumped +10.25 percent while Most All Tracked Stocks Fell
Home Sales Rise to Best Rate in Eight Years
Capital One Arranges Purchase of CA Manufactured Home Community
Orders for Keiser's Modular Homes will be Built at a Sister Plant
Gendell Unloads More Patrick Stock for $1.48 Million
Wednesday, July 22
Manufactured Home Community in Florida Sells for $6.4 Million
PSP Seeks Manufactured Home Communities to Provide Affordable Housing
MHCV Edges Up, NASDAQ Slips, Existing Home Sales Rose 3.2 % in June
Elko Band Native Americans Break Ground for New Manufactured Homes
Texas City Reverses Decision, Votes to Allow Manufactured Housing
War of Words? DC's The Hill Congressional Blog on Manufactured Housing Finance Reform
Tuesday, July 21
Deer Valley Falls -11.11%, as Most Tracked Manufactured Housing Stocks Slip
Equity LifeStyle Properties Beats Analysts Expectations in Q2
Factory-Built Homes—the New Cool
Tired of renting? Get the scoop on manufactured homes
Lawsuit Challenges Removal of Manufactured Home Carports
Monday, July 20
Keiser Homes Fire did not Damage Main Structure, Electrical or New Homes
Deer Valley Gains 10.25%; Dodd-Frank Turns Five Tomorrow
Housing Starts, Permits Hit Eight-year High
Marcus & Millichap Arrange Sale of Florida Manufactured Home Community
Mark Engel to Join Green Courte Partners as CFO
Honda Agrees to Cease Discriminatory Automobile Lending
Sunday Morning Recap-Manufactured Housing Industry News-July 12-July 19, 2015 ##
(Photo credit: MHProNews.

Article submitted by Matthew J. Silver to Daily Business News-MHProNews.