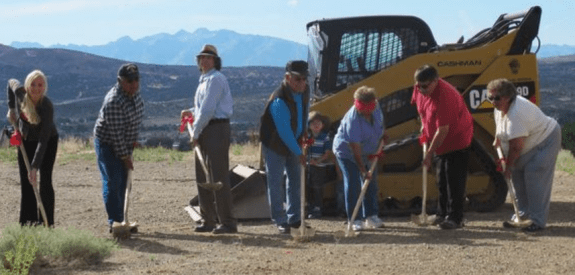 A $700,000 U. S. Department of Housing & Urban Development (HUD) Indian Community Development Block Grant will provide seven new one-and two-bedroom manufactured homes for the Elko Band Colony Native Americans in Elko, Nevada, according to elkodaily, as tribal members and staff break ground for the homes.
The HUD grant covered $605,000 for the Choke Cherry housing project with Barrick Gold Corp. picking up the balance. Water and sewer lines had been installed earlier, because the Te-Moak Tribe of the Western Shoshone had been planning for this development for some time. With approximately 250 homes in the colony, an additional 372 acres will soon belong to the tribe for further development.
The Fleetwood Homes are scheduled to be ready for occupancy by mid-September, and will be targeted towards younger members of the Elko Band. MHProNews has learned the contractor is Leo Peggioni with Craftsman Homes in Sparks, NV. ##
(Photo credit: Elko Daily Free Press/Heather Kennison–Elko Band Colony members and staff break ground for Choke Cherry. From left, Robin Evans, Raymond Gonzales, Gerald Temoke, Davis Gonzales, Evelyn Roche, Vernon Thompson, and Joyce Harney.)

Article submitted by Matthew J. Silver to Daily Business News-MHProNews.