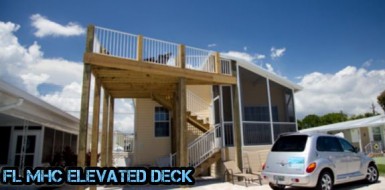 As the housing recovery sputters along from the Great Recession, trying to overcome the lowest percentage of homeownership in 20 years (63%), even with the aid of artificially maintained low interest rates, people are moving away from the McMansions with their high maintenance and trophy appearance, and paying more attention to factory-built homes, according to 83DegreesMedia.
83 Degrees Media has a reputation for covering topics that are so cool, they're hot.  In a featured article today, they focus on the much maligned days long past of "trailer houses" and "mobile homes," which have not been built since the federal government began overseeing the construction of manufactured homes in June, 15 1976. The technology that developed astro turf, super efficient heating and cooling systems and robotic surgeries are being applied to homes built in factories and moved to be permanently installed on an owner's selected homesites.
Consumers are looking to buy greener, modern and less expensive homes. As award-winning writer, Jan Hollingsworth states, "A brand new entry level 'shade and shelter' model — with central air and all the comforts of home — can be had for as little as $30,000, while larger, multi-section models with vaulted ceilings, fireplaces, walk-in showers and spa tubs run $60,000 or more.
"For those who really want to splurge, there are multiple-story modulars with all the bells and whistles of any custom home — hand-laid ceramic tile, fireplaces framed by hardwood bookcases and high-end appliances — all for a tidy $120,000."
Bill Matchneer, a Senior Attorney at Bradley Arant Boult Cummings law firm in Pittsburgh, who once managed HUD's manufactured housing program, says these homes are built as well or better than site-built homes.
Dr. Clivetty Martinez, (PhD) a senior executive for a global pharmaceutical firm, and her husband, Frank, a retired postal engineer, could afford most any home on the market, but have now happily chosen to live in Dover Farms, a manufactured home community (MHC) in Martin, Michigan. "At first I was leery," Frank Martinez tells MHLivingNews. "Live in a house delivered on a truck?"
Today's factory-built homes can be hard to distinguish from traditional site-built homes. "I think the product makes a lot of sense for people coming through this recovery," says Evan Atkinson, an award-winning Ohio retailer, developer and community operator whose family has been in the MH business since 1947. "People looking at manufactured housing today are very surprised at what they see."
Just as the overall housing market is recovering from the throes of the downturn, so the MH market is returning as well. Atkinson says the Millennials are more accepting of factory-built homes, especially in light of the rising rental market. "I think they're feeling a little more stable in their employment situation and we're seeing more of them coming into the housing market. They are more accepting of manufactured housing," says Atkinson.
While the older generation typically has a mindset opposed to factory-built homes, baby boomers are more open to lifestyle choices than the preconceived notions of their parents, and are "flocking like ants at a picnic to 55+ MH communities," in Hollingsworth's words.
Steve Adler is the Chairman of the National Communities Council.  Adler's father, Sydney, developed a 1,200-unit retirement community called Trailer Estates on Sarasota Bay in Florida in the 1950s, replete with shuffleboard, boat docks, a marina and clubhouse, and people waiting to move in. Noting his father was ahead of his time, Steve has developed more communities, all-age and senior 55+, like Schalamar Creek in Lakeland, Florida which has a restaurant, golf course and a full schedule of social activities.
Adlers says half of his residents move down from the north and eventually reject the isolation of a suburban home with upkeep worries, and move into one of his communities with Wi-Fi access, computer and digital photography classes, exercise equipment, and opportunities for socialization with other residents.
In the meantime, "Trailer Estates" is still bustling with pre-1976 homes next to newer manufactured models and people fishing from the dock. ##
(Photo credit: 83degreesmedia/Julie Branaman–Trailer Estates MHC on Sarasota Bay, Florida)

Article submitted by Matthew J. Silver to Daily Business News-MHProNews.
Foot Note – 83DegreesMedia shared the following two links and their intros for publication with permission. Some associations are already sharing the following with their members.  The photos are also by: 83degreesmedia/Julie Branaman
JAN HOLLINGSWORTH / 83 DEGREES MEDIA 
TUESDAY, JULY 21, 2015
Millennials looking to buy their first homes and Boomers looking to downsize find factory-built or manufactured housing to be a good alternative that offers affordable, sturdy and green living.
JAN HOLLINGSWORTH / 83 DEGREES MEDIA
TUESDAY, JULY 21, 2015
Team Kovach, husband L.A. "Tony" and wife Soheyla, of Lakeland share news about the increasingly popular manufactured housing industry through online publications and word of mouth.