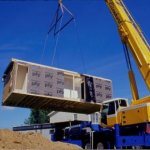 Following a story MHProNews last posted July 20, 2015 regarding the fire that has temporarily halted production at Keiser Homes in Oxford, Maine, sunjournal reports unfinished orders will be completed at one of the parent companies plants in Pennsylvania.
While employees at the plant continued to ship homes to customers, General Manager of Excel Homes of Maine, Zane Sheaffer says it may be six weeks before the facility is back up to speed. While foul play is not suspected as the cause, the overall financial impact in terms of damage and productivity loss is still being determined.
A division of Innovative Building Systems LLC, Keiser, Excel Homes and Innovative Design and Building Services brands are built in the Oxford plant. The 61,000 square-foot facility is assessed at $3.02 million, according to town tax records. IBS President Phil Hickman said although homes under construction inside the plant were not damaged by the fire, they will be scrapped over concerns of smoke damage. ##
(Photo credit: Excel Homes–two-story modular home being sited)

Article submitted by Matthew J. Silver to Daily Business News-MHProNews.