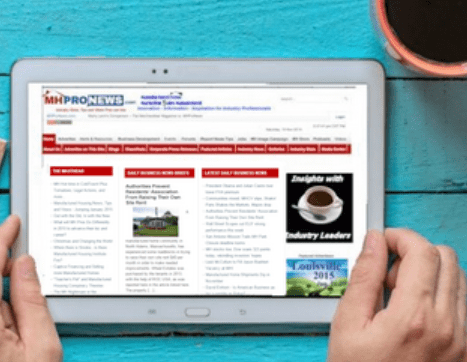 What's New in public focused Manufactured HomeLivingNews.com
What PBS NewsHour Missed About Manufactured Home Living
What's New in Manufactured Housing Industry Professional News
FHFA may securitize chattel loans. PBS NewsHOur critical of MH industry, as HUD Code production gains sharply in Nov. RV/MH Hall announces inductees. CFPB seeks feedback on mortgage disclosure act. Start of year worst ever for Dow Jones. Modular homes for homeless in Ireland dealt another setback. FEMA manufactured homes readied in Calif wildfire region. Marcus & Millichap arrange two MHC sales. GAO evaluates Dodd-Frank. Domestic modular home industry may lose to imports, as modular development is approved in NC. And much, much more in MH industry news and views for you to pursue.
Saturday, Jan. 9, 2016
FHFA "May" Open the GSE Door to Purchase MH Chattel Loans
Friday, Jan. 8
RV/MH 2016 Hall of Fame Inductees Announced
Dow Continues its Fall; Most MH-related Stocks Follow Suit
Marcus & Millichap Arrange sale of Fla. Manufactured Home Community
Controversy Escalates over Modular Homes in Cape Coral
CFPB Seeks Feedback on the Home Mortgage Disclosure Act
Former MHC Titan's Tony Condo Yields $4.25M
Thursday, Jan. 7
Marcus& Millichap Notches another MHC Sale
Dow Starts the New Year down 900 points; Most MH-related Stocks Fall, Two Rise
21 FEMA MH Near Ready for Occupants in N. Calif.
Foreclosures Waning Steadily in Colorado and Ohio
Wednesday, Jan. 6
Completion of Modular Homes in Ballymun Set for mid-January
Dow Stumbles, Skyline Flies High, AMG Drops
Capital One Provides Loan for Purchase of Calif. Manufactured Home Community
Subdivision Approved for Modular Development in North Carolina
New Home Sales Rise Sharply from Last Year
Tuesday, Jan. 5
Modular Home Development has Begun in the UK
Real Estate Losses in Western North Dakota Start to Mount
Skyline, Sun, UMH all Rise; Patrick Falls
Government Accountability Office Evaluates Dodd-Frank Act Effects
Loan Application Defect Index Falling
In Depth Overview of HUD Code Production for November
Monday, Jan. 4
Mortgage Application Approvals and Home Values Rise
No Covered MH-related Stock Gains as the Dow Hits the Skids
U. S. Modular Home Builders need to Sharpen their Saws
HUD Code Production Spikes in November
More Patrick Stock Sold by Gendell
Really? "Bad bargain? Manufactured homeowners feel the financial strain, PBS NewsHour" MHProNews Flash Report and Analysis
Sunday Morning Recap-Manufactured Housing Industry News Dec. 27, 2015-Jan. 3, 2016 ##
(Photo credit: MHProNews)

Article submitted by Matthew J. Silver to Daily Business News-MHProNews.