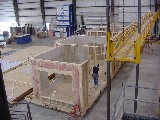 MHProNews has learned that usmodularinc reports Europeans have been eying the U. S. housing market for years with their improved technology in the area of prefabricated homes, and have begun to jump in, much like the Japanese did with small, high mileage, inexpensive cars.
Eschewing converting an existing building to meet their needs, Blueprint Robotics is building a 200,000 square foot state-of-the-art facility in Baltimore, complete with CNC cutters, automated machinery and robots to build modular homes. Mainly with backing from Germany, their technology exceeds what is being used here in the U. S., and they will likely take market share from domestic builders.
The CEO and co-founder of Blueprint is Jerry Smalley, a partner in Stonington Partners, a real estate developer that builds homes in the Mid-Atlantic region. The company plans to open in mid-2016.
Meanwhile, on the West Coast, Japan, Thailand, and China are preparing to take market share in the prefab housing market. Large automakers ignored the early Japanese imports and the VW Beetle when they begin infiltrating the U. S.
As usmodularinc reminds us, we may be risking market share if we do not take note of the future of home-building in the rest of the world. While tools to build on-site homes have improved, the methods have not changed in years, and may take a hit as well. ##
Editor's Note: MHProNews publisher, L. A. "Tony" Kovach has repeatedly alerted domestic factory built home producers to the potential and signals of overseas builders coming to the U.S.. The first post below represents a recent commentary on the topic, while the second link below is an example of a previous alert to MH Industry professionals. 
http://mhpronews.com/blogs/tonykovach/chinese-mods-to-u-s-europe-threat-or-opportunity-for-mh-builders/
http://mhpronews.com/blogs/tonykovach/mharr-message-associations-china-japan-russia-and-you/ 
(Photo credit: National Association of Home Builders-modular home under construction)

Article submitted by Matthew J. Silver to Daily Business News-MHProNews.