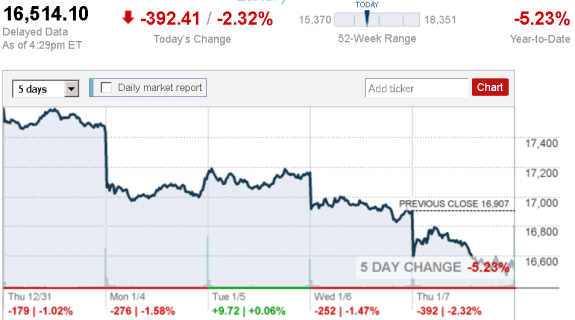 As the Dow has the worst four day start to the year on record, losing 900 points, the devaluation of the yen is mindful of what happened in August that sent U. S. stocks, as well as markets in other countries, into turmoil. Combined with the "devaluation" of oil markets around the world leads billionaire investor George Soros to predict there is trouble brewing, according to what bloomberg tells MHProNews.
"China devaluing its currency sparks concern that the global growth engine is starting to slow and that creates a dump of any high-flying stocks or anything people perceive as risk," said Yousef Abbasi, a market strategist at JonesTrading Institutional Services in New York. "When you start to worry about growth, you have crude oil down and it all ties together."
Fears that China's slowdown will hinder global growth has reduced the value of global equities by $2.5 trillion as policy makers in the world's largest user of resources try to make the proper correction. Noting that Chinese equity markets are highly volatile right now, Krishna Memani, chief investment officer at Oppenheimer Funds Inc. in New York, said, "They don't have a whole lot of experience controlling and monitoring markets and they've been going about it ham-handedly making the situation far worse than it needs to be."
Miranda Carr, Chinese Thematic Research Head, Haitong Bank, notes there needs to be more intervention on the part of the Chinese government. She says after the collapse of the stock market back in the summer, the policy makers instituted six-month measures to stabilize the market, and those are now coming out, weakening the market.
On the Big Board:
In light of this chain of events, the Dow Jones Industrial Average plunged well below the 17,000 mark, falling -2.32 percent, -392.41 points to close at 16,514.10.
The NASDAQ dropped sharply, more than the other two indices, -3.03 percent, -146.34 points, to end the day at 4,689.43.
Similarly, the S&P 500 sank -2.37 percent, -47.17 points, to finish at 1,943.09.
Meanwhile, the Yahoo Manufactured Housing Composite Value (MHCV) fell -1.08 percent to finish at $1089.7 Most tracked stocks followed the falling tendencies of the three major indices, although Skyline Corp. gained the most for the third consecutive day, moving up +1.50 percent, +0.06 points to close at $4.05. Most of the stocks we follow that lost, lost in three figures. Affiliated Manager's Group lost the most for the second consecutive day, -6.04 percent, -8.93 points, to end at $139.00.
As of 4 PM ET, CNNMoney Finance tells MHProNews:
Affiliated Managers Group, Inc. (NYSE: AMG) $139.00 -8.93 (-6.04%).
Berkshire Hathaway Inc. (NYSE:BRK.A) – parent company to Clayton Homes, 21st Mortgage, Vanderbilt Mortgage and other factory built housing industry suppliers – $195,580. -1,835. (-0.93%).
Carlyle Group (NASDAQ:CG) $14.41 -0.83 (-5.45%).
Cavco Industries, Inc. (NASDAQ:CVCO) $77.99 -2.90 (-3.46%).
Deer Valley Corporation (OTCMKTS:DVLY) $0.68 0.00 (0.00%).
Drew Industries, Inc. (NYSE:DW) $54.93 -1.04 (-1.86%).
Equity LifeStyle Properties, Inc. (NYSE:ELS) $65.58 -0.89 (-1.34%).
Killam Properties Inc. (TSE:KMP) $10.19 -0.18 (-1.74%).
Liberty Homes, Inc. (OTCMKTS:LIBHA) $0.02 0.00 (0.00%).
Louisiana-Pacific Corporation (NYSE:LPX) $16.74 -0.74 (-4.23%).
Nobility Homes Inc. (OTCMKTS:NOBH) $12.25 0.00 (0.00%)
Patrick Industries, Inc. (NASDAQ:PATK) $40.52 +0.22 (+0.54%).
Skyline Corporation (NYSE:SKY) $4.05 +0.06 (+1.50%).
Sun Communities Inc. (NYSE:SUI) $67.31 -0.78 (-1.15%).
Third Avenue Value Instl (OTCMKTS:TAVFX) $45.41 -1.20 (-2.57%).
UMH Properties, Inc. (NYSE:UMH) $9.86 -0.19 (-1.89%).
Universal Forest Properties, Inc. (NYSE:UFPI) $65.44 -1.59 (-2.38%). ##
(Graphic credit: CNNMoney)

Article submitted by Matthew J. Silver to Daily Business News-MHProNews.