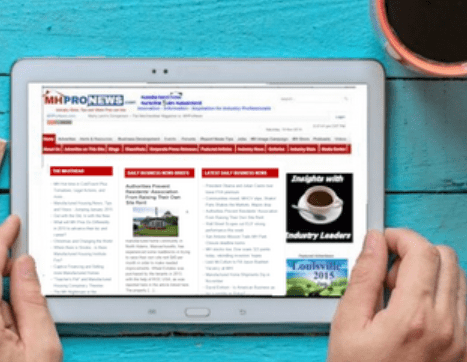 What's New in public focused Manufactured HomeLivingNews.com
College Education Made In Perpetuity – The Kalamazoo Promise; Von Washington Jr – where Affordability and Quality of Life Meet
Home/Manufactured Home Article/Lies, Advocacy Journalism and Statistics – Seattle Times/BuzzFeed Attacks, Warren Buffett's Clayton Homes Defends – charges of Racism and Discrimination – Critical Analysis
What's New in Manufactured Housing Industry Professional News
Manufactured home community opening in Arizona. New Hampshire gains another resident-owned community. MH industry in nationwide spotlight on PBS news show. SSK adds two manufactured home communities in Indiana. Insider stock trading at Cavco, while Gendell unloads more Patrick stock. November pending home sales fall. Consumer confidence on the rise. Skyline stock skyrockets, Equity LifeStyle Properties stock makes solid gains. Modular homes raise ire in Ireland. Capital One arranges MHC loan. And much much more in news and views for you to peruse as you welcome the New Year.
Saturday, Jan. 2, 2016
SSK Adds Two Manufactured Home Communities in Indiana
Friday, Jan. 1
Manufactured Home Community becomes Co-op in New Hampshire
Gendell Unloads more Patrick Stock
Stock Markets Closed Today; Peruse 2015 in MH-Related Stocks
Thursday, Dec. 31
Dow Closes Worst Year since 2008
Lenders Receive Reprieve on Minor Errors in Closings
Pending Home Sales Slip in Nov.
Insider Trading at Cavco Industries
Wednesday, Dec 30
Manufactured Housing to be Featured on PBS
Skyline Lives up to its name, Surging 31.58 Percent
Consumer Confidence on the Rise
Equity LifeStyle Properties Stock on a Roll?
Battle in Dublin over Modular Homes for the Homeless Escalates
Tuesday, Dec. 29
Pre HUD Code Home brought in Illegally
Modular Home Builders Pushing to Dispel Myths of Factory Built Homes
Deer Valley Corp. Falls 8.00 Percent; Dow Advances over One Percent
Contractor Charged with Stealing over $175,000
Monday, Dec. 28
Skyline Corp. Ends Fall; MHCV closes at 1140.1
Sun Leaves Diseased Tree, Declares Quarterly Dividend
Capital One Provides $11M+ Loan for Starlight in Southern CA
Arizona Manufactured Home Community to open Soon
Sunday Morning Recap-Manufactured Housing Industry News Dec. 20-Dec. 27, 2015 ##
(Image credit: MHProNews)

Article submitted by Matthew J. Silver to Daily Business News-MHProNews.