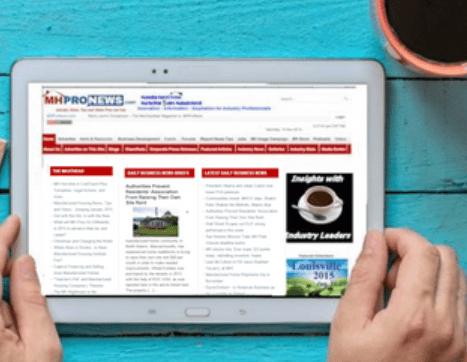 What's New in public focused Manufactured HomeLivingNews.com
Saving the American Dream for a Soldier, new Wife and Family
What's New in Manufactured Housing Industry Professional News
MHARR slams FHFA for excluding chattel loans. Ordinance prevents more MH in the community. Assessments on MH sites maddens owners. Block grants to replace manufactured homes in NY. Manufactured homes set for Sioux Tribe. Arizona county postpones ruling on MH. Pleasant Valley Homes enters RV market. More modular in Ireland, Micronesia. Gendell sells more Patrick stock. New home sales slide, TILA-RESPA blamed. And much, much more views and news for you to peruse.
Saturday, Dec. 26
Modular Housing Spreads in Ireland for the Homeless
Friday, Dec. 25
Judge Orders Owner to Remove Modular Homes
New Leadership at NeighborWorks Montana
Gendell Continues to Unload Patrick Stock
Stock Markets are Closed Today
City Ordinance Prevents Siting of more MH in Community
Thursday, Dec. 24
Stocks Relatively Quiet in an Abbreviated Trading Session
Tontine Discloses Ownership of 1.43M Shares of Patrick
New Home Sales Weaker than Expected
Modular Container Home Scores Big in Micronesia
Pleasant Valley Moves into the RV Market
Wednesday, Dec 23
MHARR Criticizes FHFA for Continuing to exclude Chattel Loans
Louisiana Pacific tops Gains, Nobility Homes Falls the Most
Special Assessments on MHC Sites draws Ire of Owners
Nobility Homes' Sales Rise 32 Percent
SnapSpace may Move Modular Container Building Operation to South Carolina
Tuesday, Dec. 22
Arizona County Postpones Ruling on Siting Older Manufactured Homes
Block Grants will Replace Manufactured Homes in Western NY
Patrick Tops MH-related Stocks; Dow Gains Nearly one Percent
Existing Home Sales Fall, TILA-RESPA Rule Blamed
Gendell Deals more Patrick Stock
Monday, Dec. 21
Seattle's Tent City Provides Structure for the Homeless
Dow Slowly Climbs back from Losses; MHCV loses -0.09 percent
Manufactured Homes Destined for Oglala Sioux Staged at Ellsworth Air Base
Chairman Emeritus Abrams Sells Drew Stock
Institutional Capital Garnered to Finance Resident-owned Communities
Sunday Morning Recap-Manufactured Housing Industry News Dec. 13-Dec. 20, 2015 ##
(Photo credit: MHProNews)

Article submitted by Matthew J. Silver to Daily Business News-MHProNews.