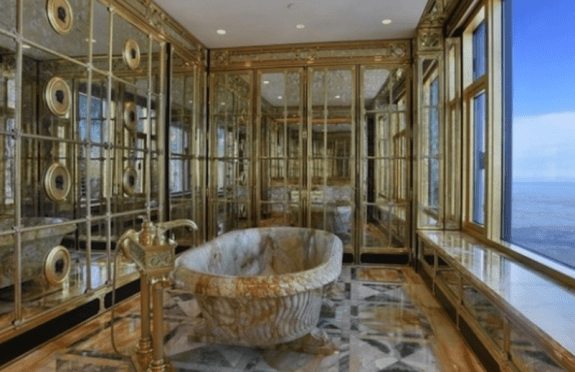 The 7,000 square foot duplex condominium penthouse once owned by Richard Klarchek, former head of Chicago-based Capital First Realty, which owned a portfolio of manufactured home communities (MHCs) around the Midwest, sold for $4.25 million last month, according to chicagobusiness. It came on the market in Feb. at $6.4 million.
He and his wife purchased the elaborate condo in 1995 for $2.65 million, but after filing for bankruptcy protection in 2010, they listed the condo on the market for $11.5 million, then losing it to foreclosure.
In Dec. 2014 PrivateBank & Trust received title to the property, which is replete with ceiling murals, gold-trimmed bookcases, ornate black and gold railing on the open staircase connecting the 63rd and 64th floors, and 20 foot ceilings. The marble master bathtub is surrounded by mirrors, gold and more marble. There is also a 2,000 bottle wine cellar and a home theatre.
MHProNews covered ongoing problems with one of his properties, Sunset Village in Glenview, Illinois, as we last posted July 15, 2013. He had been sued by Cook County and the state for failure to address water quality and other maintenance issues. dropping the community into foreclosure. He then filed personal bankruptcy, which complicated the fate and the condition of Sunset Village. At one time he controlled about 7,200 homesites.
Sunset remained in foreclosure for three years until Klarchek's bankruptcy was discharged in 2013. The new owners, Ravinia Communities LLC along with JDI Realty LLC and The Wolcott Group LLC, said at the time their goal is to improve the community. Ravinia owns 2,500 home sites in seven states. ##
(Photo credit: chicagobusiness–Richard Klarchek's one time marble bathtub in his former Chicago penthouse)

Article submitted by Matthew J. Silver to Daily Business News-MHProNews.