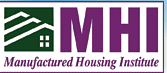 The Manufactured Housing Institute informs MHProNews the Federal Housing Finance Agency (FHFA) is seeking comments on its published notice regarding a secondary market for manufactured home loans. While the proposal does not require Fannie Mae and Freddie Mac (the government-sponsored enterprises) to purchase chattel loans, only that they "may" consider doing so, it is a far cry from 2010 when the FHFA's duty to serve (DTS) proposal did not include chattel loans.
MHI points out that while it is disappointed the proposed rule falls short of providing DTS credit for chattel loans, the agency is opening the door by one, asking for comment on whether DTS credit should be given; and two, proposing a pilot program for chattel loans.
MHI Chairman Tim Williams expressed optimism: "I am pleased that FHFA is encouraging Fannie Mae and Freddie Mac to open a wider range of opportunities for aspiring manufactured homeowners. The bottom line: done right, this could make becoming a manufactured home owner more affordable. We are pleased that our efforts have led to FHFA's invitation to submit comments on whether to give credit for chattel loans, which are a vital form of financing for manufactured homeownership."
He adds that MHI's comments will push hard for including chattel loans, and that they can be done in a way that best benefits homebuyers. MHI "will work with the FHFA to maximize opportunities for manufactured home buyers."
Moreover, MHI decries other groups that attack and vilify the FHFA, especially with unfounded allegations of breaking the law and secret meetings, saying that is counterproductive when lobbying a federal agency.
"The right way to influence federal policy is with constructive engagement, hard work and providing expertise – the approach taken by MHI." ##
(Image credit: Manufactured Housing Institute)

Article submitted by Matthew J. Silver to Daily Business News-MHProNews.