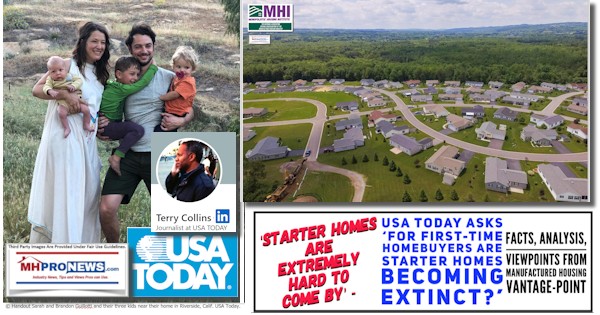 In a roughly 1250-word article, Terry Collins writing for USA Today on 5.2.2022 has arguably done the manufactured housing industry a significant favor. Yet Collin's report, entitled "For first-time homebuyers, are starter homes becoming extinct?" never used the words, "mobile home," "manufactured home," "manufactured housing," "off-site built homes," "prefabricated homes," or any other terminology that refers to factory building vs. traditional on-site conventional construction. Collins' focus is on so-called "starter homes" that are either new or existing (i.e.: resale) construction. So, in what sense has Collins provided thoughtful, objective, and analytical manufactured housing industry professionals a favor this morning? This MHProNews report, analysis, and op-ed (i.e.: expert opinions) will examine several factoids that spell both obstacles and opportunities for white hat operations and like-minded investors while continuing to shed light on just how poorly the Manufactured Housing Institute and what Marty Lavin, J.D. called their "big boy" corporate board members execution on their published claim of "representing" "all segments" of the manufactured housing industry.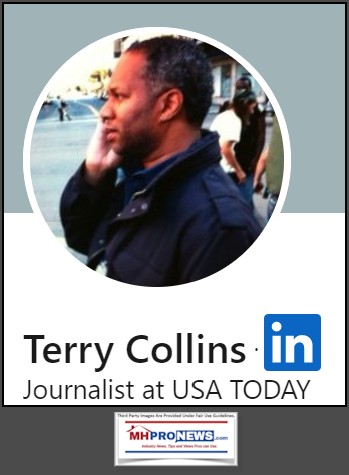 No report of under 1300 words could possibly capture the breadth of the troubles in the U.S. housing market. So, it is no 'hit' on Collins that his article for USA Today via MSN misses such perfection. That said, Collins does what many qualified writers and journalists do. He quotes several sources, provides facts, and focuses on the story of a family that obtained their first home after making 'over 20' prior attempts to buy a house. Put differently, he humanizes the affordable housing crisis while providing factoids that illustrate the problem he has described.
Readers should take 5 and read his entire article from USA Today via MSN linked here. That noted, numerous pull quotes are provided here. Following those will be additional related information and analysis are provided. Those will tee up future topics on this week that the latest manufactured housing production data will be released.
Per Collins, he opened with:
"a ribbon-cutting event at the Village Gardens in Seattle" to "celebrate the completion of 16 new modern-looking starter townhomes."
Collins continued as follows.
"We got super frustrated by those who didn't believe us, that there is a lack of homes for middle-median income folks," said Kathleen Hosfeld, executive director of Homestead Community Land Trust, the organization that worked with the city to build the affordable housing. "This is not just a Seattle problem, this is happening nationwide."
Seattle's effort comes at a time when the U.S. is having a major affordable housing crisis, especially for those first-time homebuyers looking to purchase a home ranging from 1,800 to 2,400-square-feet, the typical size of a starter home, according to experts.
It begs the question: Are starter- or entry-level homes on the verge of extinction?
"They're not extinct, but they are endangered," said Robert Dietz, chief economist for the National Association of Home Builders. "It's much harder to find and build homes in smaller quantities in today's market given the demand, space challenges, and potential regulatory burdens. The submarket that's been least supplied has been the entry-level home."
Collins then provides a range of factoids, citing sources.
Homes ranging in price from $100,000 to $250,000, the typical cost for an entry-level home, have seen nearly a 28% decrease in inventory from a year ago, says the National Association of Realtors.
And smaller homes are also in short supply. In 1999, 37% of newly-built single-family homes were smaller than 1,800 square feet. By 2020, that share had fallen to 25%, Dietz said.
It should be noted that per MHI, in 2019 the typical manufactured home sold was about 1,448 square feet, and they cite U.S. Census Bureau data. One of the reader comments made on Collins' article is that the size of 1800 square feet and up were not 'starter homes.' Others had similar observations. To the manufactured home seller, this is an obvious area of opportunity. Because it isn't just starter homes that are in short supply. It is more affordable housing for downsizers who are retiring, empty nesters, etc. and no longer need or want as much floorspace. At the end of the last century, AARP observed that about half of all manufactured homeowners were over 50. One blogger still likes to cite the old, and crude- to ugly-canard that manufactured homes are bought by the newly wed and nearly dead. At best, that's hyperbole. But without a doubt, two of the larger market segments for manufactured homes are the younger set looking for a first home and those positioning for or in retirement.
Back to facts cited by Collins.
In comparison, in 1999, 66% of newly-built single-family homes were smaller than 2,400 square feet while in 2020, that share had fallen to 57%.
While likely an editor's link to a different topic to increase clicks, is this: "TRYING NOT TO BE LEFT OUT: Will the middle class survive a nationwide housing shortage?" MHProNews has previously pointed out that the evidence does suggest that the middle class is again shrinking. That teaser in Collin's article is arguably one of the tell-tale signs of monopolization and the rise of a new gilded age and "robber baron" class.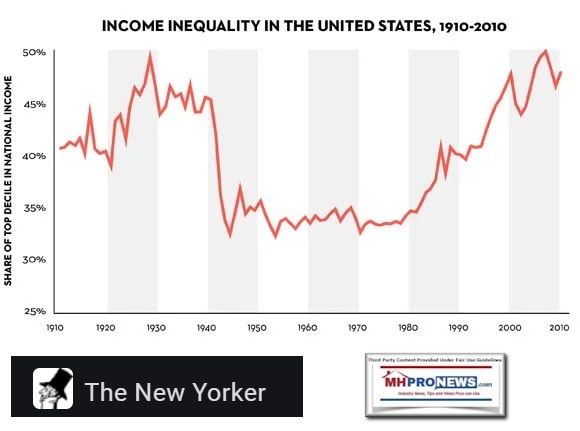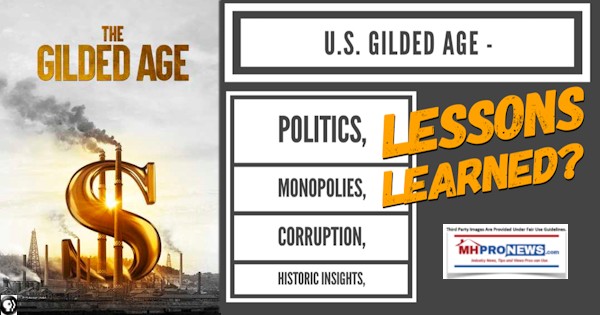 Rose Quit, National Association of Home Builders (NAHB)
Collins notes that the numbers of prospects shopping for housing has dropped.
The big demand and a small supply of homes are also leading to fewer prospective buyers, said Rose Quint, the National Association of Home Builders' assistant vice president for survey research. At its pandemic peak last spring, 61% of prospective buyers were "actively trying" to find a home to buy, Quint said.
"Now, the share is back to pre-pandemic levels, at 46%," Quint said in a recent post.  "This is clear evidence that higher mortgage rates and double-digit growth in home prices are discouraging a growing share of buyers from engaging in the purchase process."
As bad as that is for millions, it is also an opportunity in disguise for manufactured home sellers. But only if MHI leaders like CEO Lesli Gooch, Ph.D., go beyond occasionally mouthing the words "enhanced preemption" and moving to actually suing local jurisdictions and/or HUD to get the law they claim they want enforced to actually be enforced. There are only so many times that a woman can tease while failing to deliver before it becomes irksome, tiresome, or leads to serious trouble.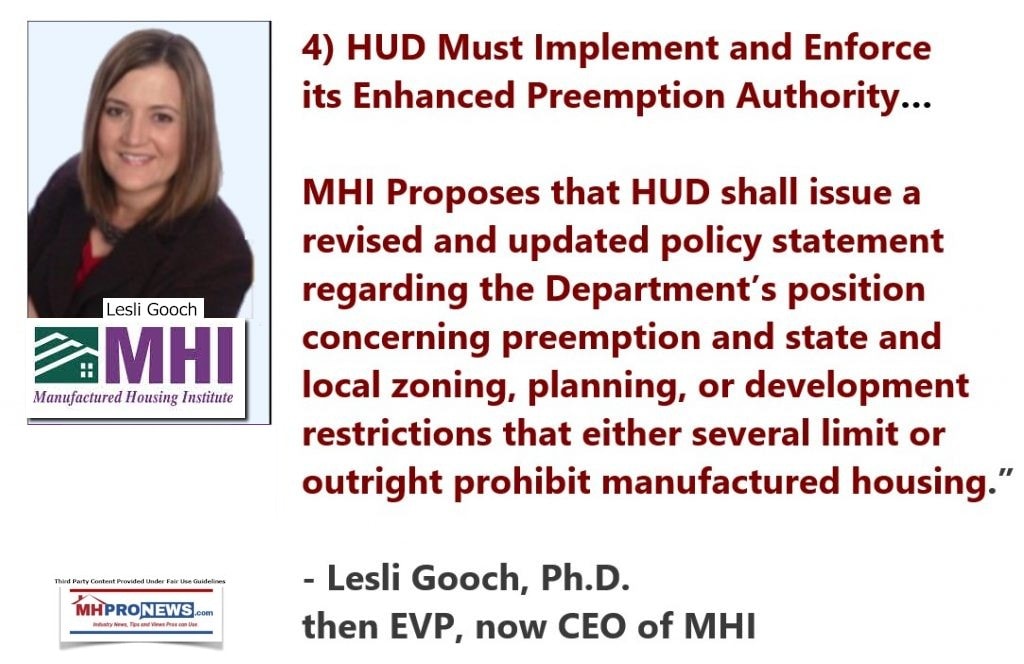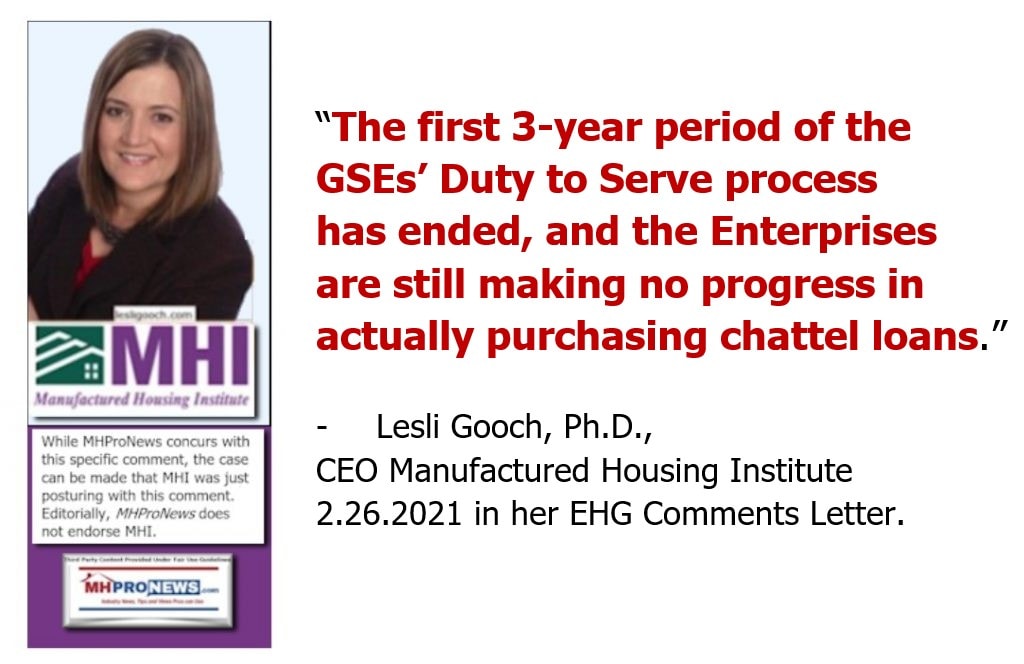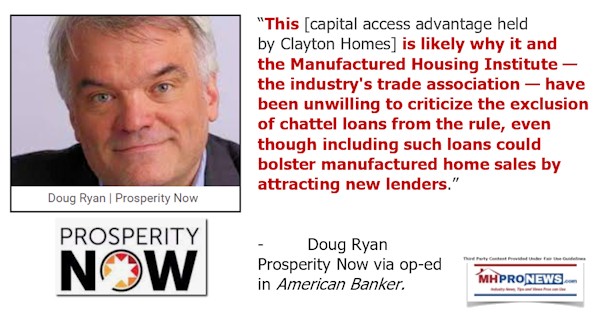 Citing NAHB's Quint again, Collins wrote:
The share of active buyers in the Northeast region fell from 72% to 50%, in the Midwest, from 51% to 40%, in the South, from 58% to 48%, and in the West, from 72% to 46% during the last year.
Home prices increased nearly 20% in major cities across the country in February, according to the latest S&P CoreLogic Case-Shiller national home price indexand National Association of Home Builders research found  the cost of building materials has increased 33% since the start of the pandemic.
Quint and Collins note that the 30 year mortgage hovering at 5 percent is the highest in a decade, and that inflation is at the highest rate in 4- years. That "combination that is also discouraging buyers."
"Affordability is going to be an issue in this country for the foreseeable future," Quint said.
Collins quotes Quint saying:
Many are now spending three months or longer trying to buy a home before giving up, Quint said. About 48% said their inability to find an affordable home was the number one reason they quit looking.
The next highest reason was the inability to find a desirable neighborhood (34%,), followed by the inability to find a home with desirable features (31%),
and being outbid by other buyers (29%).
Collins Pitch for Flyhomes
The last third of Collin's article might be used by Flyhomes as part of their pitch. He tells the story of "Sarah and Brandon Guillotti and their three kids making "an all-cash offer from startup Flyhomes to get into their starter home last year."
"About 70% of Flyhomes customers are first-time homebuyers, CEO and co-founder Tushar Garg said." "We hear people say constantly that they can't win in this current market," Garg said. "Our goal is to try to help solve that problem." Once more, for those 'white hat' manufactured housing professionals that either individually and/or through a collective effort made the necessary muscular legal effort to get "enhanced preemption for HUD Code manufactured homes enforced at the local level, that's an opportunity in disguise. It is in 'disguise' because, as the quip goes, "it comes dressed in overalls" – i.e.: it requires serious work or effort.
The closing quote comes after several lines on Guillotti's adventures in housing and Flyhomes are laid out by Collins. Sarah Guillotti reportedly said: "But if we have to move into something bigger, maybe we'll rent it out [the house they bought via Flyhomes and then updated] to a family who is in a similar situation as we were. Starter homes are extremely hard to come by."
Additional Information, More MHProNews Analysis and Commentary in Brief
Posted among the comments on Collins' article was the following: "Collins did a good job for an article under 1300 words, but he never mentions manufactured homes, modular housing, or factory building options. As a result of the Manufactured Housing Improvement Act of 2000 (MHIA) and its "enhanced preemption" provision, Congress gave HUD the to "preempt" local zoning which keeps infill or other possible uses for manufactured homes in urban settings from occurring. The Manufactured Housing Association for Regulatory Reform (MHARR) recently published their White House "Listening Session" comments on manufactured housing which included a 2003 letter from House Democrats urging HUD to use this authority so more Americans could qualify for affordable homes." That was a comment by this writer, L.A. "Tony" Kovach.
It is a reference to this from MHARR.
MHARR Provides White House Manufactured Housing Task Force With Roadmap to Eliminate Zoning Discrimination and Costly Regulation
In fairness, MHI participated in the White House listening session statements too. But as the check this morning reveals, once more, MHI failed to do what MHARR has done for years and what MHI used to do in years gone by. Namely, provide MHProNews – or others – with their actual statements and releases.
MHProNews has for some years reached out to MHI connected professionals to obtain their statements in part in order to fact check them. MHProNews has also used MHI's own website as evidence of just how odd their behavior is. For example. MHARR has published their outreach statements provided to the Biden White House listening session statements. Why hasn't MHI done the same? Here is the evidence.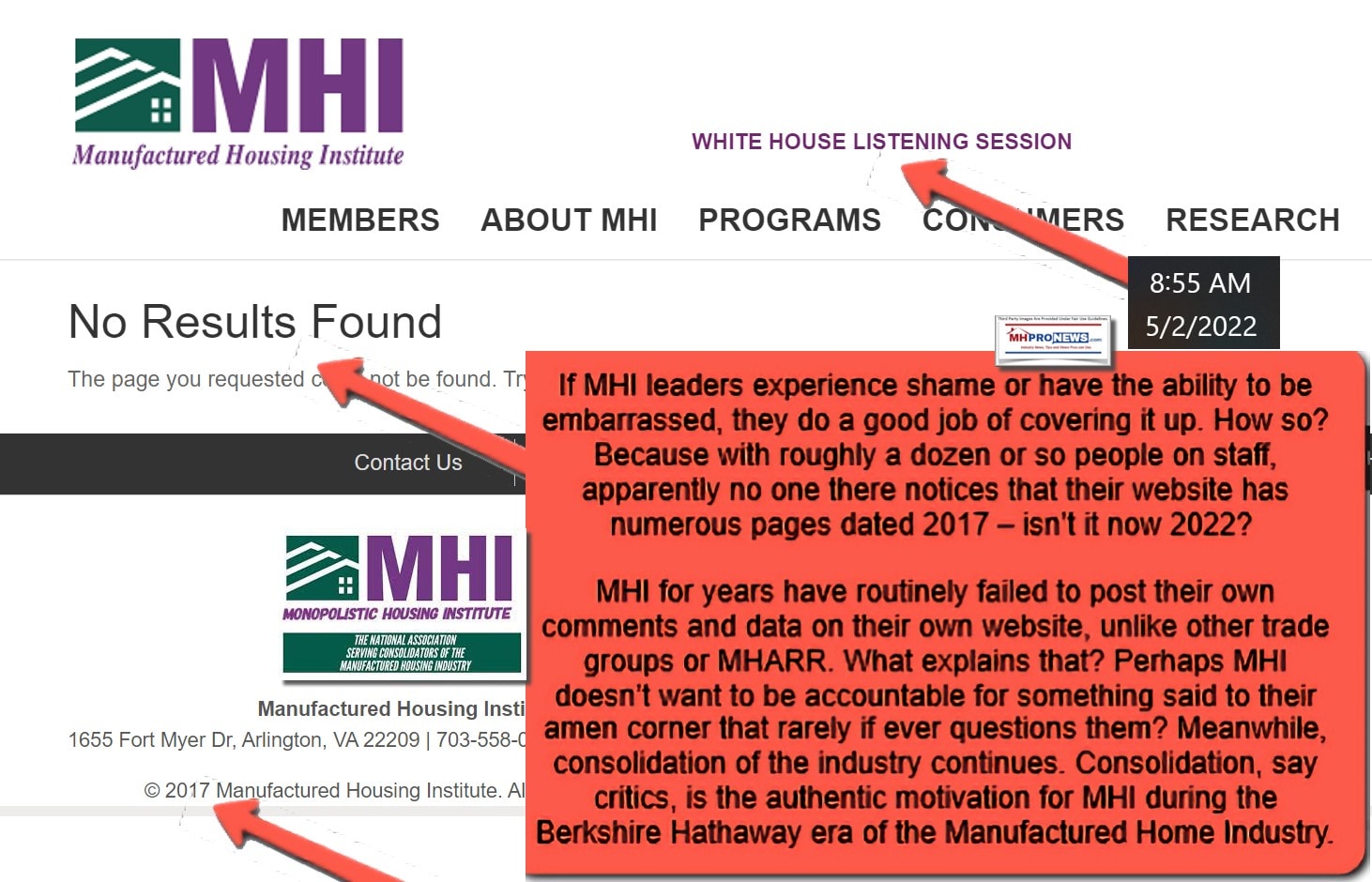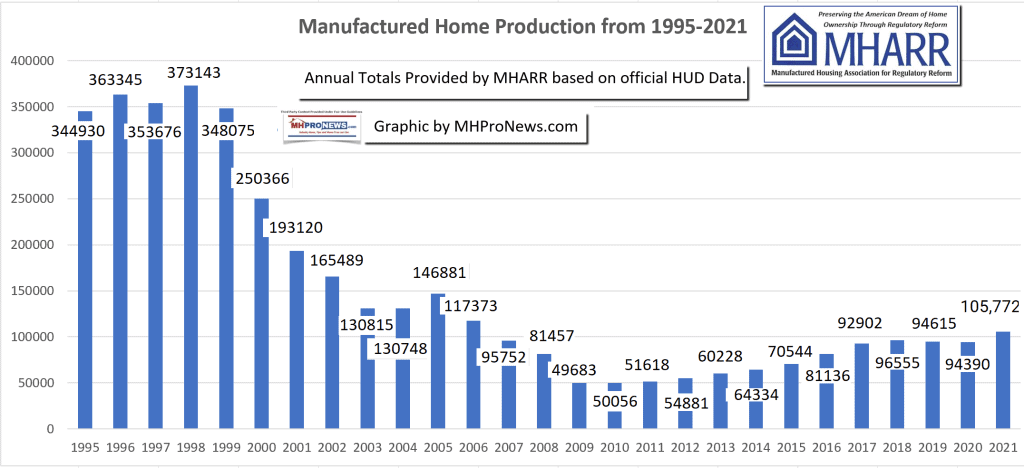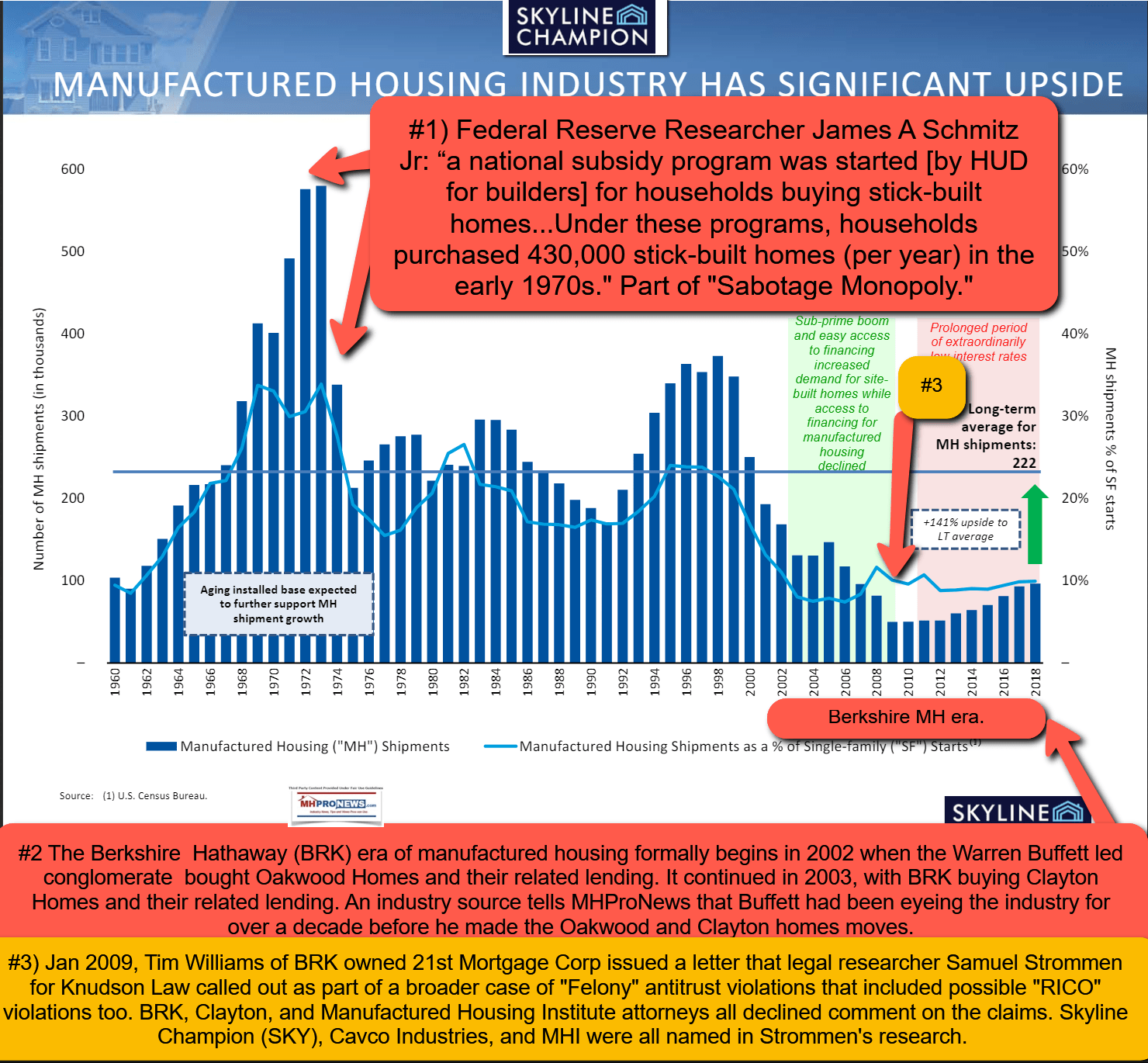 Why MHI 'hides' their own comments might seem like a mystery. After all, they have their own website that they could post all of their own comments on, much like MHARR does. Other trade groups, as MHProNews has noted in recent years, routinely publish on their website information. Some might take the extra step of making a media release on a given topic. Either way, the NAHB, NAR or other trade groups routinely want to be quoted. They want to generate interest in the product/services of their members. So, why did MHI stop providing MHProNews with such information in March 2015, when MHProNews had not yet ripped the trade group for their arguably misleading messaging to their own members? Scan the routine headlines that were provided for years by MHI to MHProNews at this link here.
The most cogent known explanation advanced for MHI's seemingly odd behavior is that MHI postures and preens, often using words similar to what MHARR does. But MHI want to avoid accountability for actually doing the steps that their words should logically lead them. For more evidence of how the game is played in MHVille by MHI and their echo chamber, see the Sunday special report linked below.
Can Manufactured Housing Institute, Key MHI Firms Duck Accountability to Members, Shareholders, Stakeholders with Head-Fakes, Unkept Promises? Surprising Insights; plus, Sunday Weekly MH Headlines Review
Additional Quotable Quotes and Summing Up
Collins has done the manufactured housing industry, what we sometimes refer to as MHVille, several favors. MHI ought to be filling those gaps in starter homes and affordable housing. MHARR is a producer's trade group, not a post-production trade group. MHI claims to be both, representing "all segments" of production and post-production. It is MHI that ought to be lawfully and educationally pressing the message of why manufactured housing ought to be allowed to be placed in urban or suburban areas that aren't hobbled by discriminatory deed restrictions.
It is William "Bill" Boor, Cavco Industries (CVCO) chief executive, who said that the industry has an opportunity to 'catch up' with conventional building. Quite so, Bill. Then why is your firm doing so little in the way of opening up new production centers?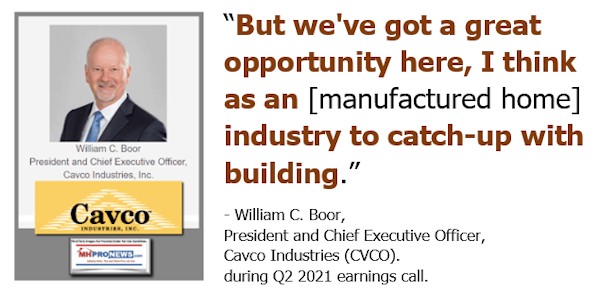 While MHI's 'big three' are doing some expansion of new production capacity, they've said for years that mergers and acquisitions – i.e.: consolidation – is their focus.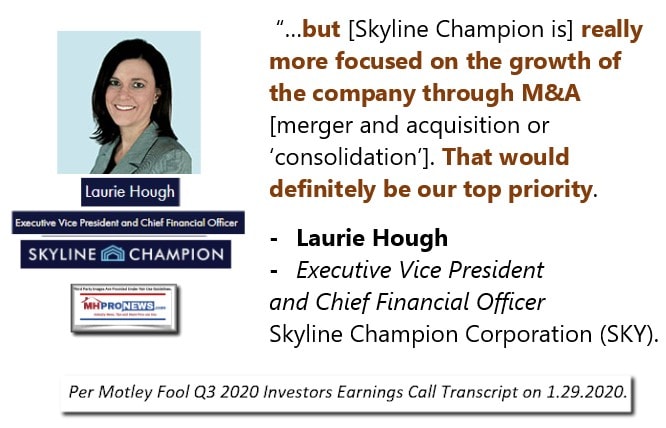 Something similar has occurred in the community sector. Consolidation of a 'fragmented' industry is the theme. As but one of several examples is from MHI's former chairman, Nathan Smith and Flagship Communities.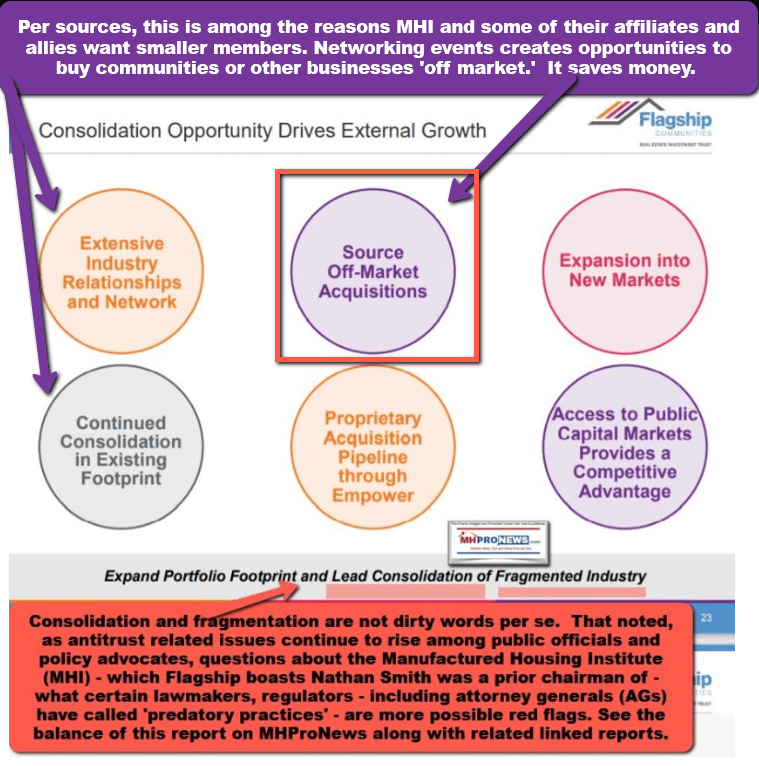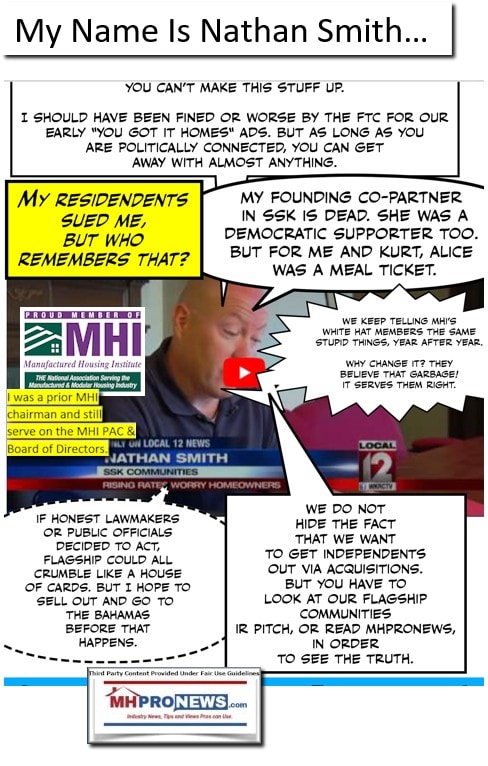 The bottom line is difficult to deny when the FACTS are carefully examined. It is too difficult to attribute MHI's decade plus of posturing and paltering to mere garden variety ineptitude. No one with a Ph.D. could possibly be so inept as Gooch-led MHI is, could they? After all, they have said in writing that they have attorneys following what we publish. They've been given repeated opportunities to respond to evidence-based concerns raised on MHLivingNews.com and this platform.
'Announcing!' 'Manufactured Community Owners' Association of America' 'Finally Bringing Fight To Manufactured Home Community Sector of the Industry' – plus Sunday Weekly Manufactured Housing Headlines Review  
Equity Lifestyle Properties (ELS) Legal Defense of Suit by ELS Residents Brought by FeganScott Class Action Focused Attorneys – Case No 2:21-CV-14492-DMM Facts and Analysis
It is the steady drip, drip, drip of evidence from the mouths of MHI, their own corporate leaders, their own affiliates and members (past and present) – plus the analysis by outsiders looking in – that seals the prima facia case against them being anything like an authentic trade group. A case could be made that they were far more normal in the late 1990s and early 2000s, prior to the dawn of the Berkshire era in manufactured housing.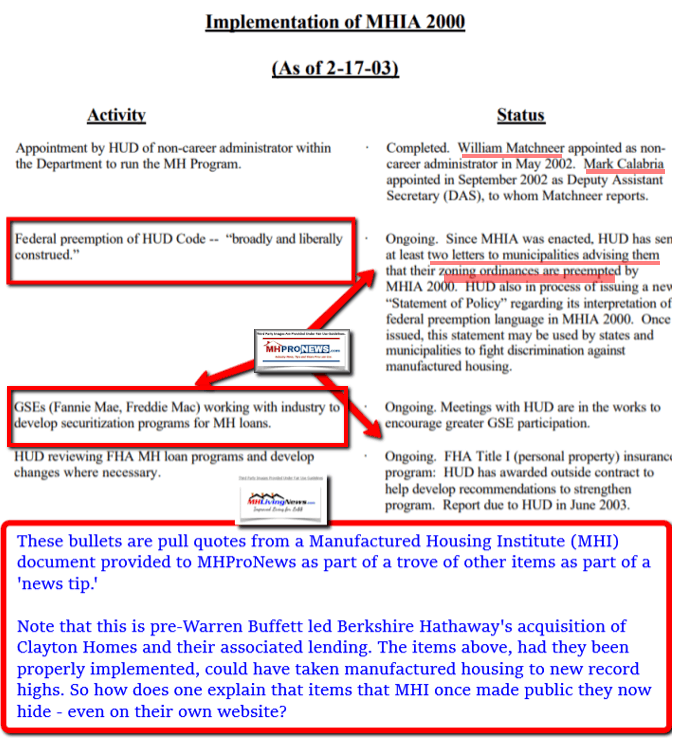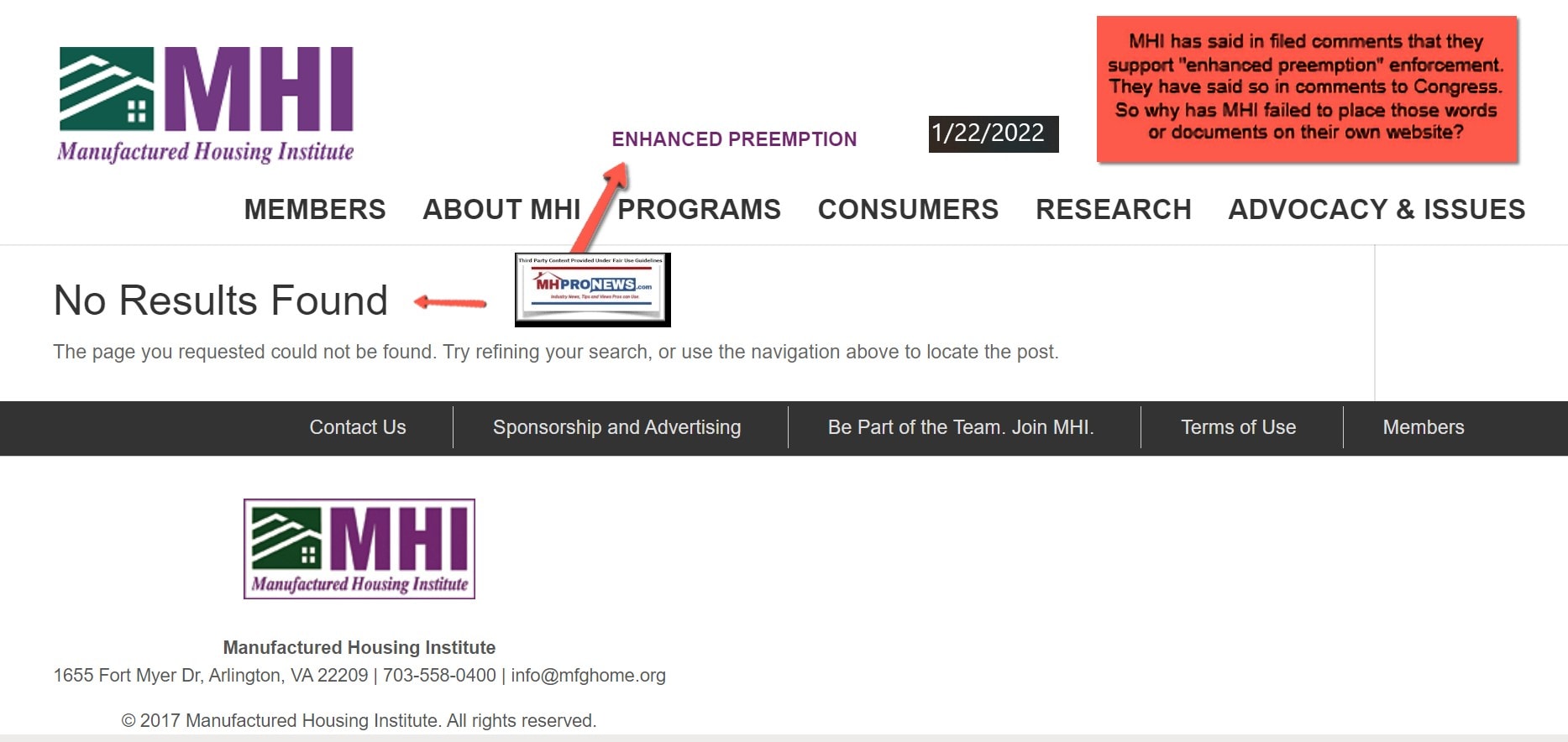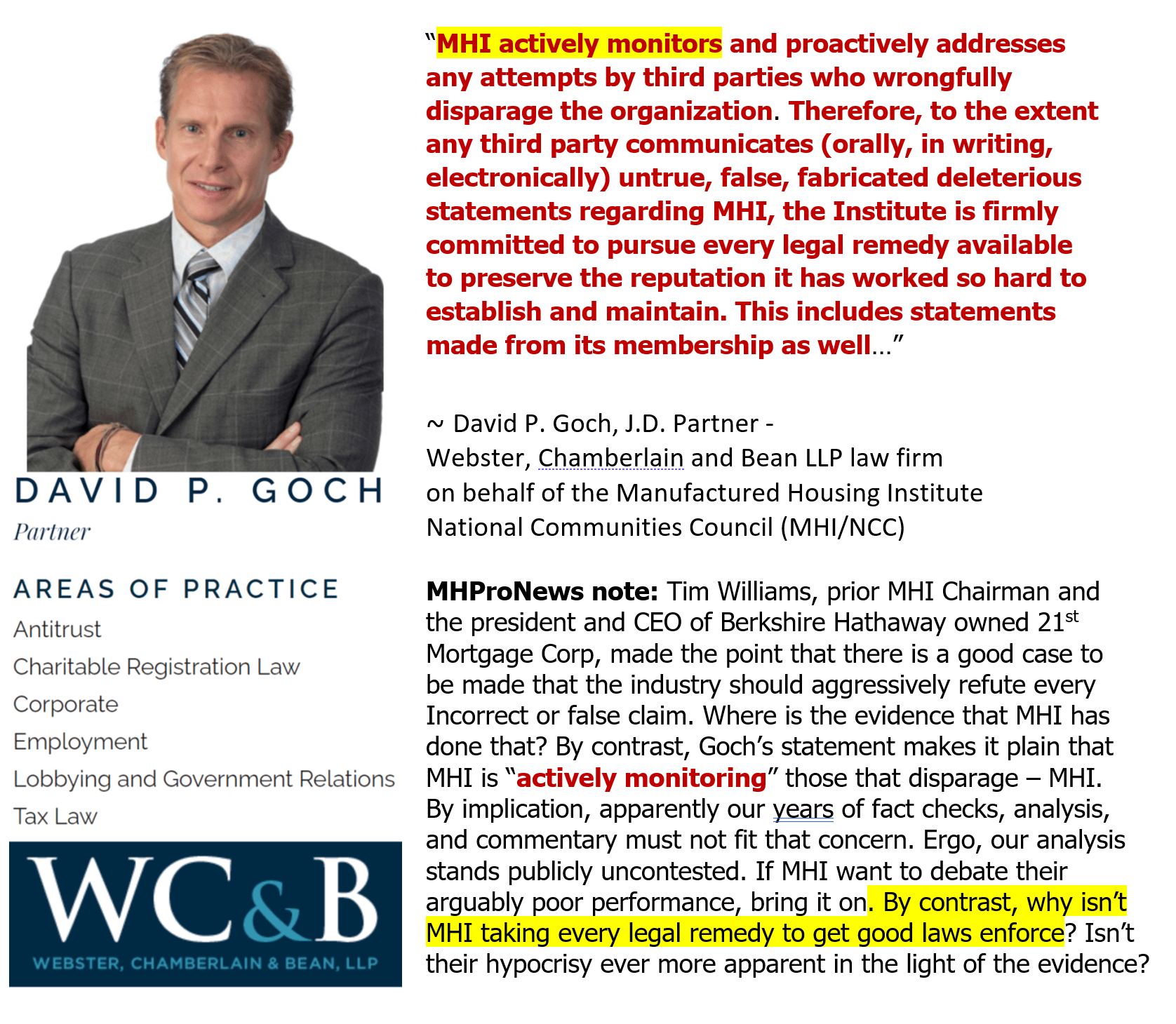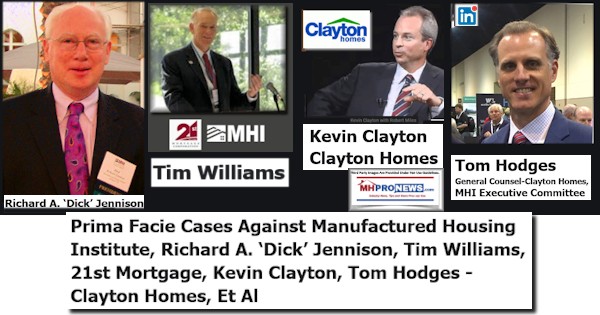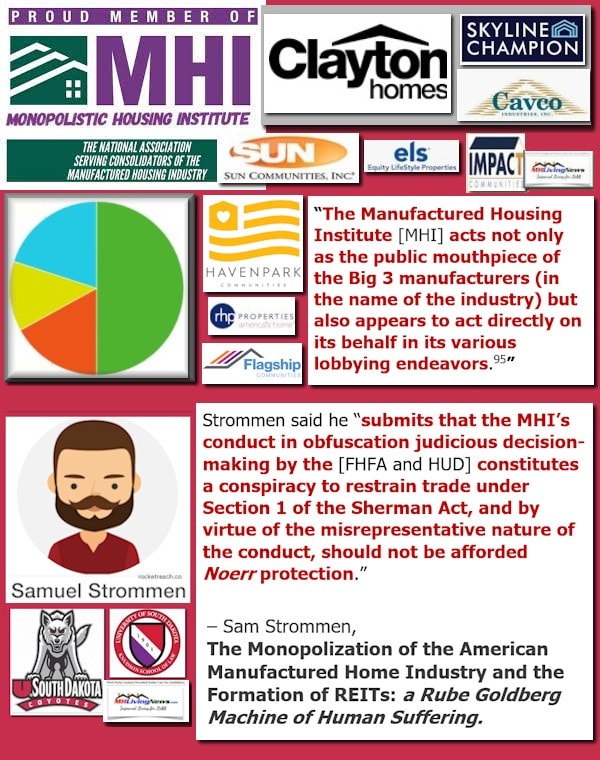 MHI pats themselves on the back for having 'nearly 1500' attend their annual meeting, that they email out to thousands. MHI does so as if attendance at their event was somehow as important as getting the laws enforced. But this is what a MHEC member called "association malpractice" and the old "razzle dazzle." MHARR's Danny Ghorbani was more blunt.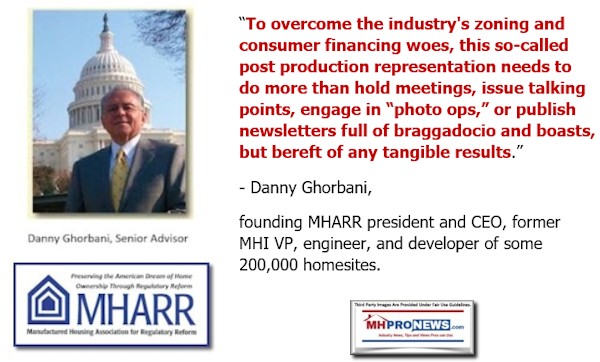 There are only so many times that someone call pull a Lucy on Charlie Brown before the normal person picks up on it.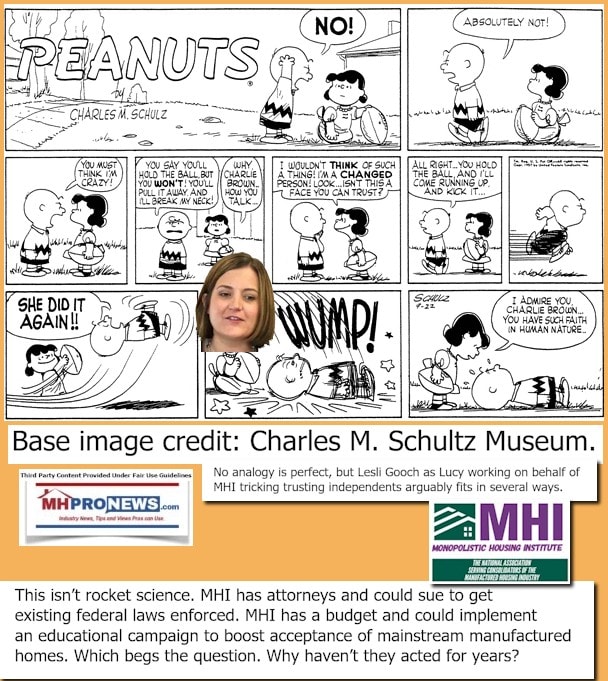 The gift of MHARR to MHVille is that they have offered to do what MHI should do, namely, sue to get existing laws enforced. So who involved at MHI kept their state association affiliates from accepting that gracious offer?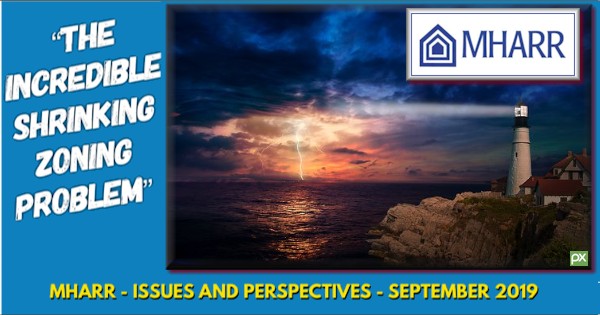 Someone has to be (with no disrespect to genuinely handicapped individuals) proverbially deaf, dumb and blind not to see that some 21+ years since the enactment of the Manufactured Housing Improvement Act (MHIA) that MHI is foot dragging. Ditto on getting additional competitive financing for the industry.
True Colors? Stunning Duty to Serve Manufactured Home Lending Decisions Highlighted by Manufactured Housing Association for Regulatory Reform; Manufactured Housing Institute 'News' Miss; MHMarkets
The bottom line? Collins has shown the opportunity, albeit obliquely, for white hat manufactured housing professionals who would be willing to put on big boy pants and do whatever is lawful and necessary to get existing laws enforced. It is obvious MHARR is willing to do their part. They have asked for years to team up with white hat pros who are in MHI but who are arguably allowing their dues to go to waste.
A series of special reports are planned. Stay tuned. ##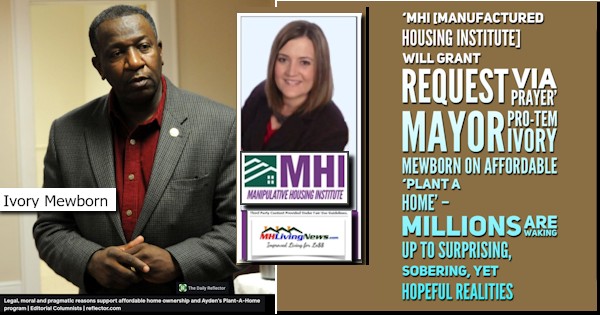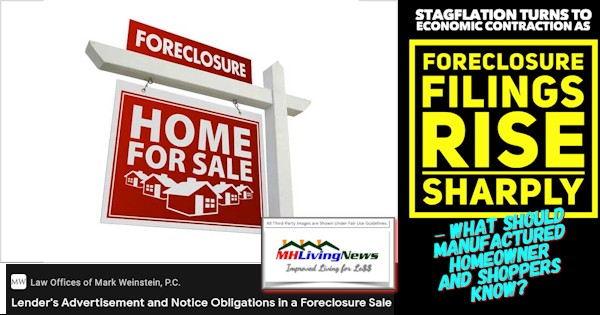 Sandy Garrett, J.D., Chief Disciplinary Counsel TBPR.org Supreme Court of Tennessee-Tom Hodges, J.D.; How Manufactured Housing Could Achieve Higher Sales, Profits; Sunday Weekly Headlines Recap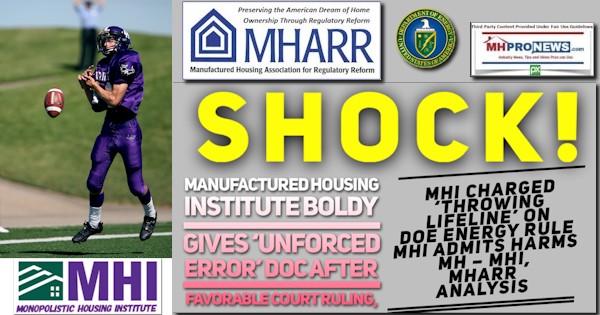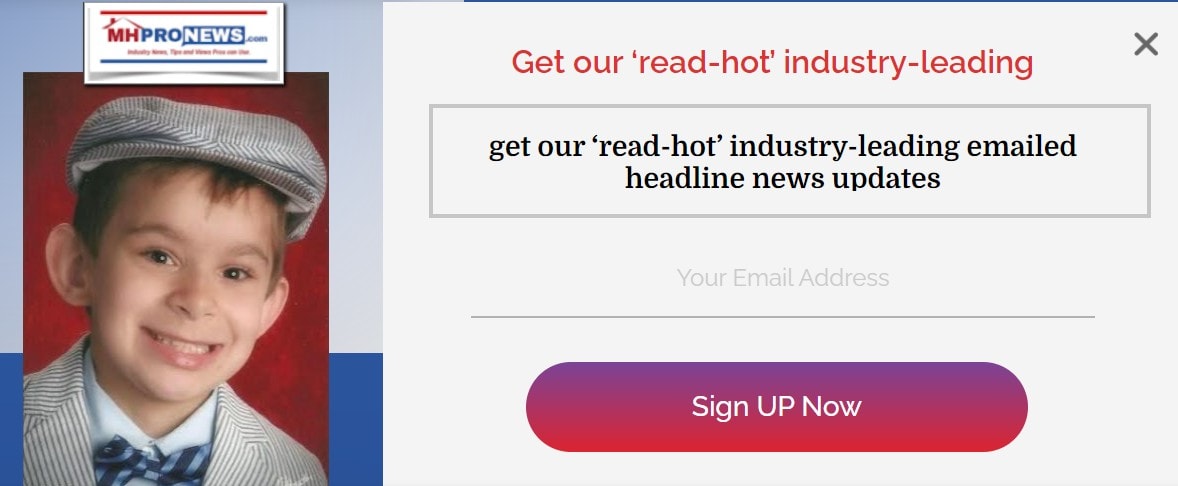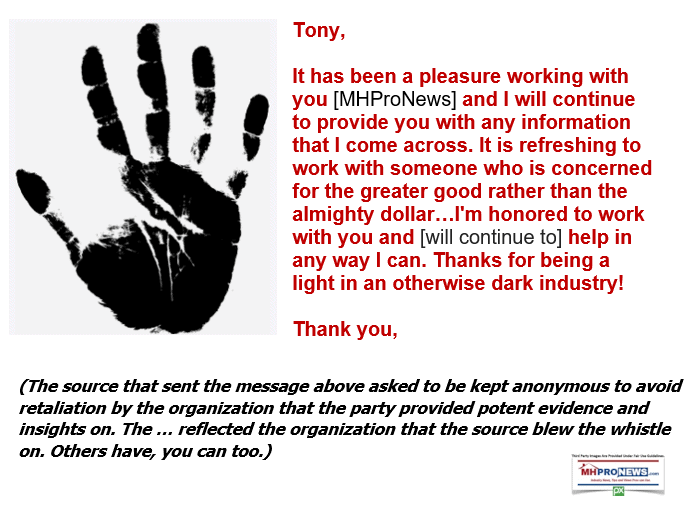 Again, our thanks to you, our sources, and sponsors and God for making and keeping us the runaway number one source for authentic "News through the lens of manufactured homes and factory-built housing" © where "We Provide, You Decide." © ## (Affordable housing, manufactured homes, reports, fact-checks, analysis, and commentary. Third-party images or content are provided under fair use guidelines for media.) (See Related Reports, further below. Text/image boxes often are hot-linked to other reports that can be access by clicking on them.)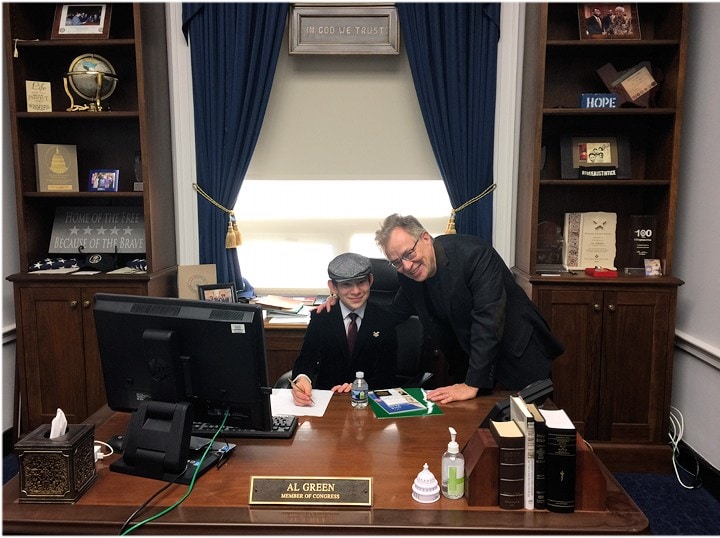 By L.A. "Tony" Kovach – for MHProNews.com.
Tony earned a journalism scholarship and earned numerous awards in history and in manufactured housing.
For example, he earned the prestigious Lottinville Award in history from the University of Oklahoma, where he studied history and business management. He's a managing member and co-founder of LifeStyle Factory Homes, LLC, the parent company to MHProNews, and MHLivingNews.com.
This article reflects the LLC's and/or the writer's position, and may or may not reflect the views of sponsors or supporters.
Connect on LinkedIn: http://www.linkedin.com/in/latonykovach
Related References:
The text/image boxes below are linked to other reports, which can be accessed by clicking on them.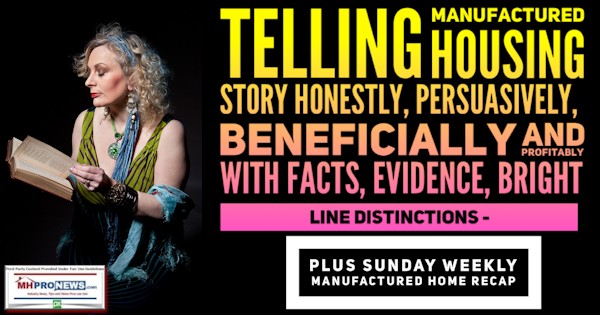 Biden White House Manufactured Housing Task Force Hit by MHARR-Fails Minorities, Lower Income Home Seekers – Democratic Letter on Manufactured Housing 'Enhanced Preemption;' plus MHVille Markets
The Calm Before the Next Manufactured Housing Industry Storm? New Facts and Viewpoints; plus Sunday Weekly MHVille Headlines Review 
As White House, DOE, Manufactured Housing Institute (MHI) Push for What MHARR Says is Costly, Unnecessary MH Energy Standards, CBS Poll Results Should Be Considered; plus MHVille Markets Update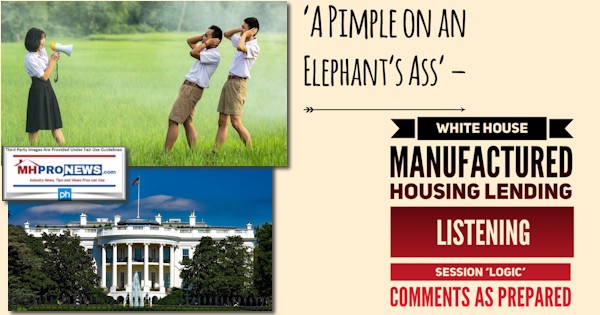 MarketWatch, Economist Ian Shepherdson Says Home Sales Heading for 25 Percent Drop in Near Term; Joe Biden said- 'Our Economic Strategy Has Worked' 'I think it's still working' – Facts & Analysis
SEC on ESG-Risk Looms; 37 Percent of Democrats, 62 Percent of Independents say America on 'Wrong Track,' Discontent with Biden, Democrat Controlled Congress Ahead of Midterms; plus MHVille Markets
Burying Lead? Manufactured Home Community (MHC) Research Reveals MHC Owners Losing Money While Roaring Biden-Era Inflation, Predatory Operators Pressure Residents; plus MHVille Markets