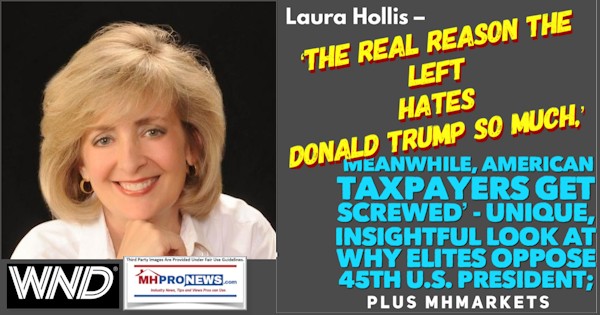 Columnist Laura Hollis opened one of her op-ed's on WND with this interesting notion: "Donald Trump's strength as a president was not that he was better at running the country. It was that he believed in taking a hands-off approach and letting Americans run our own country with far less interference from elected officials or unelected bureaucrats." MHProNews has disclosed our agreement with the WND NewsCenter to reproduce articles at our own discretion. We could publish zero articles by WND or 100 in a month. They don't publish the most mainstream and other news, or the most opinion or cartoons. But what they do provide is routinely thoughtful and informative, those are the articles that we opt to provide to our readers.
From the WND NewsCenter is this column by Hollis. Note she takes a swipe at both major parties several times.
Commentary
Americans vs. The State
The real reason the left hates Donald Trump so much
Laura Hollis: 'To justify their existence, those profiting from the government racket need chaos'
By Laura Hollis
Donald Trump's strength as a president was not that he was better at running the country. It was that he believed in taking a hands-off approach and letting Americans run our own country with far less interference from elected officials or unelected bureaucrats. The economy boomed under Trump not because of the government but because of the inspiration and hard work of millions of Americans.
That's the way America is supposed to be. That's how it was designed to be.
And that is precisely what most Democrats – and a lot of Republicans – don't want Americans to do. Or insist upon doing. Or even remember how to do.
The level of panic and hysteria from the left during Trump's first term was inexplicable. It bordered on insanity and was utterly unhinged from reality. Trump was a fascist! He was going to destroy the country! He was going to start some crazy war!
Now it's clear why they were hysterical. Trump's election peeled away the facade and revealed the incompetence and outright destructiveness of our government: Democrats, certainly; Republicans, often; and the massive bureaucracy in the D.C. swamp, almost always, regardless of nominal party affiliation.
Contrast Trump's four years with the staggering pace of disintegration under President Joe Biden in just over one year. Literally millions of migrants are crossing our borders illegally, unvaccinated and unvetted, and he is busing and flying them all across the country under cover of night. His energy policies have crippled America's energy independence, sending oil prices, and therefore, all prices, skyrocketing. Inflation is roaring at levels not seen for 40 years. He pushes for the continuation of pandemic policies that have crushed small businesses. His Justice Department is calling irate parents at school board meetings and anyone questioning the government's COVID-19 propaganda "domestic terrorists."
In truth, we shouldn't be surprised that the nation goes to hell in a handbasket when it's being run by Democrats. Just look at the states and cities run by Democrats. Their taxes are high. Their crime rates are soaring, as they defund police and release criminals back into the population. Their streets are filled with the shantytowns of homeless people, drug addicts and the mentally ill. They defend porn and promote promiscuity and gender confusion in public schools. Meanwhile, the test scores of American students continue to decline relative to the rest of the developed world. Entire swaths of the cities they govern decay, while the wealthy live in gated communities.
Democrats have been doing this for decades. They argue for the implementation of policies to solve a particular problem. Their policies make the problem worse. Then they demand more of the same policies, more agencies to implement those policies, more money to fund those agencies, more taxes to provide the money.
Republicans are little better. Instead of repealing bad laws or eliminating runaway bureaucracies, Republicans posture, demanding "oversight" and "accountability." This translates at best to congressional hearings where culpable people can lie with impunity and without consequences – and that's if they show up at all. At worse, it results in new agencies devoted to "oversight" and "accountability." GOP candidates campaign promising to rein in out-of-control spending but don't do it once elected. Democrats and Republicans both know how this game works. Democrats want a 50% increase in spending on some boondoggle, so they'll ask for a 75% increase. Republicans then insist upon and get a 15% reduction in the spending demand. So, Democrats get a 60% increase, and both sides crow about their victories.
Meanwhile, the American taxpayers get screwed.
Those in Congress routinely vote to exempt themselves from laws they pass that bind the rest of Americans. They raise their own salaries. They and their family members buy and sell stock in companies that will be affected by laws they pass. This is just another form of insider trading – something that would send the rest of us to prison. They refuse, unsurprisingly, to pass term limits.
And now, another pointless war looms that has nothing to do with the United States. If Europe does not want Russia re-annexing Ukraine, Europe can fight Vladimir Putin off. Putin is marching into Ukraine because he knows Europe is toothless, and Biden has, charitably speaking, diminished mental capacity. Where are the Republicans? Predictably, Senate Minority Leader Mitch McConnell declares, "We must arm Ukraine!"
So, which major defense contractors have been cozying up to McConnell? And who was going to get us into another crazy war? Trump was the first president in years who did not launch a war of any sort.
Government in America has become a lucrative racket. That is made worse because government has become pervasive and omnipresent. To justify their existence, those profiting from the government racket need chaos; they need crime; they need violence; they need poverty; they need addiction; they need conflict; they need war. The difference between Democrats and Republicans has become one only of degree.
Until Trump, most Americans assumed that this was the only way it could be. But the four years of peace and prosperity under Trump revealed that the racketeers and bureaucrats need us, but we don't need them.
That – not his ego, or his mean tweets, or his phone call to the president of Ukraine, or his insistence that the 2020 election was stolen (it was) – was Trump's truly unforgivable sin.
Living in the United States at the moment feels like the 1998 Pixar film "A Bug's Life." In the primary plot, a handful of grasshoppers bully and terrorize an ant colony into harvesting and providing food for them, year after year after year. When one ant, Flik, stands up for the ants, a couple of the grasshoppers want to shrug it off. "He's just a puny ant," they scoff.
The head bully, Hopper, won't stand for it. "You let one ant stand up to us," Hopper warns, "then they might all stand up. Those puny little ants outnumber us a hundred to one. And if they ever figure that out, there goes our way of life."
We've figured it out. Ants of the world, unite. ##
Additional Information, MHProNews Analysis and Commentary in Brief
It is a given that if two thinkers decide to write on the same topic, no two would express themselves the same way. In some WND articles, in our editorial view, this or that might be toned downed, emphasized or cross-linked differently. That said, Hollis column hits several nails right on the head. An update since Hollis penned this is that leaked document from the U.S. Supreme Court, a draft attributed to Justice Samuel Anthony Alito Jr. that would overturn Roe v. Wade and the related Casey decisions. Trump will be blamed by those who support abortion, normally among those on the left, but will be cheered by pro-life and generally conservative voices on the right for that if the leak happens to be the final ruling. That rare leak from the Supreme Court – which might be traced to one of only 45 people who had accessed to the document – is the top headline for many this morning.
Back to Hollis. Some of her quotable quotes above are echoes of the following.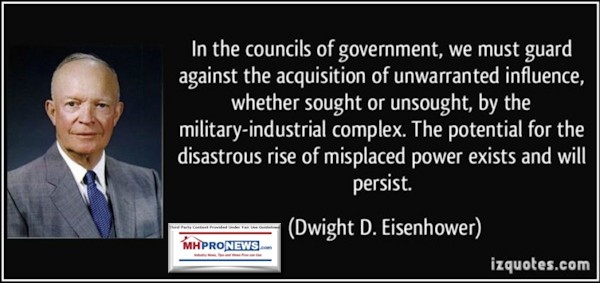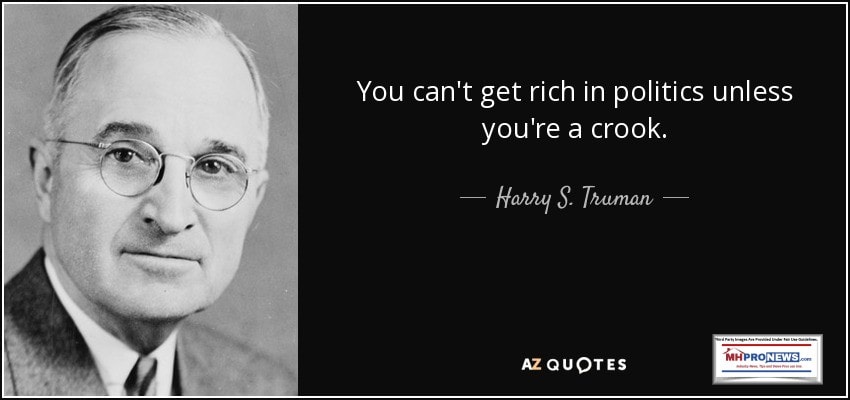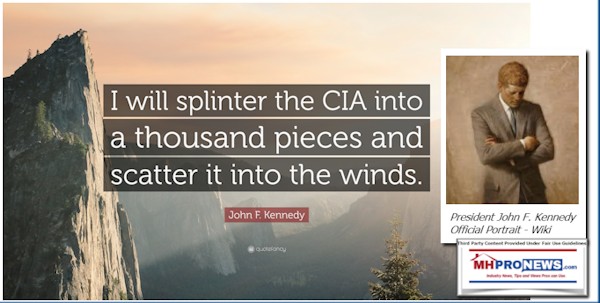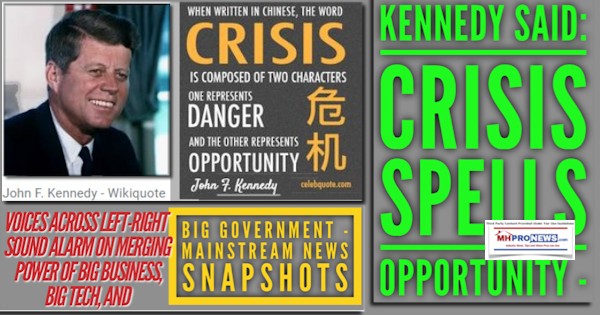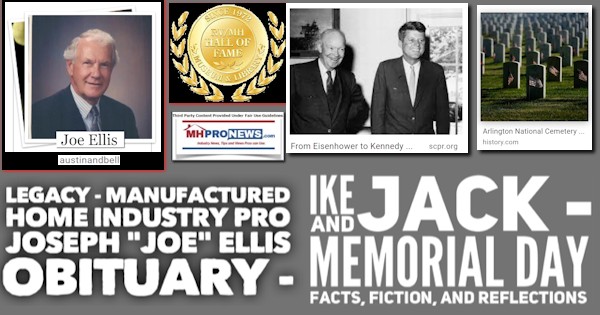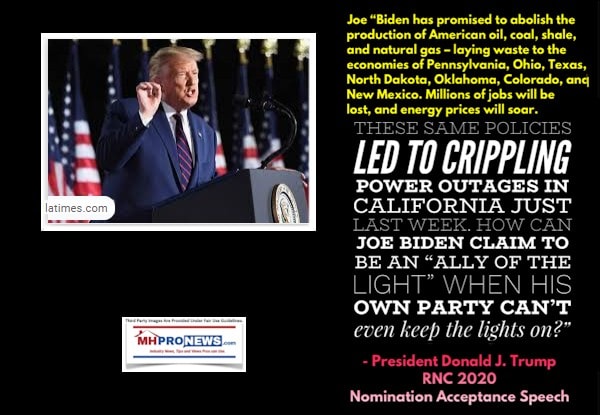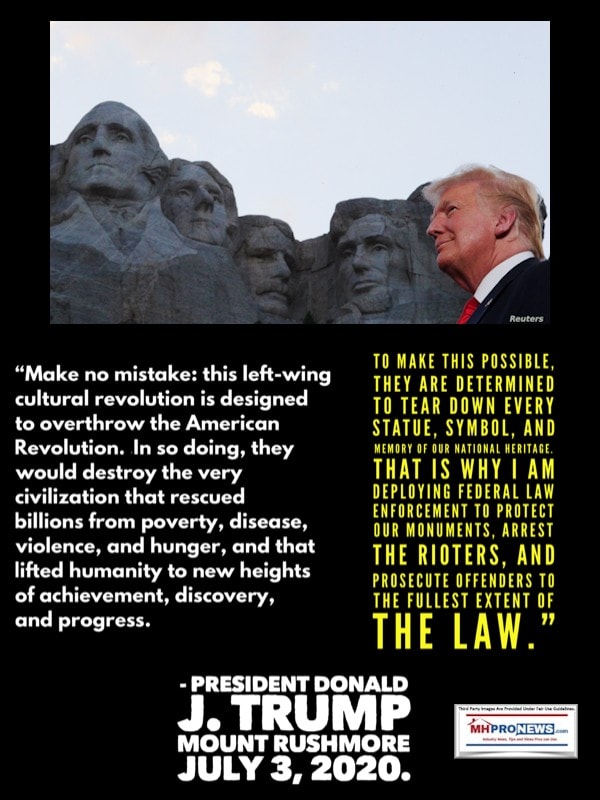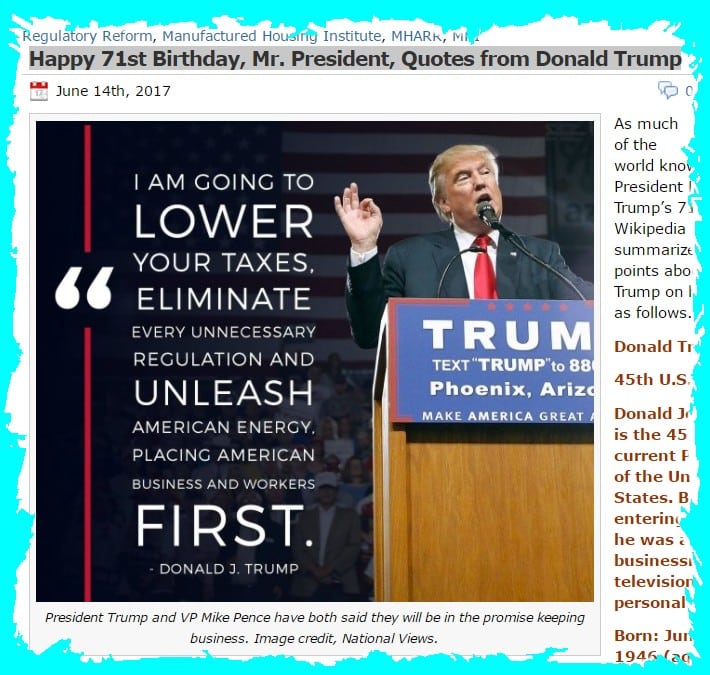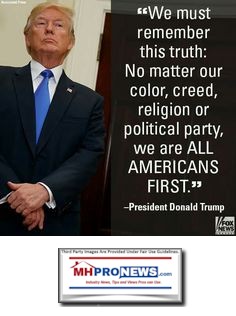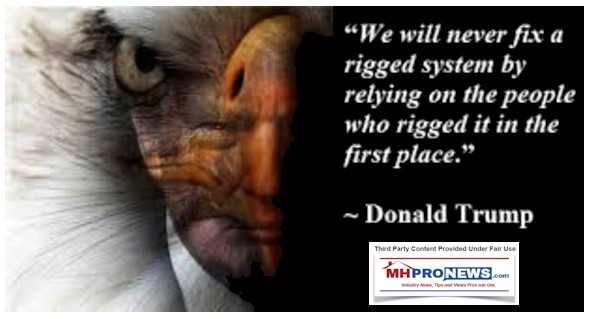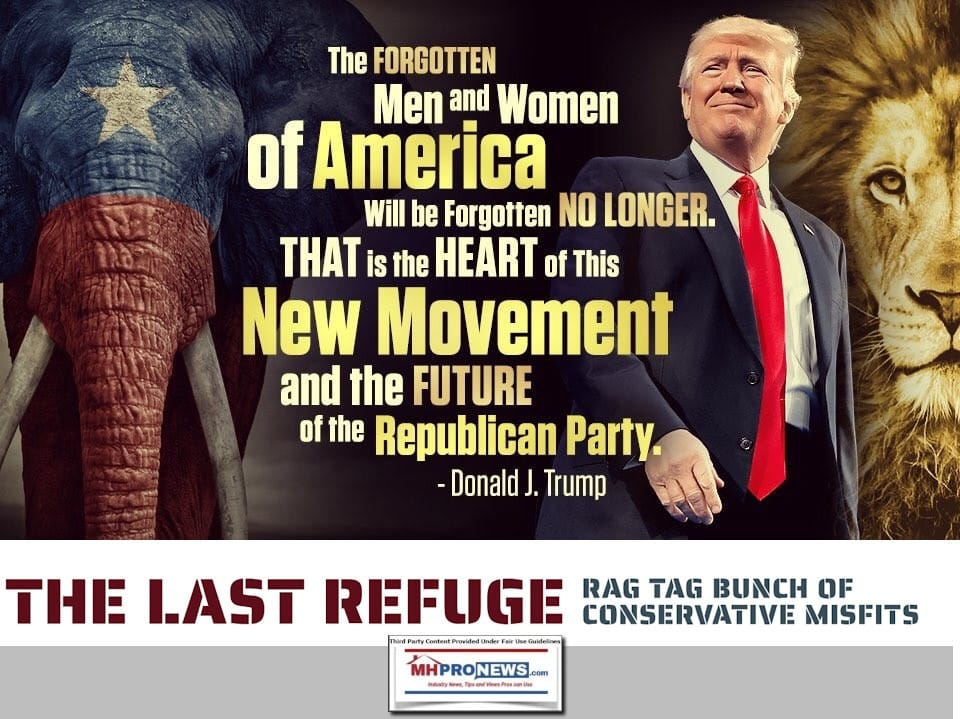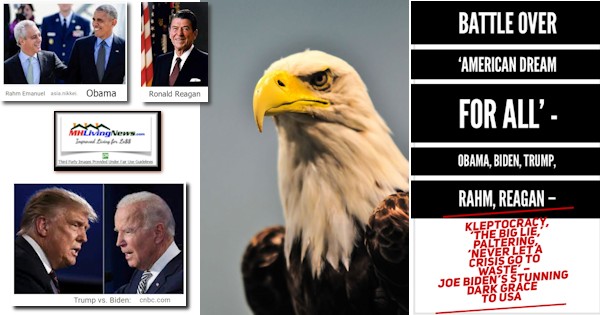 MHProNews may well revisit several of Hollis' thoughtful quotable quotes and perhaps more of her op-eds in the days ahead. Stay tuned.
Legal Scholar Turley – Democrats Push 'Outright State Censorship' Via Corporations, Names Obama; Decries Biden Admin 'Disinformation Governance Board;' plus MHMarkets Updates
Biden White House Manufactured Housing Task Force Hit by MHARR-Fails Minorities, Lower Income Home Seekers – Democratic Letter on Manufactured Housing 'Enhanced Preemption;' plus MHVille Markets
Next up is our daily business news recap of yesterday evening's market report, related left-right headlines, and manufactured housing connected equities.
The Business Daily Manufactured Home Industry Connected Stock Market Updates.  Plus, Market Moving Left leaning CNN and Right-leaning (Newsmax) Headlines Snapshot. While the layout of this daily business report has been evolving over time, several elements of the basic concepts used previously are still the same. For instance. The headlines that follow below can be reviewed at a glance to save time while providing insights across the left-right media divide. Additionally, those headlines often provide clues as to possible 'market-moving' news items.
Market Indicator Closing Summaries – Yahoo Finance Closing Tickers on MHProNews…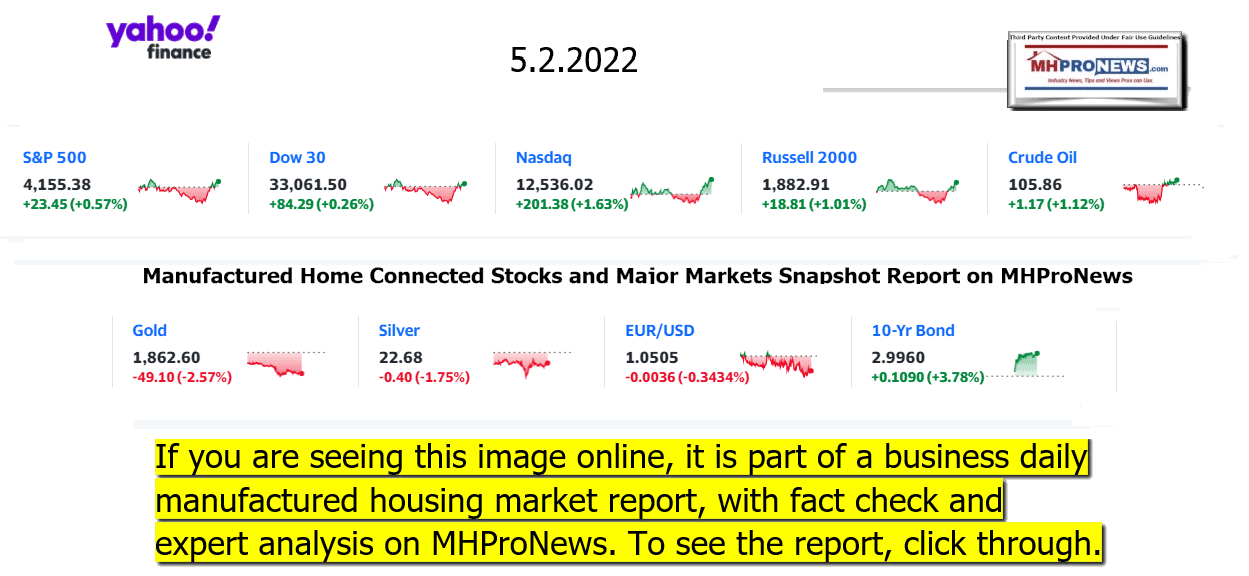 Headlines from left-of-center CNN Business – from the evening of 5.2.2022
A big sell-off
A trader works on the floor of the New York Stock Exchange NYSE in New York, the United States, April 26, 2022. S. stocks plunged on Tuesday with the tech-heavy Nasdaq closing down nearly 4 percent, as heavy selling intensified on Wall Street.   The Dow Jones Industrial Average tumbled 809.28 points, or 2.38 percent, to 33,240.18. The S&P 500 fell 120.92 points, or 2.81 percent, to 4,175.20. The Nasdaq Composite Index shed 514.11 points, or 3.95 percent, to 12,490.74.
The S&P is having its worst start to a year since 1939, when Warren Buffett was nine years-old
These numbers are bad news if you're trying to buy or refinance a house
Amazon defeats New York union drive led by organization behind last month's win
… And it ends its paid Covid-19 sick leave policy
Germany will support an EU oil embargo on Russia
China silences prominent market analyst as economic slump deepens
America will recover all jobs lost during Covid by this summer, Fitch says
Spirit rejects JetBlue's offer, saying it wants to be bought by Frontier
Opinion: The Fed can't afford to make the wrong moves again
Why the food crisis sparked by Russia's war hasn't hit Gulf states yet
Xiaomi is the latest big Chinese company to face the heat in India
Recession fears are mounting. Here's how to protect your money
Americans are tipping less in the wake of tipping fatigue
LongHorn Steakhouse honors employee who grilled 1 million steaks
Here's how to retire long before your 60s
A 2022 Clubman S sits on the showroom floor of a Mini dealership Wednesday, Oct. 27, 2021, in Highlands Ranch, CO.
Why car shopping is so bizarre in the US
Produce for sale at a Whole Foods grocery store in Washington, DC, USA, 12 April 2022. According to the Labor Department, the US inflation rate rose to 8.5 percent in March, the highest rate in 40 years. Increasing prices for food and gas helped lead inflation numbers to a record high.
Has inflation reached a peak? Three signs that prices could soon come down
RIDE SHARES
"Robotaxi" autonomous vehicles by Baidu Apollo drive at the Baidu Apollo Park in Beijing on April 22, 2022.
People in Beijing can now book a taxi with no one at the wheel
Uber and Lyft will no longer require masks in US
Uber strikes a deal to list New York City taxis on its app
Lyft, like Uber, plans to add a fuel surcharge
Uber and Hertz CEOs discuss Tesla partnership
HOME OWNERSHIP
A home, available for sale, is shown on August 12, 2021 in Houston, Texas.
Should you rent or buy? Ask yourself these four questions
Mortgage rates hit a 12-year high
Why it's so hard to buy a home right now
Home prices hit another record high in March
Renters are growing pessimistic they will ever own a home as prices keep rising
Headlines from right-of-center Newsmax 5.2.2022
High Independent Support Helps Give GOP Advantage in Midterm Poll
A polling site in New York City. (AP)
Russian Invasion of Ukraine
Arming of Ukraine Strains US Weapons Stockpile
German Chancellor: Sanctions Stay Until Russia Signs Peace Deal
Evacuation of Civilians from Ukraine's Besieged Mariupol Stalls
Gas Executive Who Fled Russia Wants to See Putin Hanged
Poll: Most Back Aid for Ukraine, Oppose Military Action
Russia's Lavrov Claims Zelenskyy, Hitler Had 'Jewish Blood'
CIA Advises Russians in Russia on How to Contact Them
Pelosi Thanks Poland for Ukraine Support, Meets President
More than 3,000 Civilians Killed in Ukraine So Far: UN
US Embassy Plans Return to Kyiv by the End of May
Ukraine Says it Destroyed Two Russian Patrol Boats on Monday
Hundreds of Civilians Still Remain in Mariupol Steel Plant
Zelenskyy: Ukraine May Lose Tens of Millions of Tons of Grain
Ukraine Armoury Turns to Making Bullet-Proof Vests for Troops
Russian Gas Deliveries via Ukraine Hit 5-Month High
More Russian Invasion of Ukraine
Newsmax TV
Guest: Mayorkas' Closed Border Claim 'Clearly Not True'
Guest: Mayorkas' Closed Border Claim 'Clearly Not True'
Ric Grenell: Putin, Russian Military Aren't What They Used to Be | video
Harshbarger: Mayorkas Should Have Had Plan
Goya Foods CEO: World on 'Precipice' of Food Shortages, War | video
NC Lt. Gov: Critical Race Theory 'Pushed in Every Subject' | video
Yair Netanyahu: Biden Helping Iran's Nuclear Goals | video
Goya CEO Unanue: US 'Softening' Too Much Under Biden
More Newsmax TV
Newsfront
Only 46 Percent in Deep-Blue Massachusetts Say Biden Doing Good Job
Voters in Massachusetts have soured on President Joe Biden, with just 46% saying they approve of the job he is doing, according to a new poll from Suffolk University and the Boston Globe…. [Full Story]
Push to Arm Ukraine Putting Strain on US Weapons Stockpile
The planes take off almost daily from Dover Air Force Base in [Full Story]
Ron DeSantis 'Would Never Attend' White House Correspondents Dinner
Florida Gov. Ron DeSantis said on Monday that he would never attend [Full Story]
Amazon Workers in NYC Reject Union in a Reversal of Fortune
Amazon warehouse workers overwhelmingly rejected a union bid on [Full Story]
Supreme Court Backs Christian Group in Boston Flag Flap
Boston violated the free speech rights of a Christian group by [Full Story]
Ilhan Omar Could Be Ousted by Democrats
Progressive firebrand and "Squad" member Rep. Ilhan Omar said she [Full Story] | Platinum Article
Chip Roy Says DHS Secretary Mayorkas 'Lying' About Chaos at US-Mexico Border
Chip Roy, R-Texas, has been critical of Department of Homeland [Full Story]
High Independent Support Helps Give GOP Edge in Midterm Poll
Independents are breaking towardthe GOP by seven percentage points, [Full Story]
Musk's Mother Tweets Anecdote About Her Son Giving Stock Advice at Age 14
Musk's Mother Tweets Anecdote About Her Son Giving Stock Advice at Age 14
New Twitter owner Elon Musk on Sunday volunteered generalinvestment [Full Story]
Lawmakers Say Intelligence Agencies Not Taking UFO Requests Seriously
Lawmakers say national security agencies are still not taking [Full Story]
Book: Harris Asks West Wing to Stand When She Enters
A new book claims Vice President Kamala Harris asked West Wing [Full Story]
In Shift, Germany Says It Could Back Immediate EU Ban on Russian Oil
Germany said on Monday it was prepared to back an immediate European [Full Story]
Wind-Whipped Fire Forces More New Mexico Residents to Flee
Wind-whipped flames raced Monday across more of New Mexico's [Full Story]
FCC's Simington on Musk, Twitter: We 'Should Welcome This'
Republican FCC Commissioner Nathan Simington is clear on the [Full Story]
New "Lung Training" Device Is Going Viral In United States
ProductHunter
Bill Gates: 'Huge Mistake' to Meet With Jeffrey Epstein
Bill Gates told The Sunday Times that he made a "huge mistake" in [Full Story]
Goya Foods CEO to Newsmax: World on 'Precipice' of Food Shortages, War
Goya Foods CEO Bob Unanue said Monday on Newsmax that he's concerned [Full Story] | video
Amazon to Reimburse US Employees' Travel for Abortions
com Inc. on Monday told employees it will pay up to $4,000 in [Full Story]
Report: Hungary 'Will Never Support' Sanctions That Restrict Russian Energy Imports
Hungary will veto any European Union proposal that restricts Russian [Full Story]
MI5 Warns of Russian Attacks Coming in Britain
Russian President Vladimir Putin is preparing to send an army of [Full Story]
Arrest Warrant Issued in Alabama for Missing Jail Official
An arrest warrant has been issued for a jail official who disappeared [Full Story]
Fed to Fight Inflation Under Biden With Fastest Rate Hikes in Decades
The Federal Reserve is poised this week to accelerate its most [Full Story]
Gas Executive Who Fled Russia Wants to See Putin Hanged
Russian President Vladimir Putin should be hanged for invading [Full Story]
Greta Van Susteren to Host Newsmax Pa. Senate Debate
Newsmax will host a candidates debate Wednesday featuring the main [Full Story]
Antifa Allegedly Launches Smoke Bombs at GOP Rally in Portland
A Republican seeking to fund police in Portland saw his gubernatorial [Full Story]
Planned Parenthood, Other Pro-Abortion Groups to Spend $150M on Midterms
Three U.S. abortion rights advocacy groups will spend $150 million on [Full Story]
Manchin Backs Anti-Trump Republican in West Va. Race
West Virginia Democrat Sen. Joe Manchin has waded into a GOP primary [Full Story]
Washington Post-ABC News Poll: Most Back Aid for Ukraine, Oppose Military Action
Most Americans support military and humanitarian aid for Ukraine, as [Full Story]
Want to Contact CIA From Russia? Agency Points to Darknet
The CIA says Russians disaffected by Vladimir Putin's invasion of [Full Story]
Poll: Americans Prefer Trump Run Over Biden Candidacy in 2024
More Americans want former President Donald Trump to run in 2024 than [Full Story]
Tennessee Pauses Executions, Will Review Lethal Injections
Tennessee is pausing executions to enable an independent review of [Full Story]
Study: New Omicron Subvariants Can Dodge Immunity From Past Infection
Two new sublineages of the omicron coronavirus variant can dodge [Full Story]
The Easiest Way to Trim Your Toenails
Clipperpro
More Newsfront
Finance
Activision Shares Rise 3% After Buffett Reveals 9.5% Stake
Activision Blizzard Inc. (ATVI ) shares rose Monday after Warren Buffett said his company Berkshire Hathaway Inc had taken a 9.5% stake in the video game maker, which Microsoft Corp has agreed to buy for $68.7 billion…. [Full Story]
Private Jet-Setters Still Flying High
Wall Street Drops on Fed Focus, 10-Year Treasuries Breaching 3%
US to Spend $3 Billion on EV Battery Manufacturing
UPDATE 1-Activision Shares Rise after Buffett Reveals Berkshire's 9.5% Stake
More Finance
Health
Fauci: US Likely to Determine Next COVID Booster Type By Summer
Scientists and health officials by this summer should have a better sense of what type of COVID-19 booster will be needed to deal with the next phase of the pandemic and when it should be administered, top U.S. infectious disease expert Dr. Anthony Fauci said on Friday. The…… [Full Story]
What to Expect If You Get COVID-19 While Traveling
How to Recognize the Signs of Depression in Yourself or Loved Ones
Drug-Resistant Mold Infections on the Rise
Two Therapies Effective Against Long COVID Breathlessness, Fatigue
MHProNews has pioneered in our profession several reporting elements that keep our regular and attentive readers as arguably the best informed in the manufactured housing industry. Among the items shared after 'every business day' (when markets are open) is our left-right headline recap summary. At a glance in two to three minutes, key 'market moving' news items are covered from left-of-center CNN Business and right-of-center Newsmax. "We Provide, You Decide." © Additionally, MHProNews provides expert commentary and analysis on the issues that others can't or won't cover that help explain why manufactured housing has been underperforming during the Berkshire era while an affordable housing crisis and hundreds of thousands of homeless in America rages on. These are "Industry News, Tips, and Views Pros Can Use" © features and others made and kept us the runaway #1 in manufactured housing trade publisher for a dozen years and counting.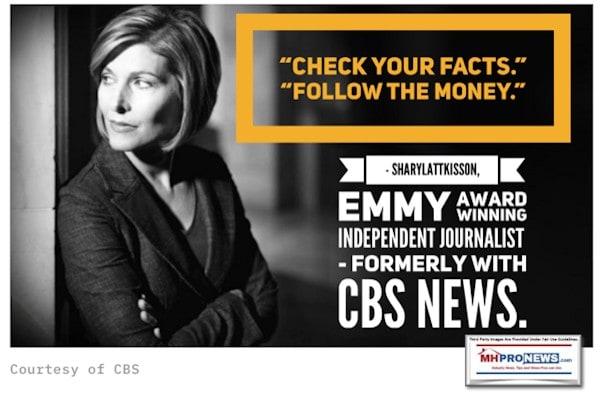 Manufactured Housing Industry Investments Connected Equities Closing Tickers
Some of these firms invest in manufactured housing, or are otherwise connected, but may do other forms of investing or business activities too.
NOTE: The chart below includes the Canadian stock, ECN, which purchased Triad Financial Services, a manufactured home industry lender
NOTE: Drew changed its name and trading symbol at the end of 2016 to Lippert (LCII).
NOTE: Deer Valley was largely taken private, say company insiders in a message to MHProNews on 12.15.2020, but there are still some outstanding shares of  the stock from the days when it was a publicly traded firm.  Thus, there is still periodic activity on DVLY.
Manufactured Home Communities (a.k.a. 'Mobile Home Parks' – SIC) – Exploring UMH Properties; Fellow Manufactured Housing Institute Member Yes! Communities Suits and Settlements; plus MH Markets Updates
Clayton-21st Storm Watch – Sinatra's Summer Wind Blows Early? – Manufactured Housing Moat Breach – Manufactured Home Values Increasing Faster than Site-Built – Case for Something New in 2022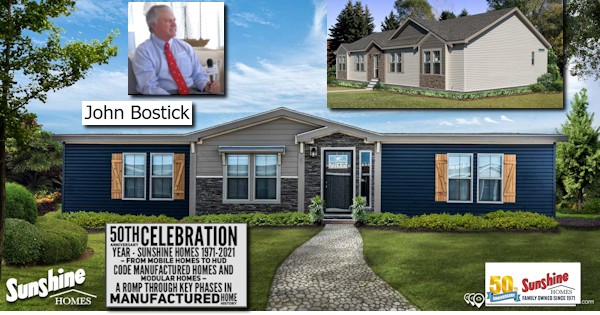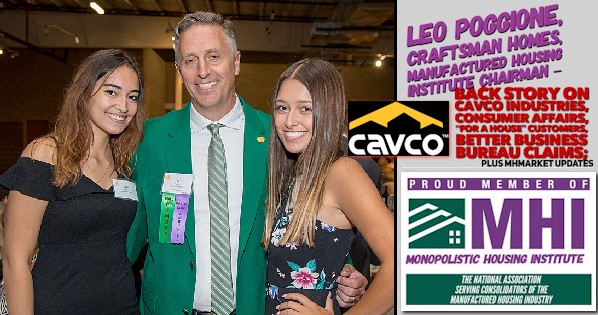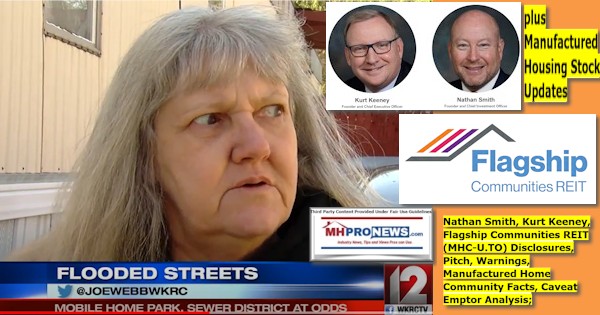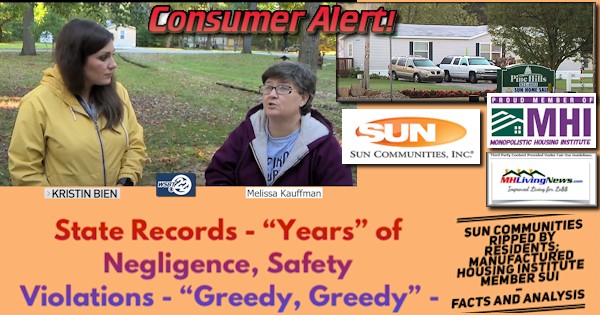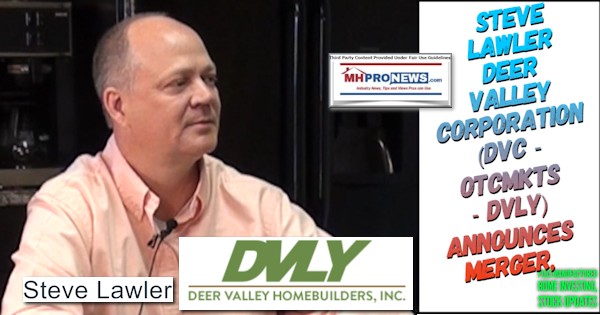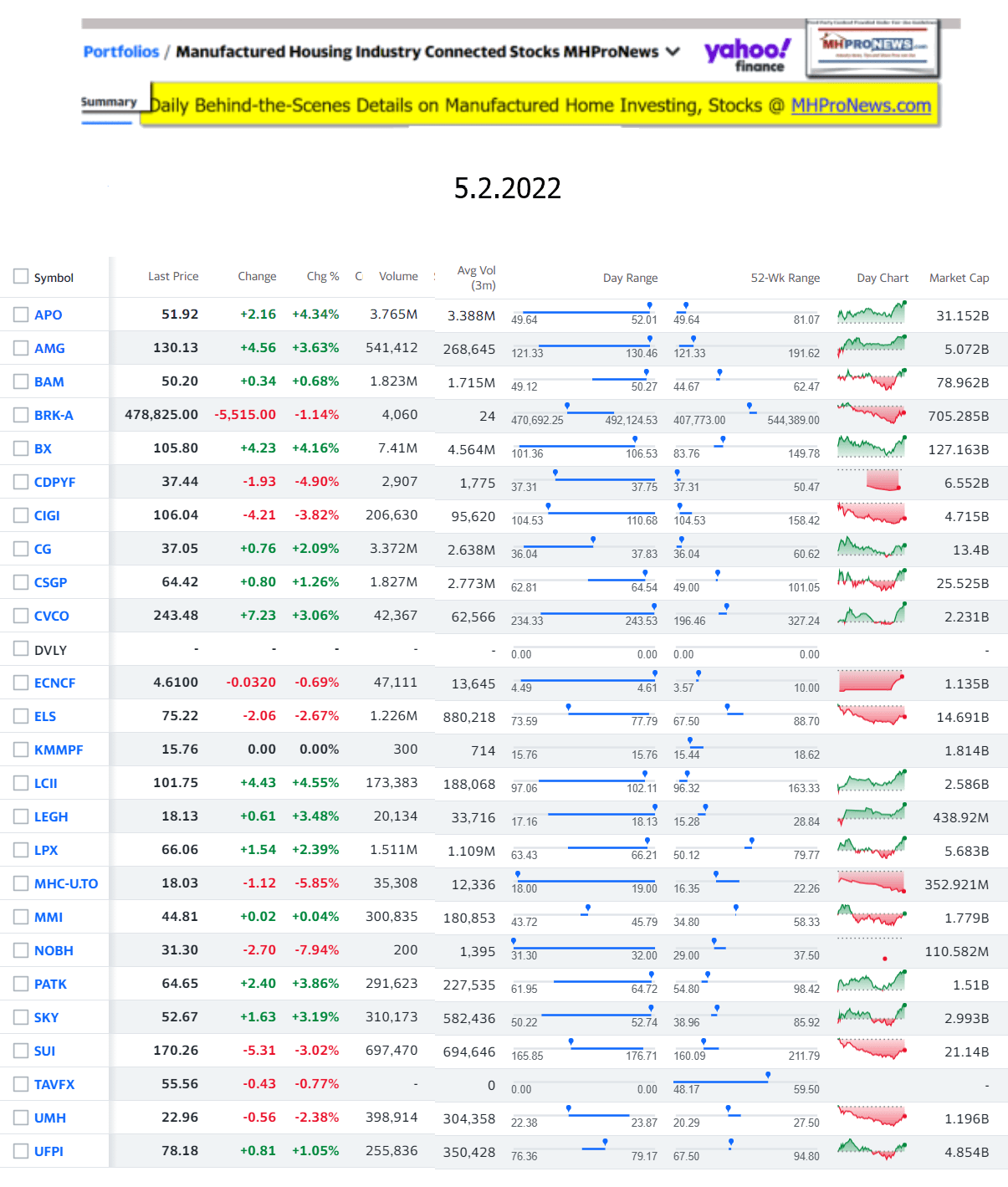 2022

…

Berkshire Hathaway is the parent company to Clayton Homes, 21st Mortgage, Vanderbilt Mortgage and other factory-built housing industry suppliers.


·

LCI Industries, Patrick, UFPI, and LP each are suppliers to the manufactured housing industry, among others.




·

AMG, CG, and TAVFX have investments in manufactured housing related businesses.

For

insights from third-parties and clients about our publisher

, click here.


Enjoy these 'blast from the past' comments.

MHProNews. MHProNews – previously a.k.a. MHMSM.com – has celebrated our 11th year of publishing and have completed over a dozen years of serving the industry as the runaway most-read trade media.
Sample Kudos over the years…
It is now 12+ years and counting…
Learn more about our evolutionary journey as the industry's leading trade media, at the report linked below.
· For expert manufactured housing business development or other professional services, click here.
· To sign up in seconds for our industry leading emailed headline news updates, click here.

Disclosure. MHProNews holds no positions in the stocks in this report.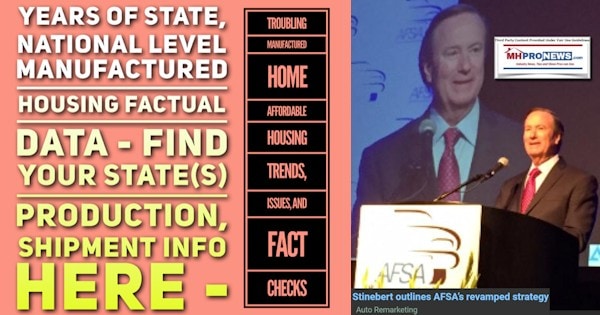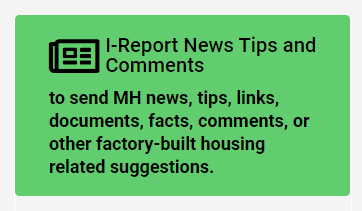 That's a wrap on this installment of "News Through the Lens of Manufactured Homes and Factory-Built Housing" © where "We Provide, You Decide." © (Affordable housing, manufactured homes, stock, investing, data, metrics, reports, fact-checks, analysis, and commentary. Third-party images or content are provided under fair use guidelines for media.) (See Related Reports, further below. Text/image boxes often are hot-linked to other reports that can be access by clicking on them.)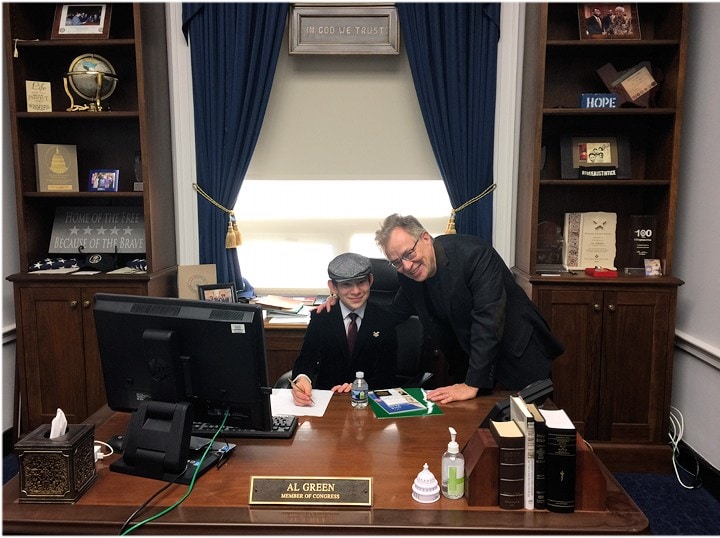 By L.A. "Tony" Kovach – for MHProNews.
Tony earned a journalism scholarship along with numerous awards in history. There have been several awards and honors and also recognition in manufactured housing. For example, he earned the prestigious Lottinville Award in history from the University of Oklahoma, where he studied history and business management. He's a managing member and co-founder of LifeStyle Factory Homes, LLC, the parent company to MHProNews, and MHLivingNews.com. This article reflects the LLC's and/or the writer's position and may or may not reflect the views of sponsors or supporters.