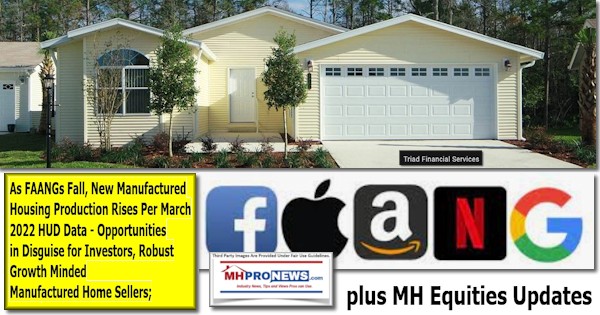 Manufactured home production continues to grow year over year and month over month in March 2022, per the latest data provided by the Manufactured Housing Association for Regulatory Reform (MHARR) to MHProNews.  By comparison, the long vaunted FAANGs stocks have fallen significantly recently. Subway is another example of a brand that – like Disney and the FAANGs – 'went woke' and are 'going broke.' Well, not literally broke. But they are all losing value as they lose sales, store closures gain speed, and other objective measures that reflect a loss of public support. Today's report will begin with the HUD Code manufactured home production and sales data, followed by a brief analysis, related information, and then press forward to the MHVille manufactured home equities and market reports updates.

FOR IMMEDIATE RELEASE                                                                   Contact: MHARR
                                                                                                                        (202) 783-4087
Manufactured Home Production Growth Continues in March 2022
 Washington, D.C., May 3, 2022 – The Manufactured Housing Association for Regulatory Reform (MHARR) reports that according to official statistics compiled on behalf of the U.S. Department of Housing and Urban Development (HUD), HUD Code manufactured housing industry year-over-year production increased in March 2022. Just-released statistics indicate that HUD Code manufacturers produced 11,279 homes in March 2022, a 12.7% increase over the 10,008 new HUD Code homes produced during March 2021. Cumulative production for 2022 now totals 29,670 homes, a 12% increase over the 26,479 homes produced during the same period in 2021.
A further analysis of the official industry statistics shows that the top ten shipment states from the beginning of the industry production rebound in August 2011 through March 2022 — with cumulative, monthly, current year (2022) and prior year (2021) shipments per category as indicated — are: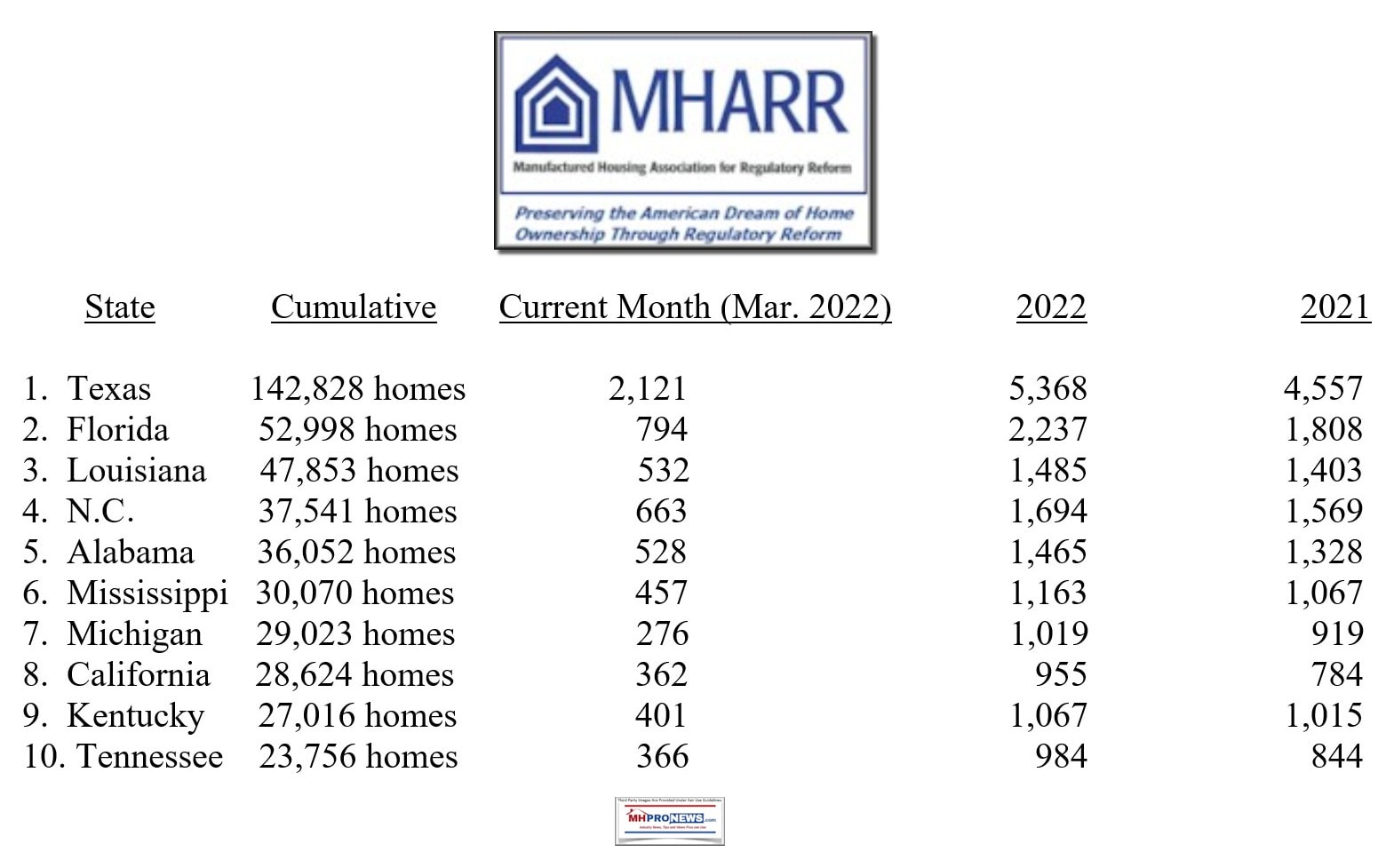 The March 2022 data results in no changes to the cumulative top-ten shipment list.
In Washington, D.C., MHARR President and CEO, Mark Weiss, stated: "While the May 2022 industry production statistics are positive, they nonetheless highlight an important point that MHARR has – and will continue to – aggressively advance. Namely, if production increases such as this are possible given all of the headwinds that the industry faces and has faced for some time, such as exclusionary zoning and the absence of federal securitization and secondary market support for the vast bulk of the industry's consumer loans, how much more growth and expansion would occur if enhanced federal preemption and the Duty to Serve law were fully and properly implemented? The results would be a tremendous benefit to the industry, consumers and governments at all levels seeking solutions to the affordable housing crisis."
The Manufactured Housing Association for Regulatory Reform is a Washington, D.C.-based national trade association representing the views and interests of independent producers of federally-regulated manufactured housing.
— 30 –
Additional Information, More MHProNews Analysis and Commentary 
Per the National Association of Realtors (NAR) in an apple-to-apples time frame, existing home sales nationally "Existing-Home Sales Slip 2.7% in March" 2022.
The NAR's key highlights:
Existing-home sales fell for the second straight month in March to a seasonally adjusted annual rate of 5.77 million. Sales were down 2.7% from the prior month and 4.5% from a year ago.
With slower demand, the inventory of unsold existing homes increased to 950,000 as of the end of March. That would support 2.0 months at the monthly sales pace.
The median existing-home sales price rose to $375,300, up 15% from one year ago.
NAR data also said:
Total housing inventory2at the end of March totaled 950,000 units, up 11.8% from February and down 9.5% from one year ago (1.05 million). Unsold inventory sits at a 2.0-month supply at the present sales pace, up from 1.7 months in February and down from 2.1 months in March 2021.
Lawrence Yun, Ph.D., NAR's chief economist said the following.
"Home prices have consistently moved upward as supply remains tight," Yun said. "However, sellers should not expect the easy-profit gains and should look for multiple offers to fade as demand continues to subside."
February and down from 32% in March 2021. NAR's 2021 Profile of Home Buyers and Sellers – released in late 20214– reported that the annual share of first-time buyers was 34%. "It appears first-time homebuyers are still looking to lock in at current mortgage rates before they inevitably increase," Yun said.
The National Association of Home Builders (NAHB) for that same March 2022 period said the following.
Single-Family Permits Decline in March as Affordability Woes Continue
Due to strong multifamily production, overall housing starts increased 0.3% to a seasonally adjusted annual rate of 1.79 million units, according to a report from the U.S. Department of Housing and Urban Development and the U.S. Census Bureau.
The March reading of 1.79 million starts is the number of housing units builders would begin if development kept this pace for the next 12 months. Within this overall number, single-family starts decreased 1.7% to a 1.20 million seasonally adjusted annual rate. The multifamily sector, which includes apartment buildings and condos, increased 4.6% to an annualized 593,000 pace.
"Higher mortgage interest rates and rising construction costs are pricing buyers out of the market, and these higher costs are particularly hurting entry-level and first-time buyers," said Jerry Konter, chairman of the National Association of Home Builders (NAHB) and a home builder and developer from Savannah, Ga. "Policymakers must address building supply chain disruptions to help builders bring down construction costs and increase production to meet market demand."
"The shift in affordability can be seen in the March data with strength for multifamily construction and some weakness for single-family permits," said NAHB Chief Economist Robert Dietz. "Our builder surveys show that confidence levels in the single-family market have declined for four straight months as affordability conditions continue to worsen, and this is a sign that single-family production will face challenges moving forward."
So drilling down, per NAHB:
multifamily housing increased 4.6 percent, to "an annualized 593,000 pace."
single-family housing decreased 1.7 percent, to an "1.20 million seasonally adjusted annual rate."
And NAR said:
Sales dropped to a "seasonally adjusted annual rate of 5.77 million. Sales were down 2.7% from the prior month and 4.5% from a year ago."
MHProNews has been periodically saying for at least 4 years that only factory-building can close the gap between the numbers of housing needed nationally, estimated between 4 to 8+ million units needed nationally, depending on the source. The manufactured home option ought to be one of the top attractions for growth-potential minded investors. The flashback quote graphic below from 2019, while some of the data (like housing costs) have moved up, nevertheless illustrates the core point. Namely, that factory building could and should be the future of housing.
Independent retailer Alan Amy was quite right in this video interview that is posted below.
Since Amy made those observations, several investment funds moved into the manufactured home community sector. The quotes that follow are just a pair of examples that MHProNews has reported on for years.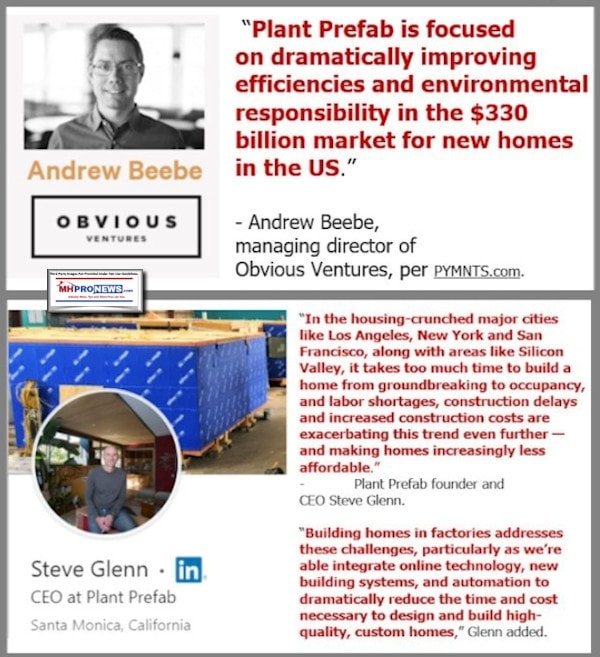 S2A modular made the bold statement that they could open dozens of new production sectors, due to the demand for housing and the advantages of factory-built housing.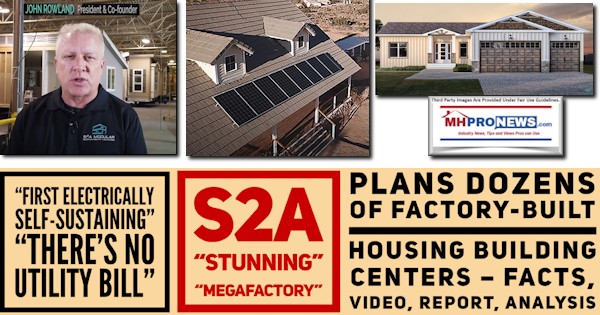 The bottom-line with respect to S2A is whether they attain that lofty goal or not, the obviously have a business plan that some bank(s) or financial backers bought into enough to make that announcement possible.
That should be reason enough for manufactured home producers to similarly step up. Indeed, Cavco Industries (CVCO) chief executive William "Bill" Boor indicated that the housing and new construction shortages were reasons why manufactured home builders could catch up.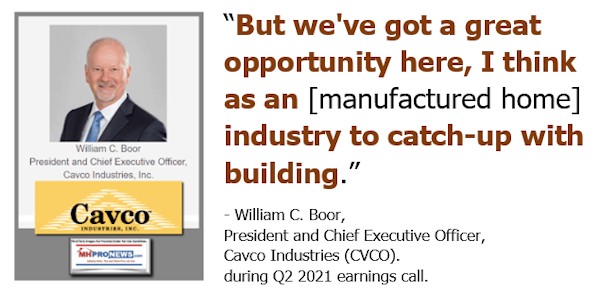 In the face of that range of input and data, that the Manufactured Housing Institute (MHI) continues to fail to do what common sense demands points to a Occam's Razor type of conclusion. The industry is underperforming because several MHI insiders have openly stated that they want to consolidate the industry. It is difficult to consolidate an industry that is growing robustly. By comparison, it is far easier to consolidate an industry that is growing only modestly or is stagnant. Evidence in manufactured housing is the difference between the late 1990s efforts by Champion and Fleetwood industries to buy up retail outlets as the industry was peaking. Berkshire Hathaway took a different approach when they entered the industry in 2002 and 2003, as the industry went into decline. They arguably allowed a choking off of lending options to cause a ripple effect of consolidation and failures of retail, which in turn impacted independently owned communities and producers.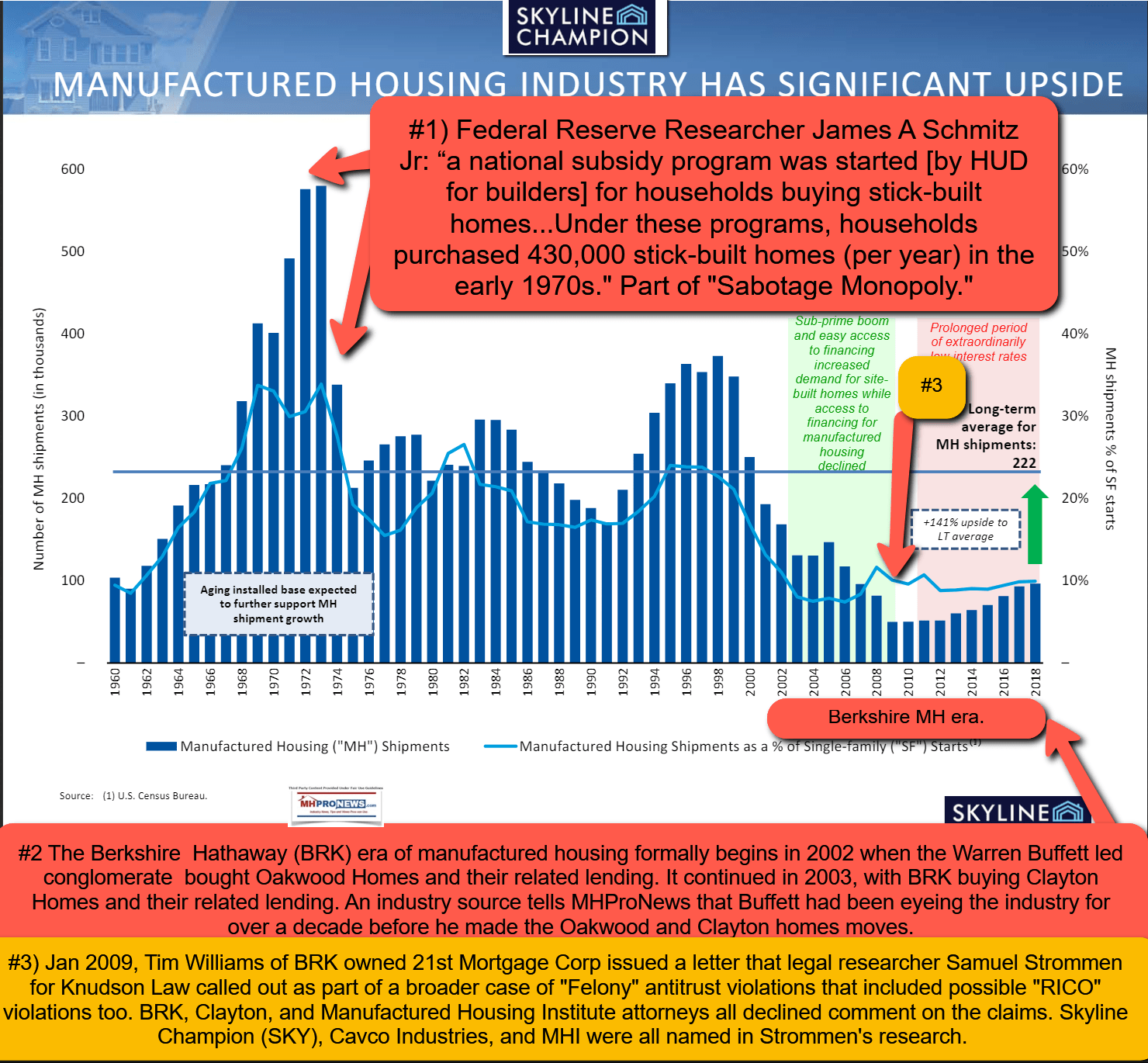 The report below focused on the comments by Professor James A. "Jim" Schmitz Jr to DoJ/FTC regarding mergers provides academic facts and historic evidence that is relevant. Schmitz specifically mentions factory building and manufactured homes in his research.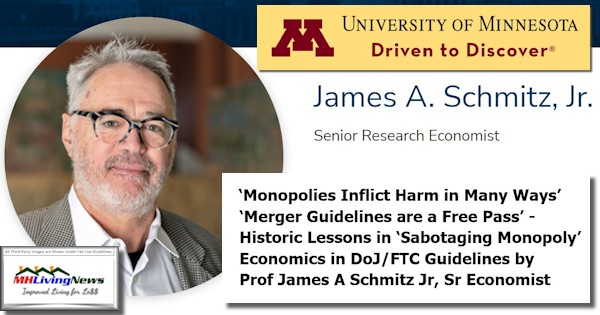 As was noted at the top, with the FAANGs and several 'woke' brands slipping in ways that might have been difficult to imagine not so long ago, and with the need for millions of more housing units baked in, there should be a serious move by newcomers as well as insiders to expand the manufactured home market.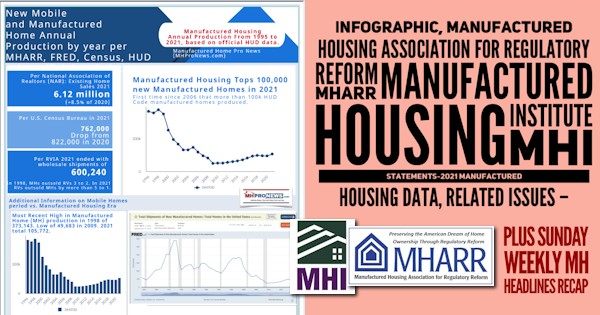 Next up is our daily business news recap of yesterday evening's market report, related left-right headlines, and manufactured housing connected equities.
The Business Daily Manufactured Home Industry Connected Stock Market Updates.  Plus, Market Moving Left leaning CNN and Right-leaning (Newsmax) Headlines Snapshot. While the layout of this daily business report has been evolving over time, several elements of the basic concepts used previously are still the same. For instance. The headlines that follow below can be reviewed at a glance to save time while providing insights across the left-right media divide. Additionally, those headlines often provide clues as to possible 'market-moving' news items.
Market Indicator Closing Summaries – Yahoo Finance Closing Tickers on MHProNews…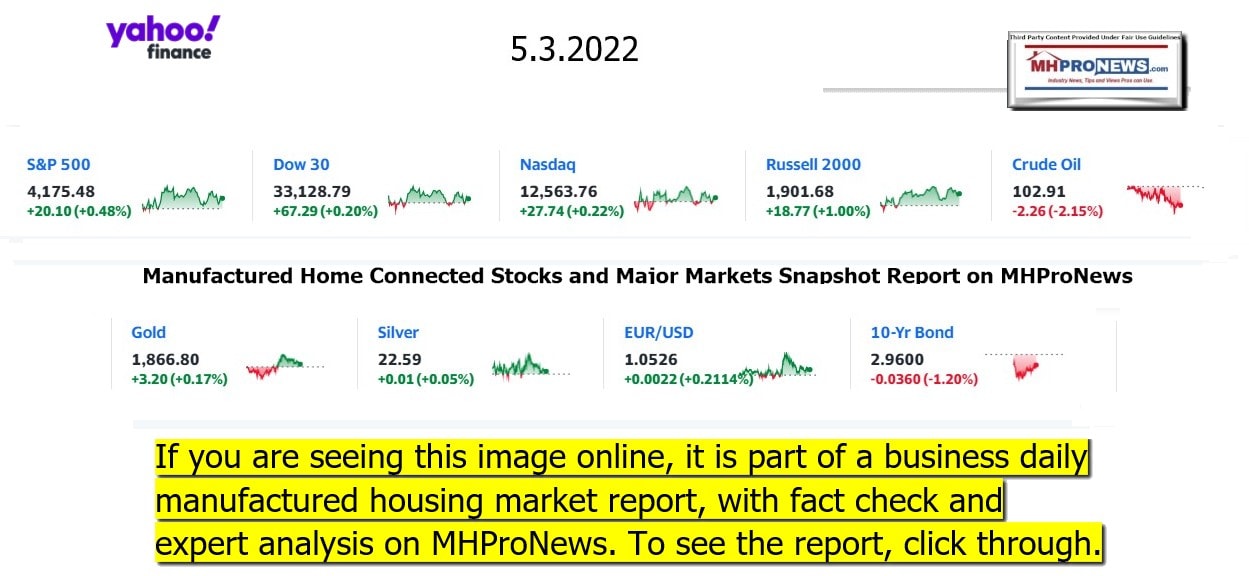 Headlines from left-of-center CNN Business – from the evening of 5.3.2022
Business steps up. Again
A worker loads boxes onto a pallet at an Amazon fulfillment center on Prime Day in Raleigh, North Carolina, U.S., on Monday, June 21, 2021. Amazon.com Inc.'s annual Prime Day sale, which begins Monday, arrives as the world grapples with the lingering effects of the pandemic.
These companies will help staff in red states bypass abortion bans
Analysis: Left and right react to unprecedented Supreme Court scoop in different ways
Wall Street needs a reason to buy stocks. This might be it
'Very, very unlikely' Fed can tame inflation without sparking recession, ex-NY Fed chief says
Opinion: The GDP report isn't as bad as it seems, but there are still economic risks ahead
BP profit more than doubles on 'exceptional' oil trading
Finnish group ditches Russian-built nuclear plant plan
New retirement bills let older workers put even more into their 401(k)s
Here's how to retire long before your 60s
Rocket Lab catches, then drops booster in helicopter capture attempt
Ulta Beauty apologizes for 'very insensitive' email about Kate Spade
Popeyes reveals a new twist on its chicken sandwich
Huntington Beach, CA – April 22: A view of a home for sale at center of photo, 20821 Catamaran Ln. in Huntington Beach, listed at $1,199,000 Friday, April 22, 2022. The median home price in Orange Count has reached $1 million for the first time in history.
Homes got even pricier and harder to afford in most US cities
A "help wanted" sign is posted in front of restaurant on February 4, 2022 in Los Angeles, California. – The United States added an unexpectedly robust 467,000 jobs in January, according to Labor Department data released today that also significantly raised employment increases for November and December.
A record 4.5 million Americans quit their jobs in March
Watch what it's like aboard a Blue Origin flight from takeoff to landing
Berkshire Hathaway Chairman Warren Buffett walks through the exhibit hall as shareholders gather to hear from the billionaire investor at Berkshire Hathaway Inc's annual shareholder meeting in Omaha, Nebraska, U.S., May 4, 2019.
Buffett says Berkshire's success is more about being 'sane' than 'smart'
Elon Musk sells $8.5 billion worth of Tesla shares
Venmo owner PayPal is one of the worst stocks of 2022
Boeing delays its newest jet as losses soar
China may be getting ready to wind down its crackdown on big tech
AROUND THE WORLD
General view of the world's largest desalination plant using modern hybrid desalination technology at the Saline Water Conversion Corporation's Ras al-Khair Power and Desalination Plant in Ras al-Khair, Saudi Arabia, October 8, 2020. Picture taken October 8, 2020.
Why the food crisis sparked by Russia's war hasn't hit Gulf states yet
France issues an arrest warrant for Carlos Ghosn
Budweiser workers could strike in UK
Anheuser-Busch will brew a Ukrainian beer in the US
McDonald's left with millions of dollars of Russian food it can't use
Headlines from right-of-center Newsmax 5.3.2022
Franklin Graham on SCOTUS Roe v. Wade Leak: 'Praise God!'
Russian Invasion of Ukraine
Russia Fires More Rockets at Steel Plant; Some Evacuees Safe
UK's Johnson Predicts Russia Will Lose
US Official: Russia Plans to Annex Parts of Eastern Ukraine
US Relieved as China Appears to Heed Warnings on Russia
Russia Claims It Bombed US and European Weapons Near Ukraine's Odesa
Putin Orders Retaliatory Sanctions Against West
Report: More Than One-Quarter of Russian Forces in Ukraine War 'Combat Ineffective'
UN Warns Grain Shortage Imminent as Russia Blockades Ukrainian Ports
Demand Way Up for High-End Nuclear Bunkers in Europe
Russia Plans to Quit International Space Station Over Sanctions
Push to Arm Ukraine Putting Strain on US Weapons Stockpile
More Russian Invasion of Ukraine
Newsmax TV
Braun: Biden 'Nonchalant' About High Court Leak | video
Bill O'Reilly: Trump Wants to Run in 2024 | video
Victoria Toensing: 'Polygraph Every Single Law Clerk' | video
Waltz: SCOTUS Leak Points to Dems' 'Scorched Earth Approach' | video
Markwayne: Roe v Wade Decision Should Be Announced Now | video
Joyce: Timing of Leaked SCOTUS Document 'Suspicious' | video
Hartzler: SCOTUS Draft Leaked to Intimidate Justices, Congress | video
Dershowitz: 'Never Been a Leak Like This' | video
More Newsmax TV
Newsfront
Schumer Vows to Pass Law Keeping Abortion Legal
Senate Democrats on Tuesday vowed "to hold a vote on legislation to codify" abortion rights, following the leak of a draft opinion authored by Supreme Court Justice Samuel Alito that would strike down Roe v. Wade…. [Full Story]
Related Stories
Canada Affirms Right to Choose After Leak of Draft US Ruling Against Roe
GOP Sen. Collins: Draft Roe v Wade Ruling 'Inconsistent' With Gorsuch, Kavanaugh Statements
McConnell: 'Real Leaders' Defend SCOTUS Independence 'Unconditionally'
Biden: Ready to Protect 'Fundamental' Right to Abortion
High Court Draft Suggests Roe v. Wade Is on Verge of Being Struck Down
CDC Restates Recommendation for Masks on Planes, Trains
S. health officials on Tuesday restated their recommendation that [Full Story]
Drone Illegally Transporting Handguns From US to Canada Foiled By Tree
A large drone successfully transported handguns from the United [Full Story]
GOP Senators Introduce Bill Killing DHS Disinformation Governance Board
Republican Senators, led by Arkansas Sen. Tom Cotton, are introducing [Full Story]
Greta Van Susteren to Host Newsmax Pennsylvania Senate Debate
Newsmax will host a candidates debate Wednesday featuring the main [Full Story]
Florida Textbook Publishers Removing 'Woke Content'
Textbook publishers acquiesced to Florida Gov. Ron DeSantis demands [Full Story]
Media Blares Trump 'Wanted to Shoot Protesters,' but Reports Ignore 2020 Riots, Violence
With massive crowds surging in front of the White House for several [Full Story] | Platinum Article
Activists Urge Ad Boycott If Musk Turns Twitter Toxic
Activist groups called on Twitter advertisers Tuesday to boycott the [Full Story]
DHS Did Not Follow 'Internal Processes' in Russian Interference Probe
The Homeland Security Departments inspector general (IG) office [Full Story]
Former NYC Mayor de Blasio Lists Regrets, Offers Biden Advice in Mea Culpa Column
Former New York City mayor Bill de Blasio expressed his [Full Story]
Trump: Vance GOP's Best Shot to Win Ohio Senate Seat
Former President Donald Trump on Tuesday again explained why he [Full Story]
Franklin Graham on Leaked SCOTUS Roe v Wade Draft: 'Praise God!'
Pro-life evangelical businessman Franklin Graham began his reaction [Full Story]
Liberal Media Treating Leaker as 'Hero'
While legal experts fully expect the leaker of the Supreme Court [Full Story]
Bill Gates said that he made mistakes and takes responsibility when [Full Story]
Durham Raises FEC Fine in Fight Over Documents HFA Claims Are Shielded
Special counsel John Durham is continuing his bid to have a judge [Full Story]
US to Prepare 19,000 Beds for Migrant Children
The United State Health and Human Services department is preparing as [Full Story]
Chief Justice Roberts Orders Probe of 'Egregious' Leak of Abortion Draft
Chief Justice John Roberts on Tuesday confirmed the authenticity of a [Full Story]
NY Governor Selects US Rep. Delgado as Lieutenant Governor
S. Rep. Antonio Delgado will serve as New York's next lieutenant [Full Story]
Dems Already Making Abortion Rights Key Midterm Issue
Democrats are already focusing on abortion rights as a key issue in [Full Story]
13 States Have Pro-Life Trigger Laws If Roe Overturned
Legislators in 13 states have passed laws to limit or restrict access [Full Story]
Employers Post Record 11.5 Million Job Openings in March
Employers posted a record 11.5 million job openings in March, more [Full Story]
Rubio Wants FCC Crackdown on Chinese Telecommunications Firms in US
Marco Rubio, R-Fla., is asking the Federal Communication [Full Story]
The Original Roe v Wade Abortion Decision Was Leaked, Too
In 1973, the original Roe v. Wade decision written by Associate [Full Story]
US Officials: WNBA Star Griner Now Considered Wrongfully Detained
The Biden administration has determined that WNBA star Brittney [Full Story]
Inside the Met Gala: Glitter, Glamour and 275,000 Pink Roses
Met Galas, he's been to a few. But James Corden, schmoozing at this [Full Story]
Dershowitz: 'There's Never Been a Leak Like This'
Monday night's leaked Supreme Court draft to unravel the landmark Roe [Full Story] | video
Trafalgar Poll: Vance Up on Eve of Ohio Senate Primary
Former President Donald Trump's endorsement has hurled J.D. Vance [Full Story]
Navy Greenlights Sailors to Move off USS George Washington
The United States Navy has greenlit sailors to move off of the USS [Full Story]
Poll: Trump-Backed GOP Candidate Has Massive Lead in Nevada Senate Primary
It apparently helps to have the endorsement of former President [Full Story]
GOP Sen. Hagerty: Disinfo Board May Be Illegal, Require Congress' Review
The Biden administration might be illegally spending money on the [Full Story]
Trump Appeal: $10,000 Fine in Record Search 'Unconscionable'
In a court appeal, a lawyer for Donald Trump said Monday it is [Full Story]
New Military Grade Telescope Lets You See for Miles
Starscope
More Newsfront
Finance
Space Hotel Scheduled to Open in 2025
A literal out-of-this-world hotel in space, named Pioneer Station, scheduled to open three years from now, could be a harbinger of more space tourism to come…. [Full Story]
BNP Paribas: No New Loans for Oil Drilling in Amazon
Pfizer Sees High Demand for COVID-19 Pill as Profits Jump
Google Split on Using AI to Make Faster Chips
Wall Street Sees Greater Risk of Default by Major Banks
More Finance
Health
Study: New Omicron Subvariants Can Dodge Immunity From Past Infection
Two new sublineages of the omicron coronavirus variant can dodge antibodies from earlier infection well enough to trigger a new wave, but are far less able to thrive in the blood of people vaccinated against COVID-19, South African scientists have found. The scientists from…… [Full Story]
Five Key Questions Answered on What the End of Roe Would Mean For Americans
FDA Warns of Counterfeit Home COVID-19 Test Kits: What to Look For
Your Take-Out Coffee Cup May Shed Trillions of Plastic 'Nanoparticles'
Scientists Say This Amount of Sleep Best for Health When Over 40
MHProNews has pioneered in our profession several reporting elements that keep our regular and attentive readers as arguably the best informed in the manufactured housing industry. Among the items shared after 'every business day' (when markets are open) is our left-right headline recap summary. At a glance in two to three minutes, key 'market moving' news items are covered from left-of-center CNN Business and right-of-center Newsmax. "We Provide, You Decide." © Additionally, MHProNews provides expert commentary and analysis on the issues that others can't or won't cover that help explain why manufactured housing has been underperforming during the Berkshire era while an affordable housing crisis and hundreds of thousands of homeless in America rages on. These are "Industry News, Tips, and Views Pros Can Use" © features and others made and kept us the runaway #1 in manufactured housing trade publisher for a dozen years and counting.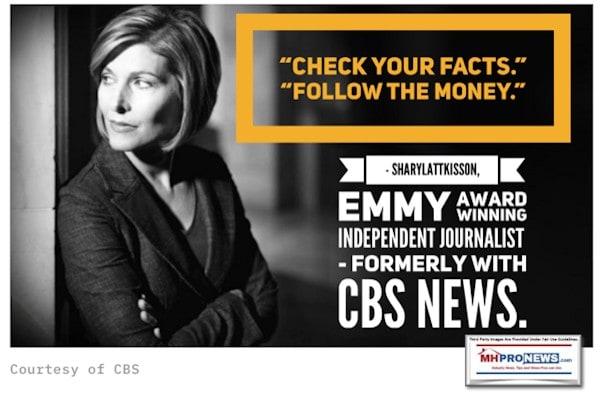 Manufactured Housing Industry Investments Connected Equities Closing Tickers
Some of these firms invest in manufactured housing, or are otherwise connected, but may do other forms of investing or business activities too.
NOTE: The chart below includes the Canadian stock, ECN, which purchased Triad Financial Services, a manufactured home industry lender
NOTE: Drew changed its name and trading symbol at the end of 2016 to Lippert (LCII).
NOTE: Deer Valley was largely taken private, say company insiders in a message to MHProNews on 12.15.2020, but there are still some outstanding shares of  the stock from the days when it was a publicly traded firm.  Thus, there is still periodic activity on DVLY.
Manufactured Home Communities (a.k.a. 'Mobile Home Parks' – SIC) – Exploring UMH Properties; Fellow Manufactured Housing Institute Member Yes! Communities Suits and Settlements; plus MH Markets Updates
Clayton-21st Storm Watch – Sinatra's Summer Wind Blows Early? – Manufactured Housing Moat Breach – Manufactured Home Values Increasing Faster than Site-Built – Case for Something New in 2022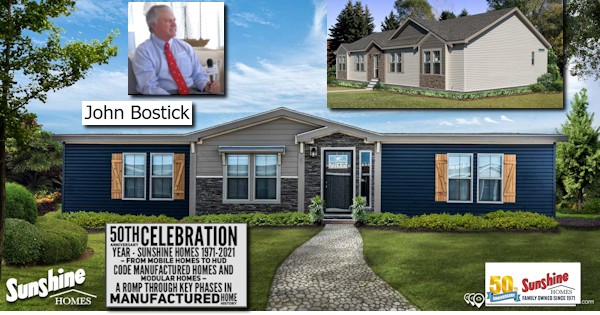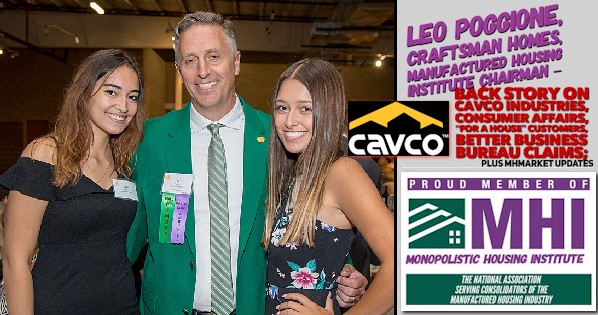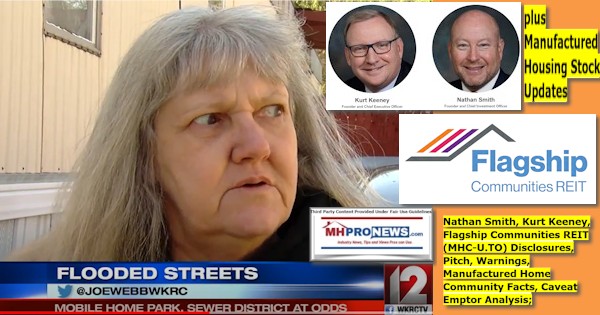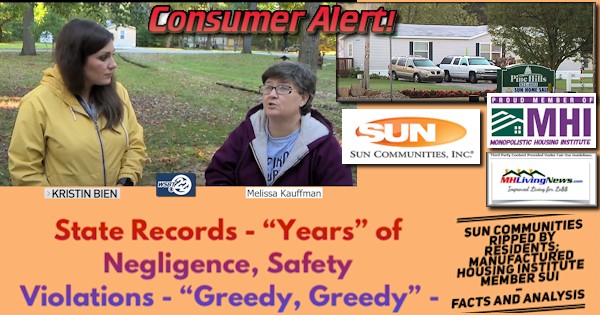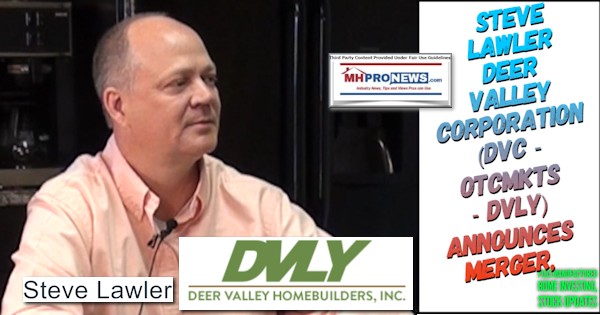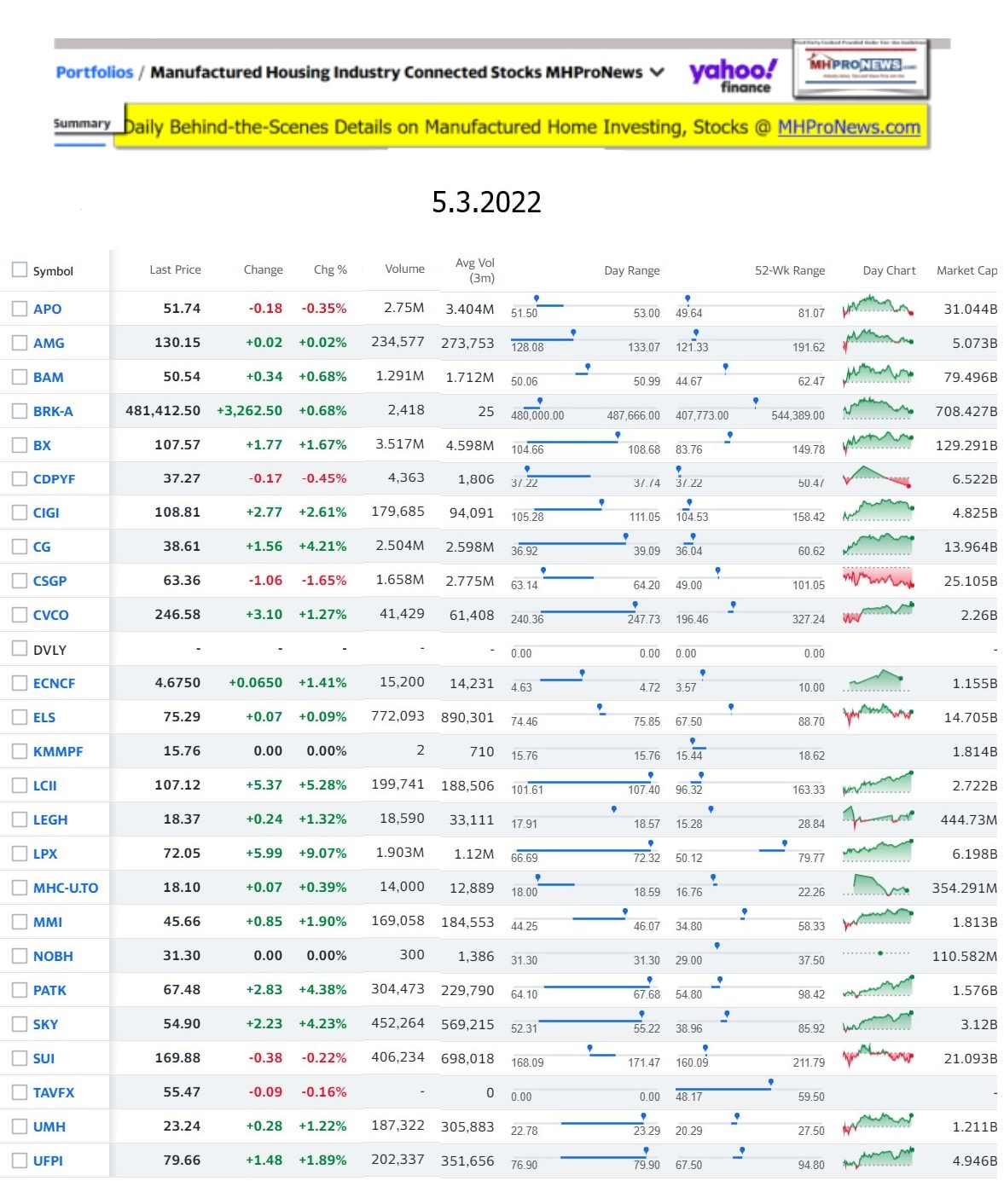 2022

…

Berkshire Hathaway is the parent company to Clayton Homes, 21st Mortgage, Vanderbilt Mortgage and other factory-built housing industry suppliers.


·

LCI Industries, Patrick, UFPI, and LP each are suppliers to the manufactured housing industry, among others.




·

AMG, CG, and TAVFX have investments in manufactured housing related businesses.

For

insights from third-parties and clients about our publisher

, click here.


Enjoy these 'blast from the past' comments.

MHProNews. MHProNews – previously a.k.a. MHMSM.com – has celebrated our 11th year of publishing and have completed over a dozen years of serving the industry as the runaway most-read trade media.
Sample Kudos over the years…
It is now 12+ years and counting…
Learn more about our evolutionary journey as the industry's leading trade media, at the report linked below.
· For expert manufactured housing business development or other professional services, click here.
· To sign up in seconds for our industry leading emailed headline news updates, click here.

Disclosure. MHProNews holds no positions in the stocks in this report.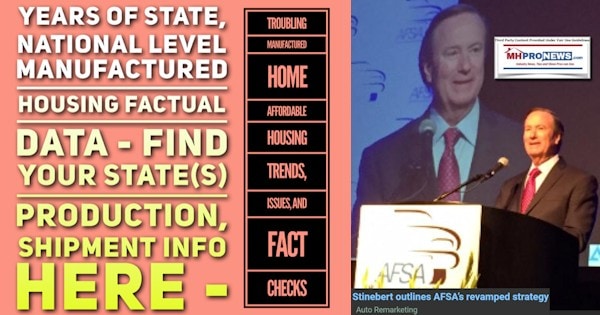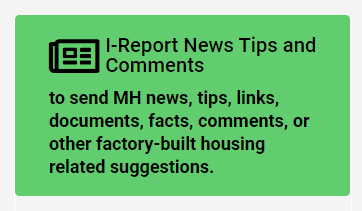 That's a wrap on this installment of "News Through the Lens of Manufactured Homes and Factory-Built Housing" © where "We Provide, You Decide." © (Affordable housing, manufactured homes, stock, investing, data, metrics, reports, fact-checks, analysis, and commentary. Third-party images or content are provided under fair use guidelines for media.) (See Related Reports, further below. Text/image boxes often are hot-linked to other reports that can be access by clicking on them.)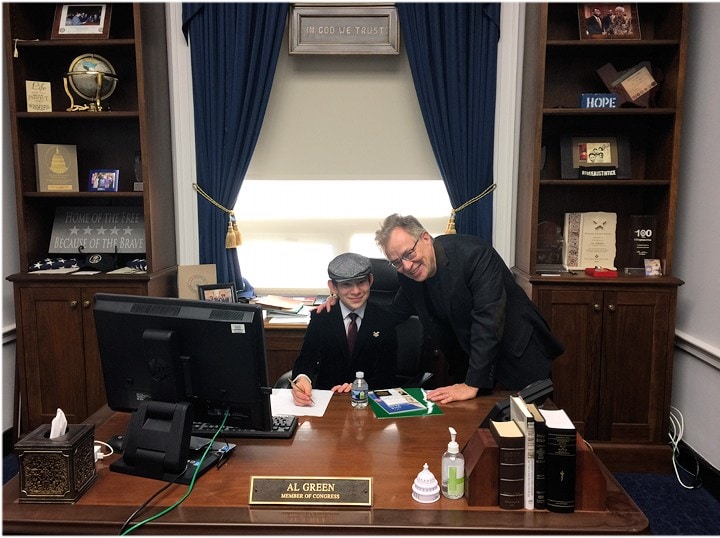 By L.A. "Tony" Kovach – for MHProNews.
Tony earned a journalism scholarship along with numerous awards in history. There have been several awards and honors and also recognition in manufactured housing. For example, he earned the prestigious Lottinville Award in history from the University of Oklahoma, where he studied history and business management. He's a managing member and co-founder of LifeStyle Factory Homes, LLC, the parent company to MHProNews, and MHLivingNews.com. This article reflects the LLC's and/or the writer's position and may or may not reflect the views of sponsors or supporters.