by L. A. "Tony" Kovach

appeals to some of the biggest names in our industry, but also connects professionals from any sized operation with keen insights that can spell SUCCESS.
Jump right in, the waters fine and bring your associates as long as we consider some of the fine quotes from many industry successes from our exclusive interviews!
Our Cup of Coffee with interviews read more each year like a "Who's Who in Manufactured Housing!" See for yourself from the quotes below.
Each of the quotes that follows are a snipet from longer interviews! Click the name at the end to see the whole interview.
"…The non-profits are great advocates of the virtues of manufactured housing; they just come at it from a different angle.
I was recently at I'm Home Retreat in Denver and you would have thought that you were at an MHI convention if you closed your eyes. They see manufactured housing as the answer to the country's affordable housing needs and promote it as a wealth-building tool for many Americans – see the similarities?
– Barry Nofsinger, CU Factory Built Lending.
"…We treat people like we want to be treated – integrity, honesty and commitment to our relationship with each of them…"
…The standard my father set at the beginning was "Take care of the customer and they will take care of you…"
Terry Decio, Skyline Corporation.
"…Today we build an outstanding product worthy of any home owner.
Unfortunately, the press and the news at large give us little to no respect. We, as an industry, dug that hole for ourselves and now we must find a way to dig ourselves out!"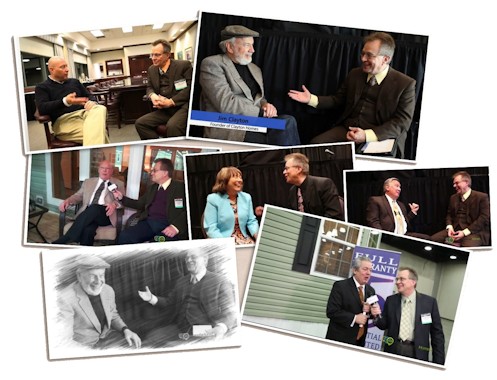 "…We believe the formula to our success has been to recruit and retain strong management and to encourage them to succeed through profit incentives and stock ownership. We focus on long-term strategic planning and strong risk management.
Our acquisition policy has been to acquire companies that have patented products or bolster our importance to our customers by improving and increasing our product offerings and product quality…
…You must never say you are through. You must stay positive and always believe that there must be a solution.
This is the time to try to get your team to be as creative as possible. No matter how outlandish an idea sounds, listen to it, explore it and you'll be surprised that sometimes a good solution comes from this brain storming…
…Even today only a small segment of the population can tell you much about the MH industry and the wonderful homes the industry builds. The rest of the population doesn't have a clue about our industry, except for the image of the down trodden trailer park. This must be changed and can only be done through advertising…
"…I worked at MHI from 1995 to 2000. I started as Vice President of the newly created National Communities Council and became Executive Vice President under President Chris Stinebert.
During that time, MHI and the industry were unified, focused and energized to accomplish a single goal – enact the Manufactured Housing Improvement Act of 2000. In my 20+ year industry career, there has not been a time, before or since, when the entire industry was as focused and working in concert…"
"…As a portfolio lender it is extremely important that we excel in servicing our loans. With years of experience we have established a great leadership team and set proper systems and policies to originate high performing loans, as well as manage our portfolio with excellent default and delinquency numbers.
The CFPB has recently released servicing standards for the mortgage industry. They have identified best practices that include single source of contact, mortgage escrow accounts, and servicing practices. While we will need to better document all of our practices and performance measures in order to satisfy the CFPB, we really will not need to change very many procedures.
We have always taken great pride in developing a one to one relationship with our customers. I think this is a primary reason our loans perform better than our peers…"
"…The government has an incredibly poor track record of picking winners and losers, and it needs to stop doing it. Instead, we need for Congress and the Administration to get out of the way and allow businesses and industries to make decisions that will allow them to thrive and create more jobs…
…I stepped up because this is a common sense issue. The government's overreach and bad regulations here are hurting jobs and families. Something has to be done to stop that, and H.R. 1779 is just one way we can help maintain the quality of life for Americans across the country…"
"…I'm not sure that I can make my answer complicated enough for you. We have good people, with years of experience in this industry. We had a strong core group at the original Cavco and have added many capable, hardworking people with the acquisitions of Fleetwood and Palm Harbor.
We give people room to get their job done. We communicate a lot. Sure we have rules that we have to follow as a federally regulated manufacturer and especially as a publicly owned company; but our people know the guidelines and don't take inappropriate shortcuts. We are here to take care of our customers' needs, if we do that everything else will fall in line…"
"…If we can buy lots for $30,000 and add brand new 980 square foot rentals for $40,000 we can provide a brand new three bedrooms with two baths home for a cost of $70,000. No apartment builder or home builder can compete with that which is why our rentals do so well.
People understand value. My rental customers could be buyers but the laws don't allow us to finance them. When you rent a house, 100% of your payment will increase when the rent increases.
When you own the house and rent the lot you only receive a rent increase on the lot rent. Generally that's less than $25 per month as compared to an apartment where the monthly rent increase would be $50 or more. At the end of five years year our home owner pays $125 less per month then the apartment renter. And the savings grow every year.
Financing and marketing are the two issues our industry has to address. How do our customers get affordable financing and how do we market the benefits of our product?
I've come to the conclusion that we are all responsible for our own marketing. If you want to be a great retailer you have to pay the bill for the marketing. Why should anyone do it for you, and all markets are local anyhow…"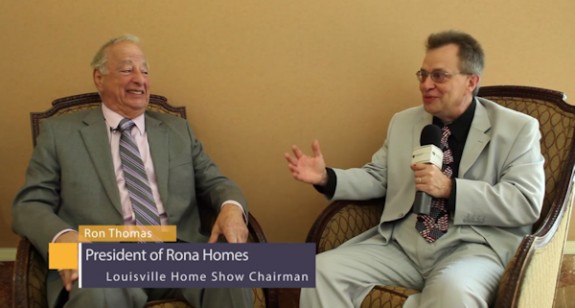 A link to one of our video interviews is on the poster above…
We could go on like this for days! But you get the idea, every one of these exclusive interviews has multiple insights into successful MH professionals, just look at this partial listing…
Manufactured and Modular Home Builders
A Cup of Coffee with…Jim Clayton Part II
A Cup of Coffee with...Wally Comer. President, Adventure Homes.
A Cup of Coffee with…Terry Decio
A Cup of Coffee with…Phyllis Knight. former President, Champion Commercial Structures and EVP, Champion Home Builders, Inc
A Cup of Coffee with…Chet Murphree, Deer Valley Homebuilders
A Cup of Coffee with…Joe Stegmayer. Chairman, Cavco Industries, Inc.. Home builder.
Manufactured Home Communities
A Cup of Coffee with…Steve Adler – Murex Properties
A Cup of Coffee with… Paul Bradley – ROC USA
A Cup of Coffee with… Sheila Dey – WMA
A Cup of Coffee with…Mel and Thelma Fath – New Durham Estates
A Cup of Coffee with…Sam Landy. President, UMH Properties (UMH). MHCommunities.
A Cup of Coffee with…Gary P. McDaniel – Yes Communities
A Cup of Coffee with…Marguerite Nader. President and Chief Executive Officer, Equity LifeStyle Properties (ELS). MHCommunities.
A Cup of Coffee with…Dee Pizer – Zeman Communities
A Cup of Coffee with…Rick Rand – Great Value Homes
A Cup of Coffee with…Randy Rowe. Chairman, Green Courte Partners. MHCommunities.
A Cup of Coffee with…Scott Roberts – Roberts Resorts and Communities
A Cup of Coffee with…Nathan Smith – SSK Communities
Sam Zell says "Our Way of Life is Very Much Threatened"
Sam Zell, "The Point of the Spear" and "You've Got to Have Confidence"
Manufactured Home Retailers
A Cup of Coffee with… Michael Evans – Centennial Homes
A Cup of Cocoa with…Doug Gorman. President, Home-Mart, Inc, – the most award winning MH Retailer in the U.S..
A Cup of Coffee with…Ron Thomas, Sr. – founder Rona Homes, MMHF Chairman
Manufactured Home Lenders and Financial Services
A Cup (err…glass) of Beer with…Barry Cole
A Cup of Coffee with…Dick Ernst
A Cup of Coffee with…Don Glisson, Jr. Chairman and CEO of Triad Financial Services.
A Cup of Coffee with…Barry Noffsinger
A Cup of Coffee with…Andrew Peters. CEO, First Guarantee Mortgage Corporation.
A Cup of Coffee with…Tim Williams. CEO and President of 21st Mortgage Corporation, a Berkshire Hathaway Company.
Manufactured Home Associations, Public Officials, Suppliers and Experts
A Cup of Coffee with…Leigh J. Abrams. Chairman, Drew Industries
A Cup of Coffee with…Jim Ayotte. – Florida Manufactured Housing Association.
A Cup of Coffee with… Tim Connor – CSP
A Cup of Coffee with…Joe Donnelly. Then Congressman from Indiana and now U.S. Senator.
A Cup of Coffee with…J. D. Harper. Executive Director Arkansas Manufactured Housing Association.
A Cup of Coffee with…Eddie Hicks. CRG Inc.) Lic. RE Broker, Lic. Mortgage Broker
A Cup of Coffee with…Congressman Stephen Fincher
A Cup of Coffee with…Nancy Geer – New York Housing Association.
A Cup of Coffee with…Jamie Hammons. Then President of the Georgia Manufactured Housing Association. On Manufactured Home Living News
A Cup of Coffee with…Dennis Hill. President and CEO of Show Ways Unlimited
A Cup of Coffee with…Jenny Hodge – MHI/NCC
A Cup of Coffee with…Joe Kelly –Iowa Manufactured Housing Association (IMHA), pending inductee for RV MH Hall of Fame
A Cup of Coffee with… Ross Kinzler – Wisconsin Housing Alliance
A Cup of Coffee with…Congressman Don Manzullo
A Second Cup of Coffee with…Bill Matchneer
A Cup of Coffee with…Richard Mourdock. then Treasurer, State of Indiana and 2012 GOP Candidate for United States Senate.
A Cup of Coffee with…Teresa Payne. Associate Deputy Assistant Secretary, Office of Regulatory Affairs, Department of Housing and Urban Development.
A Cup of Coffee with…Ken Rishel. Then, Precision Capital Funding, now Rishel Consulting
A Cup of Coffee with…Rick Robinson – Author, MHI
A Cup of Coffee with…Richard Weinert. Programs Operations Manager for the California Department of Housing and Community Development (HCD), Division of Codes and Standards.
A Cup of Coffee with…Don Westphal. MHC owner and managing member of Donald C. Westphal, Associates, LLC a Landscape Architecture and Site Planning firm.
On MHLivingNews.com –
A Breakfast with…Mary Gaiski, Pennsylvania Manufactured Housing Association.
A Breakfast with…Tim Williams, Ohio Manufactured Home Association.
A Breakfast with…Jen Allen, First State Manufactured Housing Association.
Knowledge shared is knowledge multiplied. Please share with your colleagues and team members. ##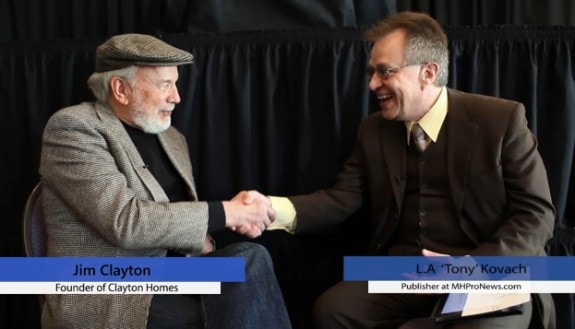 What you may notice in each of these professionals is a passion for manufactured housing. You will also discover a rich diversity of talents, specializing and experiences, all of which can be useful for careers and advancement in our industry.
FYI, you can use the search tool at the top right on our MHProNews.com home page and search Cup of Coffee and you'll see tons of these gems!
Please read, share and apply the many lessons learned. Enjoy! ##