1) Who, What and Where: (Your name and your formal title at Roberts Resorts).
Scott Allen Roberts, Chief Executive Officer of Roberts Resorts & Communities.
2) Background: (Educational/Professional snapshot before entering the factory-built housing arena. Specifically mention any work experience prior to Roberts Resorts.)

Graduated from California State Polytechnic San Luis Obispo. I was born and raised in the manufactured housing industry. My father R.C. Roberts founded the company 45 years ago. My brother sister and I took over management of the company after our father passed away in '98, after years of battling cancer. You become a quick learner when you take over a company at the age of 21.
3) When and How: (The When and How of your genesis for Roberts Resorts.)
First off, let me say that I owe all of my success to my father and mother who instilled strong work ethic and integrity in my brother, sister and I.
Secondly, I believe that there is one thing that sets my family business apart from others in our industry and that is the ability to look at manufactured home community opportunities with a unique perspective. During my father's 30-year career he purchased over 30 communities. Many of these communities had been overlooked by other investors because they suffered from low occupancies, were nearly empty and/or loosing money.
With that in mind, my father used his unique talent for raising occupancy and improving earning potential to make these struggling communities successful. My father's business model revolved around profiting from an under-performing asset and that has been passed on to my brother, sister and myself.
Over the past 4 years, we have purchased 6 new communities, most of which where on life support, shut down and/or abandoned. We have invested a great deal in rehabbing and upgrading each community and are constantly amazed with such great end results.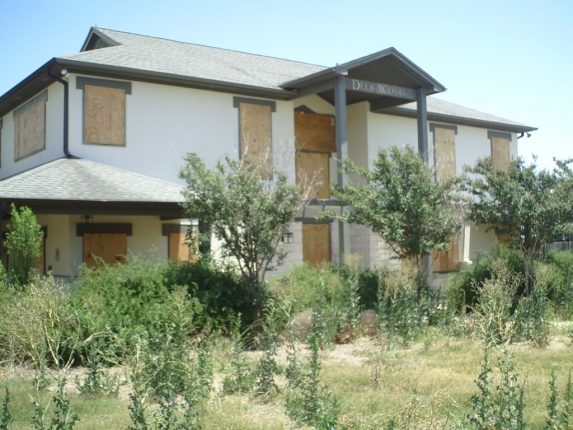 Oak Ranch's Abandoned Clubhouse
exterior, before makeover…
One of these success stories, Oak Ranch in Austin, was an abandoned community with a boarded up clubhouse and weeds far above your head. We opened our doors to this community in 2012 and already have 275 homeowners residing there.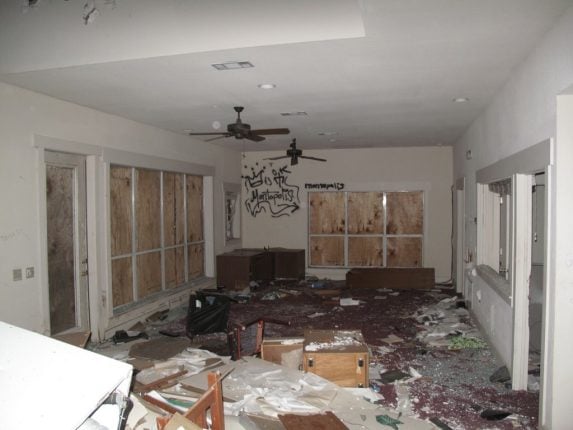 Oak Ranch's Abandoned Clubhouse
interior, before makeover…
Last year alone we increased the occupancy by 100 home owners. The thing I would like to stress the most is that all of our communities are homeowner communities NOT rent homes. It is our strongly held belief that this approach creates communities based on residents, relationships and stability.
Oak Ranch 5k Run benefiting the Anti-Defamation League of Austin
4) What are your personal interests or hobbies? How do you like to spend non-work time?
When I am not spending every spare minute with my 1-year-old daughter and wife, you will find me flying high in the skies! Being a pilot is my second calling. It seems that I have been airborne since infancy having grown up around pilots and private planes my entire life.
My father and mother were both pilots and used private aviation for business and pleasure as long as anyone in my family can remember. Owning a plane has allowed us to own and manage properties that other operators would be unwilling to own because of there poor access to major airports.
We have taken unique vacations to northern British Columbia and Mexico that we would have never experienced without private aviation. In addition to family and flying I have a passion for the outdoors. I love hiking, mountain biking, boating and fishing…almost anything physical that keeps me out of the office.
5) Please share the insights on the many awards and recognition you and your operation has earned.
Two of our communities have won MHI Community Of The Year awards. They are Pueblo El Mirage in Phoenix, Arizona and Oak Ranch in Austin, Texas.
6) Jim Clayton has spoken highly of working with you, as have others. You've spoken about Jim Clayton's role as a mentor and about Servant Leadership. Give us a snap shot of your professional philosophy, what shapes it and how that translates in your corporate culture.
Jim Clayton has made a huge impact in my life and the life of countless others. He is drawn to individuals that have a thirst to learn. Jim has been an amazing mentor teaching me how to approach complicated business problems. The most valuable mentorship Jim has given me is how to interact with team members and customers.
Our family has been a customer of Clayton Bank for over 10 years and Jim and his team have allowed us to take advantage of opportunities that would have never been possible without Clayton Bank's support.
Our company philosophy can best be summed up below:
Brand Presence: Highest quality manufactured home community owner operator that offers residents an enriching close-knit community lifestyle. Our communities offer hard working families the ability to live the dream of home ownership in a safe community they can proudly raise their family in. Customers come for the value and stay long term because of the lifestyle the community offers their family.
Culture: We are a passionate team that develop and manages the most enriching communities for hard working families.
Values: We have high ethics and keep our promises to customers and team members.
Spirit: We treat every team member and resident like family by providing support and compassion.
Leadership: We are open-minded and believe in empowering every team member. Leadership holds team members accountable, always looking for ways to improve.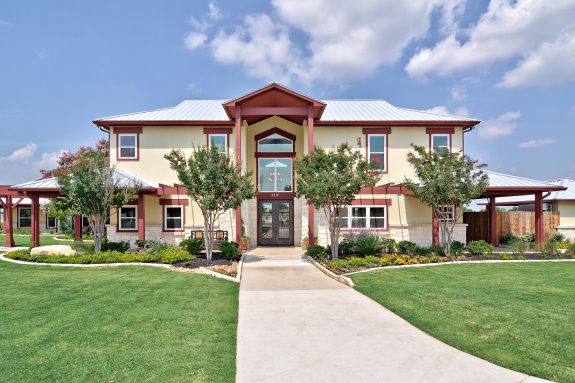 Oak Ranch's previously abandoned Clubhouse
exterior, after the Roberts Resorts' spectacular makeover!
7) Usually one of the hottest topics in manufactured housing revolves around financing and the CFPB landscape. In more recent years, renting manufactured homes has become popular for many MHC owner/operators, but there is a division of attitudes about that practice. Please give us your high level view of issues like reforming Dodd-Frank (in this new Congress, HR 650). And what do you see as the role of rental homes in the foreseeable future of MHC operations when it comes to filling vacant sites?
I feel like the outsider on this issue in our industry because I want to do what ever it takes to keep people and their families in our communities and not simply transient renters. I must say that it can be a struggle to meet all of the CFPB guidelines and it is challenging to keep our operations up-to-date with constant changes to the regulations as the guidelines continuously evolve.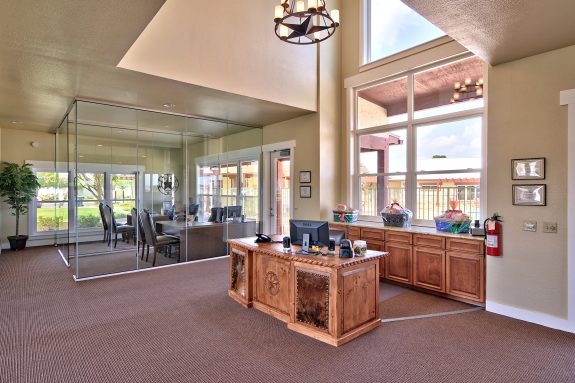 Oak Ranch's previously abandoned Clubhouse
interior, after the Roberts Resorts' makeover!
Knowing this, I believe that it is worth all of the hard work effort in the long run. When I drive through our communities I get a huge sense of satisfaction that we helped these residents become homeowners and realize the dream of HOMEOWNERSHIP. It is common for many families to struggle to meet down payments or supply additional documentation from new regulations, but once they finally work though these requirements they get the reward of becoming homeowners.
Oak Ranch Back2School Splash
These families begin to build real equity in a home rather than waste money on rent and establish roots in a community they call home. As the community owner, I have faith and peace of mind knowing that the residents are going to be committed long-term and take pride in maintaining their home.
From a very early age my father told me: 'the best part of our industry is that while we maintain the clubhouse, amenities, roads and infrastructure: it is our residents who maintain the homes.' It is disheartening to see operators who are more focused on the short-term gains rather than the long-term stability of the communities.
While I do agree that there are markets where renting is the only option for sustainability, I do not think that areas, such as Central Texas, need to rely on this strategy and that they could be more valuable if they relied on the more traditional family housing models.
8) You have taken a troubled community and turned it around. Please share some insights into the past, present and future of that location.
I think that I answered this in the earlier question (#3).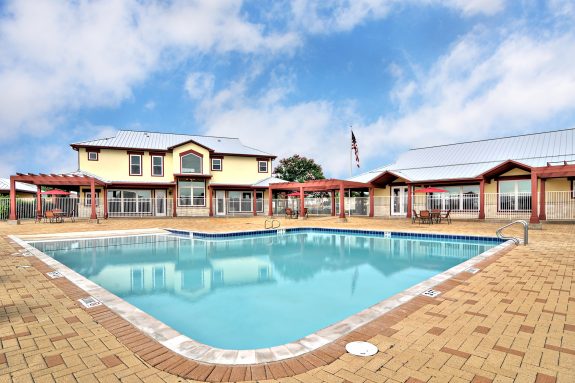 Oak Ranch's new residents pool area.
9) You are actively engaged in acquiring more properties. Please tell us of your latest one.
We definitely plan on continuing to grow our portfolio of communities. Our most recent purchase will be closing in March. It fits our purchase model perfectly and we are very excited to add this to the property group. It is located in Austin, TX about 6 miles away from Oak Ranch, our most successful community.
The new community currently has 559 manufactured home lots and 162 RV lots but there are plans to add 506 lots to the project. Developed in the 1980's the value of the property could be increased by upgrading the common areas.
Additional strategies are to develop a new sales office, add fitness and business centers, upgrade outdoor amenities with several plans such as a splash park, social pavilion, basketball court and athletic field.
10) There is a rather wide divide these days between those who think we need to move beyond the 'trailer house' and 'mobile home' image, and those on the far end who embrace those terms for reasons beyond just Search Engine Optimization (SEO). We've just seen the $1.3 billion deal with SUN Communities of a respected community operator who took rebranding, positive resident relations and projecting a good modern image. Tell us your thoughts on the whole "terminology" and image issues, if you would, please.
I think that SUN Communities has it right. For our industry to remain relevant we need to promote ourselves as high-quality, affordable housing. We have the potential to offer the most affordable detached housing option to customers.
I understand why some people embrace the low-end "trailer" model but it is not sustainable and prevents our industry from growing. Ask yourself how many city council members will support a new manufactured home community to be developed in their city? The stereotype of "trailer parks" is hard to get over.
The more we can do to prove that there are quality manufactured home communities that complement and add value to the city the greater and more successful we will be as an industry.
11) While some still see doom and gloom, Roberts Resorts continues to grow. Your industry colleague, UMH Properties CEO Sam Landy, said in an interview with MHProNews that given the large and growing need for affordable housing in the U.S., he sees how manufactured housing could return to new home shipping totals of 300,000 to 400,000. Others inside our industry think we ought to be happy to return to shipments in the 70,000 to 100,000 annual shipment levels. What say you? Why?
I would love to see manufactured home shipments go above 100,000 but for this to happen we need greater access to home financing. We own nearly $20M in manufactured home loans and we have an extremely low default rate.
The key to this is that we know that if this customer were to default we would have to take the home back in order to rehab and remarket the house. Because the responsibility rests on our shoulders, we do everything we can to make sure that our defaults stay low.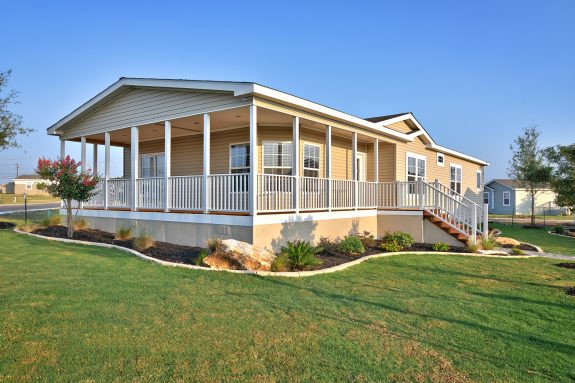 Model Home Exterior, Roberts Resorts.
I feel that more lenders would come into the market if they knew community owners were willing to buy back 100% of all the loans that were originated in their communities. The system of having lenders and communities at odds when a loan in a community defaults is a major reason so many lenders got out of the business. Lenders and community owners need to work together on putting a mutual beneficial partnership together.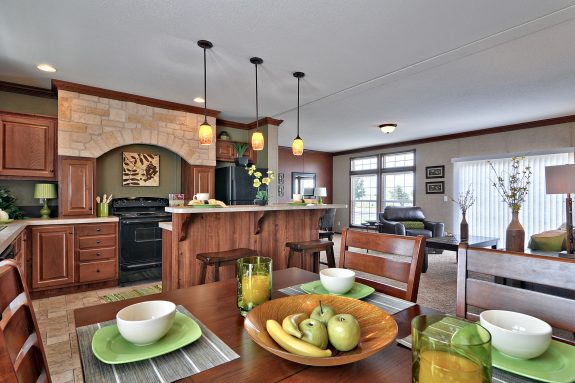 Model Home Interior, Roberts Resorts.
12) Industry MHC veteran Randy Rowe, called for a 5 point plan for industry recovery. It included the following: A) Better Warranties and Customer Service, B) Dealing effectively with Chattel Financing Issues, C) Economic Security for Our Customers, D) A Multiple Listing Service(s) (remarketing system for individuals, lenders) and E) A National Marketing (Image) Effort. What would you say about these bullet points? Do you think that other possible ideas, like more "best practices" and professional sales training – which Tim Williams at 21st said is always a good idea, are also needed? What say you on the keys for moving ahead?
Randy is a great guy with the right ideas. I am also involved in the RV industry and they are way ahead of us. Look at the positive image that the GoRVing.com campaign has created. The RV industry adds a fee on to every new RV that gets manufactured. I am sure that this will not be popular or supported in our industry, but I feel that we should add a fee to each of our new homes and have it all go directly into an image campaign fund.
I have to respect the great job Clayton Homes is doing through social media to improve our industry image. I just wish that we could pool more money together so that we can make a larger impact.
13) What do you consider the largest challenges facing the industry in general today? Where do you see our largest opportunities?
The largest challenge in our industry is financing and that also makes it the largest opportunity. I feel that if someone could pool the top 10 community operators together and create a captive finance company where each community owner was responsible for purchasing their defaults they would be able to raise capital and all would succeed.
14) While thousands of firms are members of state or national associations, others seem content to sit on the outside and reap the benefits of association lobbying without realize there is more to association membership than lobbying alone. As the leader of an organization that is involved at the state and national level in association work, what would you say to those who haven't been involved in an association, or who have dropped out for whatever reason?
We all need to get involved and support our local and national associations. Without supporting these associations, our industry will not have a local or national voice. The more you get involved, the more you get back.
15) You will be part of a Lessons Learned in MH Communities and the recently added FUTURE OF MANUFACTURED HOUSING panel discussion, both at the the 2015 Tunica Manufactured Housing Show . You have participated in MHI's Congress and Expo too. For those who don't go to such events, what do you tell them about the value of industry trade shows or association meetings?
You need to go to these events. You learn something new every time you go to one of these events. Also, networking is key. For example, I would have not purchased our newest community if I had not sat next to the owner at the last MHI Congress.
18) Closing thoughts or comments, sir?
Am I getting that cup of coffee?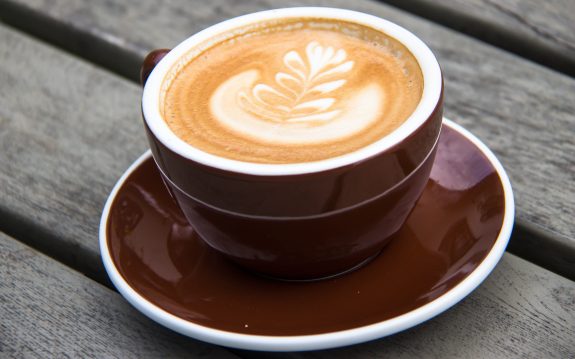 Cup of Coffee photo credit Susanne Nilsson, Flickr Creative Commons
I feel so fortunate to be in the manufactured home industry.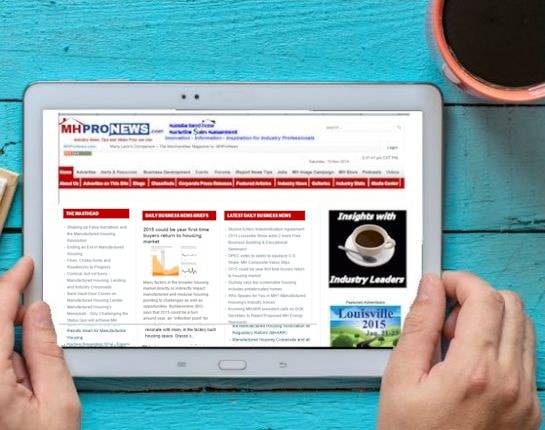 We create the American Dream of home ownership for tens of thousands of individuals and families every year. ##